Our Blackstone Sirloin Cap Steak recipe takes a tender sirloin and then it is simply seasoned with salt and pepper before being cooked in butter on your Blackstone Griddle. Served with marinated and grilled portabella mushrooms, this is one of the best meals to come off of my Blackstone (and one of the easiest too.)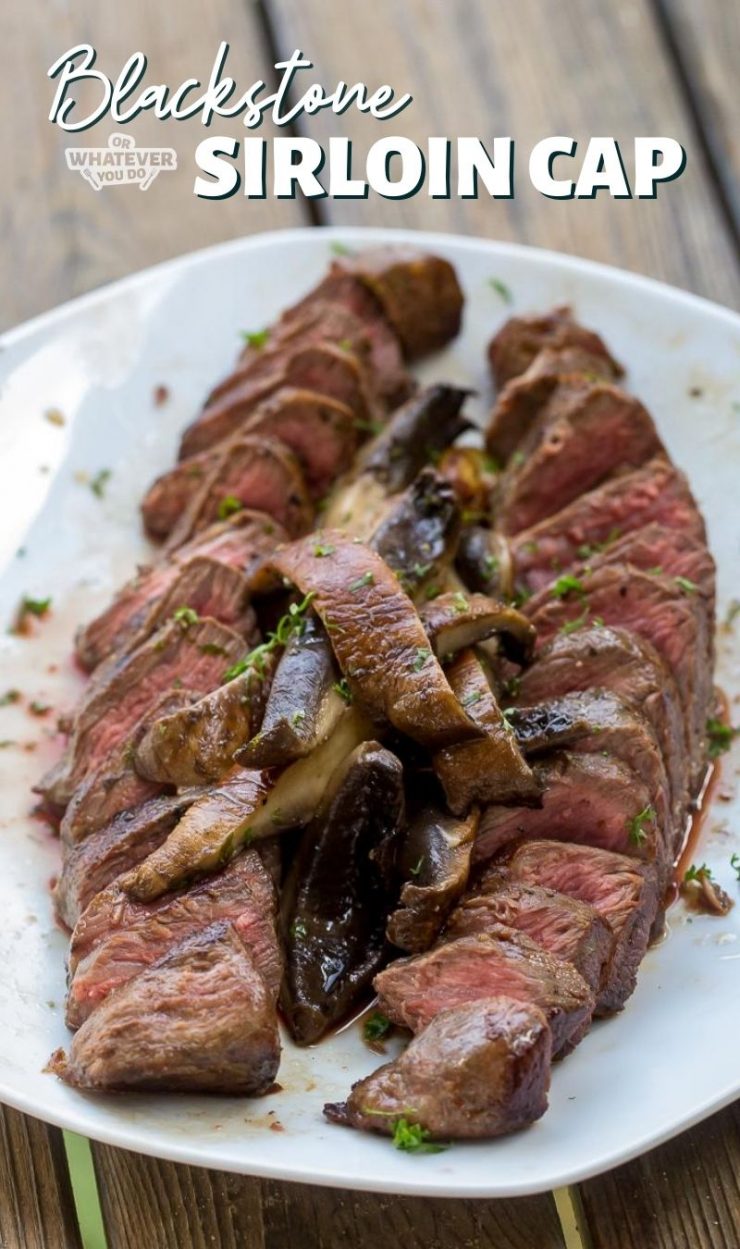 Blackstone Sirloin Cap Steak Recipe
Blackstone steaks are some of my favorite steaks, ever. There's not much like seared steak, and the Blackstone is the perfect way to cook a proper steak.
I see all over the various Blackstone Facebook groups I frequent people trying to turn people away from cooking their steaks on the griddle, and I call FOUL.
No one loves a good wood-fired steak more than I do. We've got Traeger Ribeye, Smoked Hanger Steaks, Reverse Seared Flank Steak, and Traeger New York Strips.
But that doesn't mean there isn't room in the world for a fantastic steak that doesn't hit the actual grill.
If you haven't had a steak that blew your mind that came off of a cast iron pan or off of a flat top, you've never met someone who knew how to cook a steak.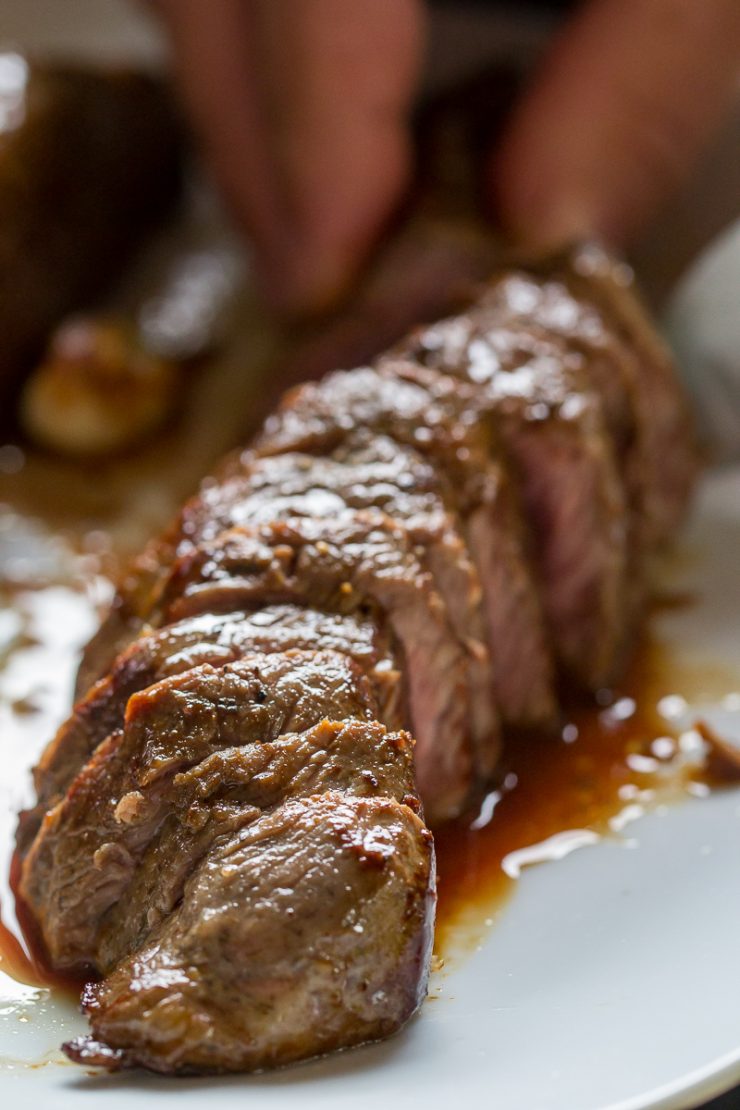 What is a sirloin cap steak?
A sirloin cap steak is the same sort of steak that is used for Picanha, but it has the fat cap removed. This cut is located over the top sirloin and is slightly triangle-shaped.
You can find it in roast form sometimes, but we mostly find them cut into individual steaks.
This cut is tender, and relatively economical compared to fancier, pricier cuts like the tenderloin or ribeye.
There's only ONE top sirloin cap per cow, so this cut can be a little more difficult to find than some others. We typically get ours from Costco, where it is most readily available in our area.
More great BEEF recipes here!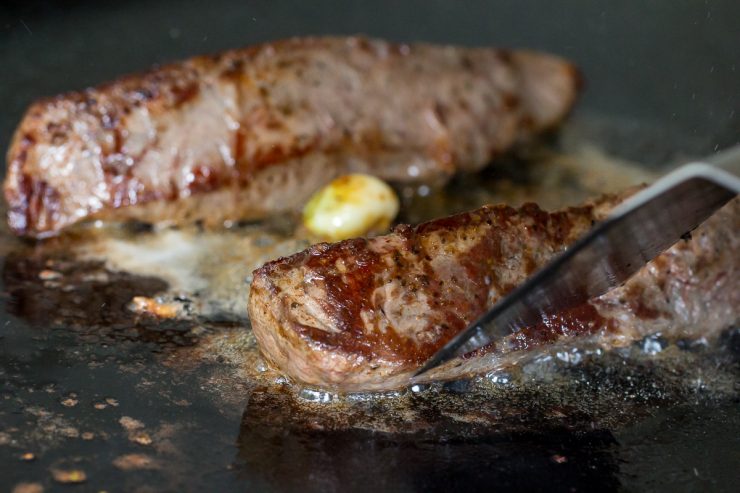 Tips for cooking the perfect steak on your gas griddle
Don't run it too hot! Gas griddles get blazing hot, but for steak, you don't want it on full-blast
Butter is your BFF. Don't be shy.
Don't move it too often! You won't develop the crust that takes a steak from just aaaaaaright to ahhhhhmazing.
A good meat thermometer isn't optional. Get one. Use it. Love it. It is the best way to ensure everyone's steak is perfectly cooked.
More Blackstone Recipes here!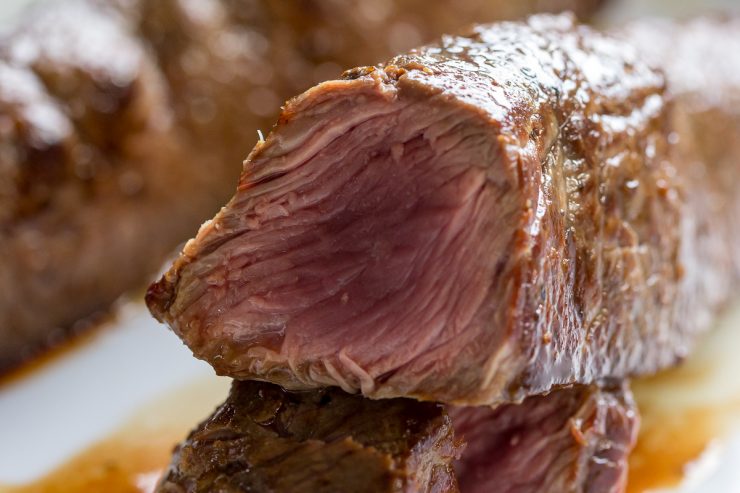 What can you serve with Blackstone Sirloin Cap Steaks?
SO MANY THINGS.
This time, we made them with marinated mushrooms that were cooked alongside them on the Blackstone. I've NEVER had mushrooms this good before, so I encourage you to give them a try. I'll have a post dedicated to them soon, but in the meantime, I'm sticking the recipe for them below, after the steak recipe.
Other than the mushrooms, I think my Homemade Caesar Pasta Salad would be perfect next to this steak. Some Grilled Zucchini is also an easy choice.
If you are looking for something a little more hearty, go with my Creamy Noodles, Simple Pellet Grill Potatoes, or Homestyle Mac and Cheese.
Get my easy Side Dish recipes!
Featured Reader Reviews
What about some wine with dinner?
You know I have lots of those around here. With steak, I really like red wine. I get stuck in red wine ruts sometimes and don't actually KNOW anything about wine, so wind up picking based on the label or some other equally ridiculous thing.
That's why I love Firstleaf.
When the lockdowns started and everyone was trying to avoid leaving the house at all costs, I signed up for this wine delivery service that handpicks your selections based on your preferences, and I haven't met a bottle I didn't love yet.
I get a mixed box of whites and reds.
If you are new to Firstleaf, your first order is free if you use this special link. You just pay for taxes and shipping.
How about a cocktail?
I've got lots of great cocktail recipes here. They are one of my favorite things. I'd try a good Sangria with this, or some fruity like my Strawberry Lemon Drop.
One of the drinks below might serve you well too!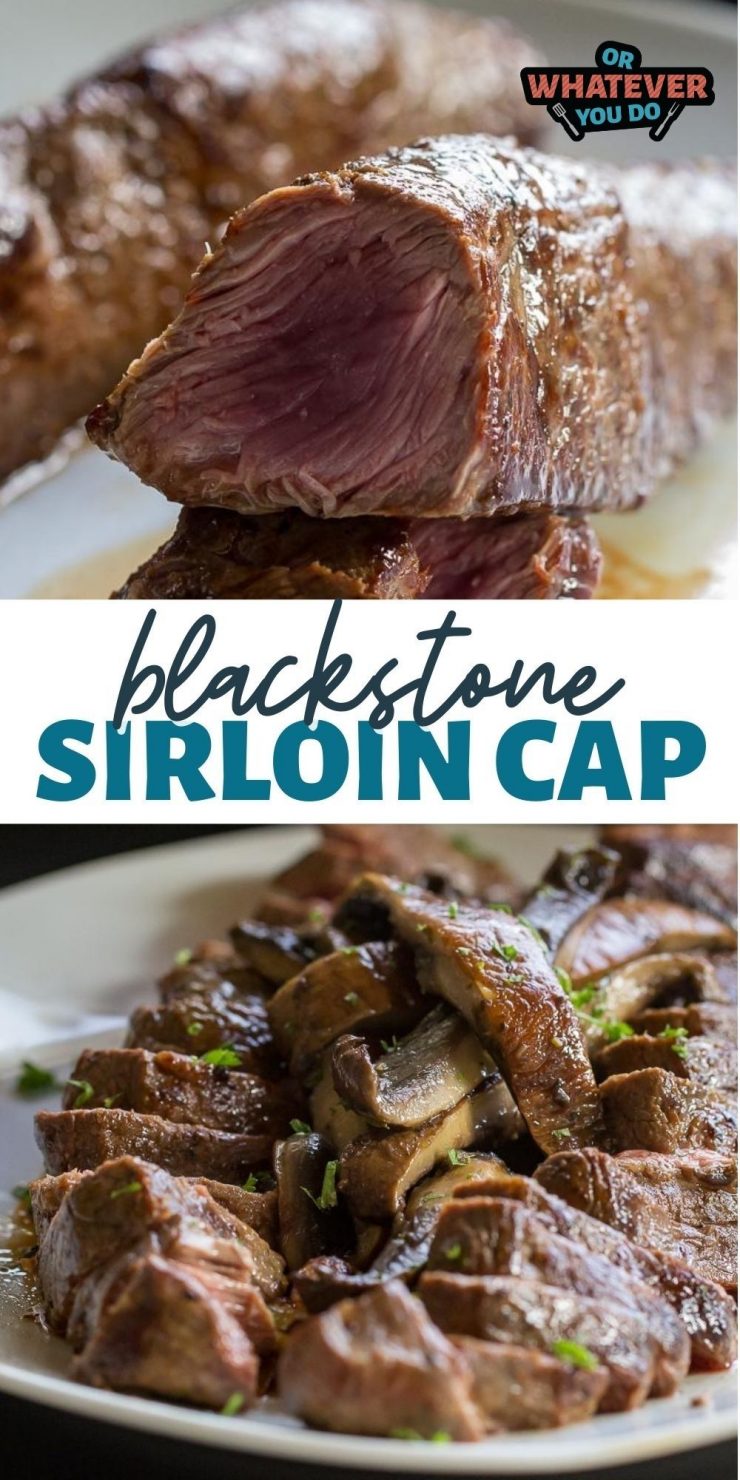 Yield: 6 servings
Blackstone Top Sirloin Cap Steak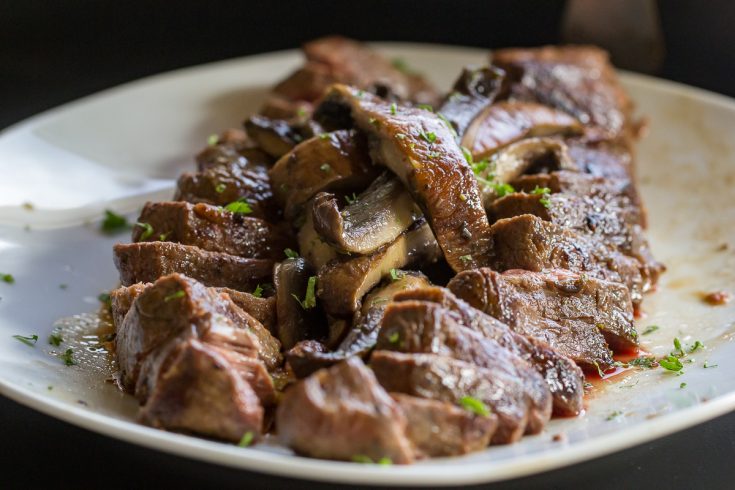 Our Blackstone Top Sirloin Cap Steak is tender, delicious, and SO easy to cook! Break out the butter and a little S&P and fire up that griddle!
Ingredients
Top Sirloin Cap Steak
salt
pepper
butter
Instructions
Direct Sear Method
Preheat your Blackstone to medium heat. Season your steak with salt and pepper, and place on the grill.
Leave it alone for several minutes! You want time for that crust to develop. But dollop some butter near it during the cook.
Turn the steak and let it cook on the other side until a crust develops there too.
More butter, more turning, more sizzle, until the steak is at your desired temperature. Use a meat thermometer for the best results until you get a good feel for things! You want to hit about 125° when you pull it for a medium-rare steak when it is sliced.
Reverse Sear Method
Season your meat and place it on a smoker at 180°-200°. Let the steak reverse sear for about an hour, or until the internal temperature reaches about 120°.
Remove from the pellet grill or smoker, and place onto a preheated flat top griddle at medium-high to high heat. Let sear for 2-3 minutes per side to develop a crust.
Recommended Products
As an Amazon Associate and member of other affiliate programs, I earn from qualifying purchases.
Nutrition Information:
Yield:
6
Serving Size:
1
Amount Per Serving:
Calories:

631
Total Fat:

42g
Saturated Fat:

16g
Trans Fat:

0g
Unsaturated Fat:

19g
Cholesterol:

220mg
Sodium:

215mg
Carbohydrates:

0g
Fiber:

0g
Sugar:

0g
Protein:

59g
Yield: 4 servings
Blackstone Marinated Portabella Mushrooms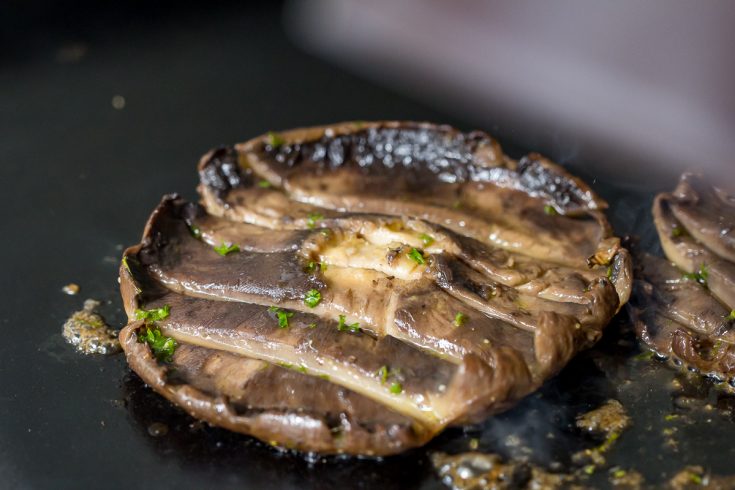 Portabella Mushrooms are marinated in a shoyu and red wine vinegar mixture with fresh herbs before being flash cooked on the flat top griddle.
Ingredients
2 large portobello mushrooms
2 tablespoons olive oil
1 tablespoon red wine vinegar
1 tablespoon cherry blossom shoyu
1/4 teaspoon salt
1/4 teaspoon pepper
1 tablespoon butter
Instructions
Cut the stems off of the mushrooms and then scrape all of the gills out from under the cap.
Drizzle with olive oil on both the top and the bottom of the mushroom cap, and then place top-down before sprinkling with salt, pepper, vinegar, and shoyu.
Cover, and let marinate in the fridge for about 30 minutes.
Carefully place the mushrooms onto the griddle that's been preheated to medium-high, taking care not to spill out the marinade.
Place the butter between the caps and cover. Let cook for four minutes.
Remove the cover and cook for an additional minute.
Cut the caps into slices using a knife or bench scraper. The marinade will spill out onto the griddle and create a big of a sauce. Cook for another minute, and then remove from the griddle and scrape up any sauce you can, if desired.
Eat!
Recommended Products
As an Amazon Associate and member of other affiliate programs, I earn from qualifying purchases.
Nutrition Information:
Yield:
4
Serving Size:
1
Amount Per Serving:
Calories:

96
Total Fat:

10g
Saturated Fat:

3g
Trans Fat:

0g
Unsaturated Fat:

7g
Cholesterol:

8mg
Sodium:

377mg
Carbohydrates:

1g
Fiber:

1g
Sugar:

1g
Protein:

1g
Nutrition data provided here is only an estimate.