These delicious Traeger Steak Fajitas are made with a reverse seared steak that is then sliced and given a quick sear with some lime juice and Mexican seasonings before being put into warm tortillas and adding some delicious blistered peppers and onions into the mix.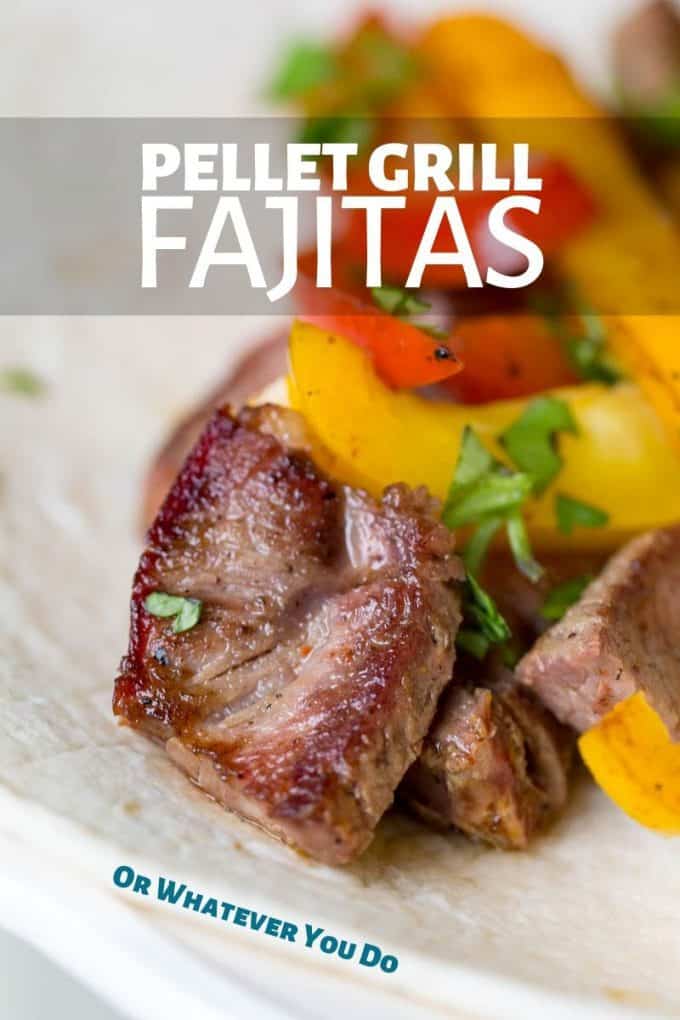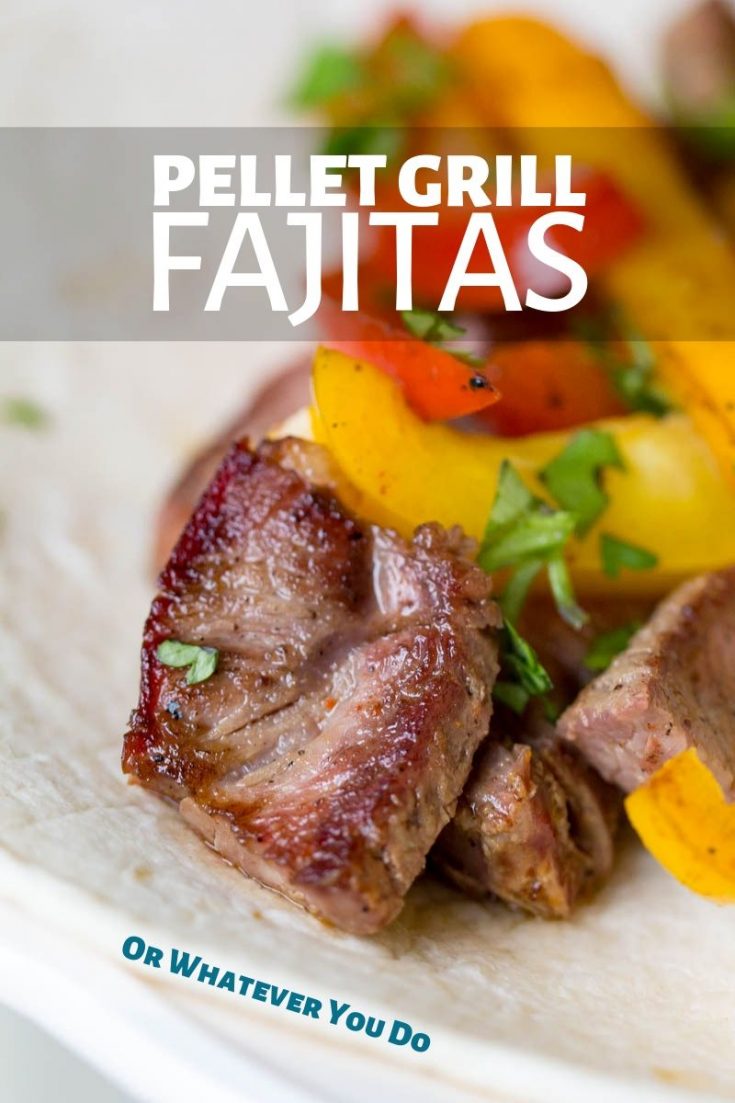 Traeger Steak Fajitas
When steak fajitas roll out of the kitchen in a restaurant, every head turns. The sound and the smell as the waiter walks them by brings the conversation to a standstill. They inspire awe and appetite!
The word itself which is pronounced "Fah-he-tas" sounds almost exactly like the noise coming off that sizzling hot cast iron pan it is served upon. (Say it slowly three times and see if you don't start craving a hot plate of delicious steak fajitas.) However, the name comes from the "little belts" of skirt steak strips that make classic fajitas.
Use can your Traeger to smoke and grill your skirt steak or feel free to use the cut of your choice on the grill of your choosing. The Traeger makes you look like you have superpowers because cooking eye-catching and mouth-watering Traeger steak fajitas couldn't be easier.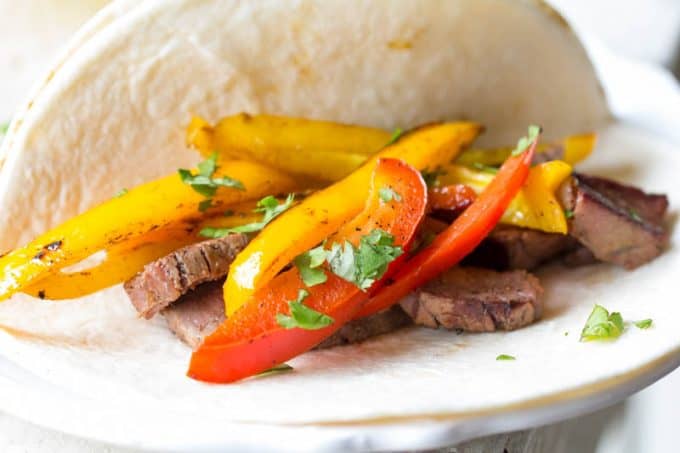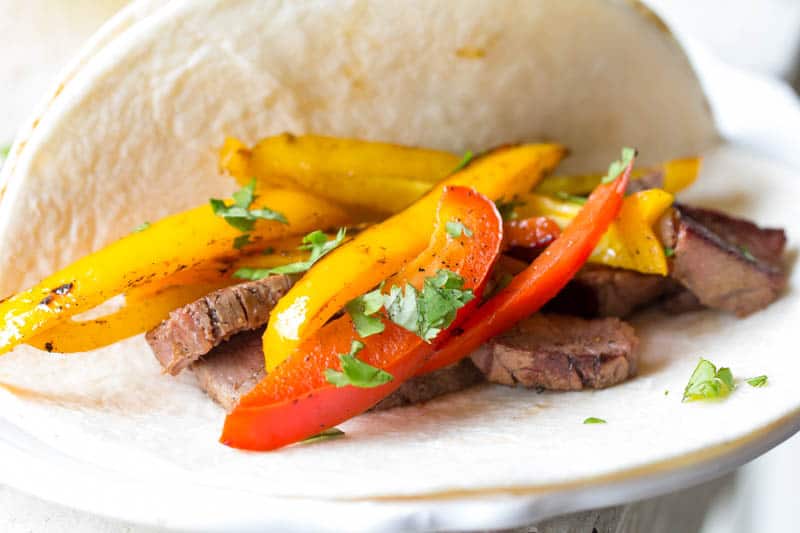 The perfect steak fajitas
Sure, you could do your fajitas in an oven or use a pan on a stove, but wouldn't you love to take them to another level entirely and bring more smokey flavor in?
Cooking steak fajitas on a grill where the fire and the smoke do their magic and make the flavor more authentic to true Tex-Mex origins of the dish.
Take advantage of how easy a reverse sear is for the steak on your pellet grill first. It takes about 45 minutes to 1 hour at 180-190°, but keep an eye on it because different cuts of steak cook at different rates.
When you smoke the steak first, then the flavor of the beef becomes even more concentrated and incredible when you get to the final high heat sear at the end. Well worth the extra time! It also activates enzymes in the steak and helps to further tenderize it.
See all my Traeger Recipes here!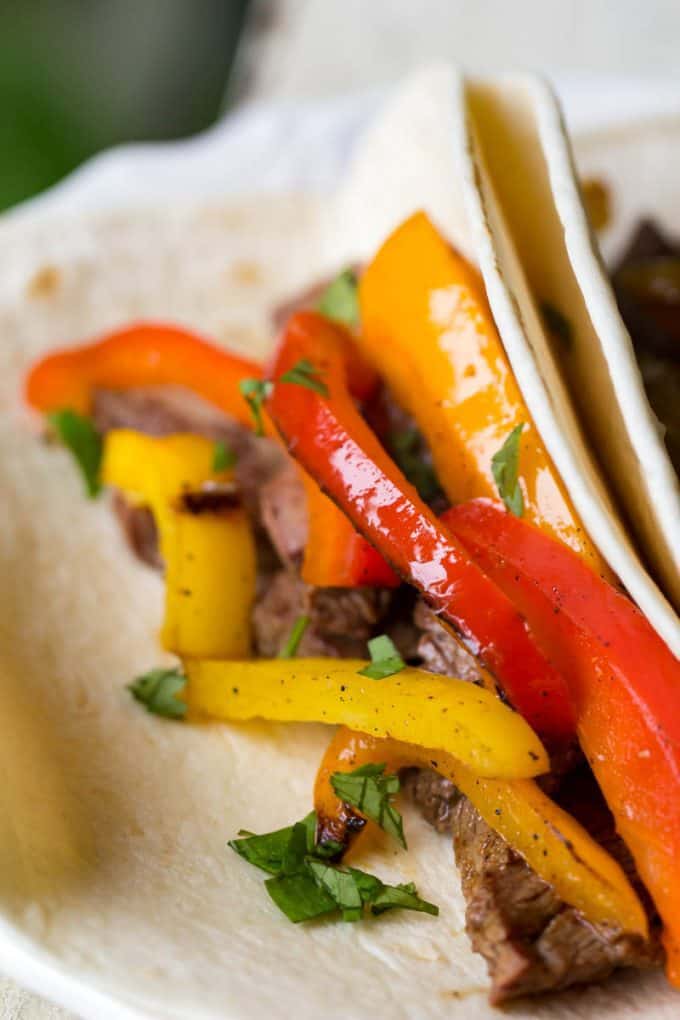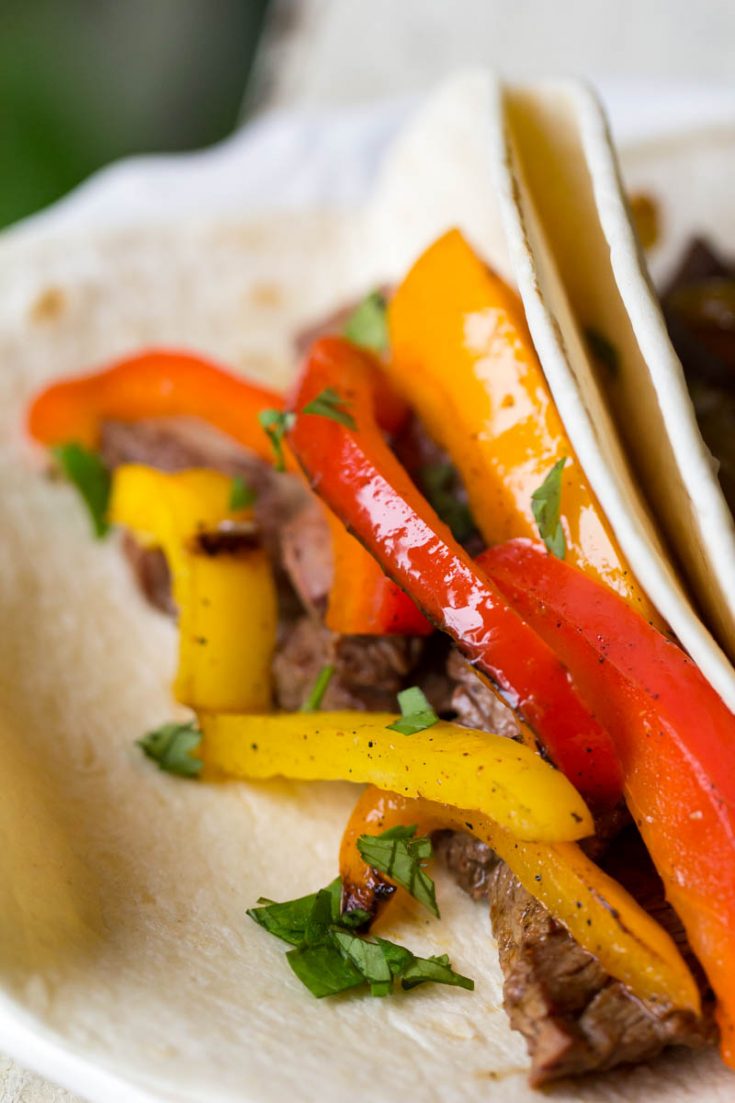 What pan is best for cooking steak fajitas?
Cast iron!
It should practically be against the law to use anything besides cast iron, especially for steak.
Any cast iron pan works, but preferably one that is very shallow. Short sided cast iron pans intended for fajitas are easy to find. I often see them in the kitchen supplies aisles at supermarkets. Usually, they are next to big round cast iron pizza pans.
Guess what? If they don't have the actual fajitas cast iron pans, then that pizza platter cast iron sitting there works just as well.
More awesome recipes using steak here!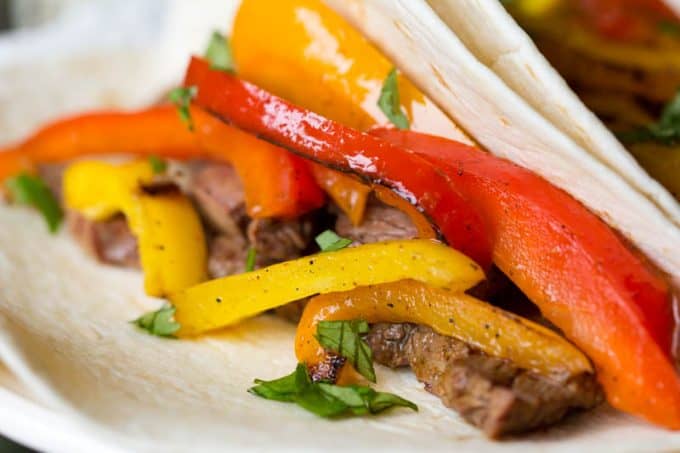 Steak Fajitas bring the sizzle
The low and slow smoking brings the flavor up, but it doesn't provide the biggest element of flavor here, which comes from the sear at the end.
You need a high heat surface to sear the meat and bring out that Maillard Reaction that comes with a good sear, and then the vegetables to complete the meal.
After the steak has done the time on low heat, pull it off and rest it. Resting the meat means letting it sit for about 15 minutes off heat to allow the cooked meat to reabsorb the juices into the meat.
While the meat is resting, get your cast iron pan hot! Cast iron is great for holding nice even heat. You want the pan's surface up at about 450° to 500° for when you introduce the meat.
Be super careful with your oven mitts at this point. Your entire pan will be scorching hot, so make sure to avoid thin oven mitts and watch out even with thick mitts. If your thick mitt is the slightest bit wet then you will feel that heat coming through too fast to avoid a burn. Be careful! You want to hear the steak fajitas sizzling, not your hand.
Once, the meat has rested, then slice it into the "little belts" strips. Cut at an angle to the grain. The goal is to cut the strips so they are about 1 ½ to 2 inches long and about ½ to ¾ inch wide. They don't have to be perfectly uniform.
The goal is twofold. You want the cut fajitas steak meat to be bite-size, but you are also encouraging the best possible coverage for the final searing to get evenly distributed to each savory piece of juicy and delicious steak. Throw them on the hot pan and make them dance with a spatula to sear them evenly.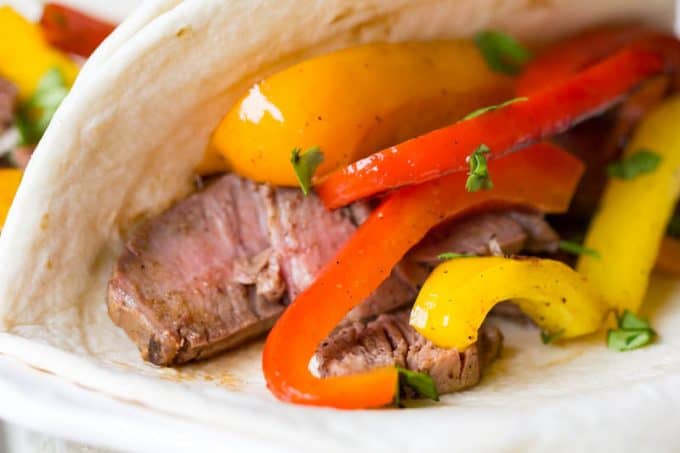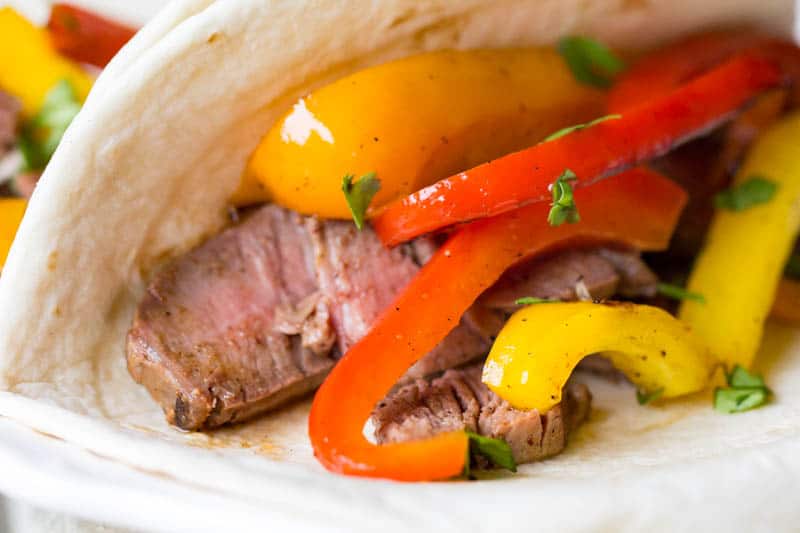 The right peppers for Steak Fajitas
Grilled onions are optional, peppers are not.
Taking the peppers out of the recipe would be like taking eggs out of eggs benedict. It just wouldn't be fajitas without them. That being said, the peppers are an opportunity for colorful flare. I like a variety of colors. Slices of yellow, orange, red, and green peppers make the dish look like a fiesta.
For the bold and fans of a bit of heat, add a grilled pepper that packs some punch. I like poblano chiles and hatch personally. They are not too hot to distract from the other flavors and they grill quickly. Make sure to de-seed if you want to bring the heat down further.
Cook the peppers on the grill at about 350° to 400° for about 5 to 10 minutes while the steak is resting, or add them to the pan after the steak has seared up a bit, then stir them together.
Want some easy Traeger Sheet Pan Chicken Fajitas?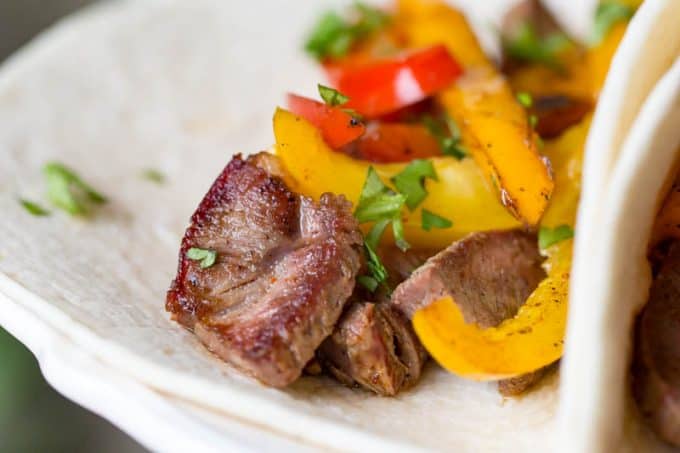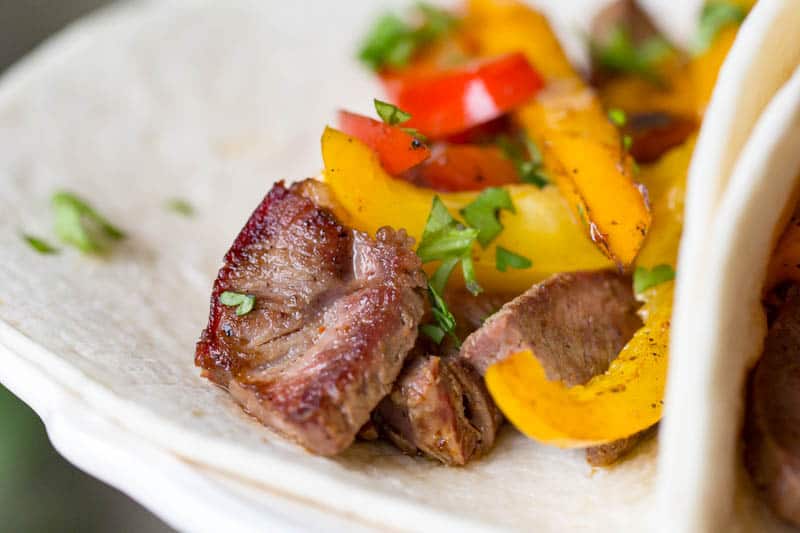 Finish your steak fajitas with zest!
Your vegetables are searing up on your grill, your steak is sizzling in the pan. Squeeze lime juice over the meat, a sprinkle of salt, then add some chili lime seasoning from Spiceology. Henceforth known as the magic stuff. Now toss in the vegetables and stir with the meat.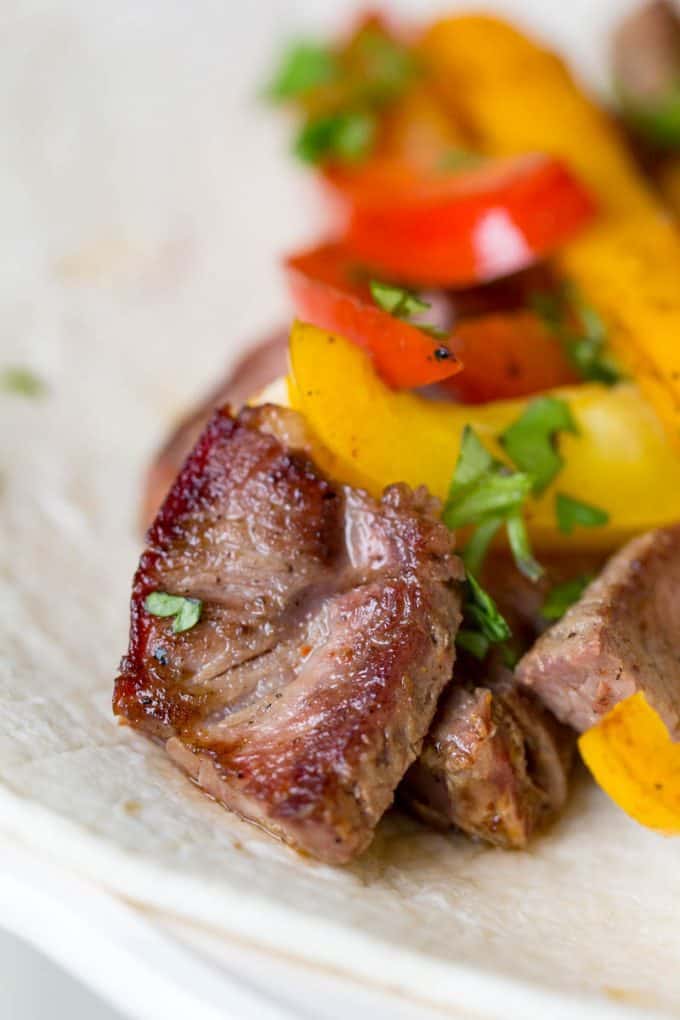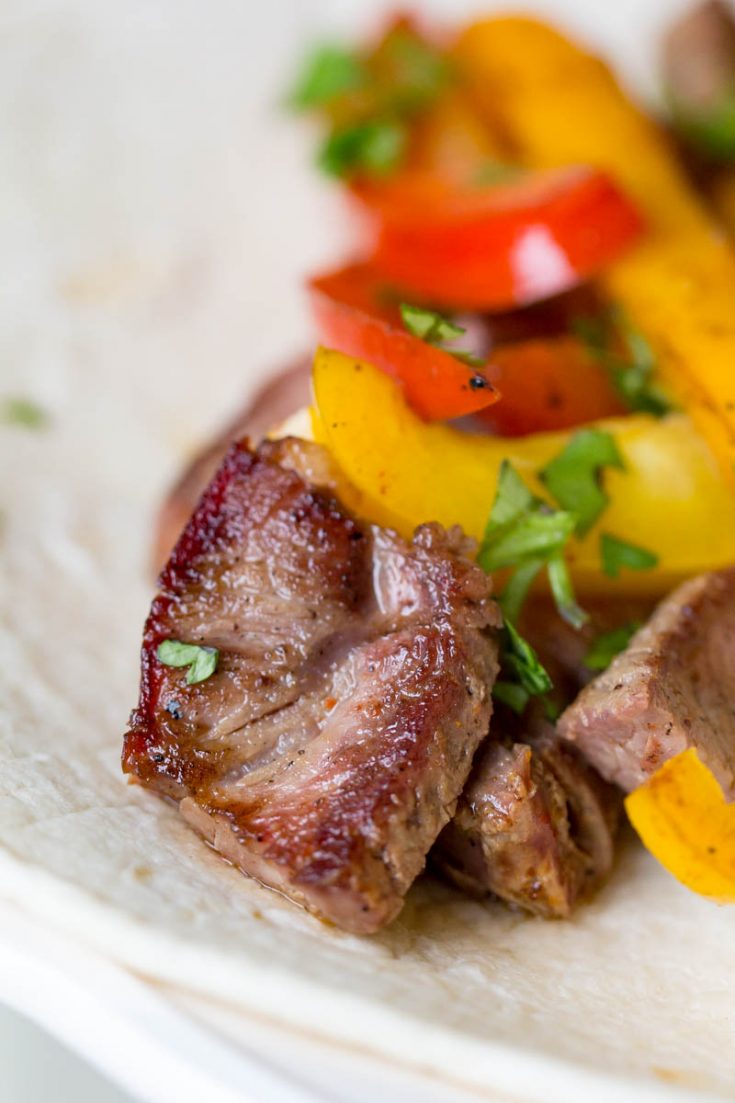 Everything you need for steak fajitas
You don't need much else besides steak and peppers. Some people like to eat the fajitas with a fork, and others prefer using flour tortillas to roll up the steak and peppers to eat by hand. Either way, watch out for that impulse to start eating right when it comes out of the pan at 500°!
Some side dishes and dressings I suggest to complement the steak fajitas include:
Habanero corn relish
Refried beans
Pico de gallo
Lime wedges
Grilled onions add flavor too. Using onions is like using beans in chili. While some claim adding beans makes it stew not chili, some people think fajitas should only be peppers and meat. While others swear using onions is necessary. Base it on what you and your family or guests prefer.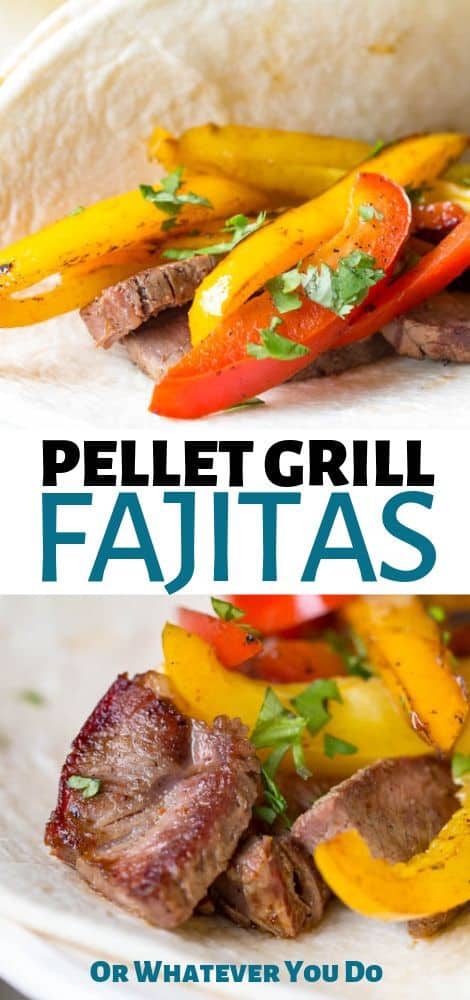 Yield: 6 servings
Reverse Seared Steak Fajitas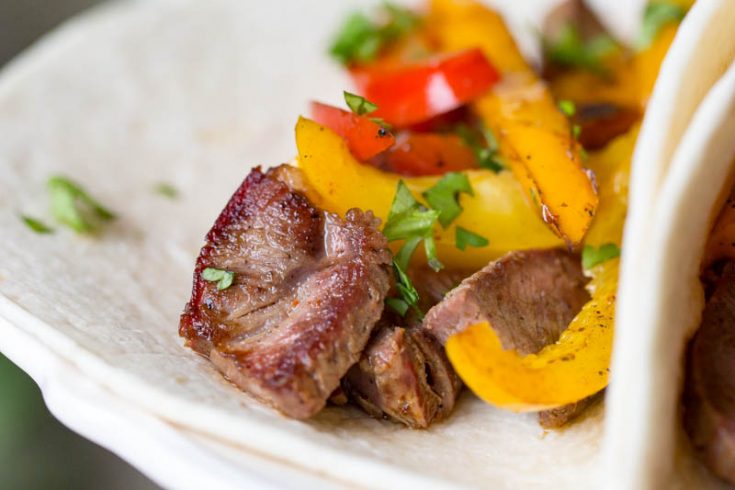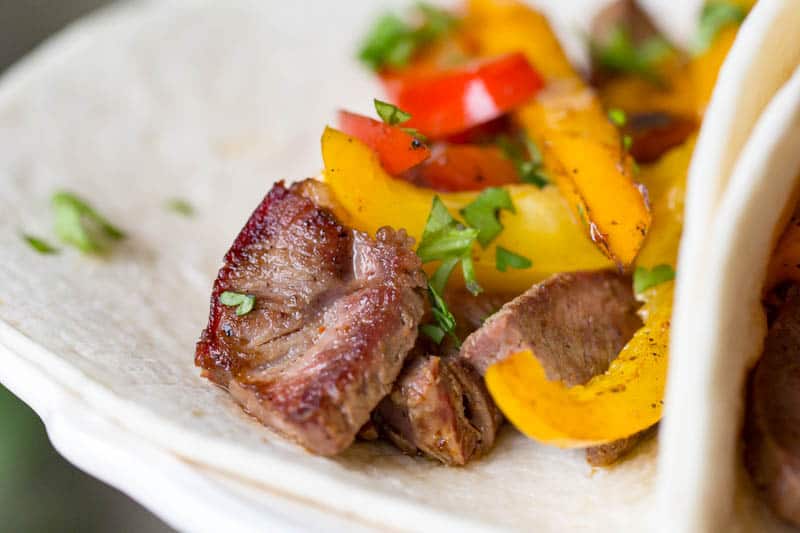 These easy steak fajitas are reverse seared before getting blasted with heat in a cast-iron pan along with some peppers and onions to make the best fajitas you've ever had.
Cook Time
1 hour
15 minutes
Total Time
1 hour
35 minutes
Ingredients
2 pounds steak
1 teaspoon salt
1/2 teaspoon pepper
1 tablespoon chili lime Spiceology rub (link below)*
1 red bell pepper
1 yellow bell pepper
1 medium-sized onion
2 tablespoons oil, divided
Instructions
Preheat your pellet grill to 225°, following factory instructions.
Season your steak with the salt, pepper, and chili lime seasoning. If you don't have that, you should use your favorite taco seasoning.
Place the steak on the grill and let it cook for 30-45 minutes, or until the internal temp reaches about 120°.
Remove from the grill and let rest for 10-15 minutes.
In a large cast-iron skillet, preheat 1 tablespoon of oil over high heat. While the meat is resting, quickly saute your peppers and onions, and set aside.
Slice your steak into strips across the grain. Add the other tablespoon of oil to the pan and let it get hot.
Toss in your steak and quickly sear it for 1-2 minutes.
Remove from the pan and serve with the peppers and onions and any garnishes and toppings you'd like.
Notes
* Can substitute your favorite Taco Seasoning if you don't have the Spiceology Chile Margarita, but I highly recommend picking some up!
Recommended Products
As an Amazon Associate and member of other affiliate programs, I earn from qualifying purchases.
Nutrition Information:
Yield:
8
Serving Size:
1
Amount Per Serving:
Calories:

364
Total Fat:

25g
Saturated Fat:

9g
Trans Fat:

0g
Unsaturated Fat:

13g
Cholesterol:

110mg
Sodium:

332mg
Carbohydrates:

4g
Fiber:

1g
Sugar:

2g
Protein:

30g
Nutrition data provided here is only an estimate. If you are tracking these things for medical purposes please consult an outside, trusted source. Thanks!