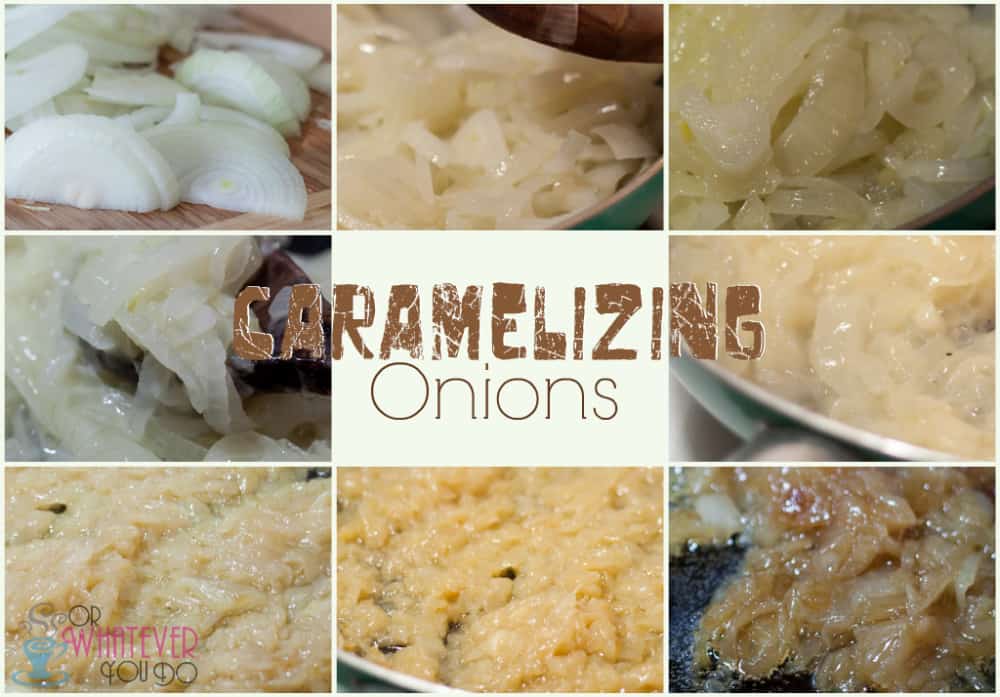 It took me an absurd amount of time to realize that simply browning onions quickly in a pan was much MUCH different than taking the time to properly caramelize them. The flavor is worlds apart, and the end result is well worth the extra time this takes. You can also do this in your crock pot I hear, but that isn't something I've tried yet. Its on the list, but for the moment I would like to show you how to do this right on your stove top.
The number one key is LOW and SLOW. You want to keep the heat at medium low, and be patient. Properly caramelizing onions should take at LEAST 30-45 minutes. More if you are doing a large batch. So take your time. Grab your kindle and a seat in your kitchen, and get ready to baby sit these for about an hour.
It is best to cut your onion the long way from top to root in half, and then cut into slices the same direction. This will help the onions stay together in larger pieces for things like french onion soup, or as toppings for steak, pierogies, or omelets. In the photo below, I have cut the more traditional way because the dish I was using them in had kids eating it. My kids are  horrified at the THOUGHT of an onion, and small pieces are easier to hide.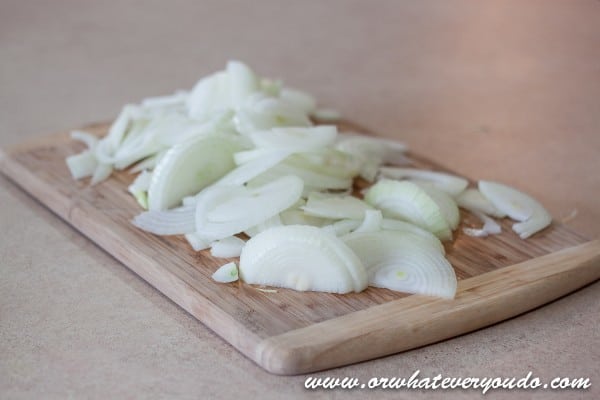 Melt some butter in a large saute pan. I use about a tablespoon per onion. This was an extra large batch.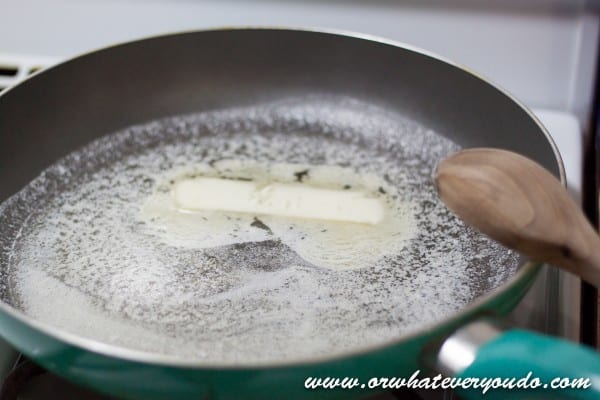 With the stove on medium low heat, add the onions and let them cook down, stirring occasionally.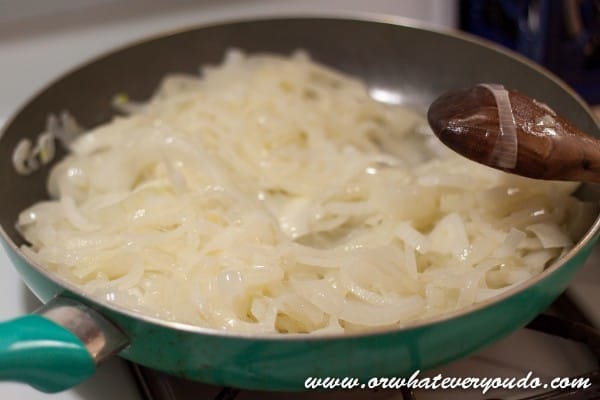 Pretty soon they will start softening up and become translucent.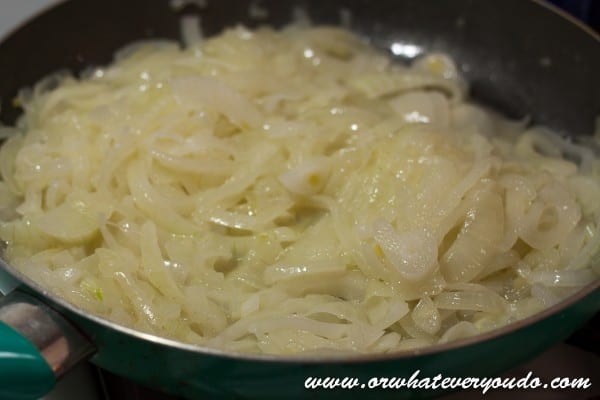 Pretty soon when you are stirring the onions will start to change texture and become a bit creamy.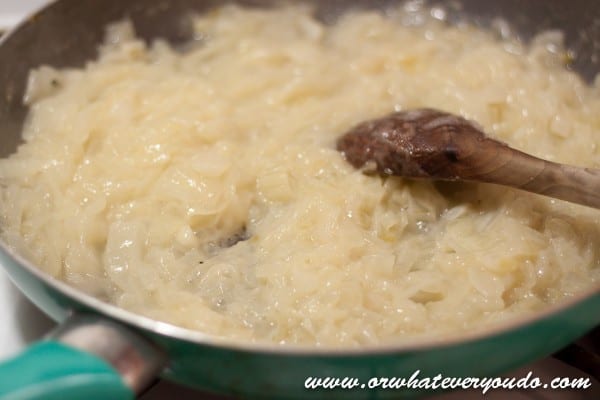 In another 10 – 15 minutes you will slowly start seeing the color change.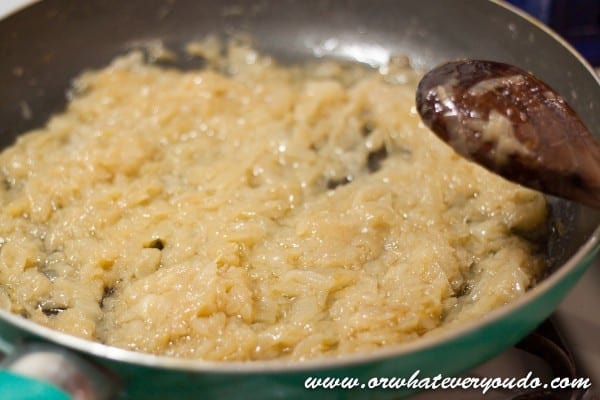 Keep on keeping on until the onions are a beautiful coppery brown color.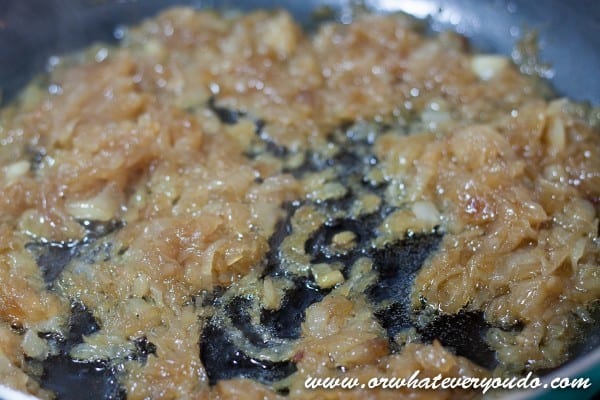 Try and resist eating spoonfuls of this before it goes into your recipe, onto your steak, or wherever else you can dream up to add these.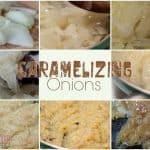 Caramelizing Onions
Ingredients
3

large onions

3

TBSP

butter
Instructions
Slice onions and cook over medium low heat, stirring occasionally, until golden brown.
As always…
Thank You for looking! I LOVE comments. Use the comment form below to interact, or if you like what you see, and want to see more, please feel free to jump on over to my Facebook page and like me there. I post teasers for upcoming recipes, answer any and all of your questions, and every recipe from here gets linked to there as well.

If you are a Pinterest fanatic like I am, you could also drop by and follow me there, and pinning my images is always appreciated!
Find me on Instagram!
Thanks for dropping by! Hope to see you again soon!
~Nicole~