One-Pot Parmesan Noodles with Asparagus is the easiest and creamiest one-pot pasta I have made. You only need one pot for the entire process of cooking for these parmesan noodles with asparagus. Serve as a side dish or eat as a main for a meatless dinner option. This creamy pasta recipe is a pasta lover's dream come true.

One-Pot Parmesan Noodles with Asparagus
Pasta is one dish that I never get tired of. From spaghetti & meatballs to alfredo, lasagna, seafood pasta, and all kinds of other delicious pasta recipes, I could eat pasta every day of my life and be okay with that.
This parmesan noodles recipe truly is one of the easiest side dishes that there is, and it includes your vegetables as well as your starch.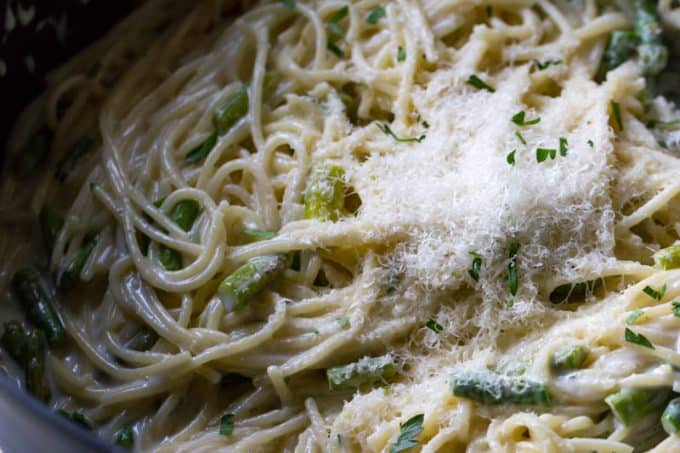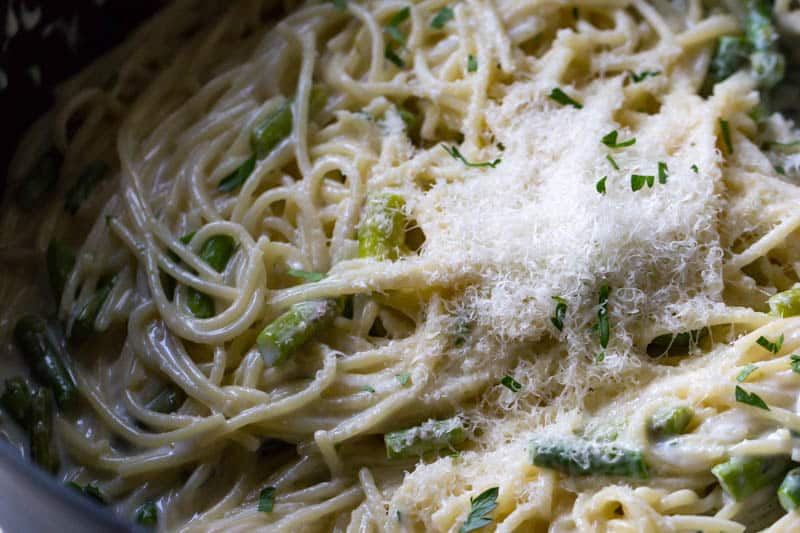 One Pot Pasta Recipe
One Pot Pasta is unique because you are cooking the pasta in the same pot as all the ingredients. You don't have to cook your pasta in a separate pan while you prepare the other ingredients. This makes for a super simple recipe and less cleanup afterward.
Parmesan Asparagus Noodles
I think this creamy pasta is so unique because it is fresh, light, and the crisp asparagus offers a nice contrast in texture to the al dente pasta. The parmesan cheese adds incredible richness and gives that silky sauce all the flavor that smothers the pasta and asparagus nicely.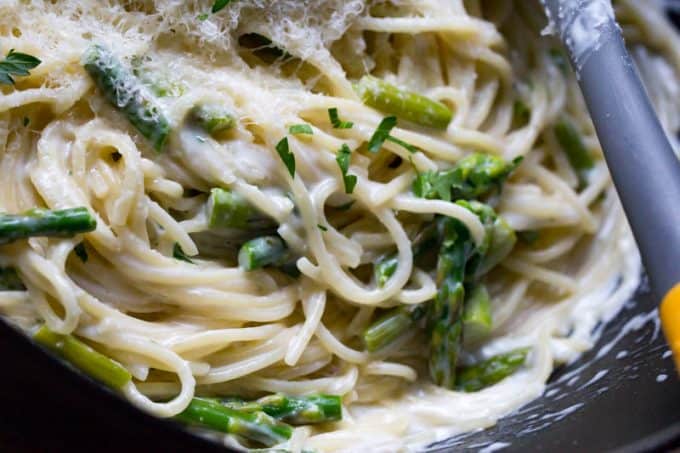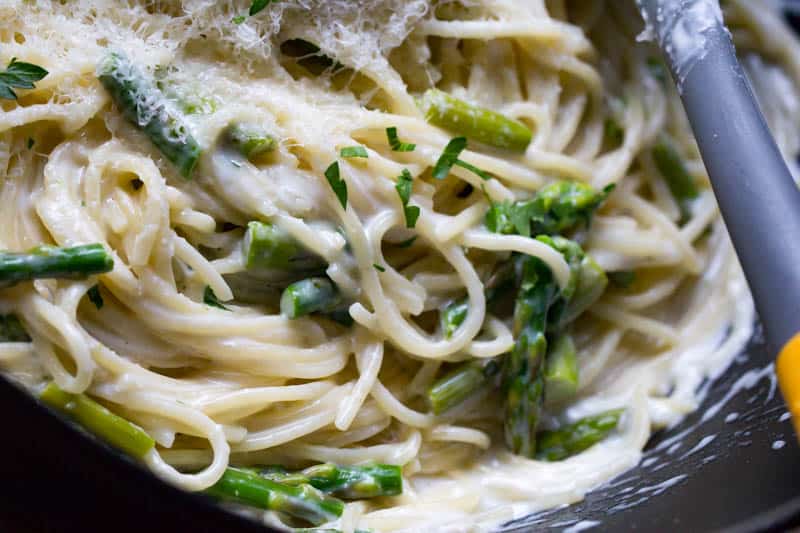 Can I Substitute A Different Vegetable?
Absolutely!
If you are not a fan of asparagus or don't have any available, reach for broccoli florets, peas, or even green beans. You could also toss in some summer squash or zucchini if it is in season. Feel free to add in a vegetable that fits your family's preferences. I love stirring in some baby spinach at the very end so it gets wilted but still keeps its texture.
I like to call this pasta my "clean out the fridge" pasta. Sometimes if I have leftover raw veggies that are close to expiring, I will toss them in. I have even done a vegetable medley, and it tasted great.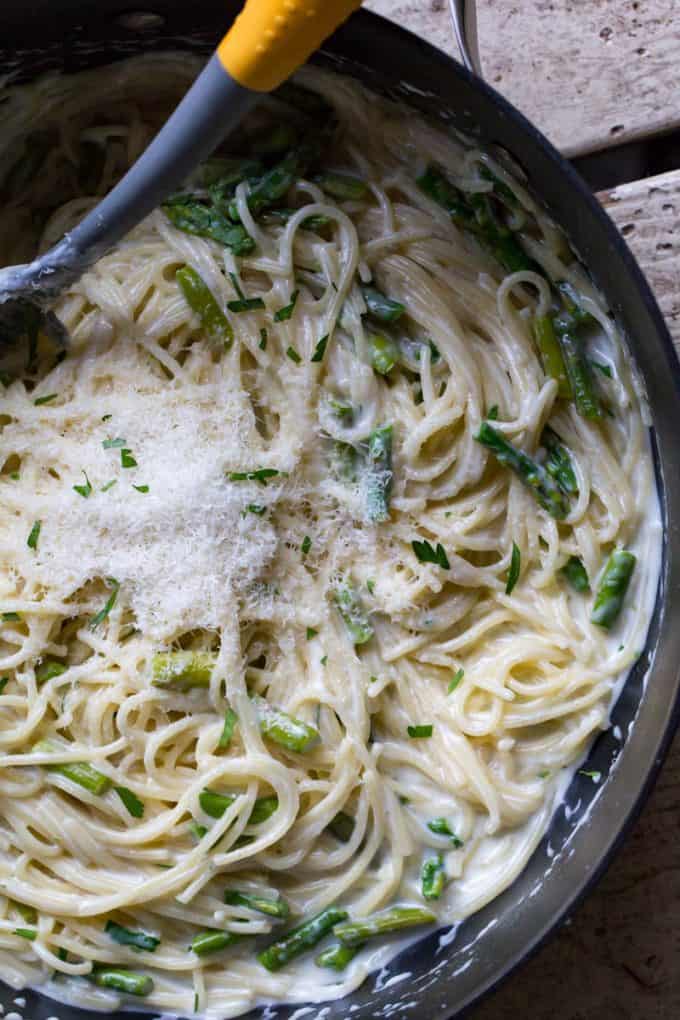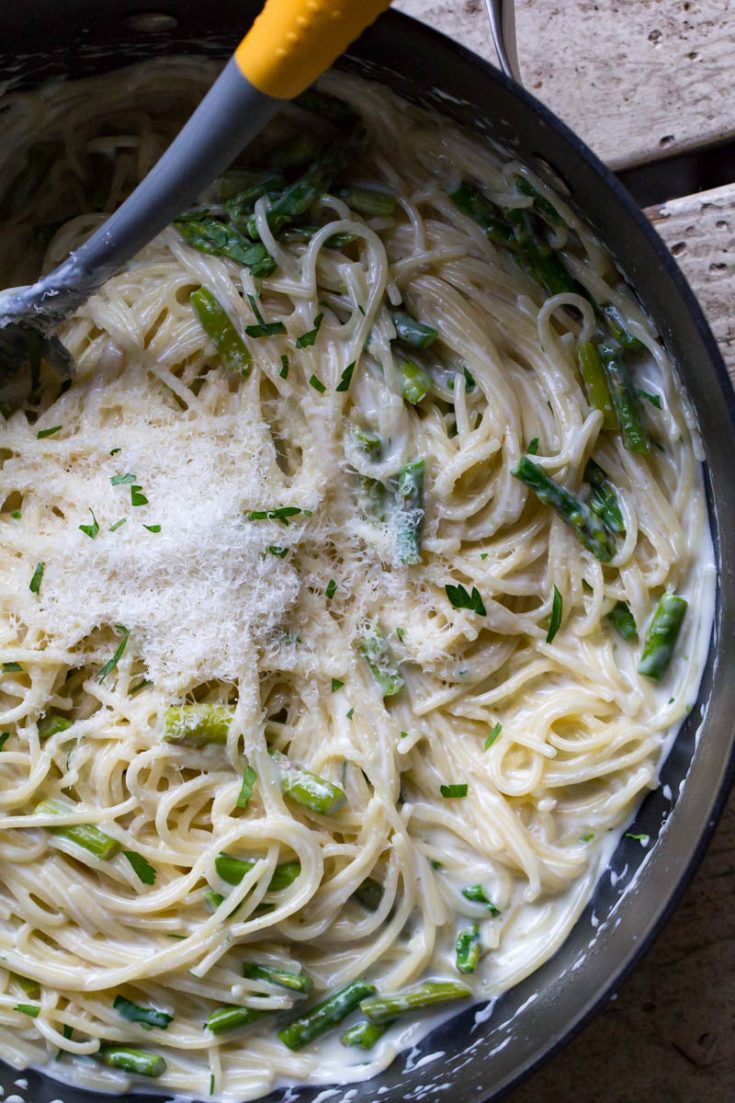 Tips for The Best One-Pot Pasta
Know the cook time of your noodles

(so they don't overcook). Read on the back of the box and follow the instructions.

Don't be afraid to experiment.

If you want to add in a different vegetable or cheese, go for it!

If all else fails, add more cheese.

Cheese in this recipe is what adds flavor and offers a creamy texture to the sauce. So sprinkle on more, stir and enjoy. It also helps thicken up the sauce too.

Use a big enough pot.

You need it to hold all components of the recipe.

A watched pot never boils, but an unwatched pot ALWAYS boils over

. One tip I found is to place a wooden spoon over the top of the pot, and it will pop any bubbles that rise up to help prevent it from boiling over.
Can I Use A Different Kind Of Cheese?
You probably could use a different type of cheese for this pasta recipe. I love how parmesan offers a creamy base for the sauce. I think a mozzarella could work in replacing but it might not be as smooth of a sauce.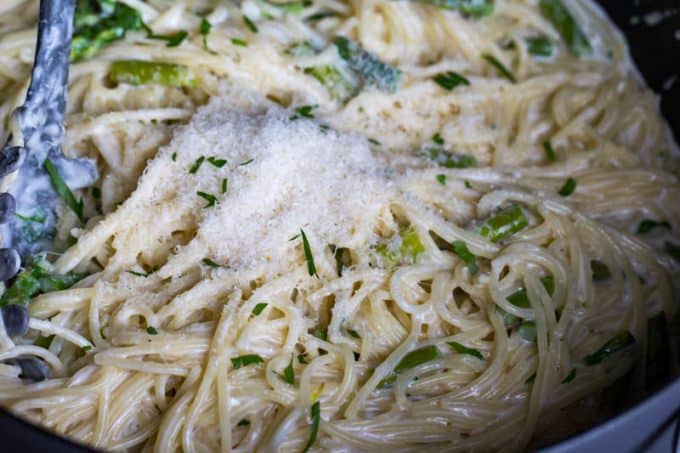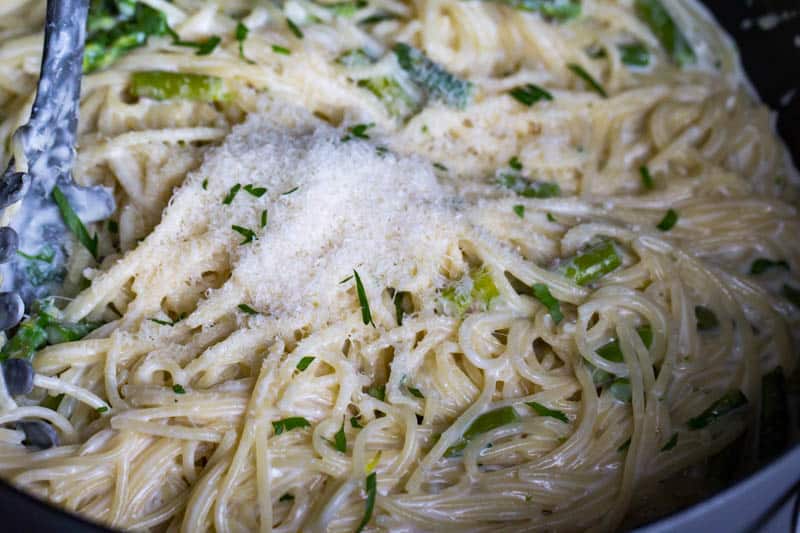 What To Serve With Copycat Pasta Roni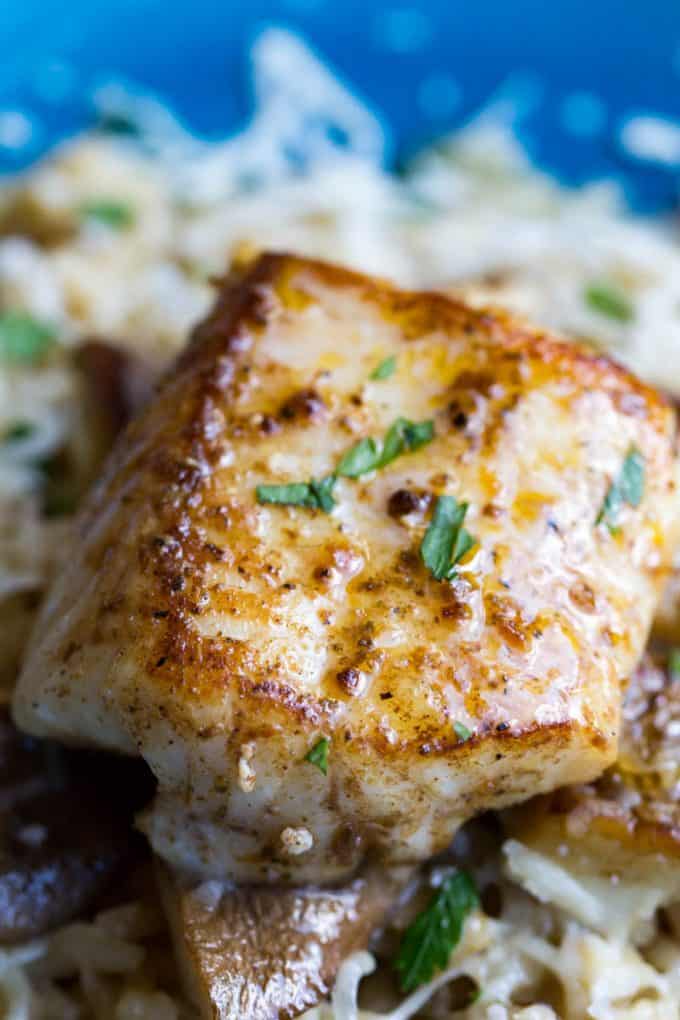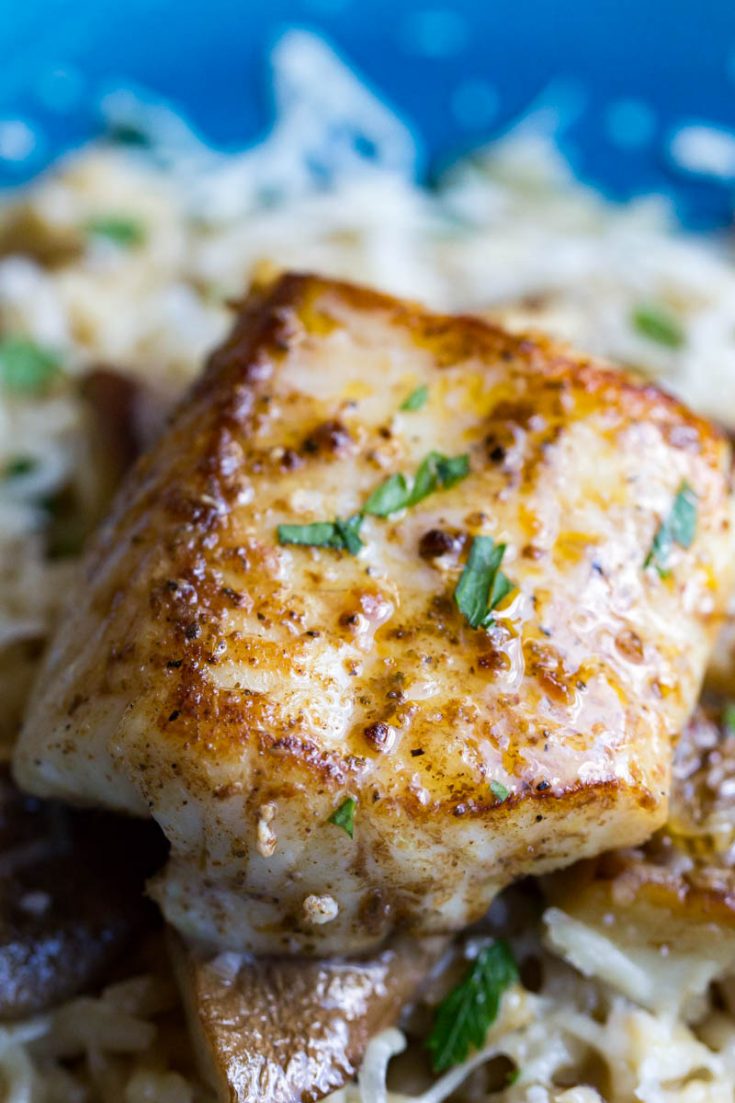 Can I Use Whole Wheat Pasta for Parmesan Noodles
Of course. Feel free to use whole wheat, gluten-free, or any other type of noodle that you enjoy. Just follow the directions on the pasta package as for the time it needs to cook and adjust accordingly.
You can also use different types of noodles if you don't want to use spaghetti noodles. I have made these noodles with bow-tie pasta, elbow and more. My family and I prefer the long noodles for this one-pot pasta recipe, but feel free to use what you have on hand or prefer.
If you are a fan of pasta, you got to try this creamy pasta recipe. We have been making this for a long time, and it is always a quick and easy recipe to whip up.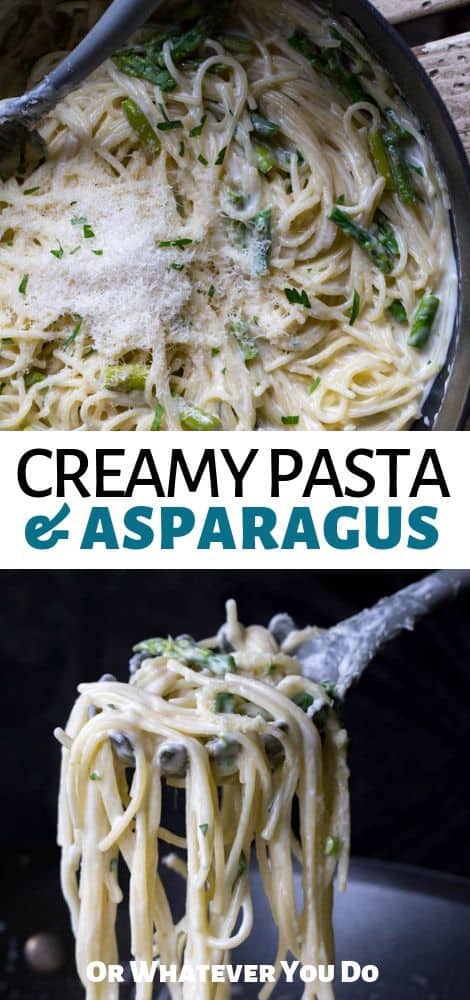 Yield: 6 servings
One Pot Creamy Parmesan Noodles with Asparagus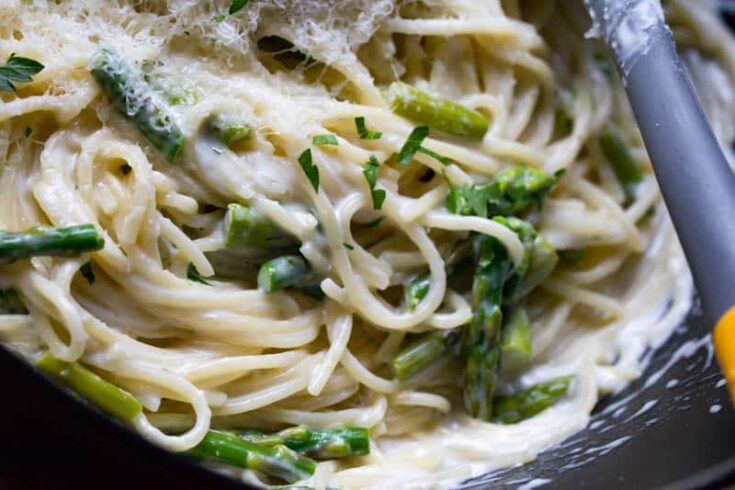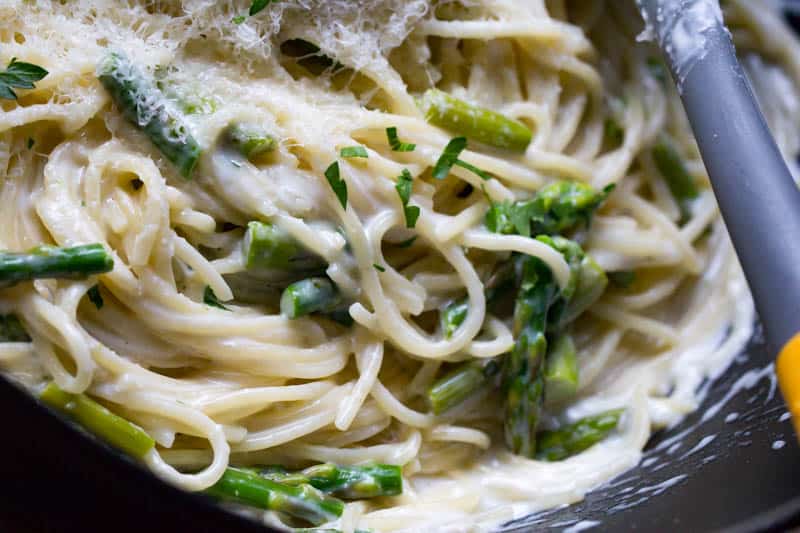 This easy one-pot pasta is full of creamy parmesan cheese and fresh asparagus.
Ingredients
1 pound spaghetti noodles
6 cups water
1/2 teaspoon salt
4 tablespoons salted butter
1/4 teaspoon mustard powder
1/2 - 1 cup whole milk or half and half
1/2 pound asparagus, washed and chopped into bite-sized pieces with the rough portion of stems removed
1 pinch cayenne (optional)
1/2 teaspoon chopped fresh herbs (thyme, basil, parsley, oregano are all good choices! pick your favorite!
1-2 cups grated parmesan cheese
Instructions
Place the spaghetti, water, salt, butter, and mustard powder into a medium to large sauce pot. Bring the pot to a simmer over medium heat, stirring frequently. Put the asparagus in during the last 3 minutes of cook time, and let simmer until the pasta is tender. Reduce the heat to low.
Stir in the milk, cayenne, herbs, and cheese. Stir until the cheese is melted and combined.
Serve hot!
Nutrition Information:
Yield:
12
Serving Size:
1
Amount Per Serving:
Calories:

173
Total Fat:

9g
Saturated Fat:

5g
Trans Fat:

0g
Unsaturated Fat:

3g
Cholesterol:

26mg
Sodium:

434mg
Carbohydrates:

15g
Fiber:

1g
Sugar:

1g
Protein:

8g