My Traeger Lasagna is just my homemade lasagna with all of the bells and whistles, including a homemade meat sauce and a big gooey cheese layer, all put together and baked on the Traeger Pellet Grill.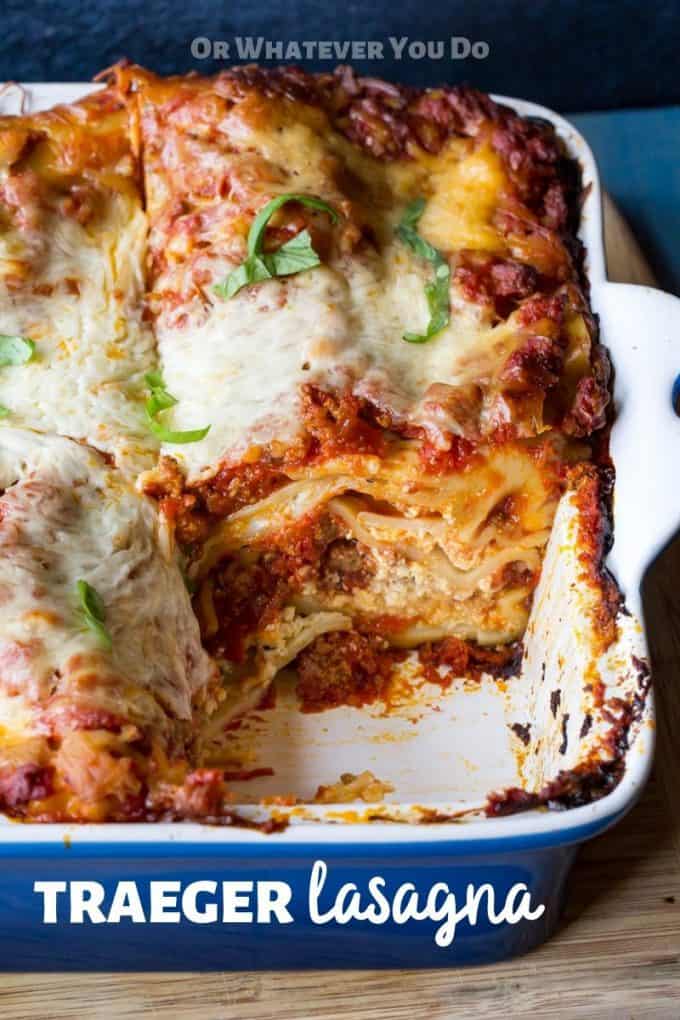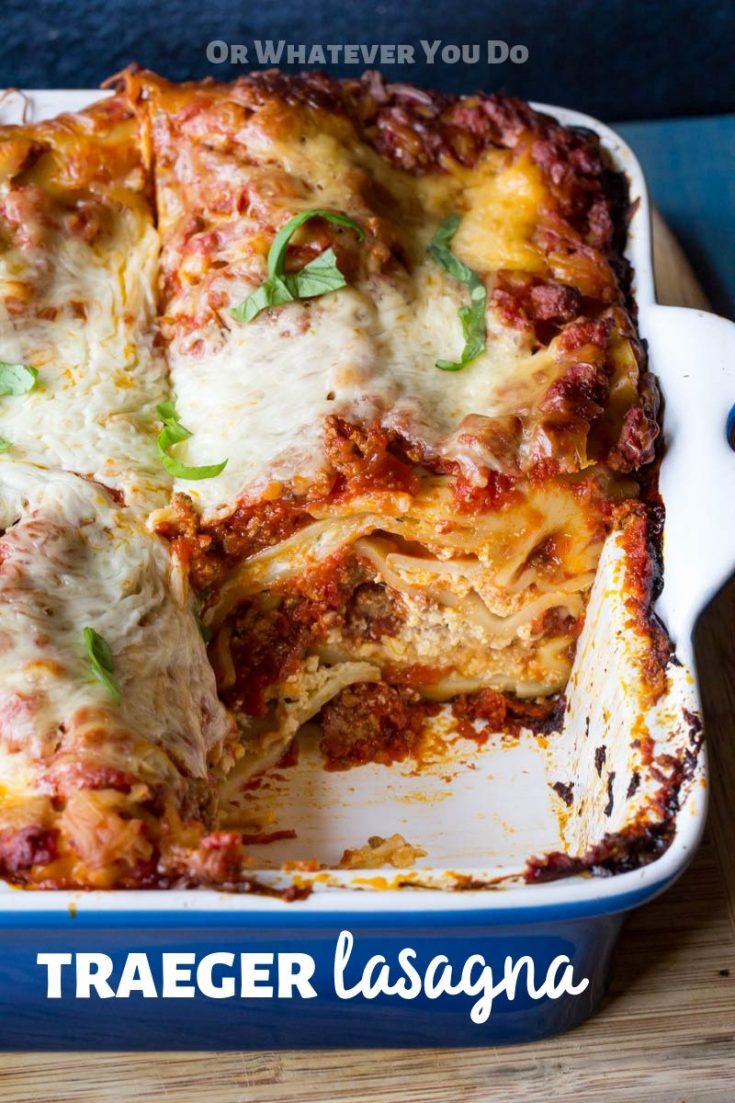 Traeger Lasagna Recipe
This Traeger Lasagna is one of our favorite ways to make lasagna! Not only can you save the house from being heated up by running the oven, but wood fire does great things to pasta and red sauce.
This is a traditional lasagna recipe with tons of homemade sauce, copious amounts of cheese, and all of the meat you can throw at it. However, you can also cheat a little and use store-bought sauce if you want. No-boil noodles also work here, just make sure to add some extra water to the sauce.
Get our 75 ESSENTIAL Traeger Recipes here!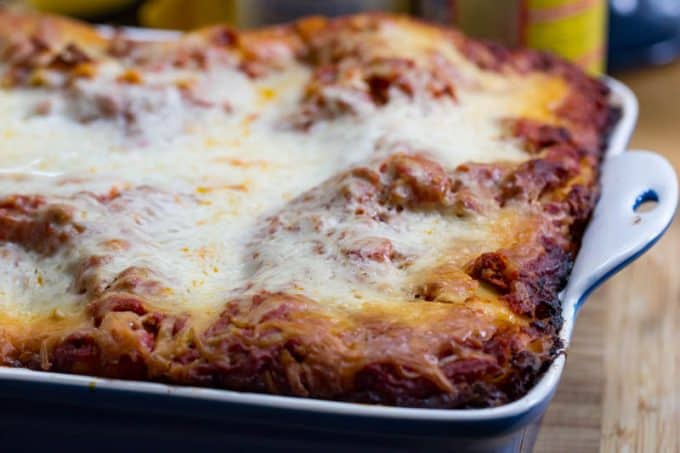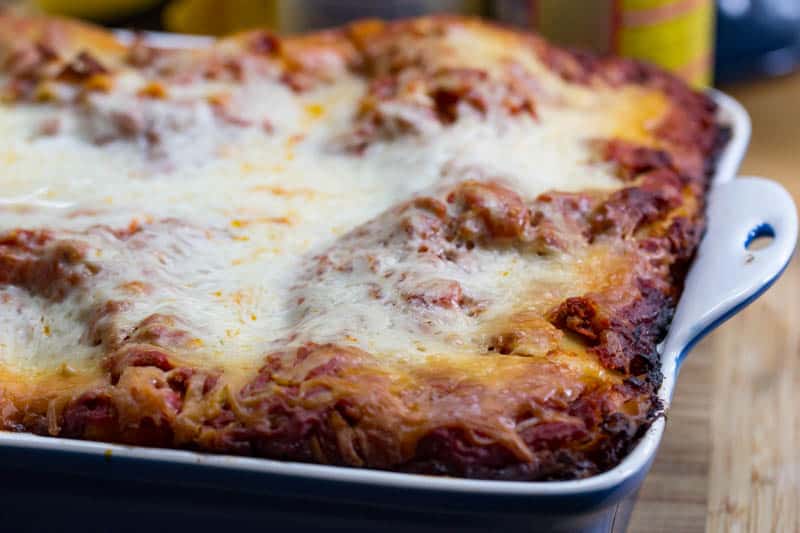 Can you cook this in the oven?
If it is not hot outside and you'd rather cook this in the oven, you totally can. It'll be delicious either way!
This recipe uses a meat sauce such as my Bison Bolognese (you can use ground beef if you don't have ground bison!), or you can use your own favorite meat sauce recipe. Then we have a healthy later of ricotta, cottage cheese, and mozzarella all layered together for a perfect Italian dish for dinner!
Get all of my Easy Traeger Recipes here!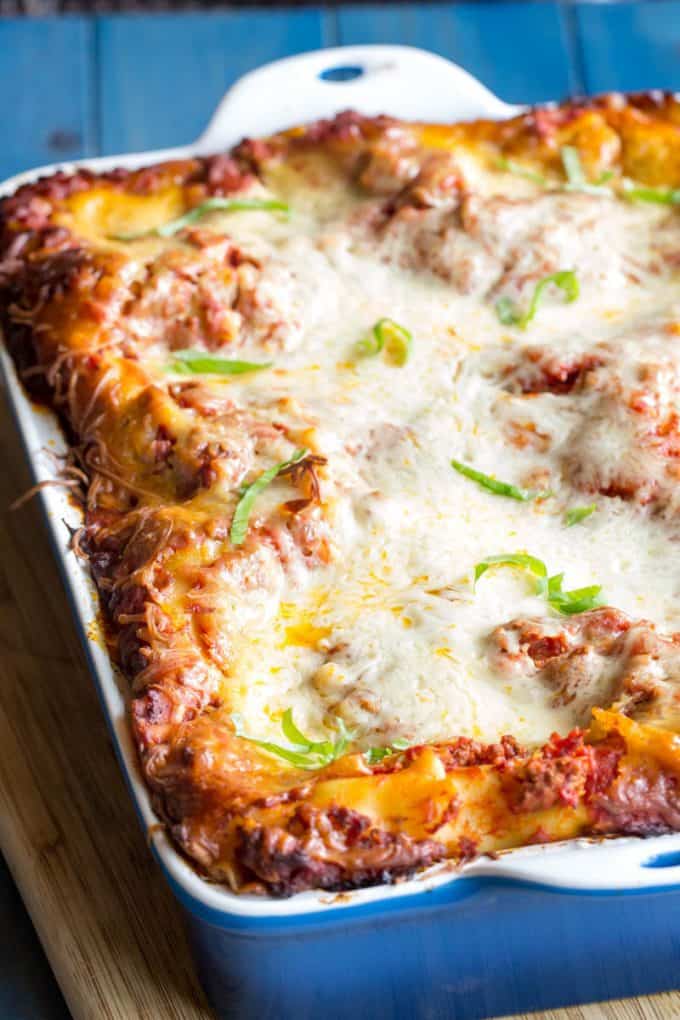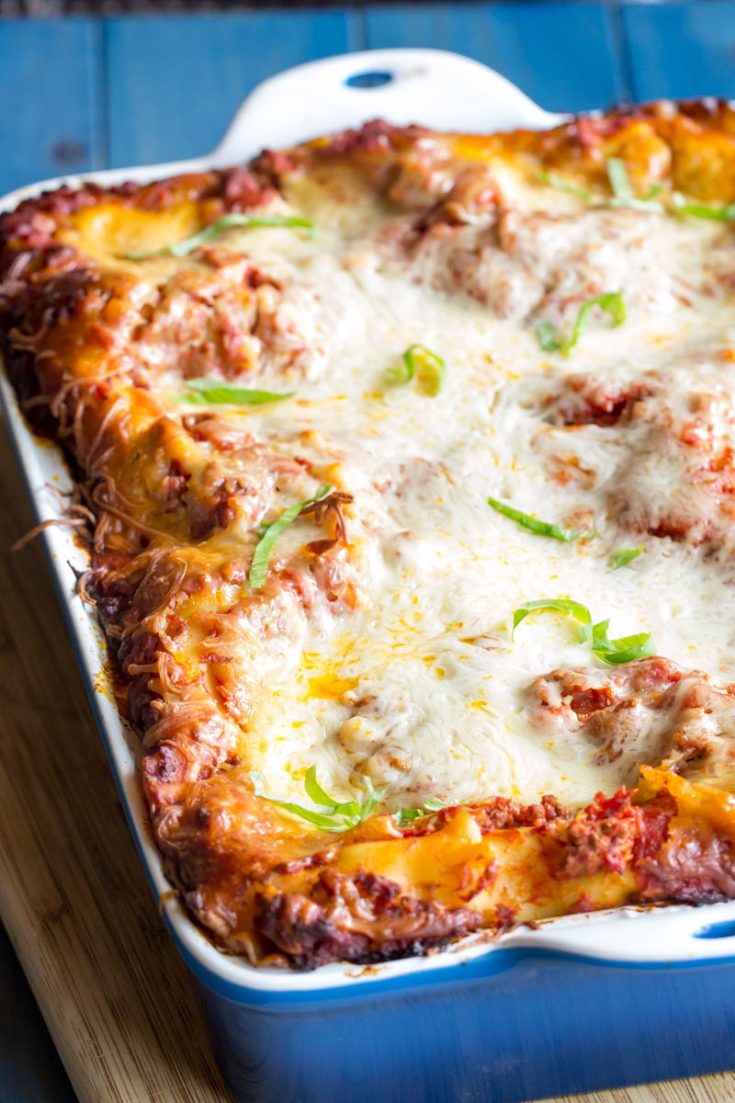 What kind of pan is best for making lasagna on the pellet grill?
You can use a foil lasagna pan or a cast iron pan. I've even seen people use a heavy stoneware pan for lasagna on the grill as well.
If you are baking it in the oven, you can use any nonstick or glass Pyrex baking dishes, but for grilling the heavier the pan the better.
If you are cooking for two? Use a bread pan. It's the perfect size for a table for two!
Be sure to lightly oil whatever vessel you choose to use.
Get all of my delicious pasta recipes here!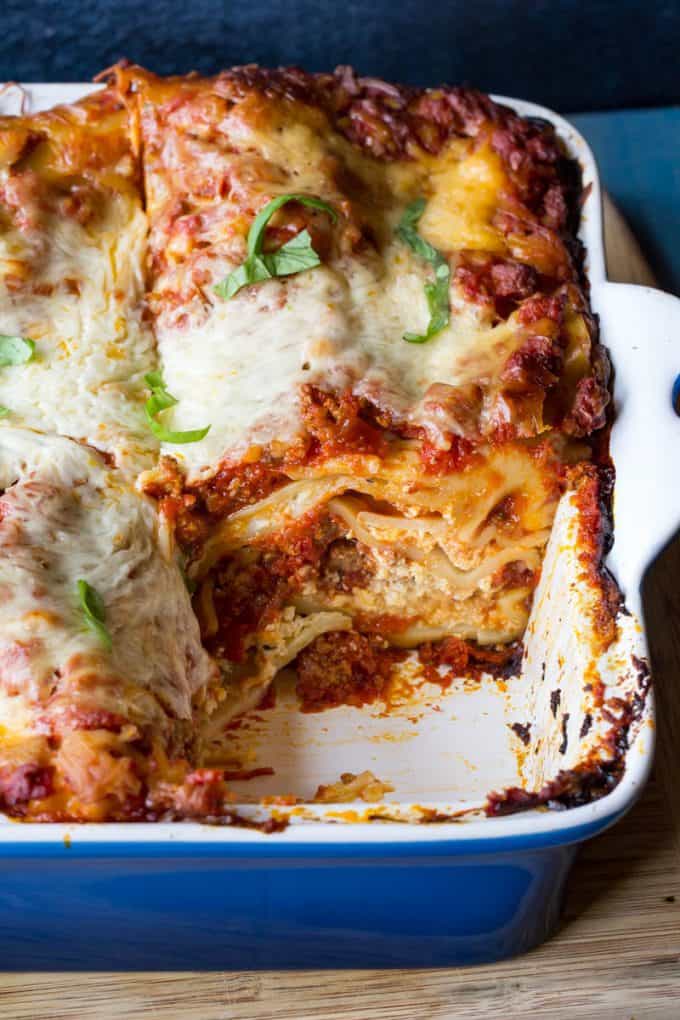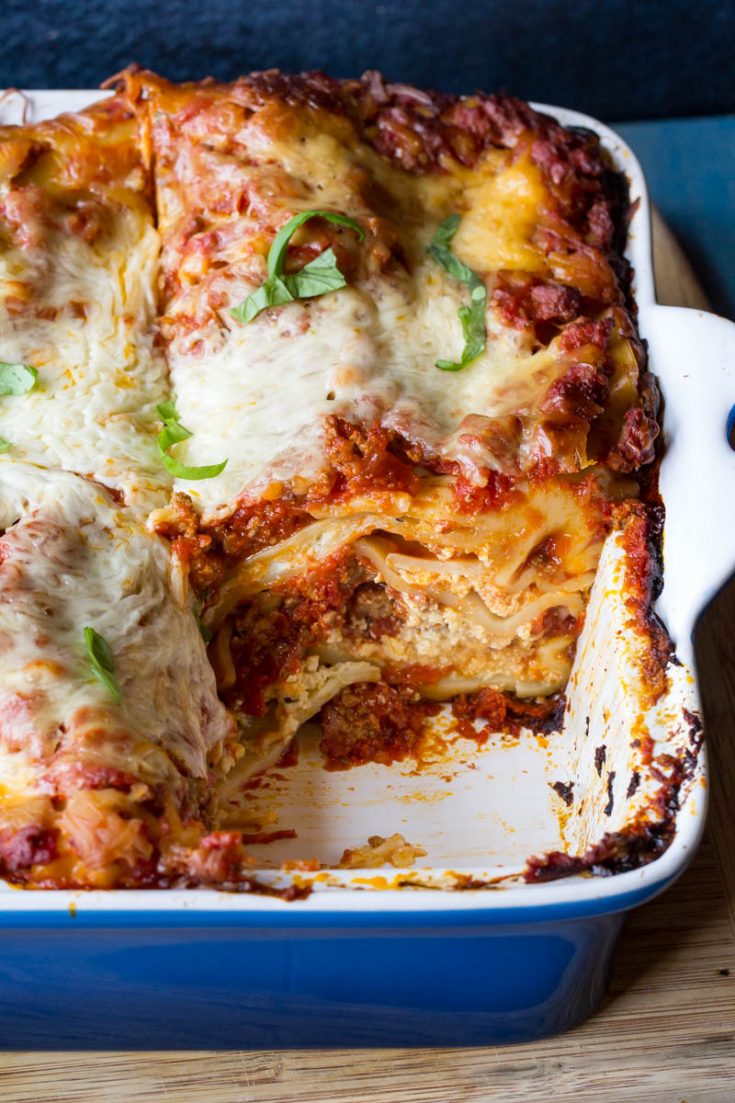 How to assemble lasagna
You will be assembling this Traeger lasagna the same way you would your traditional recipe.
First you'll want to put together your sauce and let it simmer, the longer the better.
You'll be boiling your noodles first, but only cook them halfway. They'll finish cooking when you bake the casserole.
I use 5 noodles per layer. So I cook a whole box of noodles and end up having a couple extra for taste testing, or a few to roll up into quick lasagna roll-ups. That's my real favorite. That early lasagna roll-up that I get to eat right after I put the big pan in the oven. Lasagna assembly works up an appetite!
I always like to cover the bottom of the pan with sauce before I start layering. This helps add flavor and moisture to the bottom layer of pasta and helps the pasta not to stick.
Next, you will place a layer of noodles, then half of your ricotta mixture, and then a good layer of sauce. Top the sauce with shredded mozzarella. Repeat this once.
The top layer is layered a little differently, having the noodles, sauce, and then mozzarella cheese on top.
I can't mention enough that you don't want to skimp on the sauce. Better too saucy than too dry, right?
So sauce away!
Make a batch of my Homemade Bolognese for this!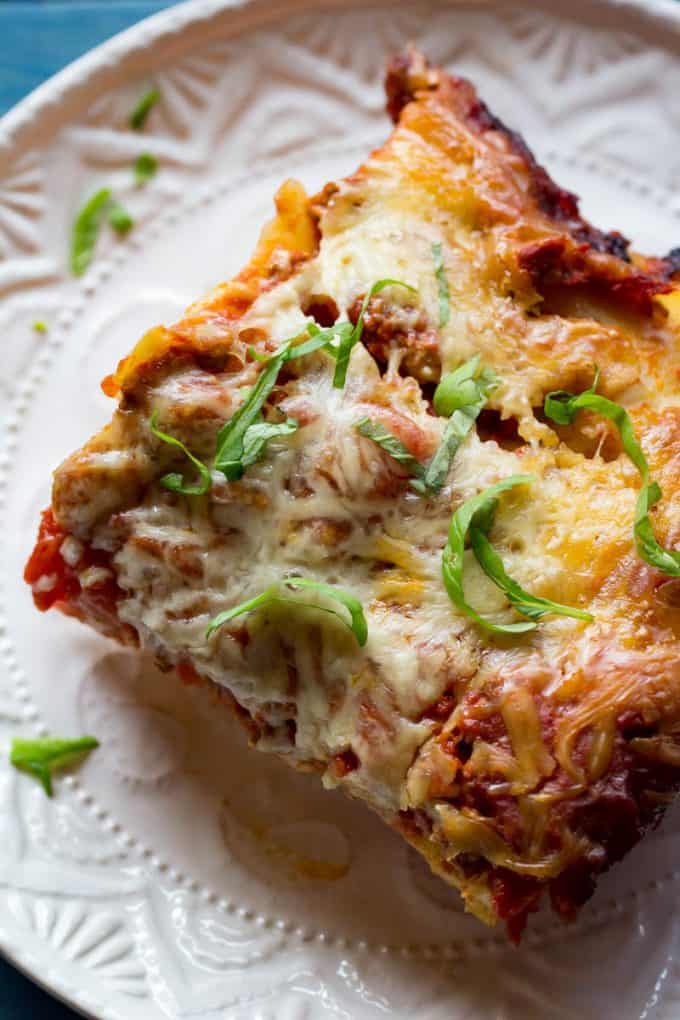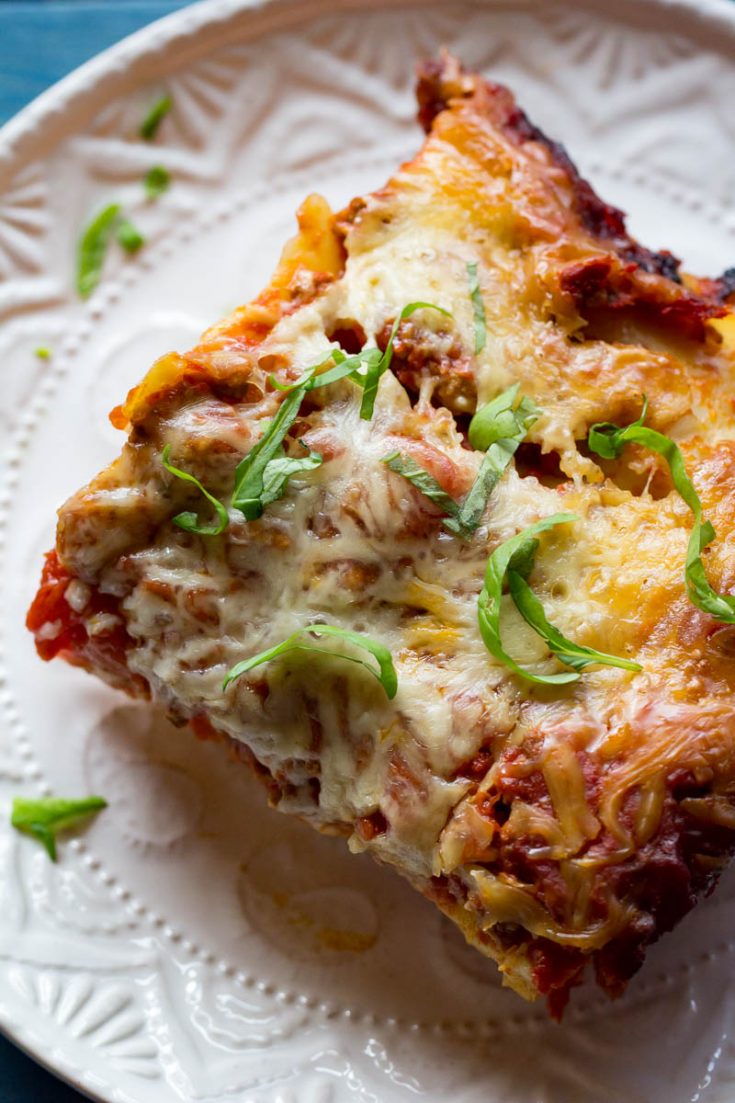 What should you serve with lasagna?
I LOVE a good crusty toasted baguette or French bread to go with this lasagne. Perfect for mopping up every last drop of sauce and cheese.
A salad of fresh greens with a variety of chopped vegetables such as green onion, fresh tomatoes, carrot slivers, and cucumber tossed with a light Greek dressing would be a great side for this dish.
A Caesar salad with my Homemade Caesar Salad Dressing Recipe is also a classic side dish to serve with red sauce. Super easy and way better than store-bought varieties.
Don't skip out on our Garlic Bread Sticks either!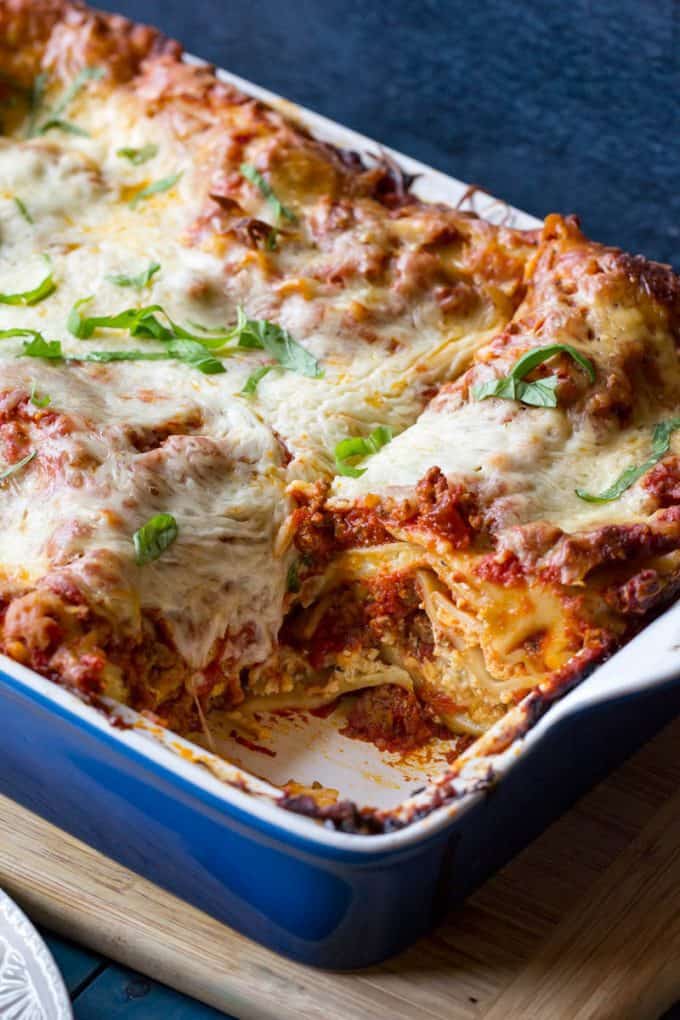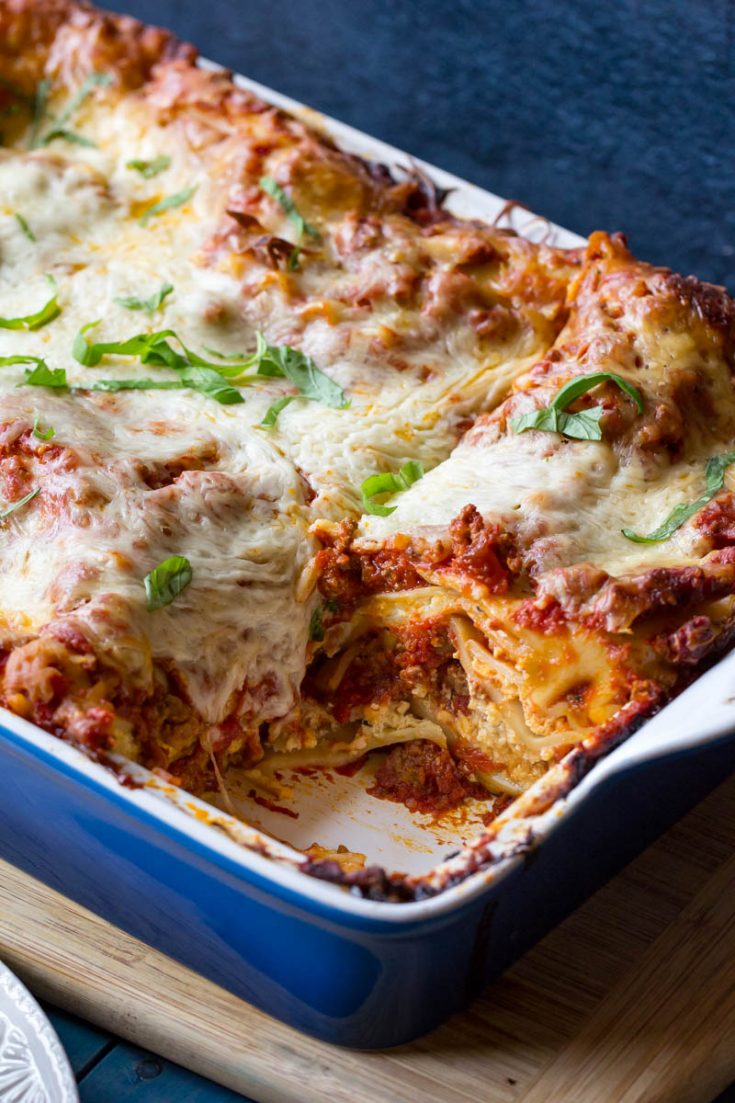 How many people does a pan of lasagna serve?
A standard 9×13 pan will yield 12-15 servings, depending on the size of the serving you wish to offer.
If you're serving a crowd or you want a pan to freeze for another meal, make 2 pans.
Lasagna freezes and reheats well, so leftovers are a good thing!
More recipes for your smoker here!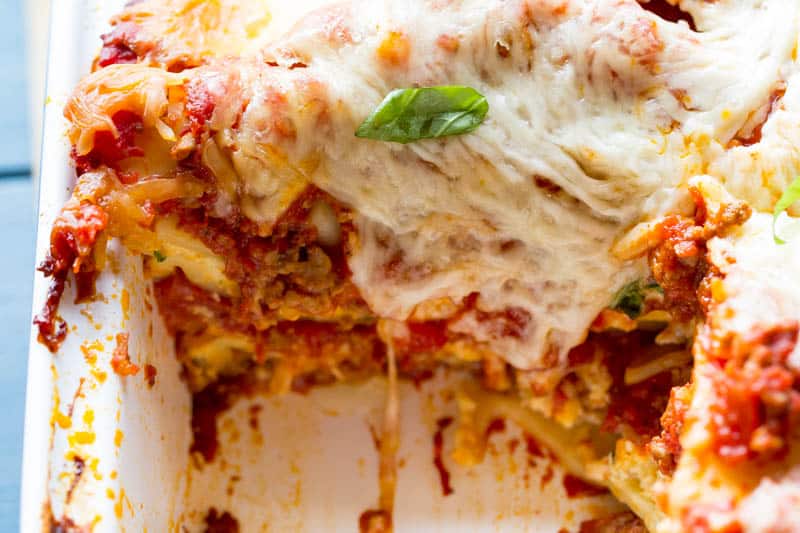 How long does lasagna keep in the freezer?
For the best quality, keep frozen no longer than 2 to 3 months. It will stay safe longer than that, but the quality won't be as good.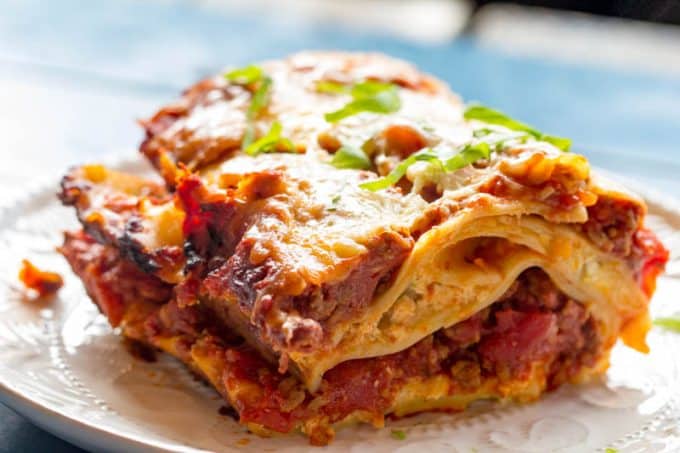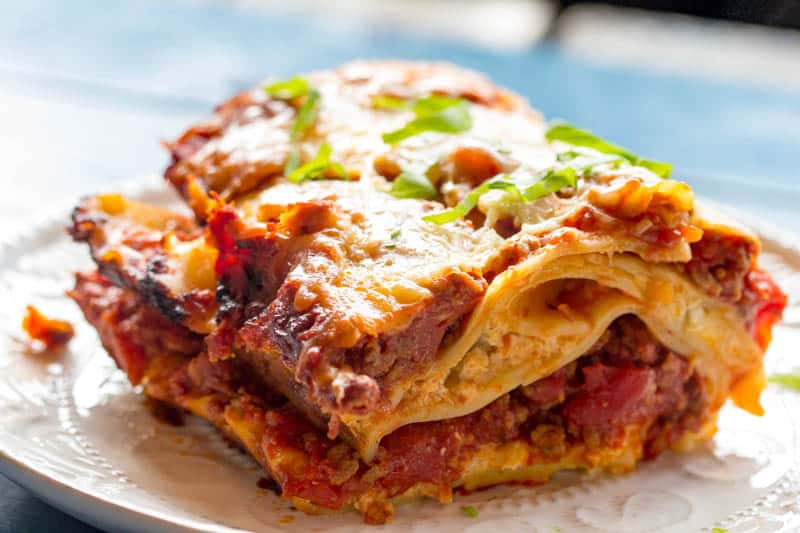 How long does leftover lasagna last in the fridge?
I would keep it for 2-3 days. After that, you're better off freezing it to use at a later date.
Lasagna is a delicious, hearty meal to serve for any occasion and I have never met a person who doesn't like it.
If you're looking to feed a crowd or stock your freezer for easy workday meals, this recipe is meant for you, so start cooking and enjoy!
If you have people who are sensitive to red sauces, make up a pan of my Chicken Alfredo Lasagna!
Easy shortcut lasagna recipes
These lasagna recipes use some shortcuts to make it a quicker, easier, but still delicious meal.
Check out these great recipes too!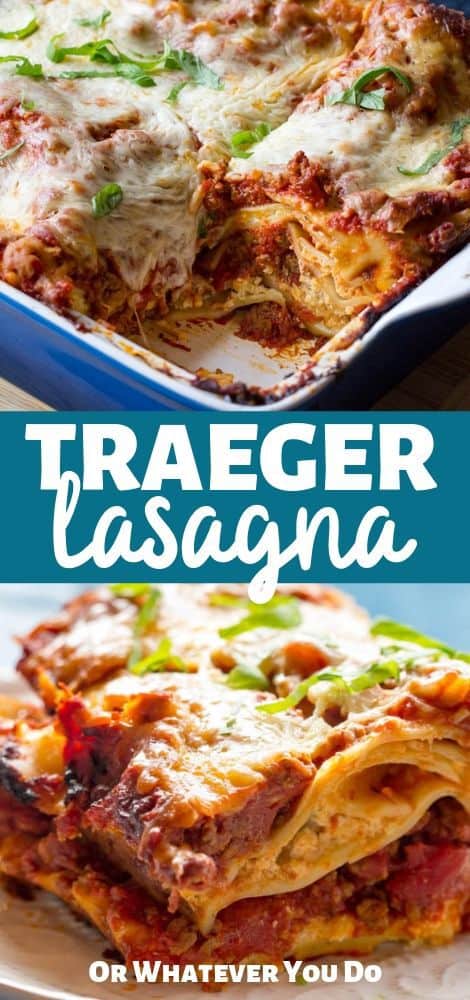 Yield: 12 servings
Traeger Grilled Lasagna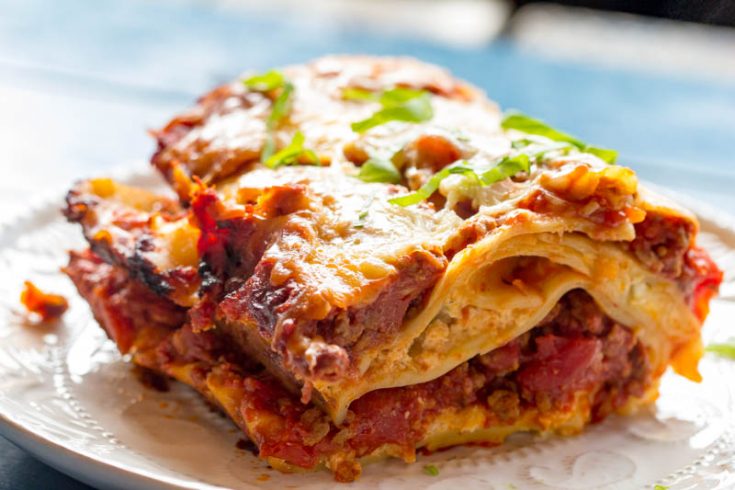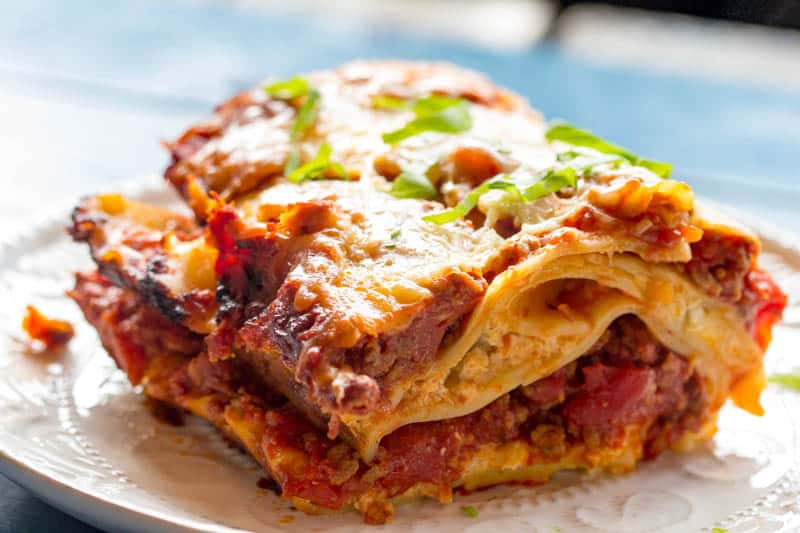 This easy homemade lasagna is made with a hearty meat sauce, a cheesy layer of cottage cheese, ricotta, and Italian seasoning, and all of the mozzarella. All of it.
Total Time
2 hours
25 minutes
Ingredients
Spreadable Cheese Mixture
2 large eggs
1/4 teaspoon garlic powder
1/4 teaspoon onion powder
1/2 teaspoon salt
15 ounces ricotta cheese
8 ounces cottage cheese
4 ounces shredded parmesan cheese
1/2 teaspoon basil
2 teaspoons parsley
Shredded Cheese
8 cups shredded mozzarella cheese (or an Italian Cheese Blend)
Instructions
Preheat your grill to 325°F. Boil noodles just until flexible. About 3-4 minutes. Drain, rinse in hot water, and set aside.

Mix the eggs, garlic powder, onion powder, salt, ricotta cheese, cottage cheese, and shredded parmesan in a bowl until well combined.

Cover the bottom of your lasagna pan with a thin layer of sauce. Place a single layer of noodles over the sauce, slightly overlapping the edges. Put 1/2 of the ricotta cheese mixture over the noodles and spread evenly. Cover with about 3 cups of sauce and gently spread out. Top with 2 cups of mozzarella.

Place another layer of noodles, the remaining half of the ricotta cheese mixture, and sauce on top of that. Top with another 2 cups of mozzarella.

For the final layer, place noodles first, then spaghetti sauce, and then the remaining mozzarella cheese on top.

Grill for 45 minutes at 325 degrees. Check for doneness at this time. The internal temp should be 160°. Cover with foil if the top starts to brown, and continue cooking until the minimum internal temp is reached and all the cheese is melted. Remove from the grill and let sit for 15 minutes to set before slicing.
Recommended Products
As an Amazon Associate and member of other affiliate programs, I earn from qualifying purchases.
Nutrition Information:
Yield:
12
Serving Size:
1
Amount Per Serving:
Calories:

301
Total Fat:

18g
Saturated Fat:

11g
Trans Fat:

0g
Unsaturated Fat:

6g
Cholesterol:

89mg
Sodium:

755mg
Carbohydrates:

9g
Fiber:

0g
Sugar:

2g
Protein:

25g
Nutrition data provided here is only an estimate. If you are tracking these things for medical purposes please consult an outside, trusted source. Thanks!