On the rocks or blended, there are many ways to serve a Classic Margarita! Who doesn't love a cold refreshing homemade margarita on a warm summer day?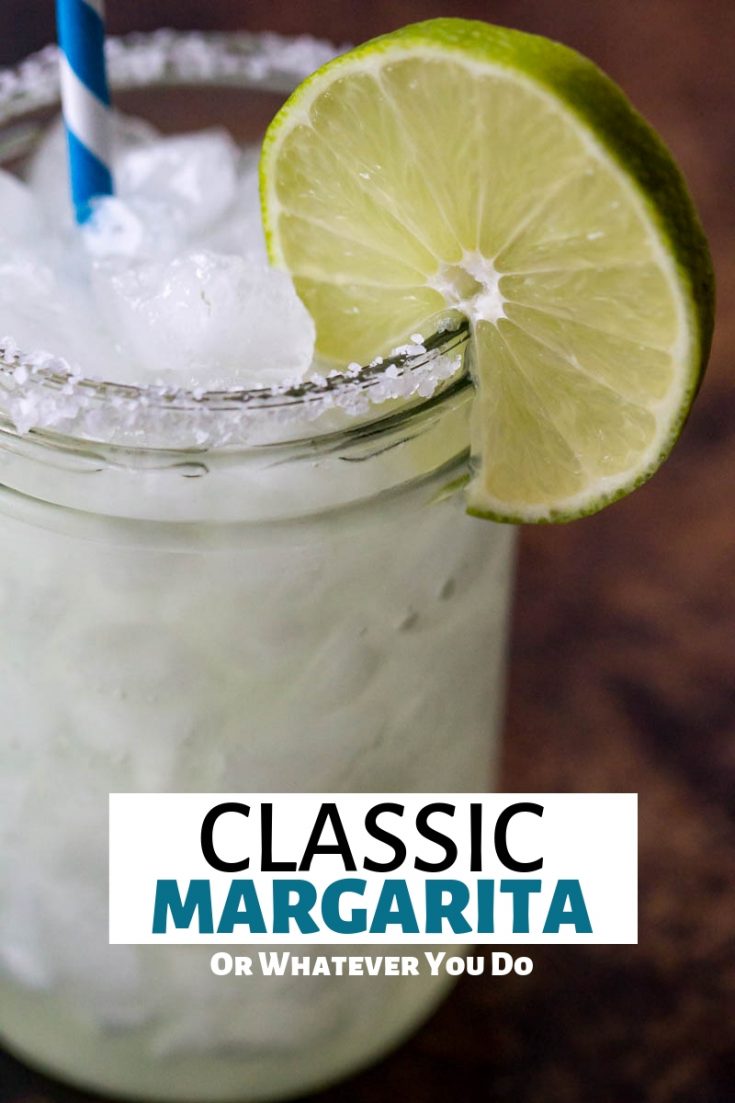 The Best Homemade Margarita
Summer is soon upon us and nothing rings in the season like the cold, crisp, distinctive favor of a classic lime margarita. Even if you can't get your feet in some warm sand any time soon, sipping this delicious margarita you could almost feel the warm ocean breeze and hear the crashing of waves.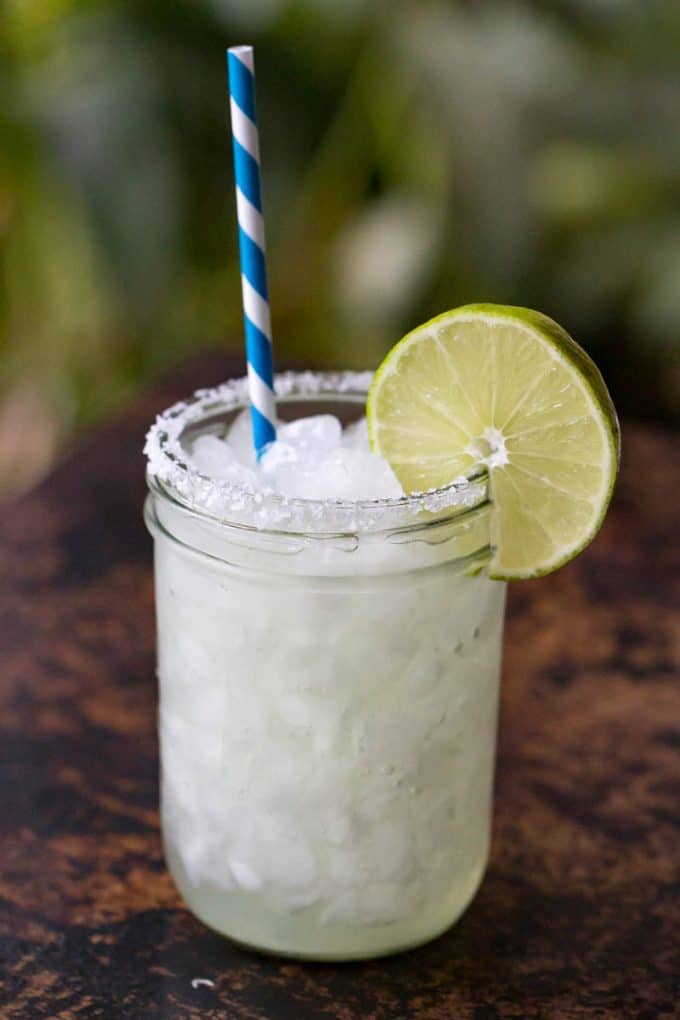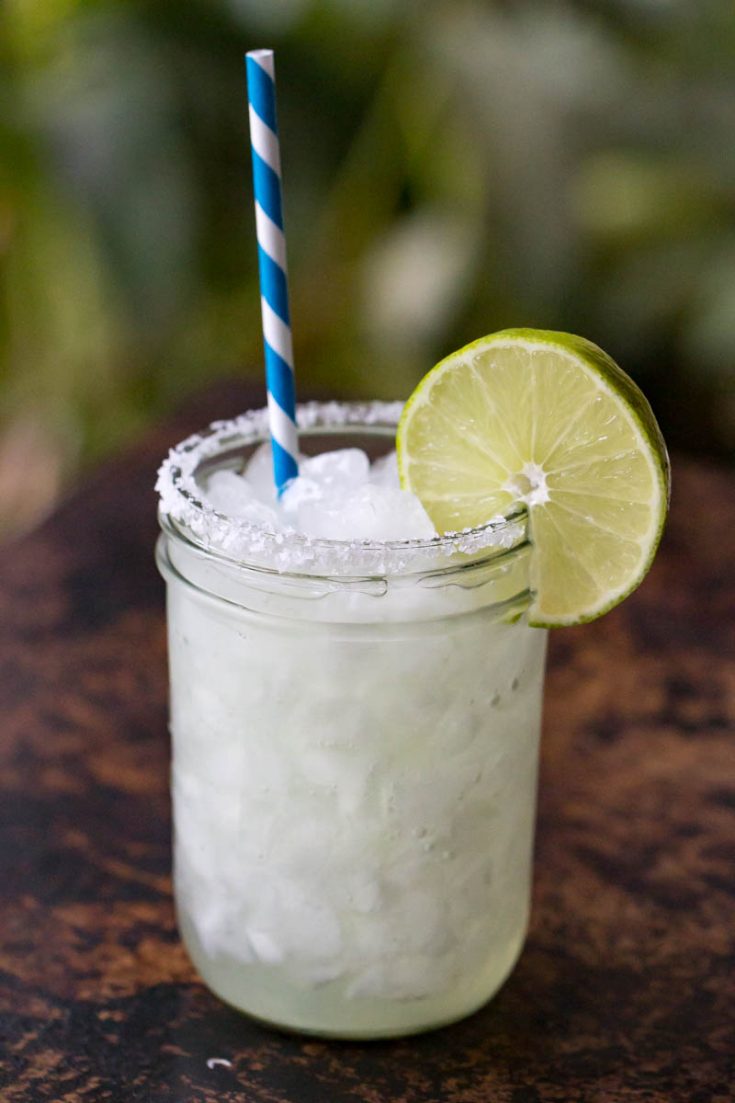 How do I choose the BEST margarita mix?
There are so many margarita mixes out there, how on earth do you pick the right one? Sure, you could go to the store and pick one up, but nothing beats the dynamic flavor of a fresh homemade margarita mix.
But what is the BEST homemade margarita recipe? Well, look no further, as I am quite convinced this recipe will be the answer to all your summer margarita needs!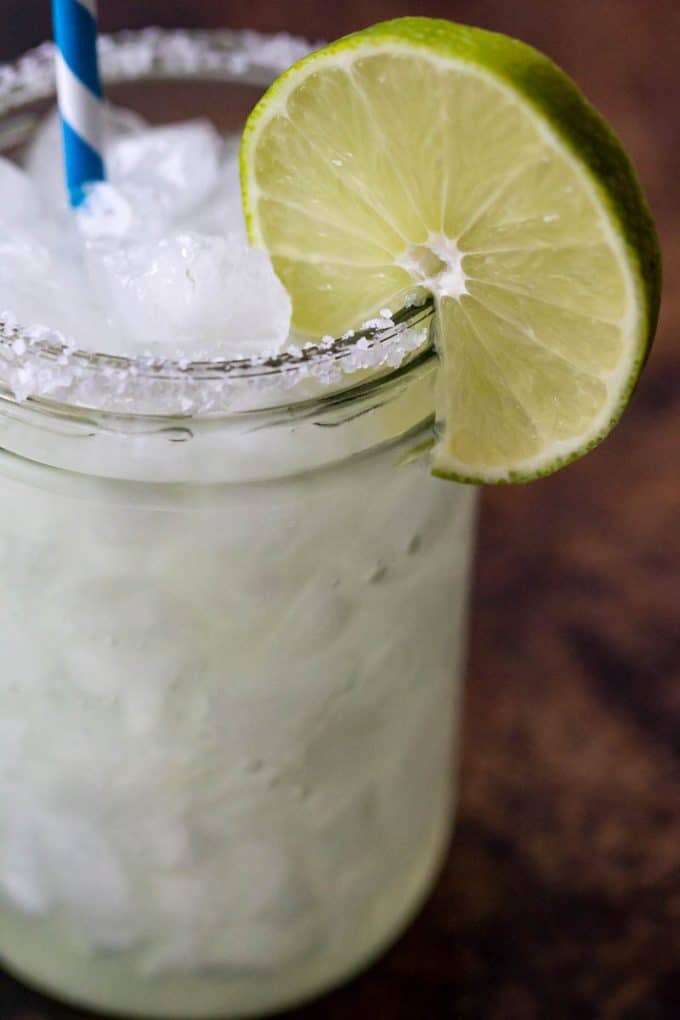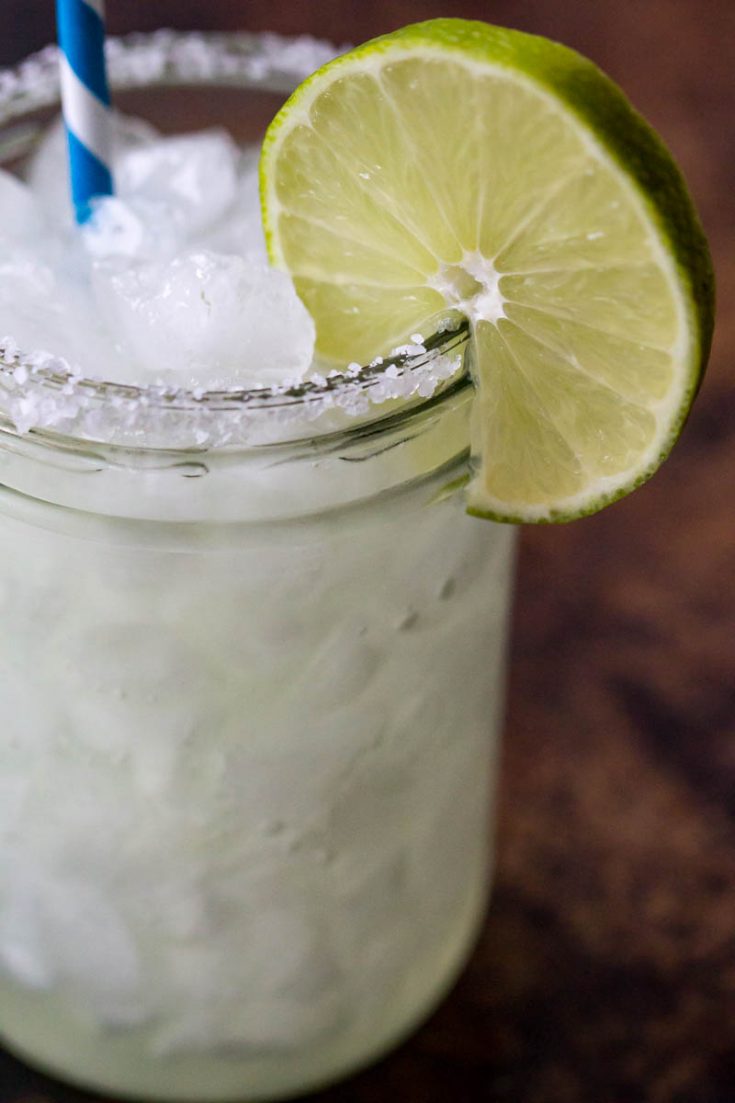 What about the alcohol?
Now that you have taken the plunge in making the best margarita around, where do you start? The alcohol you pick is an important step.
There are so very many options out there: Triple Sec, Cointreau, Grand Marnier…the list goes on. The good news is, you can really use any of them. However, the higher the quality, the better the margarita.
I highly recommend and prefer Patron Citronage. It comes in several flavors to mix things up such as lime, orange, pineapple, and even mango.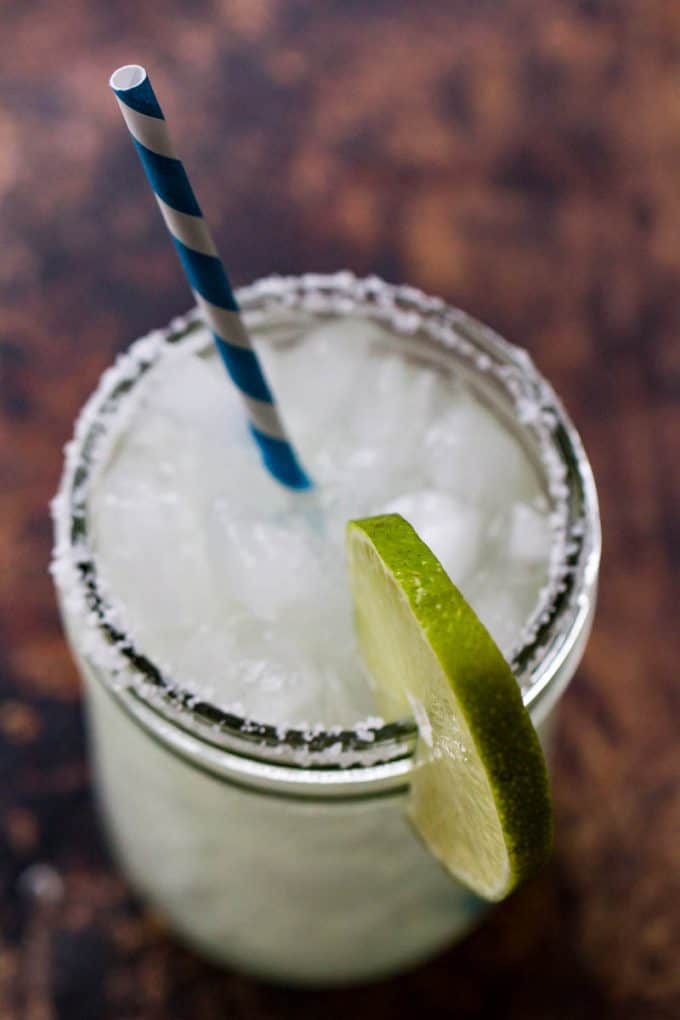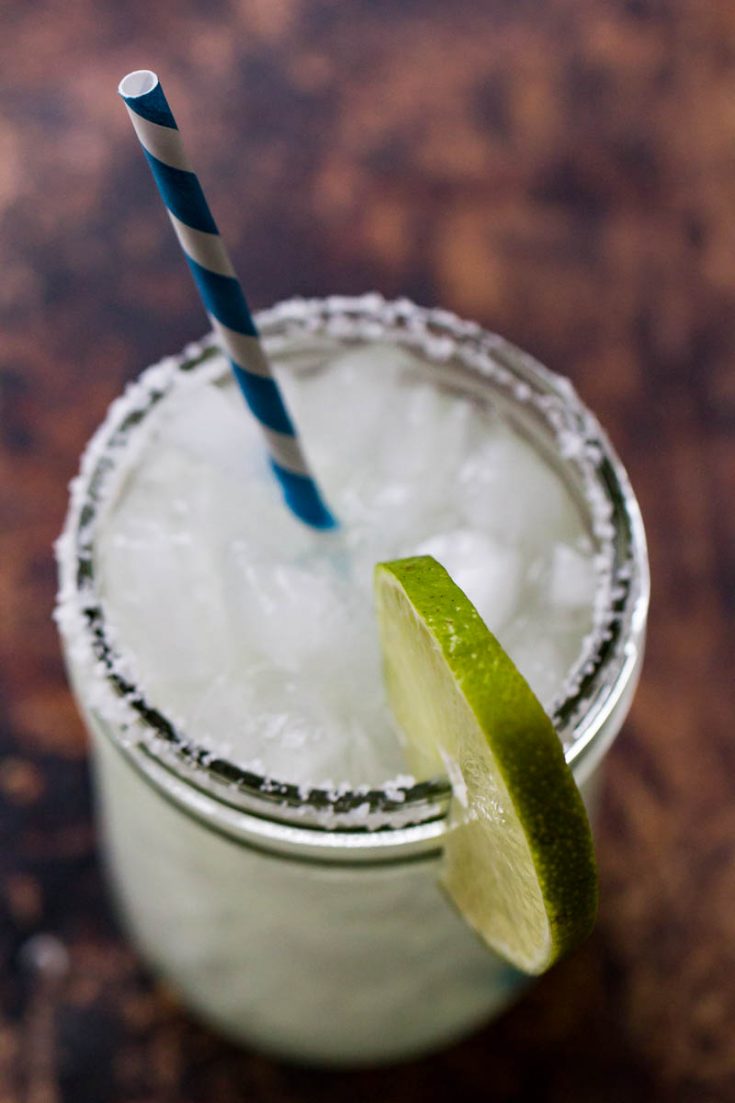 Do you need fresh limes for a margarita?
The next important thing, as all margarita lovers know, is the lime.
You may be wondering, do I really need to use FRESH lime in my margaritas?
Absolutely, freshly squeezed lime juice is the key to making the best and most stellar homemade margarita! So get those hands squeezing and watch out for your eyes!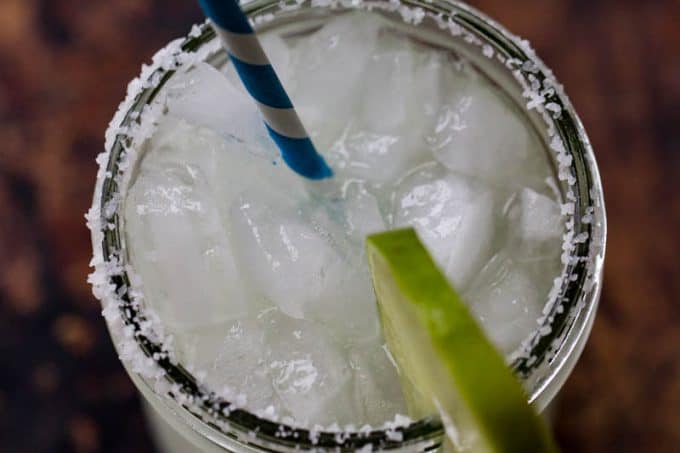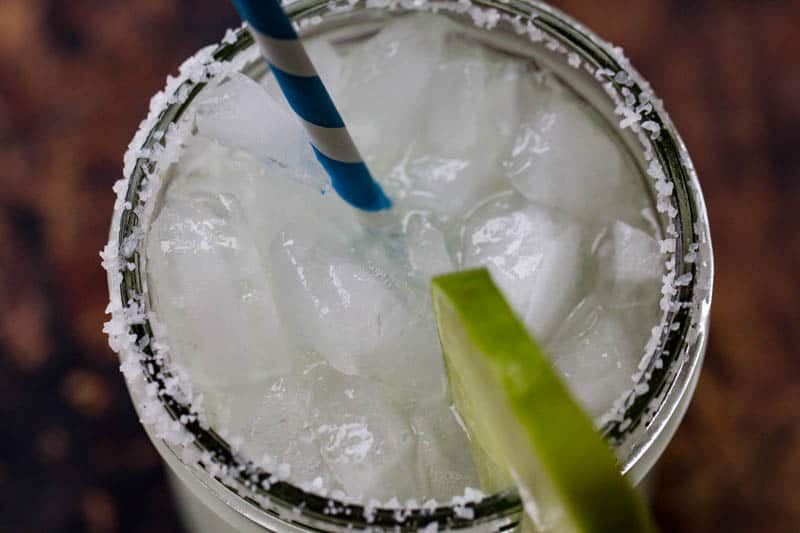 What if I am lacking bar equipment?
Don't have a blender? Try your margarita on-the-rocks!
Don't have a cocktail shaker either? Try adding your ingredients (except the ice) into a travel coffee mug, mason jar, or another vessel with a secure lid.
Shake and pour, taking care to strain out the ice and seeds if desired.
You can also use two slightly different sized plastic cups and place one on top of the other to make a shaker.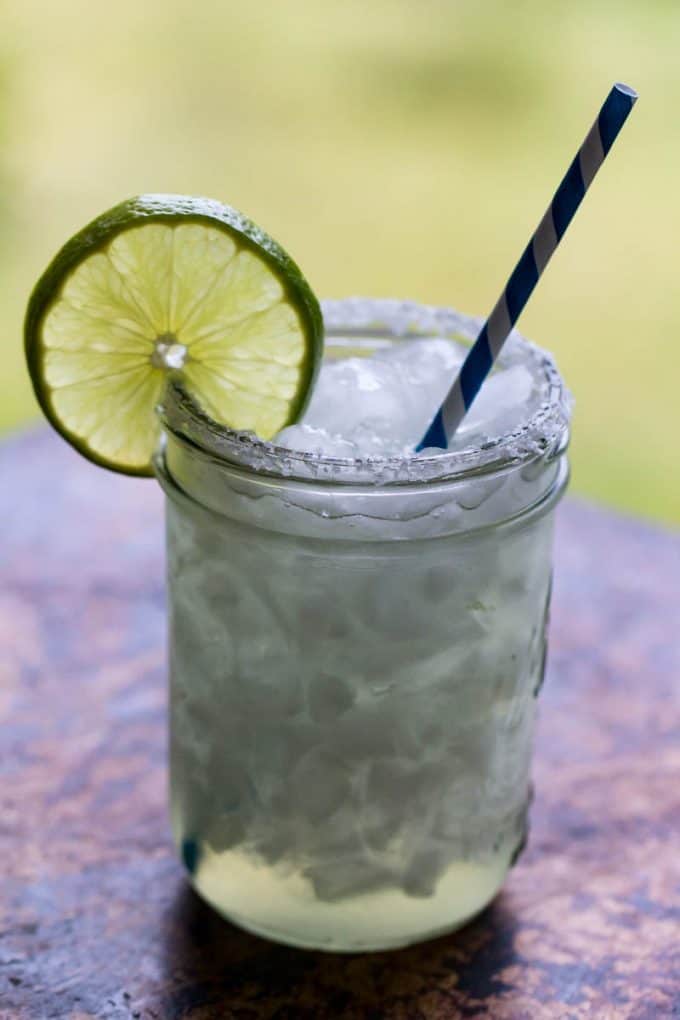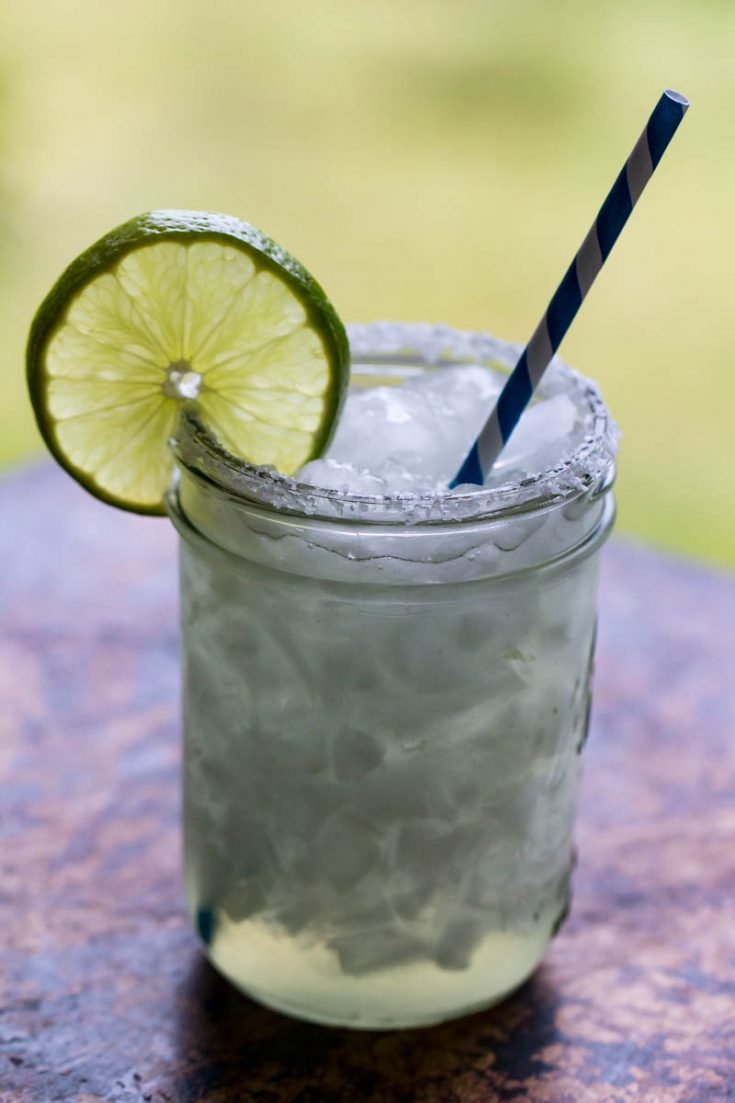 How can I make my margarita flavored?
Looking to shake up your margarita from the traditional lime? Try various flavors by adding muddled fresh fruit. There are so many other great flavors and combinations for you to experiment with: strawberry, mango, raspberry, blackberry, or pineapple.
You can even mishmash your drinks and serve a Margarita Mimosa!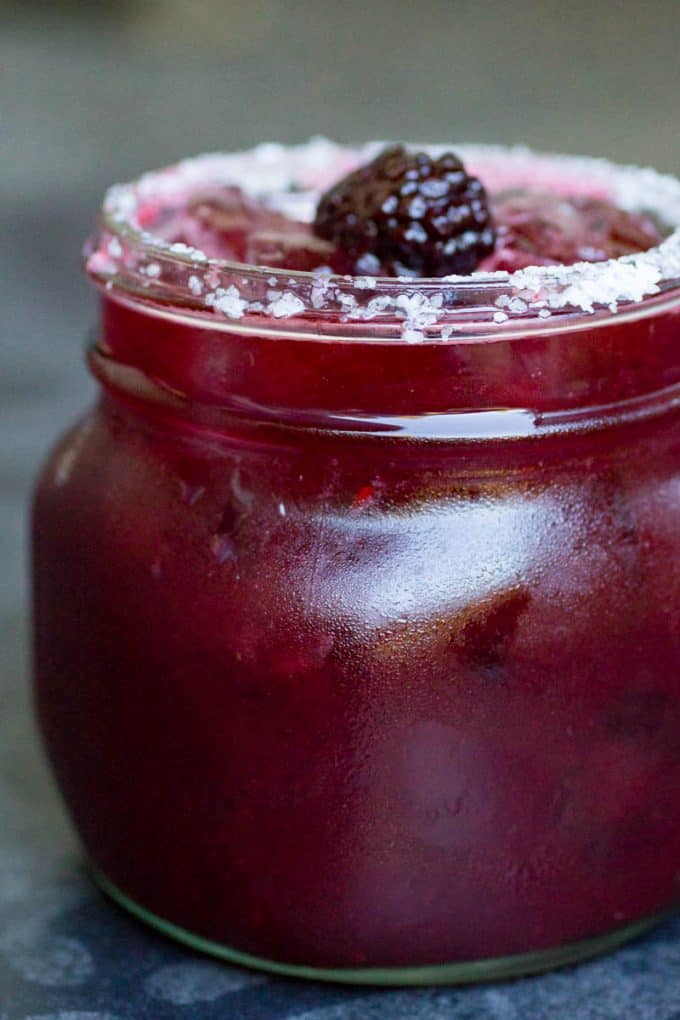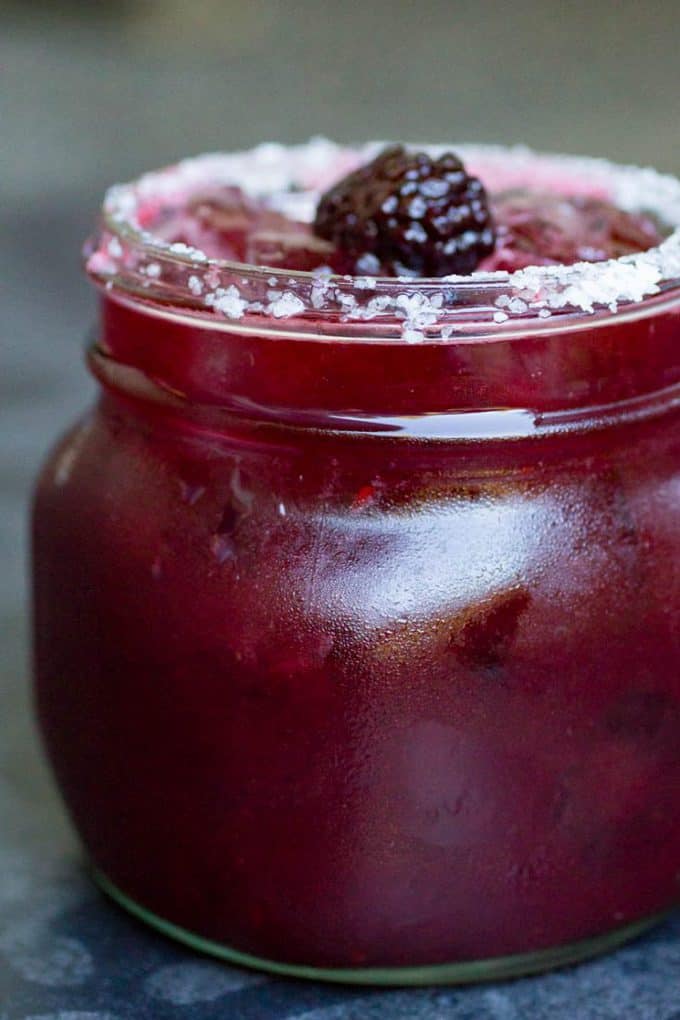 What does it mean to "muddle"?
Never muddled fruit before?
Have no fear, it's a fun word for a very simple process that will add pizazz to your homemade margarita. A mortar and pestle is a great tool to use for muddling, however, a simple wooden spoon and bowl will also do the trick.
To muddle fruit you must first cut the fresh fruit into pieces and add them to your bowl or mortar bowl. If desired, sugar can be added now as well.
Using the pestle or wooden spoon, firmly press down on the fruit and twist. Release. Repeat this until the fruit is adequately crushed and you can smell the incredible aroma from your fruit of choice.
Now that your fruit is properly pulverized, add it along with the lime. Voila, fancy flavored homemade margarita!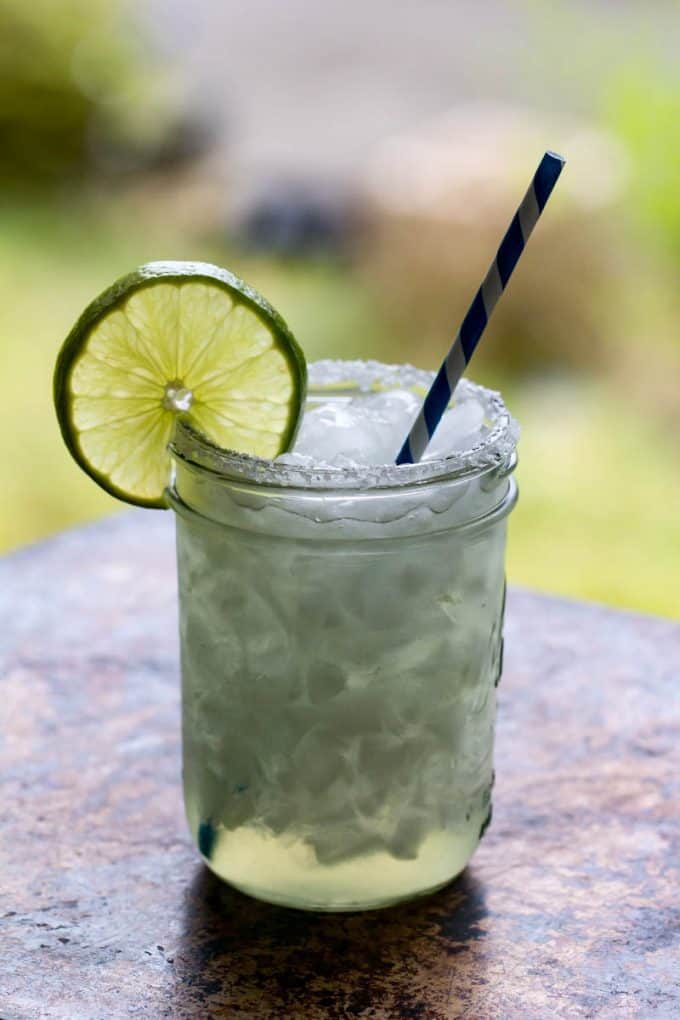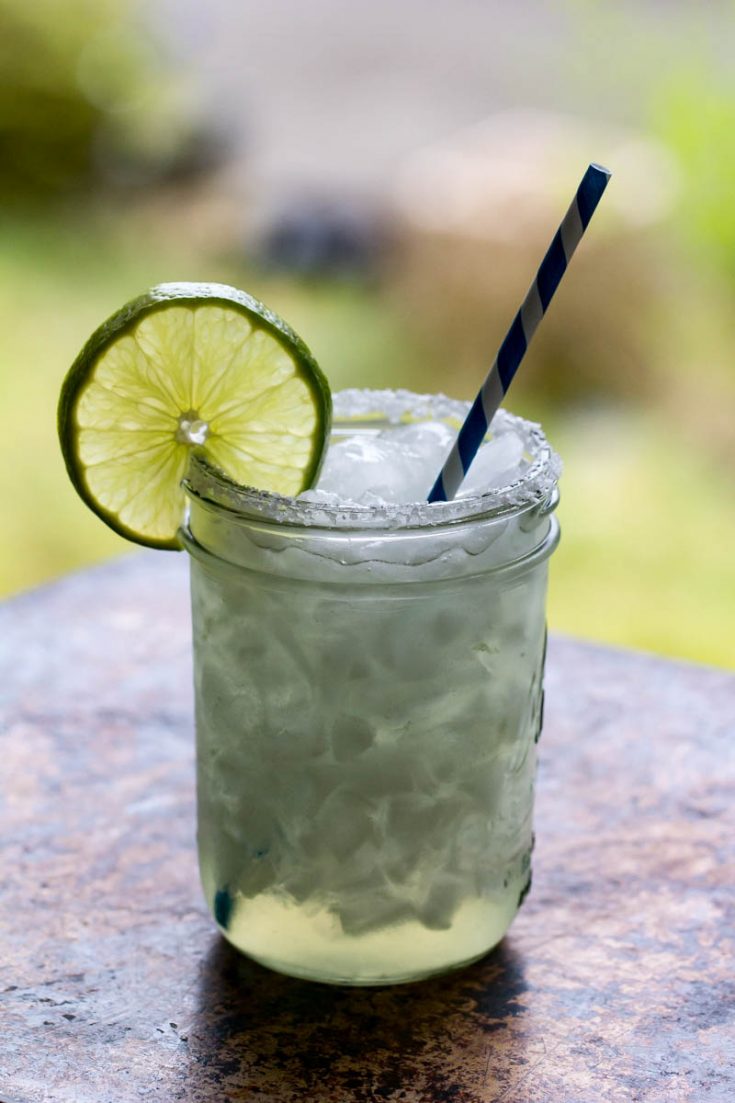 How should I garnish my margarita?
Now that your drink mix is prepared it's time to unveil your masterpiece.
The final touch to the best homemade margarita? A beautifully salted rim, of course!
Add your kosher salt (or sea salt if you wish) into a shallow dish. Fill another shallow dish with water or lime juice. Dip your margarita glass first in the liquid of choice, and then into the salt.
Finally, add a slice of lime to the rim for a picture perfect drink.
You'll also want to garnish it with another fresh slice of lime and a straw.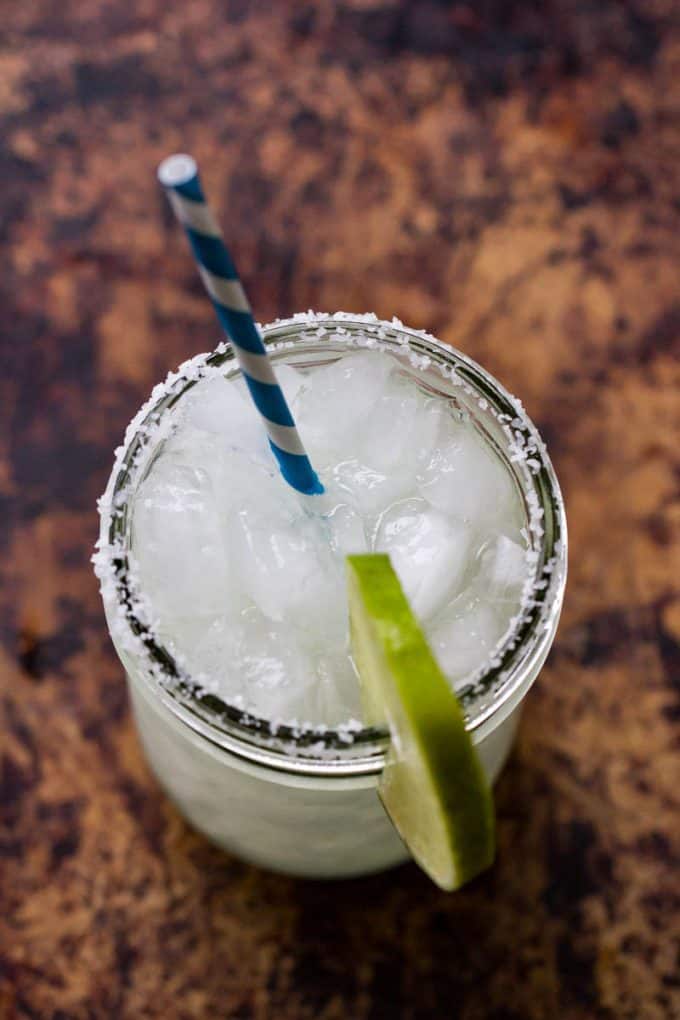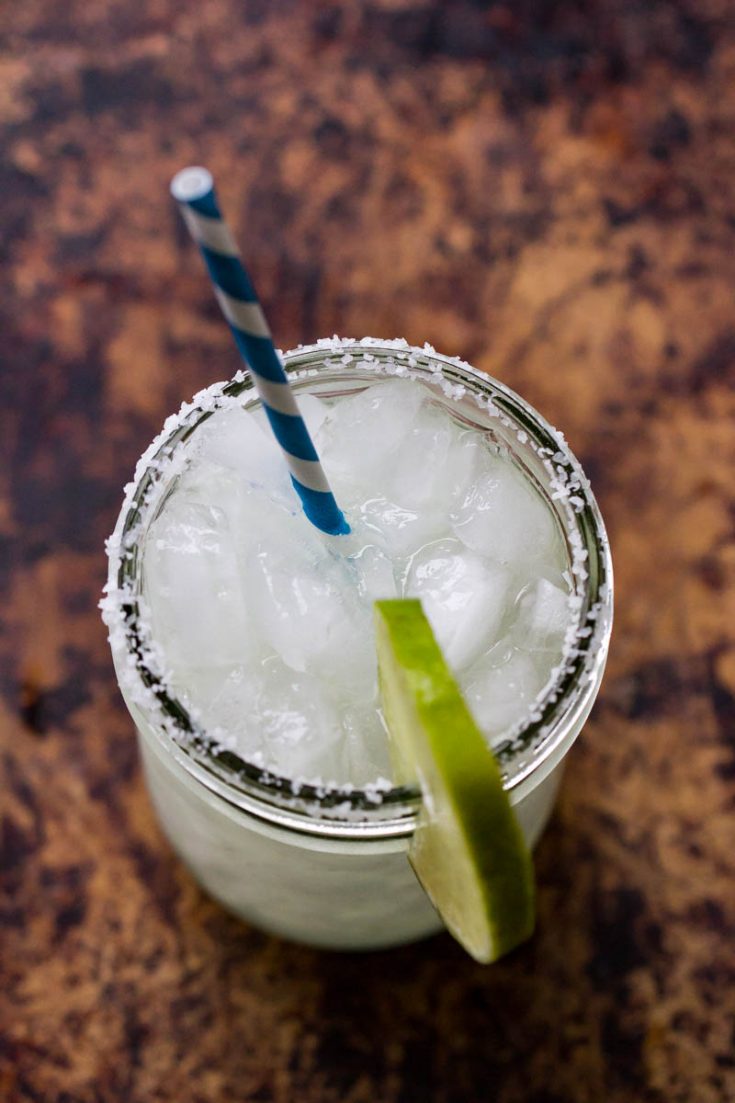 What can I serve with margaritas?
Now that you have an incredible and icy cold homemade margarita in hand (and have probably made the neighbors thirsty), what better to pair it with than some delectable tacos!
Check out some of my favorite taco recipes here: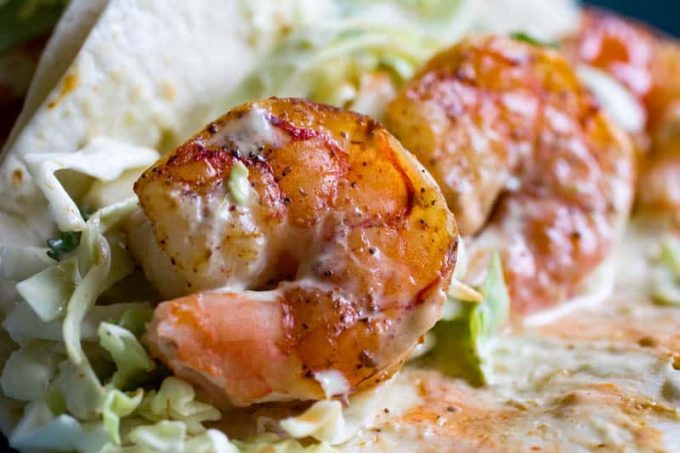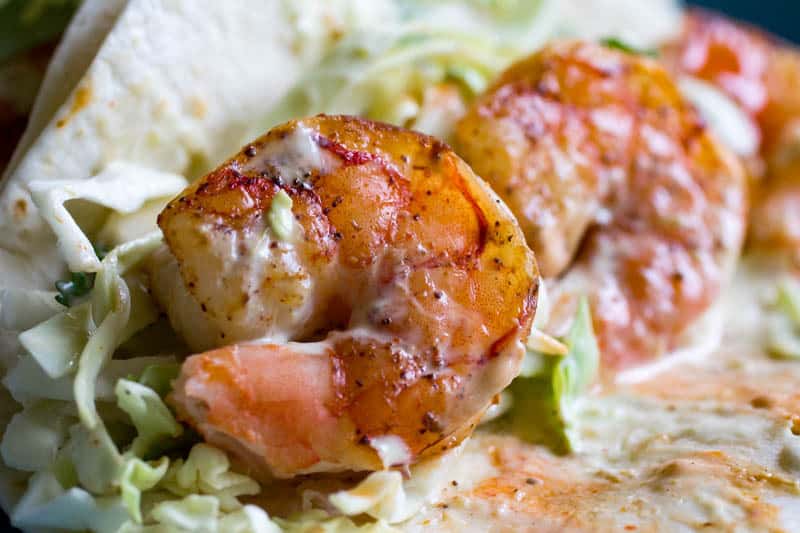 Feeling the satisfying flavor of tacos but wanting to switch it up a little? Try this delightful Taco Pizza.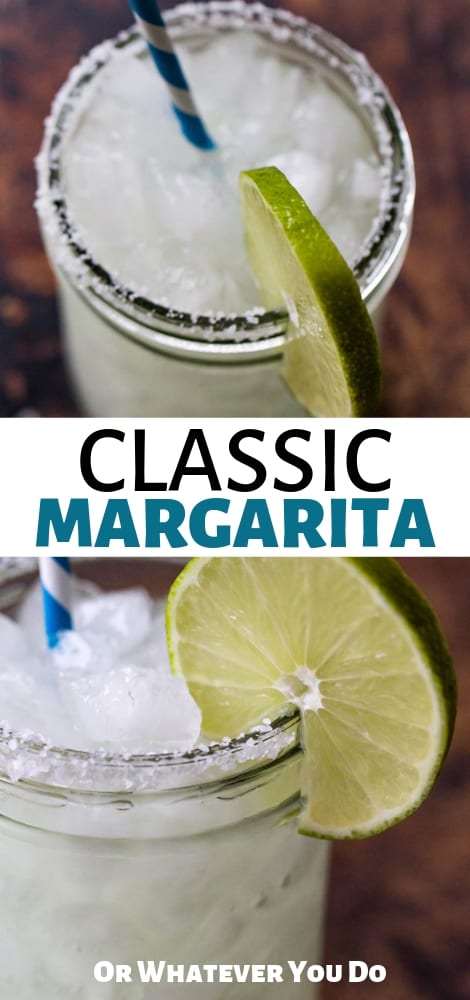 Yield: 1 drink
Classic Margarita Recipe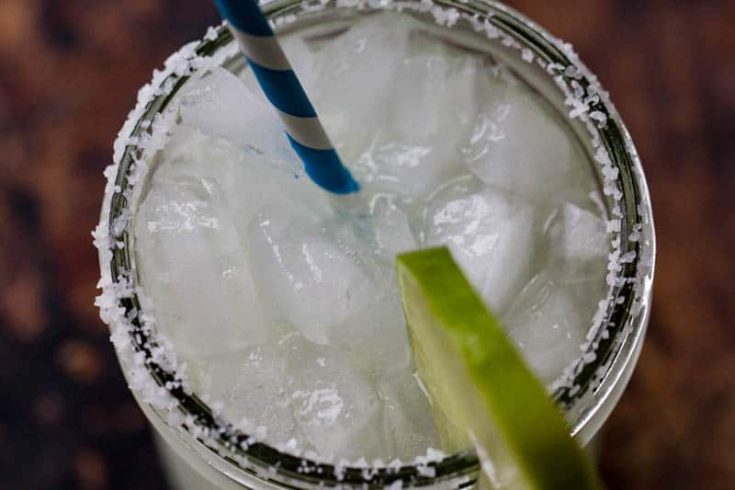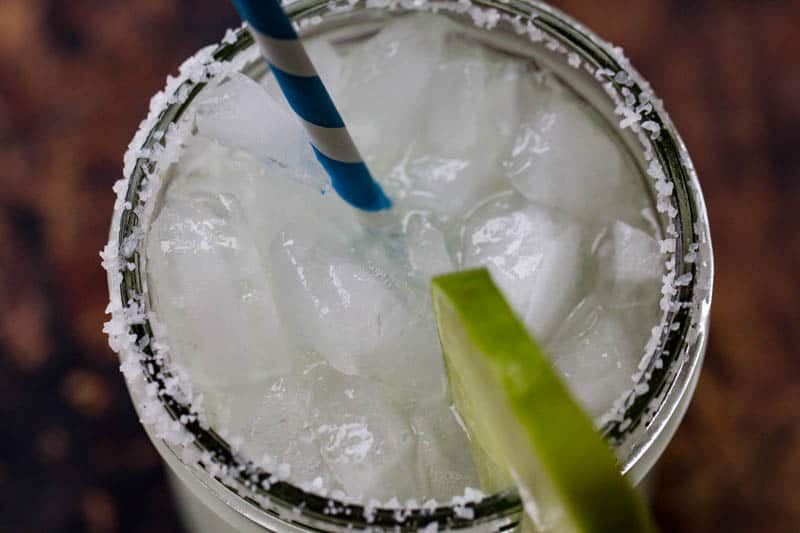 This homemade margarita recipe features fresh lime juice, silver tequila, Patron Citronge, and simple syrup to make the freshest and best tasting margarita you've ever had!
Ingredients
3 ounces lime juice, freshly squeezed
1 ounce simple syrup
2 ounces silver tequila
1 ounce Patron Cirtonge or Orange-flavored liqueur
Salt for rim of glass
Instructions
Combine all ingredients except the salt in a shaker with ice. Shake vigorously.
Strain into a glass with fresh ice, or add the whole mixture to the blender and pulse until blended.
Rim the glass with salt, if desired, and pour drink into glass.
Serve cold!