Shrimp Stir Fry is one of the quickest and easiest dinners that you can have, and is in regular rotation on our weeknight dinner menu.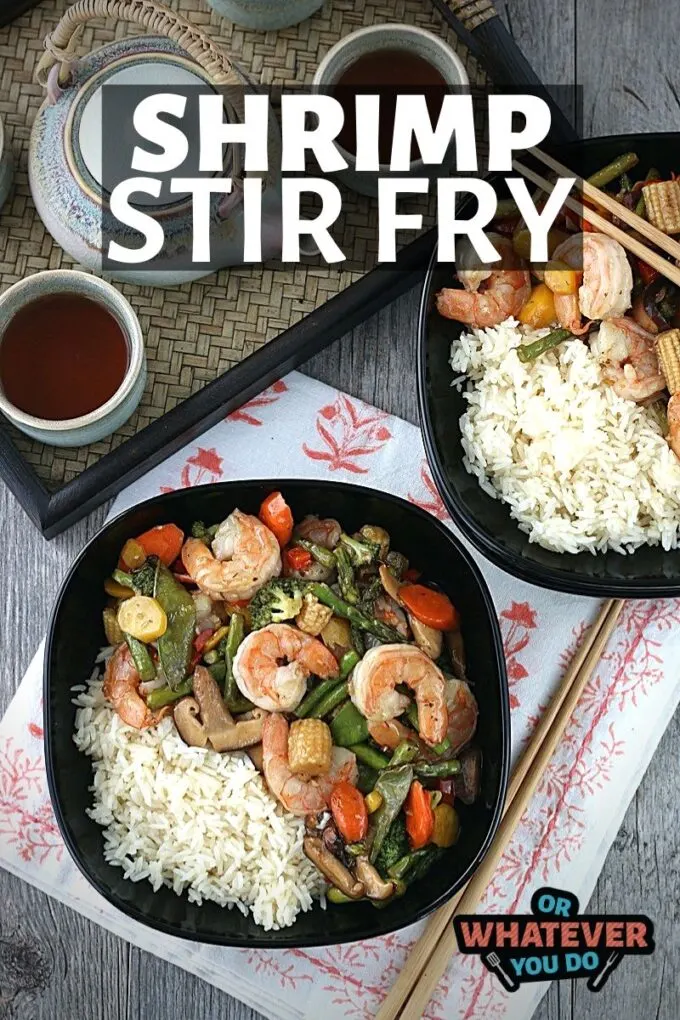 Shrimp Stir Fry
There may come a day when you want something different for dinner. Well, that day for me has already been here because I've been craving something just a little different than usual. This Shrimp Stir Fry hit the spot and I can't wait to share it with you all. Shrimp Stir Fry has juicy shrimp and fresh vegetables, which makes this delicious meal all worth making.
I feel as though Shrimp Stir Fry is one of those meals that everyone loves, but you don't have to go out to eat for that. You can make this delicious meal right at home. What I love most about this recipe is that you can make it healthier than anywhere else and it tastes just as good, if not better.
Follow along as I introduce you to a dinner favorite around our home. This meal is one in which everyone can get their protein and veggies and go to bed feeling full and happy! Be aware though, this is going to be one recipe that's a favorite!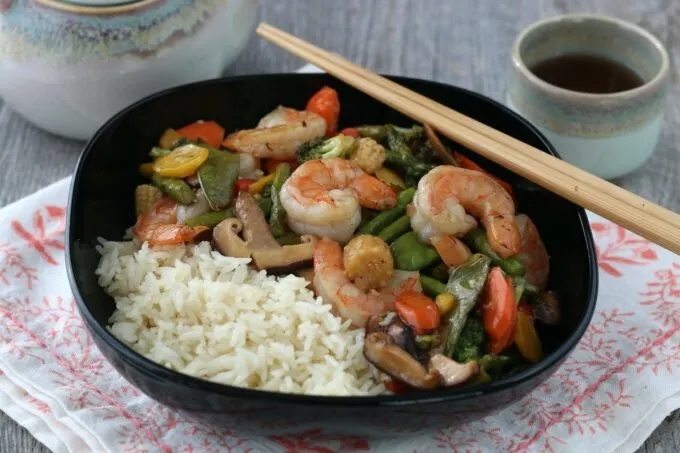 Cooking With Shrimp
Are you new to cooking with shrimp? If you know how to cook with shrimp, then you can probably skip over this section. For some of you, this may be the first main meal you have ever cooked with shrimp.
Luckily, we live in the 21st century and you can go to the store and buy precooked shrimp. You can also go to the store and buy raw frozen shrimp that has already been cleaned.
If you are using fresh and raw shrimp, you will need to devein them. However, I personally prefer to buy the shrimp that is pre-cleaned. Cooking frozen shrimp that is not cooked doesn't take that long.
I would say that you aren't looking at a major cooking time for shrimp, which is also another reason I love this dish. It can literally be made in a cinch.
Should I leave the tails on the shrimp? Some people prefer to leave the tails on the shrimp, but if you are feeding this to kids, I would recommend taking the tails off.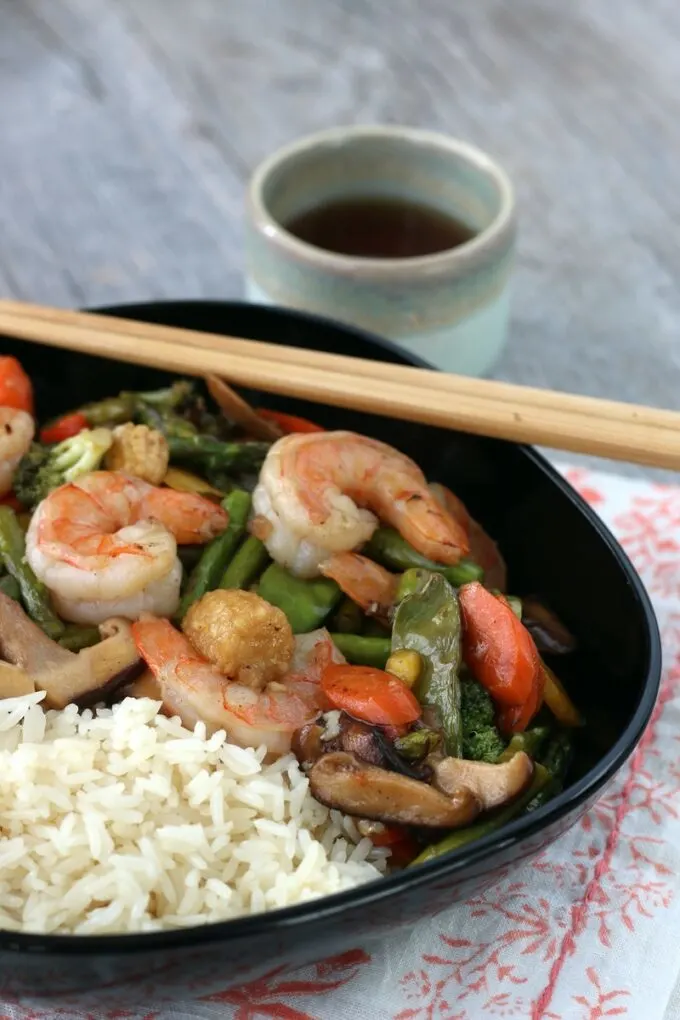 Vegetable options for shrimp stir fry
Now that you're prepared to make this Shrimp Stir Fry, you may be wondering what type of vegetables it calls for. I love that for this recipe, you can be as creative as you'd like! I like to use vegetables like onion, asparagus, peas, green beans, zucchini, carrots, peppers, etc.
If there is a vegetable you like, then don't be afraid to put it in this stir fry. I think all veggies go together and with this delicious recipe, you just can't go wrong.
You will love this recipe for shrimp stir fry, veggies and all!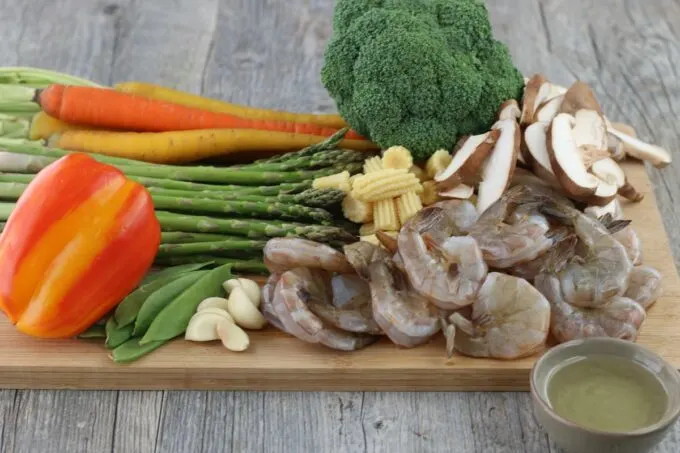 What Can I Serve with Shrimp Stir Fry?
You may be wondering what in the world you can serve with Shrimp Stir Fry. Well, this decision is easier than you may think.
You can serve this stir fry over rice or noodles. If you are eating low carb or Keto, you can make cauliflower rice. You can also serve Shrimp Stir Fry with Fried Rice, which is also a favorite around here.
What I love about this stir fry is that you can also just eat it as is. The vegetables are very filling and the shrimp is the ideal protein. It's a very filling dinner dish that everyone in the family will enjoy!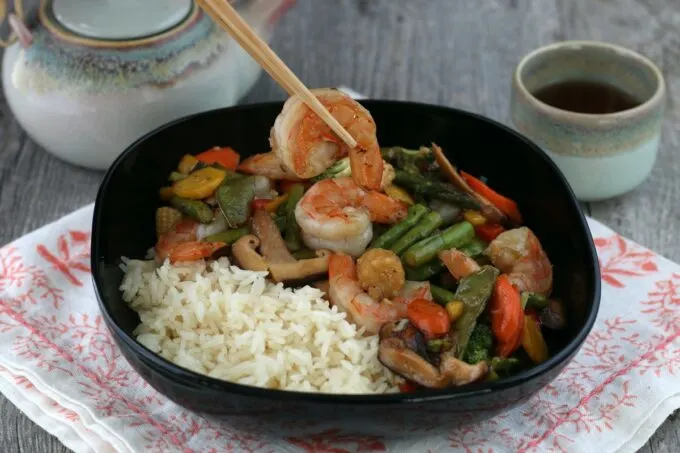 What Does Shrimp Stir Fry Sauce Taste Like?
Well, when you make this delicious Shrimp Stir Fry, you need to know how tasty the sauce is. I would describe it as being garlicky, but also full of a deep soy flavor. When you have stir fry, you just can't have enough.
Some of us in the house like to add extra sauce to our dish because we like it covered. You may add as much or as little sauce as you like!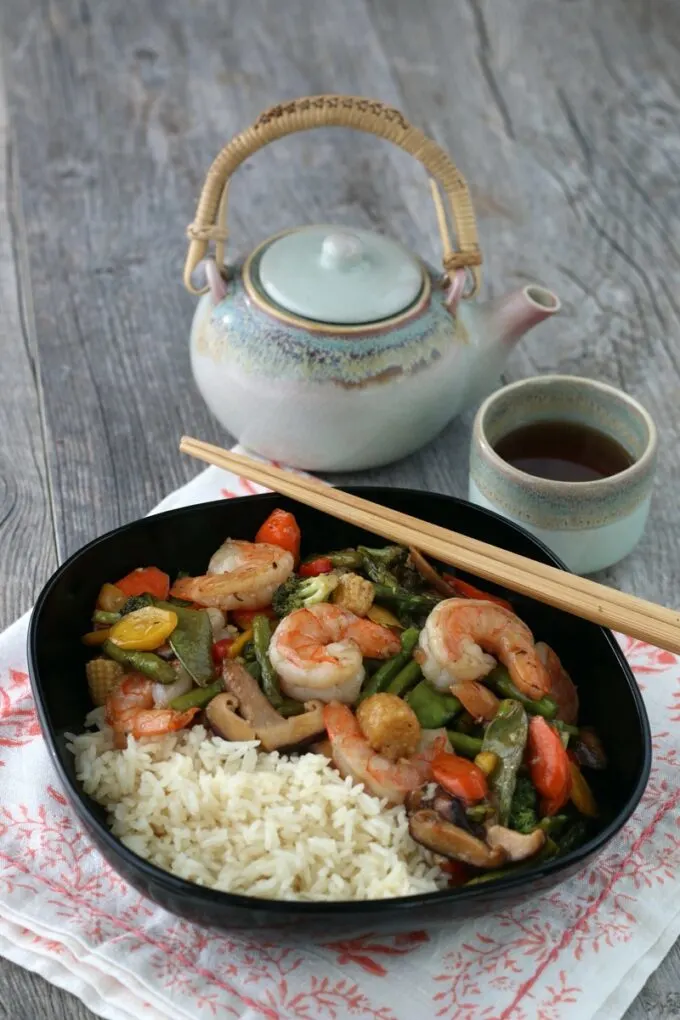 I am hoping this Shrimp Stir Fry gets you excited for dinner tonight! It's healthy and easy, which is always a win in my book. Have you ever made stir fry with shrimp? I'd love to know what you thought about this recipe.
More stir fry to enjoy!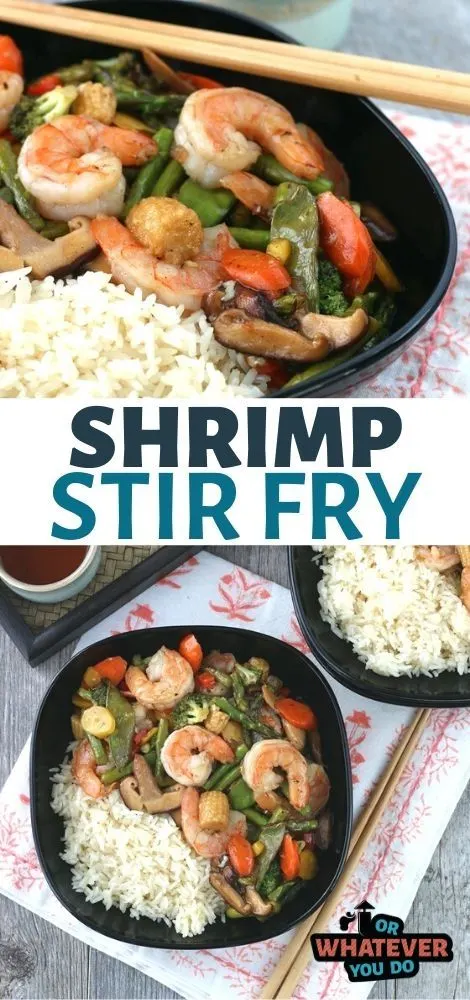 Yield: 6 people
Shrimp stir-fry with vegetables and shiitake mushrooms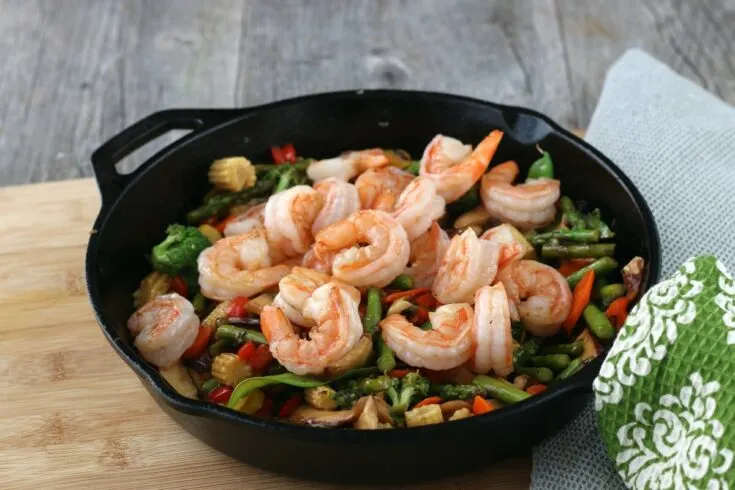 This easy shrimp stir fry is packed with vegetables, cooks in about 20 minutes, and is a crowd-pleaser. Even my kids eat their vegetables when they are coated in this bold soy-based stir fry sauce!
Ingredients
Sauce
2 tablespoons rice vinegar
2 tablespoons sugar
2 tablespoons soy sauce
2 tablespoons dry sherry
1/4 teaspoon garlic chili sauce, Sriracha
1/4 teaspoon sesame oil
2 teaspoon cornstarch
1 tablespoon water
Stir-fry
1 pound jumbo shrimp, shelled and deveined
1 pound vegetables (onion, asparagus, peas, green beans, zucchini, carrots, peppers, etc)
1/4 pound shiitake mushrooms
4 tablespoons canola oil
2 tablespoons garlic, finely chopped
Instructions
Mix all of the sauce ingredients in a small bowl, and set aside. Mix cornstarch & water slurry in a separate bowl, and set aside.
Heat oil in a large wok or pan until almost smoking. You want it very, very, VERY hot. Dump in shrimp and stir fry approximately 2 minutes, or until pink. Remove from pan.
If necessary, add more oil to pan and allow to heat again until almost smoking. Add vegetables and stir fry 3-4 minutes, or until tender-crisp. Add garlic and stir fry 30 seconds.
Dump in the sauce mixture and heat, stirring constantly, until simmering. Slowly pour in slurry mixture and stir until sauce is thickened. You may not need the entire slurry mixture.
Serve over jasmine or basmati rice.
Recommended Products
As an Amazon Associate and member of other affiliate programs, I earn from qualifying purchases.
Nutrition Information:
Yield:
8
Serving Size:
1
Amount Per Serving:
Calories:

253
Total Fat:

21g
Saturated Fat:

2g
Trans Fat:

0g
Unsaturated Fat:

19g
Cholesterol:

1mg
Sodium:

291mg
Carbohydrates:

13g
Fiber:

3g
Sugar:

5g
Protein:

3g
Nutrition data provided here is only an estimate. If you are tracking these things for medical purposes please consult an outside, trusted source. Thanks!