Do you need a bright, beautiful, refreshing drink this summer? The perfect summer drink is my Strawberry Lemon Drop! It's a deliciously fruity spin on a traditional lemon drop martini. It's just the thing to whip up and relax in the summer sunshine. An easy to make drink that's also GORGEOUS to look at!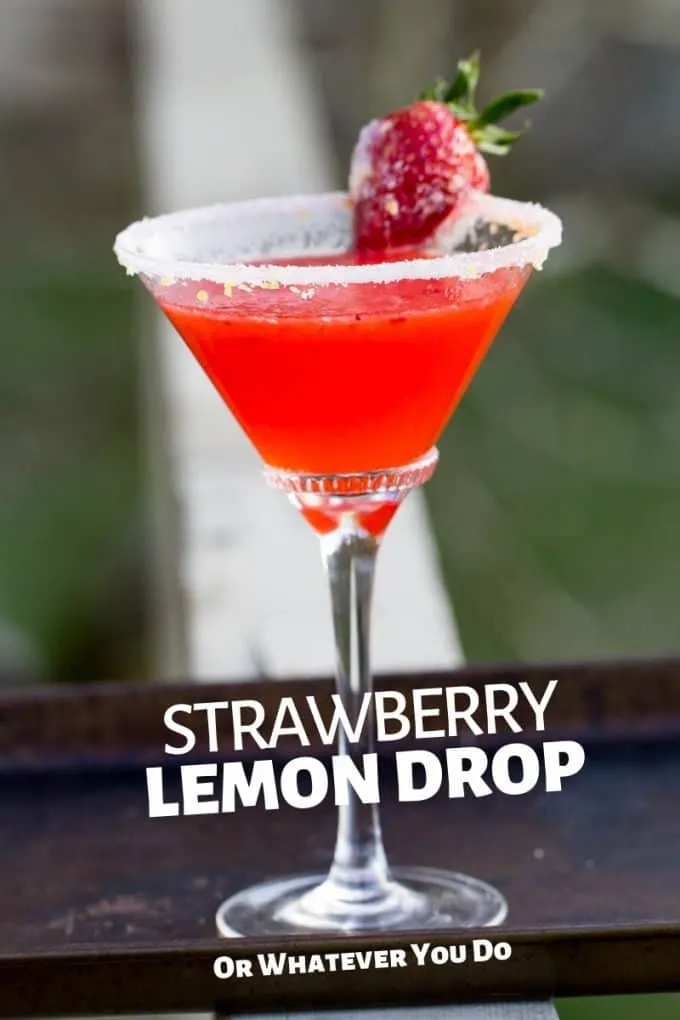 Strawberry Lemon Drop
My Strawberry Lemon Drop martini recipe is super easy to make, with just a few ingredients. It's definitely worth the short time it takes to put together!
Made with fresh lemons, vodka, simple syrup, and strawberries, this lovely drink looks and tastes like a summer sunset! If you like fresh fruits, martinis, or having fun in the sun, this is the drink for you. You can even serve it up as a strawberry lemon drop shot!
A basic lemon drop is sweet like candy and lemony sour, which is a pretty good starting point. We can make it way more exciting by adding a strawberry ZING that really brings it to the next level!
Want a Lemon Drop that's a little more chill? Check out my Lemongrass Lemon Drop!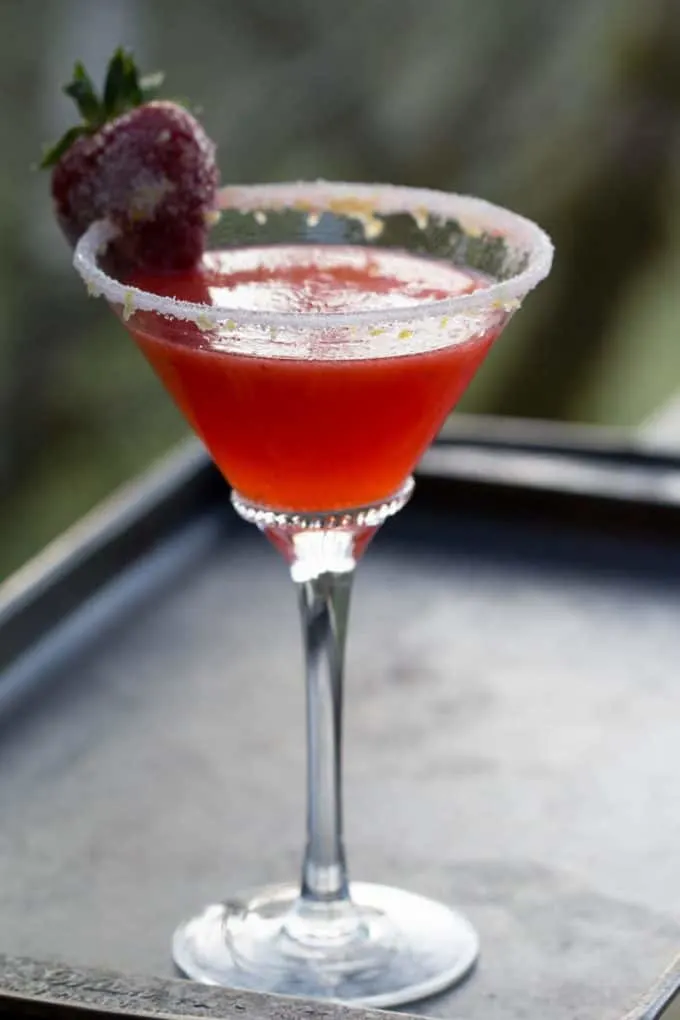 All About Lemon Drop Martinis
A Strawberry Lemon Drop is an easy twist on a traditional lemon drop martini. If you are a fan of those, you'll love this lemon drop cocktail with strawberry!
What is in Lemon Drop Martinis?
Lemon Drops are typically made with vodka, triple sec, lemon juice, and simple syrup. They were first concocted in the 1970s in San Francisco by Norman Jay Hobday. They spread quickly after their invention, especially in California.
The sweet, sugared rim balanced the sour lemon flavor, and probably contributed to the name – the same name as lemon drop candy!
The cheesecake factory lemon drop martini recipe has been a popular iteration of this drink. If you have ever tried that, you will love my homemade Strawberry Lemon Drop version!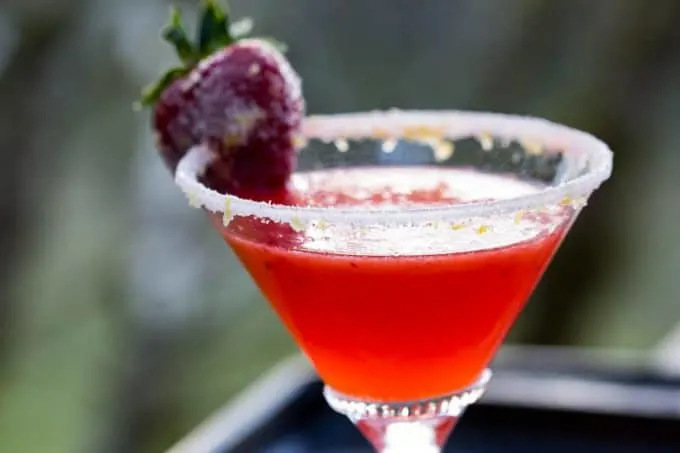 What's in a Strawberry Lemon Drop?
In addition to the basic vodka, triple sec, and simple syrup recipe, my Strawberry Lemon Drop recipe includes triple sec and FRESH lemons and strawberries. When making Strawberry Lemon Drops be sure to use fresh lemons for an unbeatable taste!
Triple sec brings a sweet, smooth orange citrus feel to the drink that mellows the tart lemons and complements the strawberry garnish. If you're tempted to skip sugaring the rim–don't! That sugar rim is essential for a first sweet hit to the tastebuds before you get to the main attraction! Even if you've never sugared a rim before, don't worry. It's easier than you think!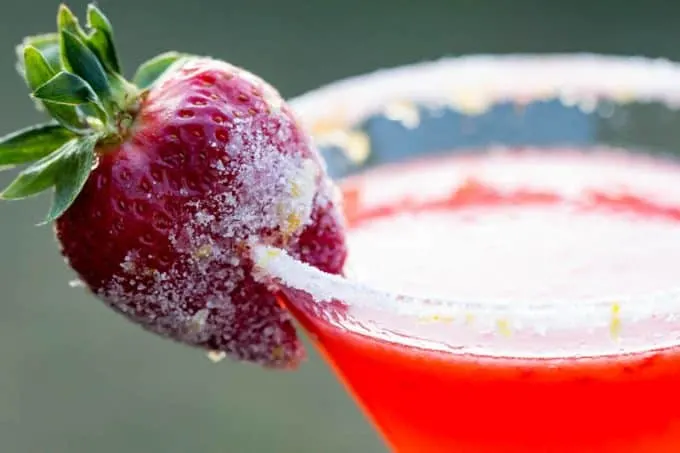 How To Sugar a Rim
Adding a sugar rim not only improves the taste of your Lemon Drop, but it also makes it look super classy! I don't know about you, but something about a rimmed glass just says "special" to me.
It's easy to do, too! You can use water as a base, but when making this Lemon Drop you might want to try some of that freshly squeezed lemon juice!
Pour a little lemon juice in a shallow tray, just enough to coat the bottom
In a separate tray, spread sugar to a depth of ⅛ -¼ of an inch thick
Dip the top edge of your glass in the juice, making sure to wet the entire rim
Hold the glass up to let excess juice drip off the edge
Gently dip the glass in the sugar and twist to coat
Shake off extra sugar carefully
When pouring the drink, make sure to pour away from your sugar rim so it doesn't get washed away!
So simple, so easy, SO worth it! A little sugar goes a long way, and you're going to LOVE the way it looks!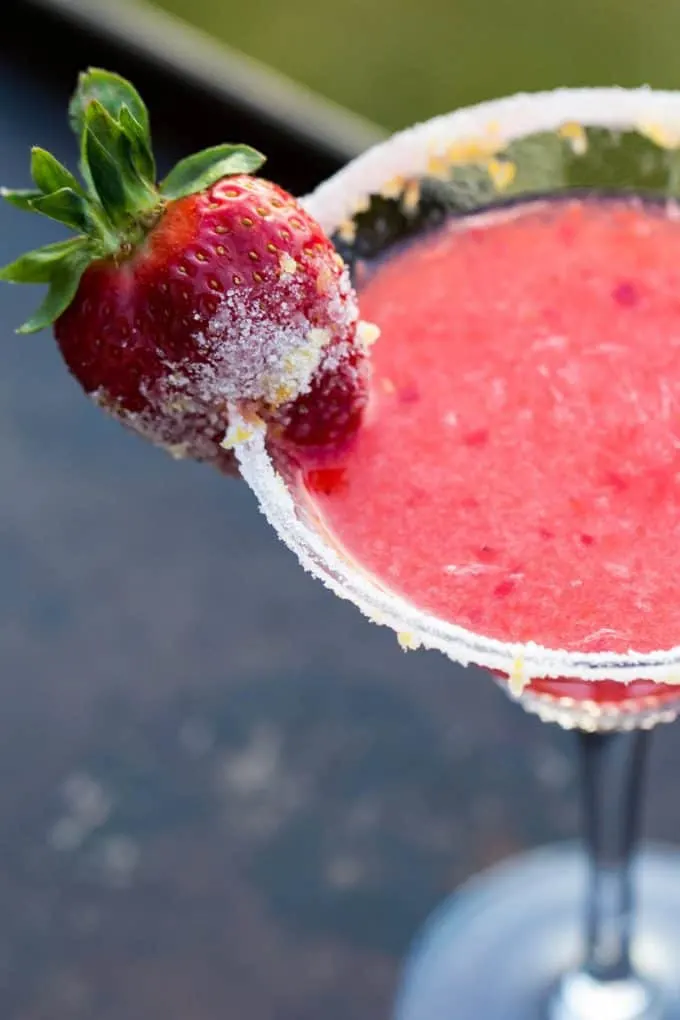 Serve Strawberry Lemon Drops at your next Summer Party!
Are you having some friends over and need a few more summer drinks? Try these on for size! Your guests will love these fun party drinks!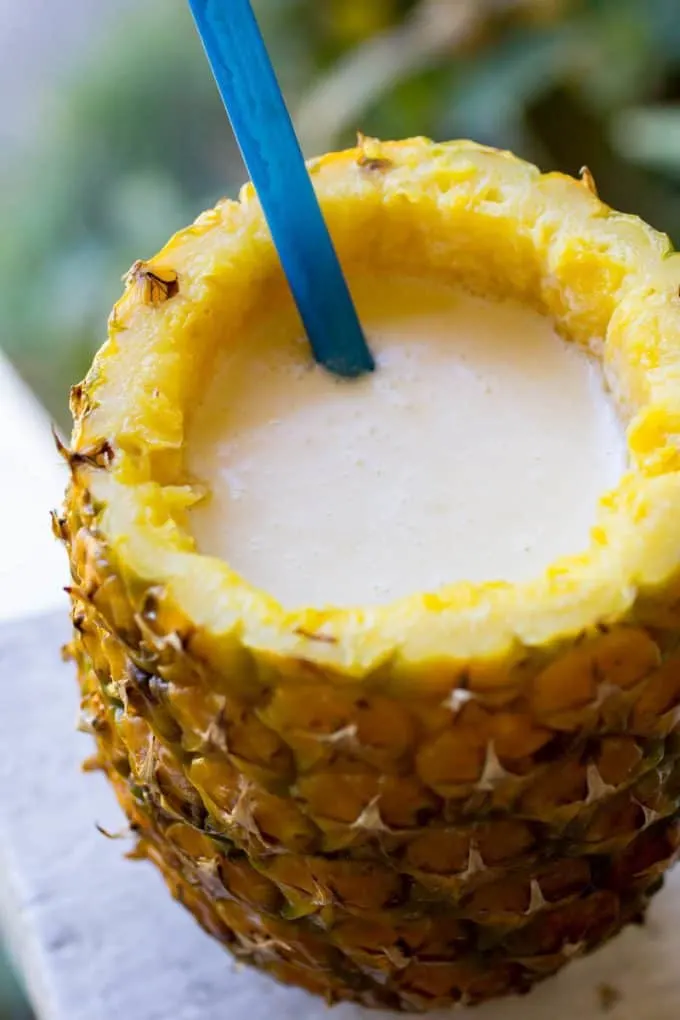 If you have a few extra of those sweet summer strawberries to use up, you might want to try some sweet treats for dessert too.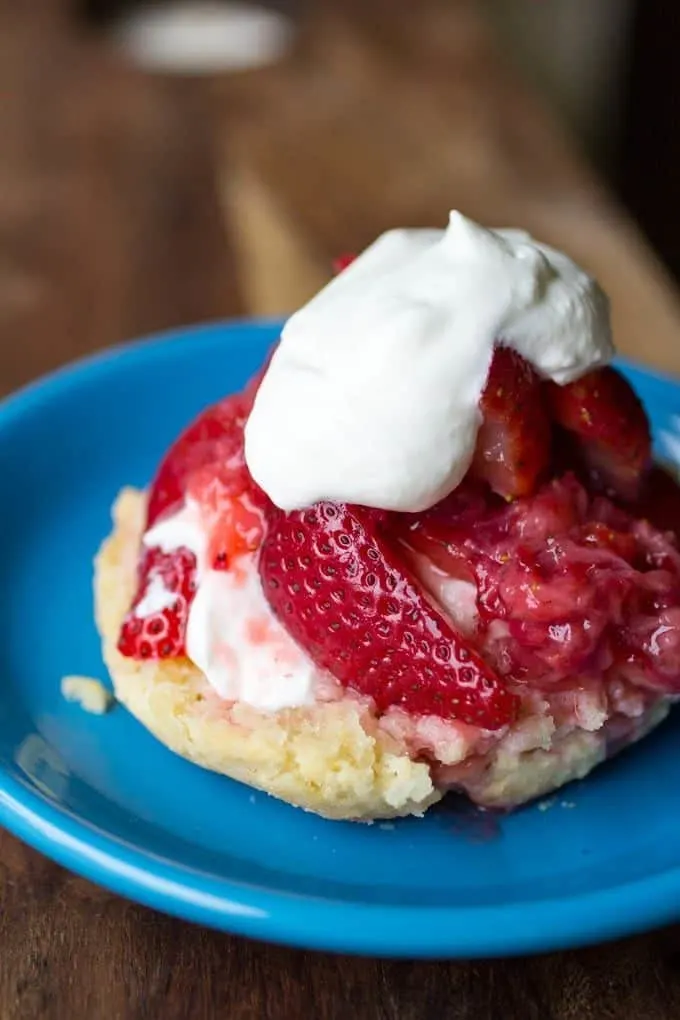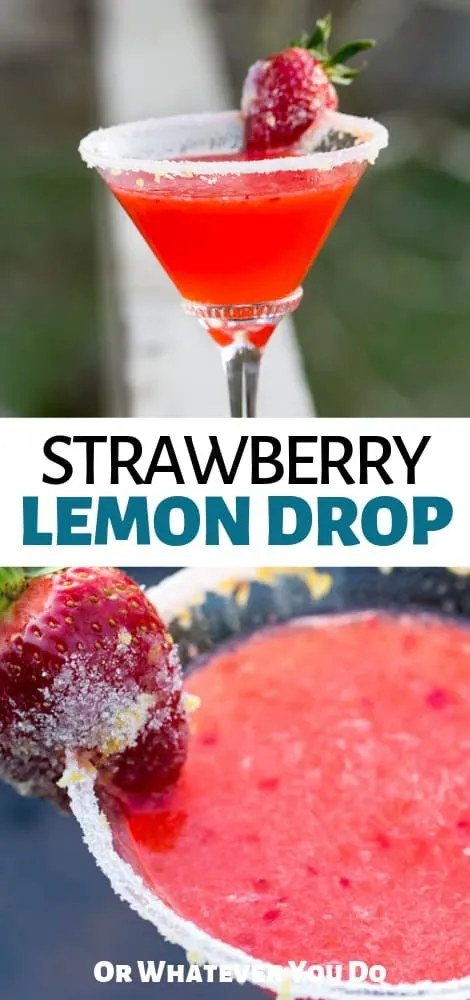 Some of our content is only for OWYD+ members. Membership is FREE! Find out more here, or sign up below!
Yield: 2 servings
Strawberry Lemon Drop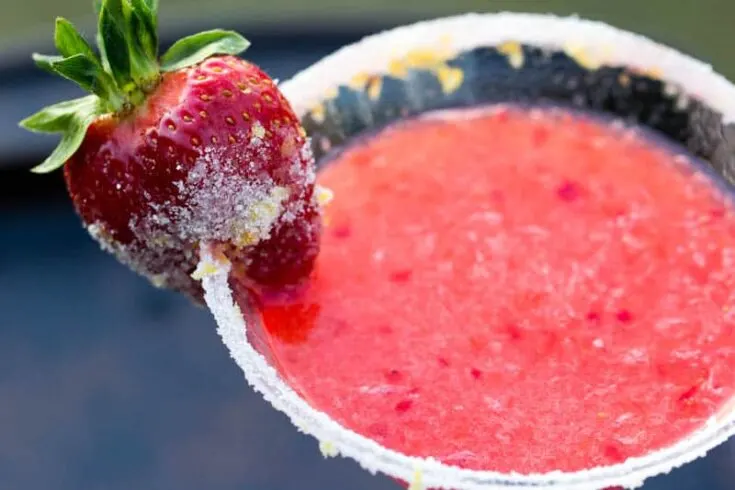 This easy strawberry lemon drop recipe is a wonderful change to a traditional lemon drop recipe! You're going to love this colorful, sweet, and refreshing drink.
Ingredients
6 strawberries
1 whole lemon, cut into wedges
4 ounces vodka
2 ounces triple sec
1 ounce simple syrup
3 tablespoons white sugar
Instructions
Place the strawberries and lemon wedges in the bottom of a glass, and muddle together until it is mashed up into a mess.
Fill the glass with ice and then add in the vodka, triple sec, and simple syrup.
Place another glass on the top of the first that fits over the rim, and carefully shake the whole thing vigorously.
Use a piece of the lemon to wet the rim of the glass. Place the sugar on a small plate and dip the moistened rim of the glass into the sugar.
Carefully strain into the rimmed glass, and serve immediately.
Nutrition Information:
Yield:
2
Serving Size:
1
Amount Per Serving:
Calories:

324
Total Fat:

0g
Saturated Fat:

0g
Trans Fat:

0g
Unsaturated Fat:

0g
Cholesterol:

0mg
Sodium:

3mg
Carbohydrates:

41g
Fiber:

2g
Sugar:

36g
Protein:

1g
Nutrition data provided here is only an estimate. If you are tracking these things for medical purposes please consult an outside, trusted source. Thanks!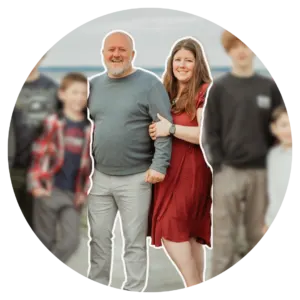 Nicole Johnson, a self-taught expert in grilling and outdoor cooking, launched Or Whatever You Do in 2010. Her blog, renowned for its comprehensive and creative outdoor cooking recipes, has garnered a vast audience of millions. Nicole's hands-on experience and passion for grilling shine through her work. Her husband, Jeremiah Johnson, also plays a pivotal role in recipe development, adding his culinary flair to the mix. Together, they form a dynamic duo, offering a rich and varied outdoor cooking experience to their followers.