This Grilled Shrimp Scampi is cooked on a Traeger grill to give you that smoked shrimp scampi flavor. A buttery sauce, hint of lemon and garlic flavor this shrimp better than any you can get at a restaurant.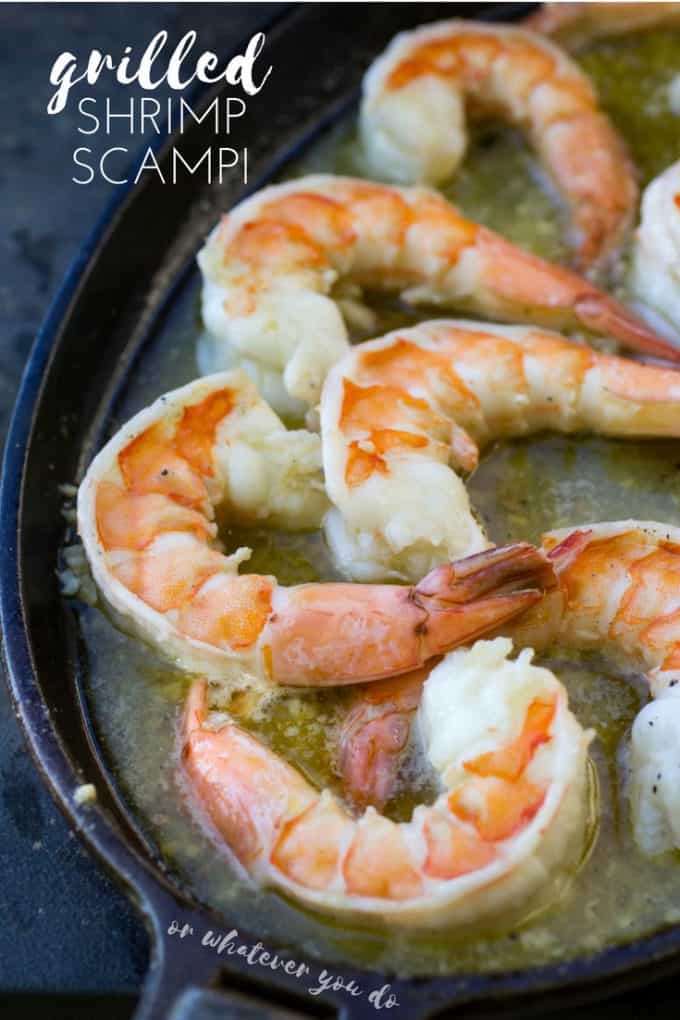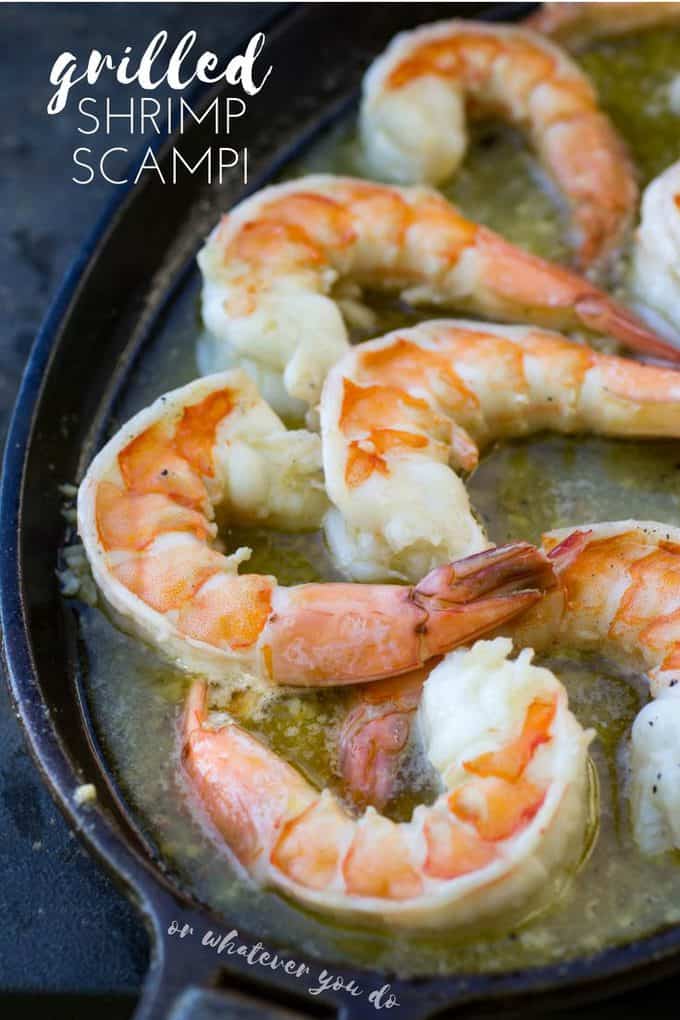 Traeger Grilled Shrimp Scampi
Garlic Butter Scampi is one of my favorite dishes to make on those weeknights when I need a quick meal. Today, I will be sharing my tips on grilling shrimp to get that perfect flavor and texture every time. In a little over 10 minutes, you can have a satisfying dish ready to serve your guests or family. A crowd-worthy dish for sure is what you find in this delicious shrimp scampi.
Typically shrimp scampi is cooked in a pan over the stove, in a rich buttery sauce. Then you can serve alone or on top of pasta for a feast that dreams are made out of. Because we have been loving our summer and avoiding heating up the house as much as possible, we took our shrimp out to the grill instead.
We created this smoked shrimp scampi that is full of rich flavors and gives you that tender and juicy shrimp just like on the stove top.
Smoked Shrimp Scampi
Shrimp cooks really quickly, and that is why we use it so much in our home. I am a mom who is always on the go, and I don't have the time to spend countless hours in the kitchen. But, I do love cooking for my family and creating wholesome and tasty dishes, and that is why I reach for shrimp. I love a good scampi, bbq shrimp, and even a grilled shrimp marinade is a great option. Once you learn how to grill shrimp, you will love the versatility of this protein.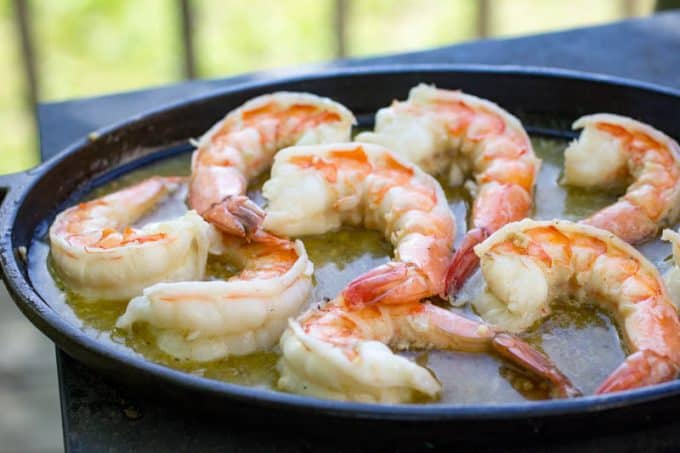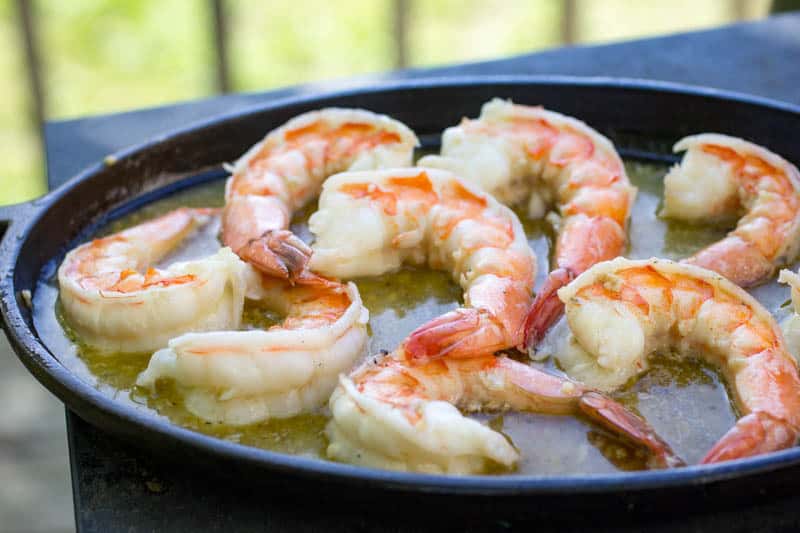 Tips For Making Grilled Shrimp Scampi
I love making non-traditional grilled things on the grill. My cast iron skillet on the grates makes for a perfect cooking surface, and get the grill AND PAN nice and pre-heated. Get that cast iron skillet hot, and then pour in your cooking liquid to let it get nice a hot too. You know when you see that sizzle it is time to drop in your colossal raw shrimp. Next, just close the lid and let the wood-fired grill work its magic!
How Long To Cook Grilled Shrimp Scampi
Because you are cooking the shrimp in a cast iron pan for this recipe, you will range from 8-10 minutes. You want the outside of the shrimp to show a nice pink color and the inside meat to be white and opaque. Shrimp is something you have to watch closely because a minute or two too long will end in a rubbery and tough shrimp.
More Grilled Shrimp Recipes
Like I said before we are huge seafood fans in our home, especially shrimp. Fast, easy and such a versatile protein you can transform it into any dinner or lunchtime dish.
Kick up the heat with some spice or offer an element of sweet like my honey pecan shrimp. No matter how you fix it, shrimp on the grill is going to be a winner each and every time.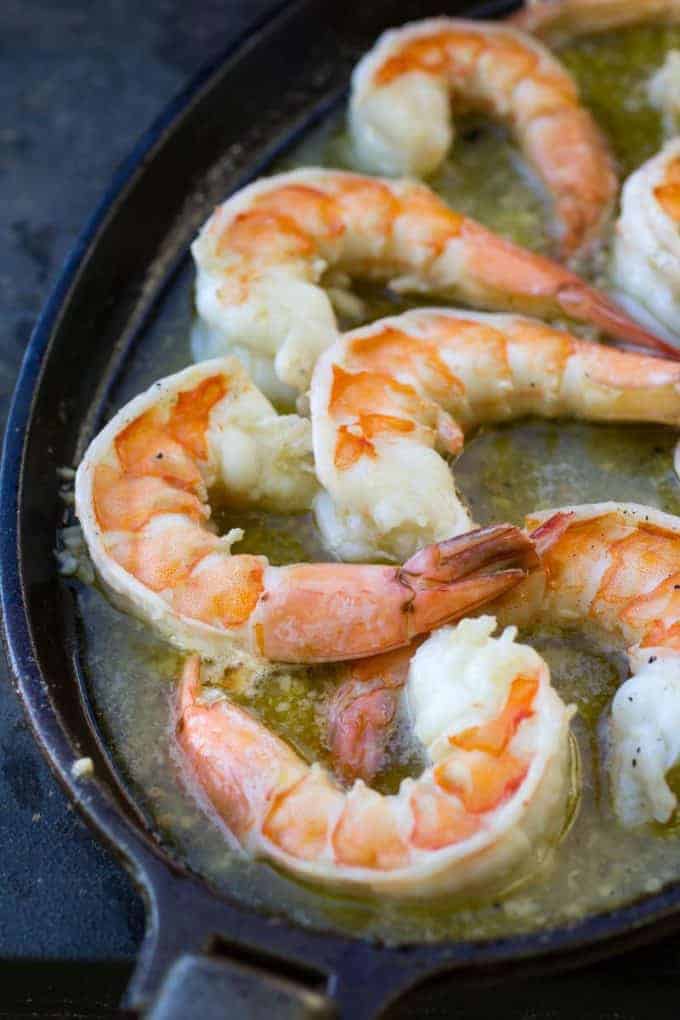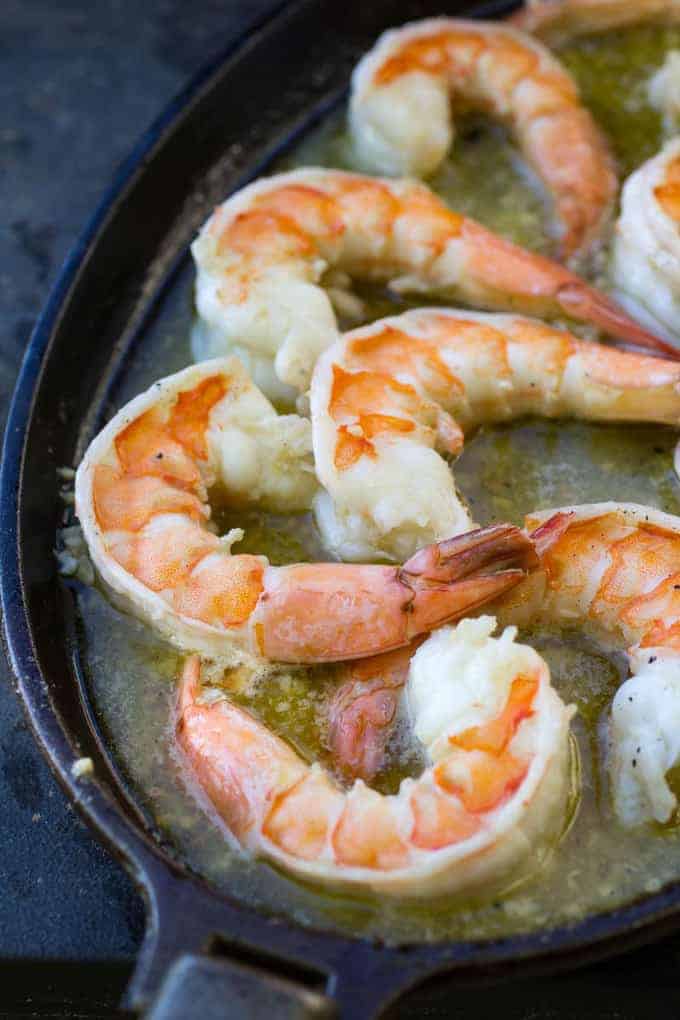 Why We Love Our Wood-Pellet Grill
One thing I love about our Traeger is that it offers a consistent heat that I can control. It allows you to cook hot and fast, or slow and low. You are in control of the temperature with just a twist of a knob.
Also, wood-pellet grills offer such versatility. You can use it like an oven for cakes, meatloaf, or even enchiladas and other items, or grill steaks, burgers, and shrimp. I also find the real wood pellets used to fuel the grill offer a unique flavor that is outstanding compared to other types of grills out there that I've tried.
When you are wanting to get that perfect recipe, this is what I turn to when it comes to grilling. With charcoal or even propane, I find there can be major hot spots that can over-cook our meats and dishes really easy. When you have a pellet grill you can easily manage the heat through the entire grill. If you are considering getting one, I highly recommend it! You won't be disappointed.
I haven't personally used any other brands of wood-pellet grills, but I've heard great things about many of them.
I hope you guys enjoy this shrimp scampi recipe! If you give it a try, leave a comment below and let me know!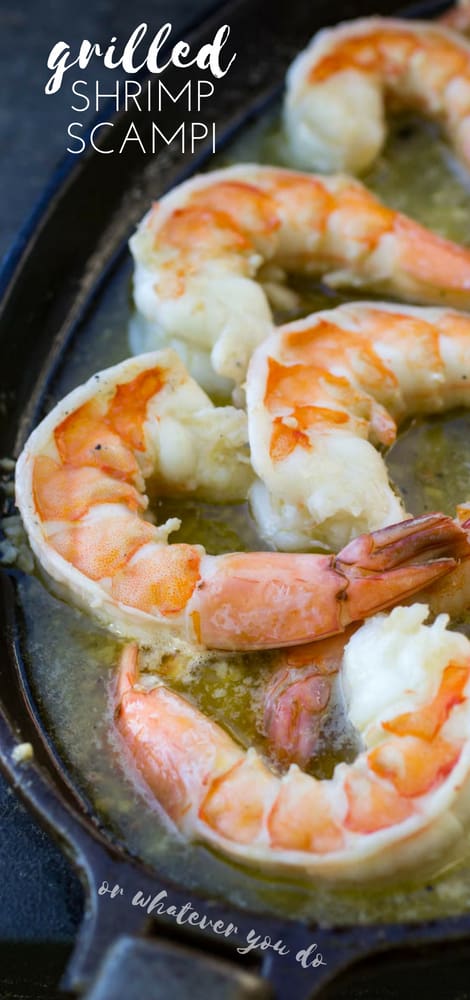 Yield: 4 servings
Traeger Grilled Shrimp Scampi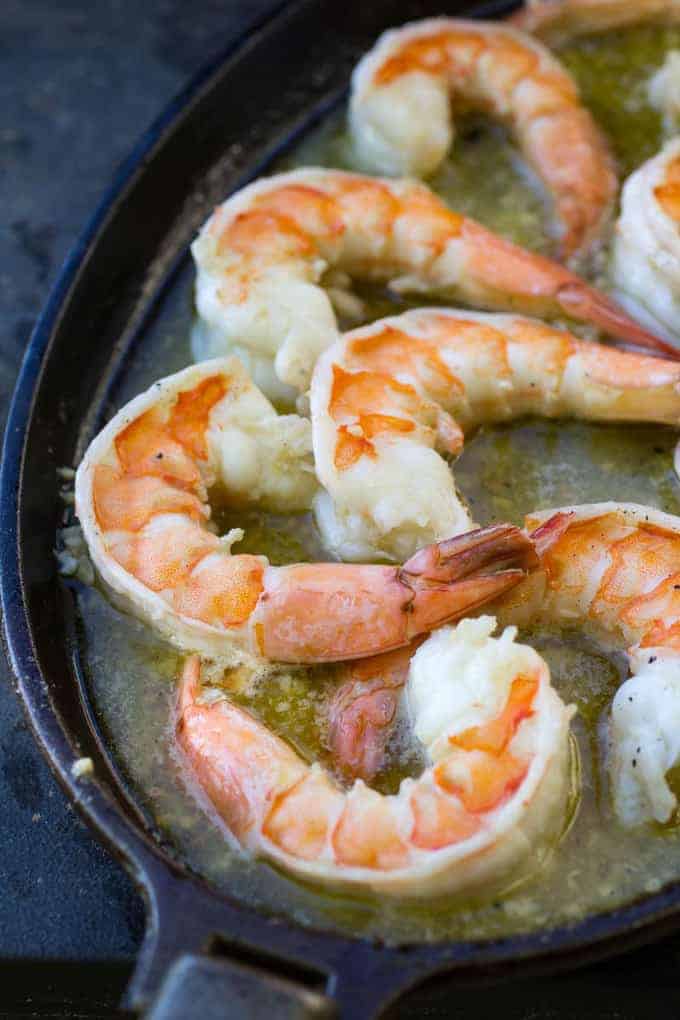 Easy Wood-Pellet Traeger Grilled Shrimp Scampi cooks in about 10 minutes, and is the best scampi I've ever had. Don't heat up your house this summer when you can fire up your grill and get that kiss of wood-fired flavor on this classic dish.
Ingredients
1 pound colossal raw shrimp, tail on
1/2 cup salted butter, melted
1/4 cup dry white wine
1/2 teaspoon chopped fresh garlic
1 tablespoon lemon juice
1/2 teaspoon garlic powder
1/2 teaspoon salt
Instructions
Preheat your grill to 400 degrees with a cast-iron skillet inside.
Combine the melted butter, white wine, garlic, & lemon juice. Carefully pour it into the cast iron pan, and let the liquids heat for 3-4 minutes.
Sprinkle the garlic powder and salt all over the shrimp, and then carefully place the shrimp into the cast iron skillet.
Close the lid and grill for 10 minutes. Reduce the cook time if you get smaller shrimp.
Open, remove from the heat in the skillet and enjoy while hot!
Nutrition Information:
Yield:
8
Serving Size:
1
Amount Per Serving:
Calories:

298
Total Fat:

24g
Saturated Fat:

15g
Trans Fat:

1g
Unsaturated Fat:

7g
Cholesterol:

204mg
Sodium:

1091mg
Carbohydrates:

2g
Fiber:

0g
Sugar:

0g
Protein:

16g