These Smoked Salmon Recipes are some of our family favorites! I can't wait for you all to try them out. With so many options and different flavors, you'll find something for almost anyone here.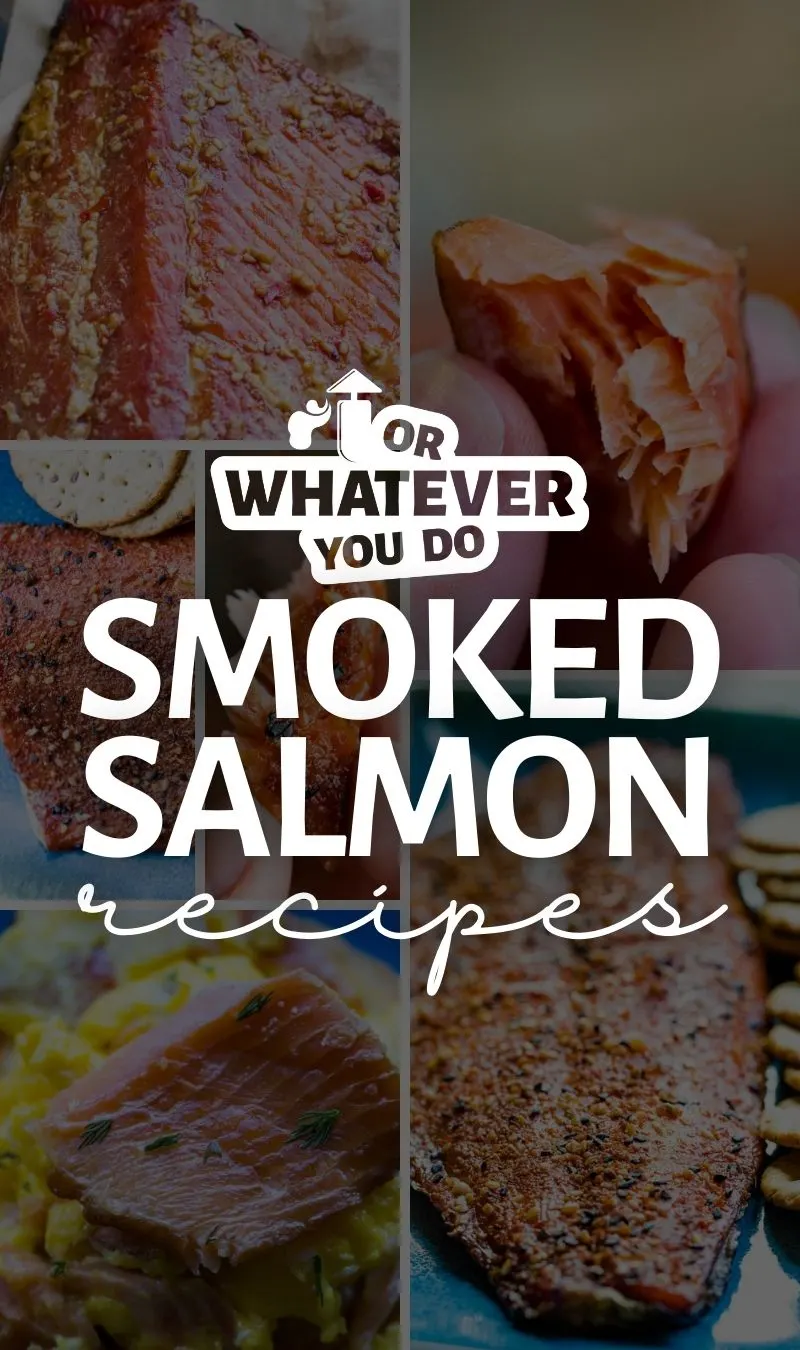 Traeger Smoked Salmon Recipes
Smoked salmon has quickly become one of my very favorite ways to eat salmon. It is SO savory and delicious, and eating a big hunk of freshly caught freshly smoked salmon is WAY up high on my personal list of how to live your best life.
We've done quite a few variations of smoked salmon here on our Traeger Grill, so I wanted to collect them all for you so you have an easy reference guide when you are looking for a fabulous smoked salmon recipe.
These can also be used for other types of fish like trout as well.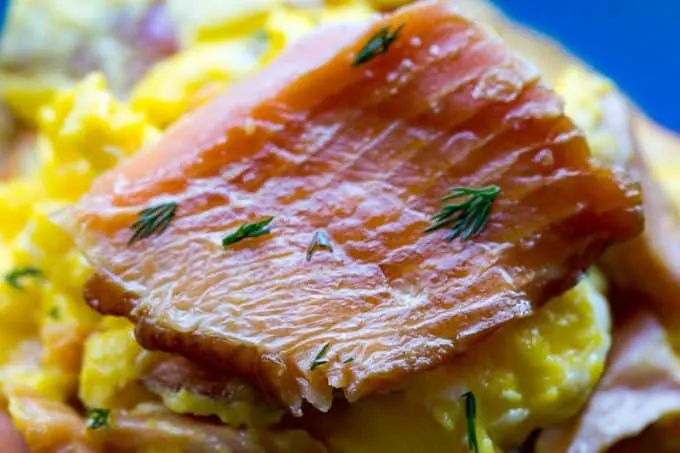 Tips for smoking salmon
Smoking salmon is easy, but there are a few things you need to watch out for in order to have success.
Never brine partially frozen fish.
Frozen fish cannot absorb the brine properly. It doesn't work. Make sure your fish is totally thawed before it goes into the brine.
Don't skip the drying step, pre-smoke!
The pellicle is the part that makes the smoke and flavor stick to the fish. It is a film that develops during the drying process.
Watch your temperature closely.
You want to keep the grill below 180°, ideally. Short swings are okay, but long ones are going to impact the texture and flavor.
Join our Easy Traeger Recipes Facebook group!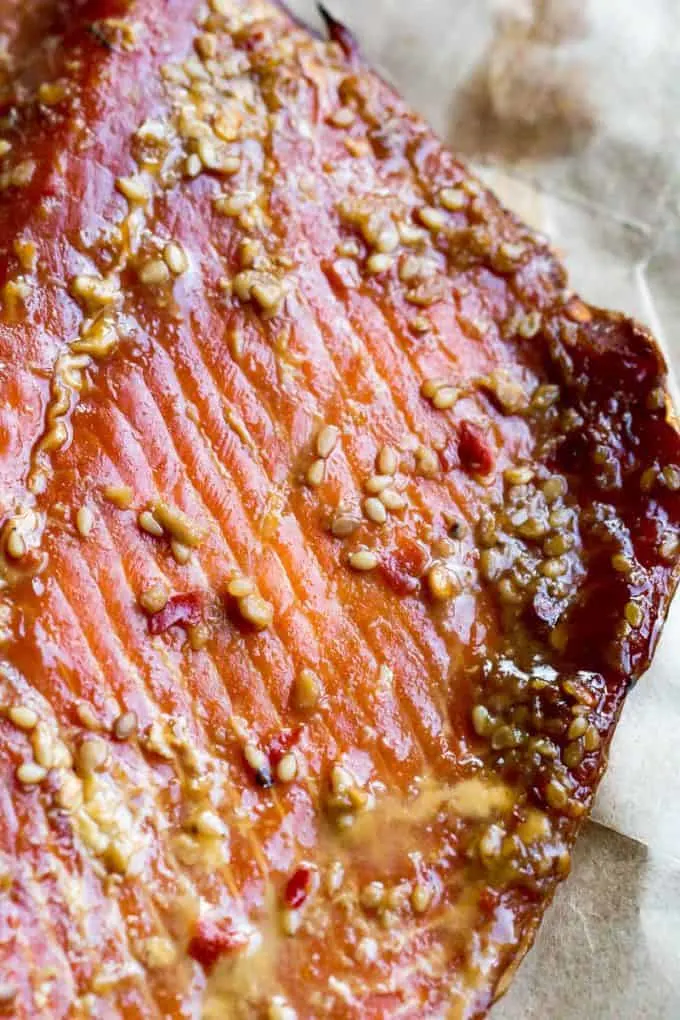 What tools do you need to smoke salmon?
All you really need for smoked salmon is a smoker and the salmon, but having some other equipment around will definitely make your life easier.
Wire Rack
Basting Brush
Large flat plastic container for brining
WIFI connection to the grill so you can monitor temperatures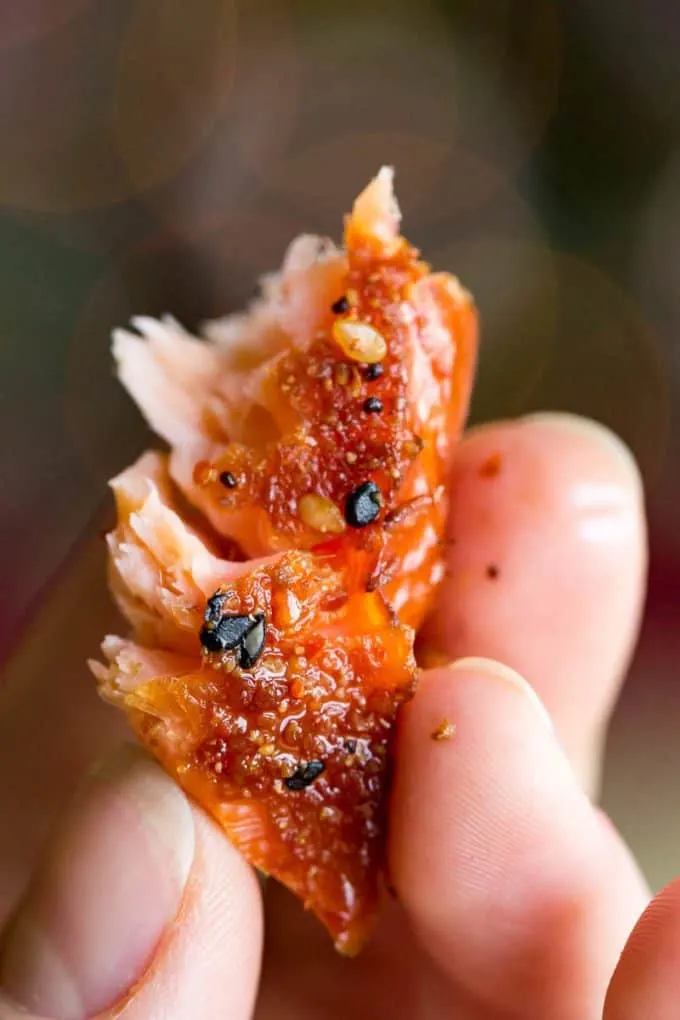 Smoked Salmon Recipes
Delicious smoked salmon recipes that are all hot smoked on our Traeger wood-pellet grill!
These recipes are easy, delicious, and feature big bold flavors from all over the world.
Traeger Maple Smoked Salmon is the first and favorite smoked salmon recipe on the site. The basis for most of our Smoked Salmon recipes here on Or Whatever You Do!
Lemon Pepper using freshly ground black pepper and lemon zest make a really amazing addition to this fresh hot smoked salmon!
Togarashi is also known as Japanese 7-Spice. It is a big bold flavor that is amazing on salmon! You're going to want this to be sprinkled on everything!
Garlic and fresh dill are the stars of this show. This smoked salmon is wonderful on its own, or even mixed into my Smoked Salmon Chowder.
I LOVE teriyaki flavored anything, so when my husband made us this teriyaki smoked salmon I was hooked.
RECIPES USING SMOKED SALMON
These recipes all use smoked salmon as a main ingredient. Enjoy!
Chowder! Full of smoked salmon. You're going to love this. I recommend using the garlic dill or the lemon pepper for the best results.
Smoked salmon and fresh farm eggs make a great combination. This scramble is one of my favorite breakfasts!
What could possibly be better than eggs benedict? Eggs benedict with a heaping helping of smoked salmon in the mix.
I love this dip with my whole heart. It is bright and savory and amazing and you need to share this with your world because they will thank you for it.
Grilled salmon or smoked salmon works well in this pasta salad dish that is fit for any cookout, bbq, or potluck!