These Traeger grilled shrimp tacos are a perfect light and refreshing dish to serve up. The shrimp is cooked perfectly and seasoned with a chili margarita seasoning and is an easy seafood dish to transform your Taco Tuesday.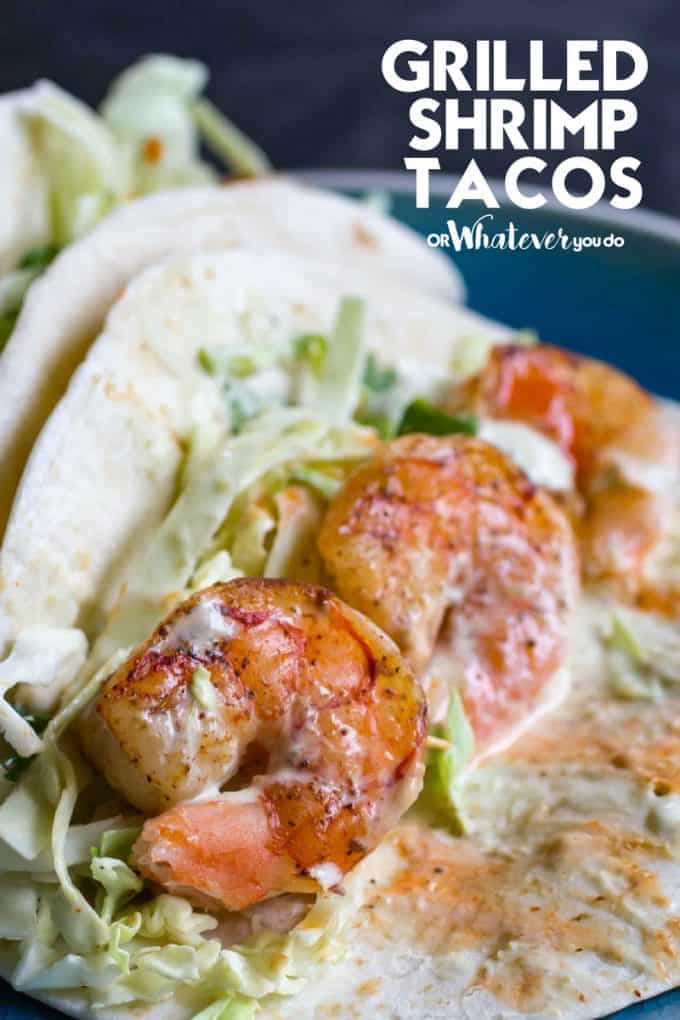 Grilled Shrimp Tacos
These shrimp tacos are quick and easy to make, which is excellent for those quick weeknight meals when you don't have time. Even picky eaters have raved about these tacos!
In our home, we love serving up shrimp; it is an excellent protein to have on hand. One thing I like about shrimp is the versatility; you can whip up some shrimp cocktail, toss on the grill, serve in a salad, or pair with pasta for a comfort dish.
Plus the beauty of shrimp is that it has such a quick cook time.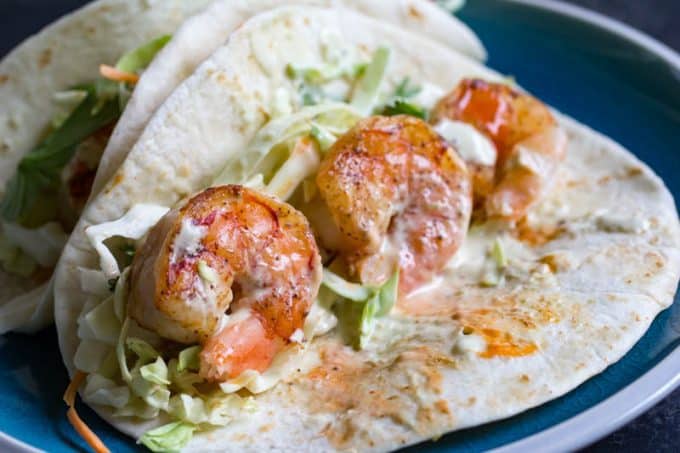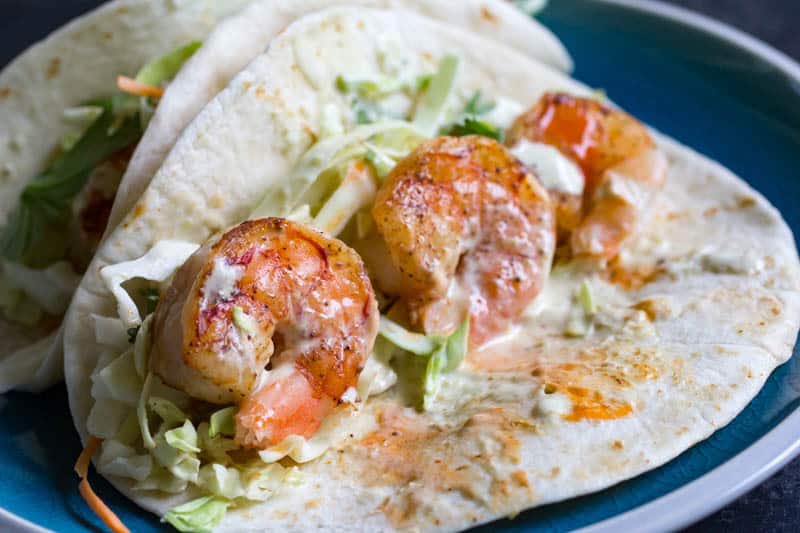 Epically Flavored Grilled Shrimp Tacos
The flavor of these tacos are on point. You have juicy and tender shrimp. For this recipe, I used a chili margarita seasoning from Spiceologist. You get that little pinch of savory along with a hint of citrus from the lime. I found it adds a lot to these grilled shrimp tacos.
Warm up a soft tortilla shell, add in your favorite taco fixings, and you are ready for dinner. Sometimes, I will whip up a homemade salsa or guacamole to serve on top, and other times we do a slaw mix or even lettuce. I generally raid the fridge and see what I have on hand. Shrimp tacos are so versatile, so whatever toppings you are craving, go for it.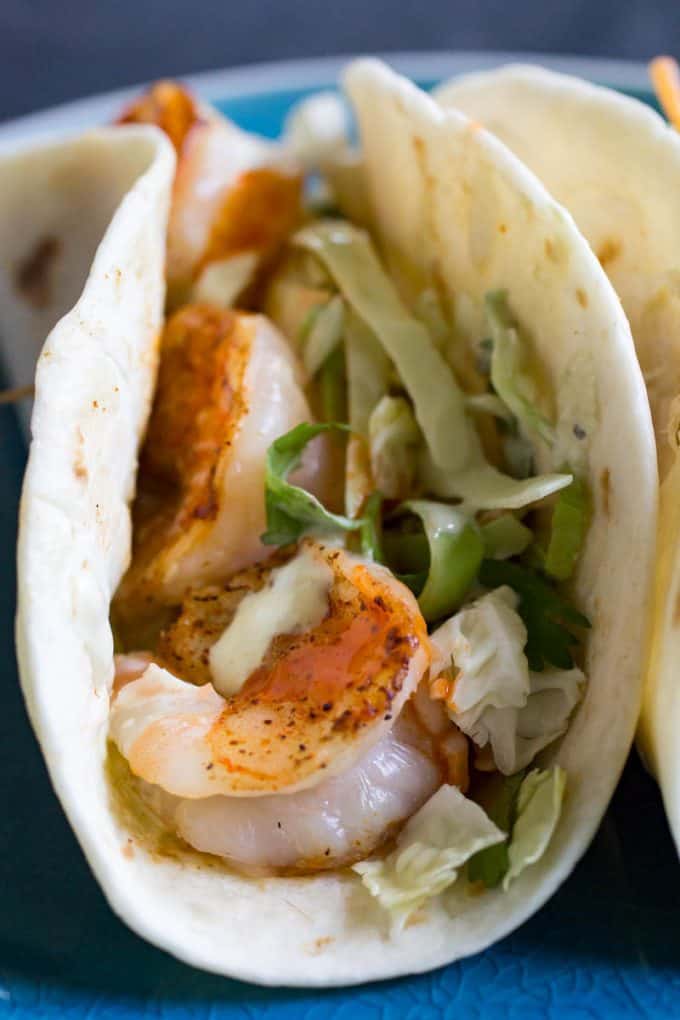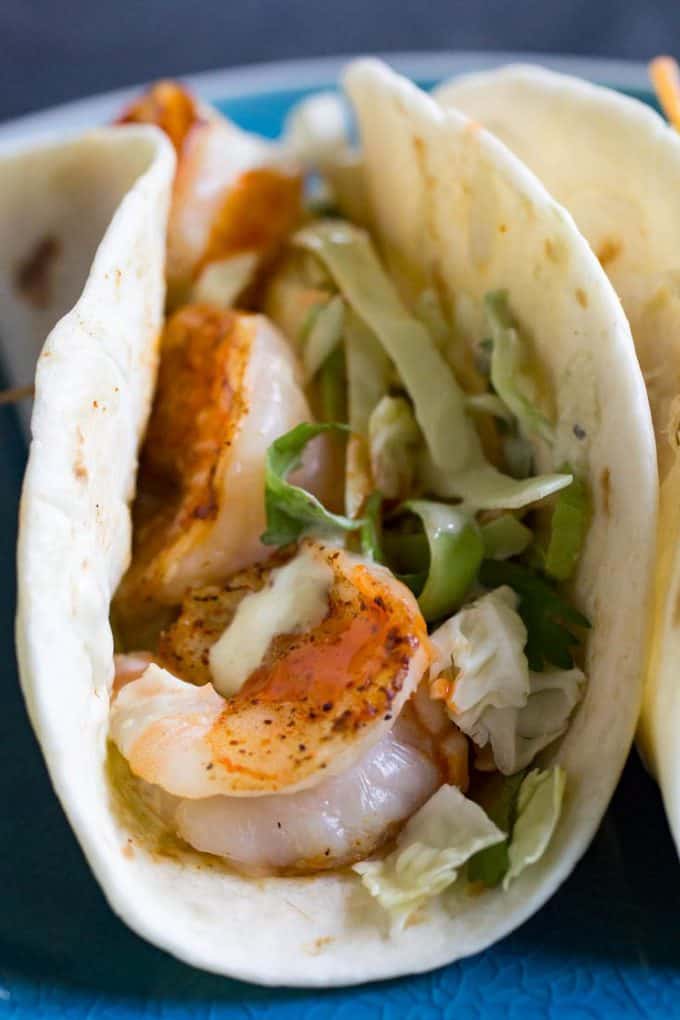 One thing we try to do often is on those warmer nights, we bring dinner outdoors. We assemble our tacos inside and bring our plates and drinks out and sit out and have a picnic on the deck. The warm breeze and the summer sun is a beautiful change of atmosphere here in the sometimes gloomy Pacific Northwest, and that really lightens up the mood.
We talk about our days, what we have planned for the week, and how much fun this summer has been. It is a great way to connect with each other and spend that family time, which is so important.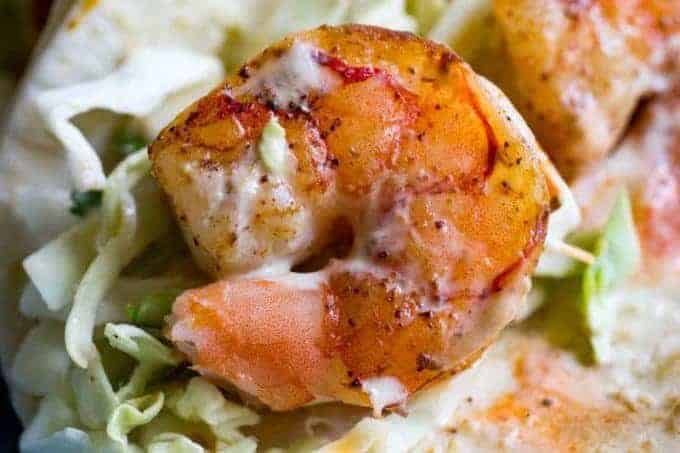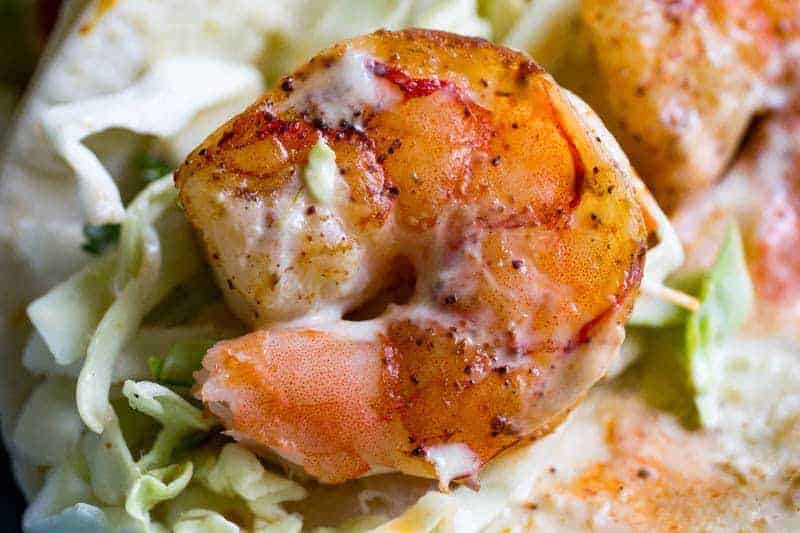 Tips for Juicy Flavorful Grilled Shrimp
I really prefer grilling with larger shrimp. I find that they do the best and aren't quite as touchy. The smaller varieties can get overcooked really quickly!
I aim for the 15 per pound size, also known as Colossal. If you buy them with the shell-on and tail-on, you can get them for a lower price and then peel and devein them yourself. I find this adds time but can save you money. If I know I won't have time, I go ahead and buy the pre-peeled ones for convenience.
The goal for grilling shrimp is cooking on high heat. Shrimp is meant to be grilled at higher temperatures. You can skewer your shrimp if you want, and lay them out on the grill. Then let them cook for just a few minutes on each side. You know they are ready to flip when you see the underside starts to turn pink.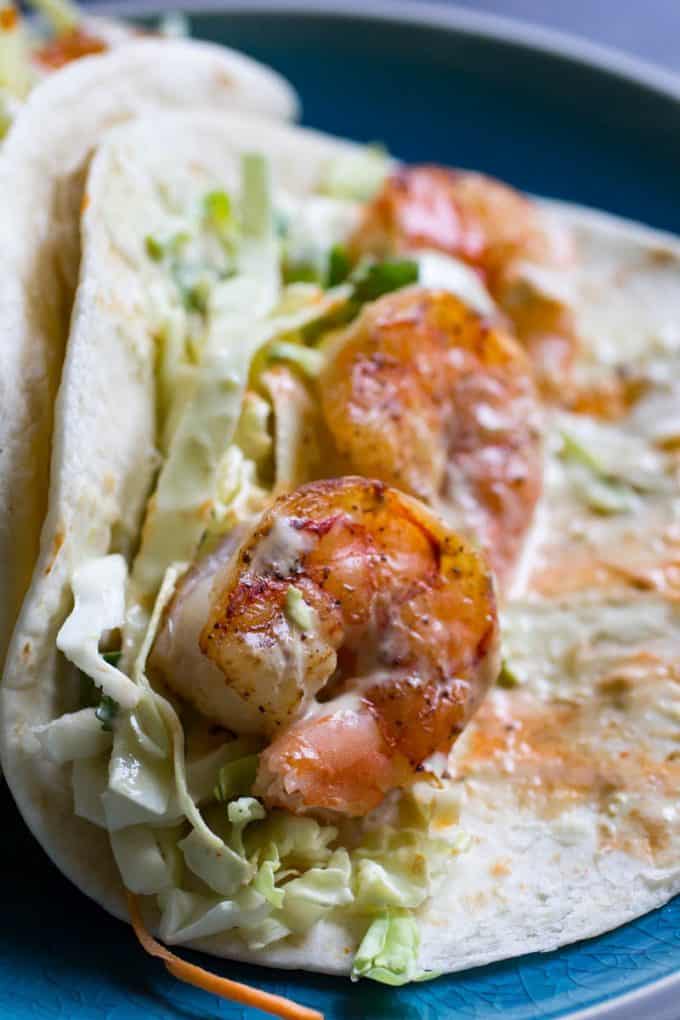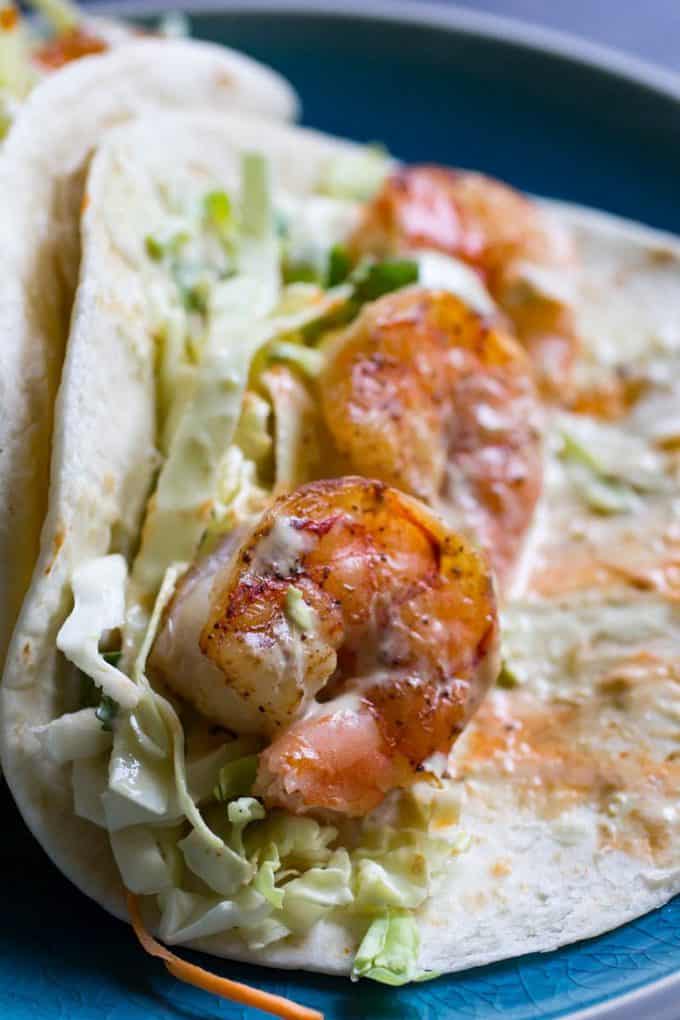 Can You Use Pre-Cooked Shrimp
I do not personally recommend cooking pre-cooked shrimp again. Pre-cooked shrimp is meant for shrimp cocktail or serving with a salad. If you go and prepare the pre-cooked shrimp, it will become very rubbery, as it will over-cook the shrimp. So I suggest always buying raw shrimp for grilling.
Will Raw Frozen Shrimp Work
Absolutely!
Just thaw the frozen raw shrimp in the refrigerator overnight, or run the shrimp under cold running water. I put mine in a colander and let it just have that regular water stream to help break off any ice and thaw.
Once the shrimp is thawed, drain and rinse your shrimp. Dry it thoroughly before you begin prepping it for cooking. If you don't thaw it first, the seasoning will not stick to the shrimp that well, and you would run the risk of uneven cooking over the grill.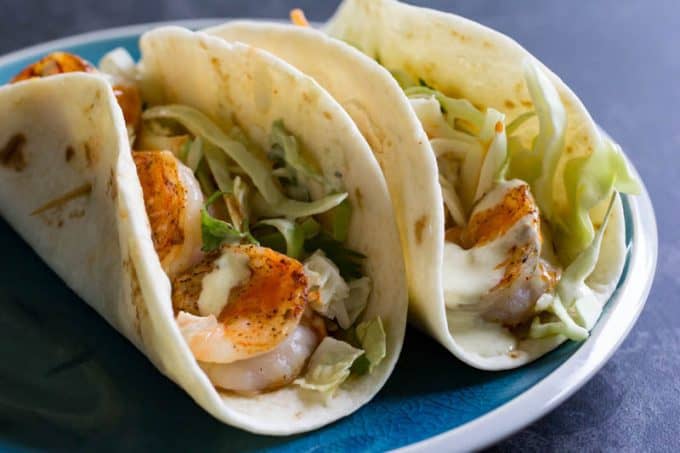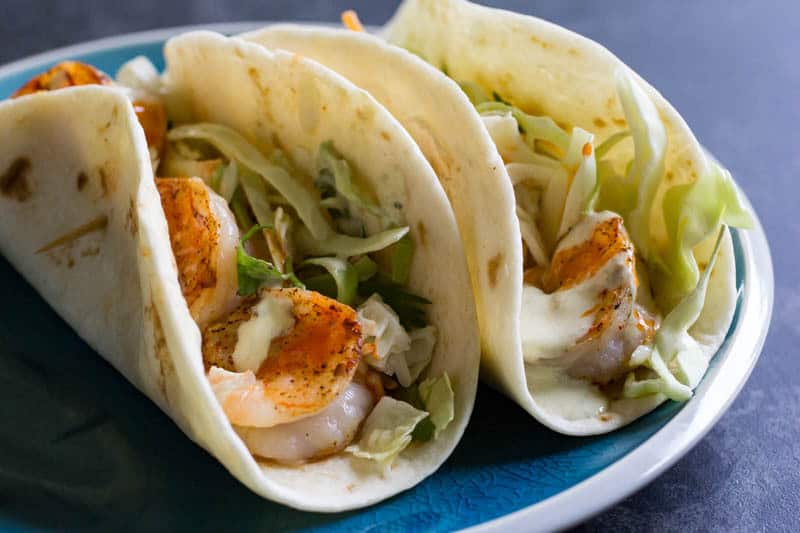 These tips work great for any time you go to grill shrimp. Once you learn the perfect timing on cooking your shrimp, you will be able to make juicy shrimp that is cooked right every time.
Make these tacos for your family and friends and see what they think! Nothing beats a good taco in my books.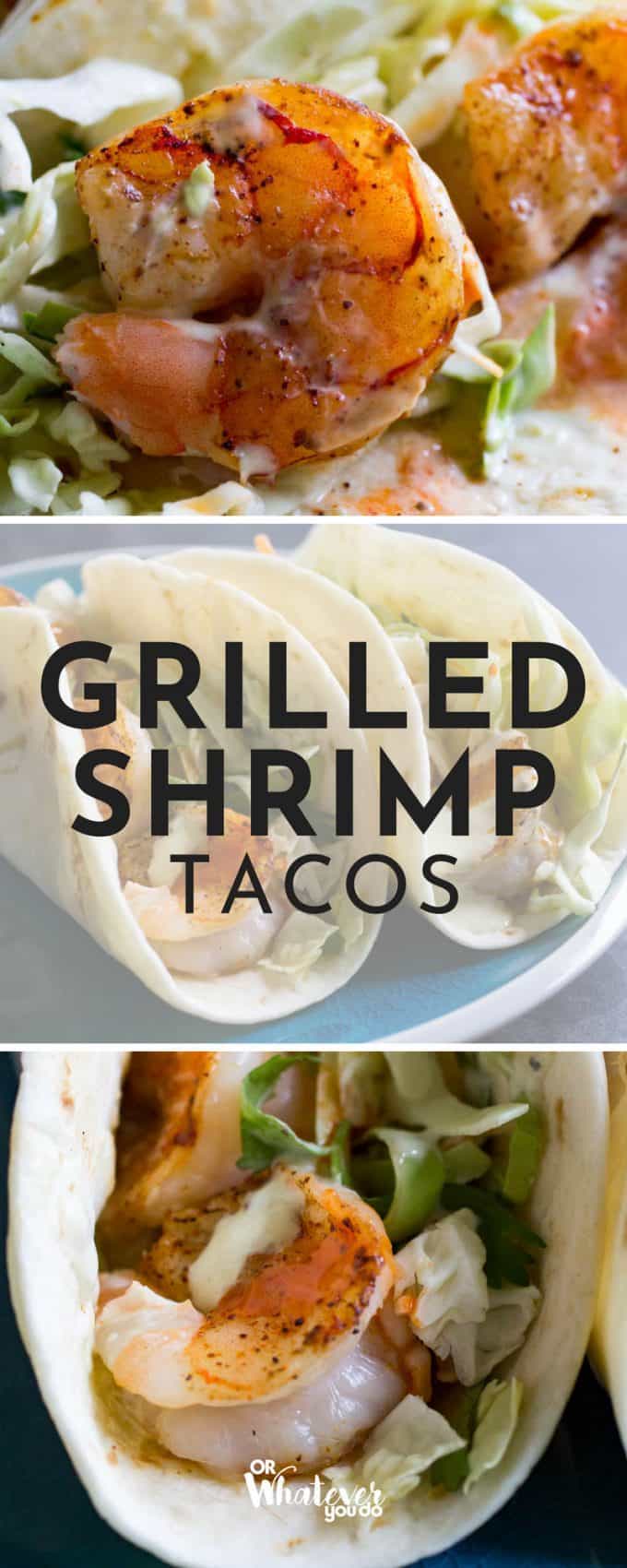 Yield: 4 servings
Traeger Grilled Shrimp Tacos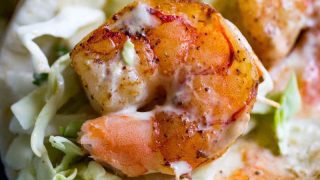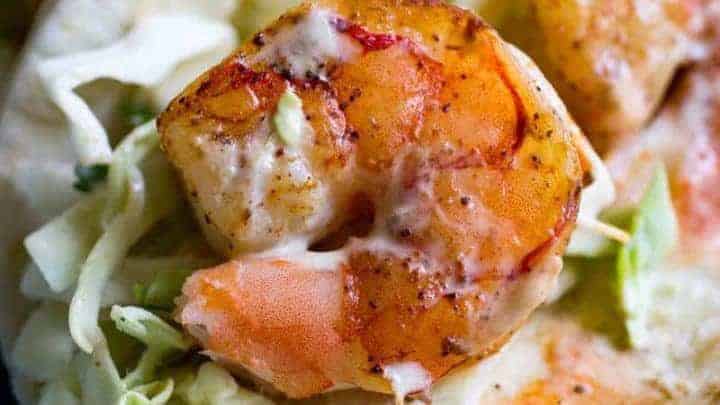 Traeger Grilled Shrimp Tacos are a quick and easy weeknight meal! Taco seasoning can sub in for Chili Margarita seasoning if you aren't on the Spiceologist train yet, but I highly recommend getting some!
Ingredients
1 pound Colossal White Shrimp, uncooked and peeled with tails on
2 tablespoons oil
3 tablespoons Chili Margarita seasoning, or taco seasoning
1/2 teaspoon salt, unless you used taco seasoning then skip the salt 😉
Instructions
Preheat your grill to 400 degrees (or medium high if you aren't using a Traeger).
While your grill is heating, toss your peeled shrimp in the oil and skewer them 3-4 shrimp per skewer.
Sprinkle the seasonings on both sides of the shrimp, and place on the grill.
Cook for 4-5 minutes per side, or until the shrimp is pink and no longer opaque in the middle. If your grill runs hot it might not take that long per side, so use your best judgment.
Recommended Products
As an Amazon Associate and member of other affiliate programs, I earn from qualifying purchases.
Nutrition Information:
Amount Per Serving:
Calories:

3
Total Fat:

0g
Saturated Fat:

0g
Trans Fat:

0g
Unsaturated Fat:

0g
Cholesterol:

0mg
Sodium:

0mg
Carbohydrates:

0g
Fiber:

0g
Sugar:

0g
Protein:

0g