Serve up this simply delicious but highly impressive Traeger Seafood Alfredo any night of the week. Traeger grilled shrimp and scallops are served over the top of a big pile of pasta, and all of it covered with a creamy alfredo sauce.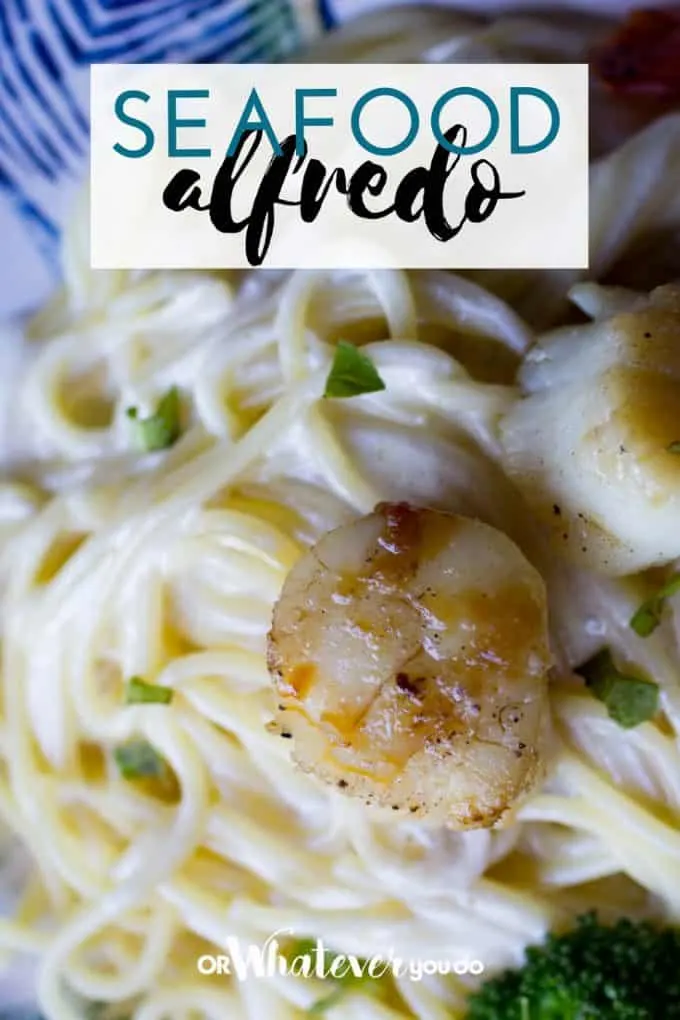 Traeger Seafood Alfredo
This seafood alfredo recipe will top your favorite restaurant's alfredo shrimp, and it won't cost as much if you make your own, and you might even have leftovers. This Traeger Seafood Alfredo gives you an element of wood smoke in your protein to add even more depth into a classic and simple dish.
This easy pasta dish offers scallops and shrimp that are cooked on your Traeger that are amazing with the al dente pasta and sauce. This recipe is one that gets rave reviews from my family and friends, I thought it was about time I shared it with you all.
I love a good seafood dish, and when you say scallops or shrimp, our family is down for it. Why not pair the two together to create one epic flavor combination that will have everyone soaking up the last drops of the sauce?
Can you believe that school is now in session in most towns? If kids haven't started yet, they are getting school supplies rounded up and heading back.
---
More fantastic TRAEGER RECIPES here!
---
For one of our end of summer goodbye events, I decided to make this seafood alfredo because everyone loves it so much. It was fun sitting down as a family eating one of our favorite meals, talking about all the fun we had over the summer, and what we are looking forward to for the new year.
New teachers, classmates, all can be a little scary, so taking the time to talk about it all helps loosen the kids up for a new school year. Having a comfort food dish like this when we are talking about the future and memories made, is a perfect fit.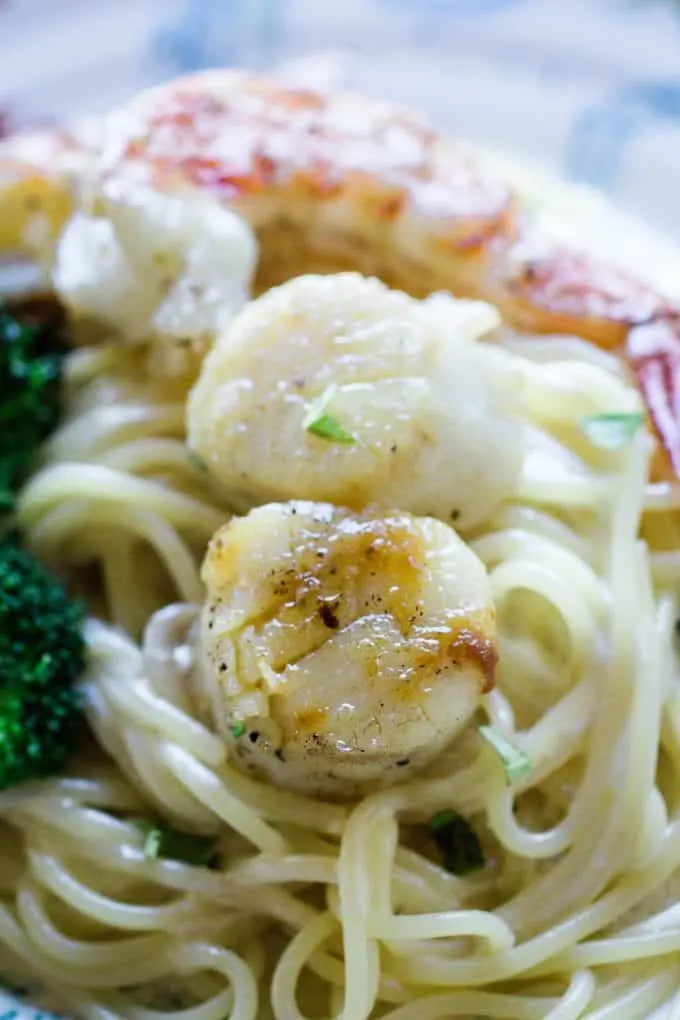 What To Make With Shrimp Alfredo
Sometimes I struggle with finding the perfect sides to pair with a dish.
If you are like me and ever struggled to find the perfect pairing, let me help. When I make shrimp alfredo, sometimes I pair it with a nice garlic bread or even crusty bread. These are both great for soaking up any of the sauce that gets left on the plate.
You can also pair this with a crisp Caesar salad. It will give you an element of crunch to pair with your tender pasta and seafood. Maybe also reach for a veggie like broccoli or even asparagus. You might find you like mixing the vegetable in with the sauce or pairing with the seafood. I know I do!
Is Shrimp Alfredo Healthy?
For this, I say yes and no. While the shrimp and scallops are a great source of protein and low in fat, you run into the cream that is used for the sauce and cheese which can be good for bone health and heart health, but it does offer some cholesterol and saturated fat in the dish that you have to be aware of. For more savory dishes like my seafood alfredo pasta, I always say enjoy in moderation.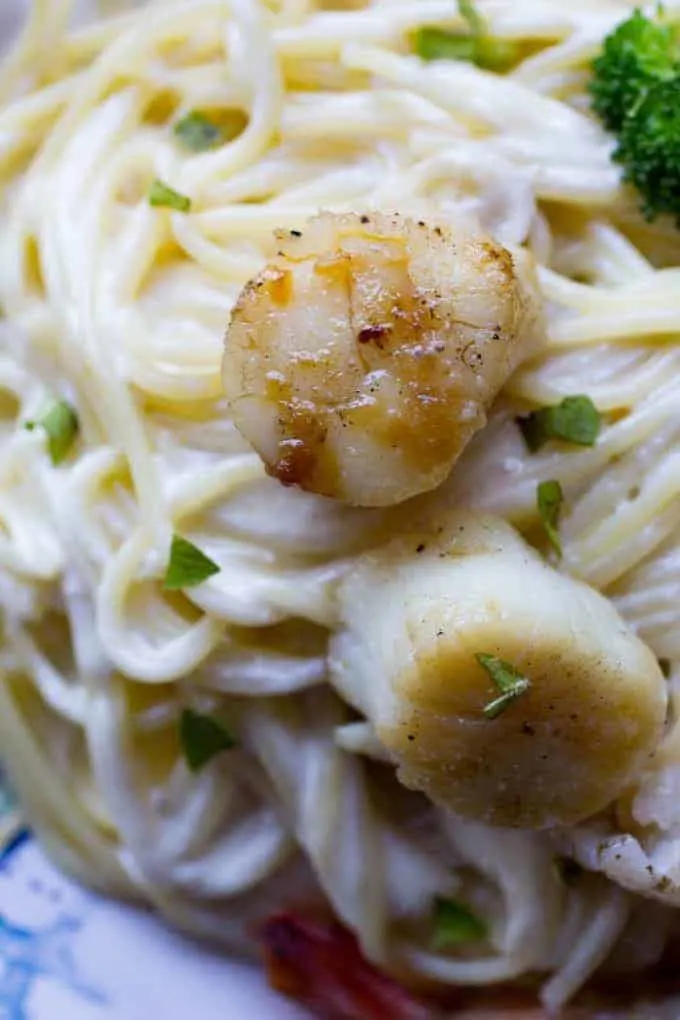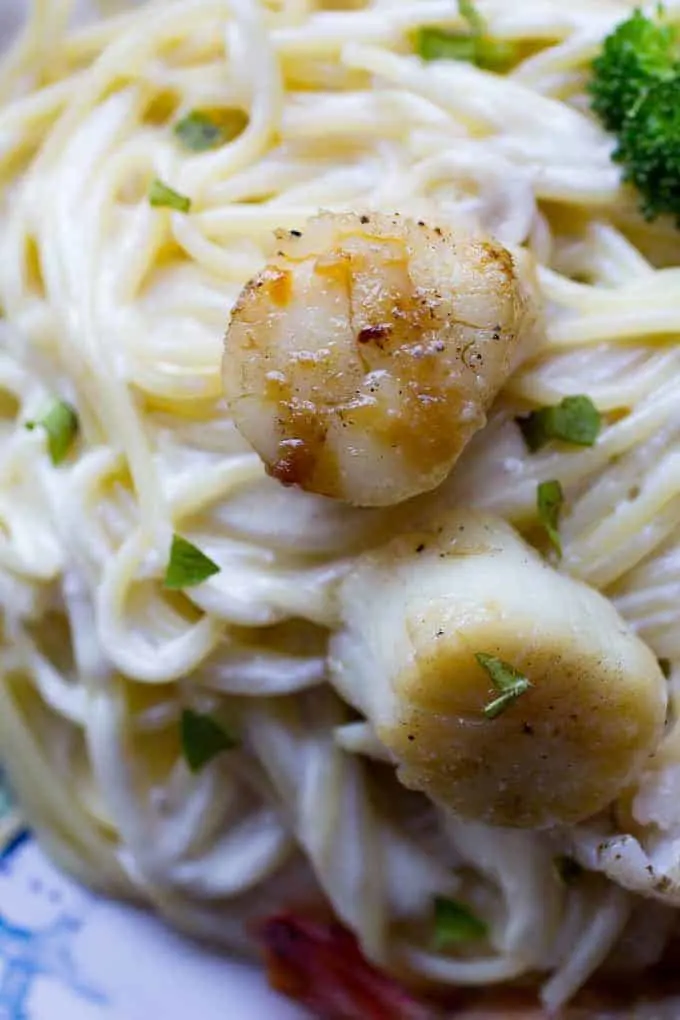 Cooking Shrimp and Scallops
Seafood always cooks quickly, and shrimp and scallops definitely fit into that description.
As a mom always on the go, I love seafood for that reason. It is quick to cook, and is a nice change from beef or chicken recipes.
That convenience is also what makes seafood a little intimidating to prepare for some people. It is relatively expensive, so you don't want to wreck it by overcooking.
Make sure to follow the cook times as well as the temperature your grill needs to be at. With the Traeger, you have a direct control that can adjust the temperature. It makes cooking on the grill a breeze. With a gas or a charcoal grill, you don't have the luxury of controlling the heat that easily.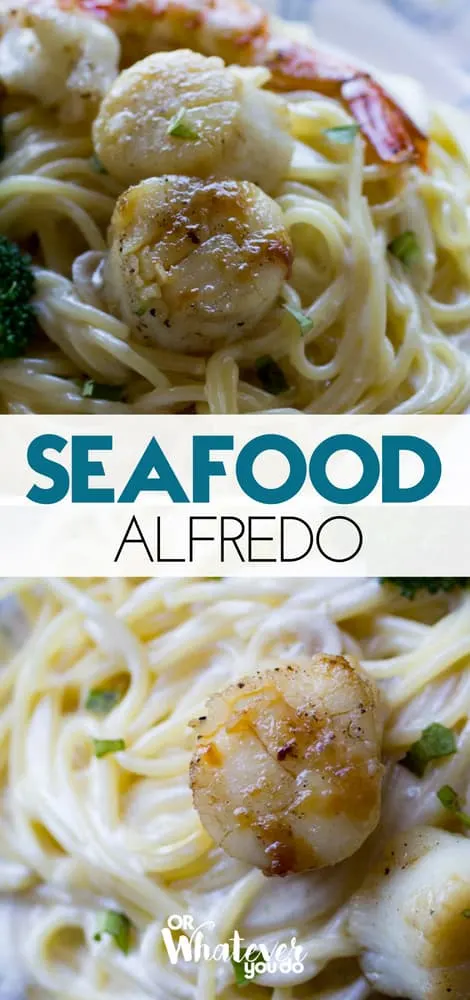 ---
Time Warp
One Year Ago: Chorizo Breakfast Tacos
Two Years Ago: Instant Pot French Onion Beef Stroganoff
Three Years Ago: Mini Meatballs with Fresh Herb Marinara
Four Years Ago: How Do I Grill Pizza
Five Years Ago: Apple Cinnamon Streusel Coffee Cake
Six Years Ago: Scratch Caramel Sauce
Seven Years Ago: Chicken Marsala
Eight Years Ago: Homemade Egg Noodles for Soup
---
Yield: 8 servings
Traeger Seafood Alfredo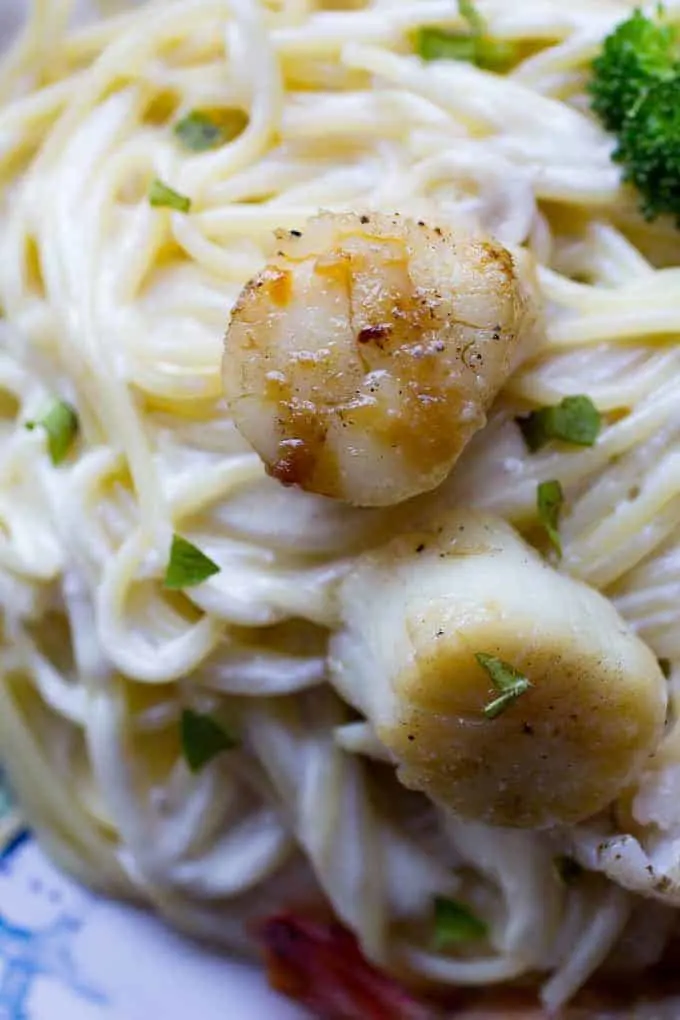 Delicious and creamy homemade alfredo sauce with Traeger-grilled shrimp and scallops is one of the best meals I've eaten all year. Easy prep. Easy cook. Fancy dinner DONE.
Ingredients
Alfredo
6 tablespoons butter salted
2 cloves fresh garlic, thinly sliced
1 pint heavy cream
2-3 cups Parmigiano Reggiano
salt to taste
Seafood
1/2 pound sea scallops
1/2 pound jumbo or colossal shrimp
1/2 cup salted butter, melted
1/4 cup dry white wine
1/2 teaspoon chopped fresh garlic
1 tablespoon lemon juice
1/2 teaspoon garlic powder
1/2 teaspoon salt
Instructions
Preheat your Traeger to 400 degrees following factory directions with a cast-iron pan inside to preheat with it.
Place your butter and garlic into a large skillet and heat over medium heat on the stovetop. Let the garlic cook for about a minute, and then add in the heavy cream.
Let this mixture simmer over low heat for 20-25 minutes, unit reduced by about 1/3, stirring occasionally.
Making sure the seafood is as DRY as possible, season your scallops and shrimp with the garlic powder and salt.
While the sauce is cooking, place your butter inside of the preheated cast-iron pan and let it sizzle for a second.
Add the scallops to the hot pan, close the lid, and let cook for 5 minutes.
Flip the scallops over and add the shrimp into the pan. Add the rest of the seafood ingredients to the pan. Close the grill lid and let cook for 8-10 minutes.
When the alfredo sauce is reduced, add in the cheese and remove from heat. Stir until combined.
Remove the seafood from the grill and serve on top of a bed of pasta with the alfredo sauce.
Recommended Products
As an Amazon Associate and member of other affiliate programs, I earn from qualifying purchases.
Nutrition Information:
Amount Per Serving:
Calories:

0