Chocolate Hazelnut Caramel Treasures are one of my favorite thumbprint cookies. These need to be on your Christmas cookie rotation every year.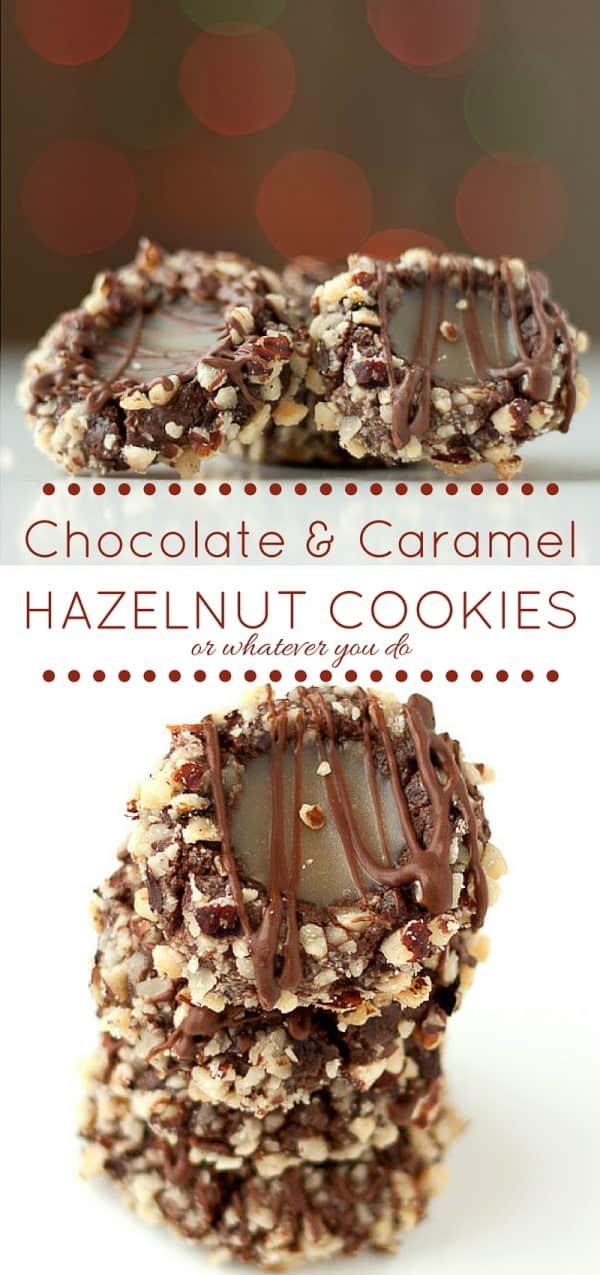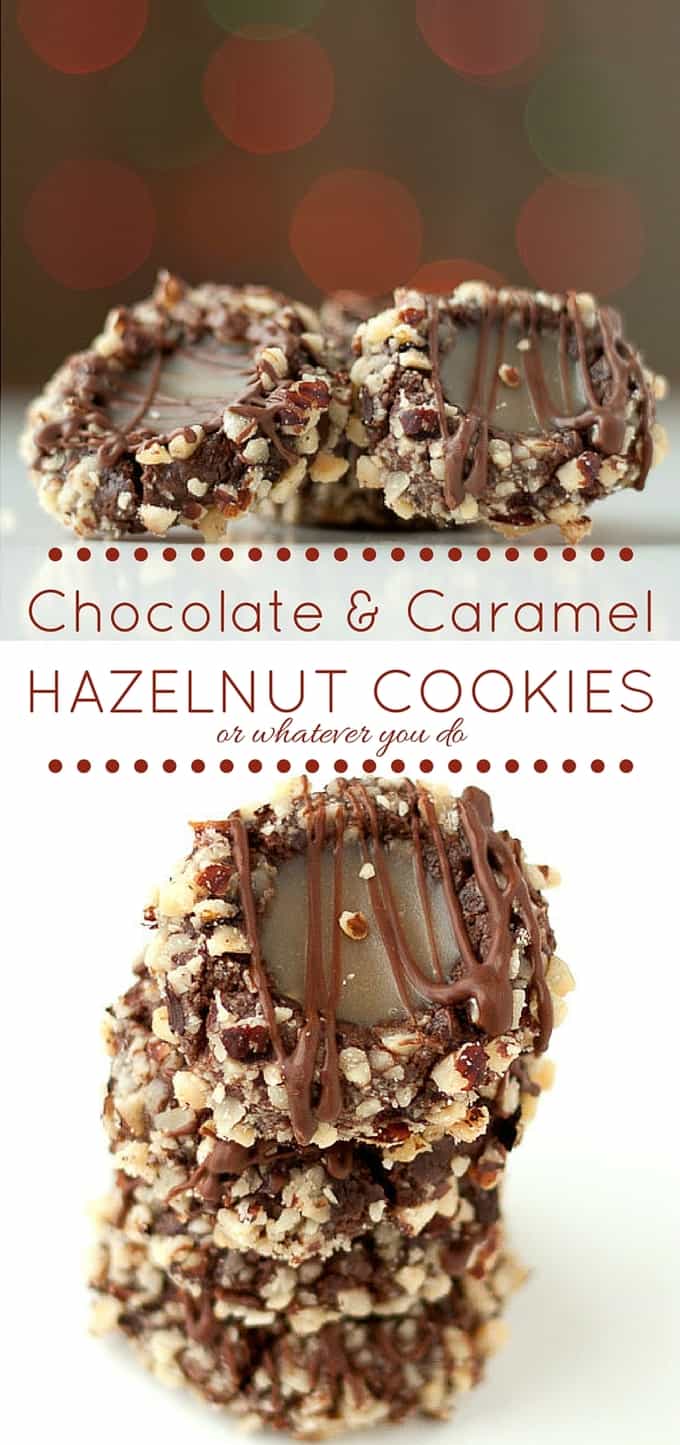 Chocolate Hazelnut Caramel Treasures
It is almost CHRISTMAS!!! 22 days left, and that means it is time to start planning that holiday baking marathon. These little beauties were actually from last year, which I dubbed "CookiePalooza 2012" because I made 10 different kinds of cookies in 7 or 8 different boxes for my husband's office and the kids' school. It was 3 solid days of mixing, baking, and packing, and I was happily exhausted at the end of it. Some of the cookies I made included these Everything Cookies, Browned Butter Shortbread Sandwich Cookies, Chocolate Sugar Cookies, Browned Butter Soft Ginger Cookies, Chocolate Crinkle Cookies, and my favorite chocolate chip cookies.
This year, I'm back home in the great state of Washington, and that means CookiePalooza 2013 is going to be even bigger and better than ever because I have some awesome bakers here to help a girl out.
However you decide to do your Christmas baking spree, these Chocolate Hazelnut Caramel Treasures should definitely be on your list. They look much more complicated than they actually are, thankfully, and they taste amazing.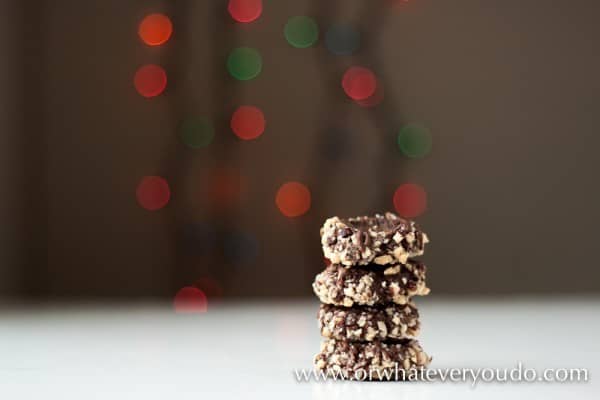 The recipe calls for using store-bought caramels, but this year I'm going to make a few batches of my own, and use that.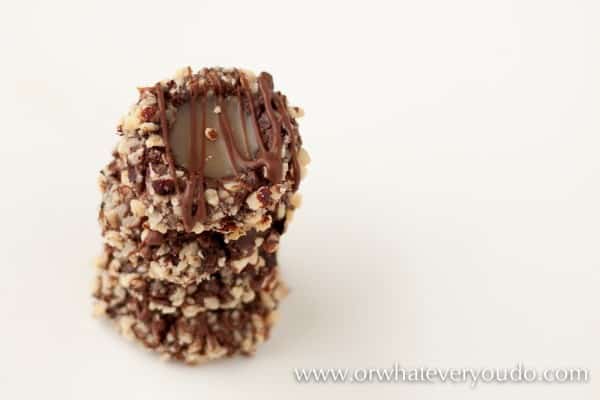 Aren't they amazing looking?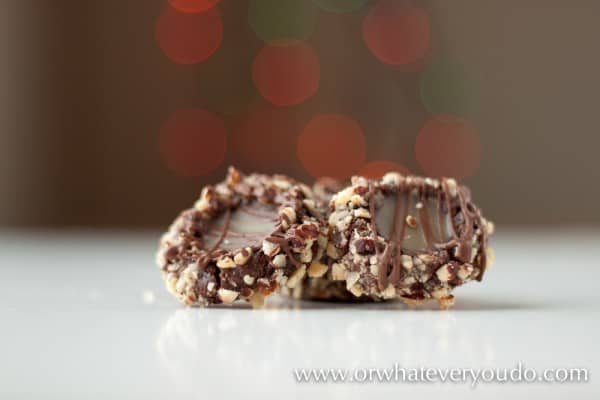 Make these and report back! If you send me photos of your creations I will share them on my facebook page and on the blog. I love hearing your feedback! Do you have a FAVORITE essential Christmas cookie you just have to have every year no matter what?? Let me know. I need new cookies to add to the rotation. I am a little obsessed with cookies every year, and it is a big part of why I enjoy the Christmas season so much!
Yield: 24 cookies approximately
Chocolate Hazelnut Caramel Treasures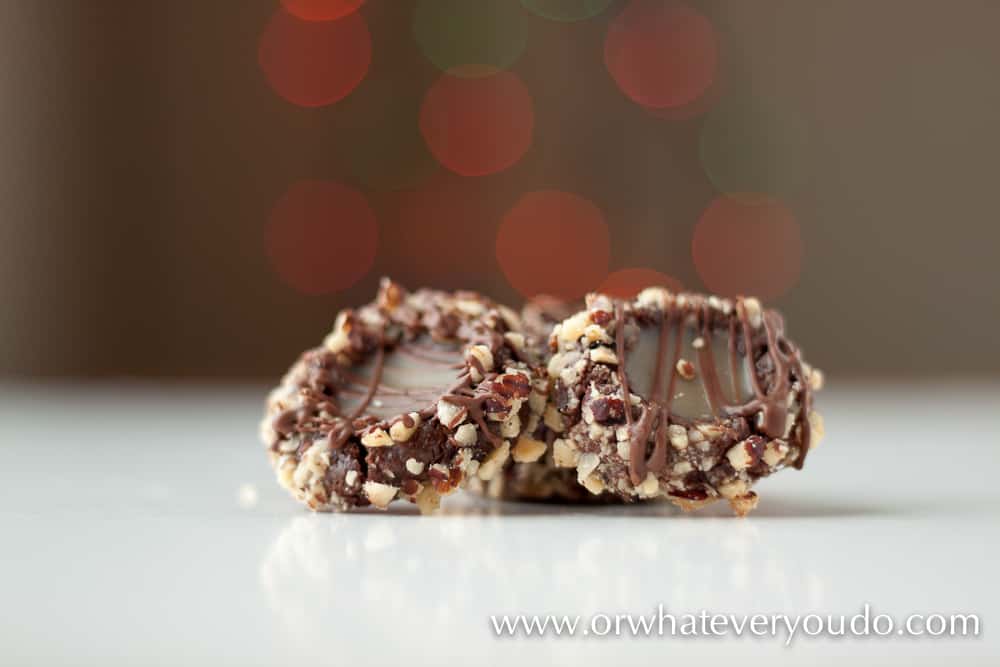 Beautiful and delicious chocolate cookies that are coated in hazelnuts, filled with caramel, and drizzled with milk chocolate. Basically, the perfect cookie.
Additional Time
30 minutes
Total Time
1 hour
5 minutes
Ingredients
1 cup all-purpose flour
1/3 cup cocoa powder
1/2 cup salted butter, softened
2/3 cup sugar
1 egg yolk
2 tsp milk
2 tsp vanilla
1 cup finely chopped hazelnuts
1 egg white, lightly beaten
14 vanilla caramels, unwrapped
3 Tbsp heavy whipping cream
1/2 cup milk chocolate pieces
1 tsp shortening
Instructions
Preheat oven to 350. Prep two cookie sheets with parchment paper.
In a small bowl combine flour and cocoa powder and set aside. In another bowl, beat butter until smooth. Add the sugar and beat until well combined, scraping bowl occasionally.
Beat in egg yolk, milk, and vanilla until combined. Add the flour, and mix well. If the batter gets too tough to mix, use a wooden spoon to finish mixing in the flour. (This will only be an issue if you are using a hand mixer. A stand mixture should power through this no problem.) Wrap the dough in plastic wrap and chill for at least 1 hour.
Shape dough into 1-inch balls. Place 1 cup of chopped hazelnuts in a bowl. Dip balls in egg white and roll in hazelnuts. Place 1 inch apart on prepared cookie sheets. Using your thumb, make an indentation in the center of each cookie. Bake for 10 to 12 minutes or until edges are firm.
While the cookies are baking, in a small saucepan cook caramels and cream over low heat until caramels are melted and the mixture is smooth, stirring frequently.
Immediately after removing cookies from the oven, use the rounded side of a 1-teaspoon measuring spoon to press down the center of each cookie. Transfer to wire racks and cool. Spoon about 1 teaspoon filling into the center of each cookie.
Using a double boiler, or a glass pyrex-type bowl over a pot of simmering water, heat chocolate until melted, stirring frequently. Stir in shortening until fully combined. Drizzle over cookies in a zig zag pattern. Let cool to harden before storing.
Store cookies in an air-tight container for up to 3 days, or freeze for up to 3 weeks.
Nutrition Information:
Yield:
12
Amount Per Serving:
Calories:

299
Total Fat:

18g
Saturated Fat:

8g
Trans Fat:

0g
Unsaturated Fat:

9g
Cholesterol:

42mg
Sodium:

76mg
Carbohydrates:

28g
Fiber:

2g
Sugar:

17g
Protein:

4g