My Traeger White Wine Chicken and Mushrooms can be cooked on the stovetop, or on your wood-pellet grill in a cast iron pan. Pick your pleasure! I didn't want to heat up my kitchen and also wanted to enjoy the nice weather outside while we still have it, so I chose the latter.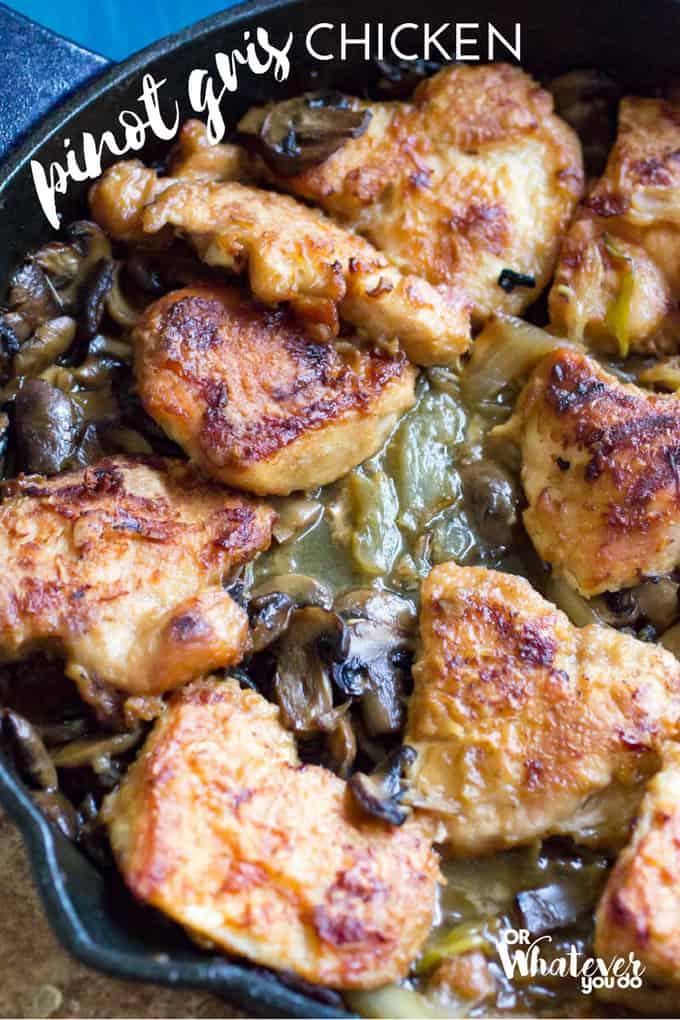 This post has been sponsored by QFC. All opinions are my own. Celebrate Washington Wine Month and save 20% on 6 bottles of Washington wines at participating QFC stores! #sponsored
Traeger White Wine Chicken and Mushrooms
This chicken dish is one of those meals that you'd serve to your in-laws the first time you make them dinner. I'd make this for an anniversary dinner, for someone special I hadn't seen for a really long time, or for someone I wanted to show off for a little bit.
It is fancy-tasting, but full of simple ingredients with a straight-forward cooking technique that anyone can follow. You can make this on your Traeger or you can make this on the stove top, either way, it is going to be amazing.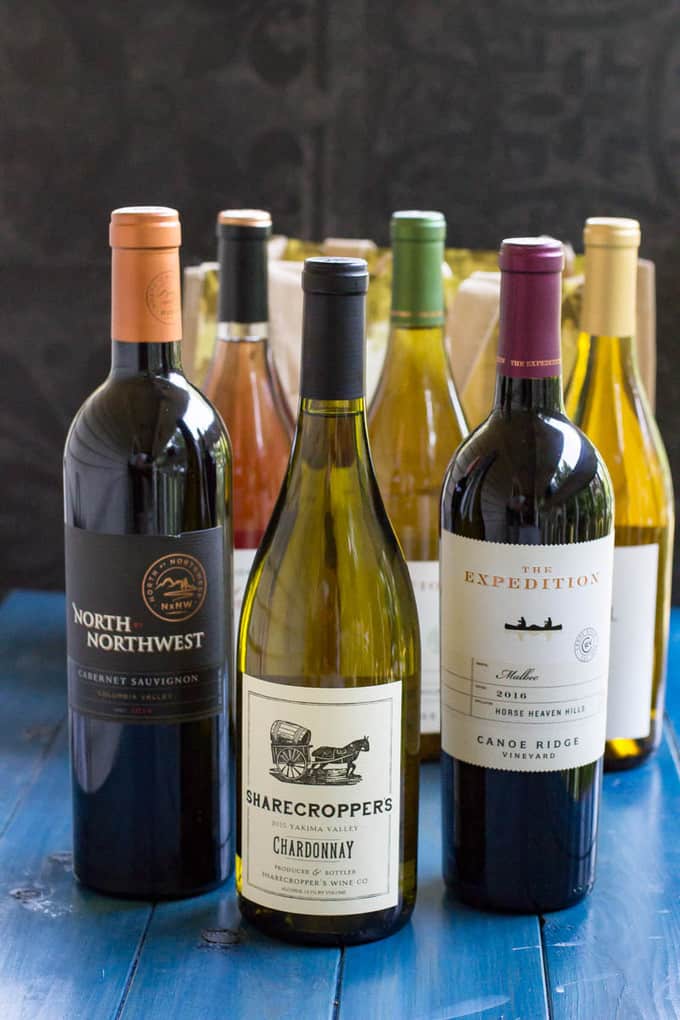 It is Washington Wine month and at QFC if you buy 6 bottles of Washingon wines you can get 20% off on all of the bottles!
Washington wines are amazing, and you can find the large selection of local wines on the shelf by looking for these tags: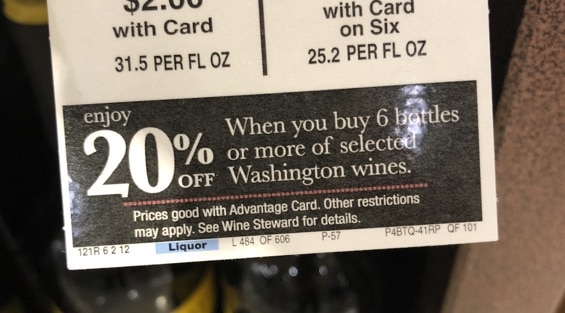 What Kind Of Wine Works Best For White Wine Chicken?
You can use almost any kind of white wine in this dish. My personal favorite is Pinot Gris, but feel free to experiment! I'd steer clear of anything super sweet. A super oaky chardonnay might just be perfect, especially if you go with the Traeger option and cook it on your grill.
---
Need to use up the rest of that bottle? I've got more white wine recipes here!
Pan Seared Sea Scallops with White Wine Bacon Cream Sauce
Easy Shrimp Scampi Pasta
Pork Chops and Gravy
Pork Chops with Caramelized Onions and Dijon Cream Sauce
Creamy Chicken and Wild Rice Casserole
---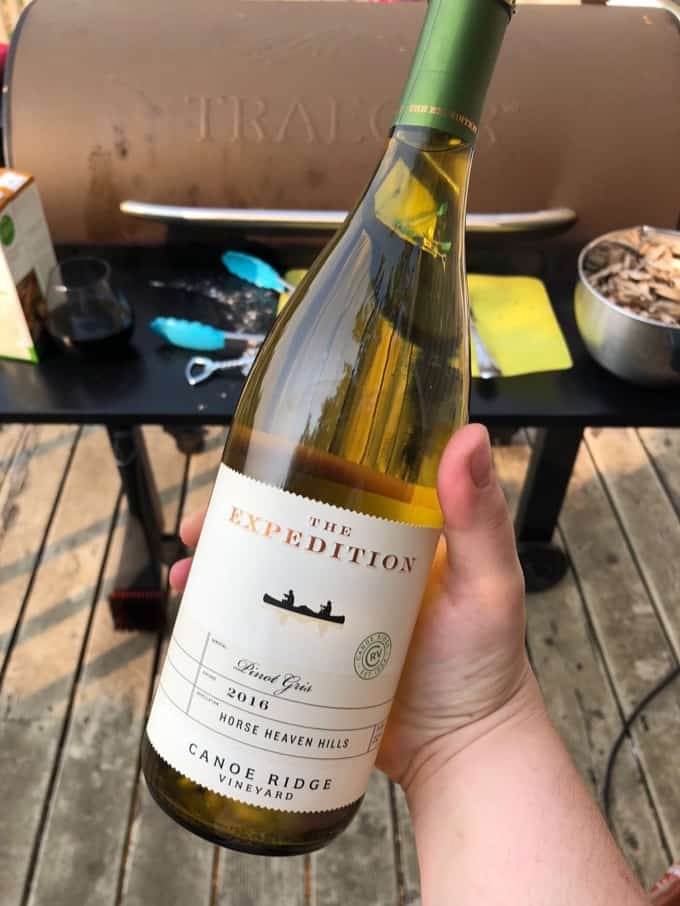 This beautiful Pinot Gris by Canoe Ridge Vineyard was perfect, and I made sure to save some to enjoy while we ate as well.
Make sure and check out the awesome Simple Truth options available at QFC! I picked up their boneless skinless chicken breasts and some crimini mushrooms for this dish.
Need more Traeger Chicken Recipes? I've got them here!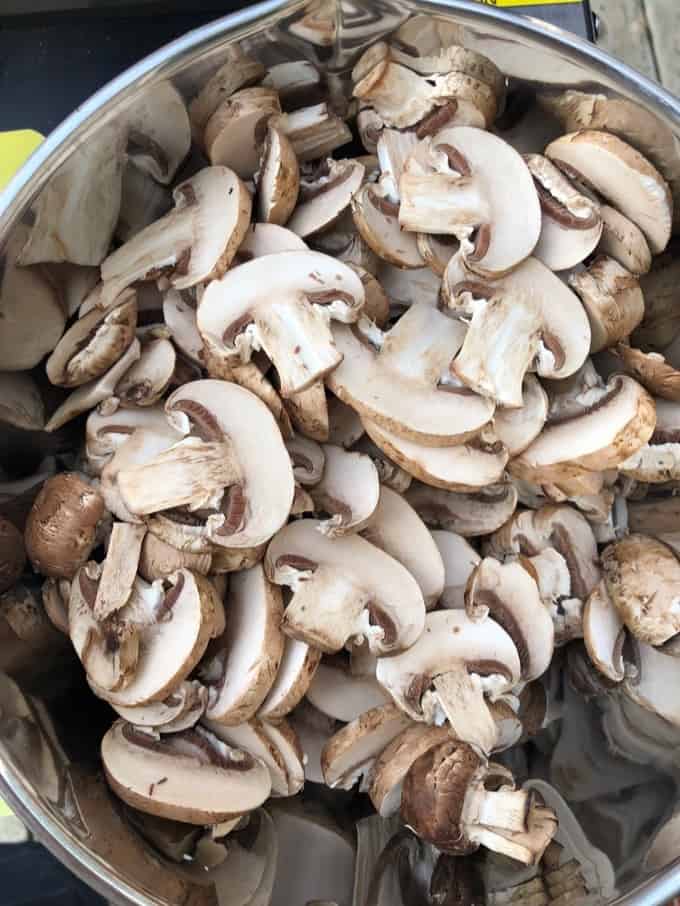 How To Make Chicken in White Wine Sauce
With a little prep, this gets put together pretty quickly. You'll want to make sure to have everything ready to go because things get crazy in the middle of it!
Start by slicing some onions and mushrooms, and setting them aside.
Next, you'll want to cut your chicken breasts in half so they are half of their normal thickness. Season them well with some salt and pepper and a sprinkle of onion powder before dredging the chicken breasts in the seasoned flour.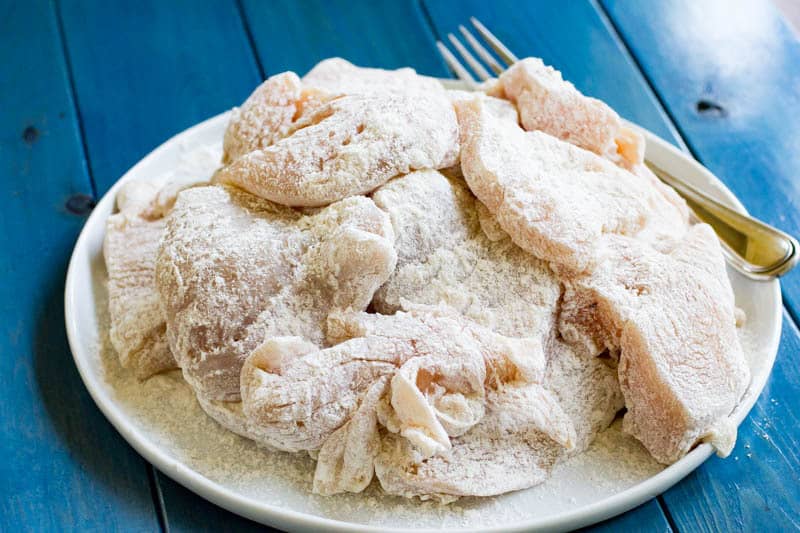 This flour not only helps the chicken to brown, but it also helps thicken the sauce during the end as well. Don't skip it, if you can help it!
After you brown both sides of the chicken, leave all of those awesome bits and pieces on the bottom of the pan and throw in your butter and your onions and mushrooms.
Cook those for about 10 minutes, and then add back in your chicken to the pan along with some chicken stock and some of your white wine. Let that cook down for about 20 more minutes, and soon you'll have this…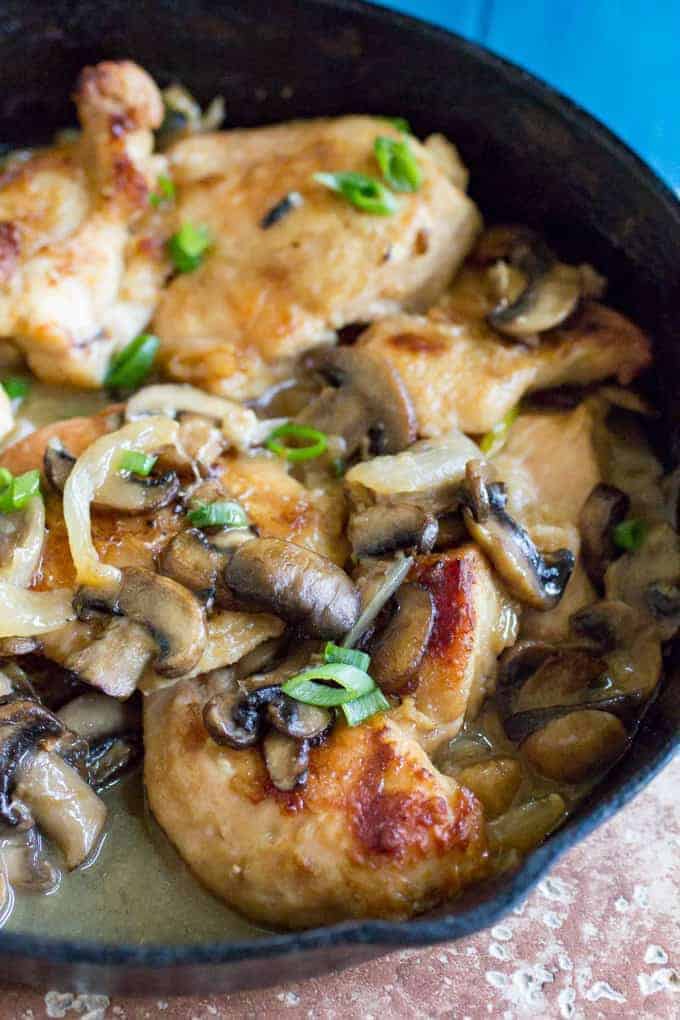 So good.
I like to serve this with Browned Butter Myzithra Pasta, and some Grilled Asparagus.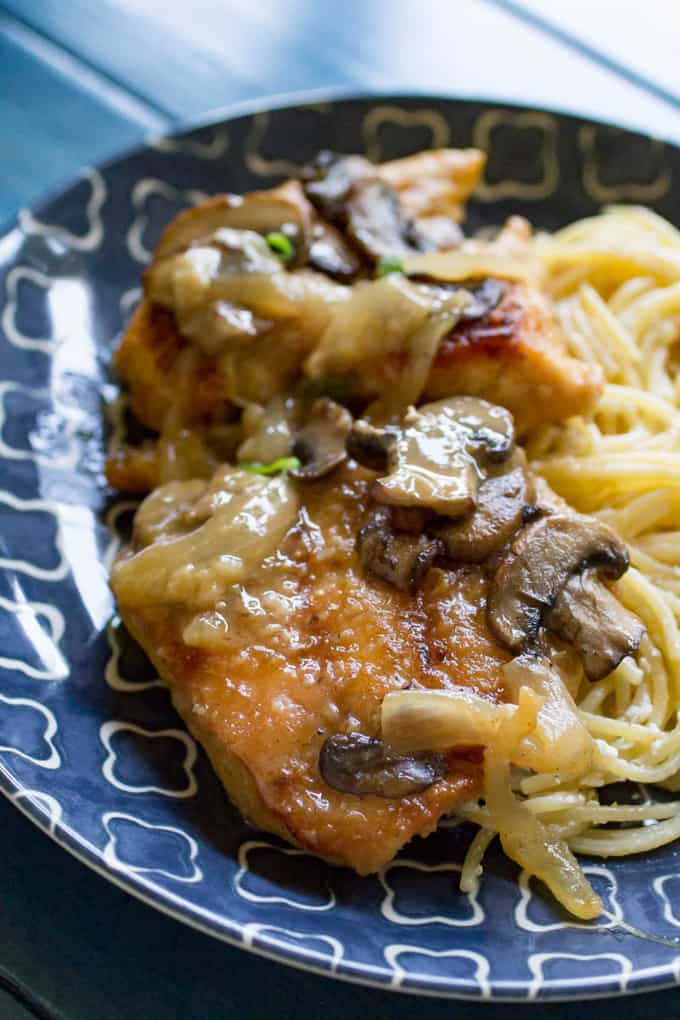 Tips For Making Chicken in White Wine Sauce
Don't mess with the chicken while it's browning!

It'll never get brown if you do. Okay, it'll get brown eventually but it'll take way longer and your chicken will not retain as much moisture if you have to cook it longer.

Well-seasoned cast iron

is your friend for this one! You don't want it to stick, and the cast iron heats so evenly it works so well for dishes like this.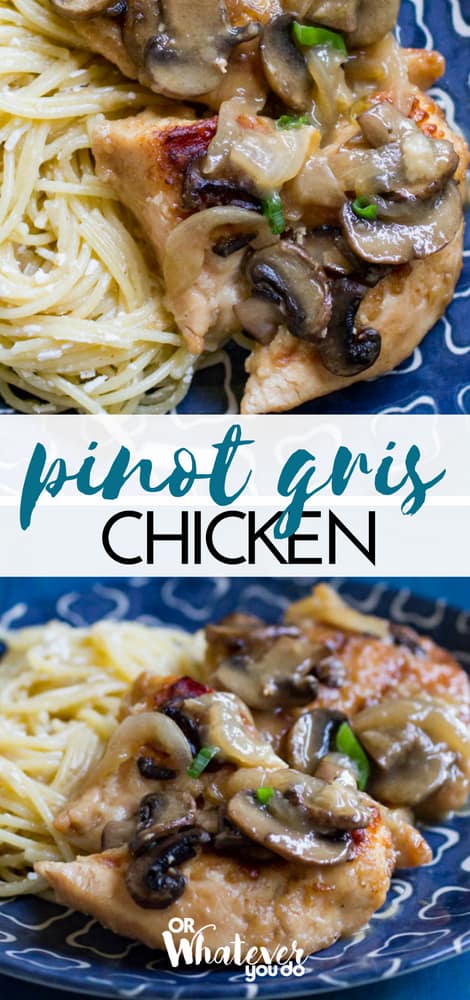 Yield: 8 servings
Traeger White Wine Chicken and Mushrooms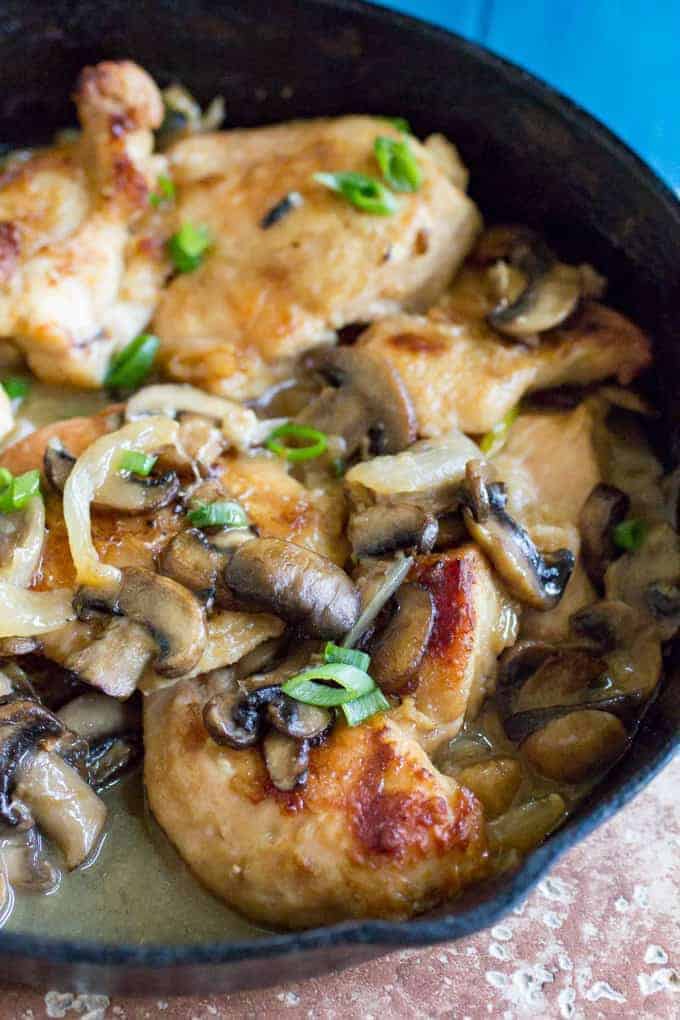 Traeger White Wine Chicken and Mushrooms is a fancy dinner that is more than up for any company you can throw at it.
Ingredients
Chicken:
4 large chicken breasts, boneless and skinless
½ teaspoon salt
½ teaspoon pepper
½ teaspoon onion powder
¼ cup canola oil
Dredge:
½ cup flour
1 teaspoon salt
½ teaspoon pepper
1 teaspoon ground thyme
Sauce:
4 cups sliced crimini mushrooms
1 medium onion, sliced
1 ½ cups chicken stock
1 ½ cups dry white wine
6 tablespoons salted butter, divided
Garnish:
3 tablespoons chopped green onions
Instructions
Trim your chicken and slice in half so they are half the thickness that they usually are. You'll be quartering the breasts so you have four thin slices of chicken from each one.
Season each piece of chicken evenly with the salt, pepper, and onion powder.
In a small bowl, combine the dredge ingredients and then lightly dredge each piece of chicken and set aside.
In a large well-seasoned cast-iron or non-stick skillet, preheat the oil over medium-high heat.
Once the oil is hot, brown the chicken pieces for 3-4 minutes per side, or until the chicken is golden brown. Once it is golden brown on both sides, remove from the skillet and set aside.
In the same skillet, place 3 tablespoons of butter and let it melt over medium-high heat. Place the sliced onions and mushrooms into the pan, cover, and let cook for 4-5 minutes before stirring.
Stir and cook for another 2 minutes before returning the chicken to the pan.
Add in the broth, the wine, the last 3 tablespoons of butter, and cover and let cook for 10 minutes.
Sprinkle with the chopped green onions and serve immediately with mashed potatoes or buttered noodles and a green salad.
Recommended Products
As an Amazon Associate and member of other affiliate programs, I earn from qualifying purchases.
Nutrition Information:
Amount Per Serving:
Calories:

0