Serve up this flavor-packed Traeger Togarashi Pork Tenderloin that is made on your Traeger grill. Spiced up with a beautiful blend of Japanese spices, and paired with the wood smoke from your pellet grill. This will give you that tender and juicy pork tenderloin that will be approved for feeding a crowd.
Traeger Togarashi Pork Tenderloin
We were having some family over last week, and I wanted a dish that could feed a crowd but was also really easy and a little different than what I usually serve.
This cut of meat is affordable, easy to cook, and looks beautiful too. So, I pulled out my favorite grilled pork tenderloin recipe and got to work. Everyone loved the meal and asked for the recipe. Which is less a "recipe" really than just a good find on a spice mix, but that is why this is a family favorite! It hasn't failed me yet, and I don't see it failing me anytime soon!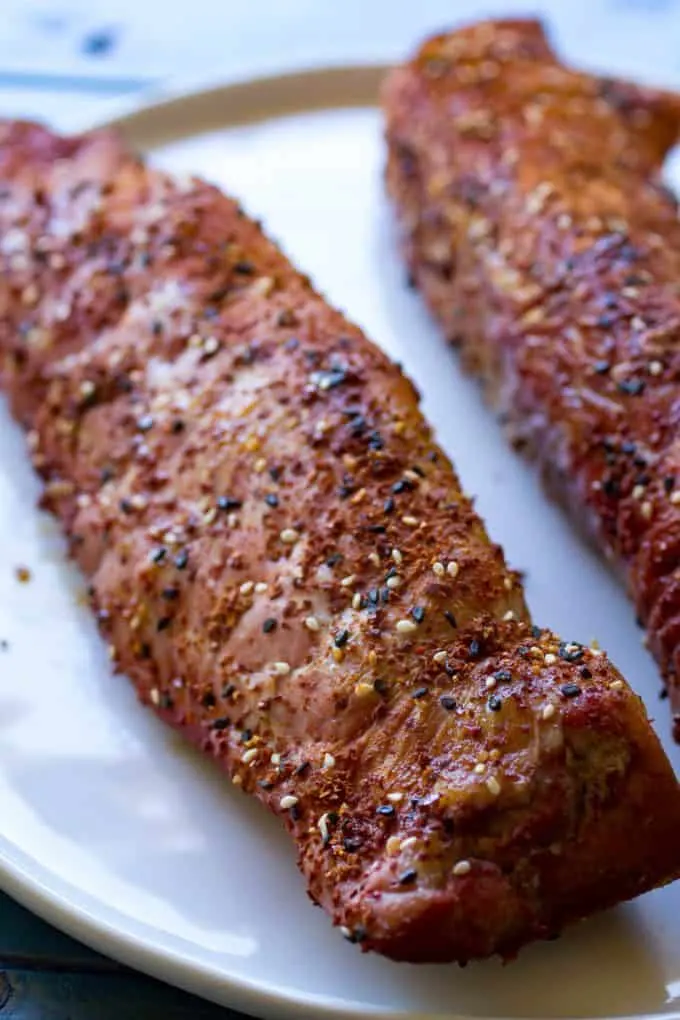 I love cooking with a pork tenderloin, I find it to be an excellent cut of meat that not only is flavorful and moist, but it also can create a stunning presentation when serving guests. I have made pork tenderloin in many different ways over the years, and I find this Togarashi pork tenderloin is one of my favorites. It is unique in flavor and stands out in a crowd, which I prefer.
Pork tenderloin is such a lean cut of meat. It is really great to have on hand. Keep an eye out at the stores because sometimes they have a great sale on tenderloins! You can even score a buy one get one free on occasion, and then toss one in the freezer for a meal later on.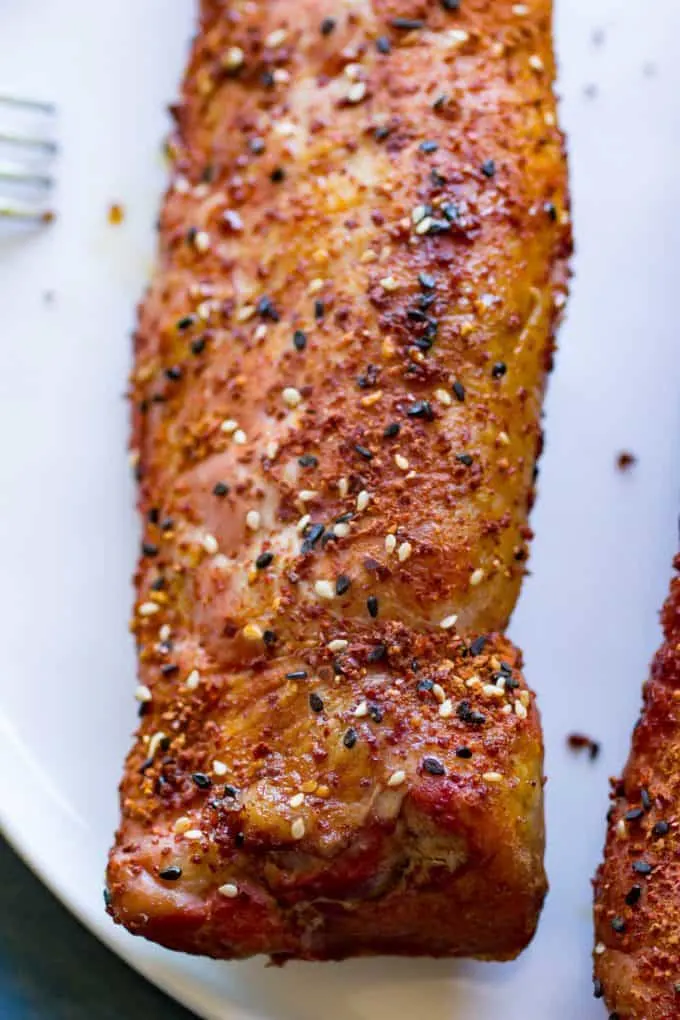 Why Pork Tenderloin?
Because it is incredibly tender and juicy when cooked properly.
Whether you toss it on the grill, stuff and cook in the oven, or cut into medallions and fry in a skillet, this cut of meat is a great one to implement into your dinner rotation. The tenderloin is a premium cut of pork that requires minimal preparation to make an incredible dinner dish.
The other excellent aspect of a pork tenderloin is it pairs nicely with so many side dishes. From asparagus to potatoes and all things in between. You can really play around with flavor variations of sides and see what you prefer.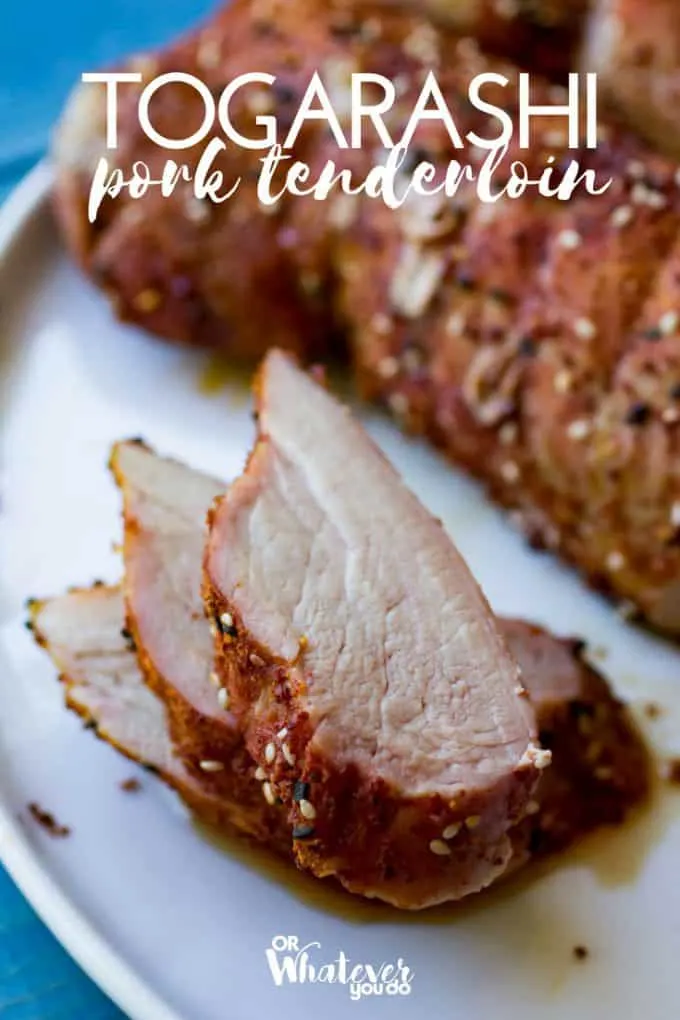 More recipes with pork tenderloin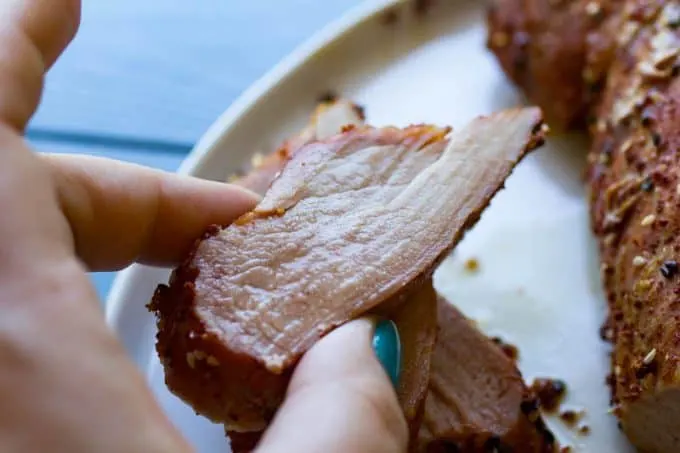 What Temperature To Cook Pork Tenderloin
One big thing about cooking a pork tenderloin is allowing it to rest 3-5 minutes once you pull it out of the oven, grill, etc. The resting gives you a juicy and moist pork tenderloin, where if you go and start cutting it up right away, you will find your tenderloin ends up a bit drier.
The goal temperature of a pork tenderloin is to have an internal temperature of 165 degrees to have a fully cooked tenderloin. Some cook it to 145 degrees. The 145-degree range will supply you with a more juicy meat, but some prefer it to be cooked higher at the 165 range. That is up to you on your preference.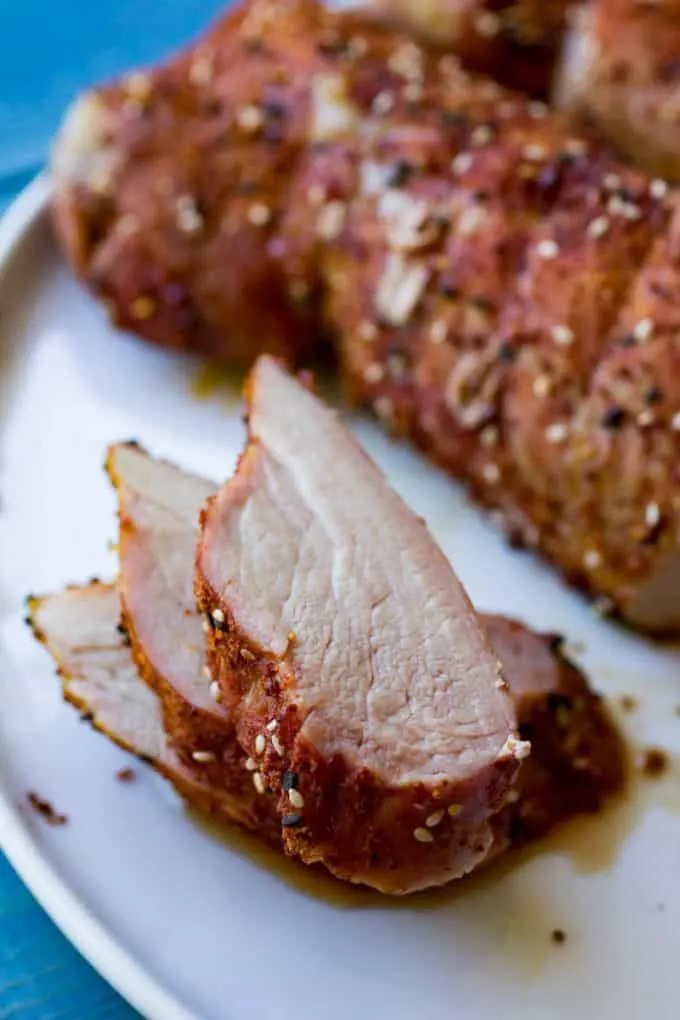 Pork is totally safe to eat at 145, so don't be afraid. It won't be pink in the middle, and you will be thankful that you don't have a big hunk of dried out meat. I typically go to about 150ish because that's what I prefer, but your mileage will vary.
I highly recommend investing in a quality meat thermometer. It takes a LONG time to be able to guestimate what temp your meat is at, and especially with large roasts, turkey, big pork butts, etc you'll want to have an accurate temperature guide to make sure nothing gets overcooked and dried out.
Enjoy this family favorite recipe of ours. I think you guys will really enjoy the flavors this Togarashi pork tenderloin has to offer.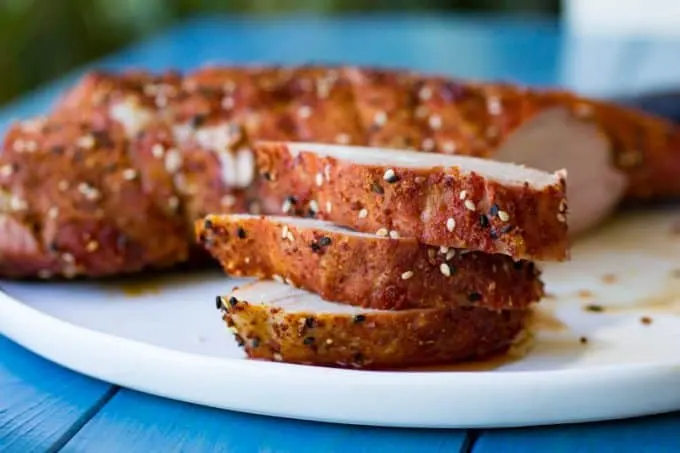 Where Should I Buy Togarashi?
Togarashi is becoming more popular and more common, but I've yet to see it in my local grocery store. You can find a bunch of different varieties on Amazon, but personally, I prefer the bulk Togarashi from Spiceology. This company was co-founded by a fellow food blogger, and the quality and value and FLAVOR of these spice blends are better than any others I've ever tried.
I have a whole arsenal of these spices, and I've yet to meet one I didn't love. Chefs all over the country are discovering them too, and their bulk restaurant sizes are a wonderful value too. Buy Togarashi from Spiceology here. NOT an affiliate or a sponsored post, I just love them!
What Should I Serve With Togarashi Pork Tenderloin?
Togarashi is a Japanese spice blend, so it goes really well with those types of flavors. I like to serve it with a spicy teriyaki sauce and basmati rice, steamed vegetables, and a crisp green salad.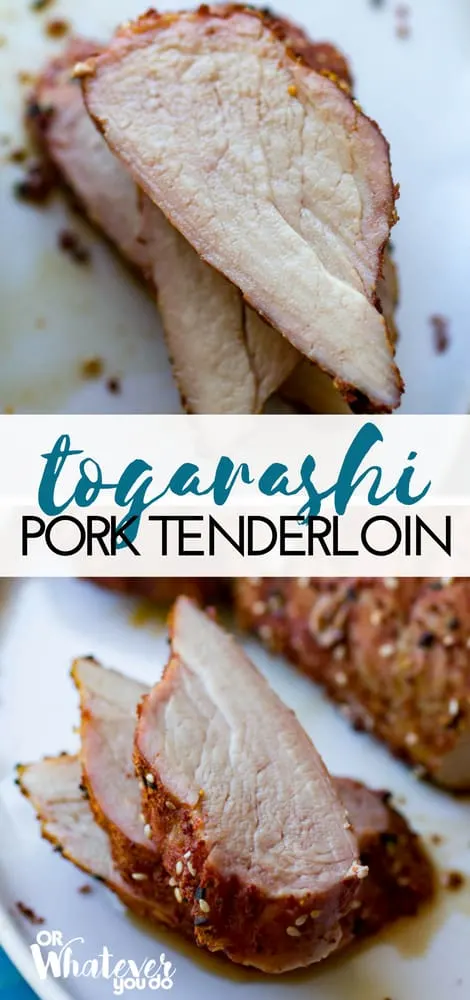 Happy grilling, friends! I can't wait for you to try this!
Yield: 4 servings
Traeger Togarashi Pork Tenderloin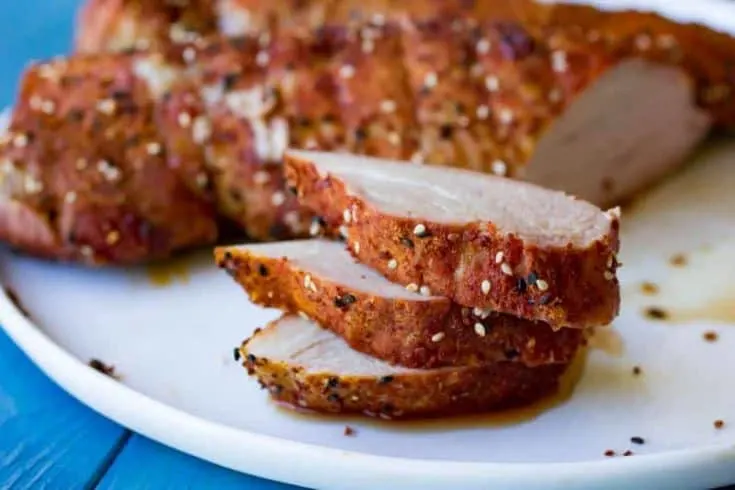 Easy Traeger Togarashi Pork Tenderloin is grilled on your bbq grill or wood-pellet grill, covered in delicious Togarashi seasoning,
Additional Time
10 minutes
Ingredients
1 pork tenderloin
1/2 teaspoon kosher salt
1/4 cup Togarashi seasoning
Instructions
Cut off any excess silverskin from the tenderloin, sprinkle evenly with the salt and rub with the togarashi.
Place on a 400 degree grill for 20-25 minutes, or until the internal temperature reaches at least 145°.
Remove and let rest for 10 minutes, and then slice and serve.
Nutrition Information:
Yield:
4
Serving Size:
1
Amount Per Serving:
Calories:

39
Total Fat:

1g
Saturated Fat:

0g
Trans Fat:

0g
Unsaturated Fat:

1g
Cholesterol:

16mg
Sodium:

4728mg
Carbohydrates:

2g
Fiber:

1g
Sugar:

0g
Protein:

6g
Nutrition data provided here is only an estimate.