Fire up your pellet grill because we're doing a spin on our popular Traeger Smoked Cream Cheese recipe and turning it into a pasta dish that's perfect next to almost any grilled main you can throw at it! Our Smoked Cream Cheese Pasta takes a brick of cream cheese and adds flavorful vegetables and mushrooms to it; it smokes and then roasts on the grill before getting tossed with hot, freshly cooked pasta.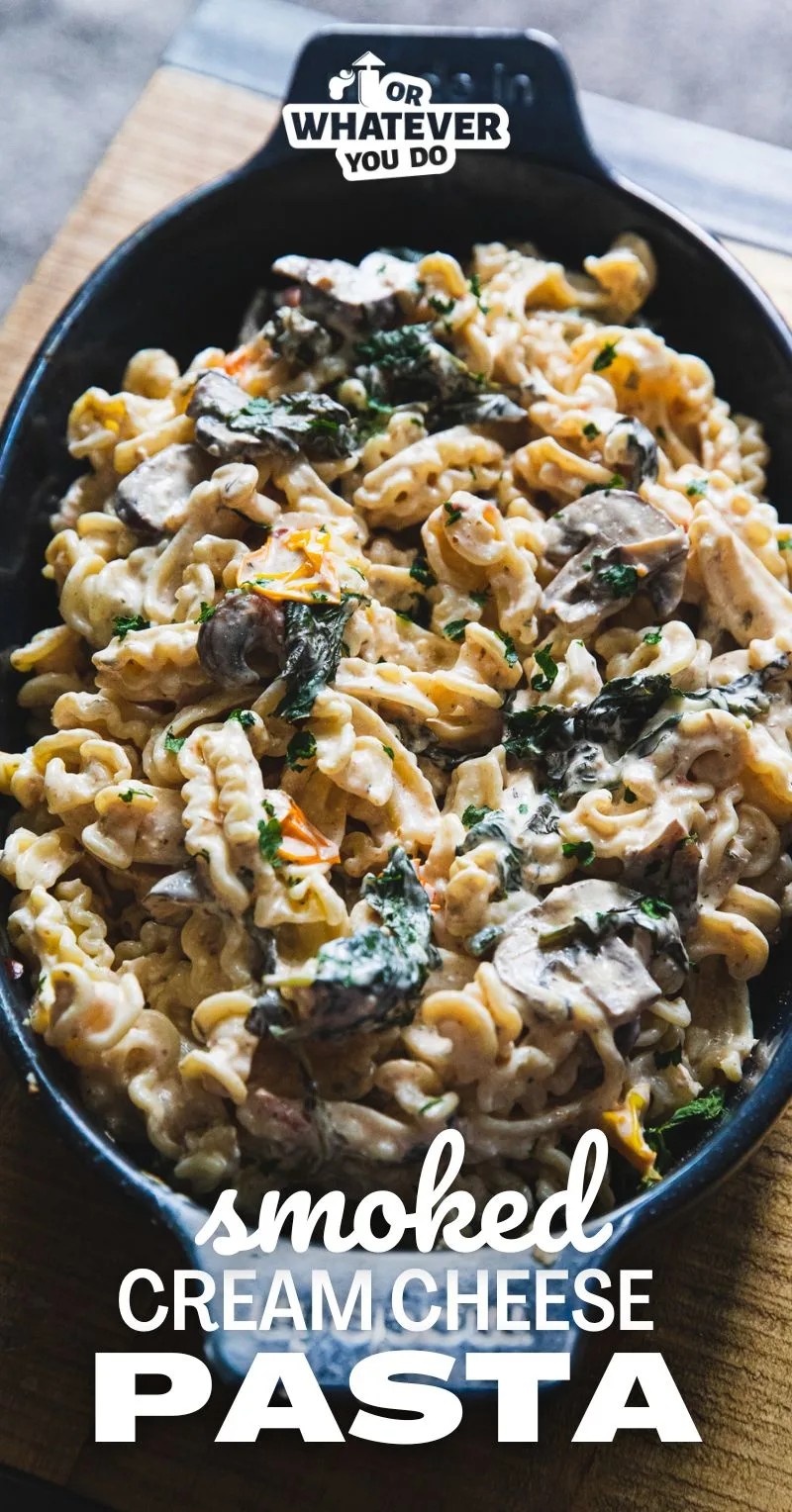 Traeger Smoked Cream Cheese Pasta Recipe
When smoked cream cheese took over the internet by storm, it didn't take me long to jump right on that particular bus. I love cream cheese; adding smoke and seasoning to it is a match made in heaven. I don't know how on earth it took me so long to throw pasta into the mix, but the TikTok Pasta craze, which features feta cheese, inspired me, and this simple, delicious recipe was born.
This is a play on a lot of things. It could be loosely called Pasta Primavera. It is vegetarian in this current form because it contains no meat. Smoked Cream Cheese Pasta is also incredibly versatile. You can add more vegetables, omit the mushrooms if you have any shroom-haters around, and you can even sub in some vegetable or chicken broth for the wine if you prefer not to cook with alcohol. Experiment, and let me know how it goes!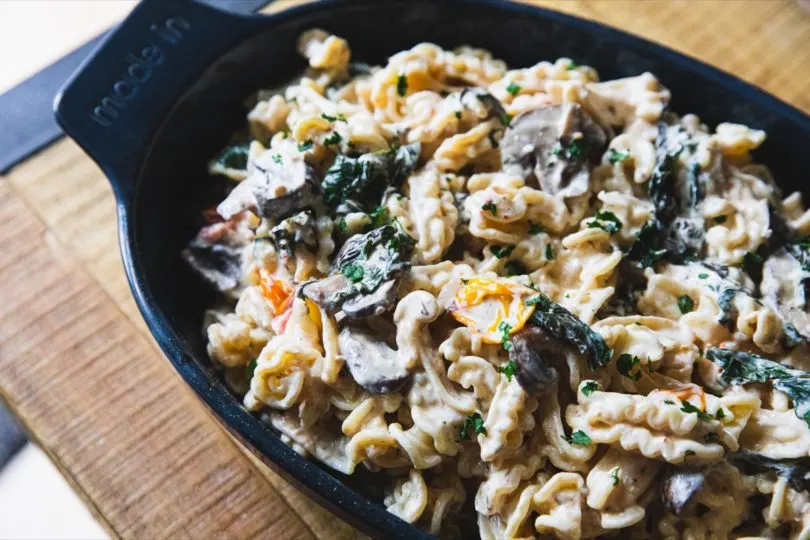 Smoked Cream Cheese Pasta shopping list
Wondering if you have to hit the store? Here's the list of items you'll need to make this recipe. For specific amounts, please refer to the printable recipe card at the bottom of the post.
Cream cheese
Olive oil
Cherry tomatoes
Red bell pepper
Mushrooms
Baby spinach
Garlic
Fresh basil
Fresh oregano
Red pepper flakes
Paprika
Salt
Pepper
White wine (Sauvignon Blanc or Pinto Grigio)
Rice vinegar or champagne vinegar
Pasta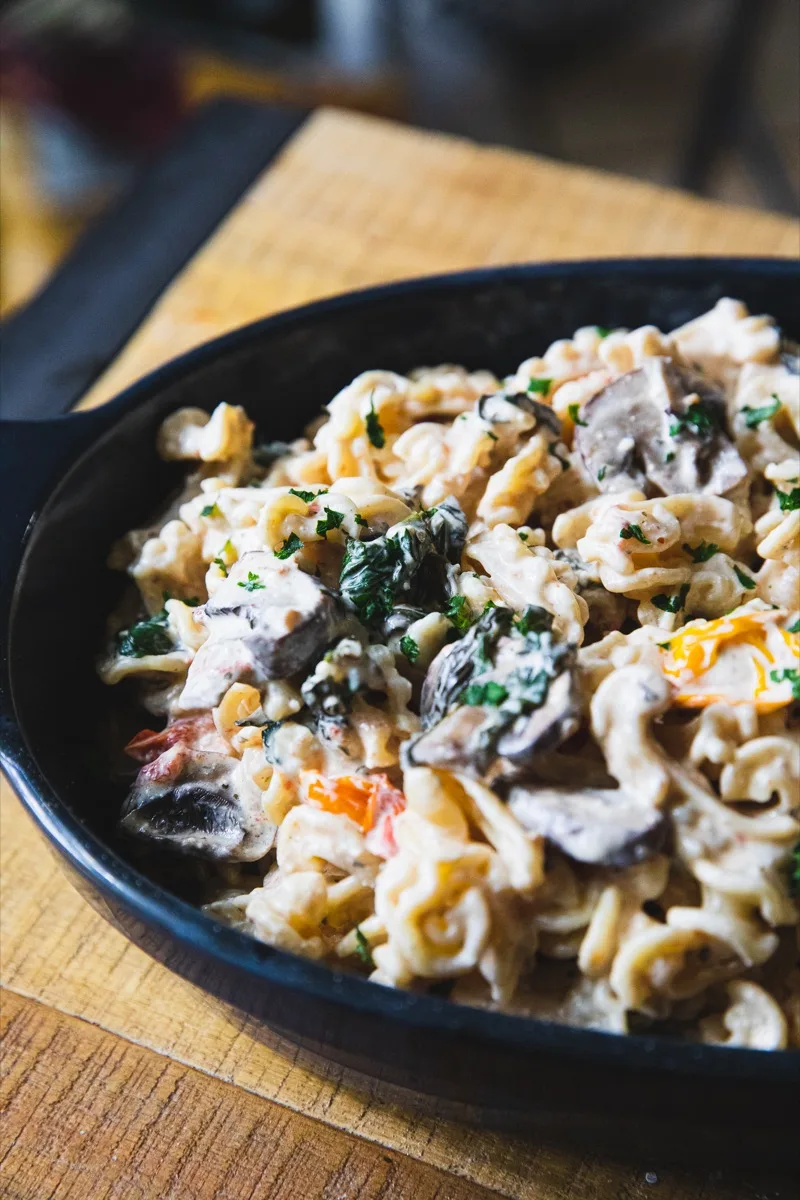 How to make Smoked Cream Cheese Pasta Primavera
This is just the overview so you can see what you're actually getting into here. When you are cooking, you'll want to use the full recipe at the bottom of the page.
Preheat
Fire up the smoker and preheat to 220°F.
Assemble
Put the cream cheese in the middle of a baking dish. Drizzle with olive oil. Surround with all the vegetables. Top with herbs and spices.
Cook
Let it smoke for 20 minutes at 220°F before turning the heat up to 350°F. Cook at 350°F for 20 minutes. Heat up the wine and add it and the vinegar to the baking dish and cook for another 15-20 minutes. Stir to combine.
Pasta
Boil the pasta in well-salted water and drain well. Mix with the cream cheese sauce.
Serve
Serve with freshly grated parmesan cheese and a crusty loaf of garlic bread.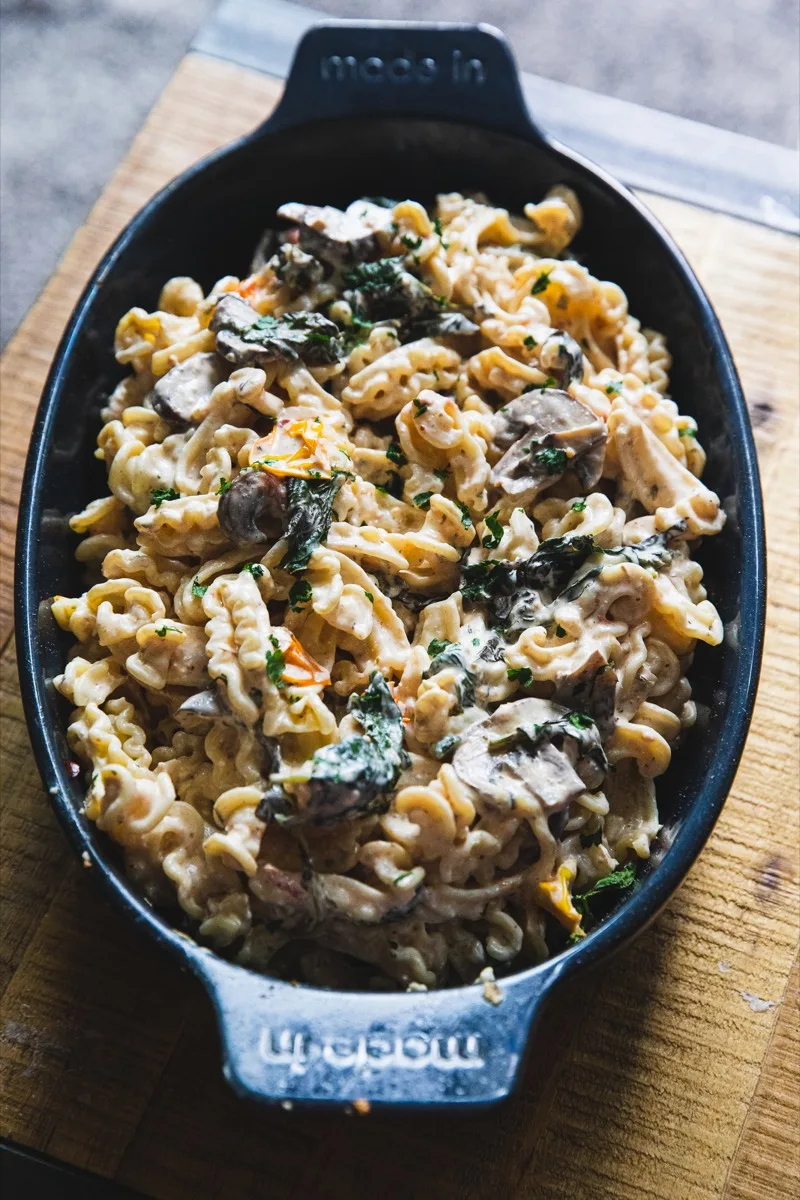 Smoked Cream Cheese Pasta FAQ
Can you use low-fat cream cheese for this recipe?
This recipe has not been tested with low-fat cream cheese, so I wouldn't advise it. It often doesn't have the fat content to stand up to higher temperatures and when mixed with acidic liquids like wine, it can curdle. Go with the full-fat version this time, you won't regret it!
What's the best way to store and reheat your leftovers?
Keep these in any airtight container in the fridge for 2-3 days, max. Reheat in the microwave.
Can this dish be made in advance?
Sure! I'd wait to mix the sauce with the pasta until right before serving it though. It tastes best that way!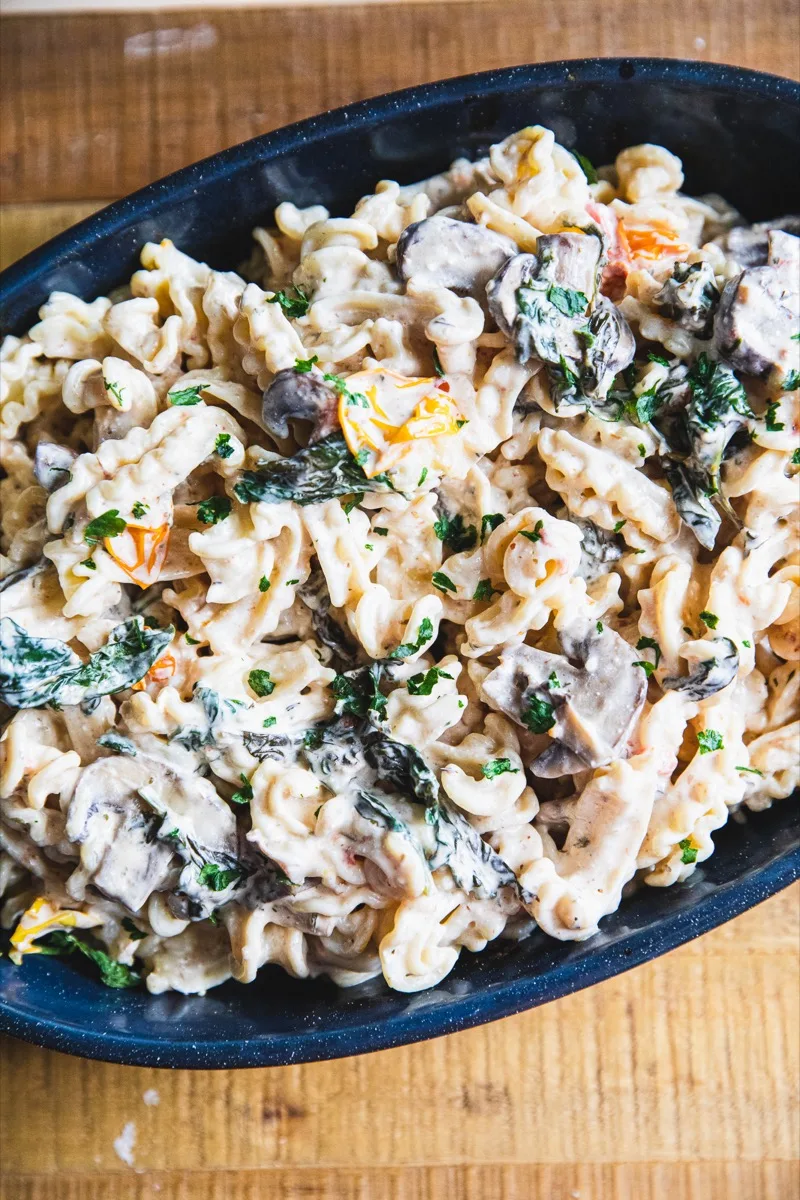 More great Traeger recipes to love!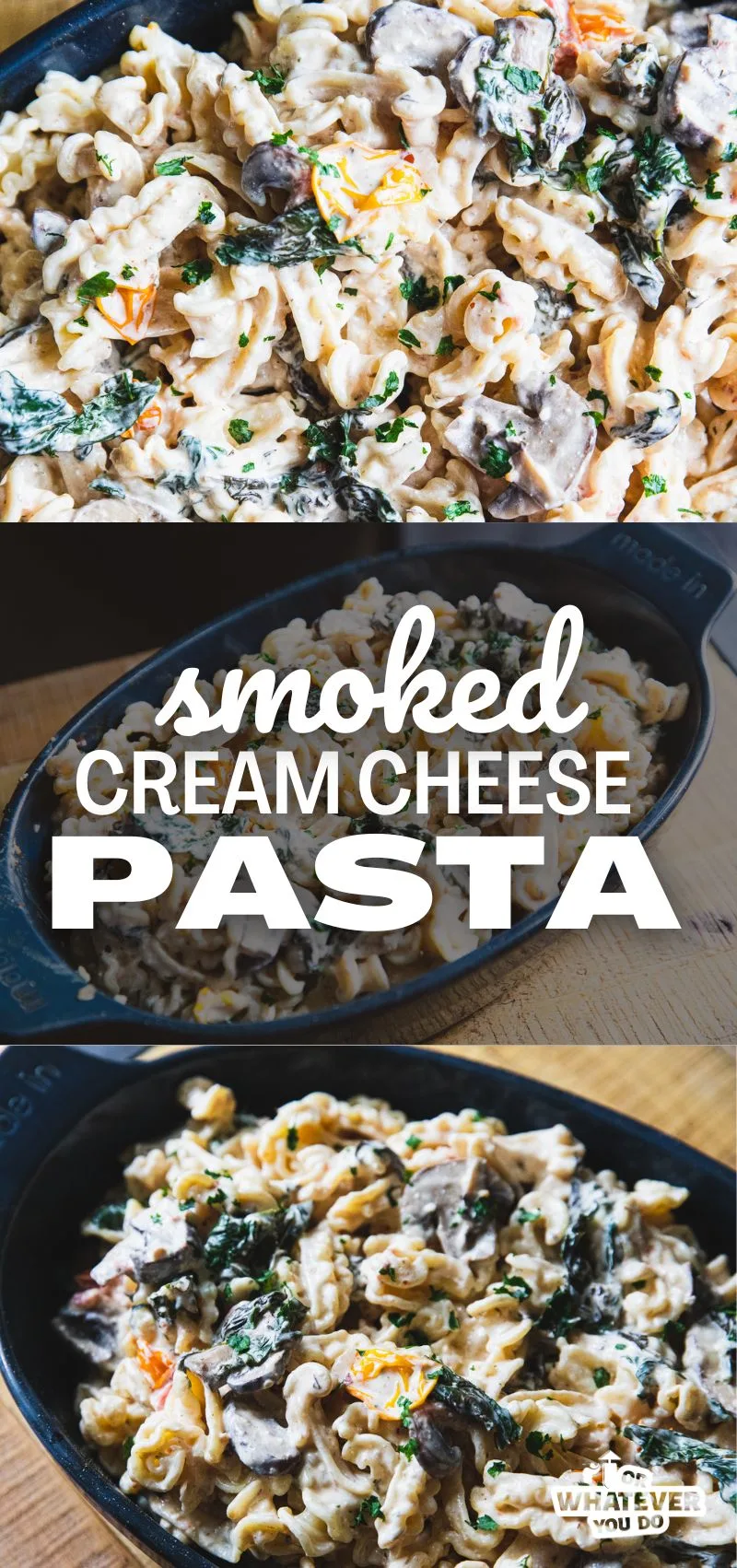 Yield: 6 servings
Traeger Smoked Cream Cheese Pasta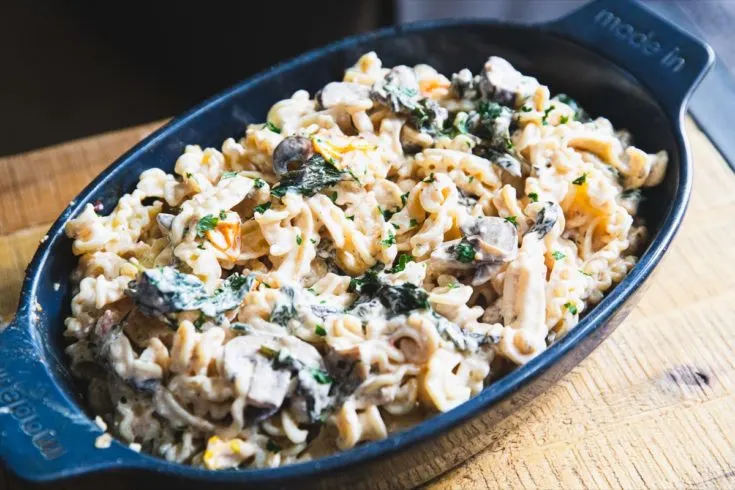 The tastiest and easiest pasta I've ever made! Cream cheese, tomatoes, mushrooms, and spinach get smoked on the pellet grill, and then we add some white wine before tossing it with fresh, hot pasta.
Total Time
1 hour
10 minutes
Ingredients
8 ounces cream cheese
3 tablespoons olive oil
2 cups cherry tomatoes, halved
1/2 cup diced red bell pepper
6 ounces button mushrooms, sliced
2 handfuls baby spinach
3 cloves garlic
2 teaspoons chopped fresh basil (or 1 teaspoon dried)
1 teaspoon fresh oregano (or 1/2 teaspoon dried)
1/2 teaspoon red pepper flakes
1/2 teaspoon paprika
1/2 teaspoon salt
1/4 teaspoon pepper
1 cup white wine (Sauvignon Blanc or Pinto Grigio)
1 tablespoon rice vinegar or champagne vinegar
1 pound pasta
Instructions
Preheat your Traeger to 220°F.
Put the cream cheese in the middle of a grill-safe baking dish. Drizzle the cream cheese and the baking dish with the olive oil.
Surround the cream cheese with tomatoes, bell pepper, mushrooms, spinach, and garlic, and sprinkle everything with the herbs and seasonings.
Place into the smoker and let smoke for 20 minutes.
Turn the heat up on the grill to 350°F. Let it cook for another 20 minutes.
While the cream cheese mixture is cooking, boil a pound of pasta in a pot of well-salted water. Drain when done and cover to keep warm.
Put the wine into a microwave-safe container and heat it for 1-2 minutes or until it is hot but not boiling. Carefully pour it along with the vinegar into the baking dish. Let the mixture cook for 10-15 minutes, then stir to combine.
Carefully toss the cooked pasta with the cream cheese and vegetable mixture. Taste and add additional salt and pepper as necessary. Sprinkle with freshly grated parmesan cheese and serve hot.
Notes
This dish is very customizable! Toss in more vegetables or omit what you don't like. Don't like wine? Use chicken broth instead. Want some more protein in the mix? Throw in your favorite kind of sausage or some cooked chicken breast.
Recommended Products
As an Amazon Associate and member of other affiliate programs, I earn from qualifying purchases.
Nutrition Information:
Yield:
6
Serving Size:
1
Amount Per Serving:
Calories:

373
Total Fat:

21g
Saturated Fat:

9g
Trans Fat:

0g
Unsaturated Fat:

10g
Cholesterol:

38mg
Sodium:

317mg
Carbohydrates:

32g
Fiber:

3g
Sugar:

5g
Protein:

9g
Nutrition data provided here is only an estimate.