Buckle up, breakfast enthusiasts! Here's something to wake up your tastebuds and make your mornings deliciously unforgettable. We're about to journey into the heart of savory breakfast delight with our mouth-watering Blackstone Breakfast Quesadillas with Andouille. You heard it right! We're taking that trusty Blackstone griddle, some hearty andouille sausage, and a sprinkle of early morning magic to deliver a breakfast experience that's going to knock your slippers off.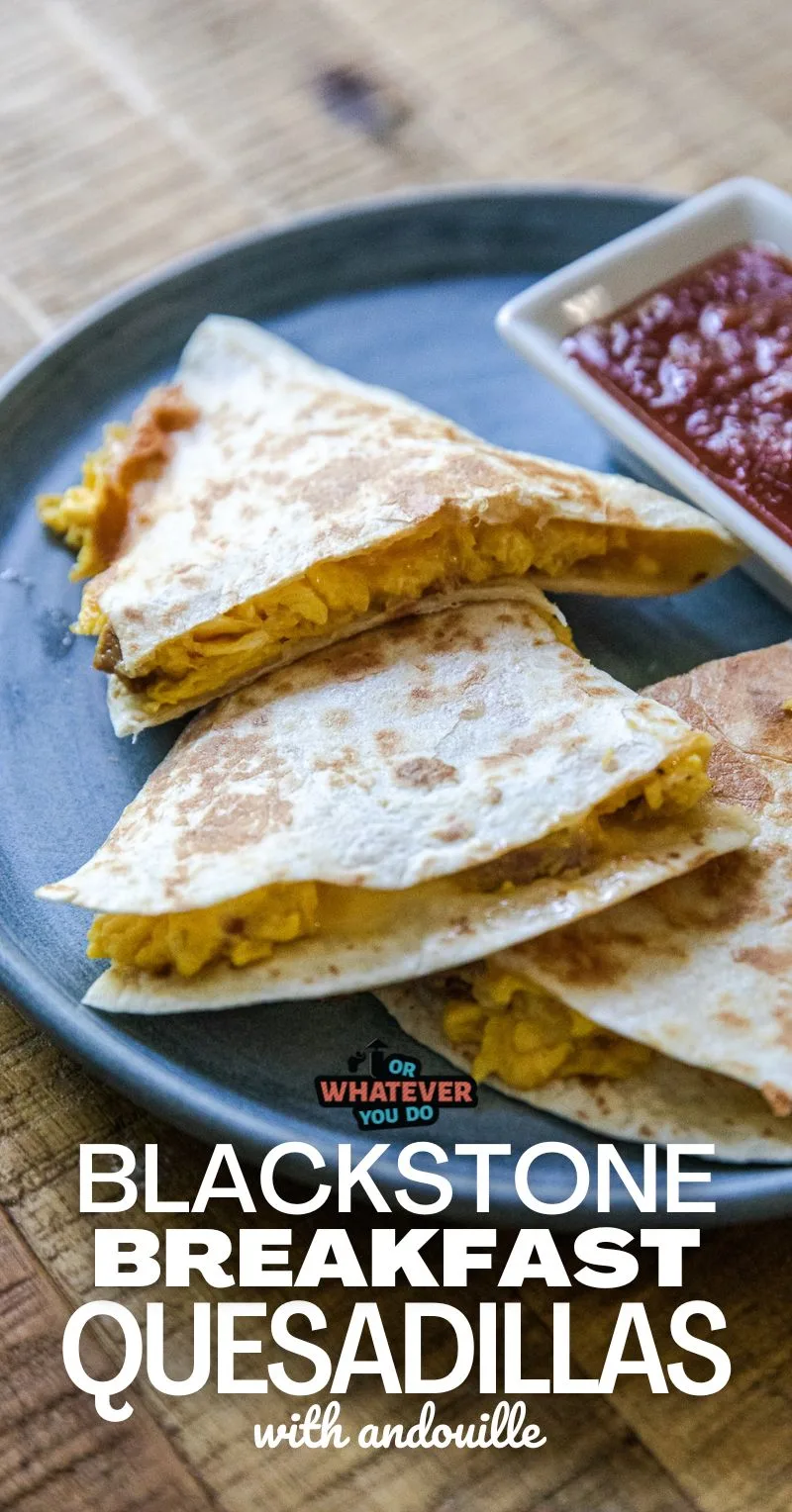 Blackstone Breakfast Quesadillas with Andouille
This isn't your average quesadilla, folks. This is the kind of quesadilla that has you bounding out of bed before the rooster even thinks of crowing. With its layer of gooey cheese, the flavorful bite of andouille sausage, and a whole pile of eggs and cheese, you're going to want to make enough for seconds.
This Blackstone Breakfast Quesadilla with Andouille is like a perfect breakfast option whether it's a casual weekday or a leisurely weekend brunch, this is THE way to start your morning. Grab your spatula and your sense of adventure; it's time to create some breakfast magic!
If you don't have an outdoor gas griddle, you can easily cook this on the stovetop in a pan following the same general directions.
Want to get really fancy? You can make homemade andouille!
Get all of my Blackstone Recipes here!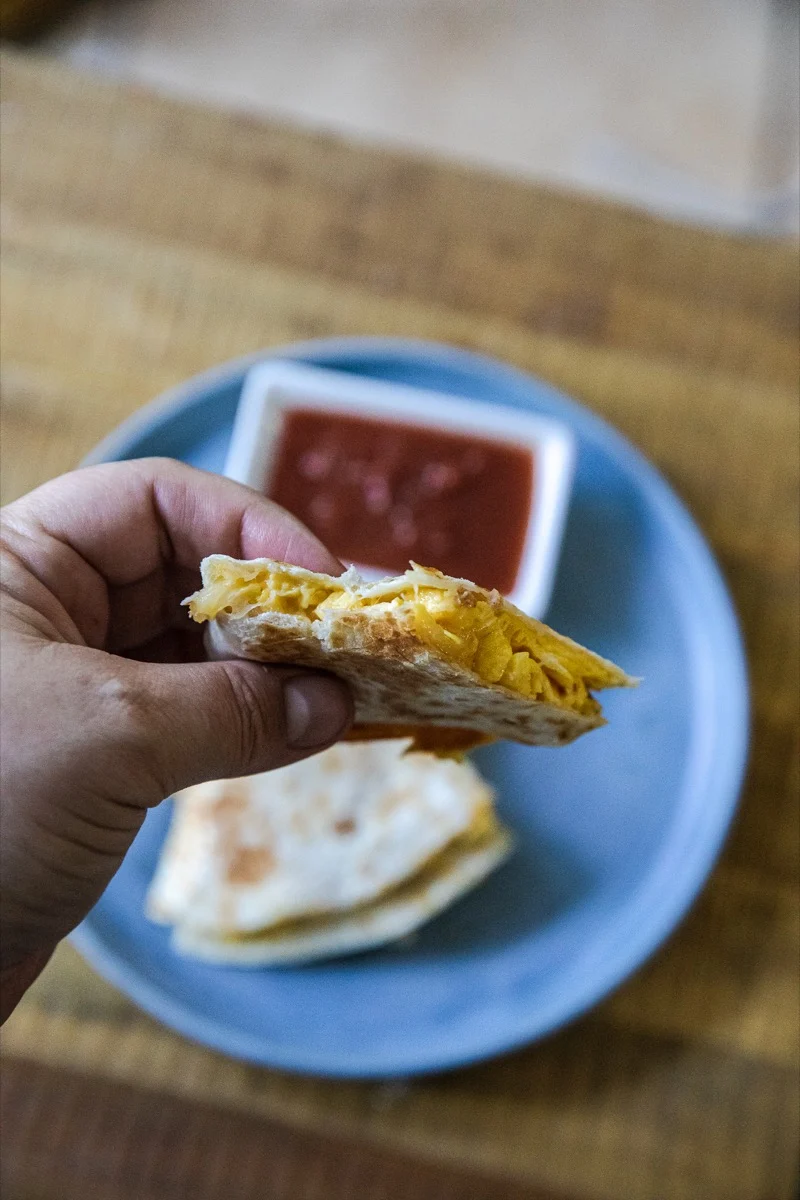 Breakfast Quesadillas shopping list
Wondering if you have to hit the store? Here's the list of items you'll need to make this recipe. For specific amounts, please refer to the printable recipe card at the bottom of the post.
Andouille sausage
Eggs
Shredded cheddar cheese
Medium size flour tortillas
Salt
Pepper
Try our Homemade Eggs Benedict!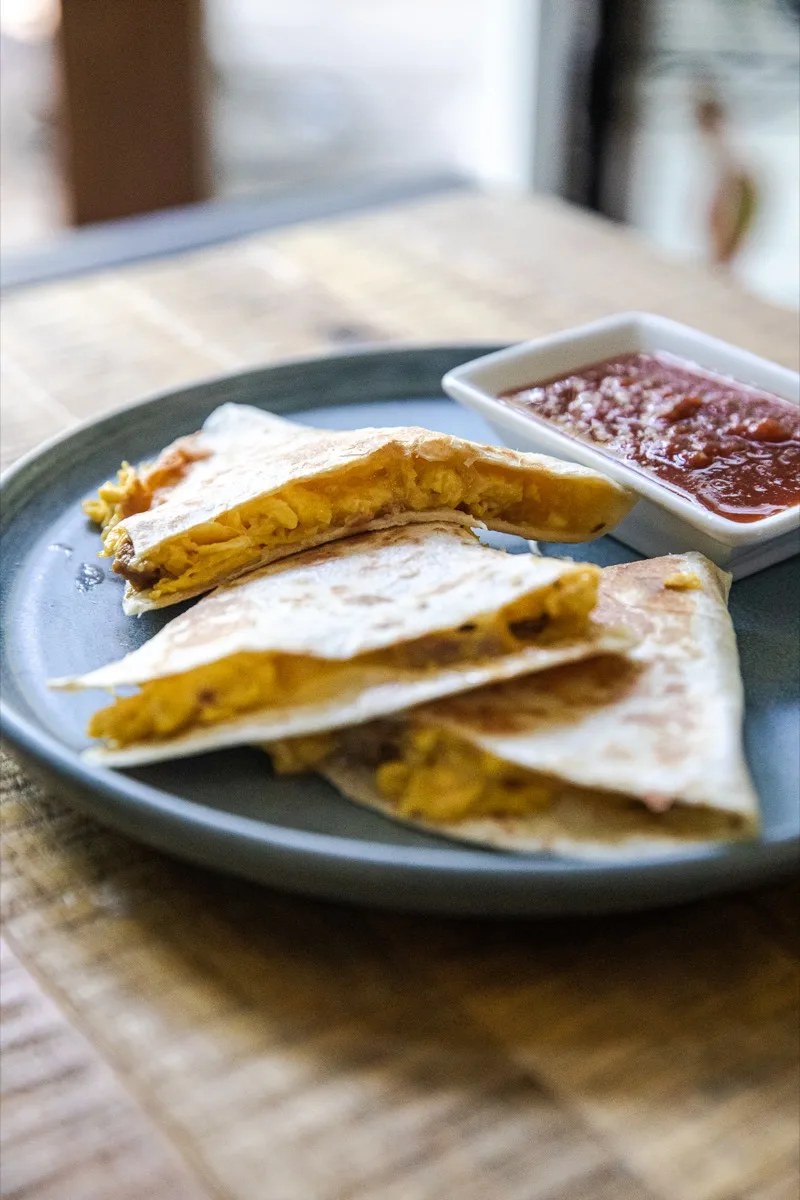 How to make Breakfast Quesadillas on the Blackstone
This is just the overview so you can see what you're actually getting into here. When you are cooking, you'll want to use the full recipe at the bottom of the page.
Preheat
Fire up your griddle over medium-low heat.
Prep
Mix the eggs with the salt and pepper. Slice the sausage into chunks.
Cook
Add some butter to the griddle and put down the sausage chunks. Cook until lightly browned on both sides.
Add the eggs to the griddle and mix into the sausage. Cook, stirring frequently, until the eggs are done.
Quesadilla time
Lay out the tortillas on the griddle. Add cheese to half. Top with some eggs and some more cheese. Flip the half over so it forms a quesadilla half and cook on both sides until browned.
Enjoy
Serve with your favorite toppings like hot sauce, salsa, sour cream, and avocado.
This Chorizo Chile Omelette is a great breakfast option too!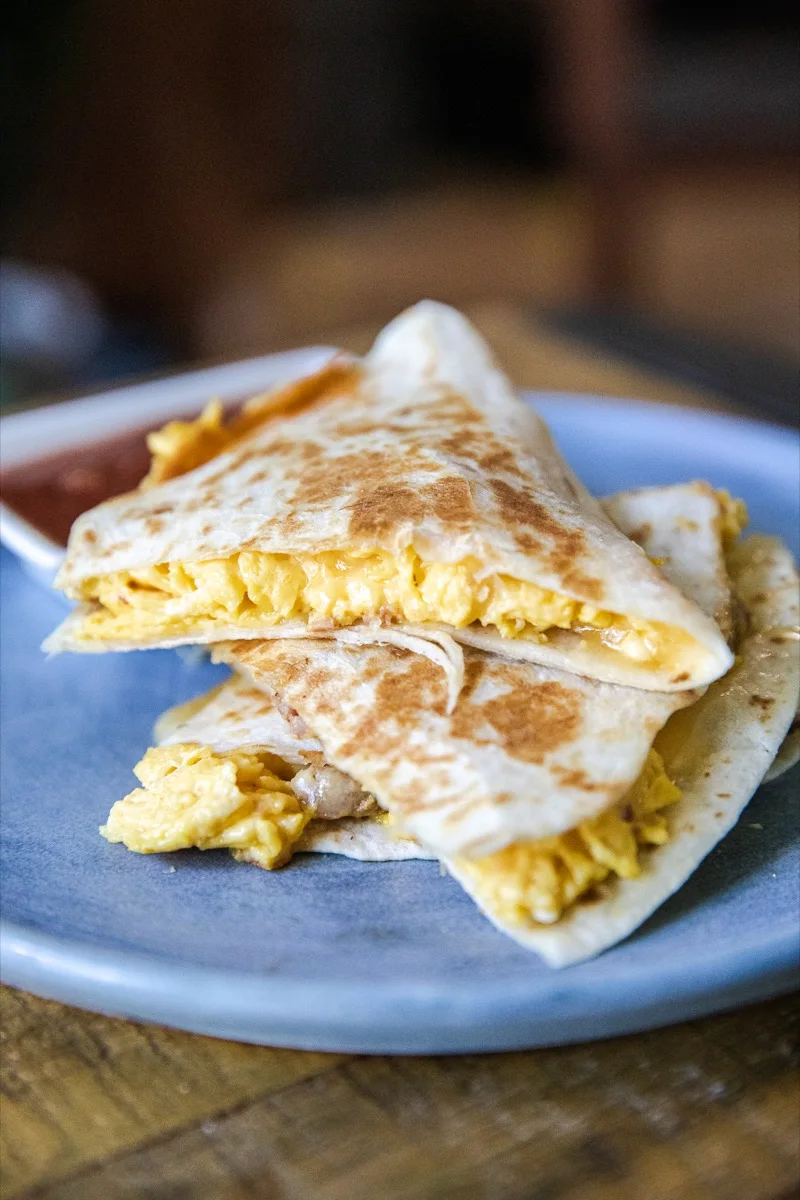 Breakfast Quesadillas FAQ
Can this dish be prepared in a pan on the stove?
No Blackstone? No problem! You can definitely whip up this Breakfast Quesadilla with Andouille right on your stovetop. A non-stick skillet or a well-seasoned cast iron pan will do the trick. Just make sure you keep the heat at a nice medium level to ensure even cooking and that golden-brown crispiness we all love in a quesadilla. Remember, it's a breakfast fiesta, not a fire drill!
Can this dish be made ahead of time?
Want to plan ahead? You bet! You can totally prep the fillings the night before – cook up the andouille, scramble those eggs, and chop those veggies. In the morning, all you need to do is assemble, cook, and voila, breakfast is served. Just remember to store your prepped ingredients properly in the fridge.
What's the best way to store and reheat leftovers?
Got leftovers? Lucky you! Store any remaining slices in an airtight container in the refrigerator. When you're ready for a second round of quesadilla goodness, just pop them into a toaster oven or back onto your stovetop pan to warm them up. You want to bring back the crunch without drying it out, so keep it at a low heat and watch closely. In no time, you'll be back in breakfast heaven!
Try this with some Traeger Bacon too!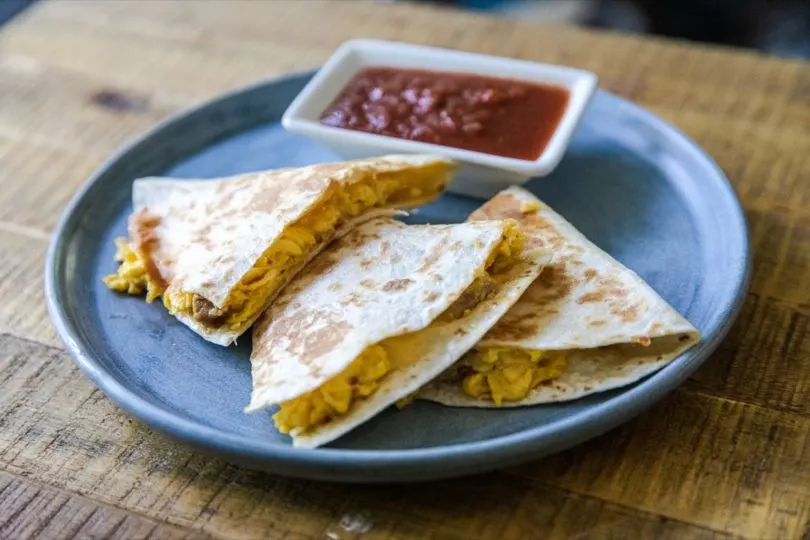 More great breakfast recipes to wake up to!
Yield: 4 servings
Breakfast Quesadillas with Andouille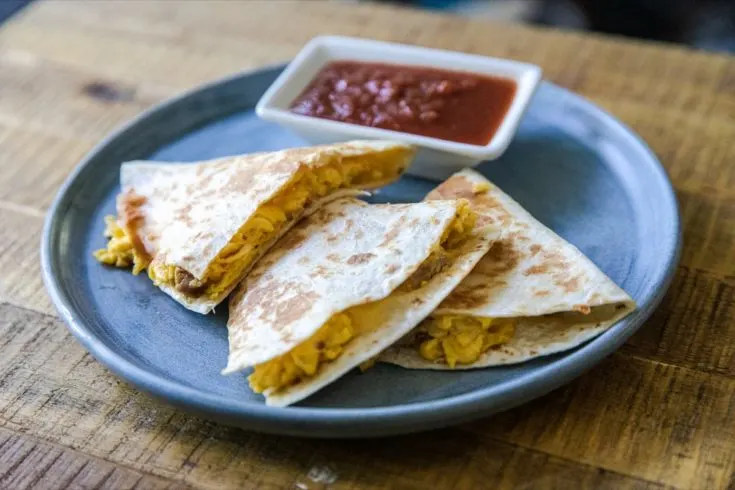 This incredible Breakfast Quesadilla is a perfect breakfast option for a busy morning! Andouille sausage is for more than just jambalaya!
Ingredients
2 tablespoons butter
6 ounces andouille sausage
8 eggs
6 ounces shredded cheddar cheese
4 medium size flour tortillas
1/2 teaspoon salt
1/4 teaspoon black pepper
Instructions
Prep your ingredients for the grill.
Start your griddle and preheat it to medium low.
Crack and mix your eggs into a bowl and add in the salt and pepper. Next, slice your sausage into 1/4" chunks.
Add the sausage to the grill, stirring occasionally, and cook until it starts to brown on the edges.
Add in the egg and mix in with the sausage.
Cook until the eggs are done to your liking.
Lay out your tortillas on the grill. Add a layer of cheese onto half of the tortillas, so that the cheese forms a semicircle.
Add a layer of the eggs and sausage on top of the cheese and fold the other half of the tortilla over the top.
Cook until the bottom starts to brown and then flip it over and do the same on the other side.
Once both sides are browned, pull the finished quesadillas off of the grill and serve with salsa and sour cream, or any of your favorite condiments.
Recommended Products
As an Amazon Associate and member of other affiliate programs, I earn from qualifying purchases.
Nutrition Information:
Yield:
4
Serving Size:
1
Amount Per Serving:
Calories:

551
Total Fat:

38g
Saturated Fat:

16g
Trans Fat:

1g
Unsaturated Fat:

18g
Cholesterol:

440mg
Sodium:

1189mg
Carbohydrates:

20g
Fiber:

1g
Sugar:

1g
Protein:

30g
Nutrition data provided here is only an estimate.