One of the all-time easiest meals to make is an omelet, and this Chorizo Chili Omelet is a great spicy, savory version that includes Anaheim peppers and chorizo sausage. I used our Blackstone grill, but you can make it in a pan too!

Chorizo Chili Omelet
I LOVE how versatile omelets are. Need to fancy up breakfast a little?
Omelets.
Want something new and different for dinner?
Omelets.
Something quick and easy for a brunch with friends?
Omelets again!
(Btw if you need a mimosa for that brunch, check out this Orange Creamsicle Mimosa. Just sayin'.)
Seriously, the answer is always omelets, especially when you can make them as delicious as this Chorizo Chili Omelet.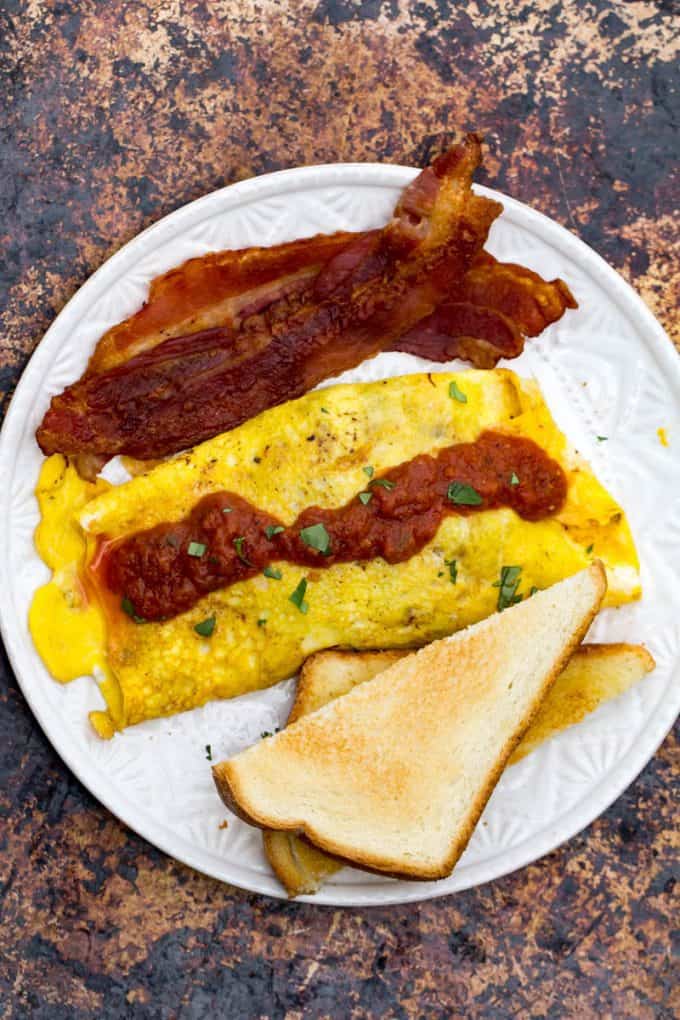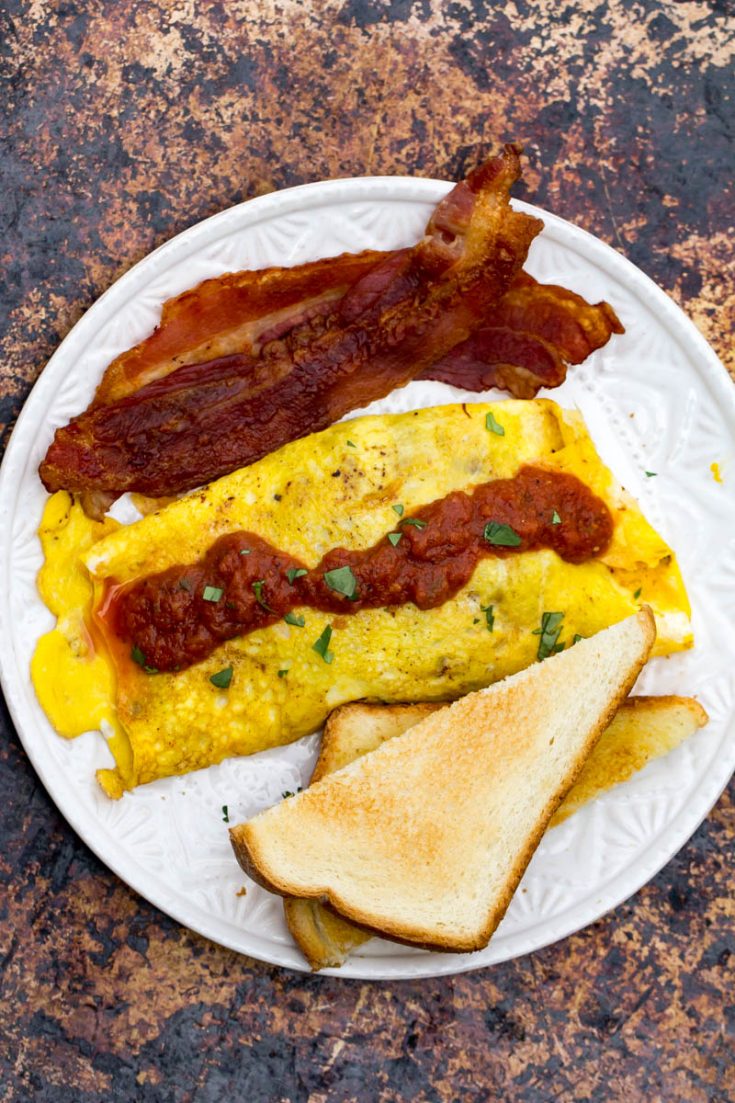 Cooking Omelets on the Blackstone
Making omelets on the griddle is a life changer. You can make all your breakfast items on ONE surface. Bacon. Sausage. Hashbrowns. Omelets – all of them.
You get a depth of flavor with just a little crisp on the outside, and all that cheesy, juicy chorizo goodness on the inside. I love making omelets on my Blackstone Griddle, but don't worry if you don't have one. You can also whip up this recipe on your stove top.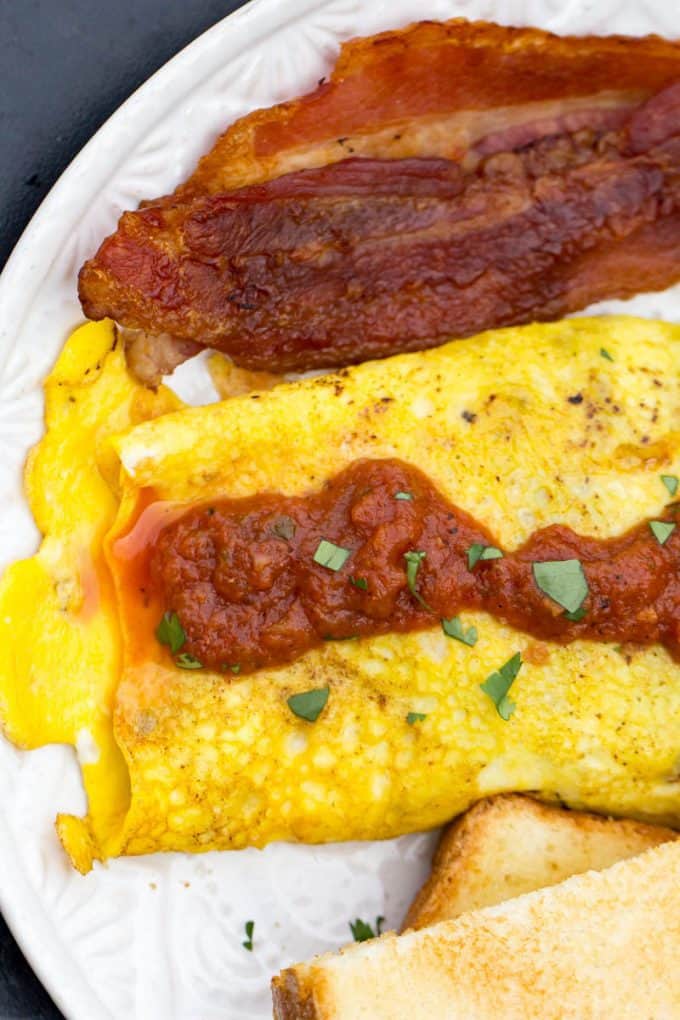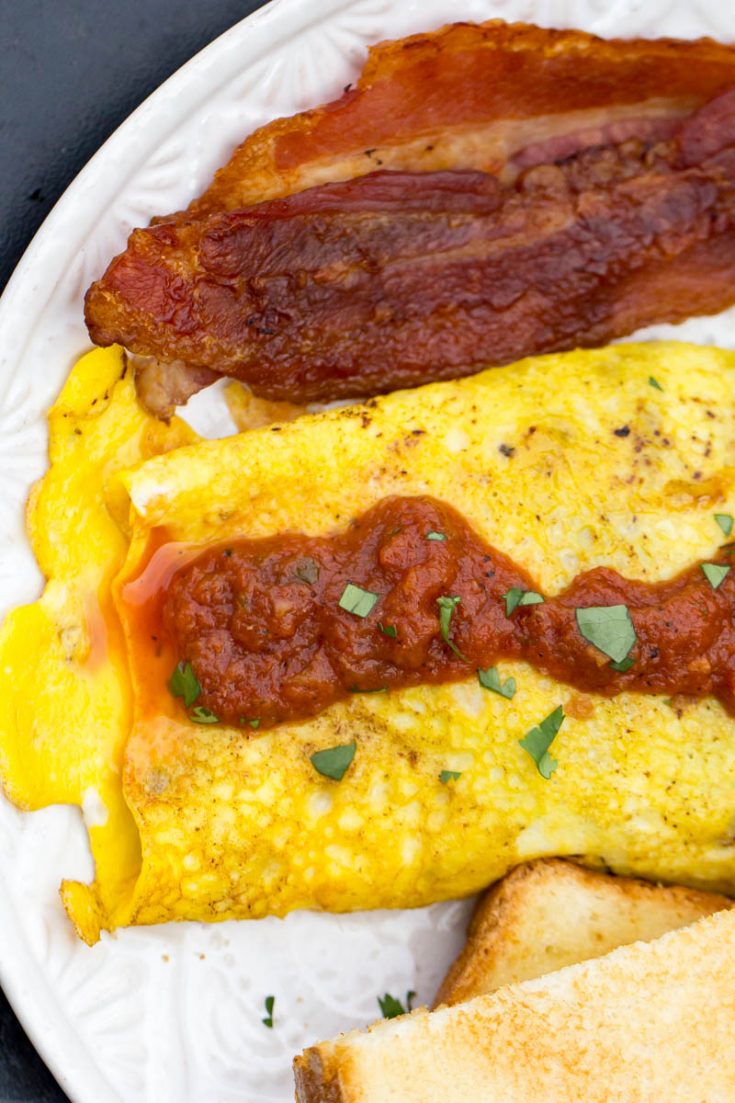 What is Chorizo?
Speaking of chorizo, if you've never cooked with chorizo before, you are in for the treat of a lifetime!
Chorizo is a variety of pork sausage originally developed in Spain, but is used throughout the Spanish speaking world. Usually spicy, but occasionally sold in a sweet version (called dulce), it is typically made with smoked paprika or chili peppers.
The kind of chorizo we're used to in the United States is Mexican chorizo, which is usually spicier than its European counterpart. Some kinds of chorizo are made with beef or chicken as well as pork. Nowadays you can even find vegetarian chorizo!
Chorizo can be used in all kinds of dishes, including on pizza as a topping, in burritos, and mixed with potatoes or eggs. You've probably seen chorizo con huevos at your favorite Mexican restaurant- this Chorizo Chili Omelet is going to be just as good!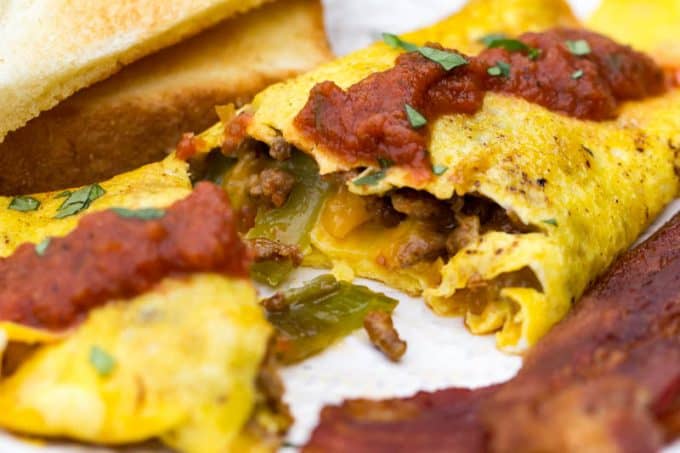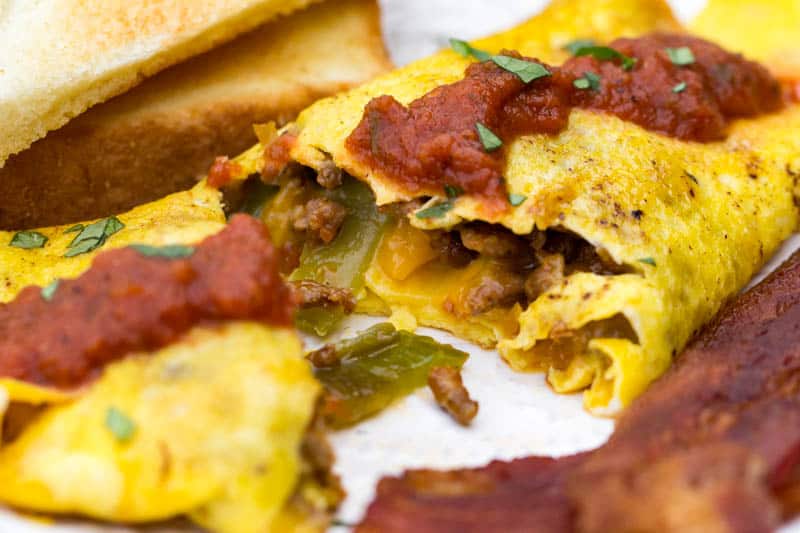 Anaheim Peppers
You should absolutely be using more Anaheim peppers in your cooking! These are the perfect peppers for so many things. Also called New Mexico peppers, they are used in lots of Mexican food.
Anaheim peppers have a little kick of spicy flavor but don't worry if you're not a fan of heat. They are not crazy spicy. They range from 500-2,500 on the Scoville scale. (The Scoville scale ranks the heat of different peppers.)
For reference, Tabasco sauce is about 2,500-5,000 units. If you can handle Tabasco, you are definitely safe using these. If you're unsure about what level of heat you want you can always start small and add more as you go.
If you're like me and my family, though, Anaheim peppers are a very good bet. We love spicy food here, and Anaheim peppers are the perfect blend of taste and heat. It's not so much that it overwhelms the other flavors, but it is enough to add a little heat to add interest to your meal! It's also perfect because I love the TASTE of peppers and certain other family members are more focused on the HEAT of peppers.
To each their own I guess!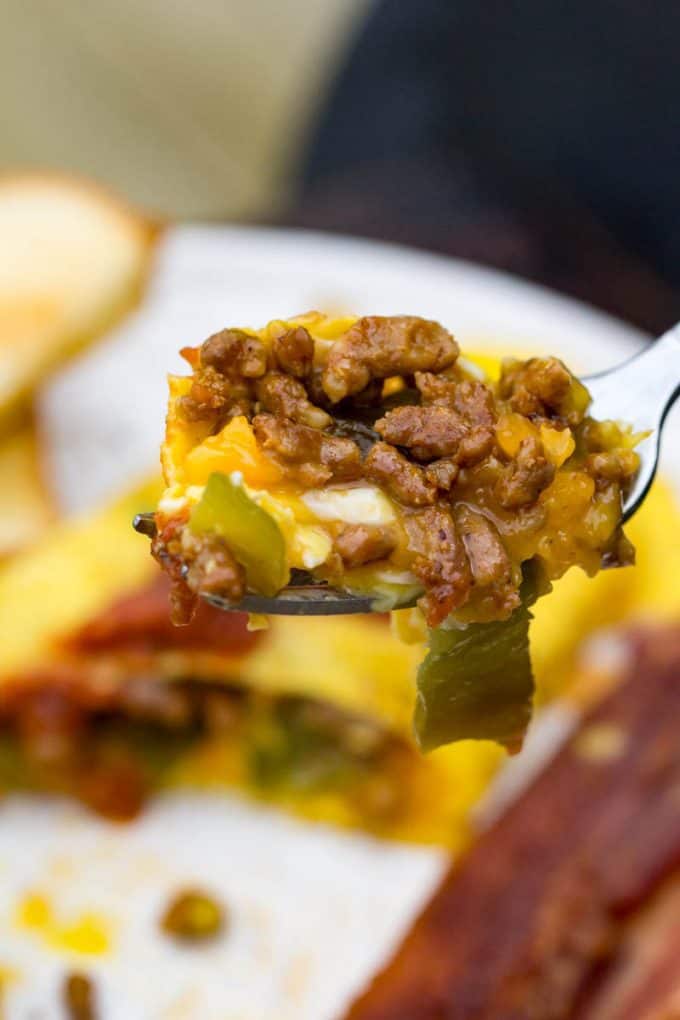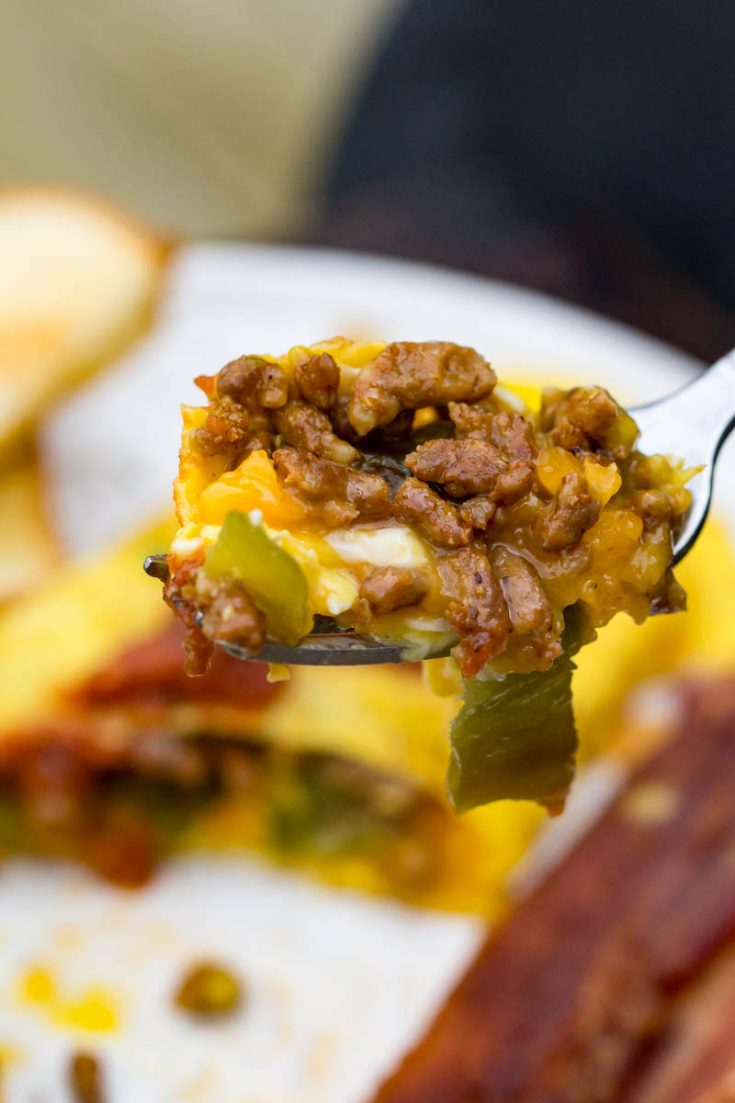 How To Fold an Omelet
I have adult friends who have never made omelets. Can you believe it? It makes me so sad that there are people missing out on this super quick, easy, and filling meal just because they were never taught how to fold an omelet, and they were sure they would ruin it!
Well, here is the good news: If you make a mistake and break your omelet, you just made an egg scramble! It will still be delicious, so go for it! Here are some tips for flipping that wonderful chorizo omelet.
Butter your pan well so there is nowhere for the eggs to stick and break apart
Make sure you blend the eggs thoroughly to get a good smooth texture for even cooking
Let the eggs cook until they are almost solidified
Don't add too much filling, or it will be too thick to fold
Shimmy the pan a little as you work the spatula under the eggs gently
Tip the pan a little if necessary to angle the top half of the omelet over the filling
Gently press down on the folded omelet until the cheese has time to melt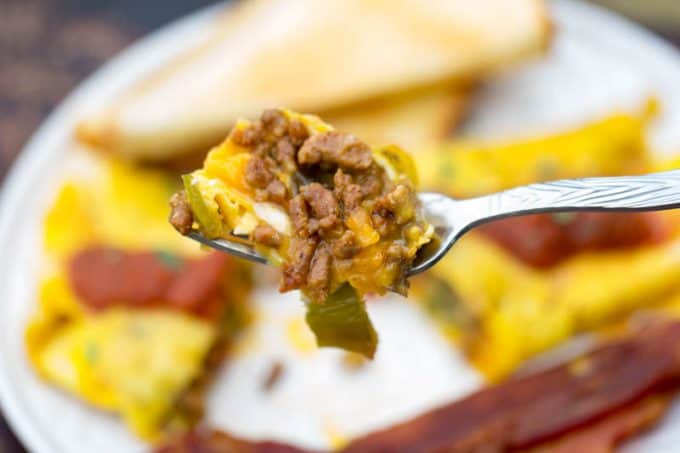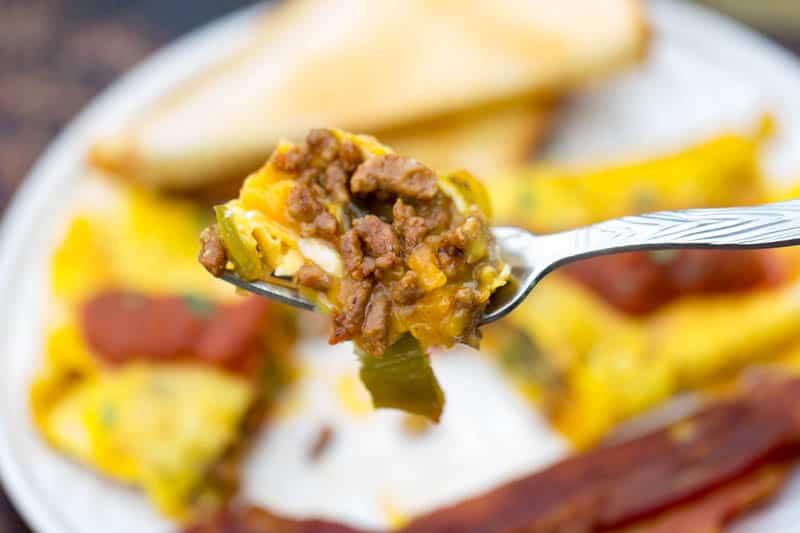 Breakfast of Champions
Now that we've got the lowdown on omelets let's talk about the rest of this breakfast! I've got you covered for your next big family breakfast.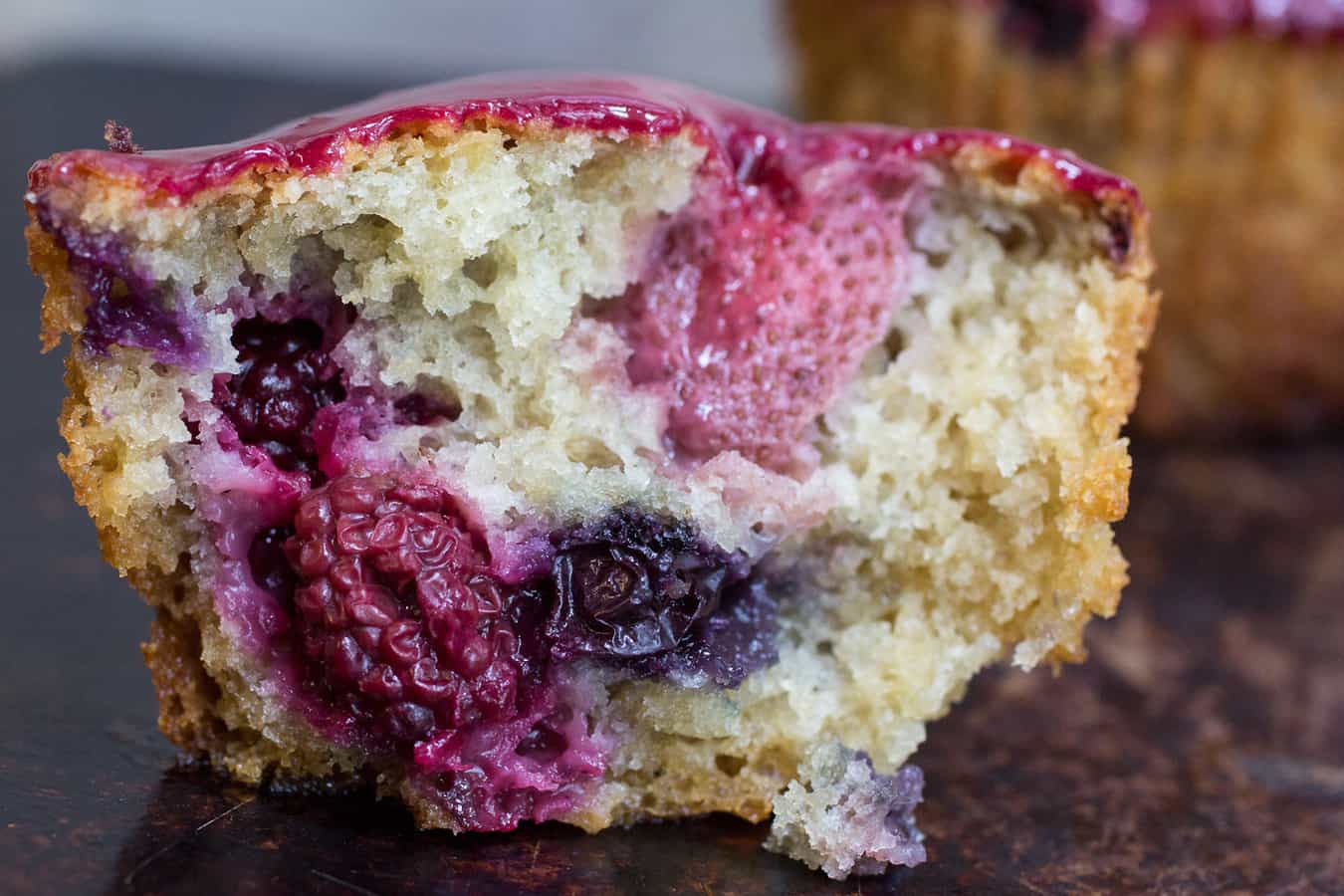 Farm Eggs or Factory Eggs?
Buy the good eggs, you guys. It is worth it.
Here in Washington everyone and their brother has chickens, so if farm eggs weren't available in my backyard from my own flock of layers, I would only have to walk about a block for a different source.
Not everyone lives in actual paradise, as I do, but even the chain grocery stores are selling good eggs these days.
If you are baking with the eggs, factory eggs will be fine, but in anything that really features eggs heavily, I'd use the good ones. The flavor is SO much different, the yolks are more vibrant, and you really can tell the difference in the end result.
Pin for later!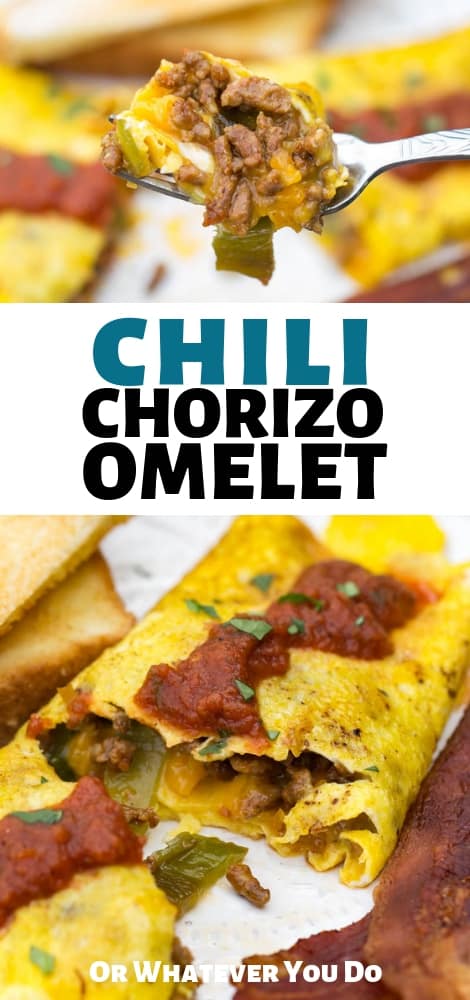 Yield: 2 omelets
Chorizo Chili Omelet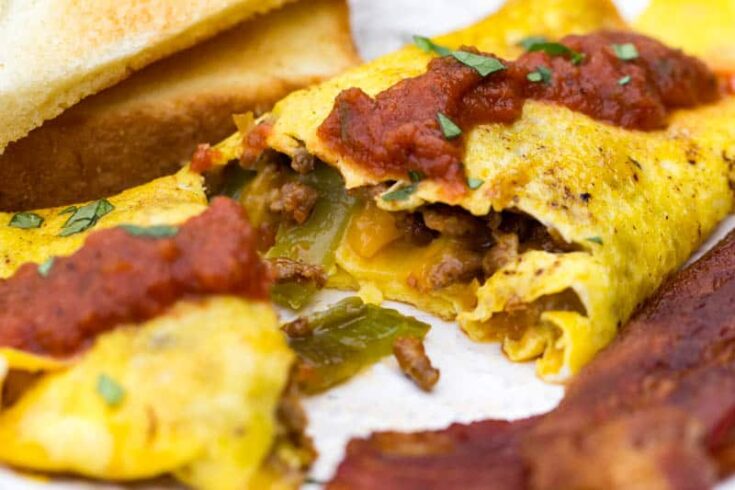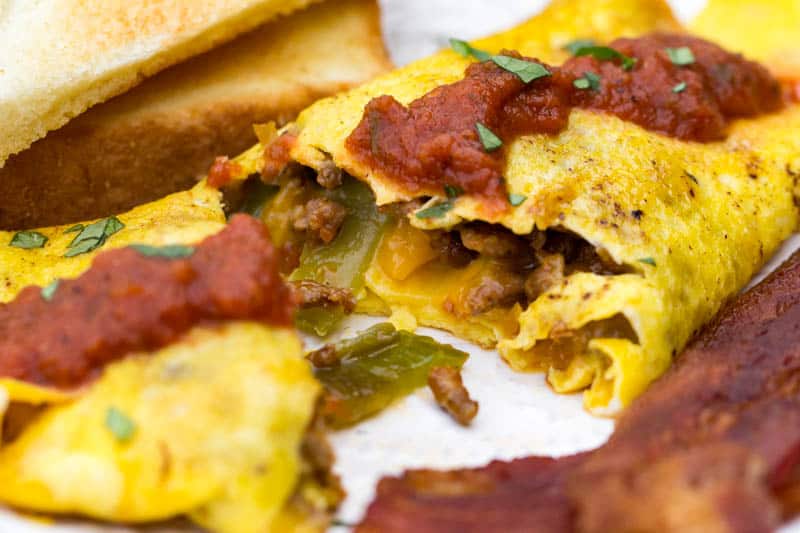 This delicious chorizo chili omelet has a hint of heat from the Anaheim peppers and chorizo, and is a perfect breakfast!
Ingredients
6 large eggs
1 large Anaheim chili pepper
6 ounces chorizo sausage
1/2 teaspoon salt
1/4 teaspoon ground black pepper
1/4 teaspoon granulated garlic
1/4 teaspoon onion powder
1/8 cup diced yellow onion
2 teaspoons butter or cooking oil
1/4 cup shredded cheddar cheese
Instructions
Crack all your eggs into a medium sized bowl and mix thoroughly with a fork or whisk.
Add the salt, pepper, garlic, and onion powder into the eggs and mix well. Set egg mix to the side.
Turn on your griddle or stovetop to medium and place your chili peppers. Leave the peppers on one side for 3-4 minutes, or until you can see some blistering and charring of the skin.
Flip the peppers to char the other side and add the onion and chorizo at the same time. Keep the peppers, onions, and chorizo separate while cooking.
Remove peppers from the cooking surface when both sides have a good char. Remove the onion when they just start to show color from caramelizing. Remove the chorizo when it is fully cooked and browned. (5-7 minutes cooking time) set these ingredients to the side.
Let the peppers rest for about five minutes and peel the skin off. Next, slice the pepper open from top to bottom and lay open and flat. Using a spoon or a butter knife, scrape all the seeds from the inside of the pepper and discard.
Turn your griddle or stovetop down to medium low and let it come down to temp.
Use half of your butter or oil on the cooking surface and pour half of your egg mix down.
Let cook for 1-2 minutes until most of the egg mixture is cooked through.
Add half your onions, chorizo, Anaheim pepper and shredded cheese to the middle of the eggs, and fold over both ends with a spatula /like a burrito. Let cook for one and half minutes, flipping once in the middle.
Remove from the cooking surface, plate and eat.
Recommended Products
As an Amazon Associate and member of other affiliate programs, I earn from qualifying purchases.
Nutrition Information:
Yield:
4
Serving Size:
1
Amount Per Serving:
Calories:

772
Total Fat:

63g
Saturated Fat:

22g
Trans Fat:

0g
Unsaturated Fat:

36g
Cholesterol:

657mg
Sodium:

1918mg
Carbohydrates:

7g
Fiber:

1g
Sugar:

2g
Protein:

43g