This easy breakfast wrap uses my homemade scrambled eggs and wraps them up with bacon in a flour tortilla before hitting the griddle for a quick browning, making the best bacon and egg breakfast wrap you've ever had!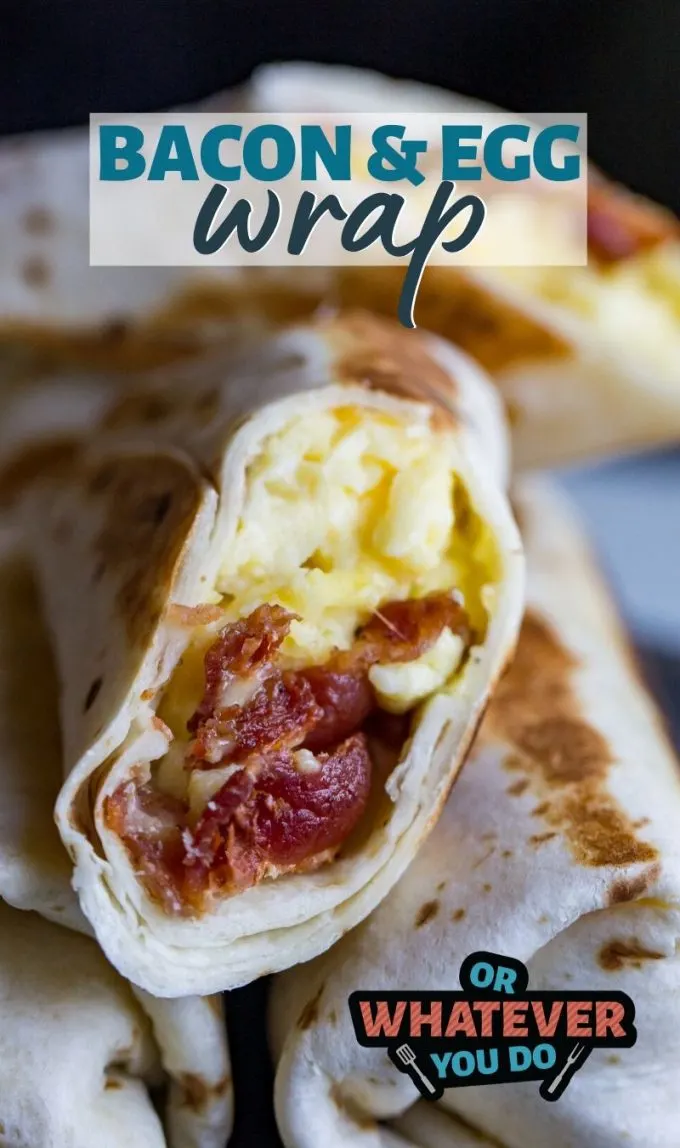 Bacon and Egg Breakfast Wrap
These delicious breakfast wraps are perfect to take on-the-go or serve with other breakfast sides, and are easy to make too. If you are feeding a crowd, these can even be made in advanced and then reheated in the oven before serving.
This is a great recipe to make on the griddle too, so fire up your Blackstone and get cooking!
More great BREAKFAST RECIPES here!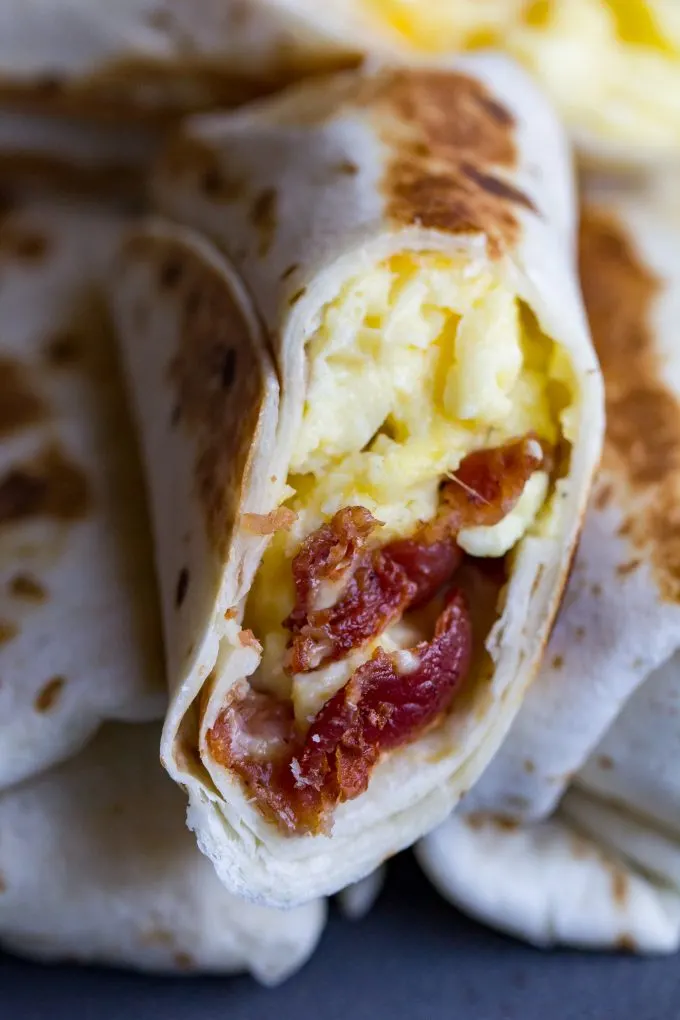 Breakfast Wrap Shopping List
Flour tortillas
Eggs
Half and Half
Bacon
Cheese
Salt and Pepper
Try our Hash Brown Omelette too!
How do you make breakfast wraps?
Well I personally like to cook the bacon first, then the eggs, and then I warm the tortilla for just a brief moment, so I can fold the eggs and bacon in without ripping the tortilla. Next sprinkle on the cheese and fold. Give it a quick grill on each side, and done!
So much better than drive-thru food! These are easy to make and take along if you're rushing out the door. A great snack for hungry kids after school. Or make it a meal and serve for dinner with my easy fresh hashbrowns, or a batch of my Fisher Fair Scone Waffles served with oodles of maple syrup, fruit toppings, and of course whipped cream!
I love having breakfast for dinner it's so quick, easy, filling, and delicious after a long day.
If you like you could even serve all of this up buffet style and let your guests build their own wrap with a variety of veggies, condiments and sauces to add. Keep your eggs and meats and tortillas in warmers and skip the grilling step. Or make up a variety of grilled wraps, wrap in foil and tuck them in a low oven to keep them warm while you arrange your buffet.
More Blackstone Recipes here!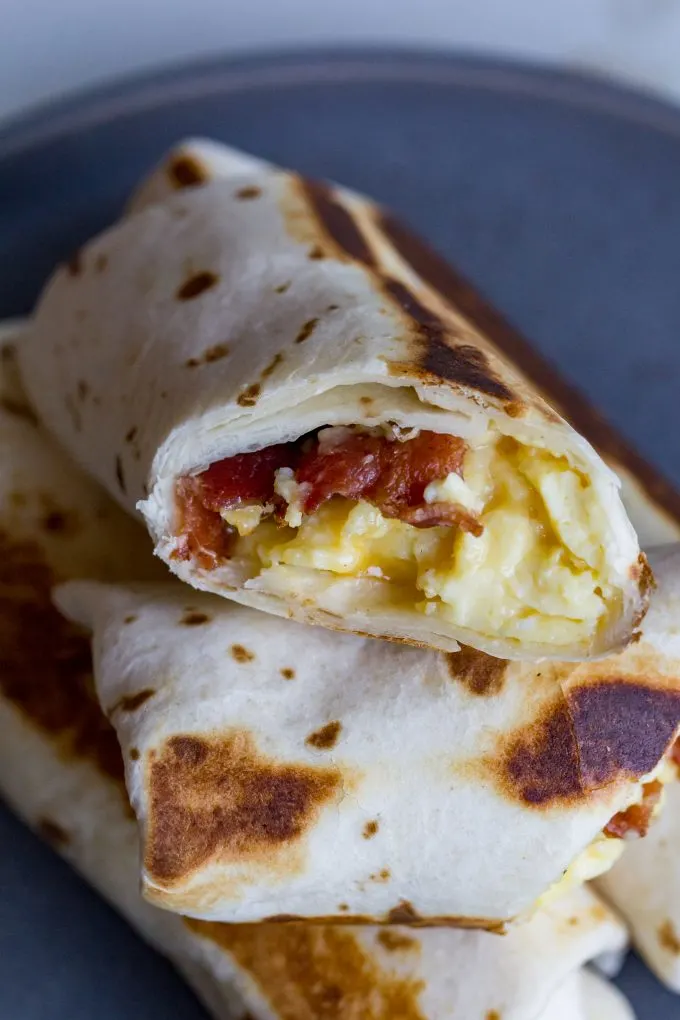 What kind of cheese is best?
Different cheeses can be used in these wraps. Sharp cheddar goes really well, and so does provolone cheese, or even a Mexican-type blend.
See all of my best Brunch Recipes here!
What other mix-ins work in this wrap?
Extra veggies can be placed inside the wrap if you decided not to add them to the eggs themselves, but I tend to just go plain on the breakfast wrap and if anything toss in some chives.
If you like a southwestern flavor you can add your vegetables like bell peppers, onions, and mushrooms to the mix. Just make sure to pre-cook them!
Use a spicy sausage or even a little chopped jalapeño pepper to add a little zing, and then serve with salsa and some sour cream to liven things up. Different varieties of tortillas are available from assorted corns and flours.
How to RE-SEASON your Blackstone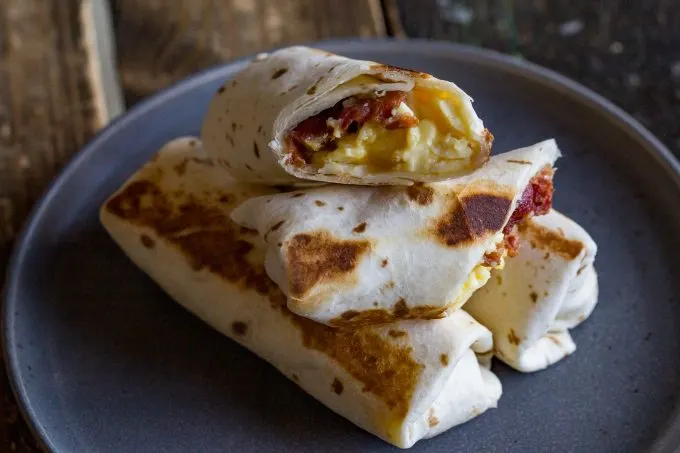 Can you make this vegetarian?
Want a meatless variety?
Any kind of veggie you like can be used in here, and try one of the many flavored tortillas available at your grocery store, such as sun-dried tomato, spinach, roasted garlic? This is a versatile option and can be adapted to any ones preferences, even your pickiest eaters.
Then just skip the bacon. 😉
Use up those EGGS with these recipes!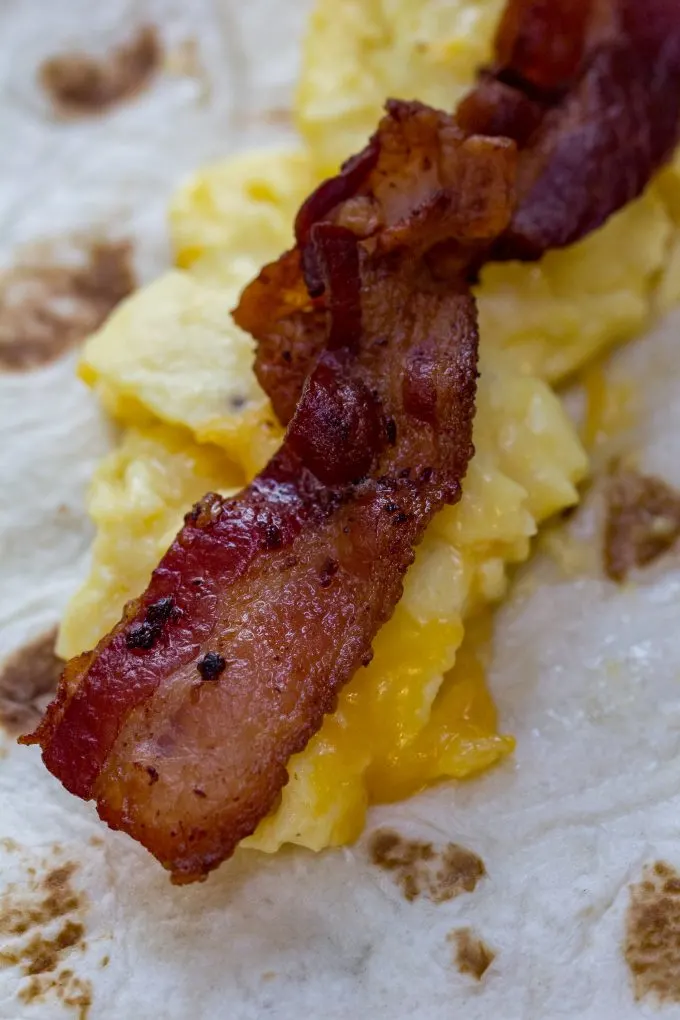 Are these good for the freezer?
Yes!
Make up a bunch, allow them to cool, then wrap them individually in parchment or plastic wrap and put them in freezer bags. Make sure to label them with the date and variety (bacon and egg, veggie and cheese, or whatever you decide to make).
Super easy for kids to pop in the microwave for a filling breakfast or snack. You can either allow them to thaw before reheating, or wrap in moist paper towel and microwave in 30-60 second increments until they are heated through.
These wraps will stay fresh in your freezer for up to 3 months, so well worth the little effort to stock up and have a handy, healthy meal or snack for yourself or the kids.
You can even prepare these outside on the grill. Perfect for camping or picnics. There's nothing better than getting outdoors when it finally starts to warm up. With a little planning and creativity you can cook almost anything out there!
More recipes to love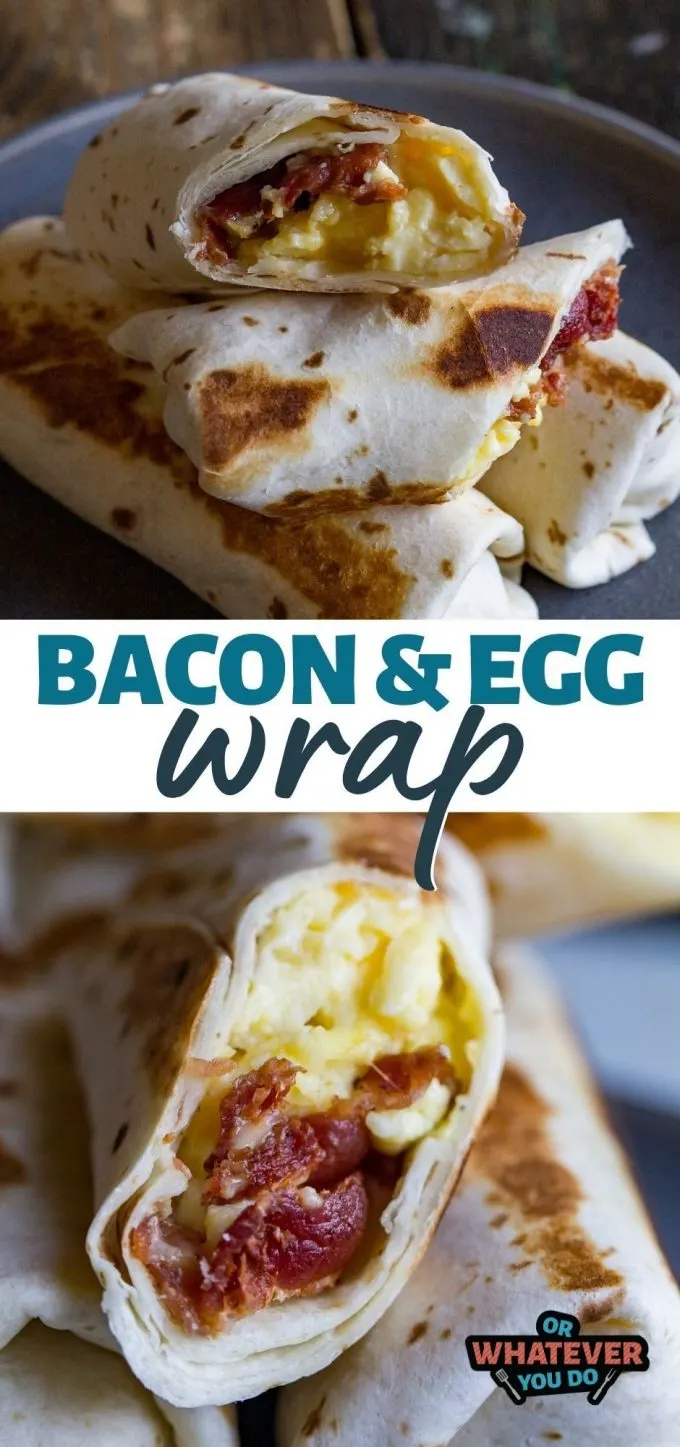 Yield: 3 wraps
Bacon and Egg Breakfast Wrap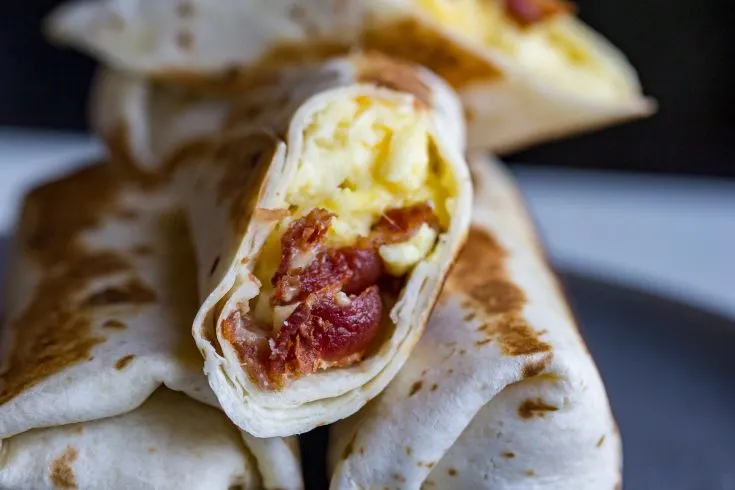 Easy Bacon and Egg Breakfast Wraps are one of my favorite breakfasts, and easy to make ahead and freeze for a quick meal for kids!
Instructions
Cook the bacon on the stovetop, or on your grill. Drain the excess grease and set aside.
Cook your fluffy scrambled eggs, melt the cheese on top and set aside.
Warm your tortillas for about 30 seconds in the microwave to soften them up, and then gently place some eggs and bacon inside.
Wrap up the eggs and bacon and fold in the ends.
Lightly brush a non-stick pan or your griddle with cooking oil. Preheat to medium heat and place the wrap seam-side-down in the pan.
Lightly press down the wrap, cook for 1-2 minutes or until it is lightly browned, and flip.
Cook the other side until it is also golden brown, and then eat.
Notes
* Or 6 eggs, scrambled just the way you like them.
Recommended Products
As an Amazon Associate and member of other affiliate programs, I earn from qualifying purchases.
Nutrition Information:
Yield:
3
Serving Size:
1
Amount Per Serving:
Calories:

307
Total Fat:

16g
Saturated Fat:

4g
Trans Fat:

0g
Unsaturated Fat:

12g
Cholesterol:

23mg
Sodium:

622mg
Carbohydrates:

28g
Fiber:

2g
Sugar:

0g
Protein:

12g
Nutrition data provided here is only an estimate.