Pellet Grill Pulled Pork with Costco Sirloin Tip Roasts is one of my favorite things to make on my Traeger and Camp Chef pellet grills. Sirloin Tip Roasts aren't really traditionally used for pulled pork, but don't let that stop you. This was some of the most tender, moist, and flavorful pulled pork I've ever had. Plus, it is super economial.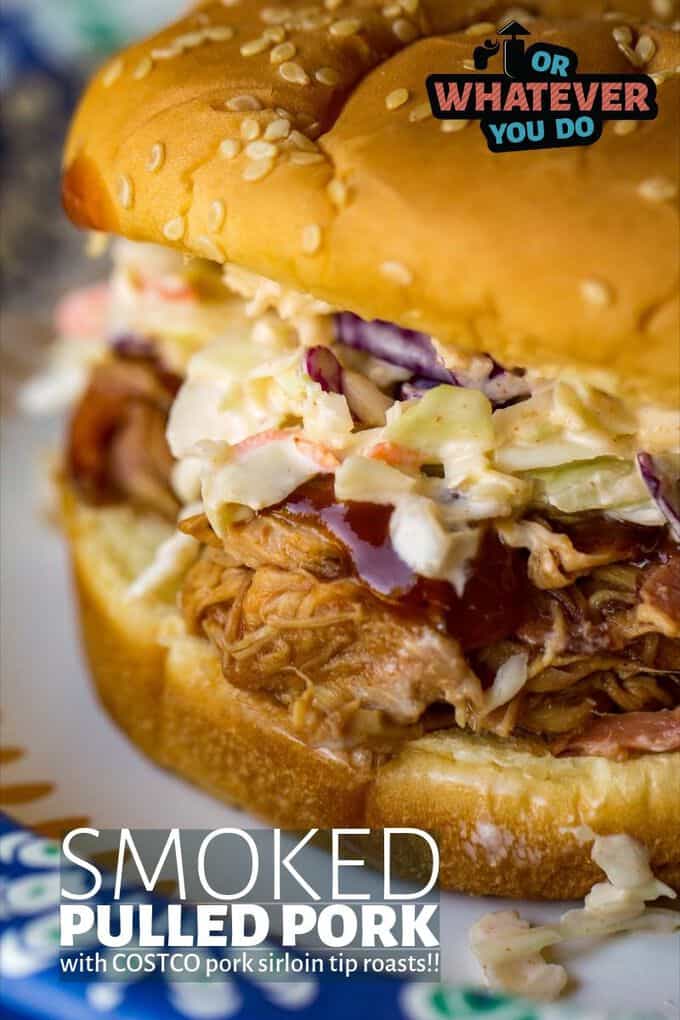 Pellet Grill Smoked Pulled Pork
Costco Pork Sirloin Tip Roasts are PERFECT for pulled pork. Smoked on the pellet grill for 4-5 hours at 180 degrees, and then tossed into the slow cooker for another 12 hours. You can save your pellets and still have some of the most fabulous pulled pork you've ever tasted. You can also use your Instant Pot if you need to shave some time off of this, and high pressure cook for 1-2 hours and then slow cook until fork tender and shreddable.
Pork seems to be one of the most economical meats to buy lately, and you can make such a large variety of dishes with it, you really can't go wrong.
More Easy Pellet Grill Pork Recipes here!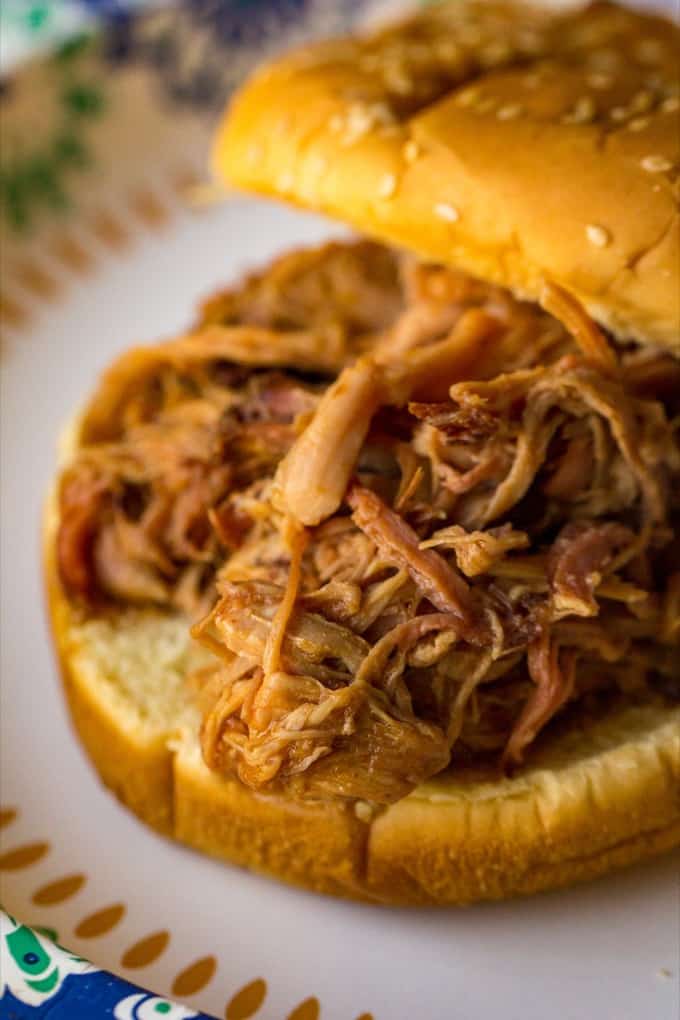 What cut of pork works best for pulled pork?
The pork shoulder is the most widely used cut for pulled pork. But you can use basically any roast that is high in fat and connective tissue. The key is in the method you use to cook the meat. Low and slow is the way to go.
The Sirloin Tip Roasts that I used in this recipe are a cut that has less fat than the shoulder roasts, smoking them first and then finishing in the crock pot for a long period of time still produced a wonderful, tender and moist pulled pork. So as I mentioned earlier, the key is in the method of cooking.
Get all of my Recipes for your Smoker too!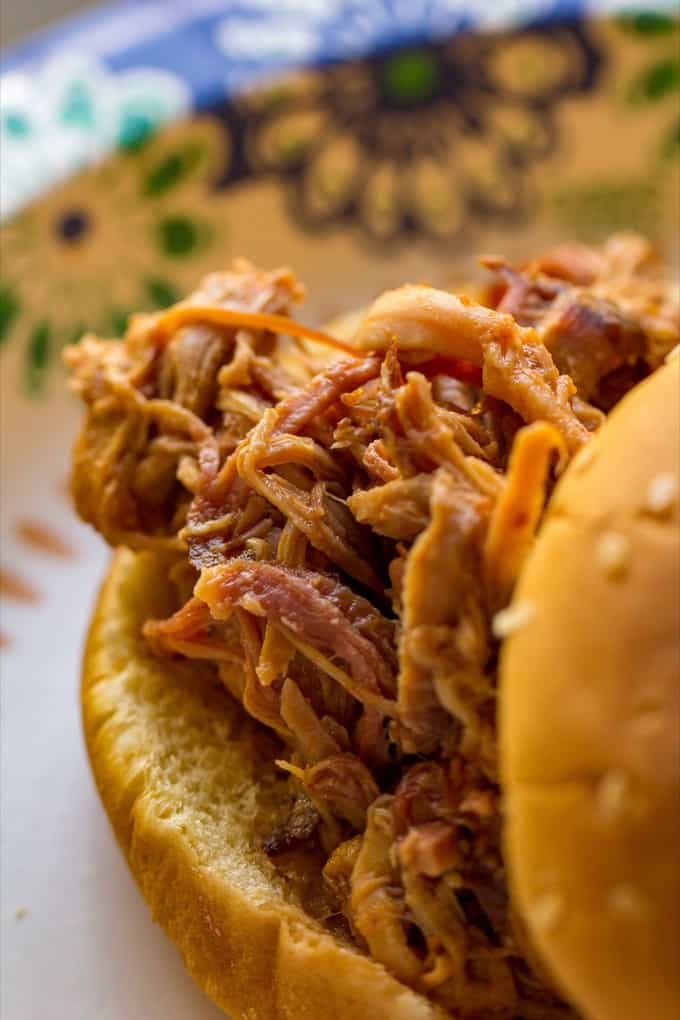 How should I serve this pulled pork?
I served my pulled pork on a sesame bun with BBQ sauce and coleslaw, DEEEE-licious! You can use whatever kind of rolls you like for these sandwiches, and for that matter, whatever kind of sauce and toppings you prefer. If you would like your guests to assemble their own sandwiches, serve all the condiments and toppings on the side and they can build their own masterpiece.
This pork is just as delicious without the bun so anything goes.
Pulled pork tacos are also legit, and if you crisp them up in a fry pan first you could even get away with calling them smoked carnitas.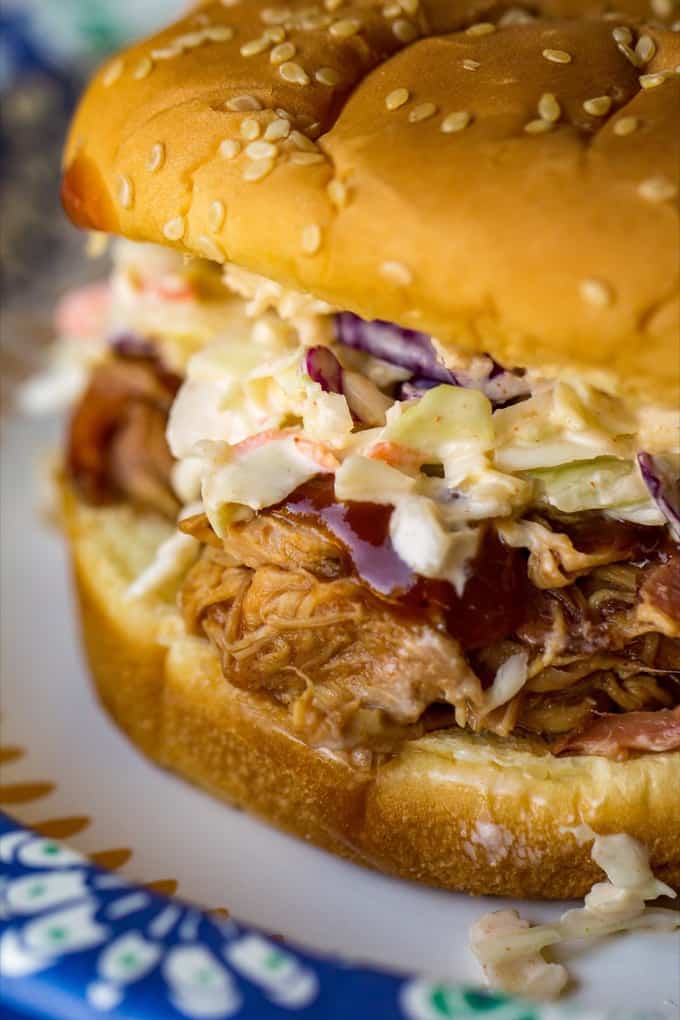 What kind of sides should I serve with pulled pork?
The number one most requested side for pulled pork is hands down, coleslaw. I have a couple of different versions of this popular side dish right here, so whether you like creamy coleslaw or with that vinegar tang in my coleslaw with vinegar dressing, we've got you covered.
Here are some other sides I recommend you consider stuffing in your face ASAP:
Kitchen-Cooked Sides

Grilled Sides

What about the barbecue sauce?
Barbecue sauce is such an important aspect of a great pulled pork. If you have a favorite, use it, but I'd like to recommend you try my amazing Homemade BBQ sauce sometime. It is one of my favorite recipes on the site, and I think you're going to love it too.
Now that we've covered the sides and sauce, let's talk about what to serve for dessert.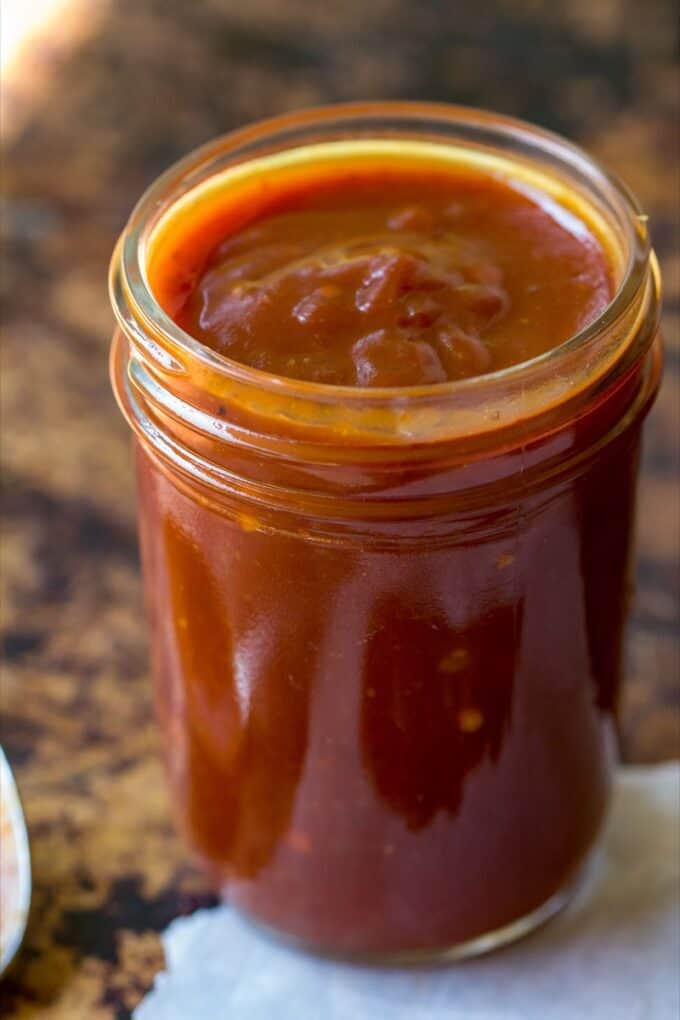 What kind of desserts go with pulled pork?
Even something as simple as my Chewy Chocolate Oatmeal Bars would be a perfect way to end a meal.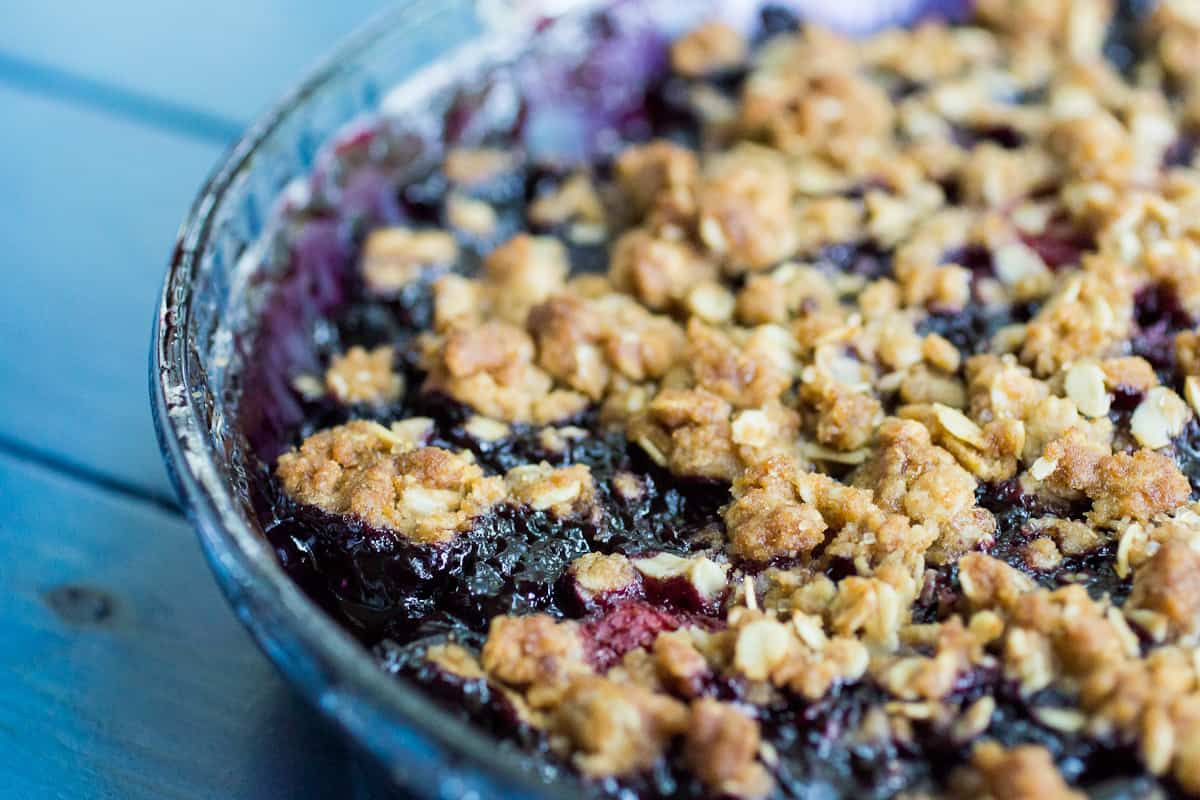 How long does pulled pork last in the fridge?
You can store your leftovers in ziplock freezer bags, foil, or plastic containers for up to 3-4 days. After that you will want to freeze the remainder.
A vacuum sealer is really ideal if you want to make things last for more than a couple of months in the freezer. If you don't have one, try and use your frozen pulled pork in about 4-6 weeks for the best results.
I highly recommend getting the leftovers out for breakfast one day, and getting your head around these incredible Pulled Pork Biscuit Breakfast Sandwiches from Sugar Dish Me, because like whoaaaaaaa.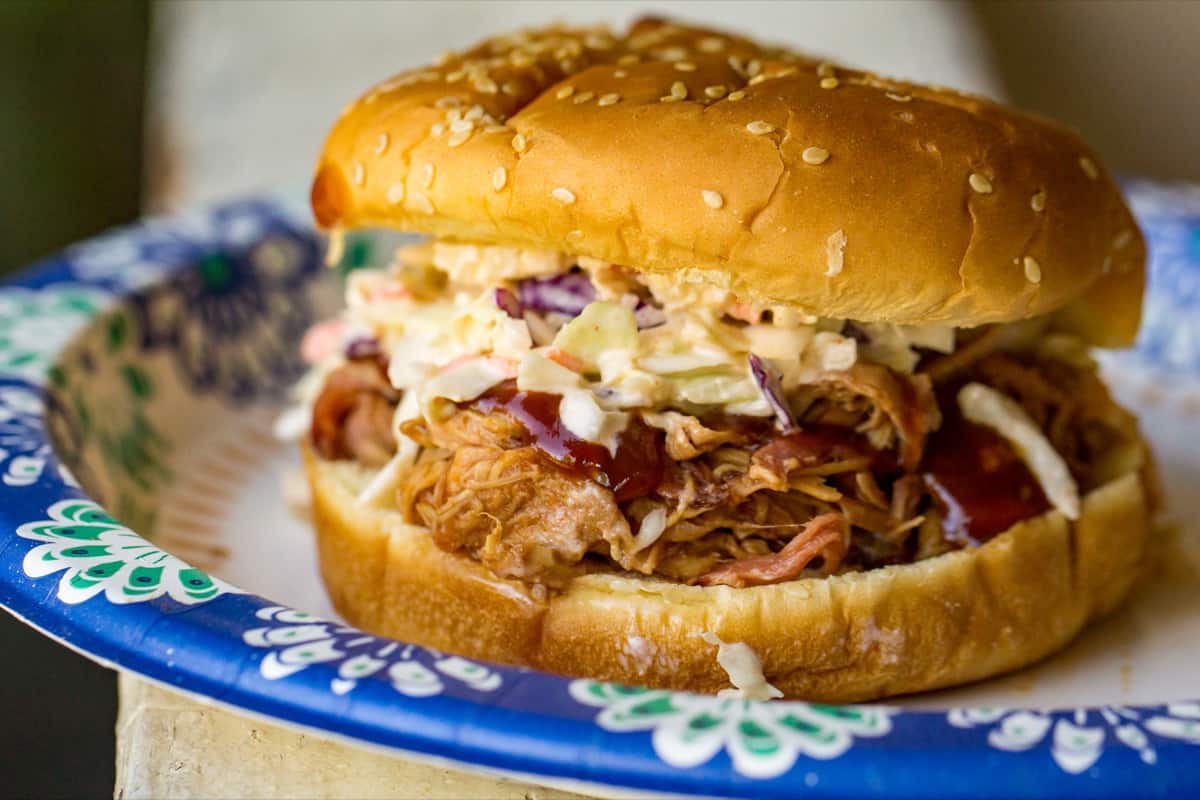 How can I reheat pulled pork?
If you are just reheating yesterday's dinner, the microwave will do the trick quite nicely. Just slather with your favorite sauce and the pop into the mic for a minute or two, until it is hot.
If you are going from the freezer to the table, the best method to reheat your frozen pulled pork is to thaw it first in the fridge overnight, and then reheat it in the sealed plastic baggies in a bath of hot water. This is the sous vide method, and will get you the best results.
If you don't have a sous vide or if you are going from the freezer to the table without thawing overnight first, a crock pot works really well on high. I'd just add in some bbq sauce to the mix while you are heating, and stir it every hour or so until it is thawed and heated thoroughly.
Pin for later!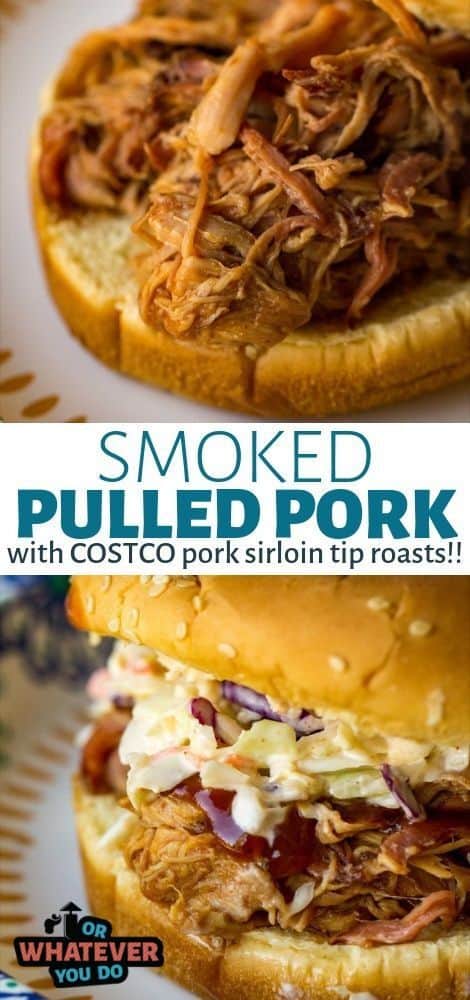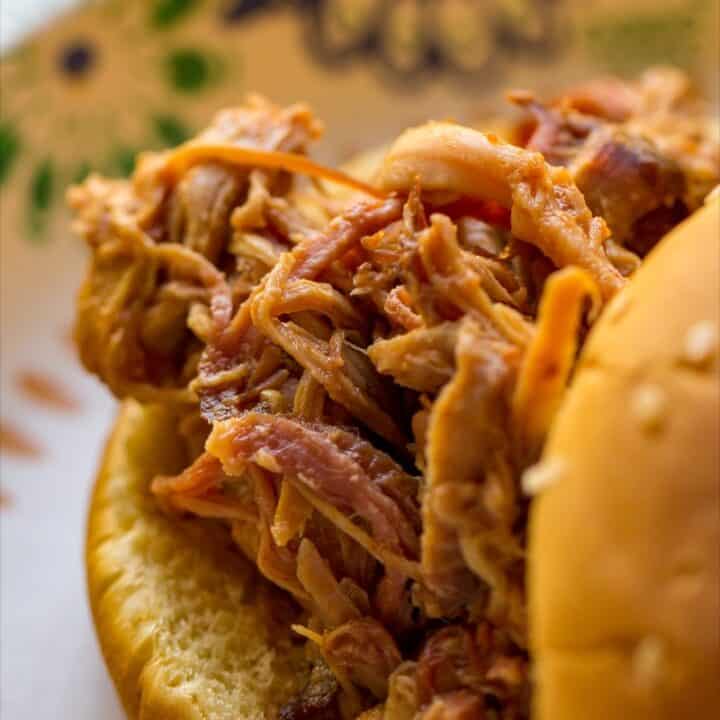 Smoked Pork Sirloin Roast Pulled Pork
Total Time:
7 hours
20 minutes
My Smoked Pork Sirloin Roast Pulled Pork has all of the flavors of the traditionally smoked pork shoulder, but uses pork sirloin roasts instead of your traditional shoulder or pork butts, and utilizes the slow cooker or Instant Pot to save pellets but not sacrifice flavor.
Instructions
Turn your pellet grill onto smoke mode, or set it to about 180-190 degrees or as close as you can get to that. You want to really hit this hard with smoke.
Coat your pork roast with the Shoulder Rub and salt, and place it on the grill.
Smoke for 3-4 hours, flipping several times during the smoking time.
Take the roast off the smoker and place it into your slow cooker. Pour in your apple juice or hard cider, cover, and let cook overnight. If using an Instant Pot, you can set it to high pressure for 60 minutes with 2 cups of apple juice or hard cider. Let the pot naturally release pressure for at last 15 minutes after the cycle finishes.
By the morning (or when your pressure cooker beeps), your pork should be super tender and shreddable. If so, turn the slow cooker to low and make sure there's plenty of liquid/bbq sauce in there, shred, and let it hold on low until dinnertime. Alternatively, you can refrigerate and reheat at dinner if you get home late or like to eat dinner at a later hour. If it needs longer and isn't quite shreddable, just leave it in the slow cooker while you go to work on medium, and it'll definitely be pullable by the time you get home.
If you went the pressure cooker route and after 60 minutes and a 15 minute NPR the roast still isn't shreddable, you should reseal the lid and cook for an additional 30 minutes.
For extra smoke flavor, place the shredded pork in a grill-safe container, slather with your favorite BBQ sauce, and throw it back on the smoker at 200ish° for 30-40 minutes.
Recommended Products
As an Amazon Associate and member of other affiliate programs, I earn from qualifying purchases.
Nutrition Information:
Yield:

12
Serving Size:

1
Amount Per Serving:
Calories:

249
Total Fat:

16g
Saturated Fat:

6g
Trans Fat:

0g
Unsaturated Fat:

9g
Cholesterol:

68mg
Sodium:

1111mg
Carbohydrates:

7g
Net Carbohydrates:

0g
Fiber:

0g
Sugar:

6g
Sugar Alcohols:

0g
Protein:

18g
Nutrition data provided here is only an estimate. If you are tracking these things for medical purposes please consult an outside, trusted source. Thanks!