Change things up a bit with this savory and cheesy Traeger Smoked Mac and Cheese recipe. This macaroni and cheese is the golden ticket to all macaroni and cheese recipes out there. You have that little bit added smoke flavor that makes this NOT YOUR AVERAGE pasta dish. You will be licking your plate because it is that good!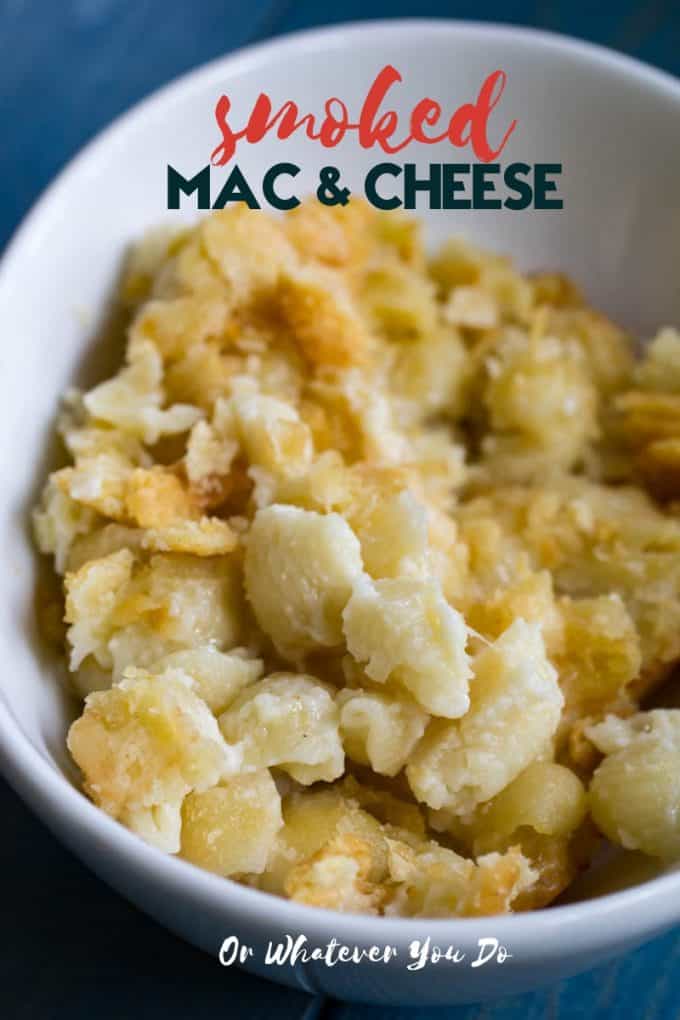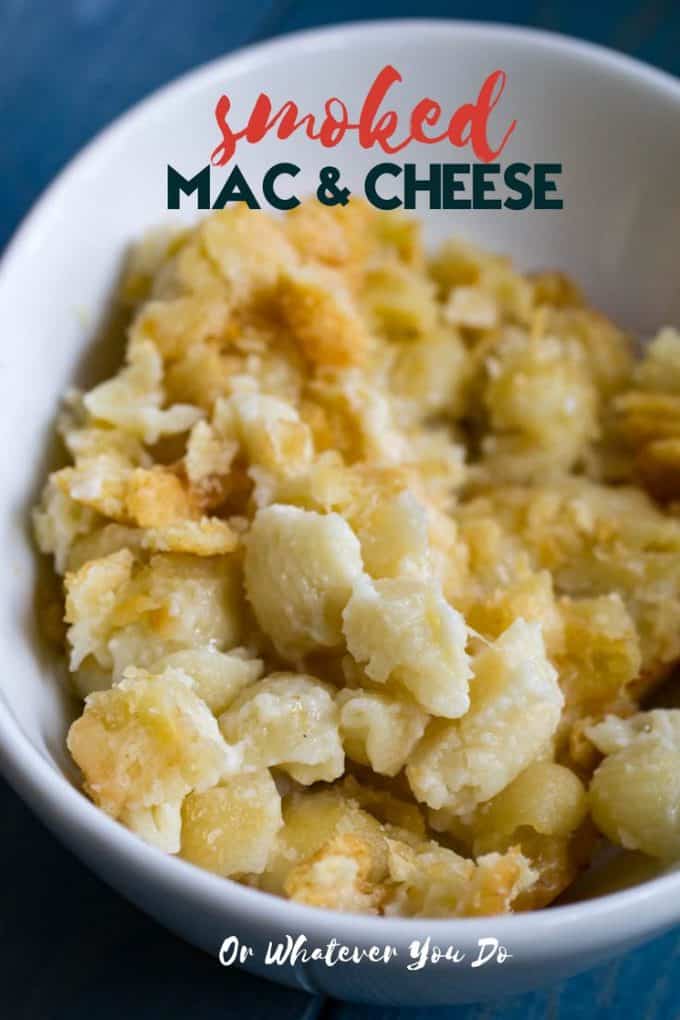 Traeger Smoked Mac and Cheese
This recipe is nothing like boxed mac and cheese. You have tender pasta, tons and tons of cheese, smokey flavors, with a slightly crunchy topping for the perfect texture.
We grill year round, and it always amazes me when people assume grilling is meant for summer months. We love our Traeger and use it whether it is 90 degrees or 20 degrees. Granted, depending on the temperature we might use a few more pellets in the colder months, but it is so worth it. We can have our favorite meals whenever we want.
If you live in an ultracold climate, like my Northern Minnesota friends and family, you might need a blanket for your smoker so it doesn't struggle to maintain temps in the frigid cold, but so far here in the rainy Pacific Northwest that hasn't been necessary.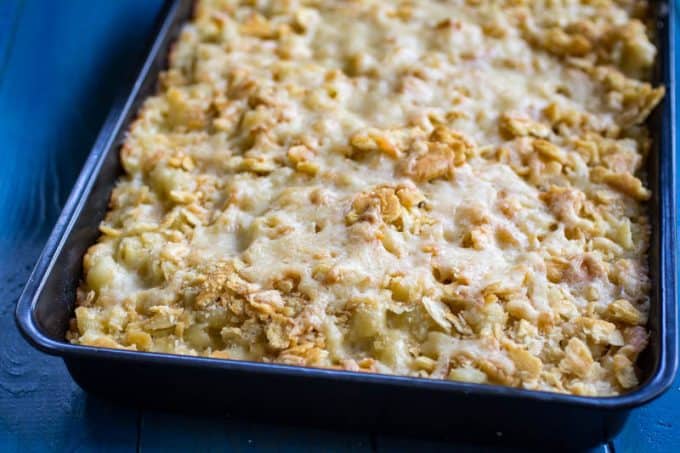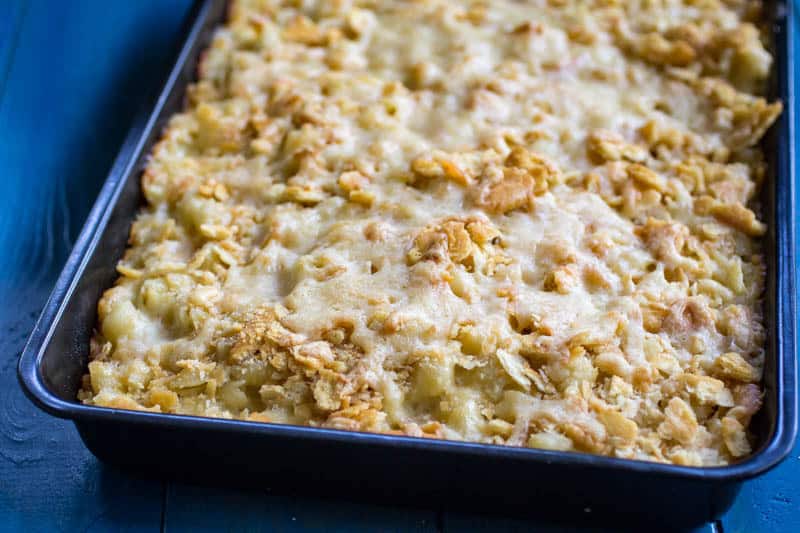 When we first got married, the grilling was all my husband's territory. In fact, most of the cooking was. I did NOT have the skills in that department as a 21-year-old. My favorite "meal" after I moved out of my parents' house but before we got married was a box of Betty Crocker Scalloped Potatoes, with some seasoned bread crumbs sprinkled on top.
He became the master griller, and I tackled sides. Well, now we have a pellet grill, and we can share the grilling duties because it is so simple to use. I mean – I can fire up a gas grill with the rest of them, but I don't have to like it. 😉
Use Bechamel For The Best Mac and Cheese
Bechamel sauce is a creamy and savory white sauce that is made with milk and butter and flour. If you have never heard of bechamel, it is just a milk-based sauce that is French for "Mother Sauce". It is very versatile and can be used in many different dishes. It also helps to thicken and add flavor to your recipe as well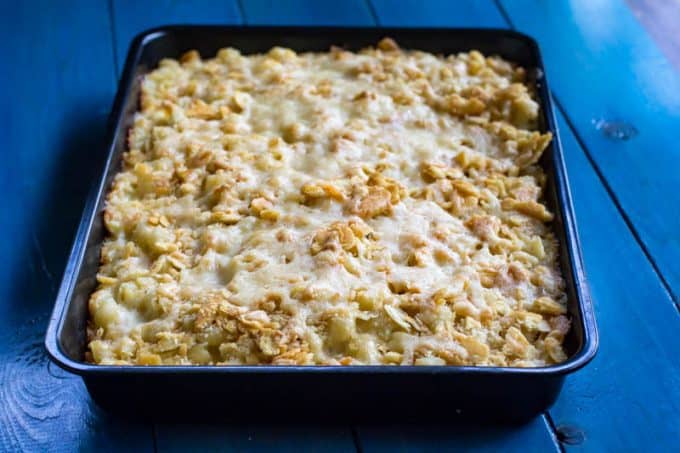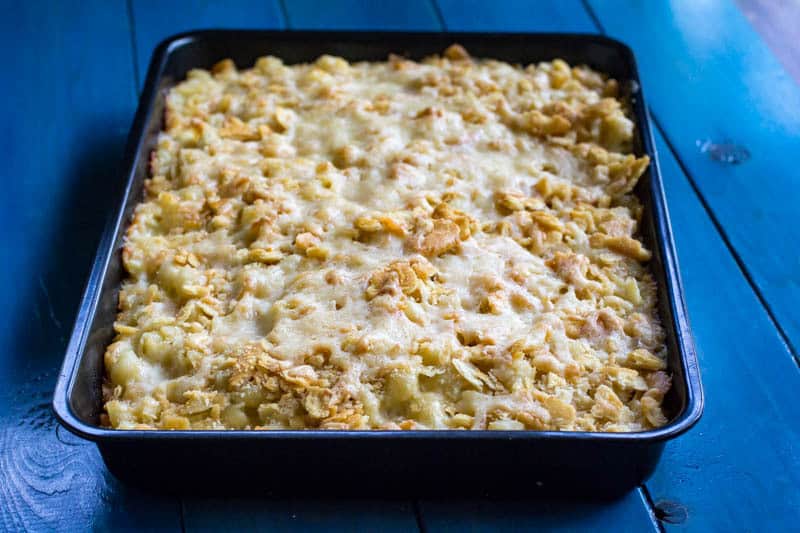 How To Make The Perfect Bechamel Sauce
Grab a saucepan and do equal amounts of flour and butter. You want to stir frequently, so it becomes smooth with no clumps. This is a traditional roux.
Next, slowly stir in your milk, a little at a time. Grab your whisk and work the mixture, so no clumps form. Make sure to stir constantly, or you will burn or clump your bechamel sauce.
Once the mixture becomes thick and glassy, it is the perfect cream sauce that you can mix in with your mac and cheese.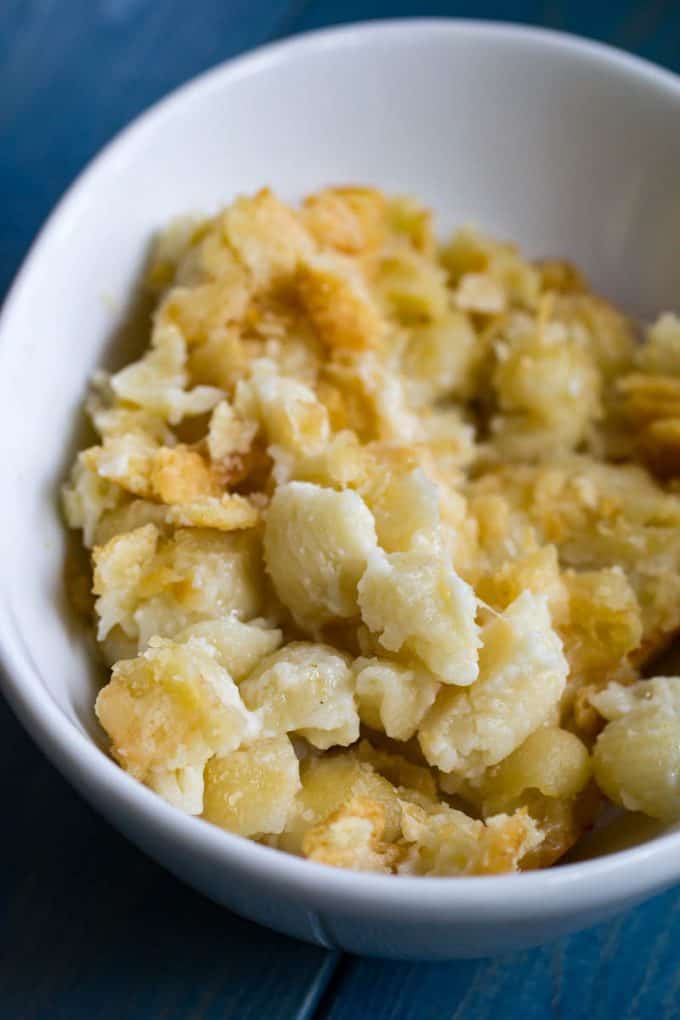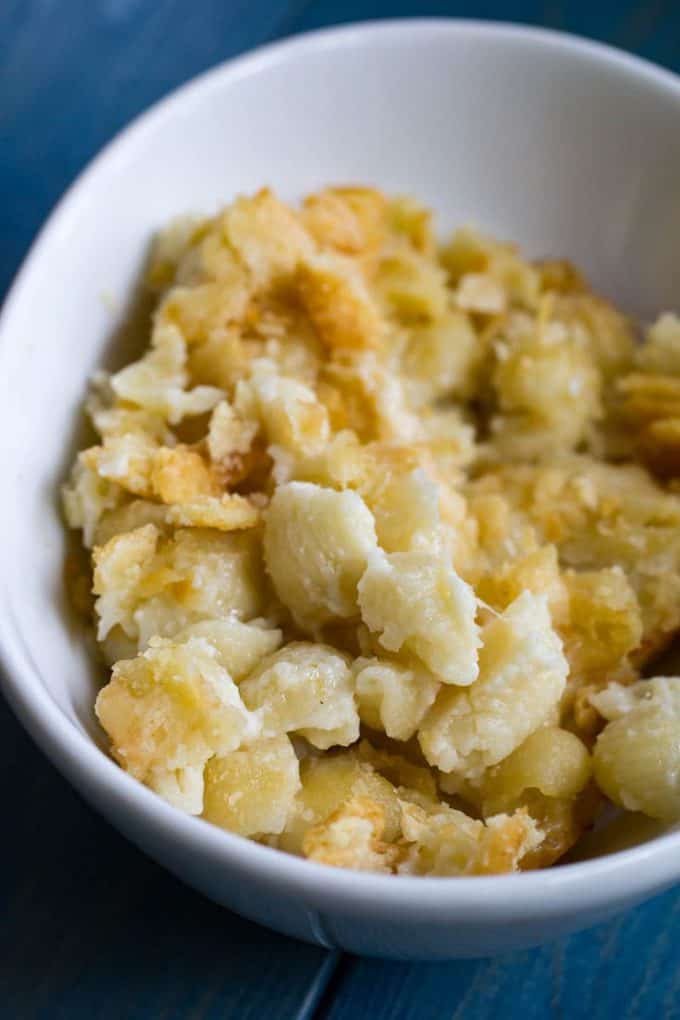 Is Bechamel Sauce The Same As White Sauce?
Bechamel sauce is basically the same as a white sauce. You will find most white sauces start with the same base, and then you build with different ingredients to transform into many different dishes.
What can you make with bechamel?
Can You Cook Mac and Cheese on The Grill?
Yes! But with some caveats.
You can't really boil the noodles on the grill.
You also wouldn't really want to try and make the cheese sauce there either.
You CAN (and might I venture – SHOULD) bake the assembled dish on your Traeger, and it'll juuuuust basely kiss it with smoke.
Nothing crazy.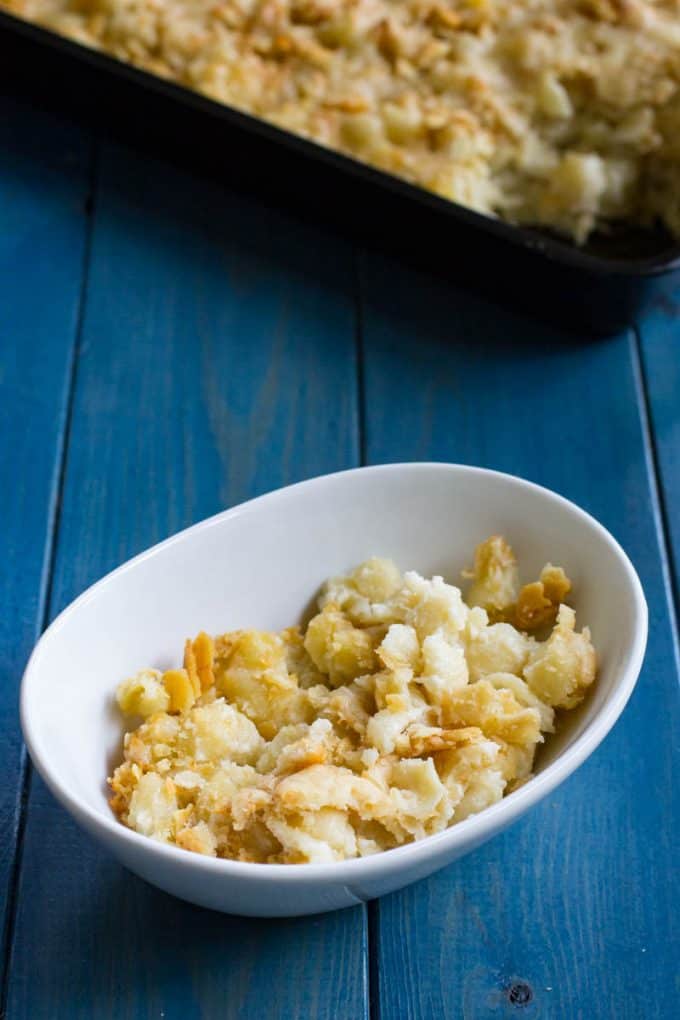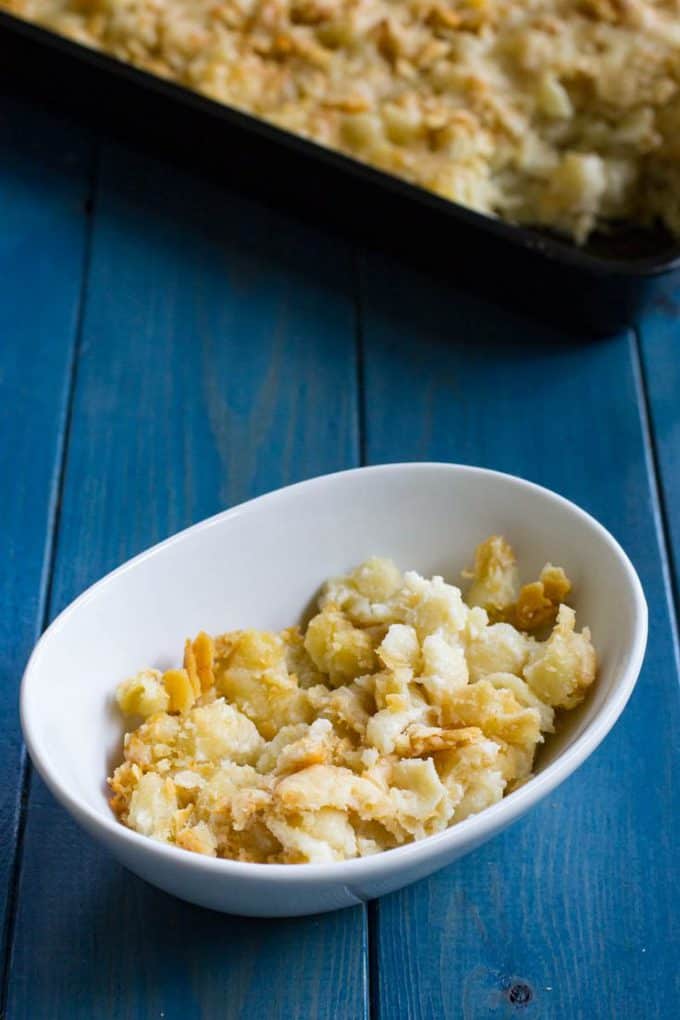 That's part of the reason why I love the Traeger so much. You can really go nuts and do a full smoke, like in our Smoked Salmon and the Beef Jerky. But you can also just basically use it like a giant big wood-fired oven.
You can even cover your casseroles and they won't get any smoke at all, or you can bake them at a higher temperature and you'll probably be able to tell there was a fire nearby somewhere. Is it the neighbors having a bonfire?
I maxed out the smoke flavor a little bit in this by using some smoked cheese too. DO THAT. It is optional, but if you have a Traeger already you really need to get the cold smoker extension. You can smoke way more than cheese in there, but really? I'd have bought it JUST for that.
What Should I Make With Smoked Creamy Mac and Cheese
This smoked mac and cheese is the side dish you didn't know you needed, but now will want every chance you get.
This also reheats really well, even in the microwave (add a little milk if it isn't as wet as you'd like), and a recipe that the whole family will love. Great for all your family barbeques, weeknight meals, and even pack it up and take to a potluck.
What Can I Add To This To Make It A Meal?
Diced Chicken
Diced Ham
Broccoli
Steamed Chopped Asparagus
Spinach
Buffalo Sauce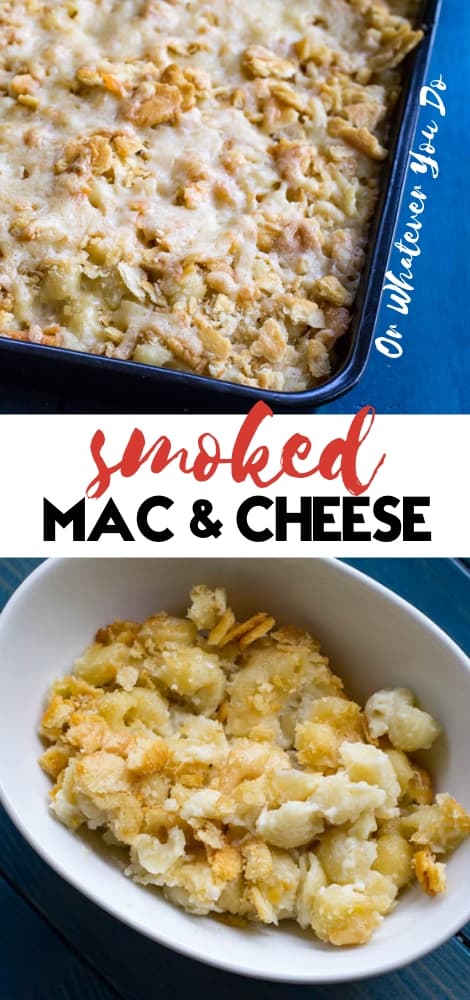 This post isn't sponsored, but some links above may be affiliate links. If you click through and buy a cold smoker I might make a couple bucks, and it doesn't make the cold smoker more expensive. Win-win! I want you to be informed though. If you don't want me having a couple bucks, I still want you to have a cold smoker, so just go google Traeger Cold Smoker and you can buy a non-affiliate-linked version and I'll high-five you just the same.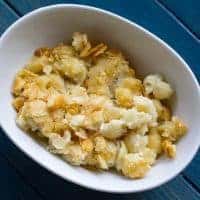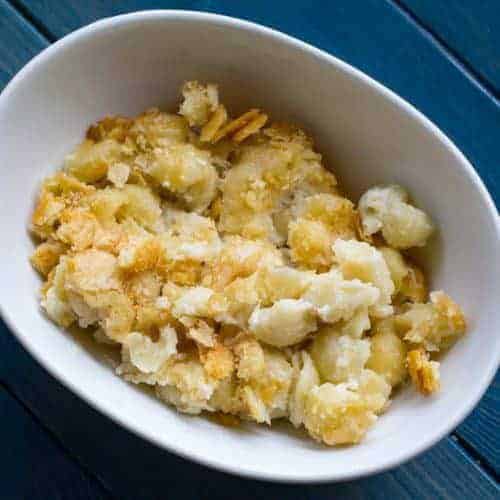 Traeger Smoked Mac and Cheese
Total Time:
1 hour
2 minutes
This smoked macaroni and cheese has smoked cheese in it, and is finished off on your wood-fired grill! Just enough smoke to make it interesting.
Ingredients
1/2 cup salted butter
1/3 cup flour
6 cups 2% or whole milk
1/2 teaspoon salt
1/2 teaspoon dry mustard
dash Worcestershire
1 pound small shells, cooked al dente in well-salted water
2 cups cheddar jack cheese
2 cups smoked white cheddar (you can use non-smoked too! It'll still be awesome!)
1 cup crushed ritz (or similar)
Instructions
Start up your Traeger on "smoke" with the lid open and let it run for 5-10 minutes, or until a fire is established. Once the fire is established, turn the grill up to 325°F and close the lid.
Melt your butter in a large saucepan over medium-low heat and whisk in the flour. Continue whisking and cooking over low heat for 5-6 minutes. It should turn a light tan color.
Whisk in the milk, salt, dry mustard, and Worcestershire, and turn the heat up to medium-low. Stir frequently until the sauce is thickened.
Stir the noodles, white sauce, cooked small shells, and all but 1 cup of the cheeses into a large 10x13 high-sided baking dish that has been sprayed with baking spray or liberally coated with butter.
Top with the crushed ritz and the leftover cup of cheese.
Place on your Traeger that's been pre-heated, and bake for 25-30 minutes at 325°. Remove when cheese is melted and mixture is bubbly, and serve immediately!
Nutrition Information:
Yield:

12
Serving Size:

1
Amount Per Serving:
Calories:

628
Total Fat:

42g
Saturated Fat:

24g
Trans Fat:

1g
Unsaturated Fat:

14g
Cholesterol:

113mg
Sodium:

807mg
Carbohydrates:

38g
Fiber:

1g
Sugar:

11g
Protein:

25g
Nutrition data provided here is only an estimate. If you are tracking these things for medical purposes please consult an outside, trusted source. Thanks!