Spice up your next backyard BBQ with our delicious Traeger Smoked Salsa recipe! Featuring fire-roasted tomatoes, jalapenos, and garlic, this smoky dip is perfect for chip-dipping or topping your favorite grilled dishes. Whether you're a seasoned pitmaster or a newbie grill enthusiast, this recipe is easy to follow and delivers amazing results. Impress your guests with the perfect blend of smoky and spicy flavors that only a Traeger smoker can provide. So fire up your grill, grab your ingredients, and get ready to add some sizzle to your salsa game!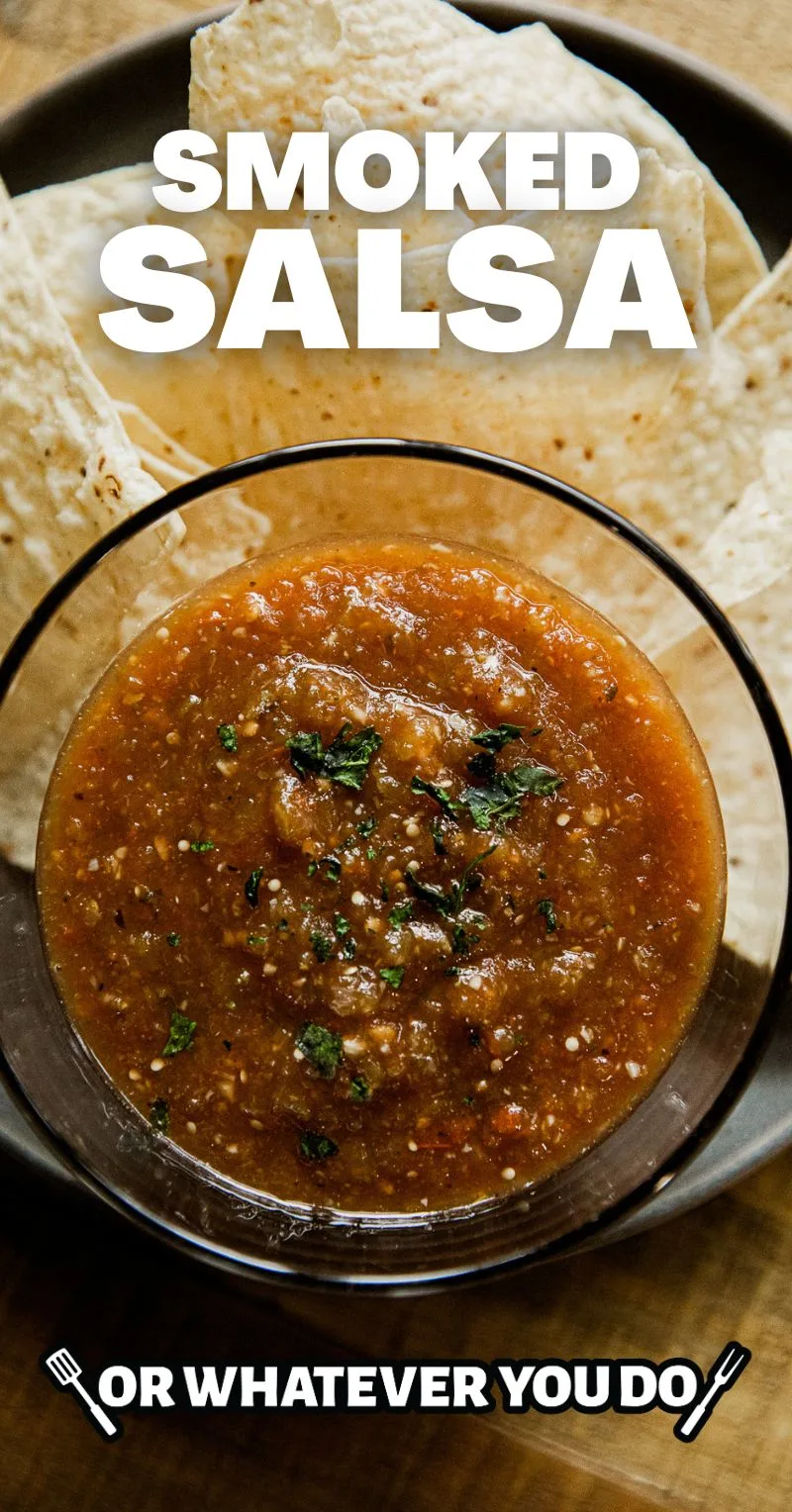 Traeger Smoked Salsa Recipe
Are you tired of the same old store-bought salsa that tastes bland and uninspired? Take your salsa game to the next level with our Traeger Smoked Salsa Recipe! The smoky flavor from fire-roasted tomatoes, tomatillos, jalapenos, and garlic will have you making a meal out of chips and salsa. Plus, you'll feel proud knowing that you made it from scratch with fresh ingredients, free from any artificial preservatives or additives.
Not only is homemade salsa delicious, but it's also versatile. Use it as a dip for your tortilla chips or veggies. Mix it into some easy Smoked Queso. It adds a burst of flavor to your tacos, burritos, taquitos, or quesadillas. You can even mix it into your scrambled eggs for a delicious breakfast scramble. The possibilities are endless, and your taste buds (and family) will thank you.
And don't worry if you're not an experienced griller – our recipe is easy to follow and doesn't require any fancy equipment. All you need is a Traeger smoker, a blender, a few simple ingredients, and some time to let the flavors meld together. So why settle for boring salsa when you can make a smoky and flavorful one at home?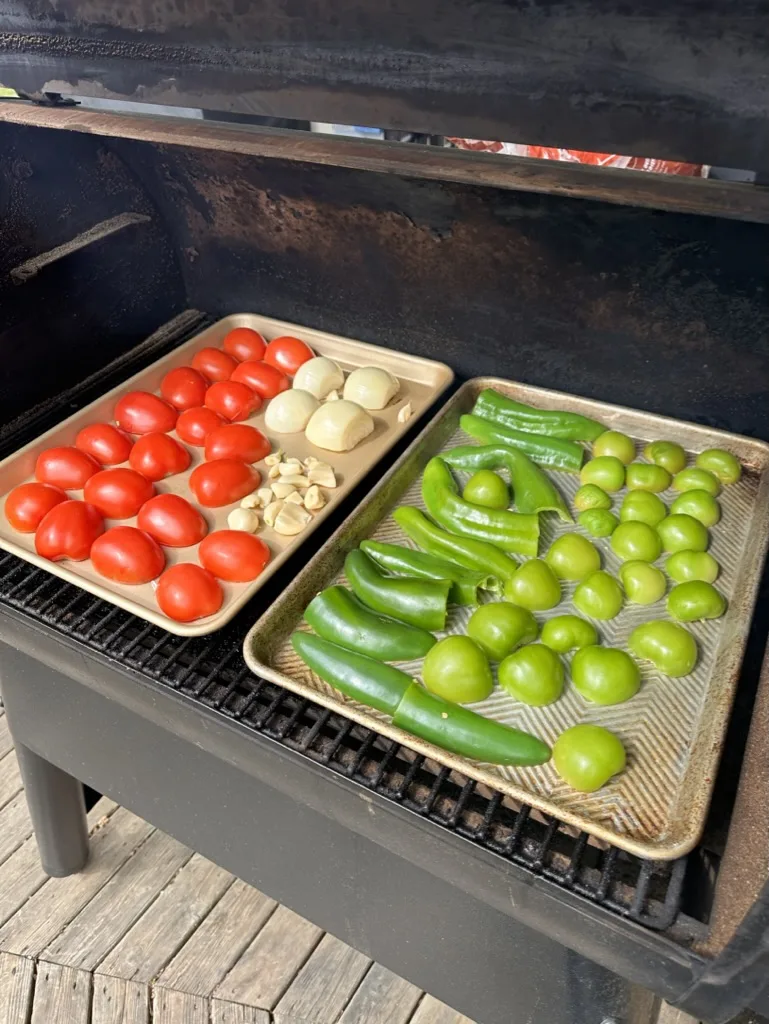 Traeger Salsa shopping list
Wondering if you have to hit the store? Here's the list of items you'll need to make this recipe. For specific amounts, please refer to the printable recipe card at the bottom of the post.
tomatillos
roma tomatoes
yellow onions
garlic
jalapeno peppers
anaheim peppers
limes
salt
cilantro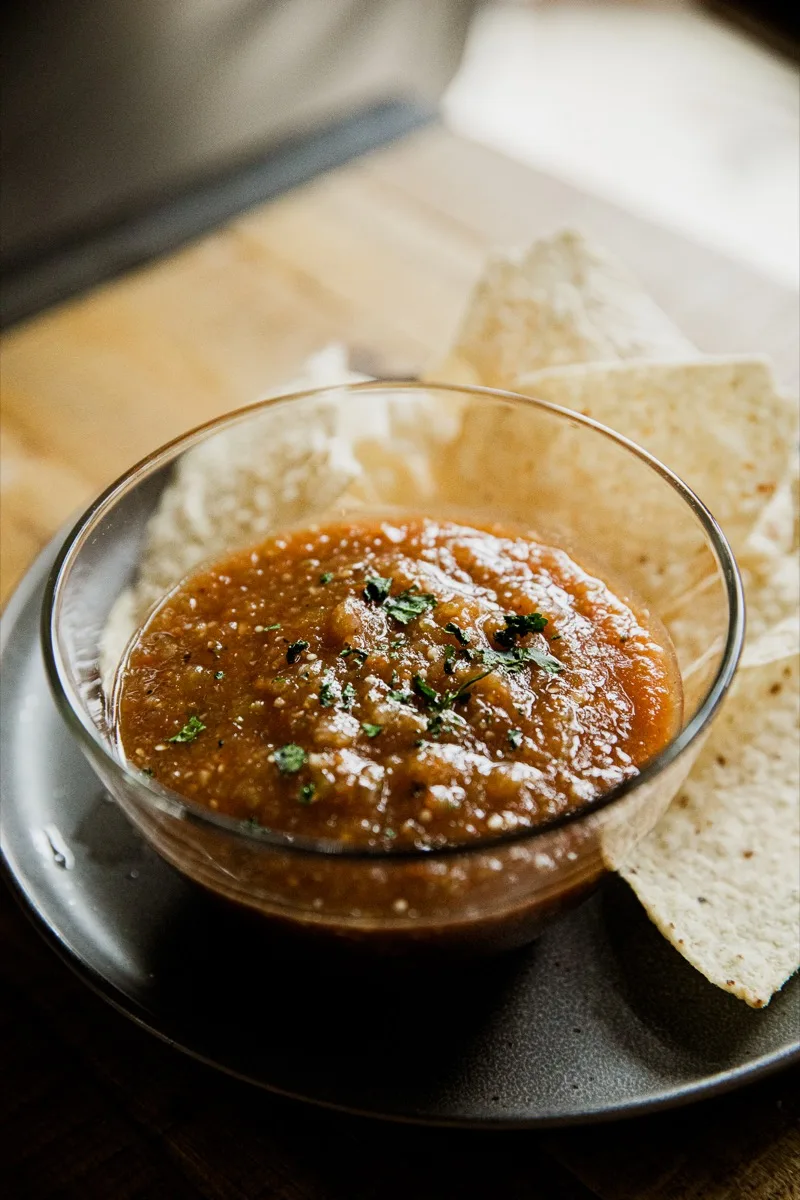 How to make Smoked Salsa on the Traeger
This is just the overview so you can see what you're actually getting into here. When you are cooking, you'll want to use the full recipe at the bottom of the page.
Preheat
Fire up your pellet grill and preheat to 220°F.
Cook
Slice your vegetables and put them onto a grill-safe baking sheet. Put in the Traeger. Smoke 30 minutes, and then turn the heat up to 375°F.
Grill for another 20-30 minutes, but watch to make sure nothing is scorching. You want a little color on the bottom of some of these vegetables, but nothing too crazy.
Blend
Blend all the vegetables in a blender until your desired consistency is reached.
Season
Add lime juice, salt, and cilantro. Adjust as necessary. Add extra hot sauce if you want to turn up the heat.
Chill
This salsa tastes best after the flavors have a chance to meld. Let it chill for a few hours, at least, or overnight, for best results.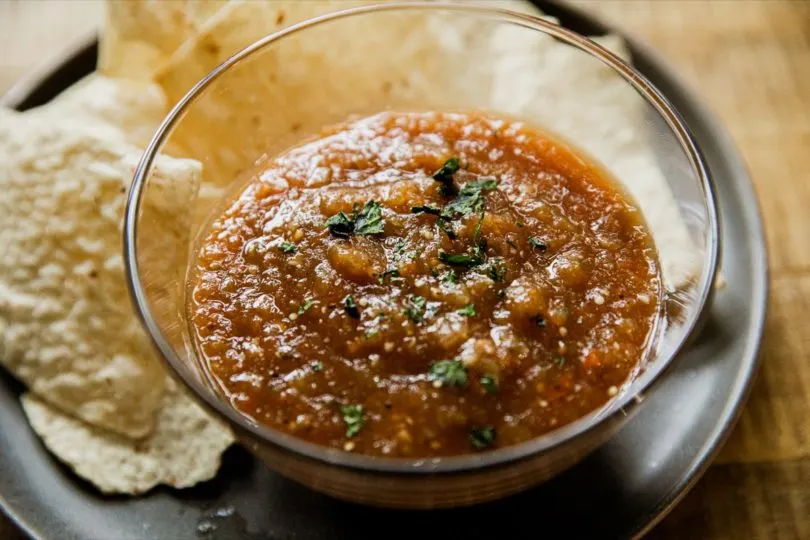 Traeger Smoked Salsa FAQ
What's the best way to store the leftovers?
I keep mine in canning jars in the fridge. If you won't use it all up in a week, you can also freeze the excess in freezer baggies. This recipe is NOT suitable for canning. Only use tested and approved recipes for canning for safety reasons.
Can you make substitutions?
You sure can! This recipe is perfect for experimenting. Love tomatillos? Toss some more in. Want more heat? Add some habanero. Hate cilantro? Burn it in a fire. You do you, and it'll still (probably) be awesome.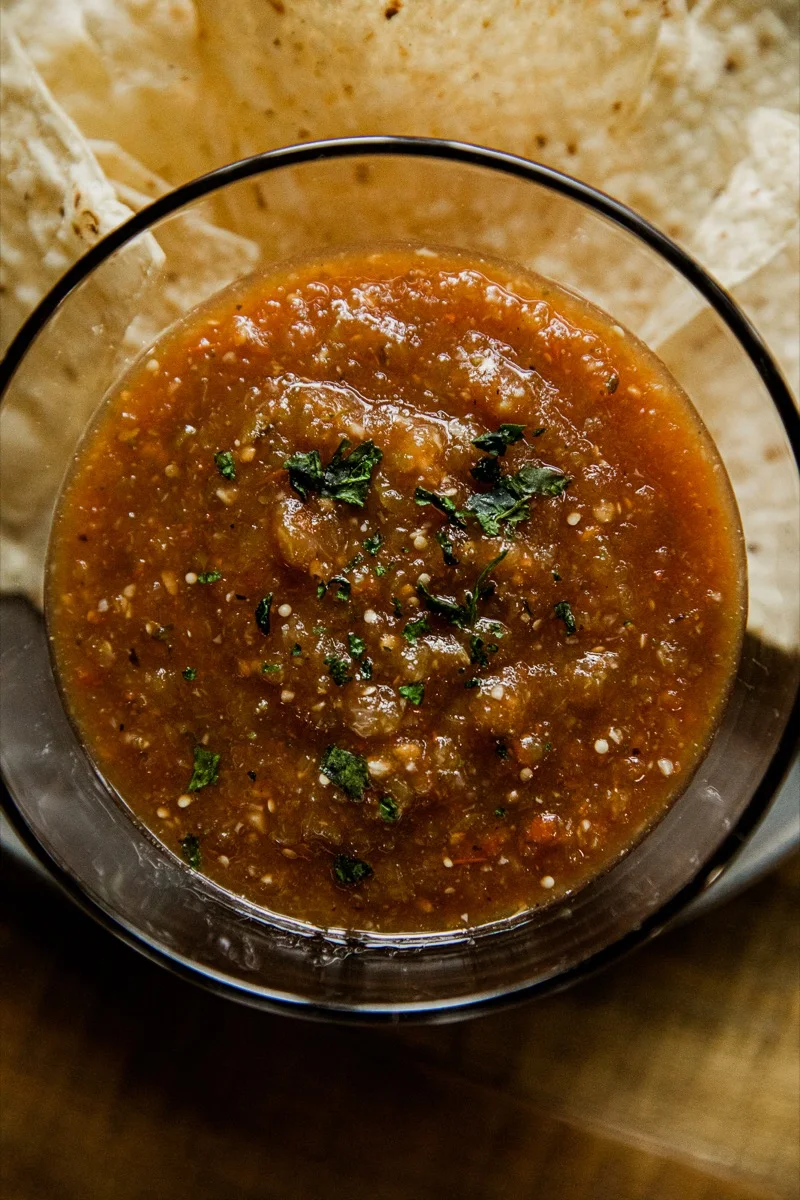 Recipe to pour this salsa on!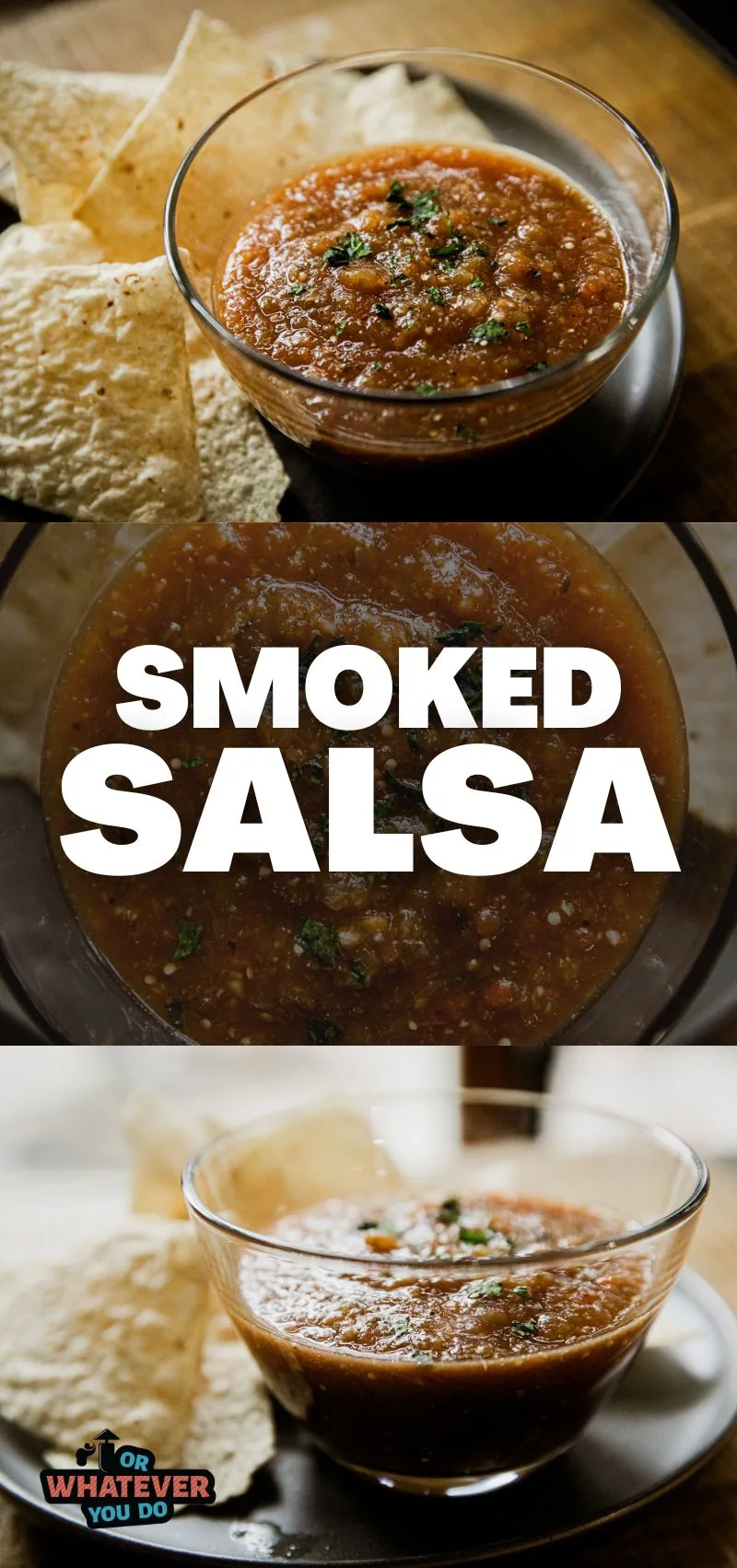 Yield: 12 servings
Traeger Smoked Salsa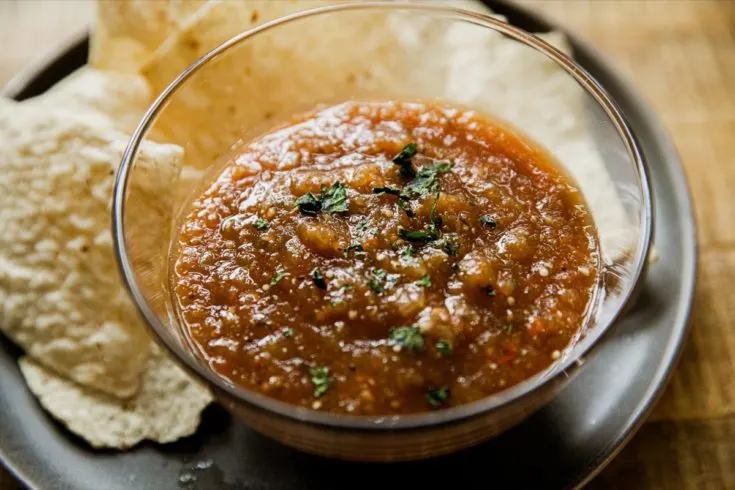 Looking for a smoky and flavorful salsa recipe? Try this Traeger smoked salsa with fire-roasted tomatoes, jalapenos, and garlic - it's sure to spice up any BBQ!
Total Time
1 hour
10 minutes
Ingredients
10 tomatillos
10 roma tomatoes
2 medium yellow onions
8 cloves garlic
3 jalapeño peppers
3 Anaheim peppers
3 limes
1 tablespoon salt (start small and work up if you are sensitive to sodium)
fresh cilantro
Instructions
Preheat the Traeger to 220°F.
Prep the vegetables by halving the tomatillos, tomatoes, and peppers, and quartering the onion. Place onto a grill-safe baking sheet.
Smoke the vegetables for 30 minutes, and then increase the temperature to 375°F. Continue to cook for another 20-30 minutes, watching to make sure nothing is scortching. The goal isn't fully cooked vegetables, so if they are still a little crunchy that's totally fine.
Place all the grilled vegetables into a blender. You will need to work in batches, adding some, pulsing, adding more, pulsing again, so they all fit. This entire batch fit into my blender, but your mileage may vary depending on the size of your blender.
Pulse until everything is combined. Keep pulsing if you like smoother salsa.
Mix in the lime juice and salt. Taste, and add more as necessary according to your personal tastes.
Don't be afraid to add some hot sauce into the final mix if the heat level isn't quite what you were expecting. It is hard to gauge because jalapenos and Anaheim peppers spice levels vary so much.
Stir in chopped cilantro and chill. This salsa tastes best after it has been chilled for a few hours, minimum, and the flavors just get better as the days go on.
Notes
This recipe is endlessly customizable! Have more peppers to throw in? DO it! Like it super garlicky? Use more. Not a fan of onion? Cut down the amount or omit completely. Experiment and adjust and find your own favorite mix!
This recipe is NOT suitable for canning. Keep it in the fridge and use within a week for best results.
Recommended Products
As an Amazon Associate and member of other affiliate programs, I earn from qualifying purchases.
Nutrition Information:
Yield:
12
Serving Size:
1
Amount Per Serving:
Calories:

38
Total Fat:

1g
Saturated Fat:

0g
Trans Fat:

0g
Unsaturated Fat:

0g
Cholesterol:

0mg
Sodium:

533mg
Carbohydrates:

9g
Fiber:

2g
Sugar:

4g
Protein:

1g
Nutrition data provided here is only an estimate.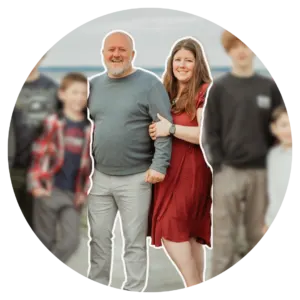 Nicole Johnson, a self-taught expert in grilling and outdoor cooking, launched Or Whatever You Do in 2010. Her blog, renowned for its comprehensive and creative outdoor cooking recipes, has garnered a vast audience of millions. Nicole's hands-on experience and passion for grilling shine through her work. Her husband, Jeremiah Johnson, also plays a pivotal role in recipe development, adding his culinary flair to the mix. Together, they form a dynamic duo, offering a rich and varied outdoor cooking experience to their followers.