Pickled Red Onions are crisp, tangy, and ridiculously easy to make. Seriously, they are so quick to put together, it's kind of unbelievable. They're also a gorgeous deep pink color. Once you try them you'll want to add them to all kinds of dishes for the pop of pink and the zesty taste.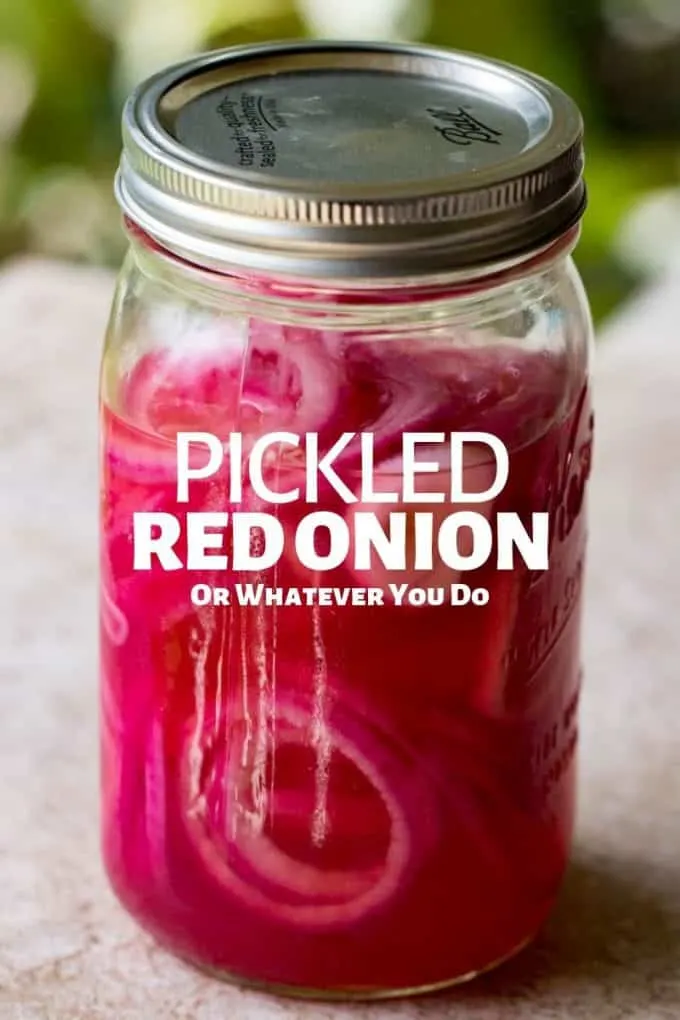 Pickled Red Onion
Pickled Red Onions add a punch of flavor to a lot of different dishes. They're a crazy easy way to spice up your typical summer meal rotation.
They are especially delicious on my Shortcut Smoked Pulled Pork, and I can't wait to try them on my Traeger Smoked Juicy Lucy Burgers. Throw in some Crispy Fresh French Fries and we've got a whole meal. Talk about the perfect combination!
With only five ingredients and a prep that's mostly "leave overnight", there really is NOTHING you can make that will have the same tasty bang for your buck.
Pickled Red Onions have a beautiful deep purple-red hue that can dress up your dish. They're the spicy, crunchy, slightly sweet, eye-catching addition that you'll want to use all summer long!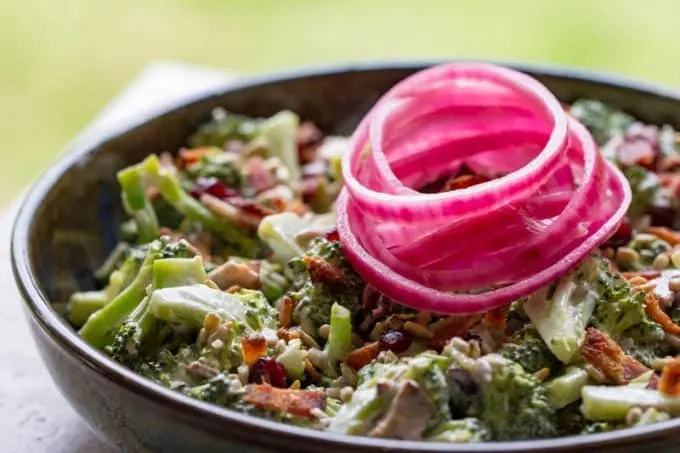 How to make pickled red onions at home
When I told you these were simple, I really meant it. The hardest part is slicing the onions into rings. They get me EVERY time and I look like I've been on a 2-day crying jag. So if you have someone around that'll do your onion slicing for you, they are a keeper.
To make these simple pickled onions, just slice, throw everything in a jar, and shake it a bit. After that, it is just a matter of time.
And not much time either. These can be eaten after a couple of hours in their vinegar bath, but I prefer to leave mine overnight.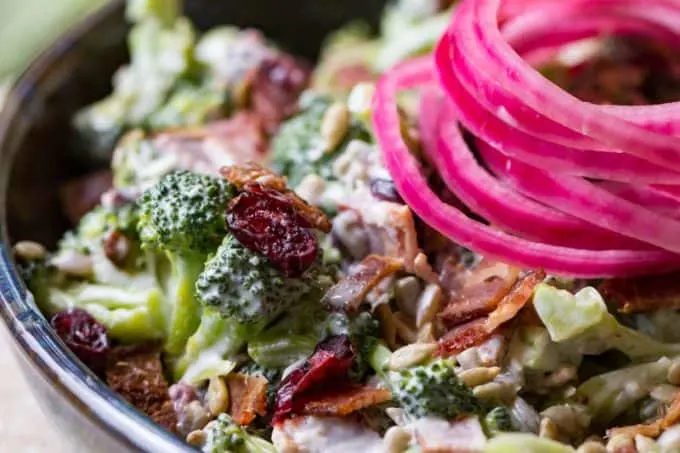 Tips for making delicious pickled onions
I like to cut my onions super thin, but you definitely don't have to. A thick slice of onion is great too! It all comes down to personal preference, to be honest. I like them thin so I can stack them on sandwiches.
My pickled onion recipe uses apple cider vinegar. Apple cider vinegar really complements the flavor of the sweet red onions. If you don't have any apple cider vinegar on hand, you can use regular white vinegar, but I think it's worth it to run out and grab apple cider vinegar. It does make a difference, but it will be good either way.
On the other hand, it's crucial to use red onions, not white or yellow. White and yellow onions are great for some things, but not for this. White and yellow onions have a much stronger, sharper, and more pungent flavor.
Red onions are more mellow. Red onions work SO SO well in a pickle. The pickling process balances the sweet onion, and together you get a great complex flavor that brings a bite and sweetness that just can't be beat.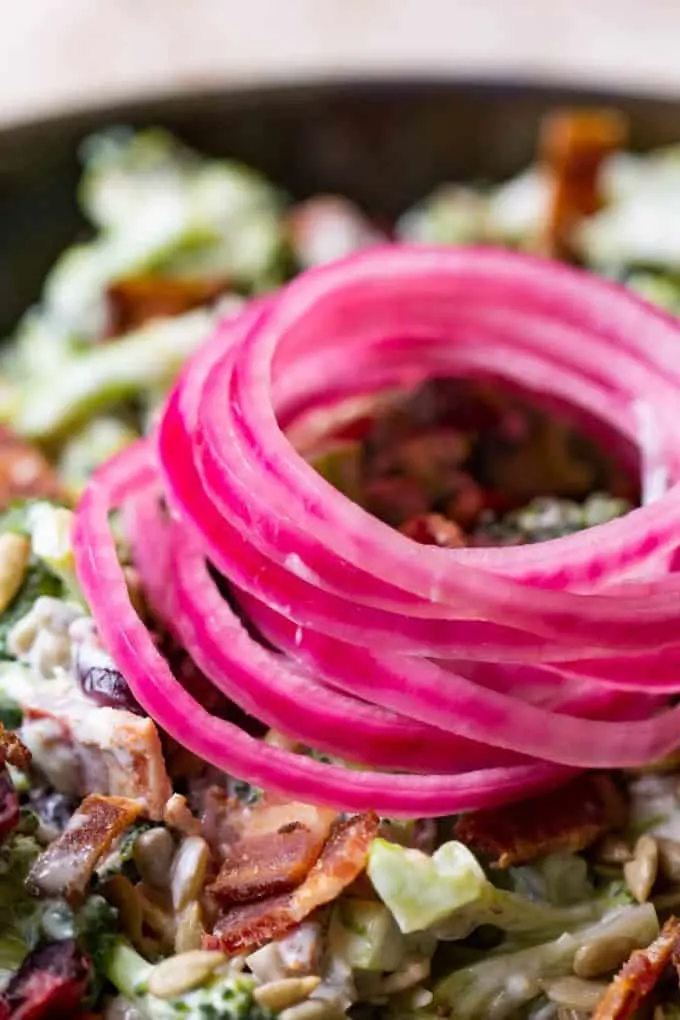 How to choose the best red onion for this recipe
There's nothing like a slice of good, sweet pickled red onion. But to get there, you need to choose good sweet onions to start with! Here are a few things to look for when you're shopping for your onions.
Onions should be firm, not mushy or have any soft spots
The skin should be dry and papery
The color can range from purple to red, but avoid any onions with brown spots
Choose onions that have not started sprouting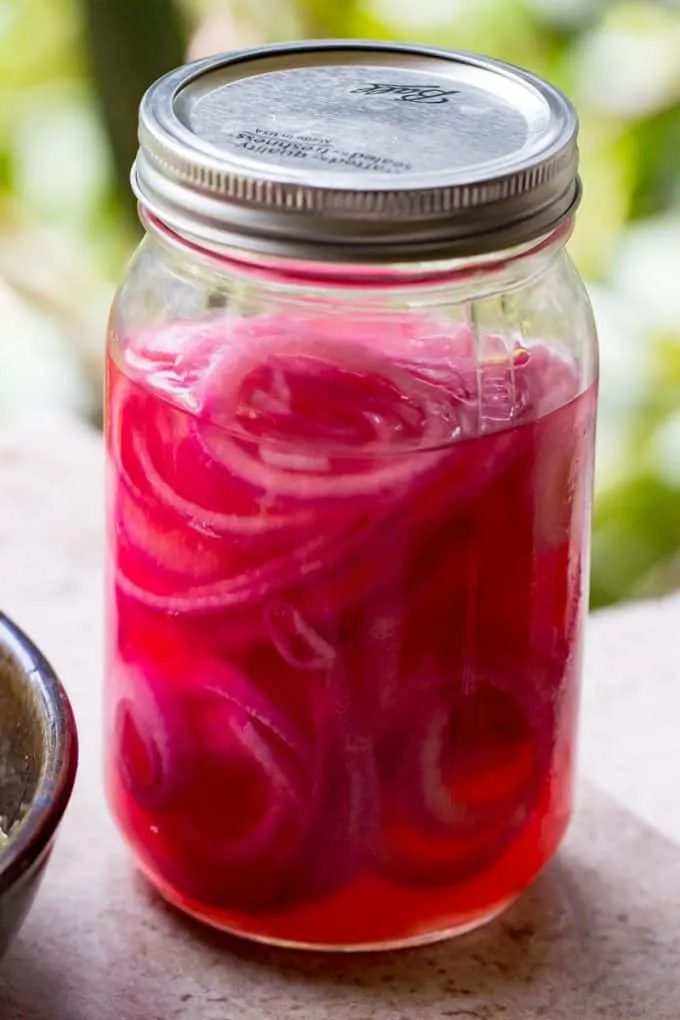 How to store onions so they last the longest
My Pickled Red Onions will keep in the fridge for several weeks, but here are some other storage solutions for fresh onions, in case you can't pickle them all at one time.
Fresh, whole onions will keep for several months if stored in a cool, dry place. Every once in a while, double check for brown spots or soft spots
Sliced fresh onions can be wrapped in plastic and stored in the fridge for up to a week (but wrap them really well or your whole fridge will taste like onion)
If you need to keep your fresh onions longer, you can freeze them. I recommend chopping them and storing them in plastic zip bags in the freezer.
One great bonus about pickling onions is that you don't have to worry much about storage, or your fridge smelling funny. The pickling takes care of it!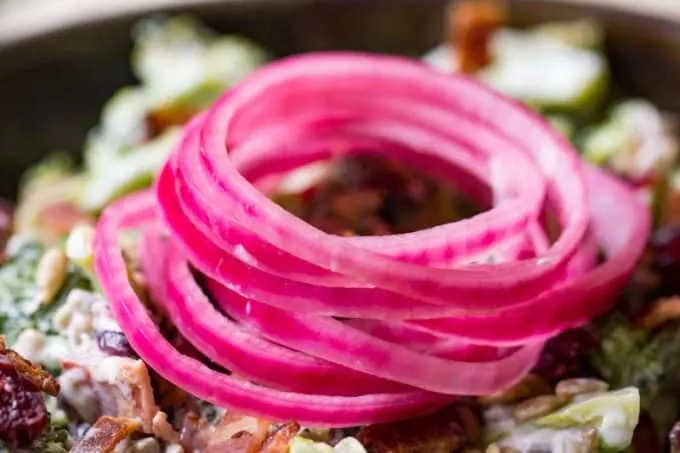 Spice up a dish with pickled red onions
I have SO MANY suggestions for how to use these sweet red onions! Here's a quick round-up of just a few ways you can use these delicious Pickled Red Onions.
They're great on sandwiches like I mentioned before. Try my Turkey Sandwich.
They're also fantastic in Mexican food! You can add them to my Traeger Blackened Fish Tacos, or my Grilled Shredded Pork Tacos. Throw them on soup or chili, like this Easy Steak Chili.
And don't forget the salads! Last time I made my sweet pickled onions, I made them for this fresh and crunchy Broccoli Salad. You might also try them on a pasta salad like this Italian Pasta Salad.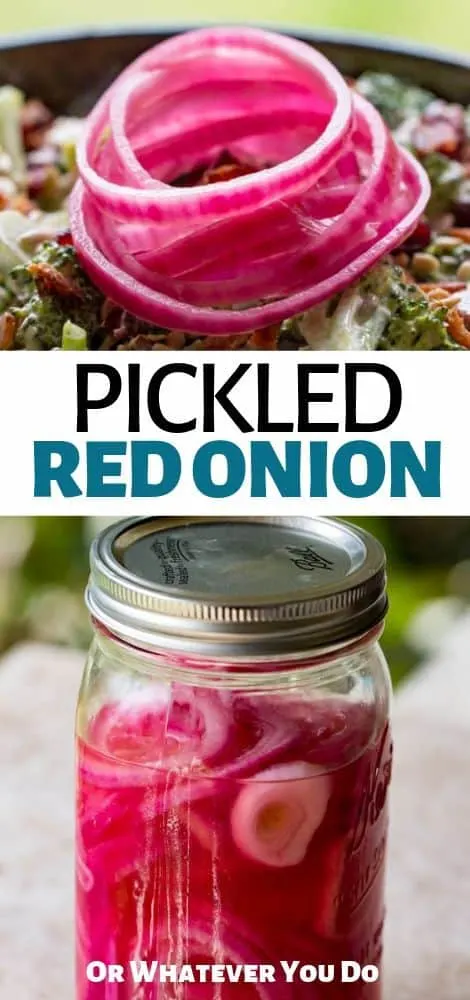 Yield: 6 servings
Pickled Red Onions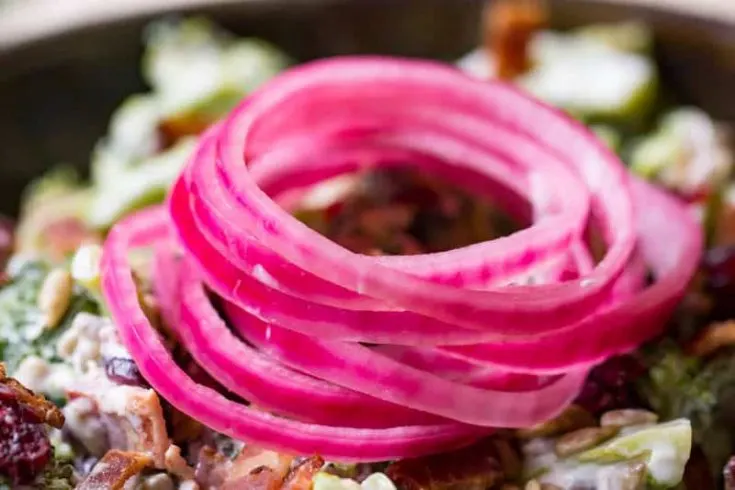 Pickled Red Onions are simple and super versatile. Use them on a variety of dishes, and keep a jar around in the fridge!
Total Time
12 hours
10 minutes
Ingredients
1 large red onion, sliced into rings
3/4 cup apple cider vinegar
1 tablespoon kosher salt
2 tablespoons sugar
Instructions
Combine the ingredients in a large mason jar. Cover and let sit at room temp for 2 hours, shaking periodically so the salt and sugar will fully dissolve in the vinegar mixture.
Place in the fridge and leave overnight.
Drain and serve.
Nutrition Information:
Yield:
12
Serving Size:
1
Amount Per Serving:
Calories:

32
Total Fat:

0g
Saturated Fat:

0g
Trans Fat:

0g
Unsaturated Fat:

0g
Cholesterol:

0mg
Carbohydrates:

7g
Fiber:

0g
Sugar:

5g
Protein:

0g