When the fajita craving hits, there is no better way to cook them than on your blazing hot Blackstone griddle! These Blackstone Steak Fajitas use a simple and quick marinade, fresh crunchy vegetables, and you can make enough to feed a small army all at once. BONUS.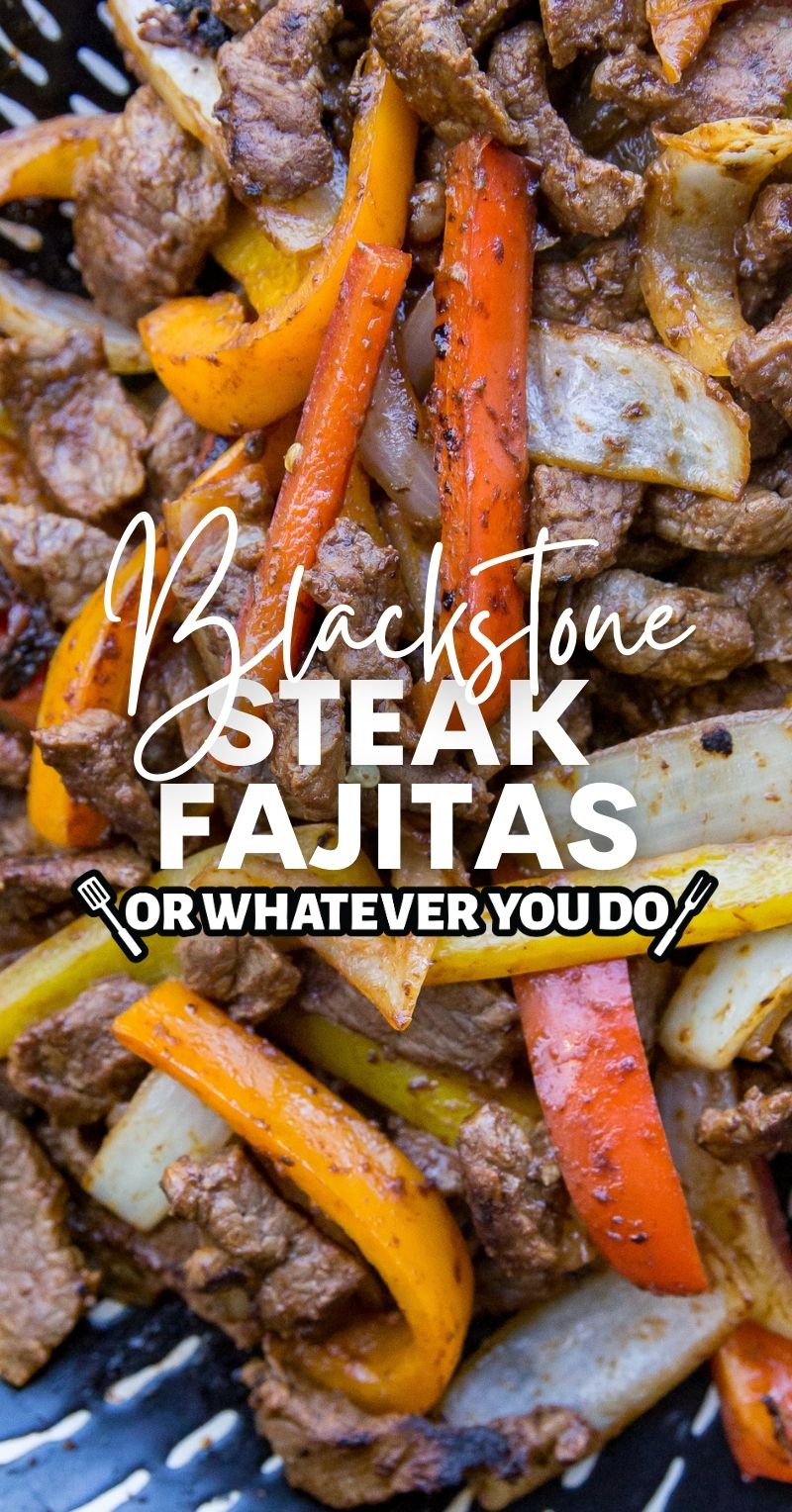 Blackstone Steak Fajitas Recipe
When it comes to Latin foods and flavors, fajitas are probably my favorite of all. Something about the sizzling platter being precariously carried through the restaurant, smoking and being loud and making everyone wish that they'd been smart and also ordered fajitas.
With your Blackstone Griddle you've got one giant tortilla platter, so making these for a crowd has never been easier.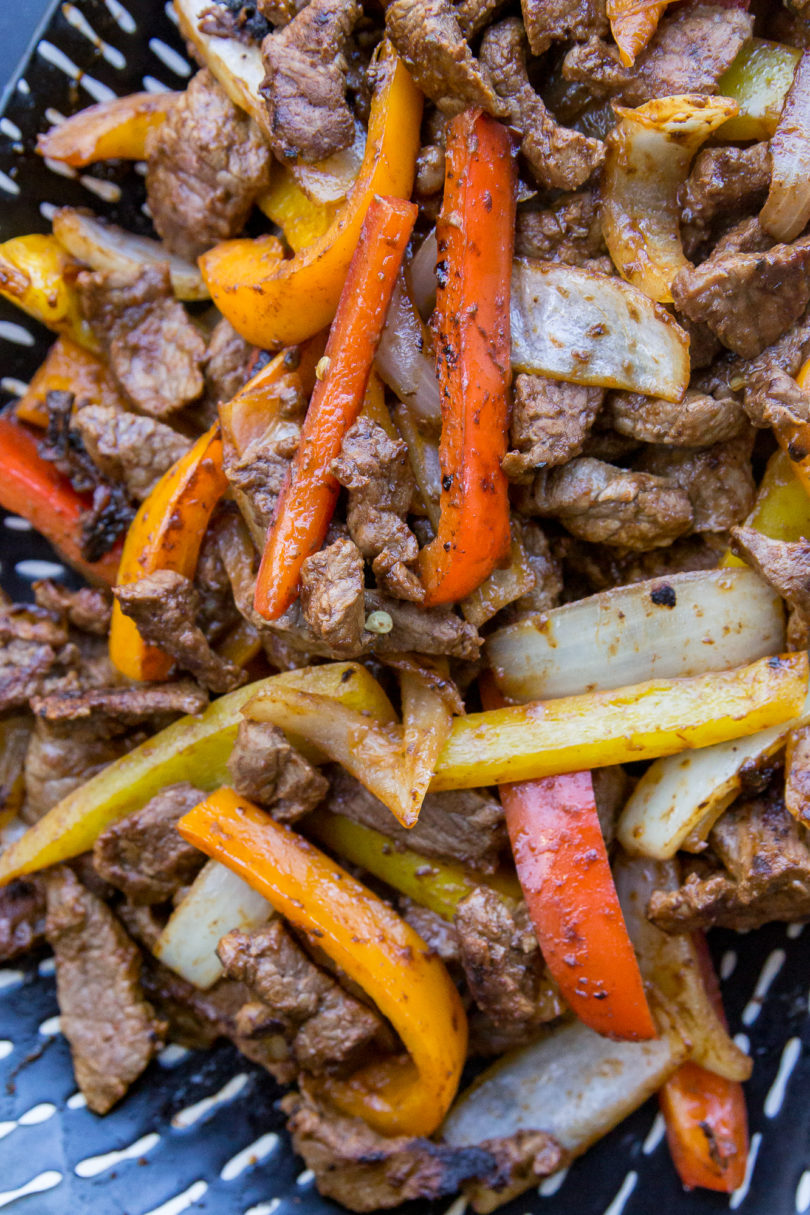 Blackstone Steak Fajita shopping list
Here's what you'll need in order to make these delicious steak fajitas! For specific amounts, make sure to check out the recipe card at the bottom of the post.
Steak
Onion
Bell Pepper
Salt & Pepper
El Pato Jalapeno Salsa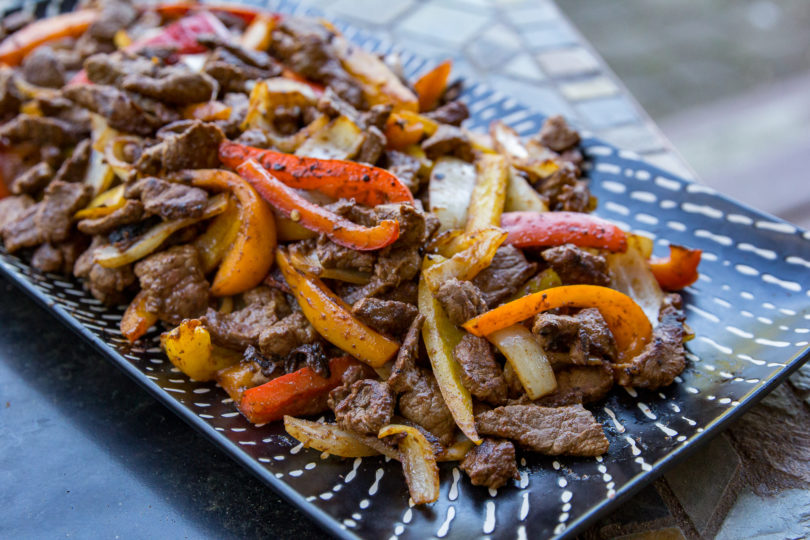 How to make Blackstone Steak Fajitas
Here's the overview of what you're in for if you make this dish. Use this to decide if it is your spouse's turn to cook, or whether you need to recruit some help. Spoiler alert, you totally don't. These are simple to whip up!
Slice & Season
Slice your steak against the grain and season with the salt, pepper, and some of the fajita seasoning. Slice your vegetables up too while you're at it.
Preheat & Cook
Preheat your griddle over high heat for 10-15 minutes. Cook your steak and vegetables for 4-5 minutes, or until the steak is cooked to your desired doneness level and the vegetables are tender-crisp.
Serve
Heat your tortillas on the griddle and serve with the steak, vegetables, and all of your favorite fixings.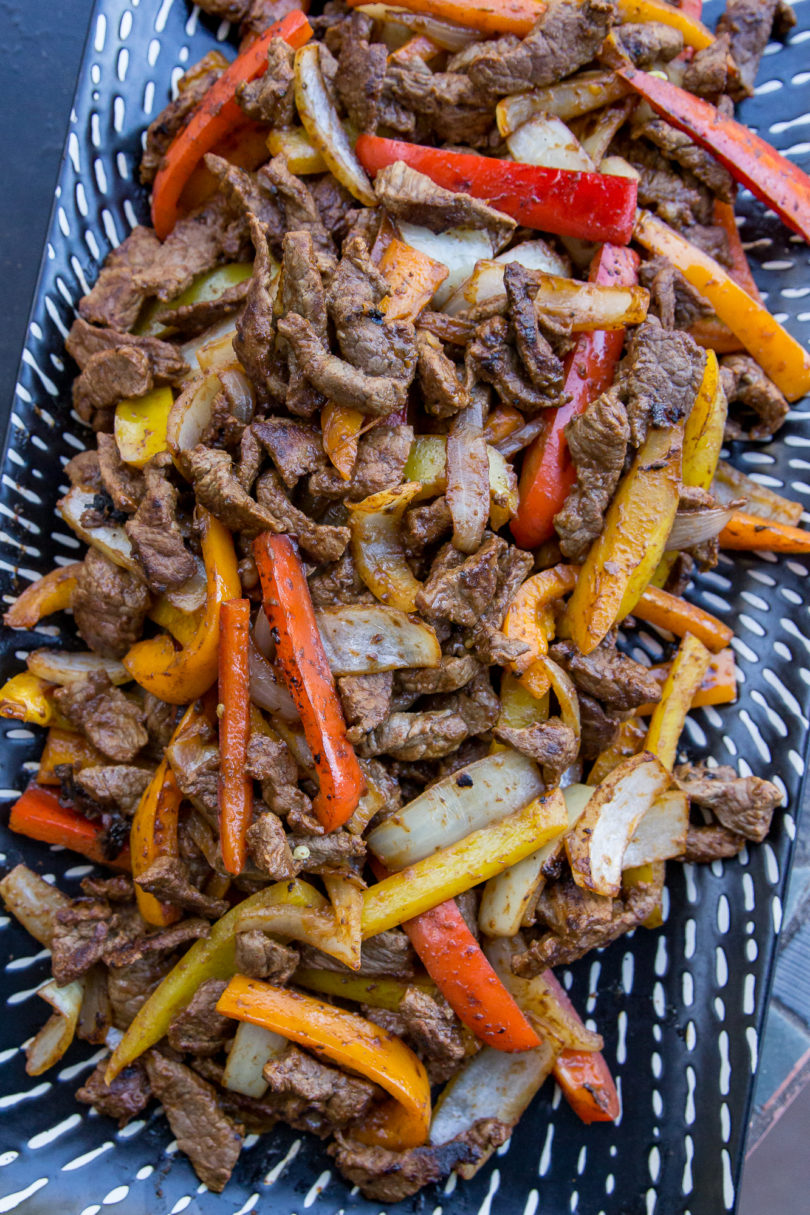 Let me introduce you to your new favorite taco plate
I'm obsessed with these. They make taco night SO MUCH easier here, especially for the kids in the family who can't roll their own soft shells or load their own tacos up without help.
They come in a shareable multi-pack, are dishwasher safe, and are going to be worthy of that space in your kitchen cabinets!
Steak Fajitas FAQ
What types of steak will work for steak fajitas?
Skirt and flank steak are the most popular cuts to be used for fajitas. My favorite is skirt! That being said, I've successfully used Flat Irons, New York Strips, etc. Anything tender and able to be cooked hot and fast will work well for this recipe.
How do you store leftover fajitas?
Leftovers should be stored promptly after serving in an airtight container in the fridge for up to 3 days. I don't recommend freezing cooked fajitas, but you could freeze uncooked, seasoned and sliced fajita meat to make things easier for you next time.
What's the best way to reheat fajitas?
This isn't the ideal dish for reheating, but sometimes stuff happens and we overestimate the hunger of our family. If you do find yourself with leftovers, reheat them gently. Either with short bursts in the microwave, or in a sous vide machine or pan of hot water in a well-sealed baggie. You don't want to make the steak tough and chewy.
What if you don't have a Blackstone?
Well – if you are able, get one! If not, you can use a cast iron pan on the stove for these. Your people will just be either eating in batches or you'll have to hold over the cooked foods in a warm oven. It is much easier with more cooking space and that powerful gas-powdered heat!
Where's the best place to buy steaks in the mail for fajitas?
These last couple of years I've fully embraced the mail-order-meat phenomenon that's been sweeping the country. There are a few that we order regularly from and love.

First, there's ButcherBox. You subscribe to a monthly box, choose the size and what meats you want and any member's-only add-ons you want, and you're good to go!

We also got really into Snake River Farms this year. Their American Wagyu is incredible, and I wouldn't hesitate to splurge a little and use some tender Wagyu for fajitas. Pick up a Wagyu Skirt Steak and thank me later.

Recently we tried out a brand new-to-me service called Crowd Cow, and were really impressed with the quality of the meat from there.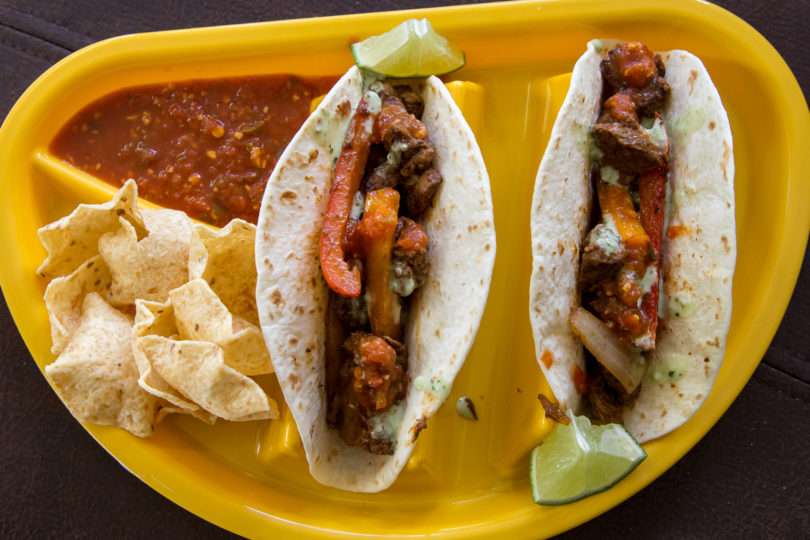 More fajitas to love!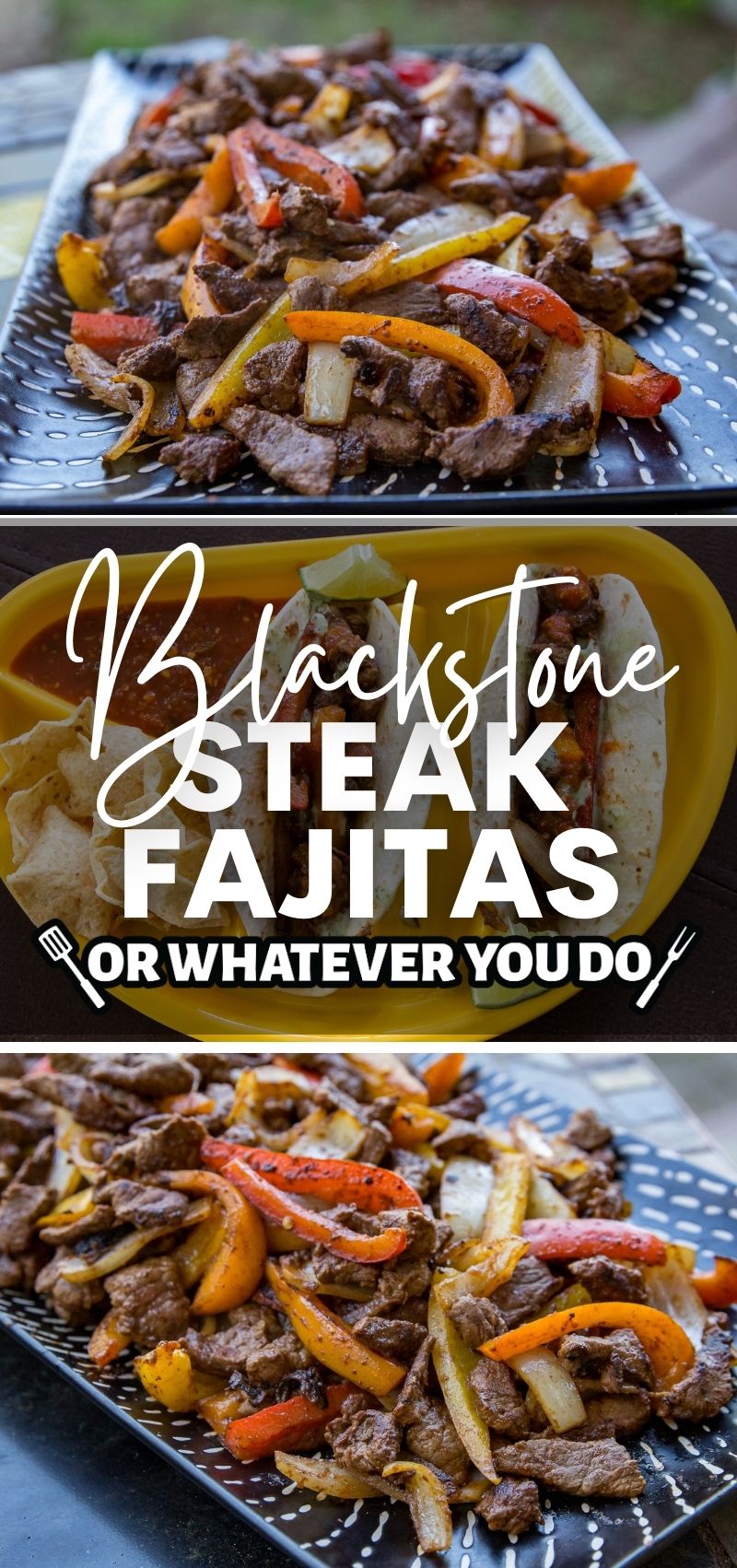 Some of our content is only for OWYD+ members. Membership is FREE! Find out more here, or sign up below!
Yield: 12 servings
Blackstone Steak Fajitas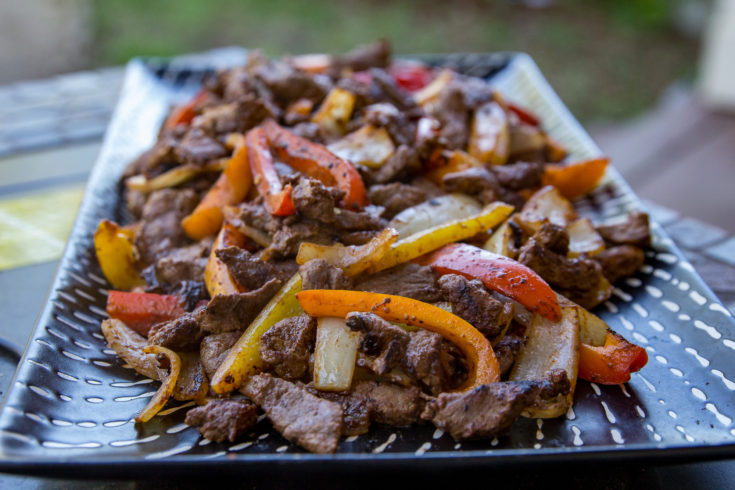 Fresh, tender steak quickly marinated before being cooked on a hot gas griddle. Serve with seared bell peppers and onions and all of the tortillas you can handle.
Ingredients
6 pounds steak*
2 teaspoons salt
1/2 teaspoon pepper
2 tablespoons The Spice Guy Fajita seasoning**, divided
1 small can El Pato Jalapeno Salsa
3 bell peppers, multi-colored
1 large onion
3 tablespoons avocado oil
tortillas, of your choice
Instructions
Slice your steak into thin strips again the grain. Season with salt, pepper, and 1 1/2 tablespoons of the Fajita seasoning. Place it in a container or plastic baggie. Add in the El Pato Jalapeno Salsa and let sit for 30 minutes.
While your steak is sitting, slice your vegetables and season with the remaining Fajita seasoning.
Preheat your Blackstone griddle over high heat for 10-15 minutes. Lay down your oil and spread it out evenly before putting down your meat on one side of the griddle and veggies on the other.
Cook the steak, flipping occasionally until it is at your desired level of doneness. Remove the vegetables from the griddle when they are still tender-crisp.
Heat your tortillas on the griddle briefly before serving with all of your favorite fajita toppings.
Notes
Steak choices:
We like flank and skirt steak best for this, but there are a lot of different options that work. Sirloin, flat iron, and new york strip are all good options!
Fajita seasoning:
If you don't have the called-for fajita seasoning on hand, your favorite brand will do! If you'd rather mix up your own blend, I suggest using a combination of chili powder, jalapeno powder, salt, pepper, garlic powder, and onion powder.
Recommended Products
As an Amazon Associate and member of other affiliate programs, I earn from qualifying purchases.
Nutrition Information:
Yield:
12
Serving Size:
1
Amount Per Serving:
Calories:

688
Total Fat:

46g
Saturated Fat:

17g
Trans Fat:

0g
Unsaturated Fat:

22g
Cholesterol:

220mg
Sodium:

512mg
Carbohydrates:

6g
Fiber:

1g
Sugar:

1g
Protein:

60g
Nutrition data provided here is only an estimate.