Fire up your Traeger, or whatever smoker you've got. Today we're making a big batch of Smoked Tomatillo Salsa that will blow you away. The rich flavor from the fresh vine-ripened vegetables meets the simplicity of wood-fired cooking to make something more than the sum of their parts. You and your family will love this easy recipe, and will want a batch of it regularly for dipping with chips, loading onto tacos or burritos, or whatever else you can throw at it!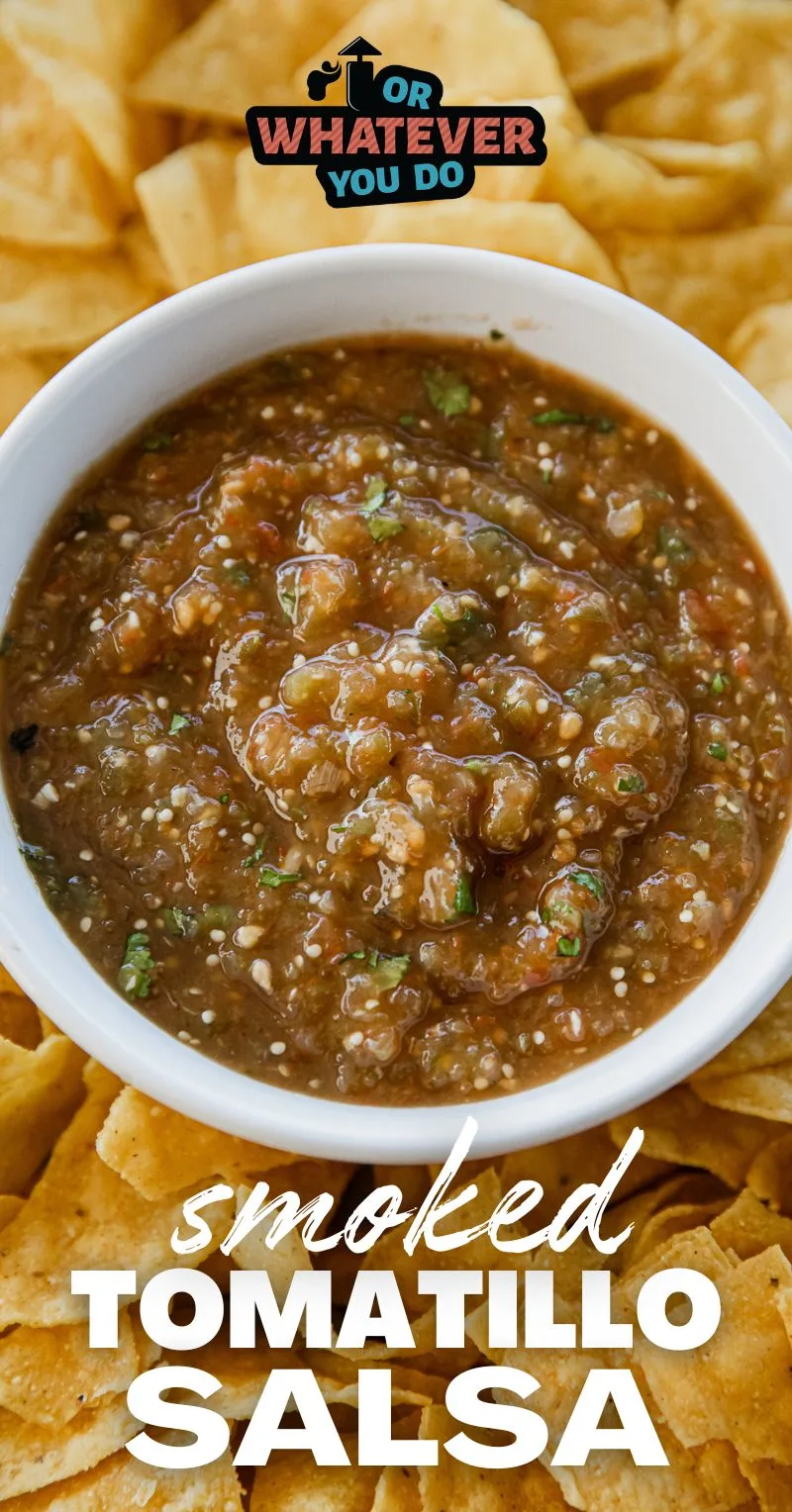 Smoked Tomatillo Salsa Recipe
Homemade salsa isn't something I really got into until recently. I love the salsa we get at our favorite Mexican restaurants, but struggled to find a good substitute at the grocery store when we didn't want to go out to eat.
Turns out most jarred salsas are FAR from what you are getting at the local taqueria, and a lot of that has to do with the process that is required for cooking and canning the salsa to make them shelf stable.
This smoked tomatillo salsa recipe is fresh and delicious, with just the right hit of heat to satisfy that part of your taste buds. It is NOT shelf stable or suitable for canning, but it does keep in the fridge for a week and also freezes pretty well too.
The beauty of this recipe, and all my salsa recipes, is that you can really customize it easily to suit your own tastes. Love tomatoes? Add some more! Obsessed with garlic? Throw an extra 5-6 cloves in the batch. Experiment and make it your own!
Get all of my Traeger Recipes here!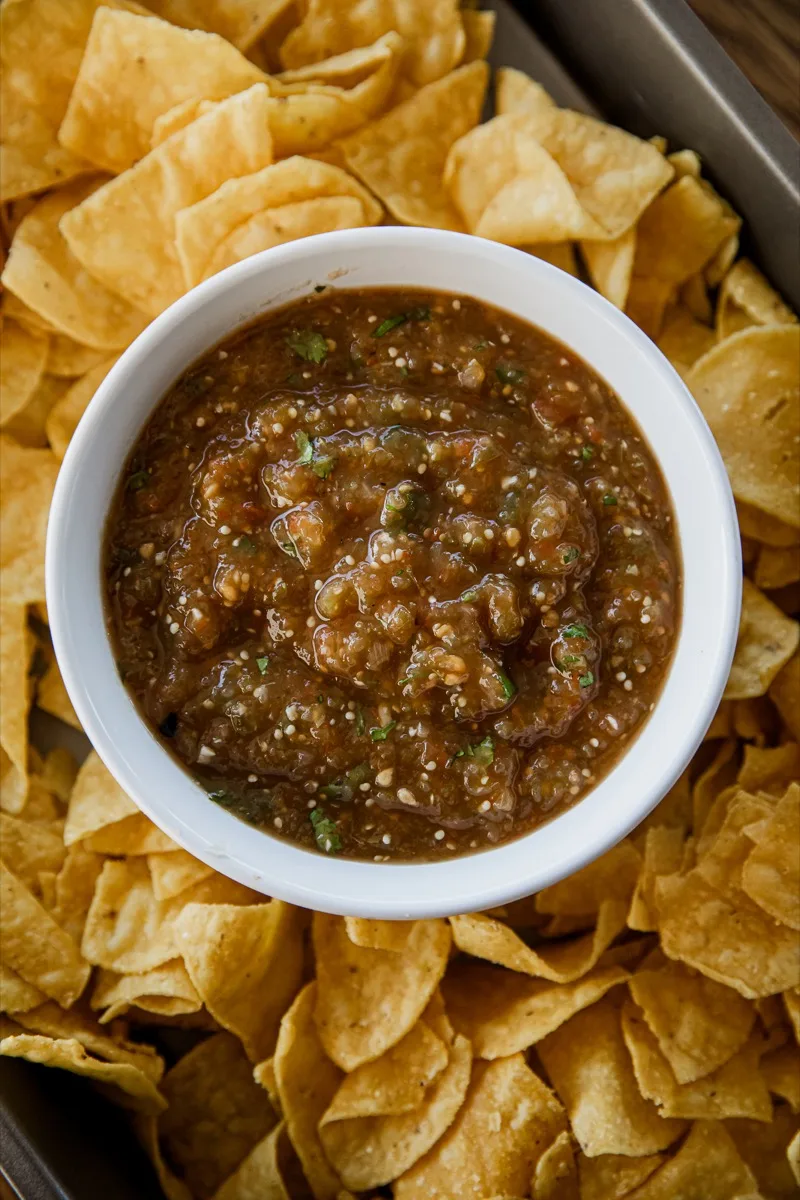 Smoked Tomatillo Salsa shopping list
Wondering if you have to hit the store? Here's the list of items you'll need to make this recipe. For specific amounts, please refer to the printable recipe card at the bottom of the post.
Tomatillos
Roma tomatoes
Yellow onions
Garlic
Jalapeño peppers
Limes
Salt
Cilantro
Get 75+ of my favorite Traeger Recipes here!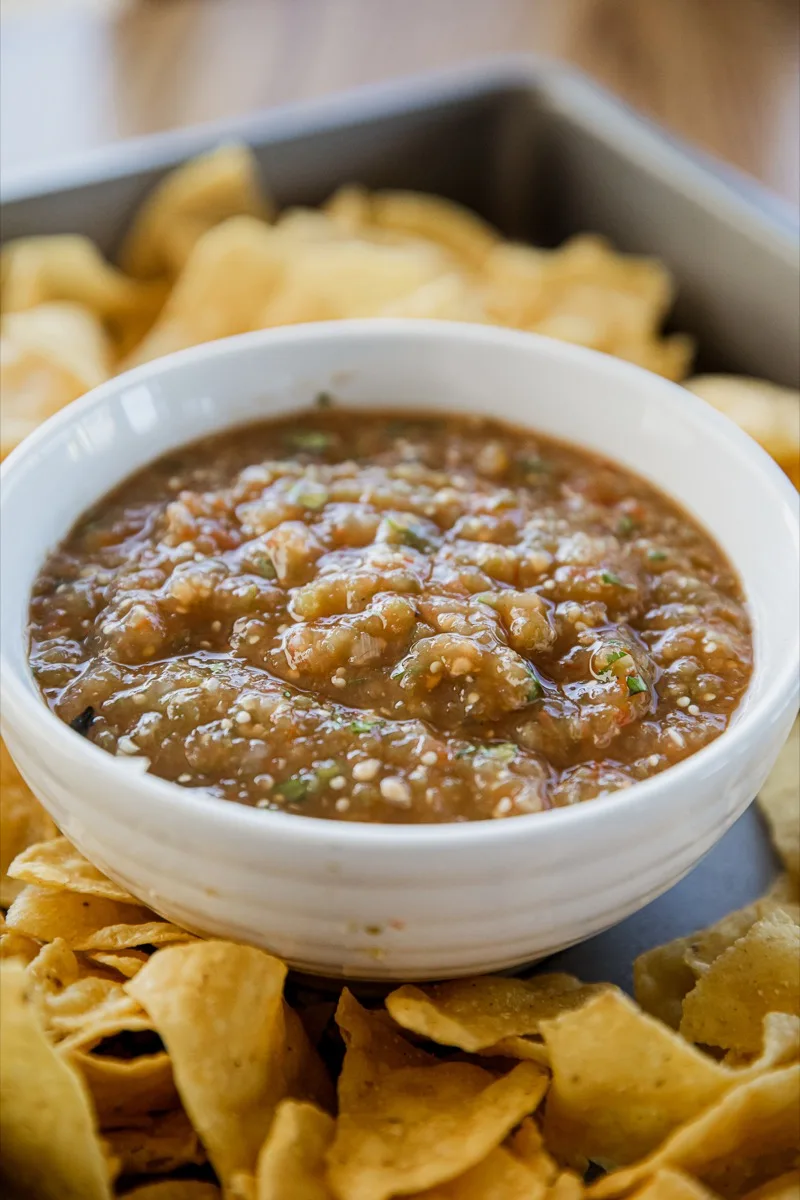 How to make Smoked Tomatillo Salsa
This is just the overview so you can see what you're actually getting into here. When you are cooking, you'll want to use the full recipe at the bottom of the page.
Preheat
Fire up the smoker and preheat to 175°F.
Prep
Wash and prep the vegetables and place onto a prepared baking sheet.
Smoke
Smoke the vegetables for 30 minutes.
Grill
Turn up the heat on the grill to 325°F. Cook the vegetables for another 30 minutes.
Blend
Put all the grilled vegetables into a blender and pulse until combined.
Chill
Put the blended salsa in the fridge, covered. Chill for at least 4 hours before serving.
Enjoy
Enjoy with chips, tacos, or whatever else you can think up!
Try our original Traeger Smoked Salsa too!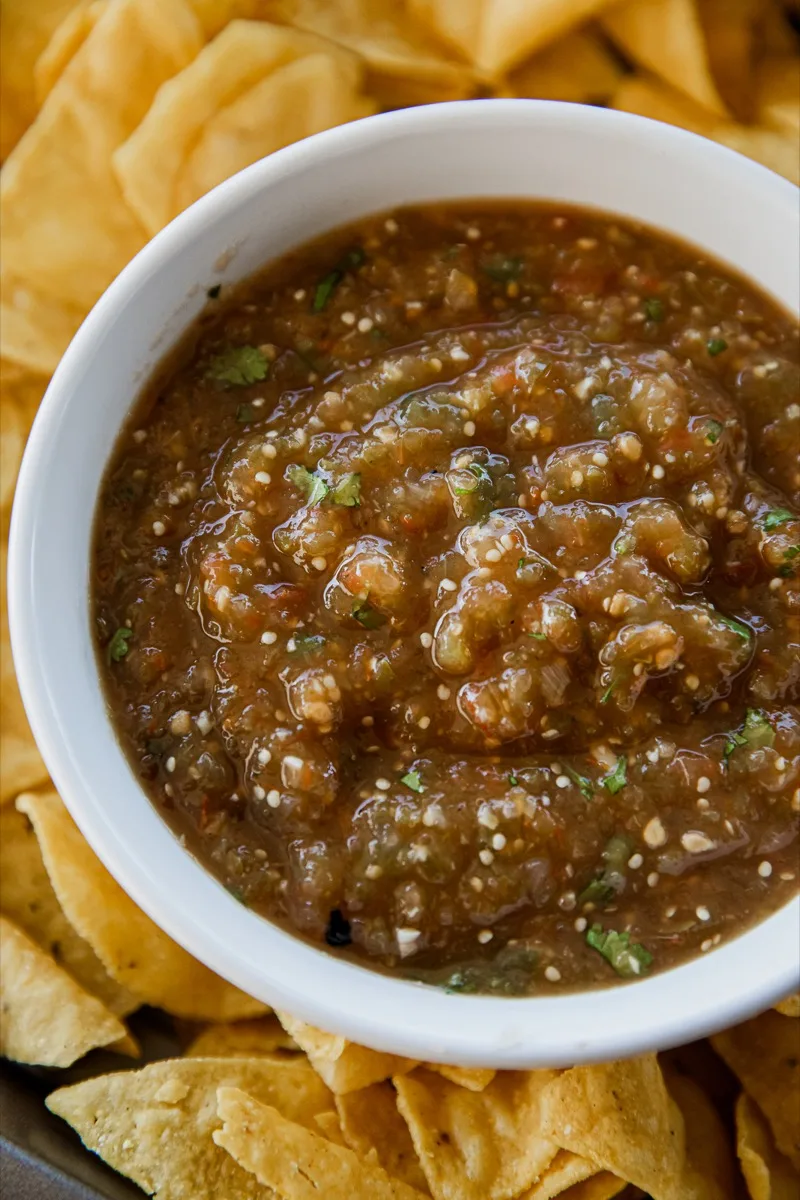 Smoked Tomatillo Salsa FAQ
Can this recipe be made in advance?
Yes! This is a great recipe to make ahead of time. You can make this up to 2-3 days in advance, in fact, and it'll only get better tasting. With fresh ingredients, it will mold after a while though, so plan on making only as much as you'll eat in 5-6 days, or freeze the excess.
What's the best way to store the extras?
Store what you can eat within 5-6 days in the fridge in a sealed container. A canning jar would be a great spot, but please be aware…this recipe is NOT safe for canning as it has NOT been tested by the appropriate facilities. If you want to make a big batch, keep the excess in the freezer instead.
Are there any recommended additions or substitutions?
Sure! You can adjust this to suit your own tastes. If you love garlic, toss in a few extra cloves. Want to kick the heat up? Use some spicier peppers in the mix.
Try our Smoked Salsa Verde too!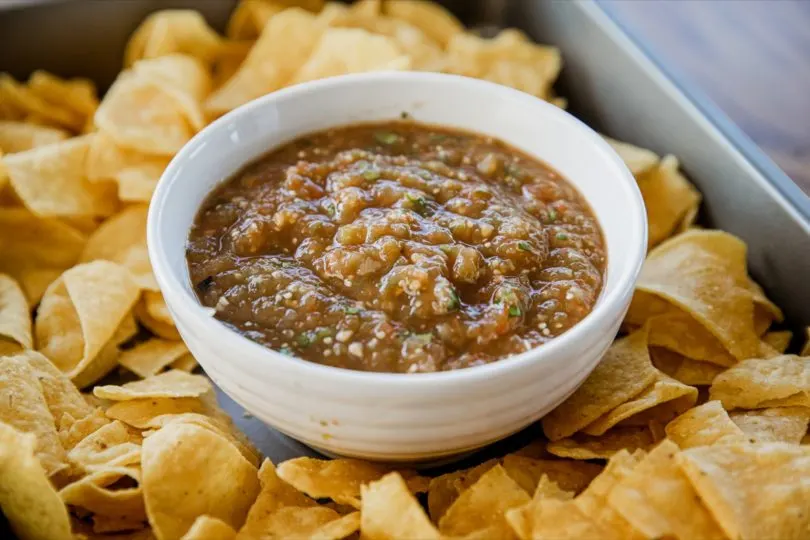 More great spicy recipes to love!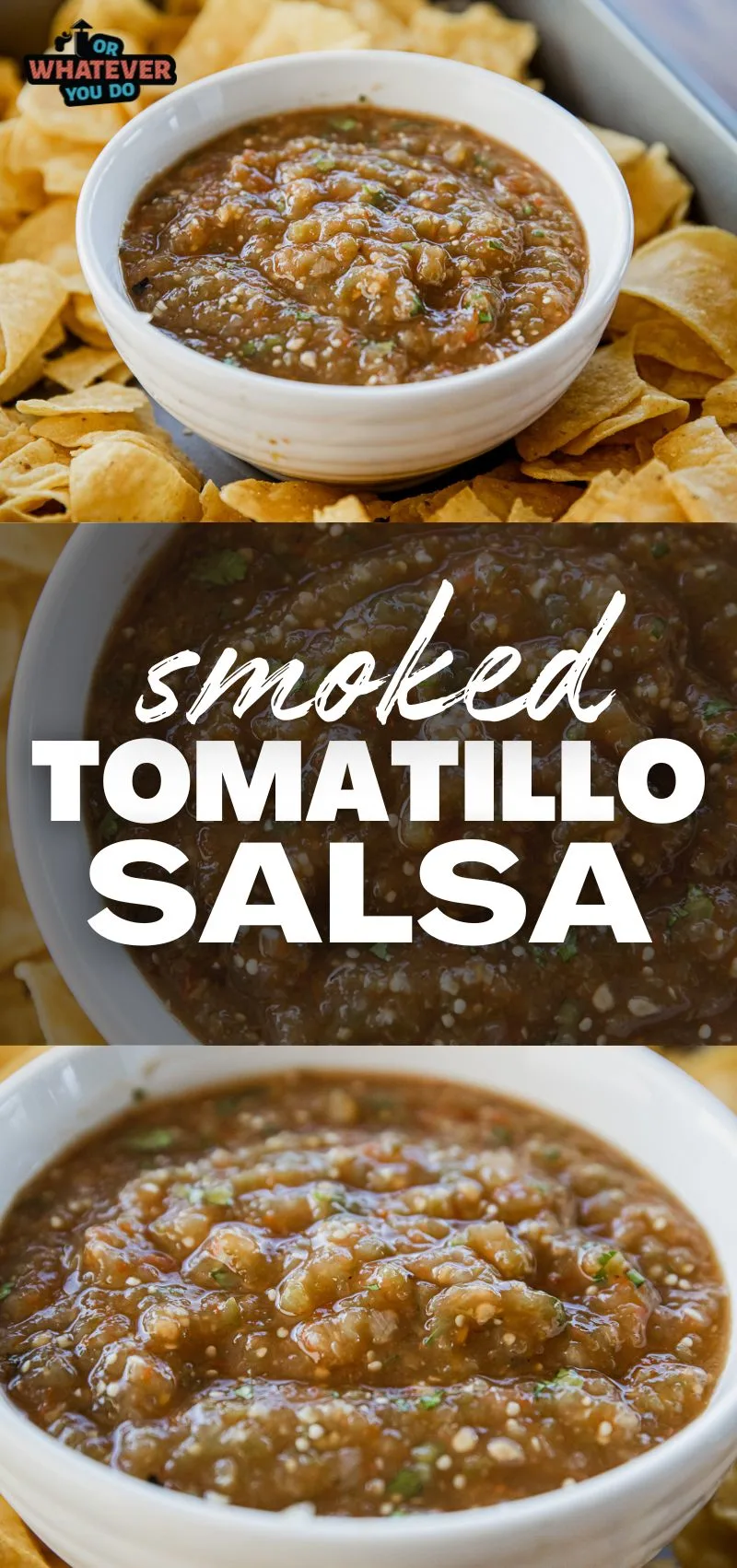 Some of our content is only for OWYD+ members. Membership is FREE! Find out more here, or sign up below!
Yield: 12 servings
Smoked Tomatillo Salsa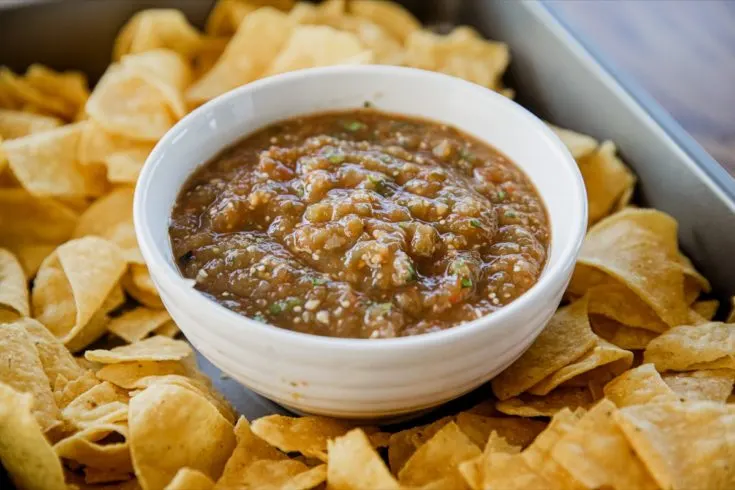 This easy-smoked salsa has just the right amount of heat and is made with fresh tomatillos and tomatoes.
Total Time
1 hour
5 minutes
Ingredients
15 tomatillos
5 roma tomatoes
2 medium yellow onions
8 cloves garlic
4 jalapeño peppers
3 limes
1 tablespoon salt (start small and work up if you are sensitive to sodium)
fresh cilantro
Instructions
Wash your vegetables and prep a baking sheet with a light coating of cooking spray or parchment paper.
Preheat your smoker to 175°F.
Smoke the vegetables for 30 minutes. Turn the heat up to 325°.
Let the vegetables continue to grill for an additional 30 minutes.
Put everything in the blender and pulse until combined. Do it in batches if you don't have a large blender.
Taste and add additional salt as needed.
Chill for several hours before serving for the best flavor.
Recommended Products
As an Amazon Associate and member of other affiliate programs, I earn from qualifying purchases.
Nutrition Information:
Yield:
12
Serving Size:
1
Amount Per Serving:
Calories:

35
Total Fat:

1g
Saturated Fat:

0g
Trans Fat:

0g
Unsaturated Fat:

0g
Cholesterol:

0mg
Sodium:

532mg
Carbohydrates:

8g
Fiber:

2g
Sugar:

4g
Protein:

1g
Nutrition data provided here is only an estimate.