This easy Beef Stroganoff Recipe is one of my favorite classics and is a family favorite dinner. Tender and flavorful steak, onions, mushrooms, and tender pasta smothered in a sherry-based sauce. Your family will thank you for such a wholesome dinner.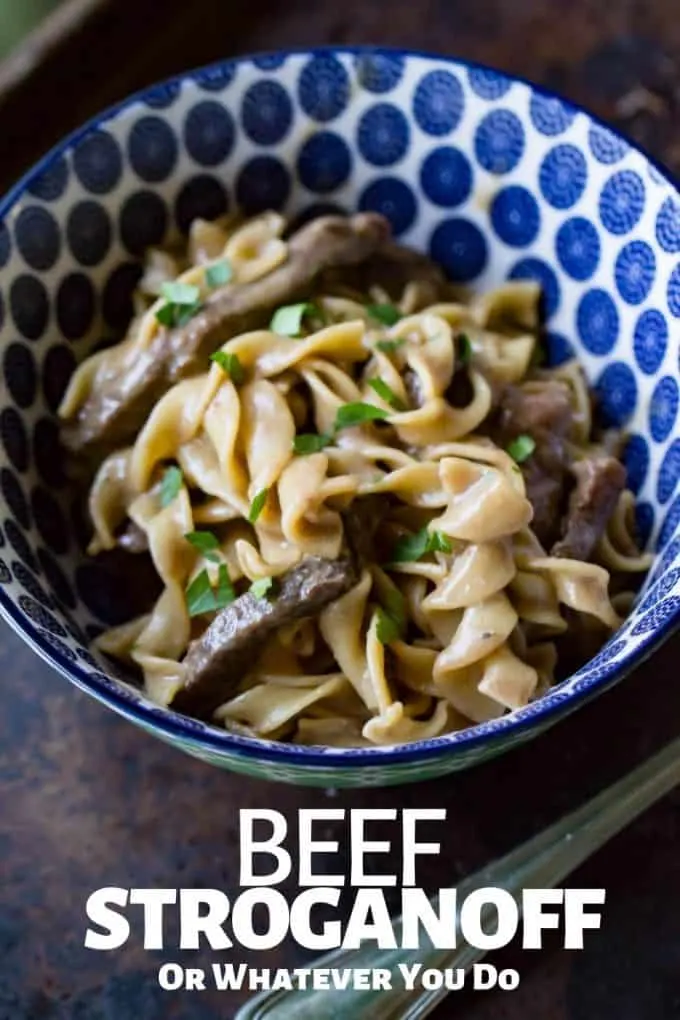 Homemade Beef Stroganoff
Serve up a plate of this classic family favorite dinner, Beef Stroganoff. Tender and flavorful steak, onions, mushrooms, and tender pasta smothered in a sherry-based sauce. Your family will love this classic wholesome dinner.
Beef stroganoff is a total weakness of mine! I reach for steak because when doesn't steak make everything better? This is a classic recipe with sour cream, beef, and sherry and is homemade without any "cream of" soups.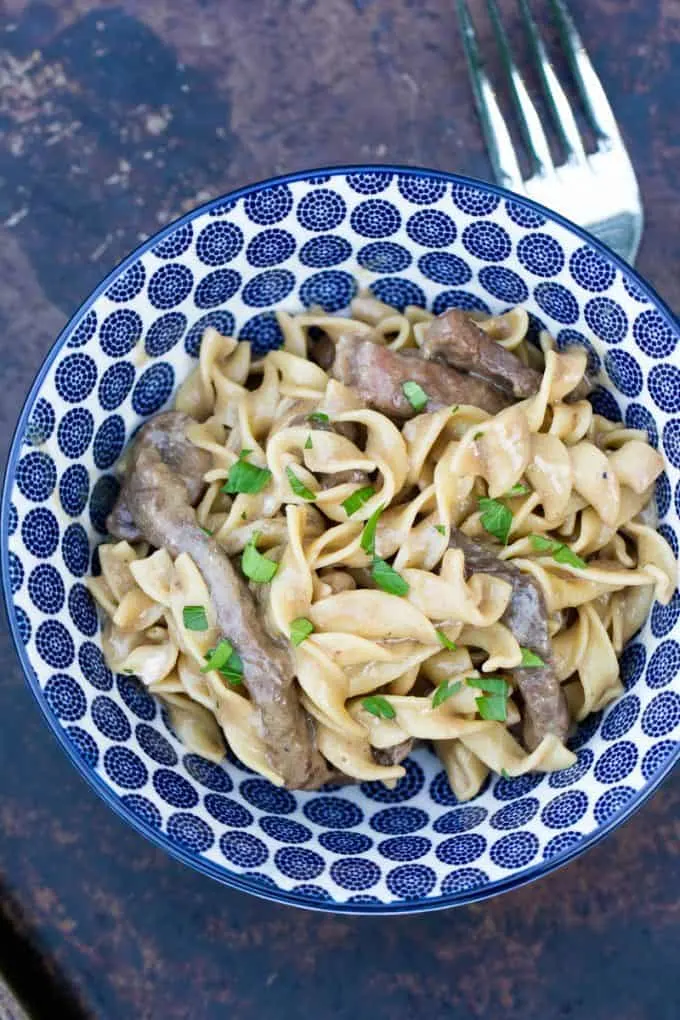 Easy Beef Stroganoff
This simple beef stroganoff recipe is a more traditional version, but if you are a ground beef fan, try my Homemade Ground Beef Stroganoff.
French Onion Beef Stroganoff and Stroganoff Soup are also outstanding contenders when it comes to the beef stroganoff bandwagon!
Beef Stroganoff is a recipe that comes from Russia originally. Depending on where you live, you will find the preparation and ingredients used in this homestyle dish varies. Traditionally in the United States, many use thin steak strips, onions, and mushrooms with a sour cream based gravy.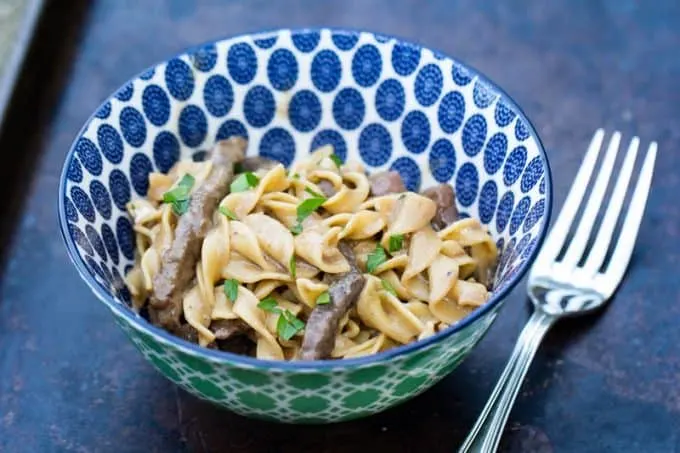 What Cut Of Steak is Best for Beef Stroganoff
Generally, I reach for a quality steak like a flat iron or a ribeye. Any higher quality steak that you'd generally serve as a grilled or pan-fried steak would work.
My favorite steaks for beef stroganoff are:
Flat Iron
Ribeye
Sirloin
Tenderloin

Low and slow or fast and furious?
Beef Stroganoff needs to be done one of two ways. You either need to buy a really GOOD cut of steak and then cook it quickly and to medium temperature so that the center is still tender and pink, or you need to buy lower-quality steak and then cook it low and slow for a LONG time.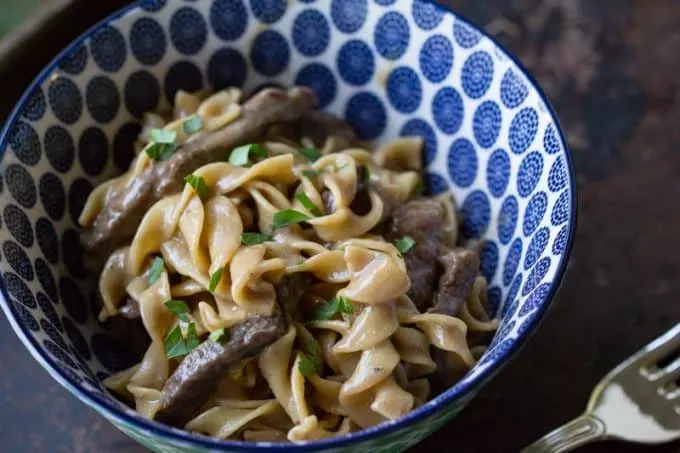 How to Cut Steak for Beef Stroganoff
No matter what kind of steak you guy, you'll need to make sure to cut against the grain. This will help to break down those fibers and tenderize the meat, so it isn't as tough or chewy when you go to eat.
Look for lines running through the steak, and then cut across those and not with them.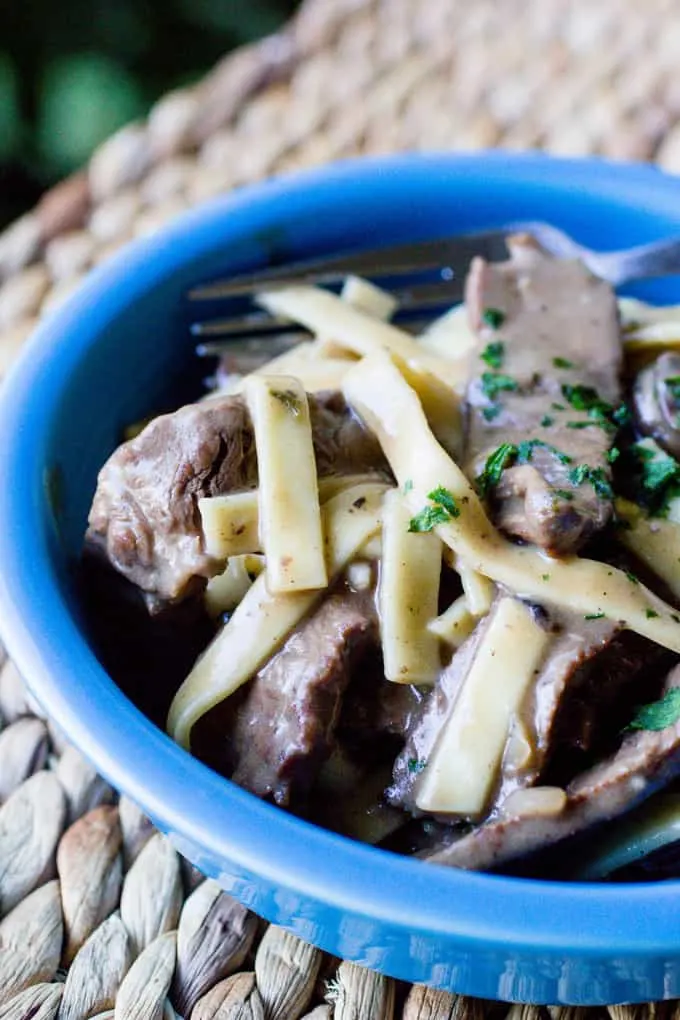 What Should I Serve With My Beef Stroganoff Recipe?
I usually serve our stroganoff with whatever we have on hand. I might roast up some veggies from the produce drawer or make some rolls. It is a great way to soak up any extra juices left on the plate!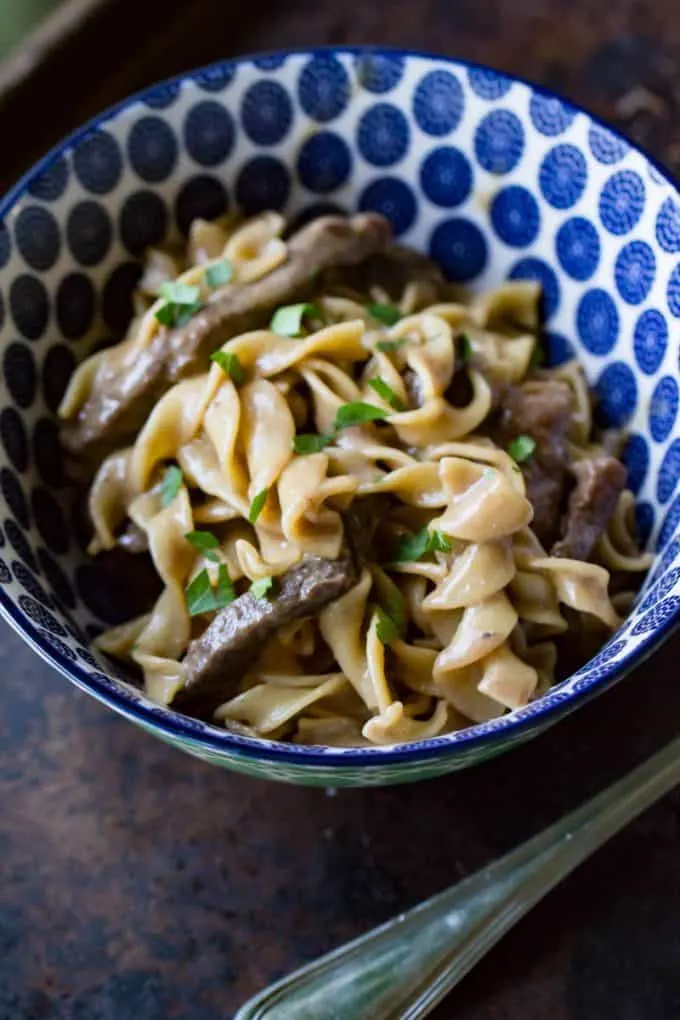 How Long Does Beef Stroganoff Last in the Fridge?
Store your leftover stroganoff in the fridge for up to three days. If you don't think you will eat your leftovers in time, then just freeze what you won't eat.
What I like to do is meal prep for a few days. I put some of the stroganoffs in single-serving-sized plastic containers and toss in the fridge. Then for quick lunches during my busy day, I can reheat and eat a savory meal.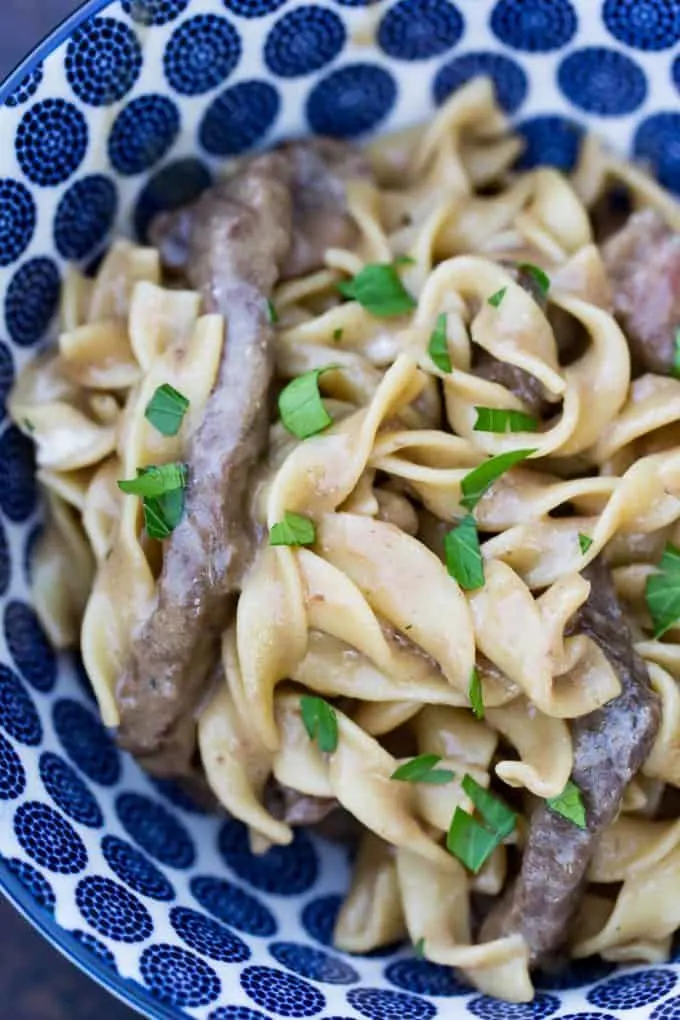 Can You Freeze Beef Stroganoff
You can freeze beef stroganoff, just make sure when you go to reheat that you don't overcook the steak or it can make it a bit tough.
Freeze in an airtight container and for up to three months. Thaw in the fridge the night before, and then warm up on the stove or microwave.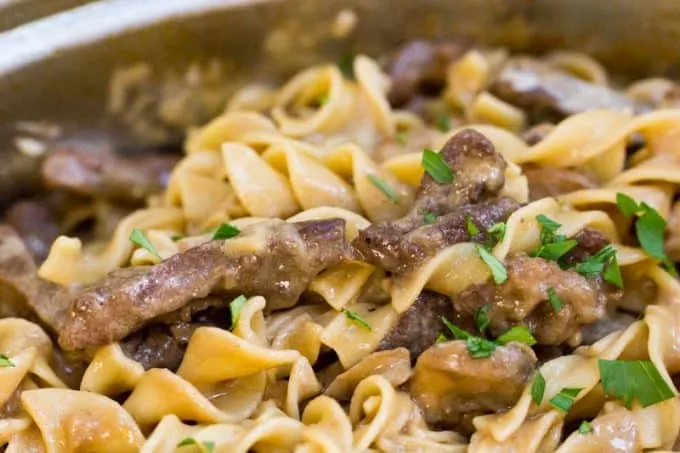 Best Pasta To Use For Beef Stroganoff Recipe
Egg noodles are always what I recommend. Tender noodles that are made to soak up the sauce, so they offer incredible flavor in each bite.
Make sure to salt the water well or your end result will end up much less flavorful than you'd like!
If you are not a fan of egg noodles or if you need a gluten-free option, you can sub in any variety you'd like and it will still be delicious.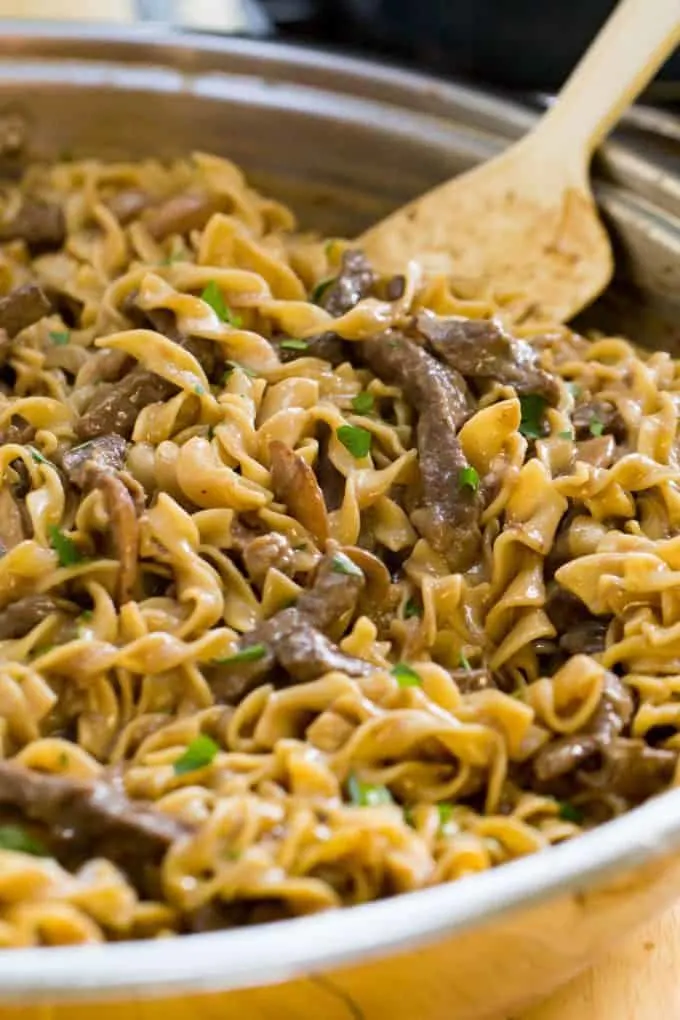 Can I Leave The Noodles Out Of The Stroganoff Recipe?
Absolutely!
Feel free to leave the noodles out of the recipe if you are not a fan or looking to cut out some carbs. The noodles are optional and make it a heartier dish, but it is not required.
If you skip noodles but want something to bulk up the meat, consider doing cauliflower rice, regular rice, or even just mashed potatoes. Those all go wonderfully with the meat and sauce.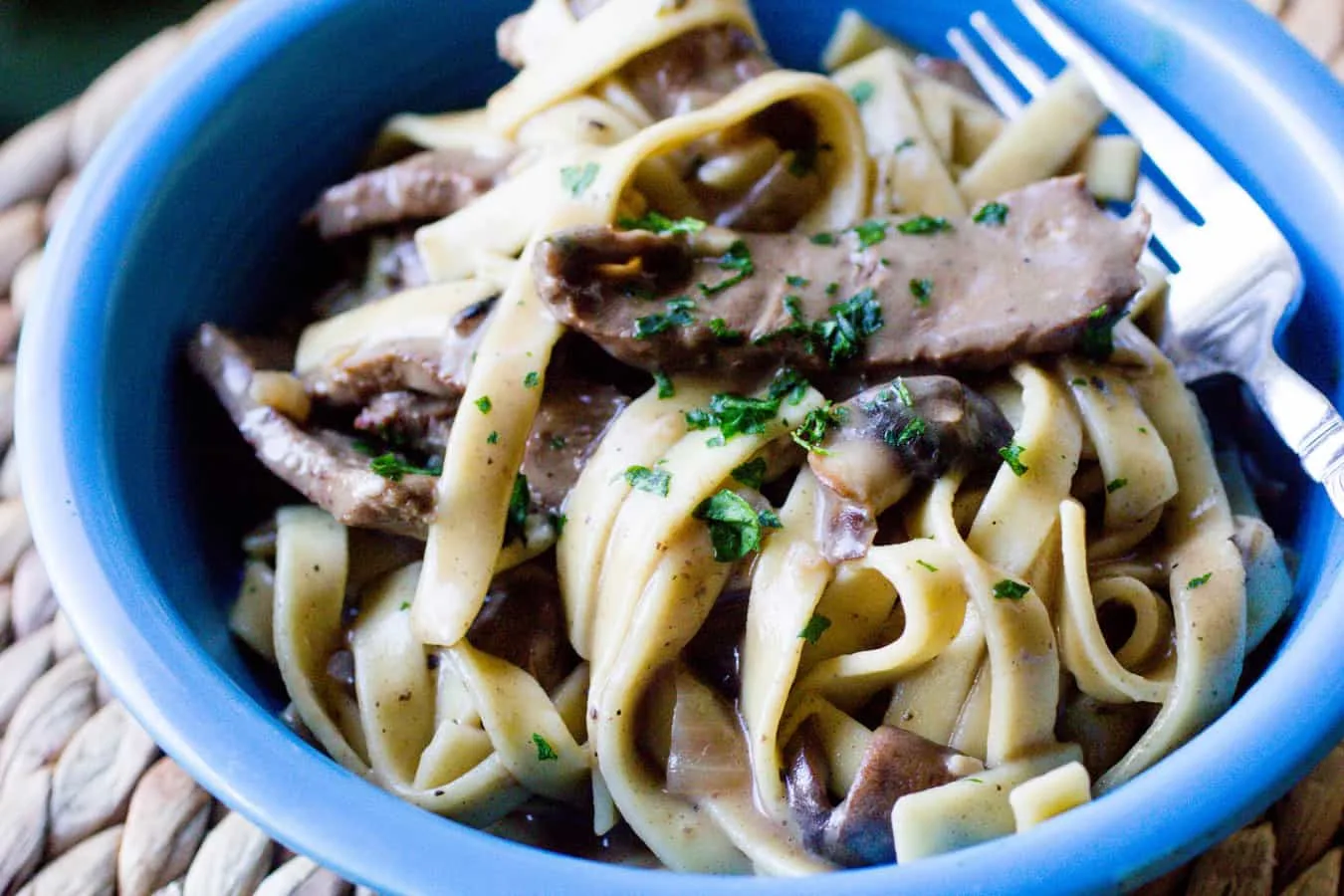 How to make homemade beef stroganoff
Buy GOOD steak
Don't overcook
Use real ingredients for the sauce
Salt your pasta water well
Start off by buying a nice flat iron steak. Other cuts will work well, but make sure to cut across the grain.
Get your mushrooms and onions sauteing in a pan until the onions are translucent.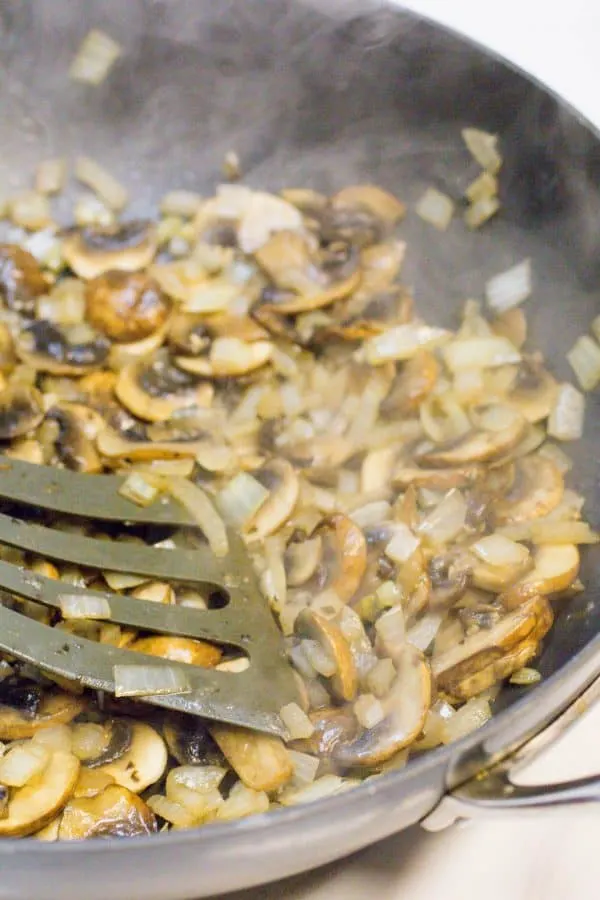 Once that is done, add in the extra butter and flour and stir to remove all of the lumps. Remove to a separate bowl and set aside.
Next, get the beef cooking!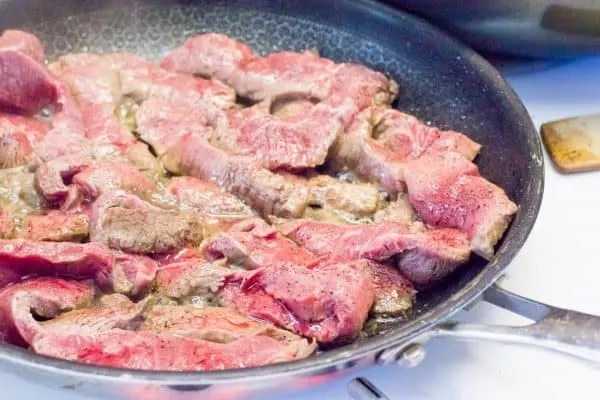 The pan needs to be nice and hot before you put the beef in. You want some color because when it comes to meat dishes color = flavor.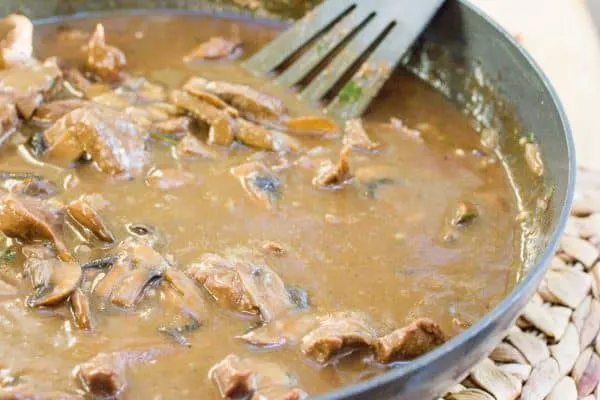 Once the steak has color on both sides, deglaze the pan with your sherry. Follow that up with the onion mixture and the beef broth. Stir really well to combine the sauce, and bring up to a simmer and allow to thicken.
You're going to love how this comes together! It is one of those dishes I make over and over again, and even though it has, *gasp* MUSHROOMS in it, the kids will still eat it.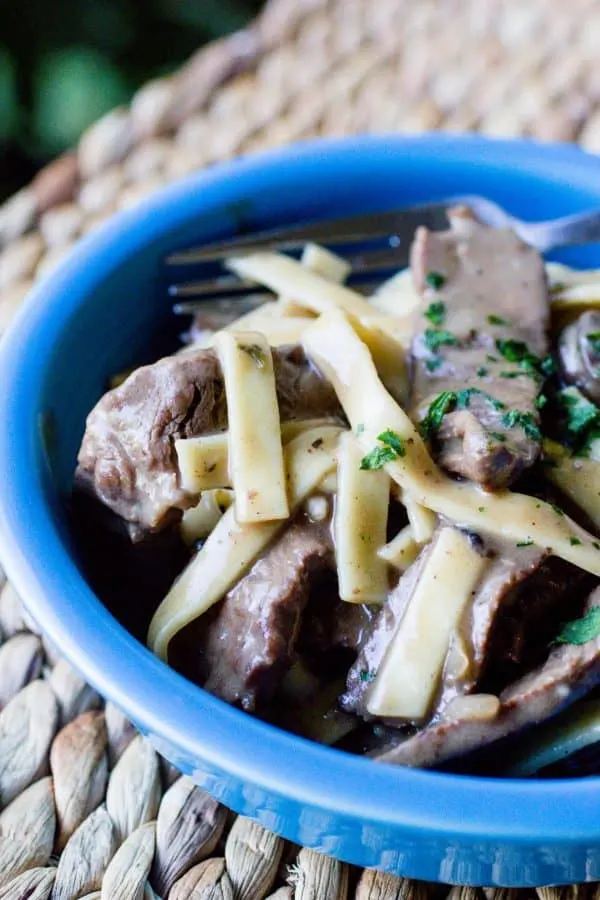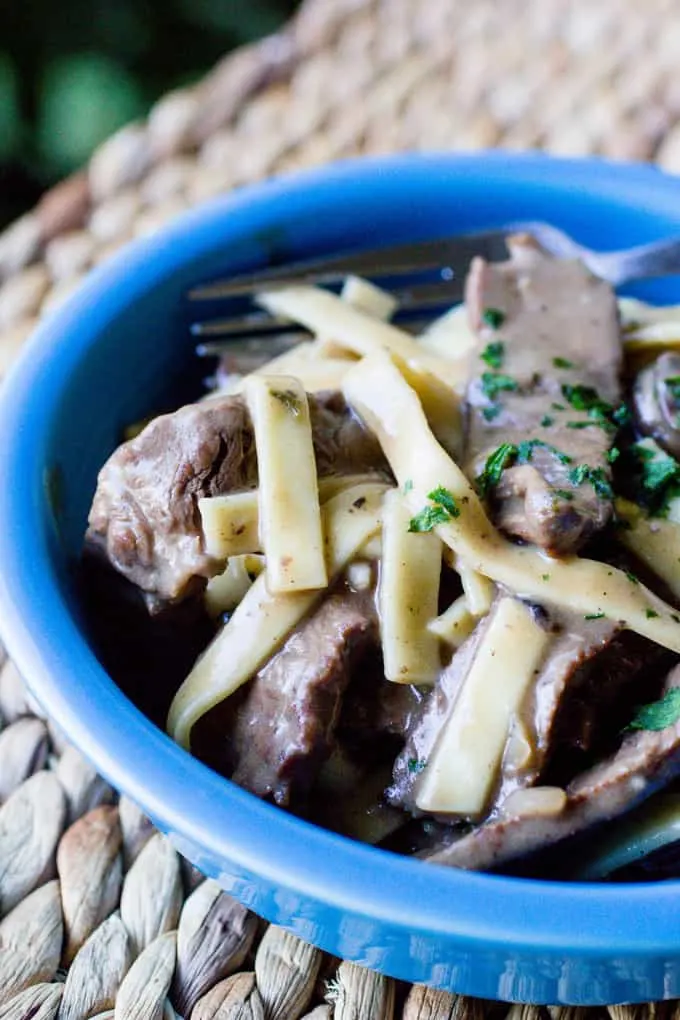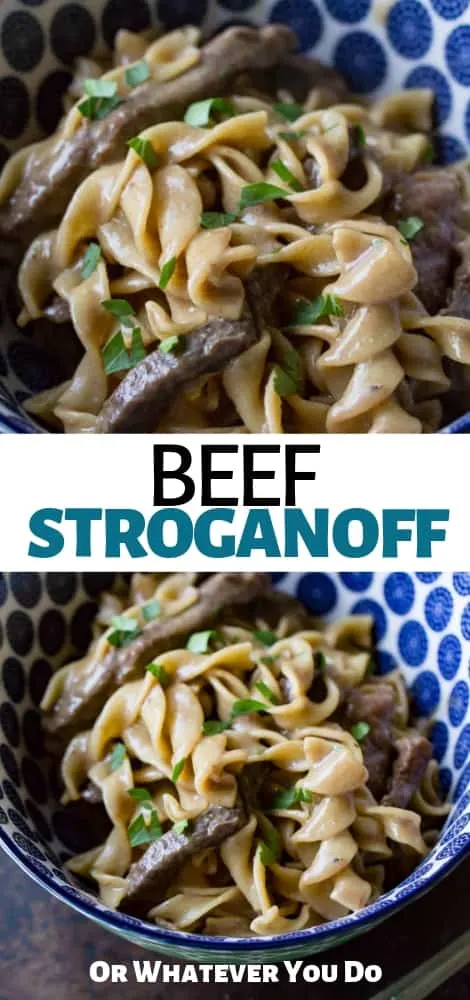 Yield: 8 servings
Beef Stroganoff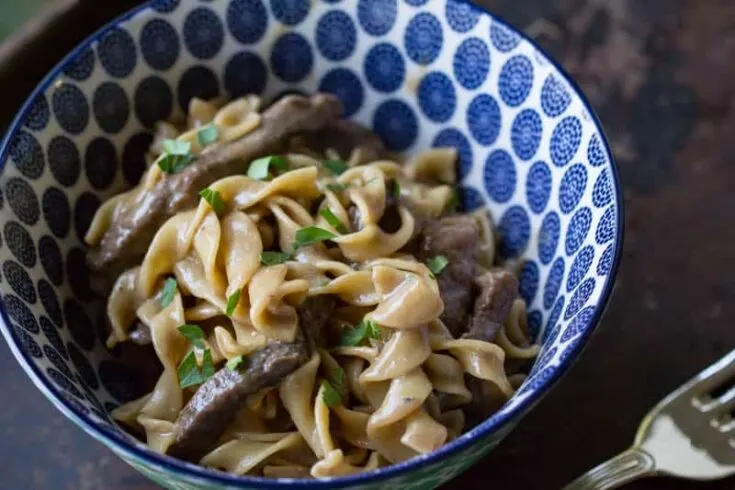 Easy, delicious comfort food! Tender beef in a rich sour cream sauce over a bed of egg noodles. Use the best cut of beef you can buy, and take care not to overcook!
Ingredients
2 tablespoons butter
2 cups sliced mushrooms
1 cup diced onion
4 tablespoons butter
1 teaspoon Gourmet Garden Chunky Garlic
1/4 cup flour
1 teaspoon oil
1.5 - 2 pounds good quality steak, like a flat iron
1/2 cup sherry
3 1/2 cups beef broth
1/2 cup sour cream
1 pound egg noodles
Instructions
Put some salted water on to boil.
Place 1 tablespoon of butter into a saute pan. Add the mushrooms and onions, and cook over medium heat until the onions are translucent. Add in another 4 tablespoons butter, the garlic, and the flour, and stir until all the lumps of flour are gone. Remove from heat and set aside. Beef and onions sauteed in a skillet.
Preheat a large skillet over medium-high heat with the oil in the pan. While it is preheating, slice your steak across the grain, and sprinkle with salt and pepper. Place into the hot pan, and cook for 3-4 minutes allowing each side to develop some color.
Cook egg noodles in boiling water until al dente. Drain and set aside.
Deglaze the pan with the sherry and beef broth, add back in the mushroom/onion/flour mix, and stir to combine the sauce.
Let simmer until thickened.
Remove from heat, and place 1/2 cup of the sauce into a separate bowl with the sour cream. Mix to combine, and then stir that mixture into the dish. This will temper the sour cream so it doesn't break in the hot sauce.
Serve over egg noodles, and enjoy!
Nutrition Information:
Yield:
8
Serving Size:
1
Amount Per Serving:
Calories:

567
Total Fat:

35g
Saturated Fat:

15g
Trans Fat:

0g
Unsaturated Fat:

14g
Cholesterol:

163mg
Sodium:

615mg
Carbohydrates:

24g
Fiber:

2g
Sugar:

3g
Protein:

38g
Nutrition data provided here is only an estimate. If you are tracking these things for medical purposes please consult an outside, trusted source. Thanks!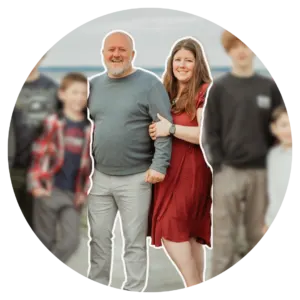 Nicole Johnson, a self-taught expert in grilling and outdoor cooking, launched Or Whatever You Do in 2010. Her blog, renowned for its comprehensive and creative outdoor cooking recipes, has garnered a vast audience of millions. Nicole's hands-on experience and passion for grilling shine through her work. Her husband, Jeremiah Johnson, also plays a pivotal role in recipe development, adding his culinary flair to the mix. Together, they form a dynamic duo, offering a rich and varied outdoor cooking experience to their followers.