Change up your standard salad with these delicious Traeger grilled homemade croutons. They are so good, you guys. They're crispy and golden brown and add a wonderful texture to salads!

Traeger Croutons

Recipe

One of my go-to meals in the summer is a salad. It's quick, it's fresh, and it's healthy. Unfortunately, it can get a little boring after a while. Let's fix that!

Make my super easy Greek Freak Salad Dressing and you have a fantastically fresh and tasty summer meal!

The best thing about these amazing grilled croutons (other than the fact that they're grilled – YUM) is that they're made with Spiceology's Mediterranean seasoning mix, which I'm a little crazy about.

The flavors are complex and complement so many different things. It really brings my Traeger Crouton recipe to the next level. These are so, so much better than the croutons you can buy at the supermarket. Plus, they are easy to make, too!

You're going to love them.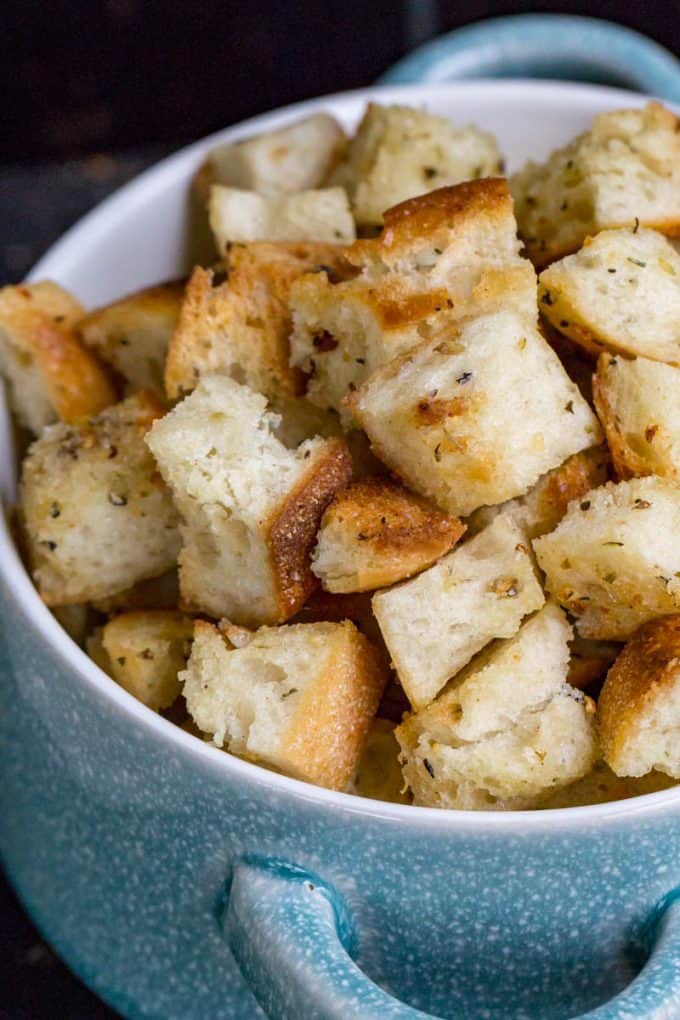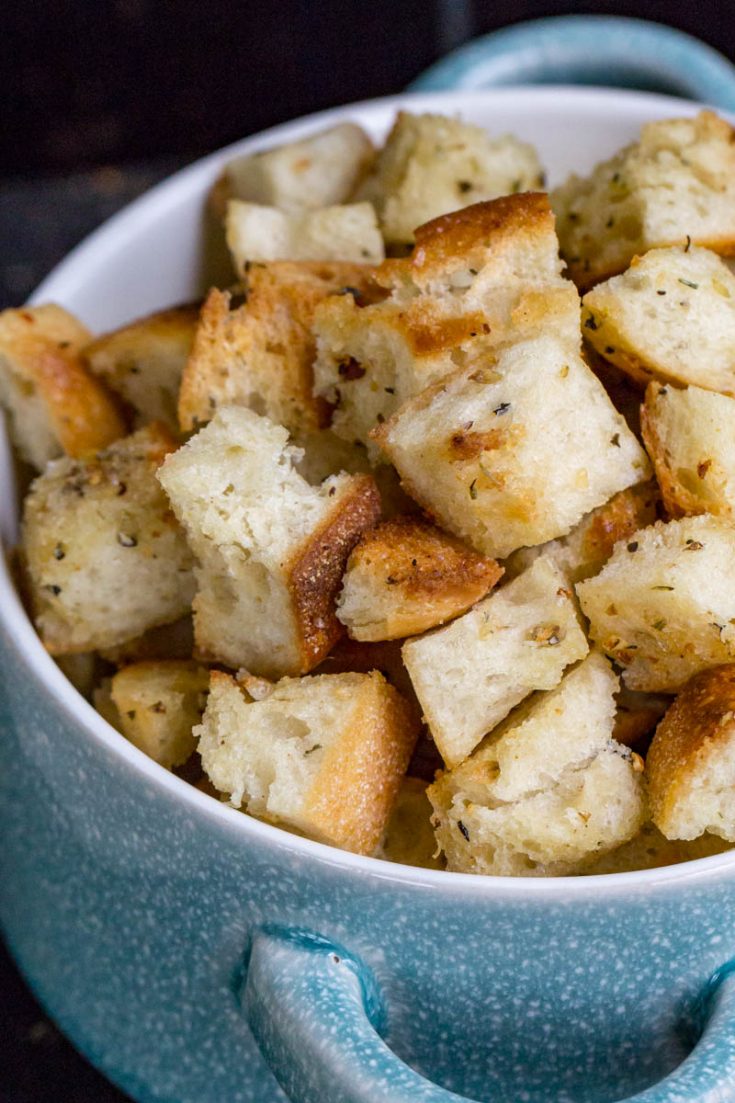 Re-Baking Bread for Croutons
Croutons aren't just old bread. Even though you can use day-old bread to make croutons, just throwing plain old stale bread on your meal is definitely not the same thing.
Real croutons are diced bread pieces that have been re-baked and seasoned to add texture and taste. You can use day old bread because it's already a little dried out.
Maybe that bread is not quite right for sandwiches anymore, but it's PERFECT for croutons. The process of making bread into croutons will dry it out a little more anyway!
Join our Easy Traeger Recipes Facebook group!
I actually used a baguette that I bought one day, and we didn't get to use it for a couple of days. By the time I got to it, it was not in the best shape and definitely not fit for bread and butter. It was PERFECT for these easy homemade croutons though!
The better the bread that you start with, the better your croutons will be. Crusty bread like french bread, baguettes, or ciabatta are good examples, but you can use regular white or wheat bread and still make good croutons. Experiment with different kinds of bread to find something you really love!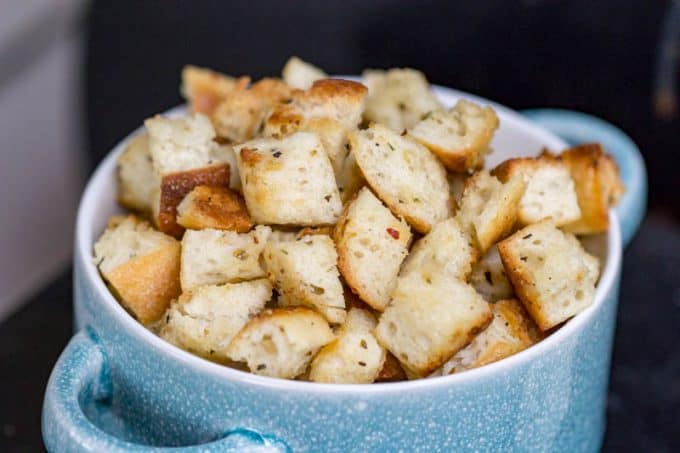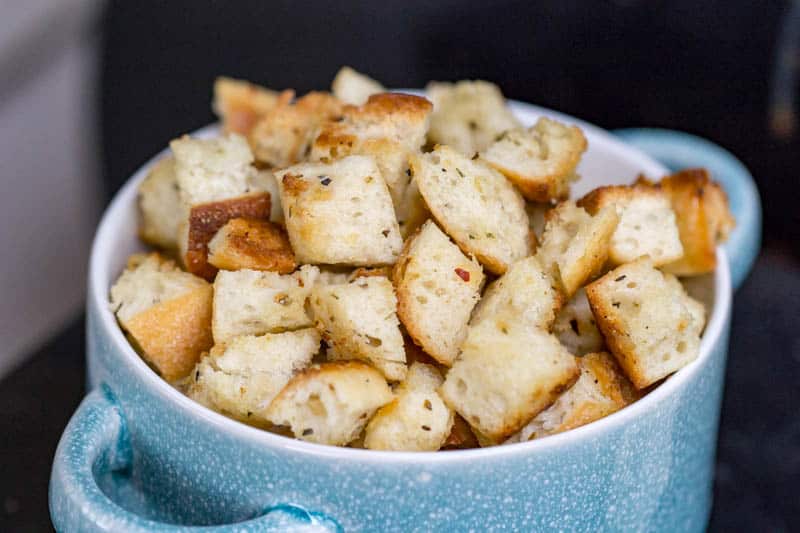 Tips for Making Croutons
Homemade croutons are way easier than you would think! Just a few quick steps, and you're on your way to savory salads any time.
Choose your bread (I used a day old baguette)
Dice the bread into small cubes
Toss with olive oil and Spiceology Mediterranean seasoning
Bake for about 30 minutes at 300 degrees
They're done when they're crunchy and golden brown!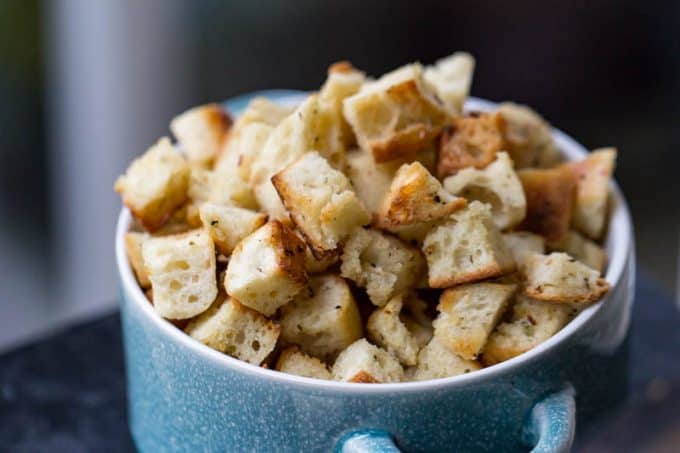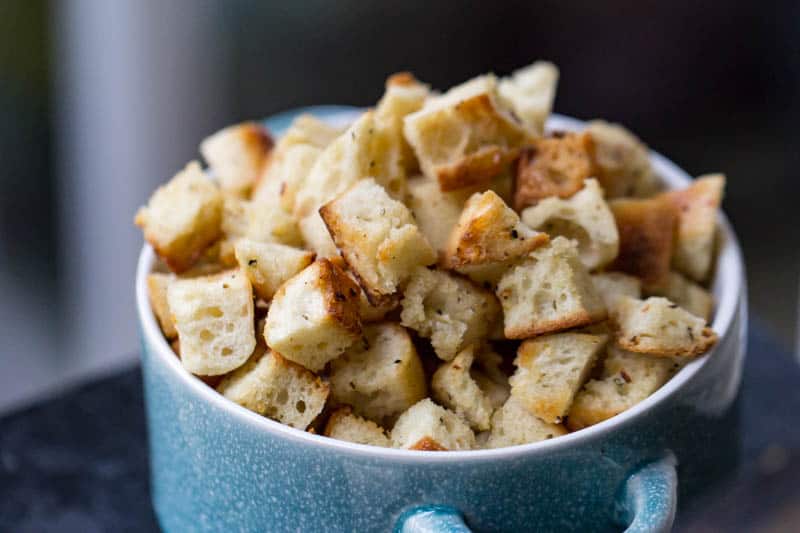 Storing Your Croutons
If you're not going to use your croutons right away you can store them in an airtight container for 2-3 days. Before you store them, make sure all of the moisture is gone.
Completely dry croutons will keep better and longer than croutons with any moisture left. Store them in a cool, dry place to avoid any dampness.
You can also freeze your homemade croutons if you think you might not use them up fast enough! (Or if you make a really big batch. Good job planning ahead!)
Again, make sure the croutons are as dry as you can get them. Wrap them tightly in plastic, then heavy duty aluminum foil. For good measure, I would put the whole package in an airtight plastic bag.
To reheat your frozen croutons, you're actually going to want to re-bake them! Using a shortcut like a microwave is not going to be the best option, because it will lead to a soggy final product.
Instead, spread your grilled, golden croutons on a baking sheet and put them in the oven at 250 degrees for just long enough to thaw and heat them up. They'll be nice and crunchy again!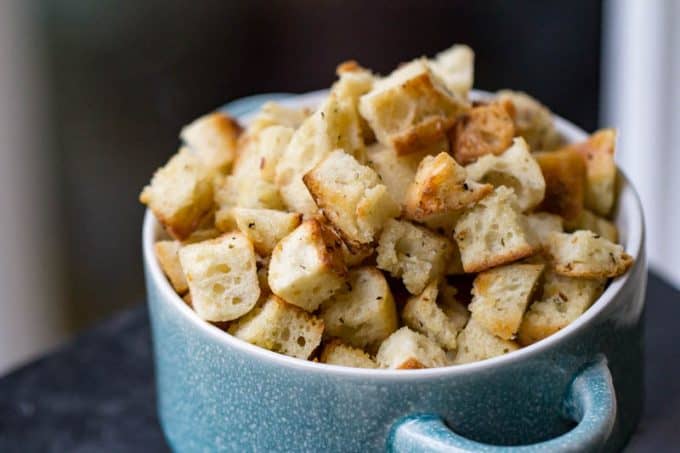 Other Great Crouton Meals
Now that you know the secret to making and storing your very own delicious homemade croutons, you're going to want to put them in and on everything!
There are so many ways to use croutons. Not only are they great for salads, but croutons are also a classic on soup. I've got a few of my favorite savory soups here to get you started.
You can also use croutons as a filler in chowders, mixed in scrambled eggs, or crumbled on top of fish instead of breadcrumbs! Using your own seasoned croutons made just the way you like them will add a ton of great flavor to lots of your favorite meals!
Pin for later!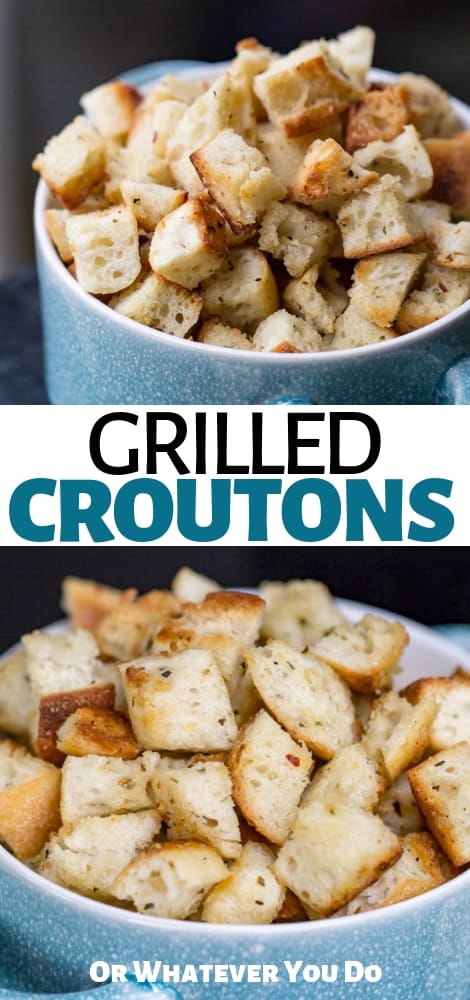 Yield: 6 cups
Traeger Grilled Croutons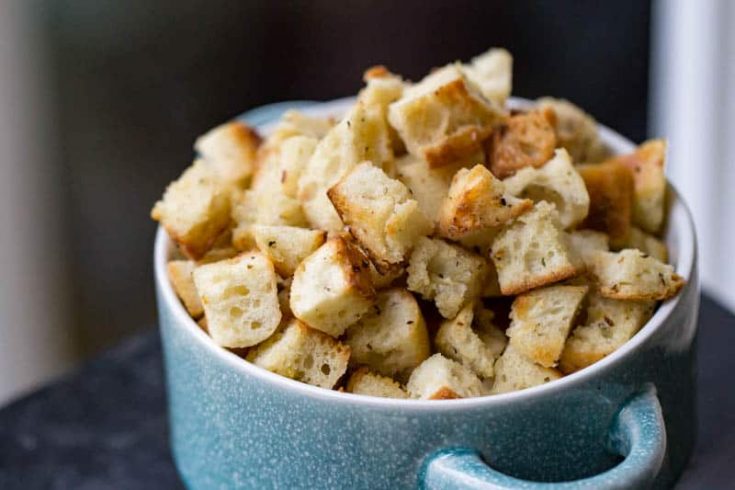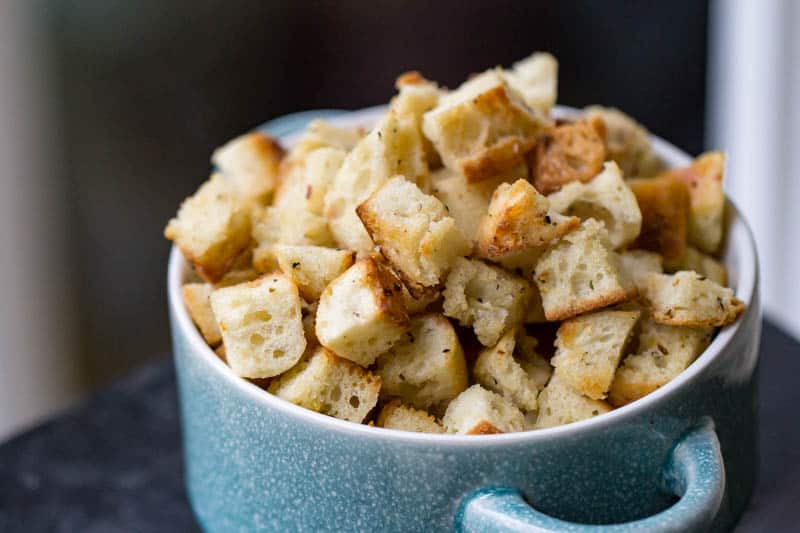 Traeger grilled croutons are an easy and delicious way to use up bread that is a little past its prime, and they taste fabulous!
Ingredients
6 cups cubed bread
1/4 cup olive oil
2 tablespoons Mediterranean Blend seasoning
Instructions
Preheat your grill to 250° following factory instructions.
Combine the oil and seasoning in a bowl, and drizzle over the cubed bread. Toss to coat evenly.
Lay out the bread cubes on a large cookie sheet.
Place on the Traeger, and bake for 30 minutes, stirring every 5 minutes to make sure they are evenly browning.
Remove from the grill when the croutons are golden brown and dried out.
Recommended Products
As an Amazon Associate and member of other affiliate programs, I earn from qualifying purchases.
Nutrition Information:
Yield:
24
Serving Size:
1
Amount Per Serving:
Calories:

188
Total Fat:

10g
Saturated Fat:

2g
Trans Fat:

0g
Unsaturated Fat:

8g
Cholesterol:

0mg
Sodium:

1716mg
Carbohydrates:

20g
Fiber:

1g
Sugar:

2g
Protein:

4g