This easy smoked ham recipe has a brown sugar glaze, uses a spiral cut pre-cooked ham, and is so simple to put together! Perfect for sandwiches, next to a big pan of cheesy potatoes, or for a brunch buffet.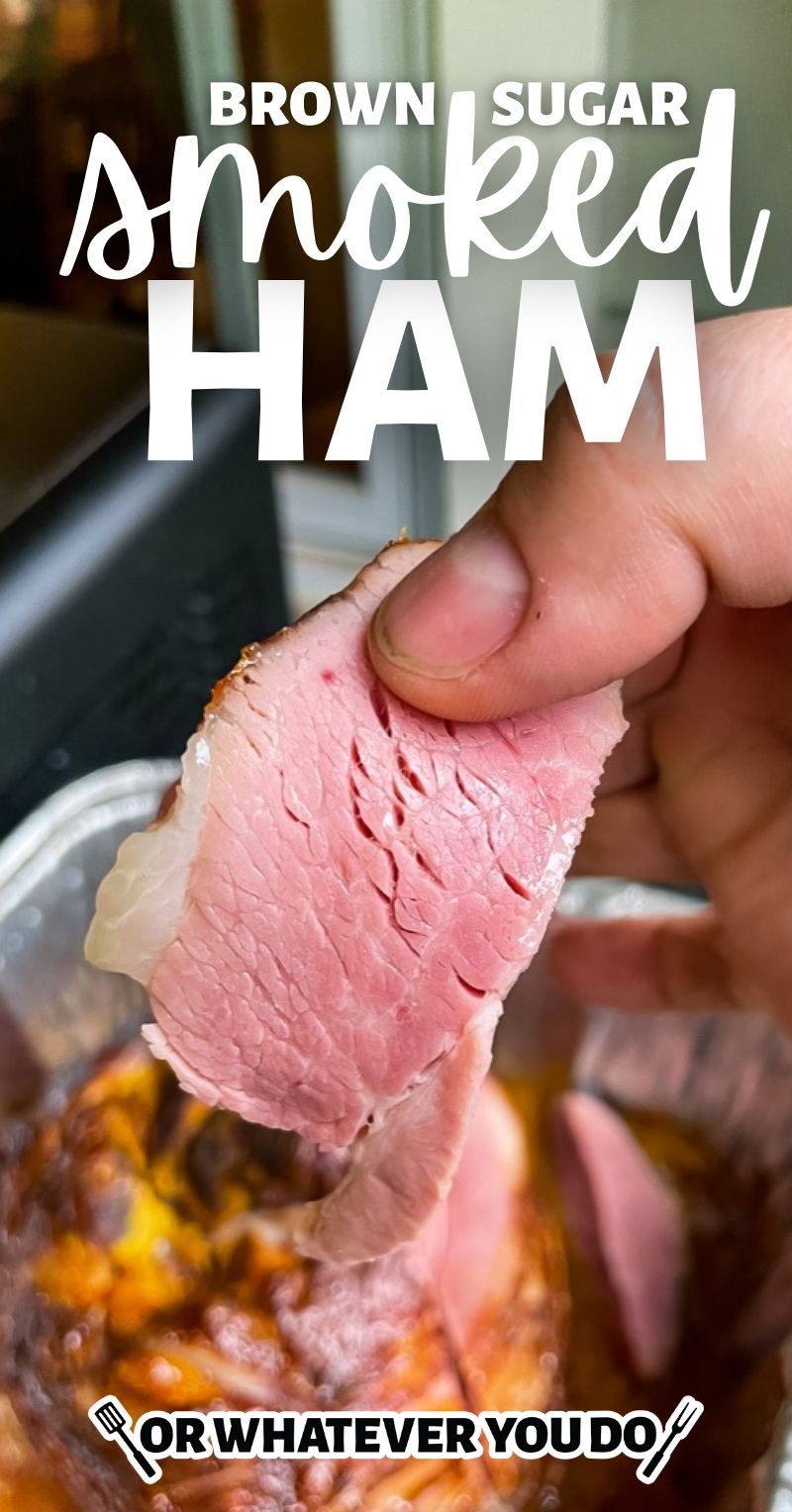 Double-Smoked Ham with Brown Sugar Glaze
The pellet grill is the best way to make ham, and a double-smoked ham is my favorite ham, ever. We've done quite a few over the years, but I realized recently that we hadn't done a classic brown sugar glaze yet. Must fix.
The brown sugar gets mixed with some apple cider vinegar and some other goodies before we paint it all over that double-smoked ham.
A big part of the reason why I love making ham is that it is such a simple dinner for even a big crowd. Anytime there's an option to hit the easy button for the main protein, I'm game. Always.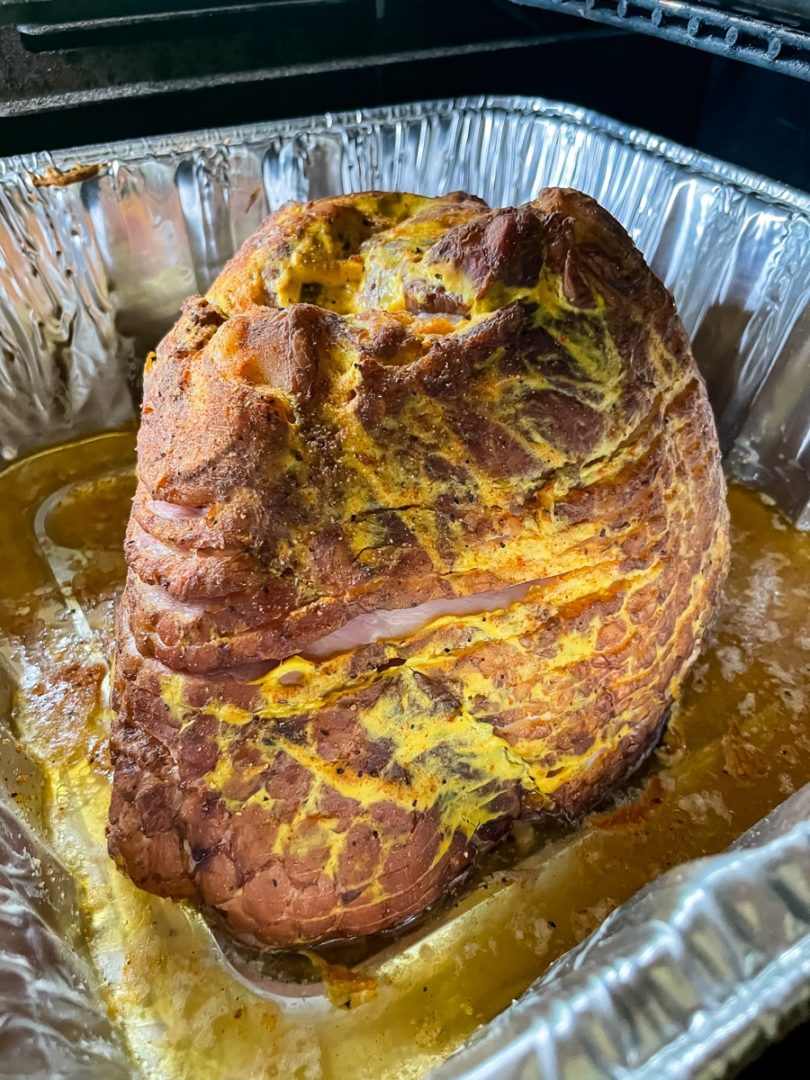 Maple Glazed Smoked Ham shopping list
Wondering if you have to hit the store? Here's the list of items you'll need to make this recipe. For specific amounts, please refer to the printable recipe card at the bottom of the post.
ham
yellow mustard
all-purpose rub (like our OWYD Everything Rub)
brown sugar
butter, salted
apple cider vinegar
salt
honey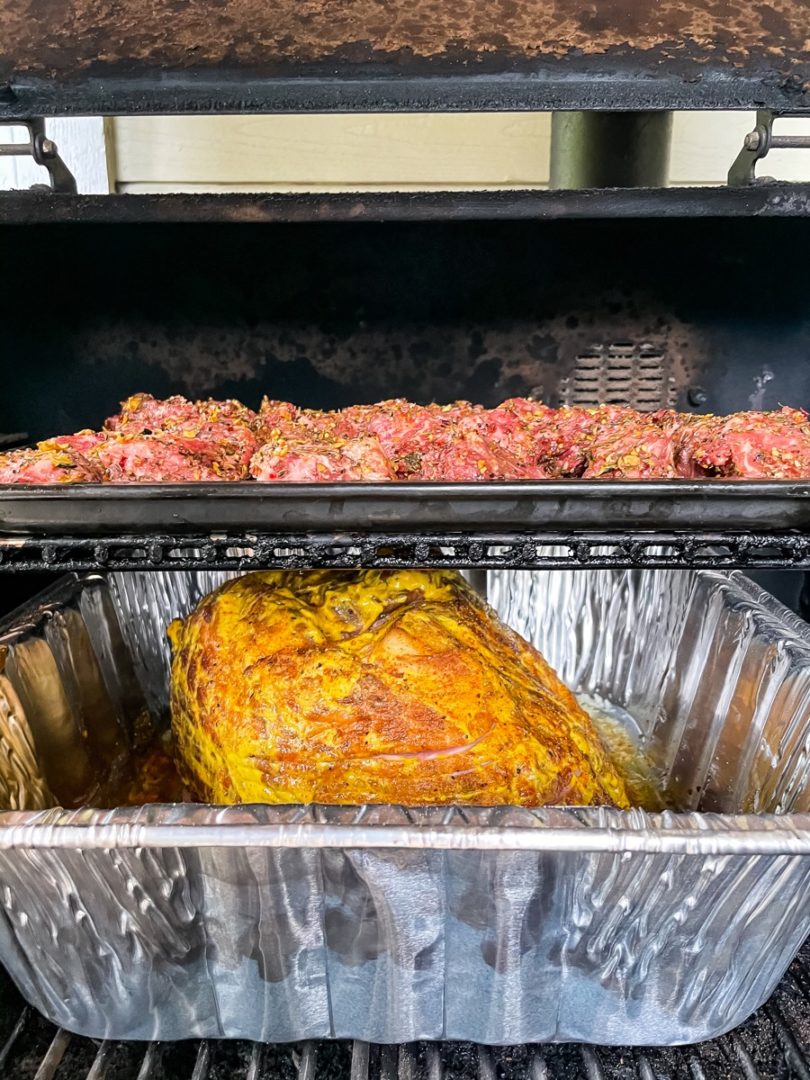 How to make Smoked Ham
This is just the overview so you can see what you're actually getting into here. When you are cooking, you'll want to use the full recipe at the bottom of the page.
Preheat the grill
220° is ideal.
Rub the ham
The mustard and then the rub. Don't be shy.
Smoke your ham
About 2 hours is perfect here! Then crank the heat up to 275°.
Make the glaze while your ham smokes
In a saucepan, light simmer until the sugar is dissolved.
Glaze every 10 minutes
Use a silicone brush, cook for another 30-45 minutes.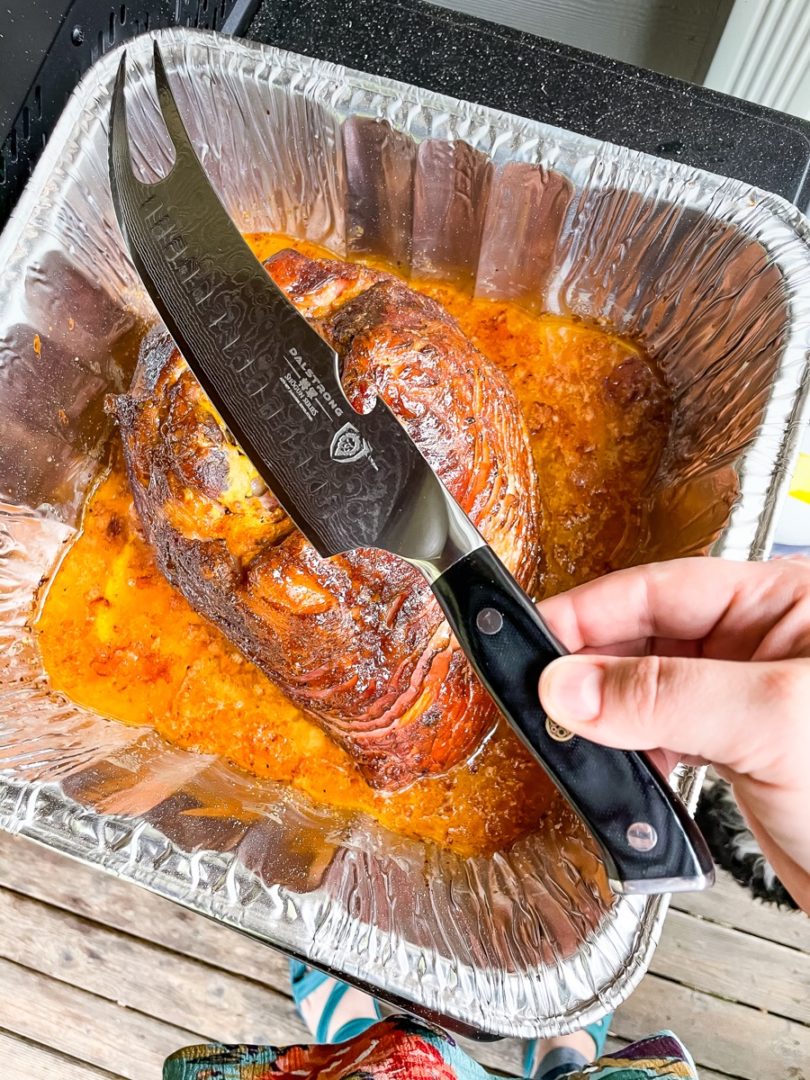 More ham recipes and recipes using ham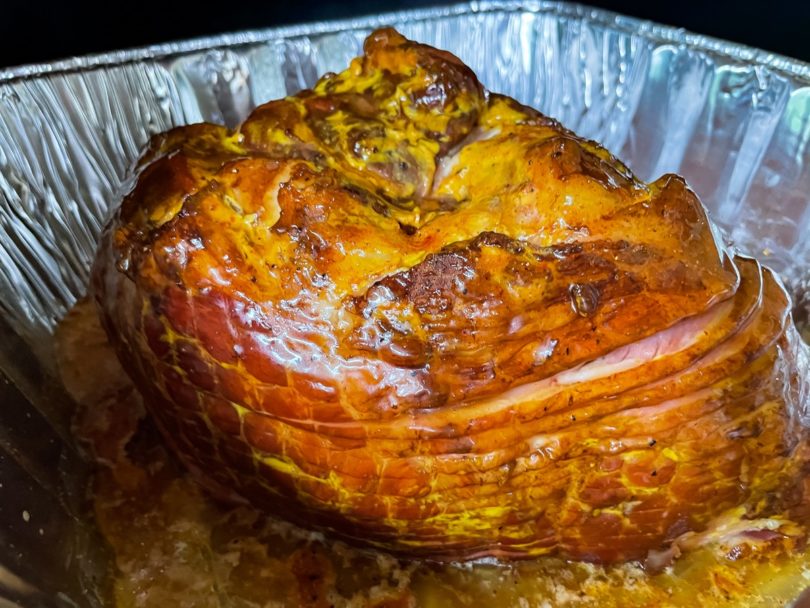 Smoked Ham FAQ
Can you use this recipe for a country ham?
You could use the glaze recipe for pre-cooked country ham, but the cook time would be changed significantly since pre-cooked country hams can be served cold. Make sure to cook your ham according to package directions.
What's the best way to store leftovers?
I like to cut all of the ham off of the bone and store it in a large freezer baggie (as those are thicker and can hold more meat).
How should you reheat leftover ham?
We prefer to eat the leftovers cold in sandwiches, mixed into pasta salad like my ham and pea pasta salad, or in an omelet. If you want to reheat it, I'd suggest gentle heat with plenty of the cooking liquid involved.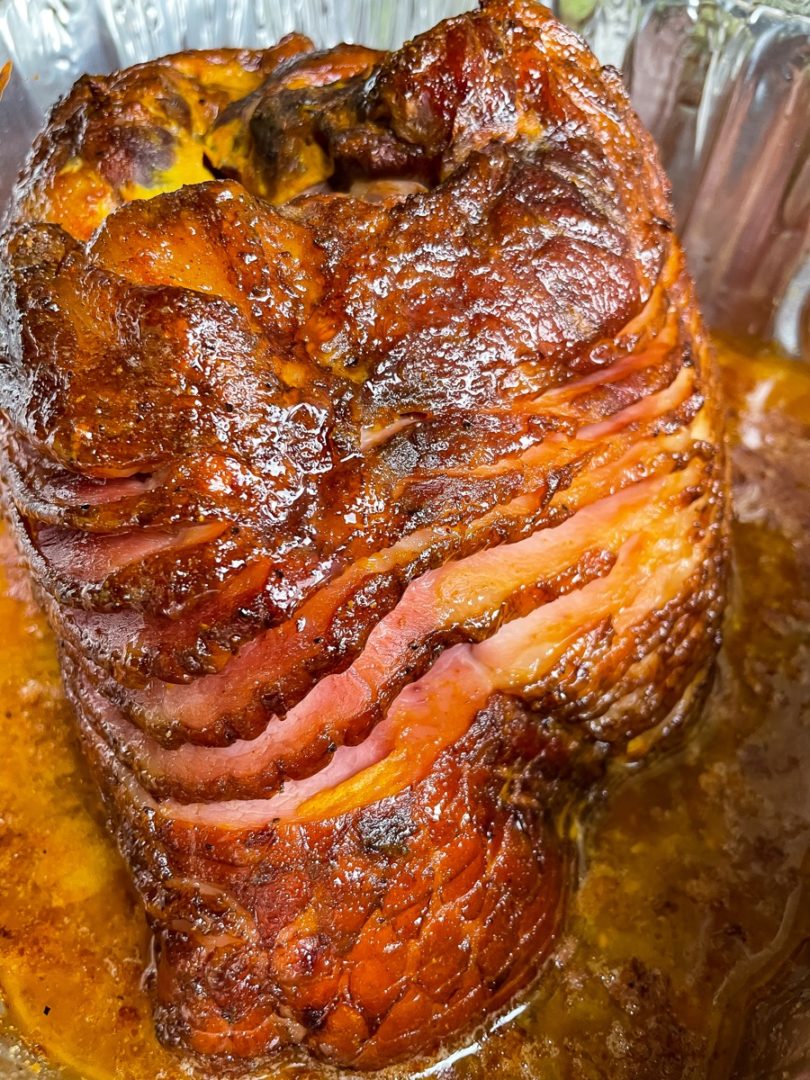 More recipes to love!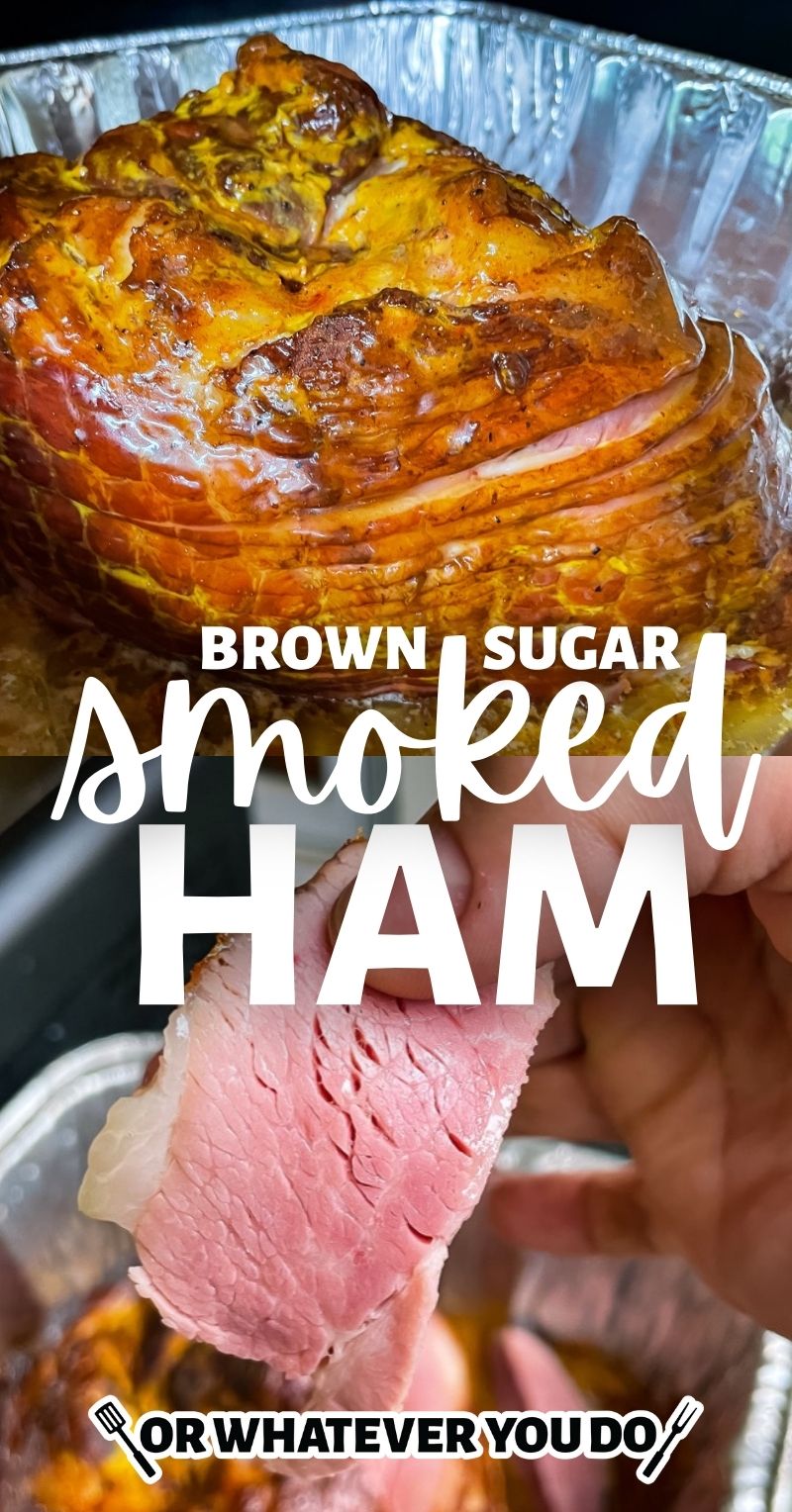 Yield: 12 servings
Double Smoked Ham with Brown Sugar Glaze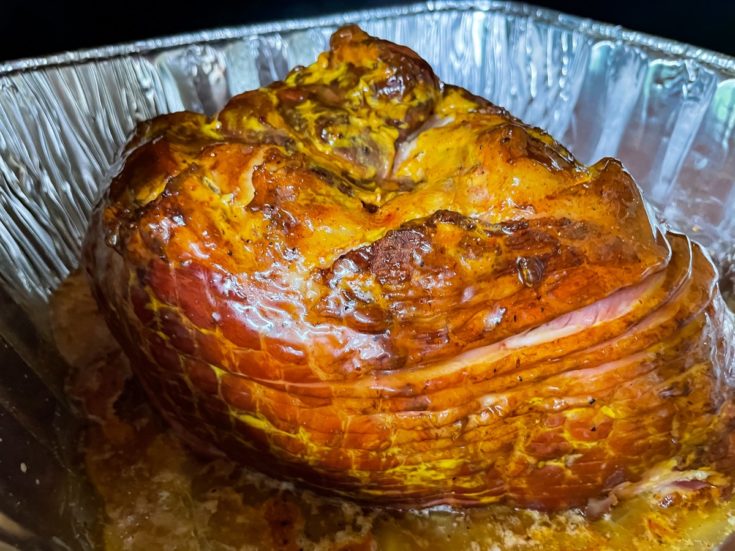 We took a spiral cut ham, rubbed it smoked it and glazed it - all on the pellet grill! This is the best ham, ever, and the brown sugar glaze is my favorite!
Total Time
3 hours
10 minutes
Ingredients
8 pound spiral-cut precooked ham
1/4 cup yellow mustard
4 tablespoons all-purpose rub (like our OWYD Everything Rub)
Glaze
1 cup brown sugar
1/2 cup butter, salted
1/3 cup apple cider vinegar
1 teaspoon salt
1/3 cup honey
Instructions
Preheat your smoked for 220°.
Rub the ham with the mustard and sprinkle with the rub.
Smoke for 2 hours.
While the ham is smoking, combine the glaze ingredients in a small saucepan over medium-low heat. Stir frequently and let it come to a low simmer and cook for 1-2 minutes, stirring constantly after it starts simmering. Remove from heat and set aside.
Turn the temperature up on the smoker to 275°. Glaze the ham by brushing a thin layer over all exposed sides of the ham. Do this every 10-15 minutes for 30-45 minutes.
Remove, slice, and enjoy!
Recommended Products
As an Amazon Associate and member of other affiliate programs, I earn from qualifying purchases.