Easy homemade ground beef stroganoff goes from your fridge to your table in under an hour, is made from scratch with NO canned "cream of" soups, and no strange ingredients that you can't pronounce.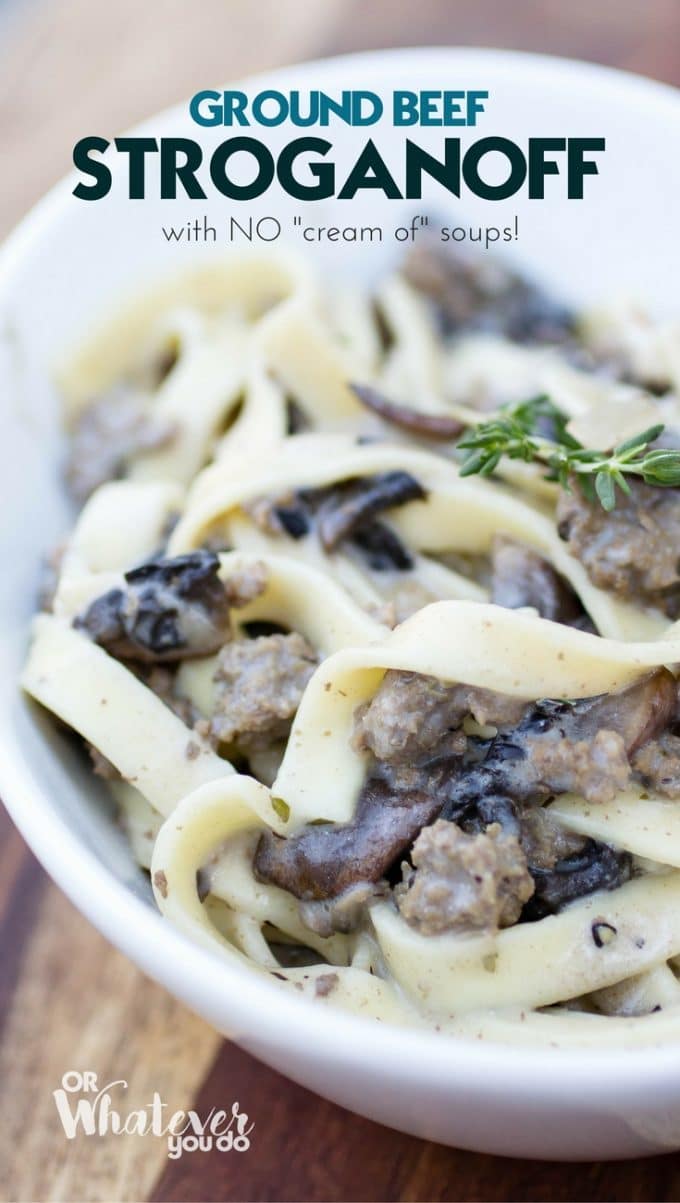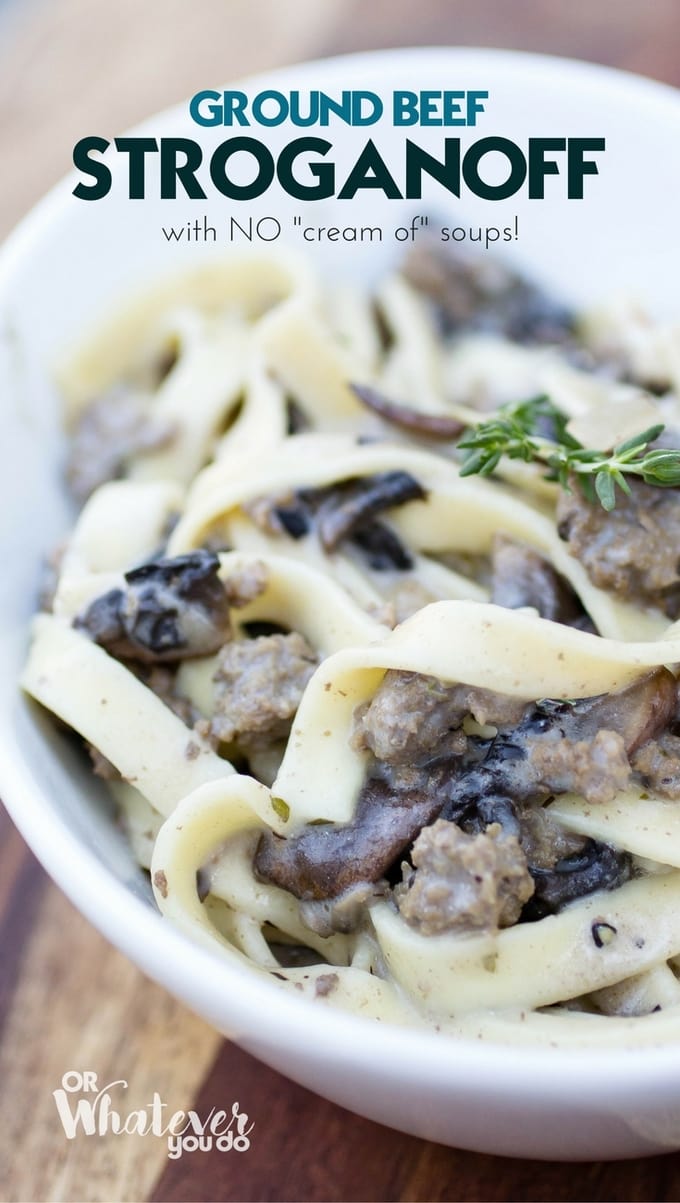 Easy Ground Beef Stroganoff
Dinner is on my mind again, and it is time to pull out one of my old favorites. There's something homey and comforting about beef stroganoff that just takes me back to childhood, but I don't always have steaks laying around for my garlic beef stroganoff recipe.
That's when I whip up out the ground beef and go to town. My kids actually prefer this version to its steak counterpart, so that's a definitely bonus in my book.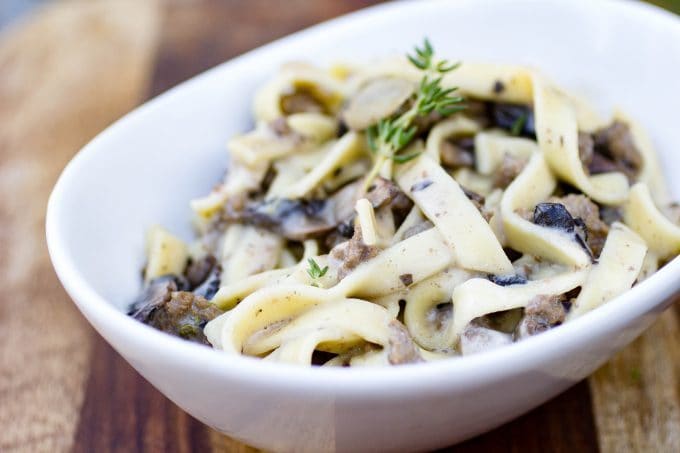 They don't even complain (too much) about the onions, mushrooms, and sour cream which is pretty much a miracle all in itself.
This recipe really couldn't get any easier though, and uses ingredients you probably have in your cupboard right now. I LOVE these kinds of recipes, because I am probably the world's WORST meal planner at the moment.
I love the ideal of a meal plan, but the actual execution of it is completely beyond me. Someday, maybe, when there aren't so many small people needing all of my extra time and attention. 😉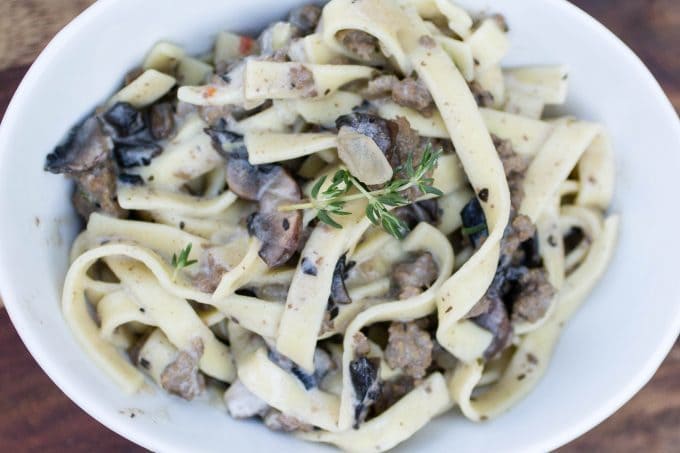 Any egg noodles will do for this, but these are Costco's homestyle egg noodles. (That's an amazon affiliate link. I wouldn't actually buy from there. These noodles at Costco are much less expensive than the Amazon version.) We stock up on them because we love them so much. They stand up well in soups (like this Instant Pot Chicken Noodle Soup), and I LOVE cooking them for the last couple of minutes in with the sauce they'll be served with so they absorb some of those awesome flavors.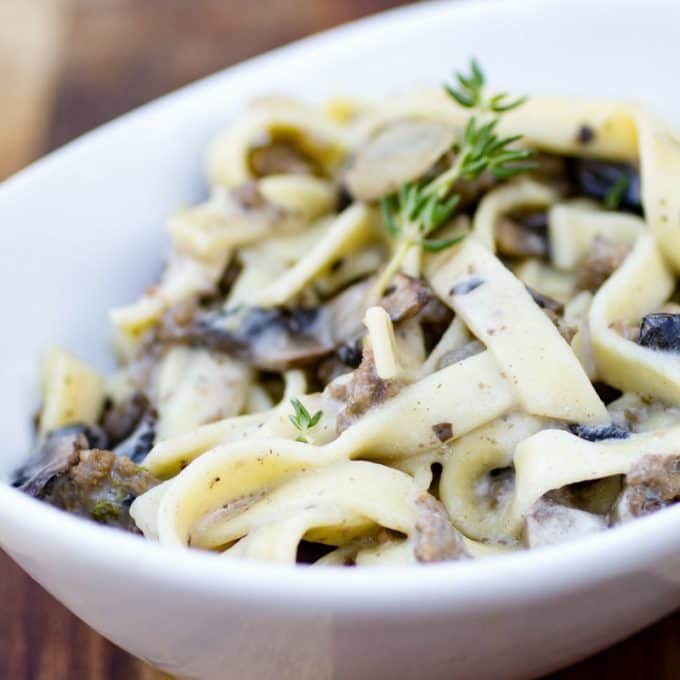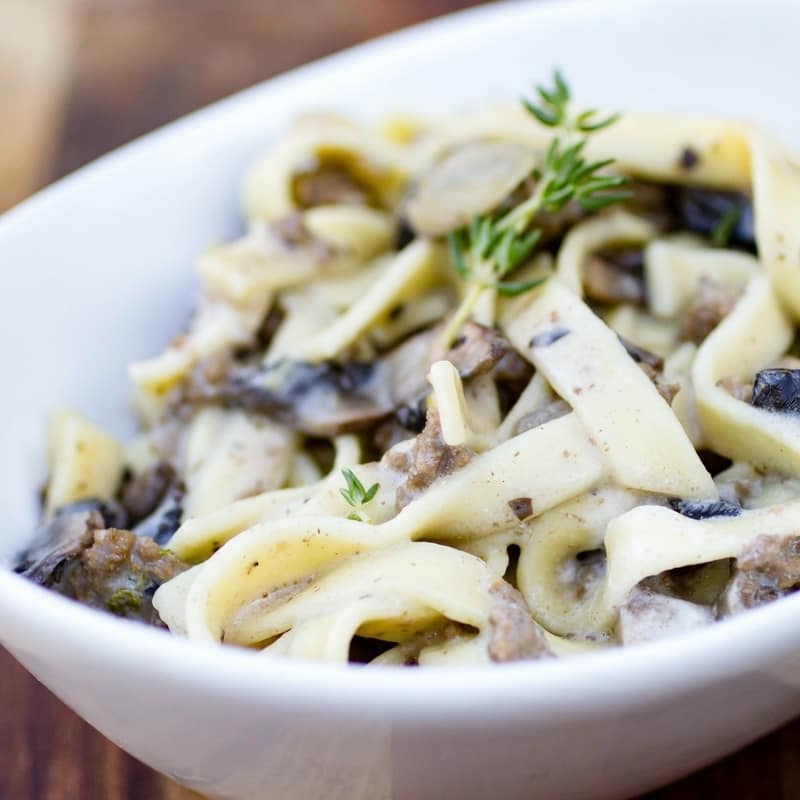 Your standard grocery store egg noodles have too short of a cook time usually to do that with, and these homestyle egg noodles need to cook for about 12-15 minutes until they are tender, which is perfect for this type of dish.
Yield: 10 people
Easy Ground Beef Stroganoff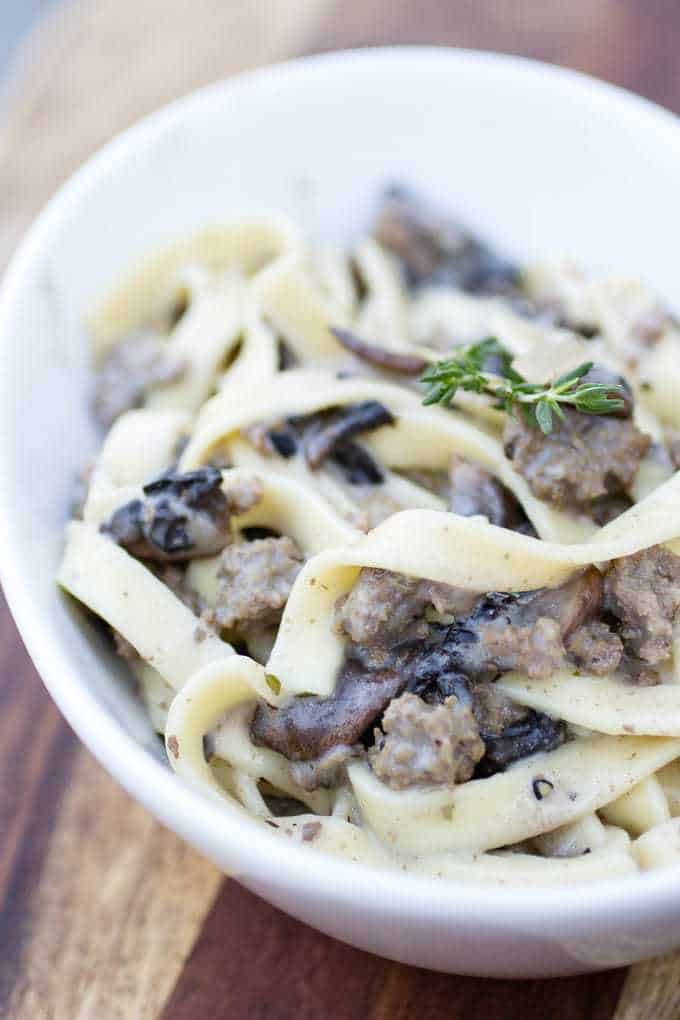 This super easy ground beef stroganoff is going to make appearances at your dinner table on a regular basis! NO "cream of" soups here, you can make this dish from scratch with commonly stocked household ingredients.
Ingredients
1 1/2 pounds lean ground beef
1 cup diced onion
4 cups sliced mushrooms
1/2 teaspoon salt
1/2 teaspoon seasoning salt
1/2 teaspoon onion powder
1/8 teaspoon ground pepper
1/4 teaspoon garlic powder
1 teaspoon dried parsley
1 teaspoon fresh thyme
1/3 cup dry sherry
4 cups beef broth
3 tablespoons cornstarch
1/4 cup whole milk
1/2 cup sour cream
1 pound homestyle egg noodles
Instructions
Put the water for the noodles on to boil and toss in some salt.
Place the ground beef and onions in a large skillet over medium-high heat, and sprinkle on the salt, seasoning salt, onion powder, black pepper, garlic powder, dried parsley, and fresh thyme.
Brown the ground beef and onions, stirring frequently, until there is no more pink. Remove the beef from the pan, but keep some of the grease in the pan. You want a few tablespoons in there. If there isn't excess grease, toss in a couple tablespoons of butter.
Put in the sliced mushrooms, and stir occasionally until they are softened and lightly browned. Add back in the ground beef mixture, and pour in the sherry or beef broth, and bring up to a simmer.
Whisk together the milk and cornstarch, and stir into the sauce. Simmer over medium-low heat until slightly thickened.
When the water begins to boil, put the noodles in and cook until they are almost done. When they are about 3-4 minutes from done, drain well and add into the beef mixture.
Remove the stroganoff from the heat, stir to combine, and add in the sour cream. Stir to mix and serve immediately with crusty bread and your favorite vegetable.
Nutrition Information:
Amount Per Serving:
Calories:

331
Saturated Fat:

3g
Cholesterol:

86mg
Sodium:

659mg
Carbohydrates:

38g
Fiber:

2g
Sugar:

3g
Protein:

23g