Chuck Roast Stroganoff is a classic meal that has been a favorite for generations. It is rich and deeply complex, even though it is easy to make. For that reason, beef stroganoff feels like the kind of dish fit for royalty but has the warmth and comfort of food the rest of us regular people hold dear too.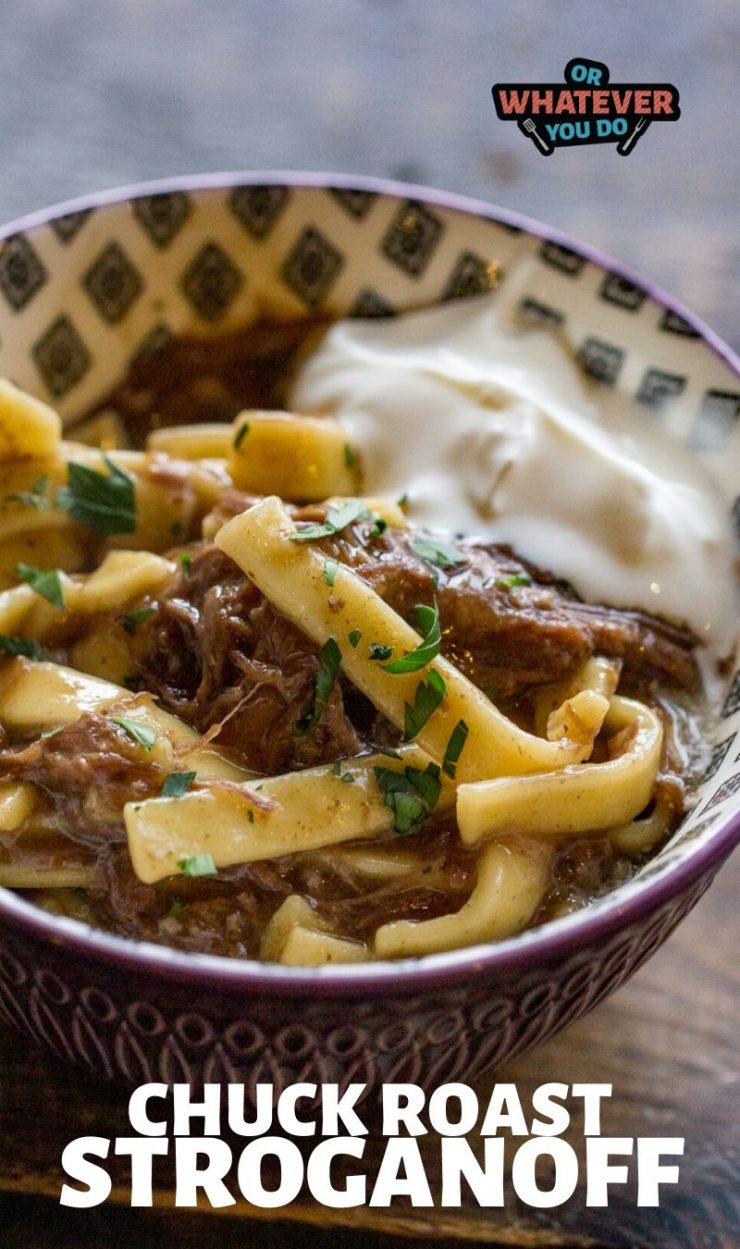 Braised Chuck Roast Stroganoff
The secret to cooking chuck roast is to do it low and slow. It is a big and tough cut, but if you cook it low and slow then it is so wonderfully flavorful and can be cut easily with a fork or a butter knife.
If you have a nice big cast-iron Dutch oven, that's the best option. Those classic dutch ovens like your grandmother always had on the back burner are perfect. The heavy lid holds the flavor in, and the steam does all the work.
It might not be as fast as a pressure cooker or instant pot, but sometimes the best things in life need to take a little extra time.
Also, a really well-seasoned cast iron dutch oven will clean out as easily as any Teflon or similar style nonstick surfaced pot. (And you don't have to worry about what kind of utensils you use when you stir things up in it!)
If you don't have one, you can still make this. Any oven-safe covered dish will work!
Try my Traeger Pot Roast too!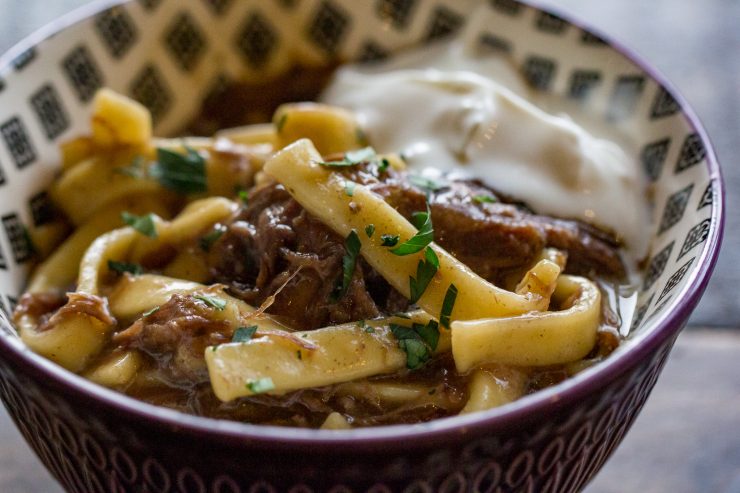 What is beef stroganoff?
If you looked around the world, then you would see beef stroganoff can mean many different things to many different people. It is literally found all over the world, but every culture puts its own spin on things.
At the simplest level, stroganoff is meat and noodles with a thick and hearty sauce. Not everywhere though. In Japan, for example, stroganoff is served over rice.
Generally, wide homestyle egg noodles are the best, but people even sometimes use spaghetti style noodles. So, don't feel like you have to run back out to the grocery store if that is all you have on hand.
The flavorful sauce has many variations also. Originally, the recipe called for a creamy mustard-based sauce. In South America, they do a tomato-based sauce, but in North America this version with wine and onions is popular.
In any form, roast beef stroganoff always gets the big thumbs up from every hungry person at the table!
Have a Cocktail with dinner!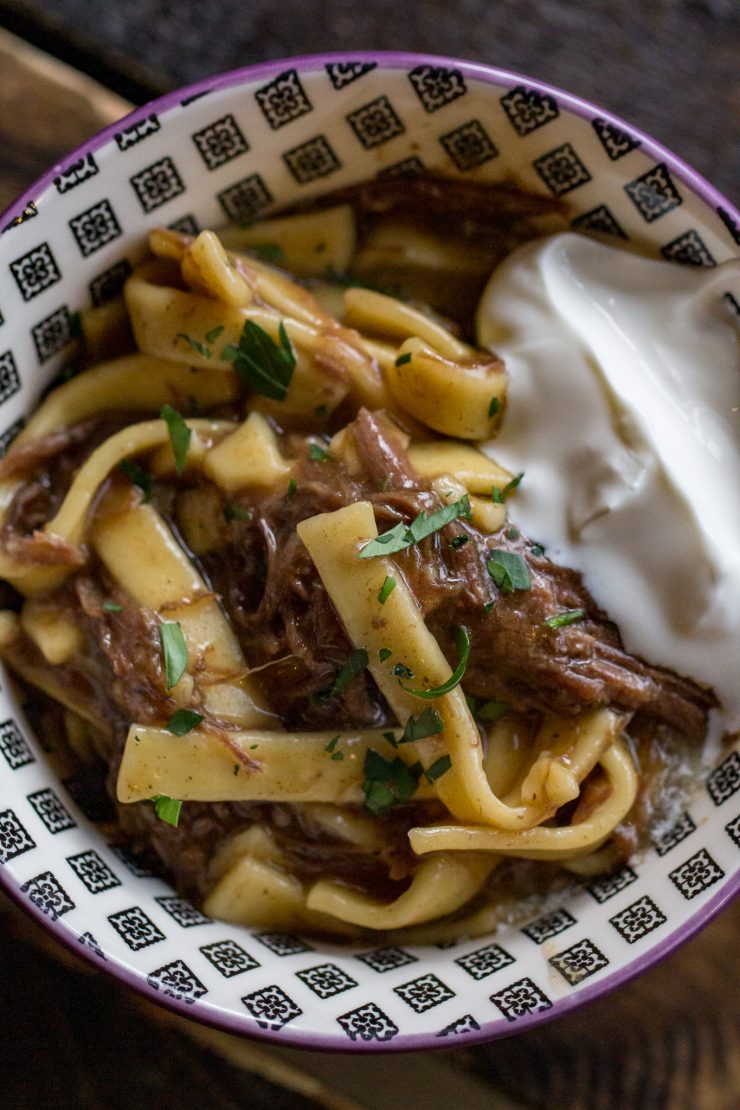 Why use chuck roast?
Chuck comes from the "subprime" portion of the cow. This doesn't mean it is sub-par in any sense, it just refers to what area the cut comes from. In this case, subprime is around the neck. The fat to beef ratio tends to make it ideal for low and slow roasting.
Even though you have to cut it low and slow to get the tenderness where it needs to be, the payoff is a very deep beef flavor.
The good news is this also tends to be a cheaper cut of beef.
If you can't find a cut of "chuck" steak, then round roast will do the trick.
More great BEEF recipes here!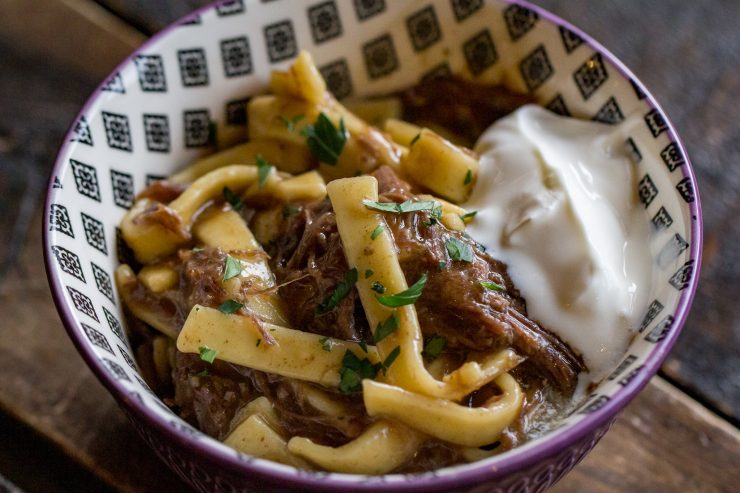 How to make the best sauce for beef stroganoff
Coating the beef in flour then quickly searing it in the pan will later help thicken the sauce. Also, the slow-roasted onions help thicken and flavor the sauce too. However, if that isn't enough to get the sauce where it is as thick as gravy and coats the meat and noodles nicely, then you can always use a bit of roux to thicken at the end.
Skim a bit of fat from the top of the hot liquids in the pot, then stir in a tablespoon of flour and mix thoroughly. The residual heat from the pot liquids will cook the flour quickly. When you add it back to the pot then make sure to keep stirring until it thickens to where it needs to be.
Our Traeger Mississippi Pot Roast is a hit!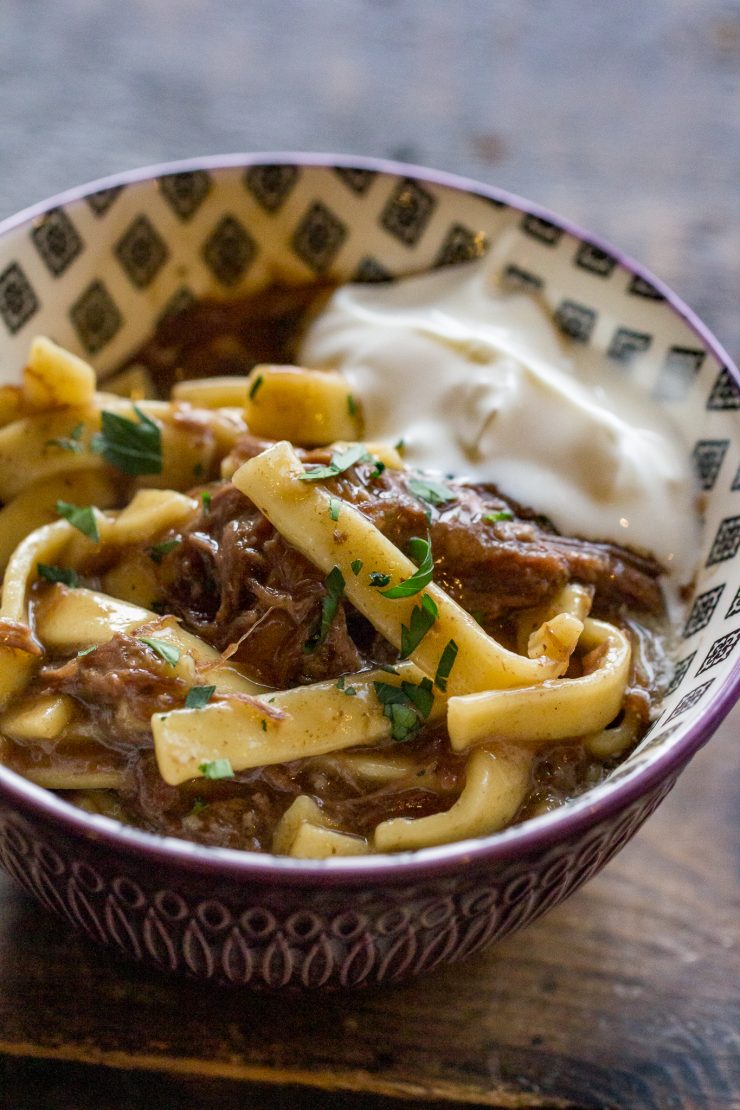 What kind of wine is best to use in this dish?
I prefer a sherry in my stroganoff. It doesn't have to be that expensive bottle you were saving for a special occasion but beware of the "cooking sherry". You can use it, but cut down on the sodium elsewhere because cooking wines are LOADED with salt (to try and deter people from drinking them.)
The alcohol will cook out almost completely but if you don't want to use any sort of alcoholic beverage, you can omit.
Milk Rolls would be perfect with this!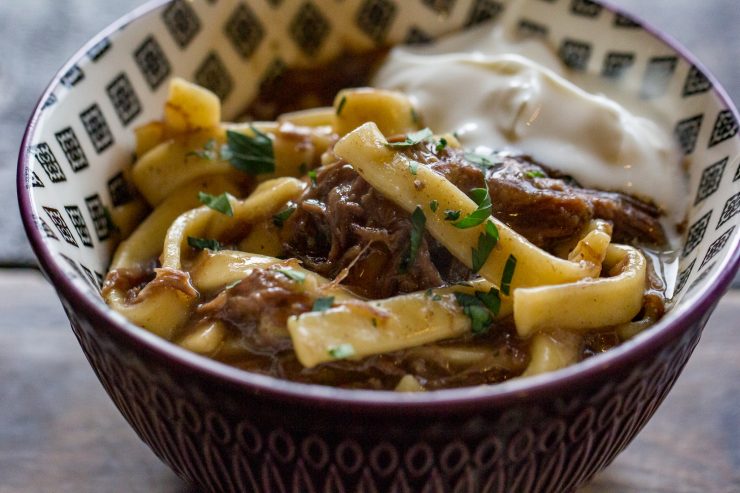 What should you do with the leftovers?
Store stroganoff leftovers in the fridge or freezer. You will get about five days out of the fridge and thirty in the freezer. When you reheat everything you might need to add a bit of liquid to it.
If adding liquid is necessary if possible use a bit of broth. Water is fine but why dilute any of that amazing leftover gravy goodness?
Beef Stroganoff leftovers make great soup!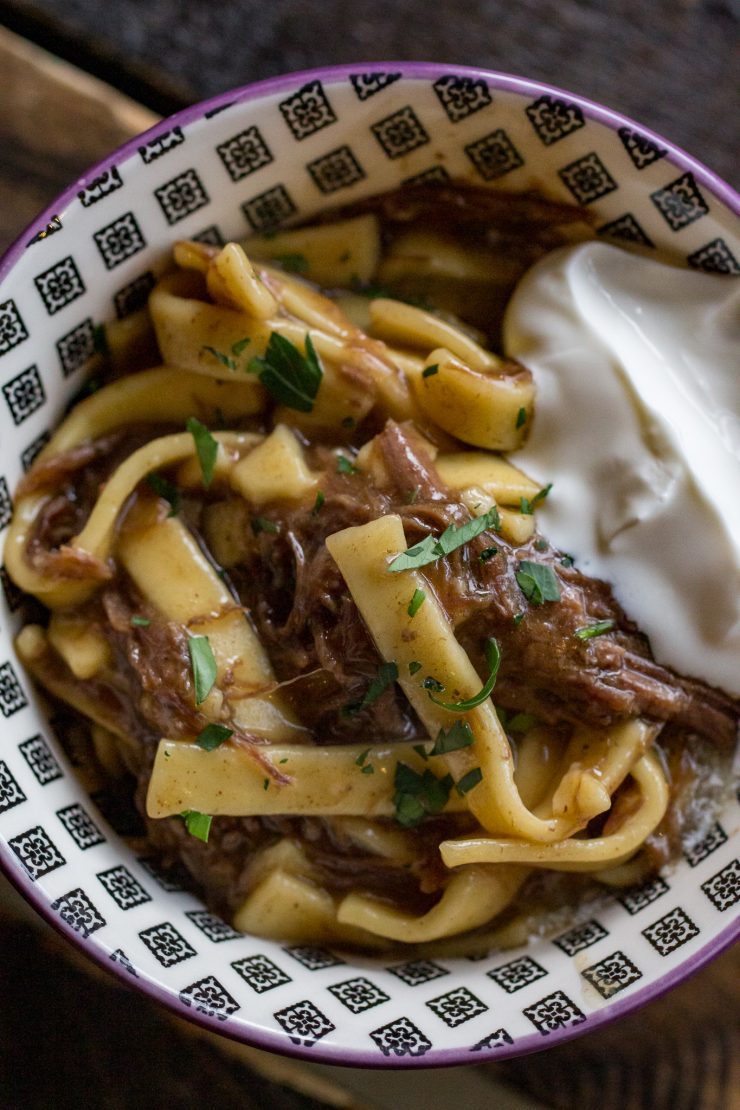 More great beef recipes to try
Hopefully, you like this recipe and might want to see a few more beef recipe tricks I have up my sleeve: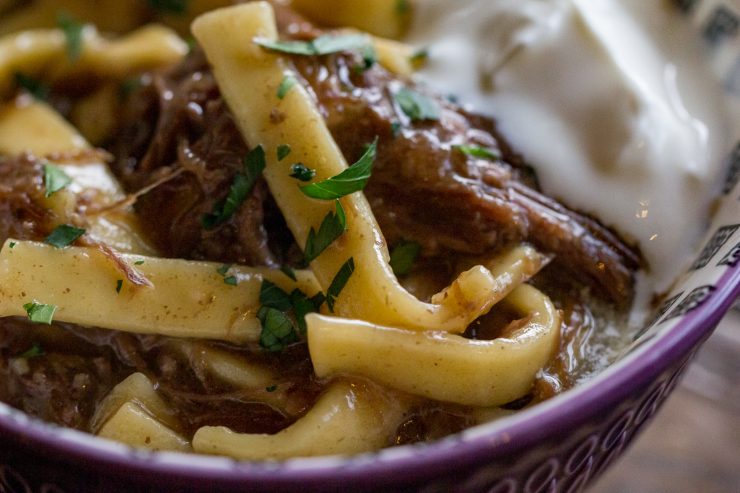 What can you serve with chuck roast stroganoff?
SO MANY THINGS. When I'm eating comfort foods at this level, I tend to go all in.
So bring on the grilled rolls, and fresh salad too.
More delicious desserts to try
More great recipes to love!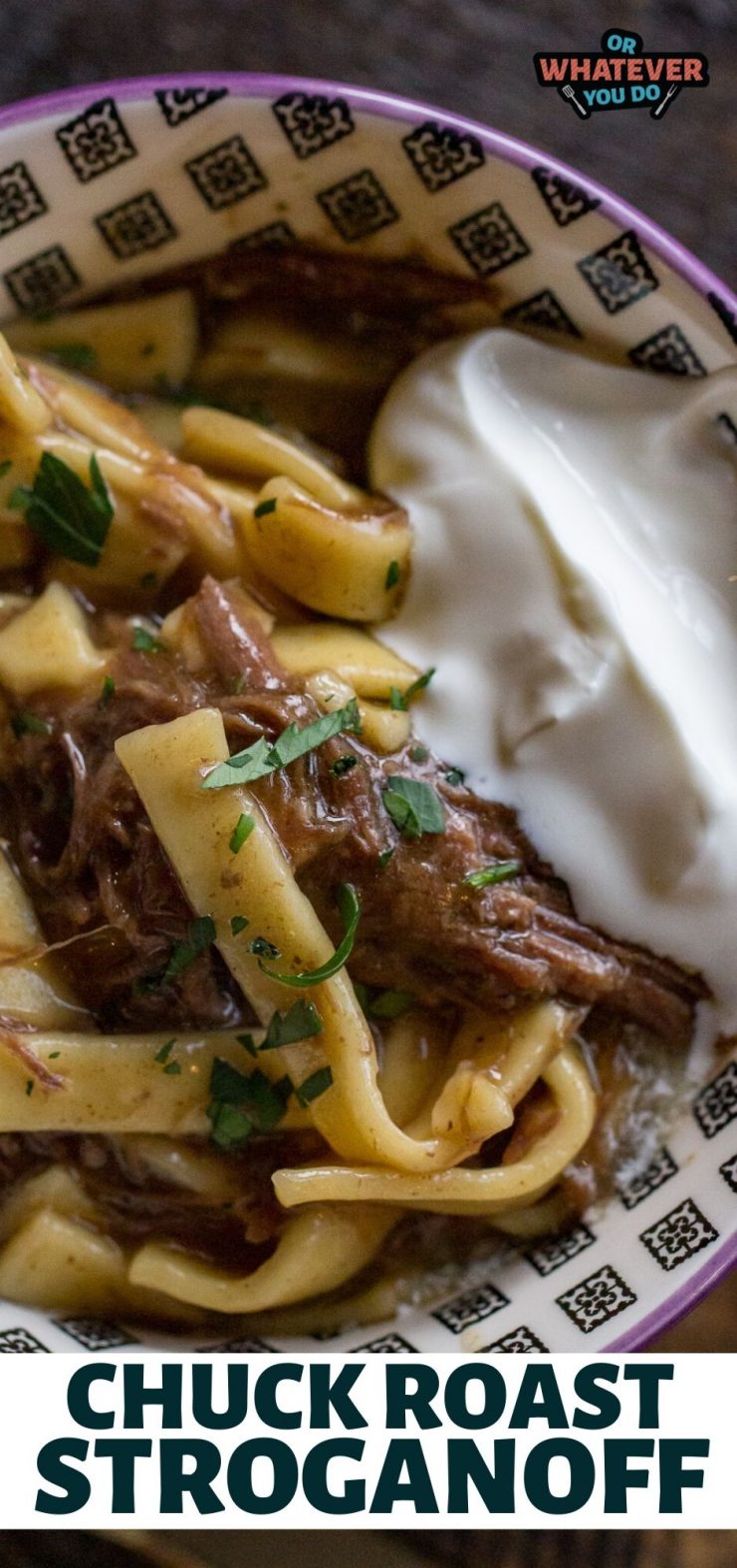 Yield: 8 people
Chuck Roast Stroganoff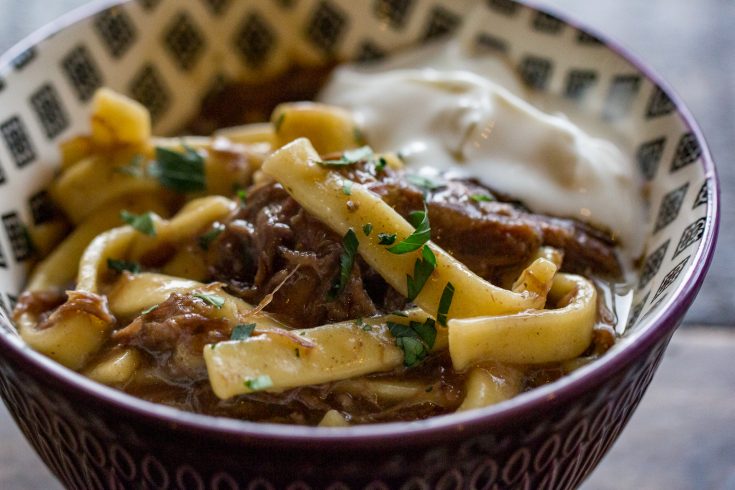 I make classic beef stroganoff to a whole different level by using a slow-braised chuck roast that is fall-apart tender, and then cook the noodles in the drippings. This is not your grandma's stroganoff. Or maybe it is, in which case, I really like your Grandma.
Natural Pressure Release
20 minutes
Total Time
4 hours
40 minutes
Ingredients
Roast and vegetables
3 tablespoons oil (canola or avocado are my preferred oils)
1 large 3-4 pound beef chuck roast (well-marbled)
2 large onions, yellow or sweet
1 teaspoon garlic powder
1 tablespoon salt
1 teaspoon pepper
1 stick celery, halved
1 carrot, cut into several chunks
3 cups Beef Stock or broth
2 cups red wine
Noodles
1 pound old-fashioned egg noodles (they should take around 10-12 minutes to cook)
Slurry (if necessary)
2 tablespoons cornstarch
4 tablespoons water
Stir-in
Instructions
Preheat your oven or pellet grill to 325°.
Take the chuck roast and season it with the garlic powder, salt, and pepper. Slice your onions.
In a large Dutch oven, preheat the oil over medium-high heat.
Put the onions in the pan and brown them lightly. You just want to give them some color. Remove from the pan before they start to fall apart.
Brown the roast on both sides, and remove the Dutch Oven from the heat.
Put the onions back in, along with the celery, carrots, beef stock, and red wine.
Cook for 3-4 hours at 325. If in an oven, covered. If in a pellet grill, uncover for the first half of the cooking time.
Cook until the roast is fall-apart tender. How long, exactly, that this will take depends upon your roast, your oven or grill, and the tilt of the world that given day. Or something. Point being, if it isn't tender yet just cook it longer. Tender means, you can stick a fork in it and pull out bites easily and without resistance.
Remove the large chunks of celery and carrots from the mix and discard. Pull out the roast and clean it of any remaining fat or gristle pieces that didn't get tender and melt into the meat.
While the roast is out of the pan, you need to get a feel for how much liquid is in the pan. If you need to measure it, do, but I usually just eyeball it. The key is that you need at least 8 cups of liquid to cook one pound of egg noodles and still have sauce left to throw a stick at. So make sure that's a thing. A little more is fine. A little less is also fine. Either way, you're going to be keeping an eye on this thing until it is eating time.
Next, bring that ≥ 8 cups of liquid up to a simmer and toss in those old-fashioned egg noodles. Stir frequently, and keep an eye out. If it is getting to the end of the cook time and your liquid is looking sad, throw in some more liquid. Ideally, beef broth, but water will also work. There's a lot of beef flavor to go around here.
Cook until the noodles are tender, and then give everything a stir. The sauce will have thickened a bit from the starch in the noodles. If it is thick enough for your liking, proceed in replacing the meat and mixing in that sour cream. If it is NOT as thick as you want it to be, you'll need to keep it at a simmer and then mix in the slurry.
Go slow when slurrying. You can't be totally sure how much you will need since this sauce is so flexible, so take it easy and stir the whole time and wait until it thickens to add more.
When your sauce is legit, mix everything together and serve with some salad and rolls.
Recommended Products
As an Amazon Associate and member of other affiliate programs, I earn from qualifying purchases.
Nutrition Information:
Yield:
8
Serving Size:
1
Amount Per Serving:
Calories:

846
Total Fat:

41g
Saturated Fat:

15g
Trans Fat:

2g
Unsaturated Fat:

23g
Cholesterol:

196mg
Sodium:

1200mg
Carbohydrates:

20g
Fiber:

1g
Sugar:

8g
Protein:

60g
Nutrition data provided here is only an estimate.