Fire up your pellet grill or smoker because today we're making some delicious, juicy, Traeger Smoked Burgers! We smoked our burgers low-and-slow to imbibe the meat with plenty of wood-fired flavors before searing and topping it with cheese for one of the best burgers of your life. In this post, you'll get tips for ensuring your burger stays juicy, ideas for toppings and mix-ins, and all the information you need to make the perfect smoked burger.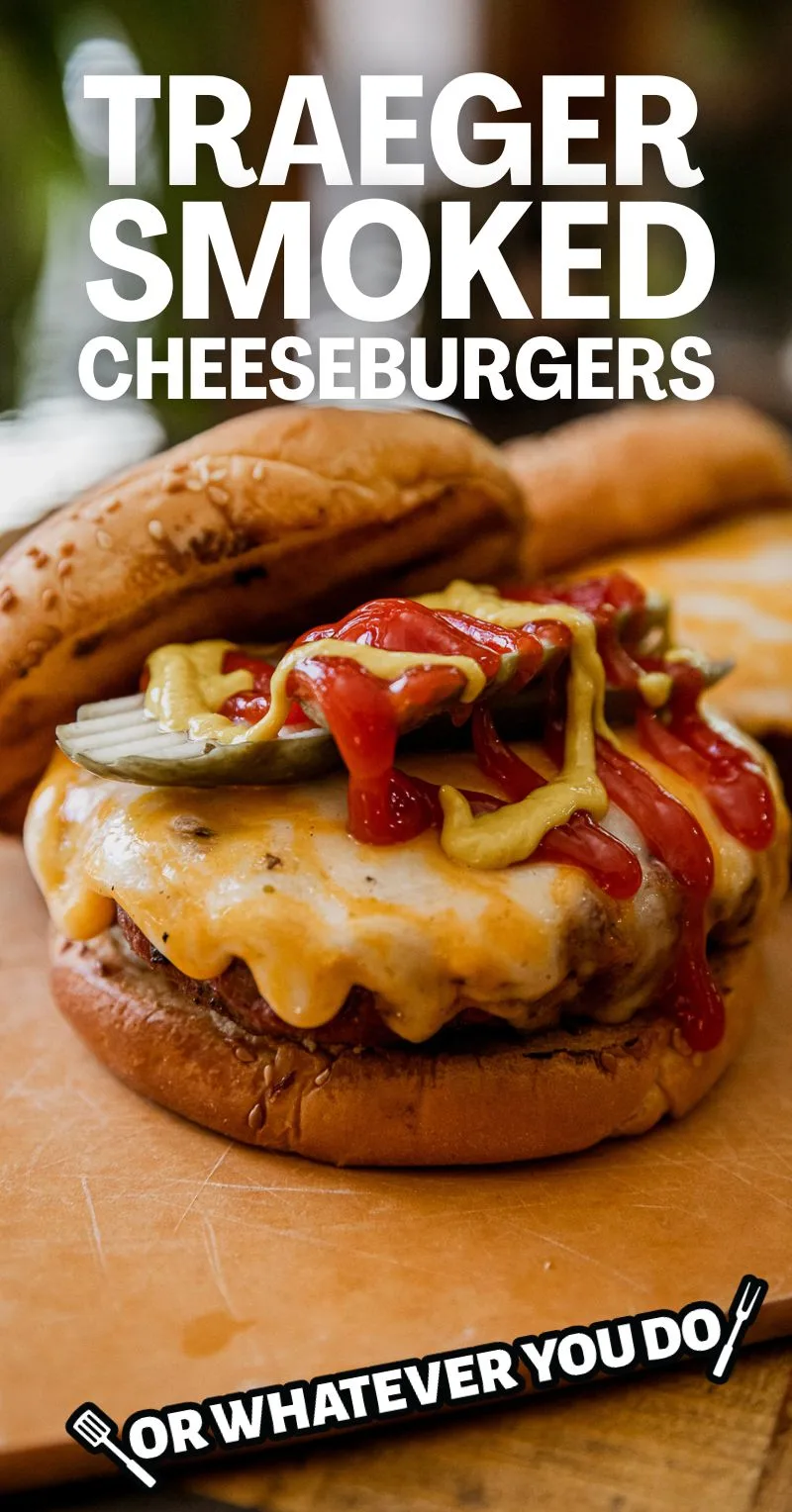 Traeger Smoked Burgers
I love a good cheeseburger, and I'm not all that particular about the specifics either. I like 'em flame-grilled over an open fire, Smash Burgers cooked on my griddle, Stuffed Juicy Lucy Burgers and I'll even get down with a McDonald's burger now and then. I'm not fancy.
These smoked cheeseburgers quickly rocketed into my top 5 burgers, though, because you just can't replicate that delicious smokey flavor any other way.
This recipe can be made on a stick burner smoker, a pellet grill, a charcoal grill or smoker, or even a gas grill with a smoke tube. Choose your own adventure!
What is the best type of ground beef for smoked burgers?
If you want to ensure your burger stays nice and juicy and doesn't dry out over the relatively long period of time it'll be cooking for, make sure you get 80/20 ground beef. Fat is flavor and moisture, and if you go with 90/10 or even 85/15, the end result isn't going to be as good as it could have been if you had opted for the higher fat-content burger.
How long does it take to smoke a burger?
It takes about an hour to smoke a burger, but your mileage may vary based on your smoker, the outside temp, how tightly you form your patties, and many other factors. The best thing to do is check the internal temps every 15 minutes or so, and pull off the grill once they hit about 140°F.
Do you flip burgers while smoking?
You can, but you don't really need to when you are smoking things at a low temperature.
What temperature do you pull smoked burgers off the grill?
I like to pull my smoked burgers off the grill at about 125-130°F. Then they get a quick sear on my Blackstone griddle or in a hot cast iron pan on the stovetop with some melted butter in the pan.
Are smoked burgers better than grilled burgers?
That's pretty subjective, but I think the point could definitely be argued. Smoked burgers are pretty amazing, and the favorite of many people.
Get all of my Traeger Recipes here!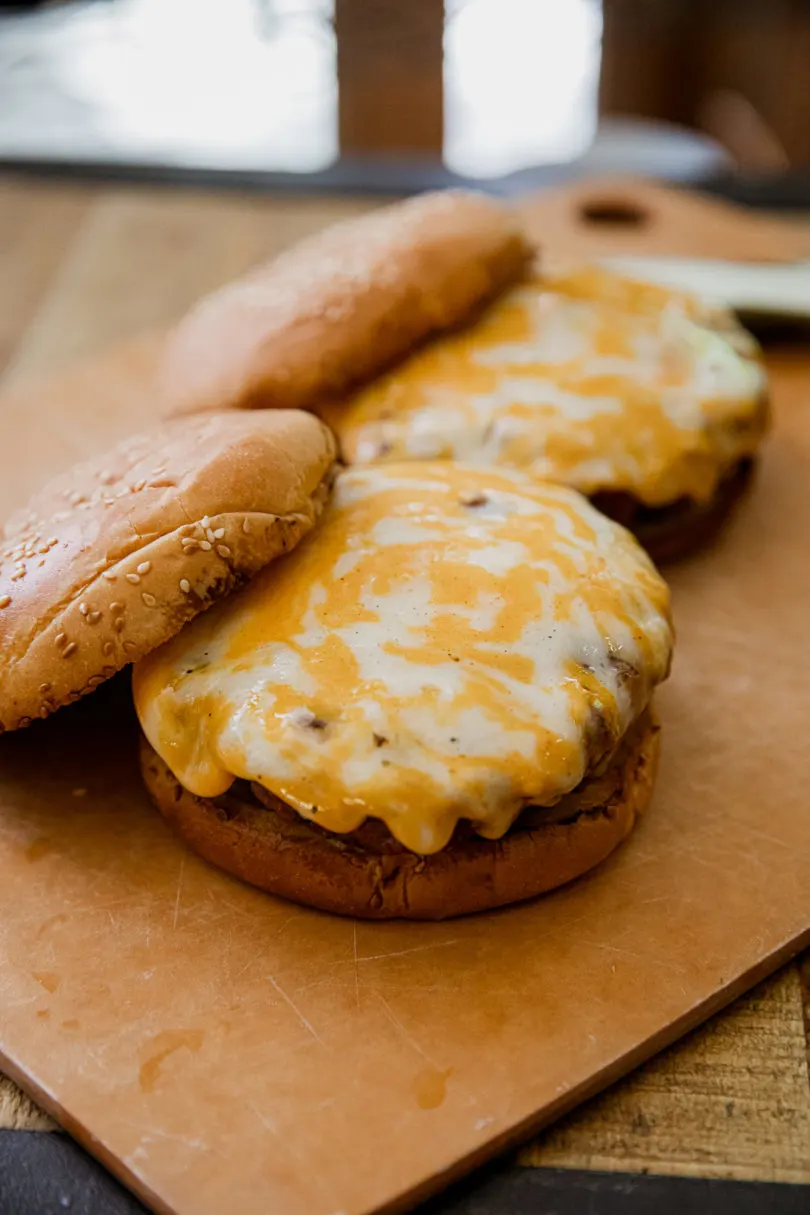 Smoked Burgers shopping list
Wondering if you have to hit the store? Here's the list of items you'll need to make this recipe. For specific amounts, please refer to the printable recipe card at the bottom of the post.
Ground beef
Salt
Pepper
Garlic powder
Cheese
Buns
Ketchup
Mustard
Pickles
Get 75+ of my favorite Traeger Recipes here!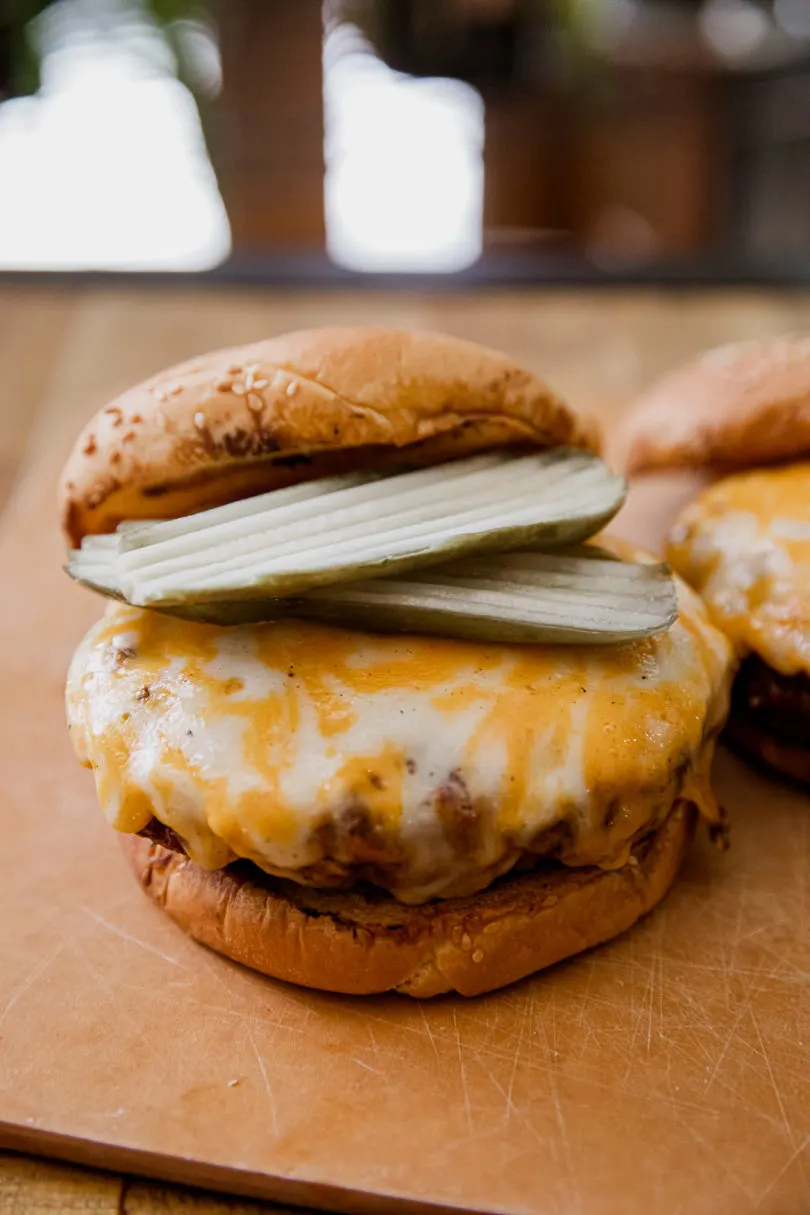 How to make Smoked Burgers on the Traeger
This is just the overview so you can see what you're actually getting into here. When you are cooking, you'll want to use the full recipe at the bottom of the page.
Preheat
Fire up your pellet grill or smoker and preheat it to 225°F.
Season
Make your burger into patties that are about 1″ thick, and are slightly bigger than your buns, since there will be some shrinkage happening. Season liberally with salt, pepper, and garlic powder, or your favorite SPG blend or burger rub.
Smoke
Smoke your burgers for 35-35 minutes, approximately, or until the internal temp reaches 125-130°F.
Sear
Preheat your griddle or a cast iron pan over medium-high heat. Put a pat of butter in and sear both sides of the burger for 1-2 minutes per side.
Enjoy
Top with cheese during the last couple of minutes of the cook, and all the best toppings you want.
Enjoy with some Blackstone Frozen Fries!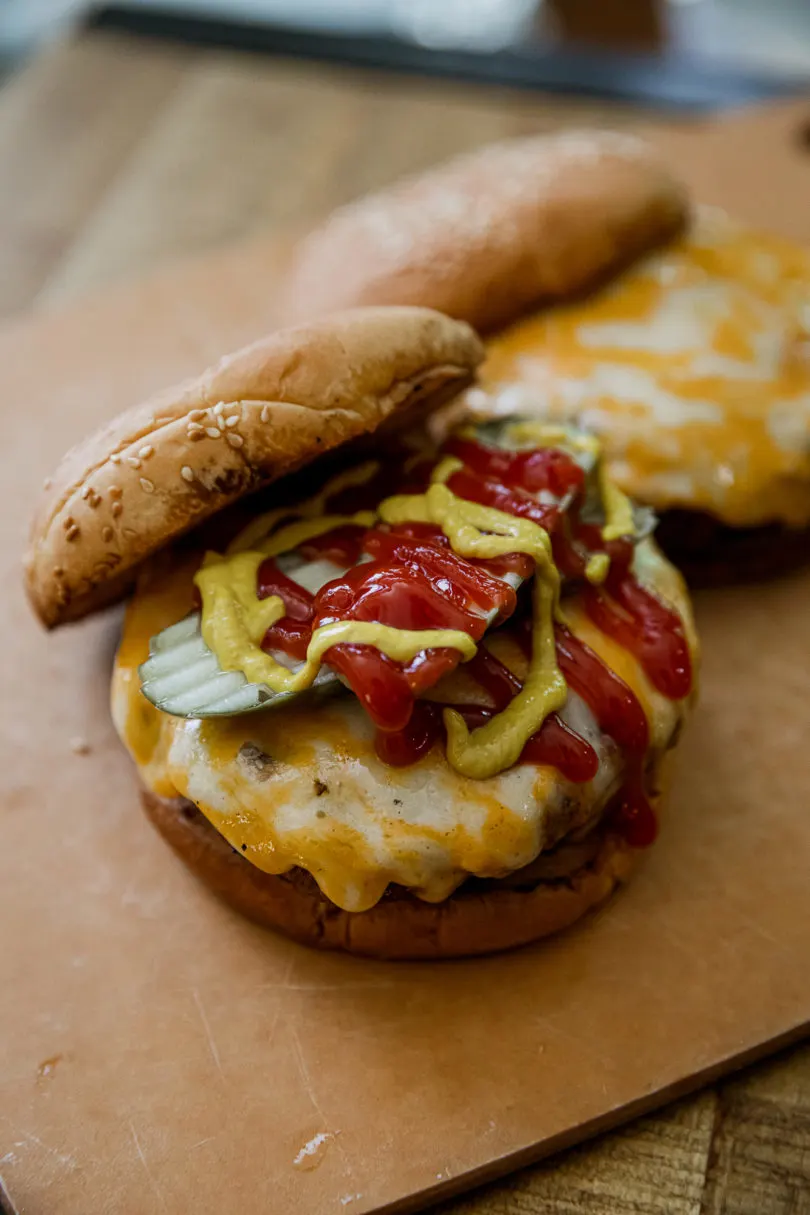 Smoked Burgers FAQ
Can these be made in advance?
For the best results, you don't want to make these too far in advance, as they can dry out. An hour or two? Sure. Then do the final sear right before you serve them. A day or two? NAHHHHHH.
What's the best way to store and reheat leftovers?
If you wind up making more than you can eat in one sitting, refrigerate for up to 2-3 days. Reheat in an air fryer or in a pan on the stove with butter for best results.
Try with our Air Fryer French Fries!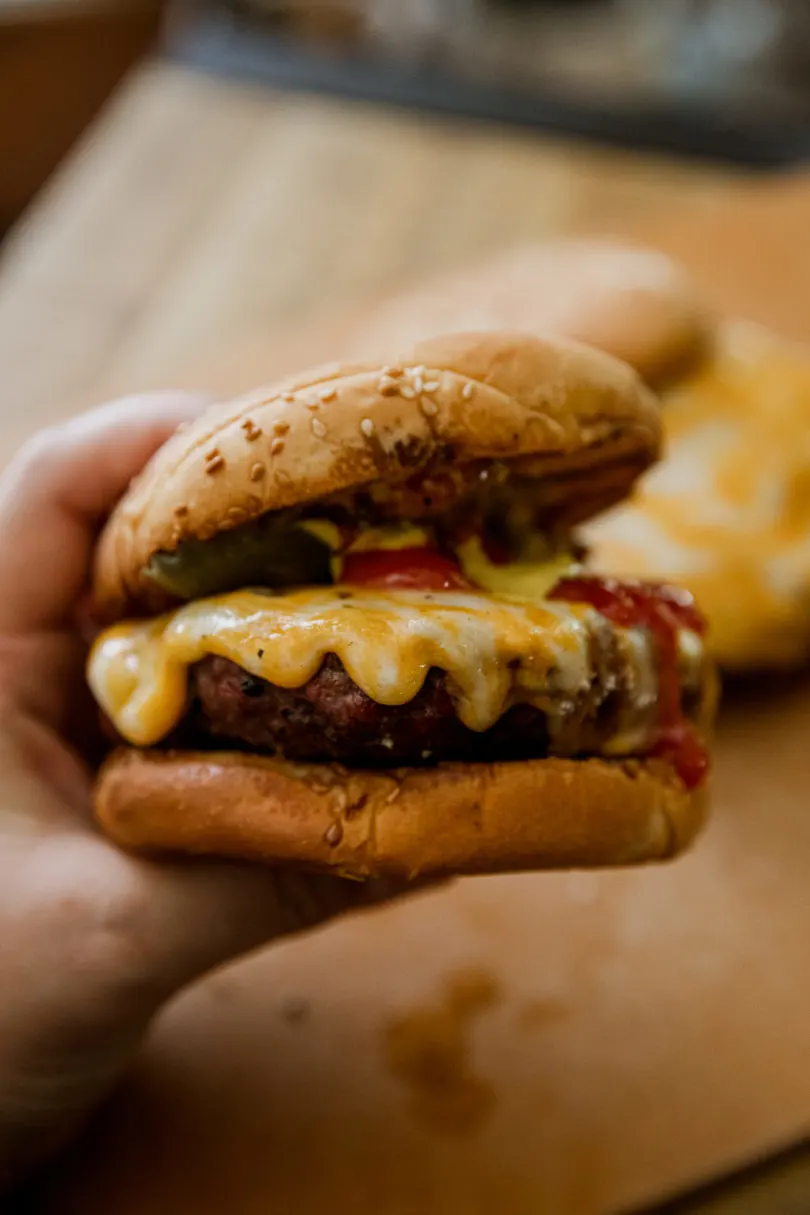 More amazing burger recipes to love!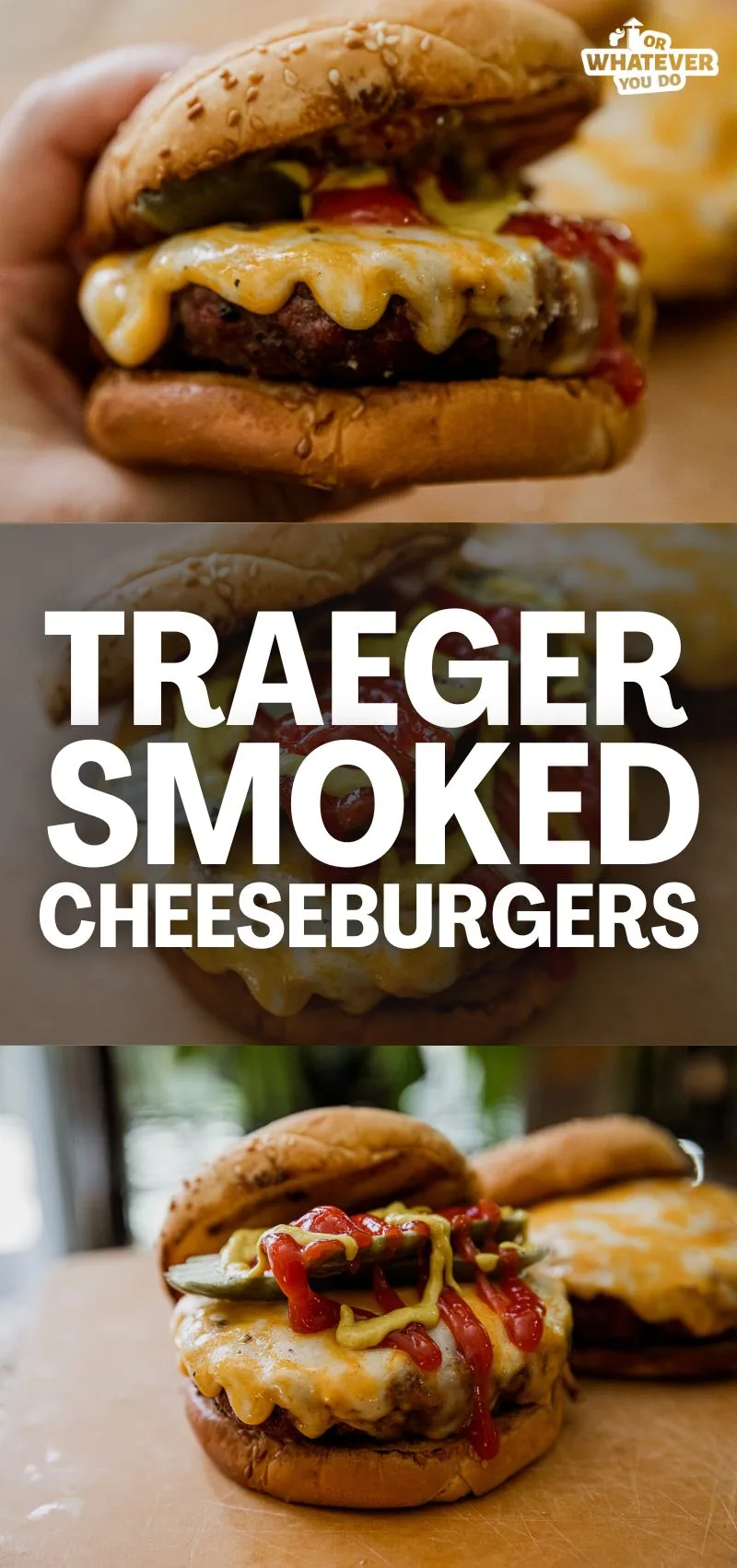 Yield: 6 servings
Traeger Smoked Burgers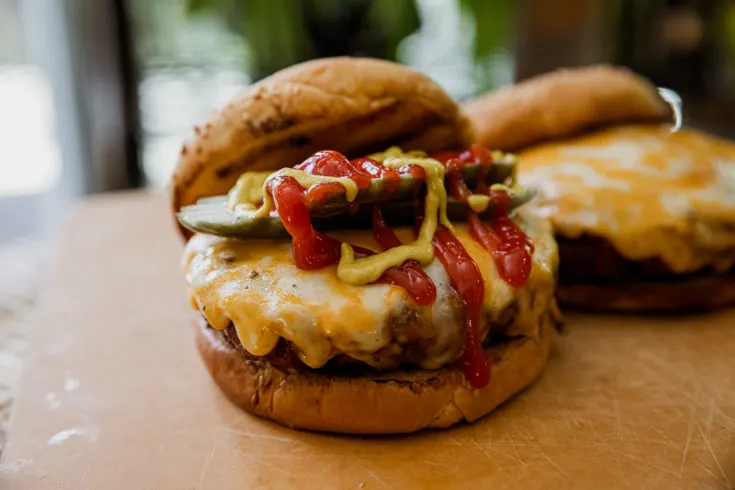 These delightful smoked burgers are made on our Traeger pellet grill and make the perfect burger!
Total Time
1 hour
10 minutes
Ingredients
3 pounds 80/20 ground chuck
3 teaspoons salt
1 1/2 teaspoons pepper
6 slices colby jack cheese
6 buns
Instructions
Preheat your smoker to 225°F.
Form your patties and season on both sides with the salt and pepper.
Smoke the burgers directly on the grill grates for 35-45 minutes, or until they reach approximately 130-135°F internal temperature.
Preheat your gas griddle or a cast iron pan on the stovetop over medium-high heat.
Melt some butter in the pan and put the burgers in to sear on both sides for 1-2 minutes per side.
Put cheese on the burgers during the last minute of cooking and cover to melt.
Serve on toasted buns with all of your favorite fixings.
Recommended Products
As an Amazon Associate and member of other affiliate programs, I earn from qualifying purchases.
Nutrition Information:
Yield:
6
Serving Size:
1
Amount Per Serving:
Calories:

256
Total Fat:

12g
Saturated Fat:

6g
Trans Fat:

0g
Unsaturated Fat:

5g
Cholesterol:

36mg
Sodium:

1421mg
Carbohydrates:

23g
Fiber:

1g
Sugar:

3g
Protein:

15g
Nutrition data provided here is only an estimate.
Love beef? Try our Traeger Smoked Mississippi Pot Roast!