Home baked bread is one of the best foods there is. There is nothing quite like bread pulled fresh from the oven with some fresh butter on it. These simple dinner rolls are easy, and will impress your family with their warm, soft, chewy taste.
This recipe is so versatile, you can use it as the base for so many things. As is, for these dinner rolls, for a home made hot pocket, for a loaf of bread. Add in some oatmeal, replace some white flour with whole wheat, use honey instead of sugar to sweeten, oil instead of butter for flavor, more salt, a bit less salt, some garlic powder, some herbs. The possibilities are endless. Experiment with your bread making! Once you get the general technique down its really, really, really hard to mess up bread.
I'm going to write up these instructions assuming you have a stand mixer. If you do not, you can still make this. Just mix everything in a bowl and knead by hand. It will take you longer, but it will still be very good!
For today, lets just get this one thing down. Simple dinner rolls. So easy. So good.
Put 3 cups of warm water into your mixer along with 2 Tbsp yeast.
Let that sit for about 5 minutes and make sure it gets a bit bubbly. That's "proofing" your yeast. If your water was too hot when you added the yeast, you will have killed the yeast and you will get none of the foamy/bubbly yeast growth.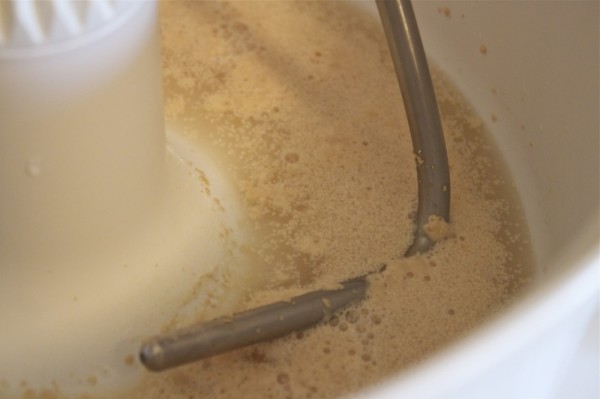 Next put in your sugar and salt and turn your mixer onto medium. Begin to add the flour as its mixing until a soft sticky dough starts to form.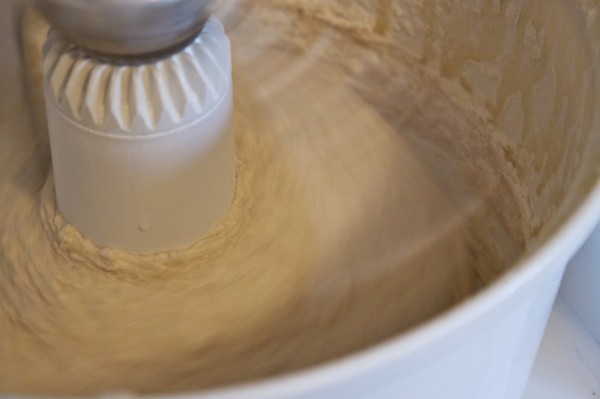 Now drizzle your melted (but not too hot!!) butter into the running mixer and let it get thoroughly worked into the dough. Keep mixing and keep adding flour slowly until your soft, sticky dough turns into a smooth, not sticky, ball. It should clean off the sides of your mixer.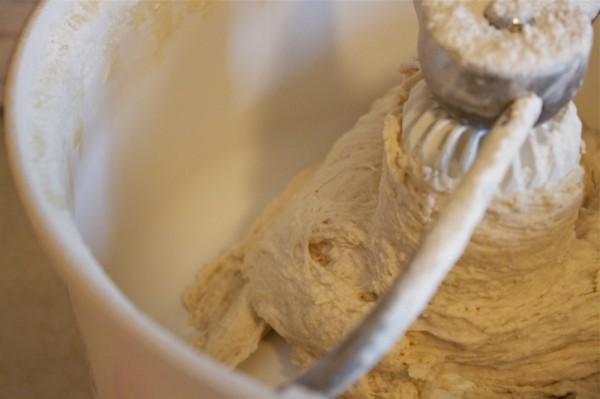 Place the dough into a greased bowl, flip it over a few times to coat the dough with the oil, and cover with a towel.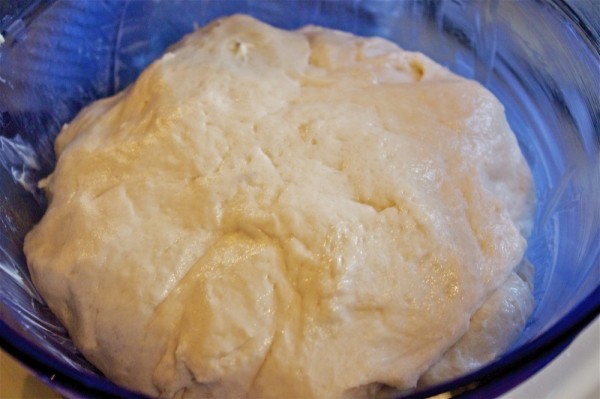 Let this rise until doubled in a warm, draft-free place. Punch down the dough, grease up your hands, and form into palm-sized balls. You can get that smooth uniform exterior by pulling and pinching the dough from the bottom and pushing it up into itself. Place the formed rolls onto a prepped baking pan and cover. I usually use parchment paper, but this time all I had was foil.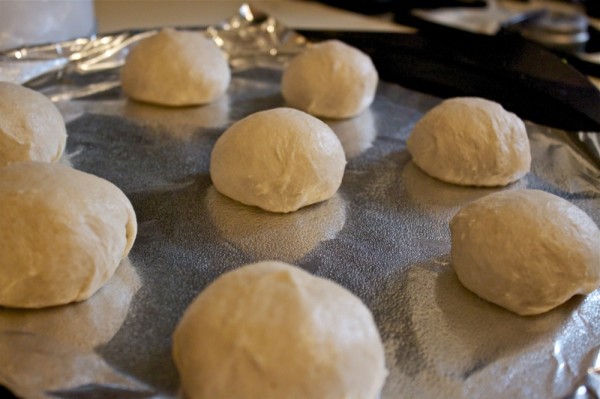 Let rise until doubled, and then bake in a preheated 375 degree oven for 15-18 minutes, or until golden brown.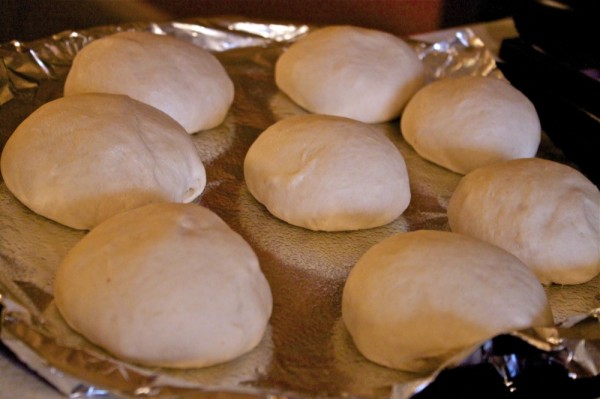 Rub the tops of the baked rolls with some butter. Feel free to get creative and mix in some herbs and seasonings to that butter if you'd like! For these, I added a bit more salt, garlic powder, and parsley.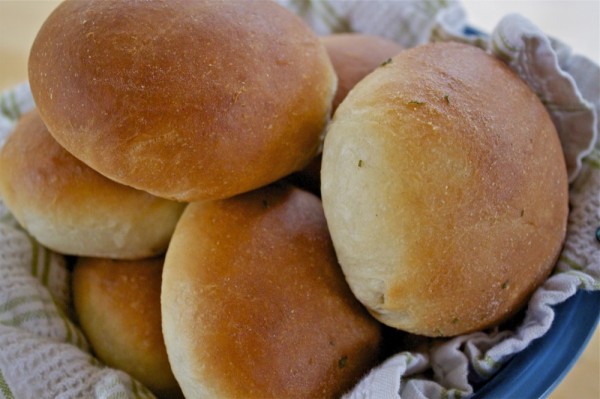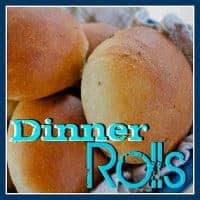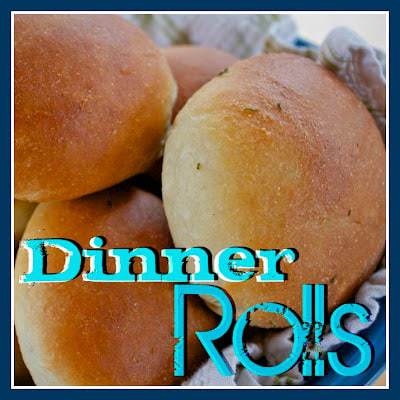 Simple Dinner Rolls
Yield: 12 servings

Prep Time: 30 minutes

Rise Time: 1 hour

Cook Time: 17 minutes

Total Time: 1 hour 47 minutes

Soft, fluffy dinner rolls are easy, delicious, and make any meal special. There's nothing like fresh bread to make your family or guests feel cared for!
Ingredients
3 cups warm water
1 tablespoon yeast
1/2 cup sugar
1 tablespoons salt
1/2 cup butter, melted but NOT hot
6-8 cups approximately bread flour
Instructions
Place warm water & yeast into your mixer. Let sit 5 minutes and make sure there is some bubbles and foam forming.
Add sugar & salt. Start mixer and add enough flour to form a sticky dough.
Drizzle butter into mixer while running. Let it fully incorporate into dough.
Slowly continue to add flour while the mixer is running until a soft flexible dough forms and the sides of your mixer are "cleaned" off by the dough.
Place in a greased bowl, cover, and let rise until doubled in a warm draft-free place.
Punch down and form rolls. Place on prepped baking sheet, cover, and let rise until doubled again.
Bake in a preheated 375 degree oven for 15-17 minutes, or until golden brown. Rub the tops of the baked rolls with butter.
---
As always…
Thank You for looking! I LOVE comments. Use the comment form below to interact, or if you like what you see, and want to see more, please feel free to jump on over to my Facebook page and like me there. I post teasers for upcoming recipes, answer any and all of your questions, and every recipe from here gets linked to there as well.

If you are a pinterest fanatic like I am, you could also drop by and follow me there, and pinning my images is always appreciated!
If you would rather have every recipe delivered to your inbox, the morning after they are posted, please sign up below to be on my email list!
Thanks for dropping by! Hope to see you again soon!
~Nicole~