This Buffalo Chicken Dip is an Instant Pot chicken dip that is seasoned with buffalo salt, cooked in buffalo sauce, and then shredded and mixed with cream cheese and more buffalo sauce and cheese.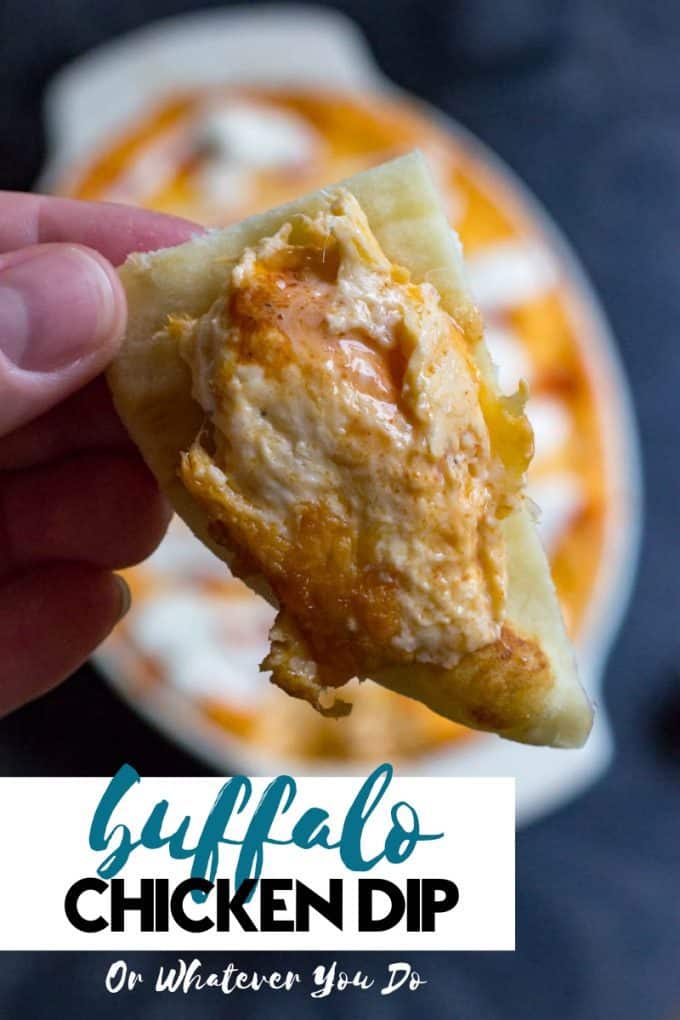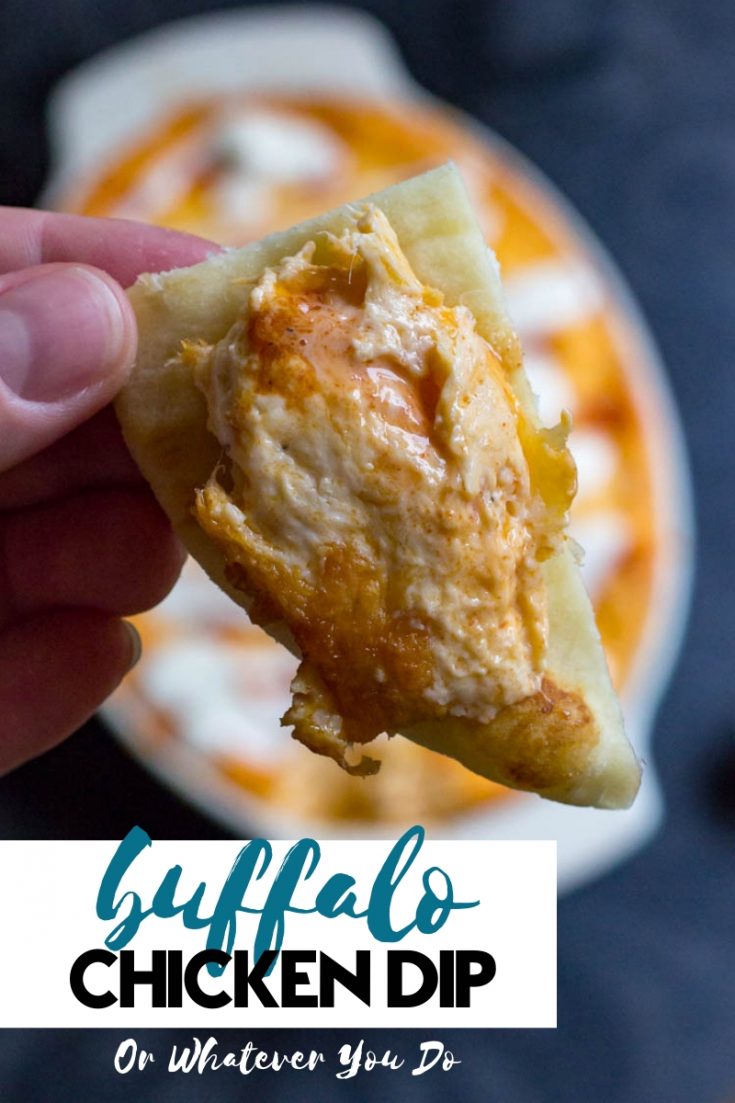 Buffalo Chicken Dip
Many other recipes call for cooked or canned chicken in the recipe, but this one is seasoned before it ever feels any heat, giving it that extra boost of flavor which takes dipping to a new level of palate perfection!
Buffalo Chicken Dip is one of my all-time favorite dips to make and serve at any get-together. Whether it is a Super Bowl party, potluck at work or church, or just plain movie night at home with the family, you don't even need a good reason to make and serve (and eat) this delicious appetizer!
Need more Traeger Chicken Recipes? I've got them here!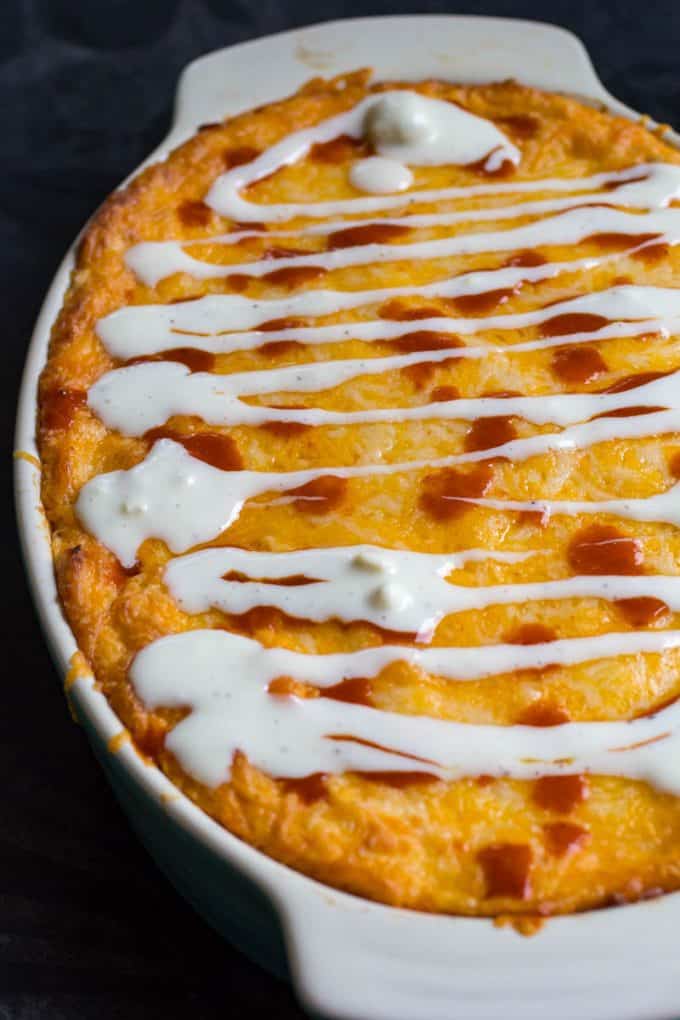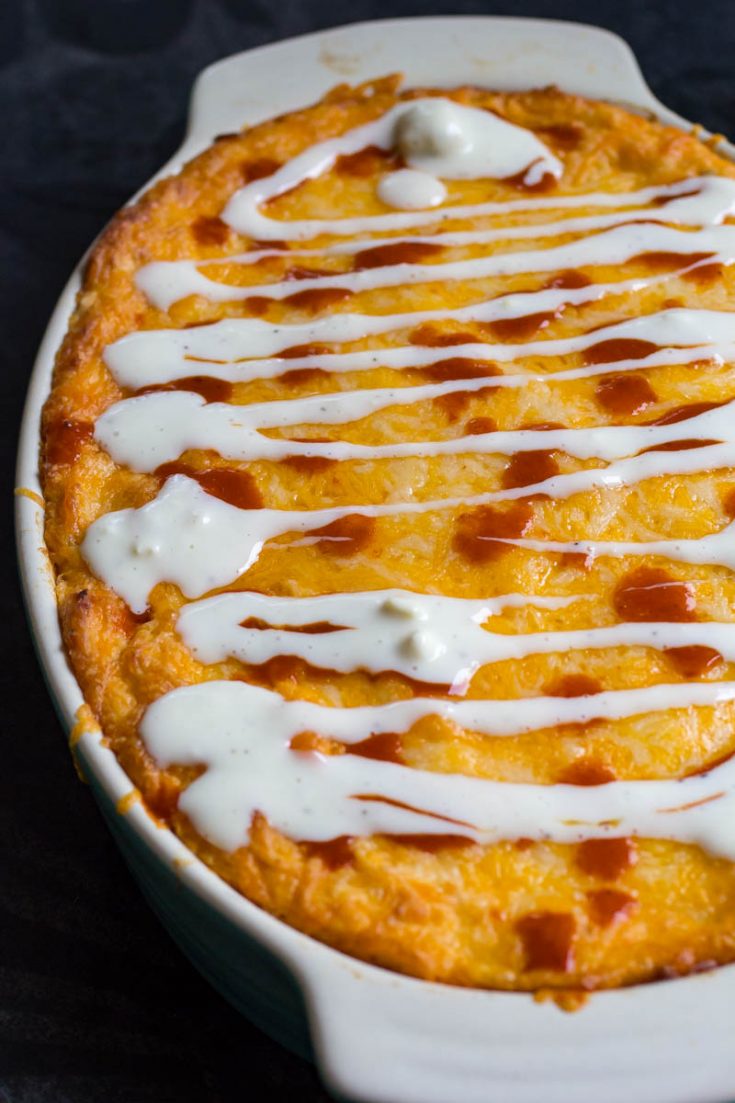 With all of the upcoming parties for the Holidays, you should have plenty of reasons to whip this up! Not to mention, it is a great change of pace once you've finally gotten enough turkey, potatoes, stuffing, pie and whatever else you all make a tradition of eating for the Holidays.
Sometimes it's nice to have something with a little zip, and this Buffalo Chicken Dip is just the ticket!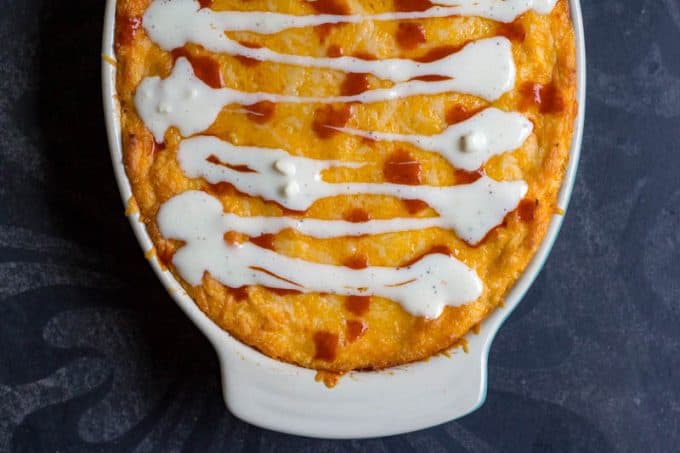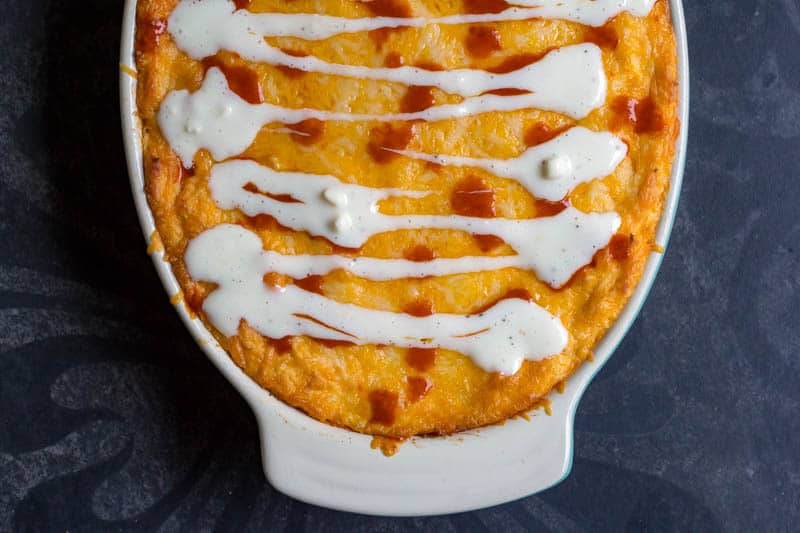 Can I make this Buffalo Chicken Dip in the crockpot or oven?
Yes, you can! Same technique, it will just take a little longer than the instant pot, but just as delicious!
What can I serve with this dip?
I love to serve this dip with tortilla chips and celery. The saltiness of the chip compliments the spice of the dip, and the celery cools the heat.
You could also use a toasted baguette, or French bread cut into cubes or crackers. Have a veggie tray available with some ranch dressing which is a great accompaniment to hot and spicy buffalo dip. Plus veggies add color to your table and a healthy option for yourselves or your guests.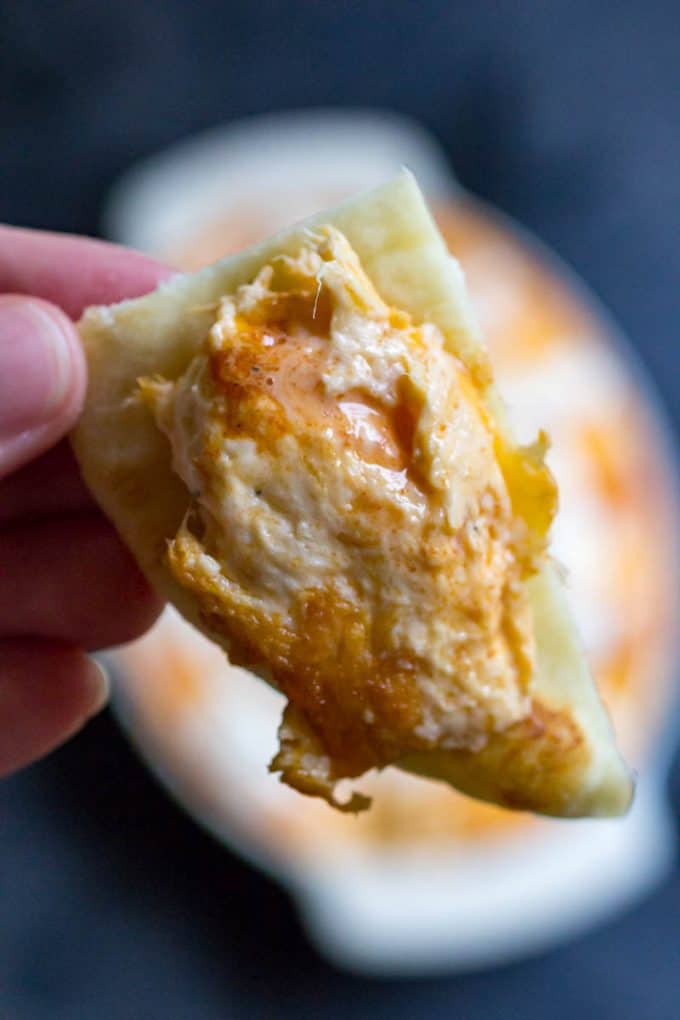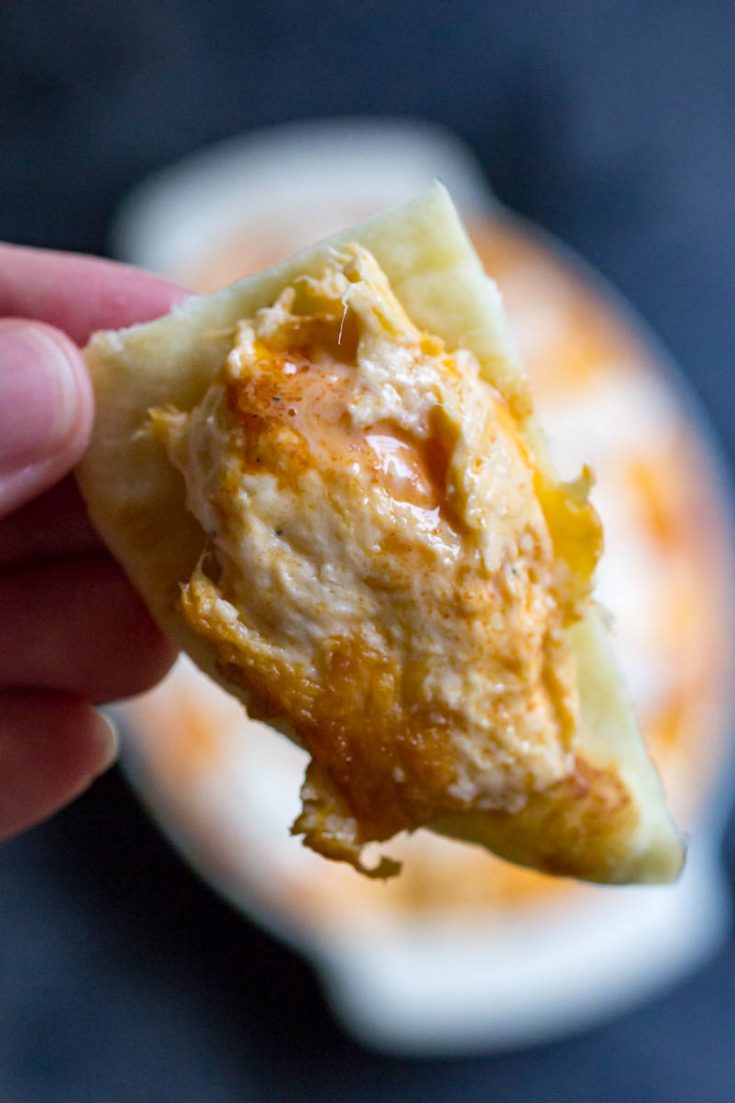 Where did buffalo sauce come from?
Buffalo Wings originated in 1964 at the Anchor Bar in Buffalo, NY. (cite) Created by Teressa Bellissimo, who served the now famous Buffalo Wings, they are chicken wings covered with her special sauce and served with a side of blue cheese and celery.
Amazing how a simple idea can turn into a worldwide favorite flavor, loved by millions!
Including me!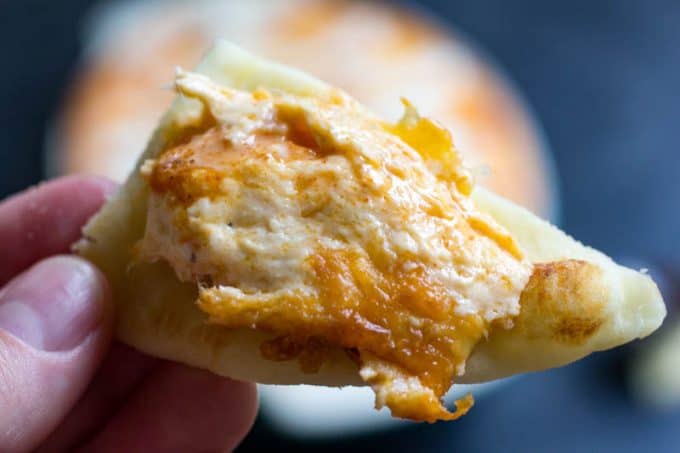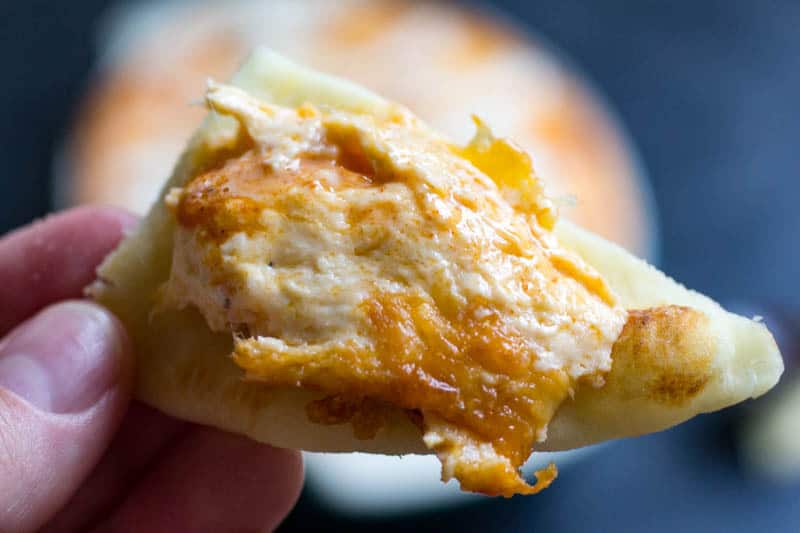 Is there a difference between Hot Sauce and Wing Sauce?
YES!!!
Hot sauce, such as Tabasco, is used sparingly to flavor a dish and is made basically of hot peppers and vinegar with salt and mayyyybe a few other various seasonings.
Wing sauce is used to toss your chicken wings in right after cooking. (Check out my FAVORITE wing sauce recipe here!)
Buffalo sauce is basically hot sauce (as we just explained previously), mixed with melted butter or other butter flavorings. It is not as intense as "hot sauce", but still spicy! So, when recipes call for hot sauce, USE hot sauce. If a recipe calls for Buffalo sauce, USE Buffalo sauce!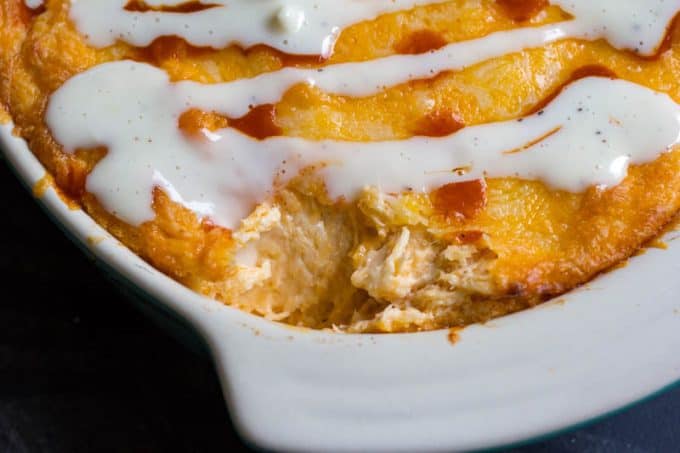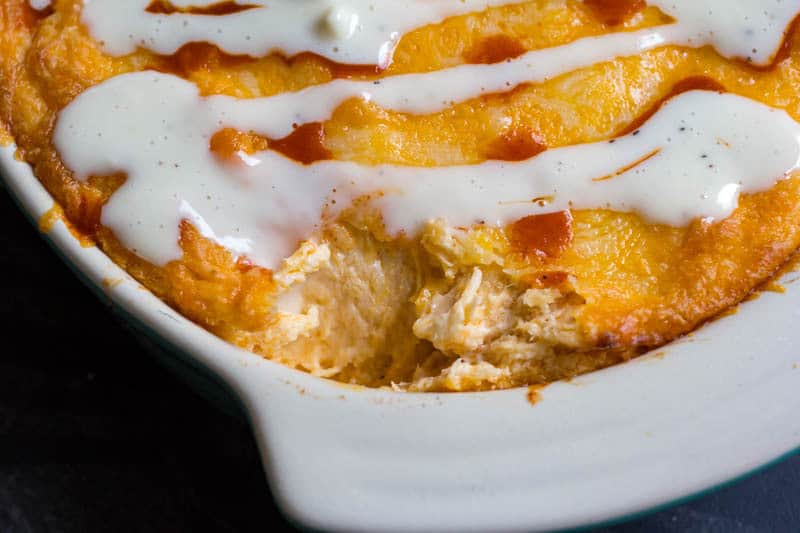 Can I make my own Buffalo Sauce?
Yes! You just put HOT sauce in a pan with some butter, warm it up and VOILA! Buffalo Sauce! Just start with about 3/4 cup of hot sauce and 1/2 cup of butter, add more butter if it's too hot for your taste. You can also add other seasonings to your own taste such as garlic powder and salt.
My favorite Buffalo Sauce recipe is made with Cholula. I also have a fabulous Bloody Mary Buffalo Sauce as well. It isn't just for drinks, it is made with Bloody Mary mix in addition to the hot sauce!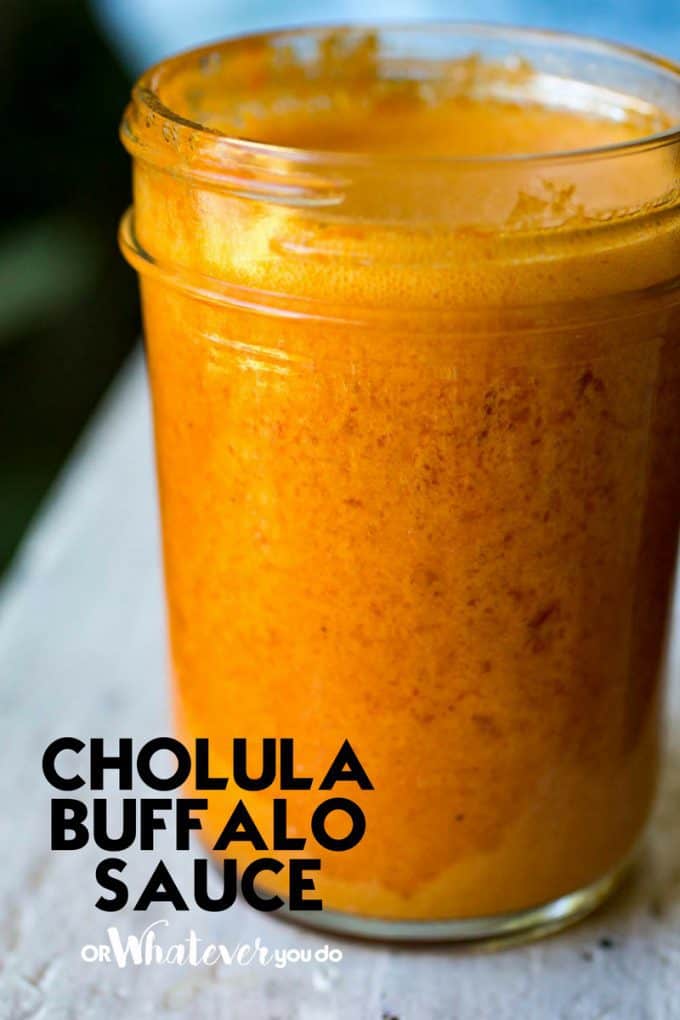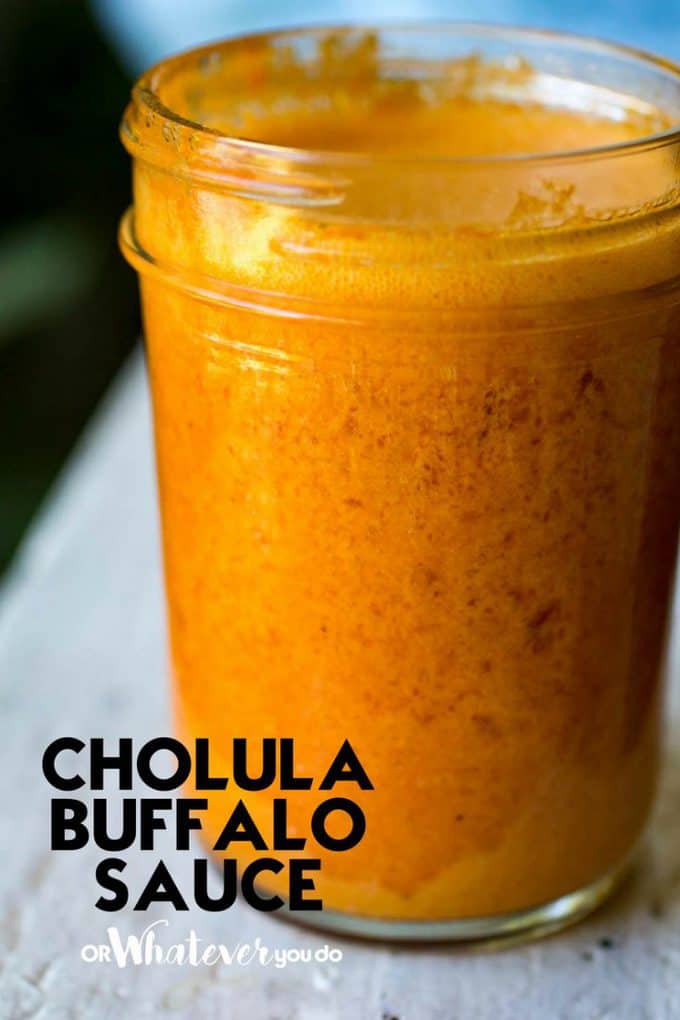 Need more delicious appetizers to serve alongside your Buffalo Chicken Dip?
How about some refreshments?
If you're not in the mood for a cocktail, just serve some good beer in a frosty mug.
Not into alcohol? How about high-quality root beer, or root beer floats?
Easy Instant Pot Buffalo Chicken Dip
This dip is so easy to make and your guests and family will LOVE it!
You can easily adjust the spices from mild to hot, hot, hot accordingly. If you want to accommodate the bland at heart, serve something mild alongside it to make sure to please everyone!
Happy Dipping!
Do I have to use an Instant Pot?
Nope! You can cook these chicken breasts in the crock pot, on the stovetop, or even in the oven if you'd like. Pick your pleasure! Whatever leads to shreddable chicken will work for this easy, delicious appetizer recipe.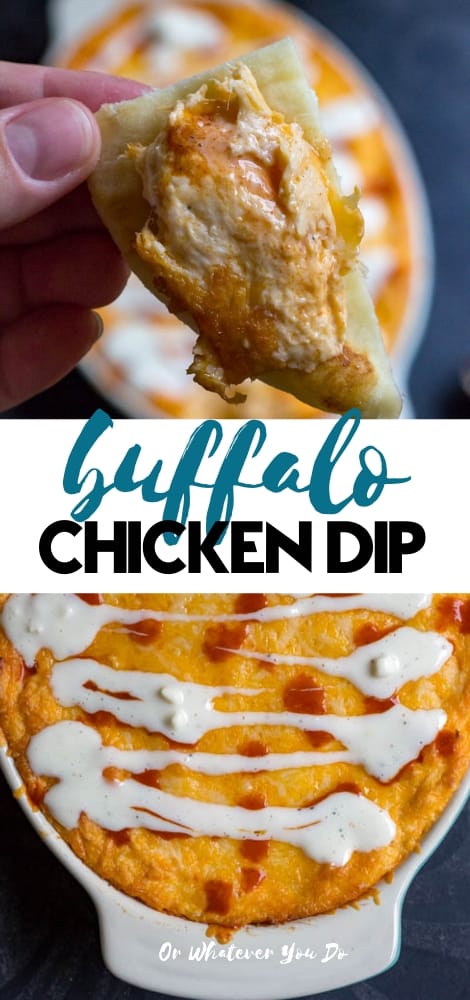 Crazy for Buffalo? I have more Buffalo recipes here!
Yield: 12 servings
Buffalo Chicken Dip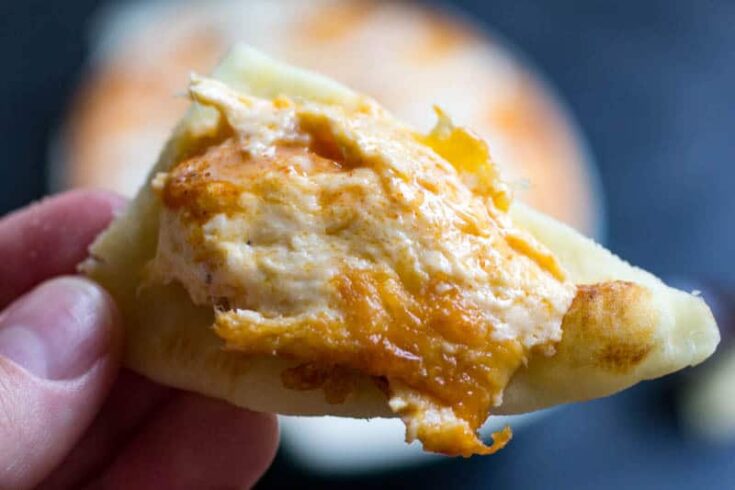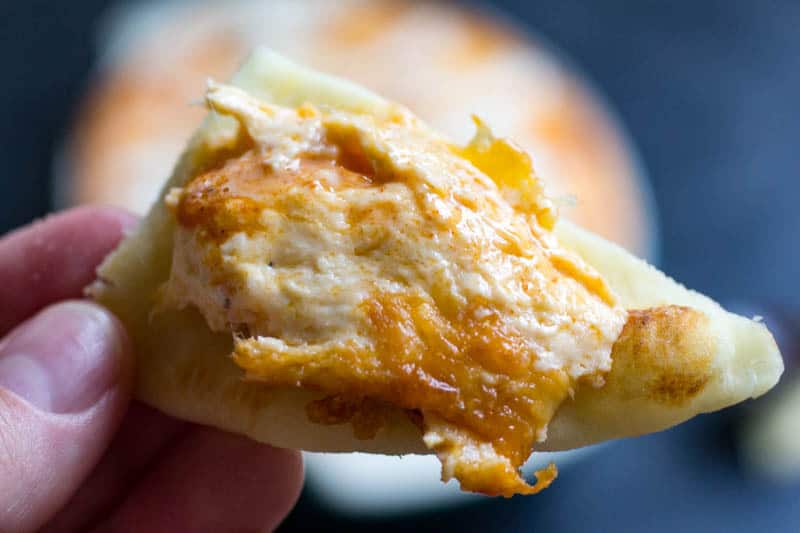 This buffalo chicken dip is cooked mostly in the Instant Pot, and then finished off in the oven to get that bubbly brown cheesy crust.
Ingredients
2 large chicken breasts
1/2 teaspoon salt
1/4 teaspoon pepper
2 teaspoons Frank's Buffalo Seasoning
1 cup chicken broth
1/2 cup hot sauce (your fave)
16 ounces cream cheese, softened
1 cup buffalo sauce
3 cups shredded sharp cheddar cheese, divided
1/2 cup chunky bleu cheese or ranch dressing
Instructions
Season the chicken breasts liberally with the salt, pepper, and buffalo seasoning. Place in the bottom of the Instant Pot.
Pour in the chicken broth and hot sauce, and close the lid and seal the vent.
Preheat your oven to 350°.
Cook on manual, high pressure, for 8 minutes. Let the pressure naturally release at the end of the cook time.
Shred the chicken with two forks and remove from the pot. Combine the shredded chicken with the cream cheese, buffalo sauce, and 2 cups of the shredded cheese.
Prepare a baking dish with non-stick cooking spray, and spoon the chicken mixture inside. Top with the remaining shredded cheese.
Place the baking dish into the 350° oven and bake for 20-25 minutes, or until the cheese is fully melted and bubbly and starting to brown a little on the top.
Serve with something to scoop it with, such as celery sticks, carrot sticks, pita bread, crackers, etc. Garnish with bleu cheese or ranch dressing.
Recommended Products
As an Amazon Associate and member of other affiliate programs, I earn from qualifying purchases.
Nutrition Information:
Yield:
12
Serving Size:
1
Amount Per Serving:
Calories:

433
Total Fat:

36g
Saturated Fat:

20g
Trans Fat:

1g
Unsaturated Fat:

11g
Carbohydrates:

4g
Fiber:

0g
Sugar:

2g
Protein:

24g