This Chicken and Chanterelle Crostini is fancy enough for even your most honored guests, and delicious enough that you might want to make a meal out of it!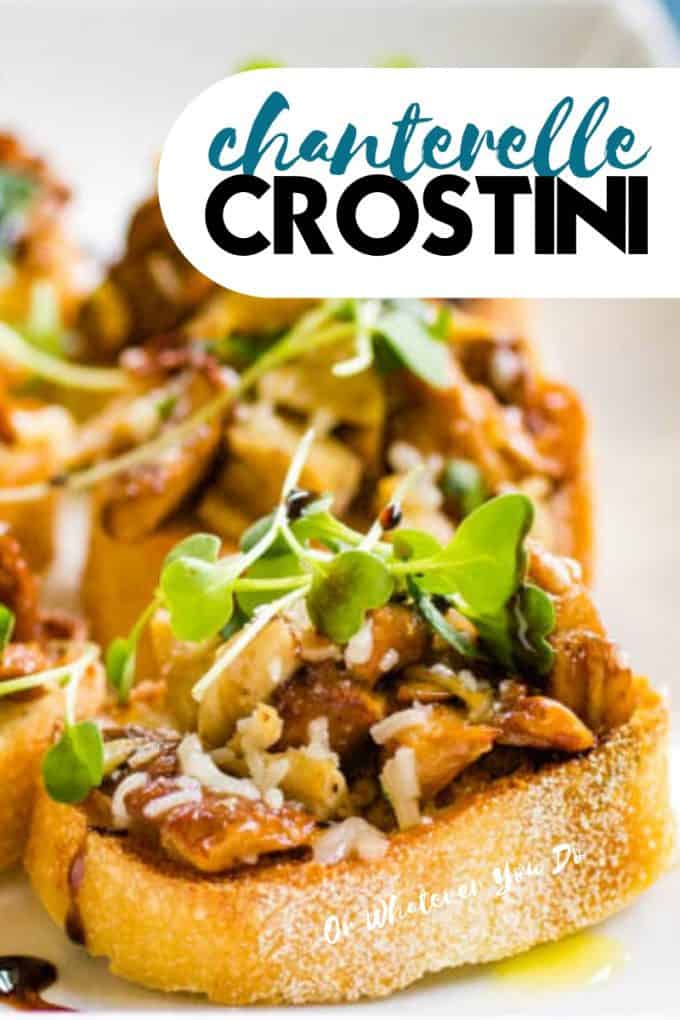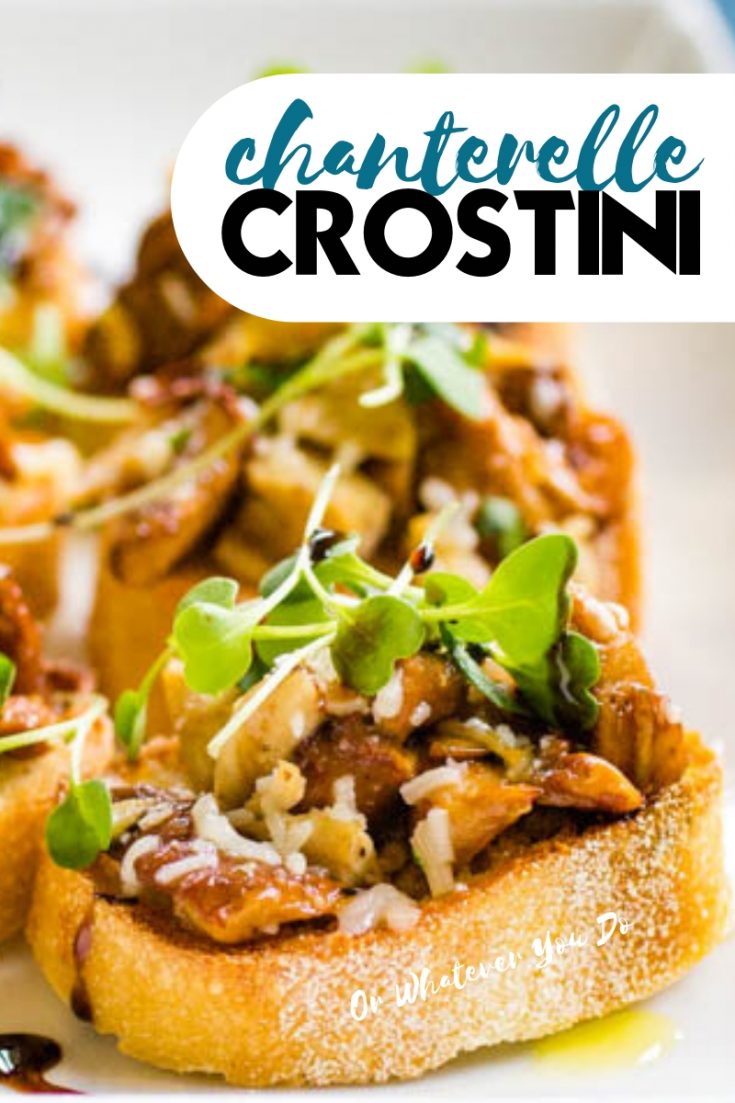 Chicken and Chanterelle Crostini
We are getting close to Holiday Time! It's apparent in the stores we shop in, the food we start craving, and the meals we plan for our Holiday celebrations. The appetizer is the most delightful and delicious precursor we can prepare for our guests at this time of year. With unlimited options from sweet to savory and everything in between, we can please almost everyone on our list with little effort.
I don't know about you, but the appetizers are on the list of one of my favorite things for the holidays! They are fun to make and fun to serve, especially if you really use your imagination.
My recipe for Chicken & Chanterelle Crostini is a wonderful choice for just these occasions!
Before we get to the recipe, let us explore a little history about the appetizer. I found a LOT of information about this little delight.
Need more Traeger Chicken Recipes? I've got them here!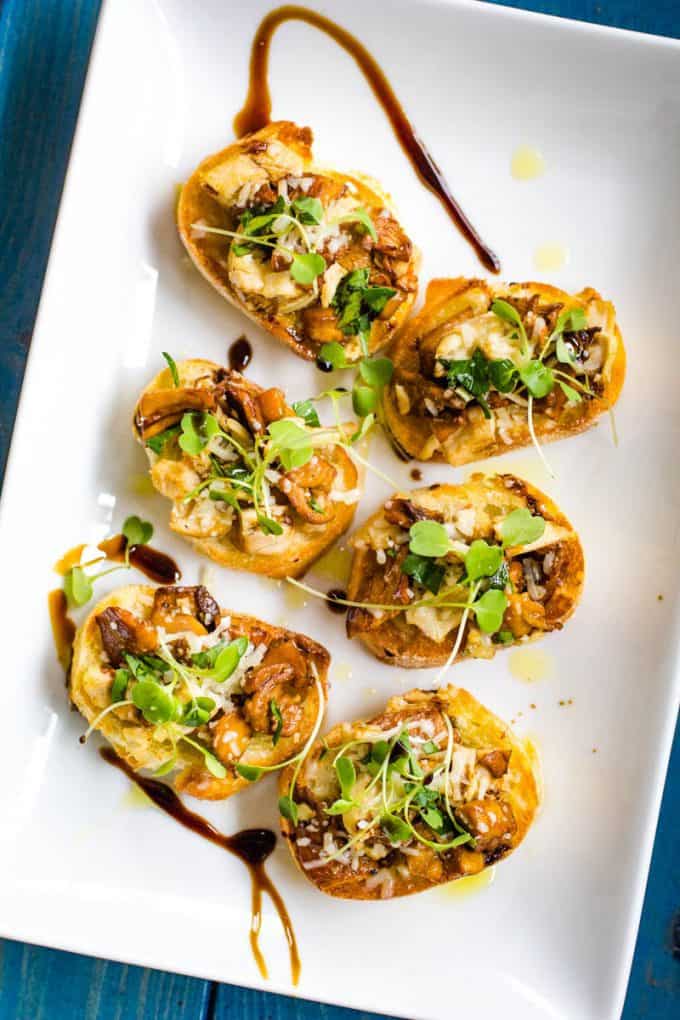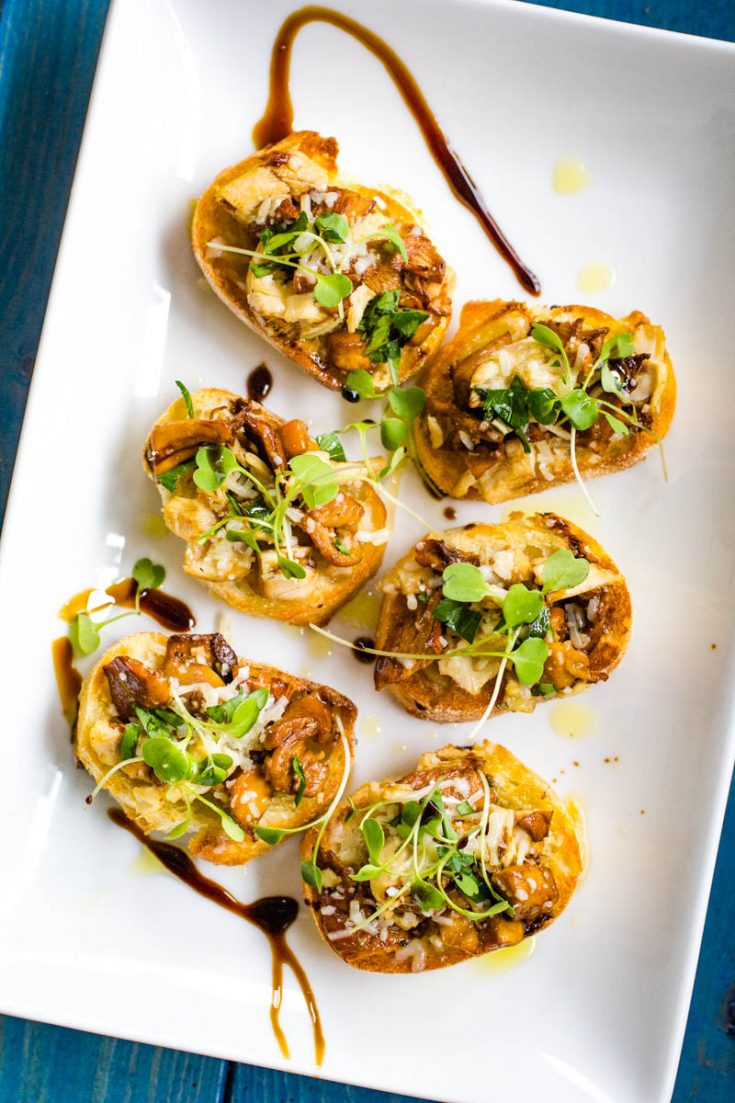 What is an appetizer and where did it come from?
Appetizer is a synonym for the word "hors d'oeuvre". The term appetizer was first used in the United States and England in 1860. (cite)
The meaning which, as we all know, is a small dish served before a meal. The origin dates way back to the 1600's. Over the centuries, the hors d'oeuvre consisted of many, many different foods and was served at different times, before, during and even after the main course.
The purpose of the appetizer is just as the word says, to "appetize" or whet your palette and make you hungry for the main event. So, when planning your appetizers use your imagination and anything goes!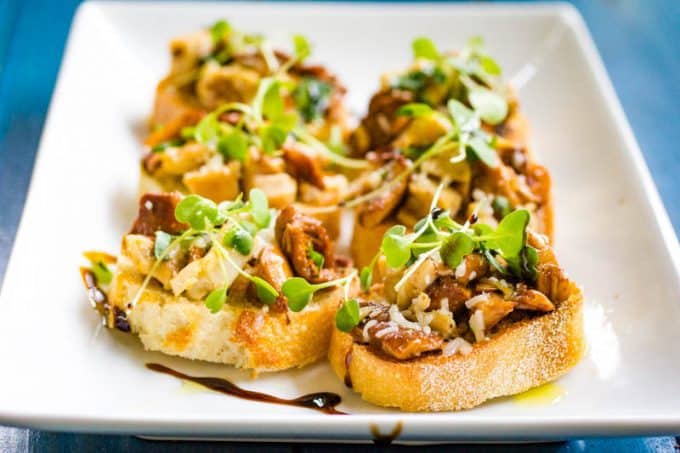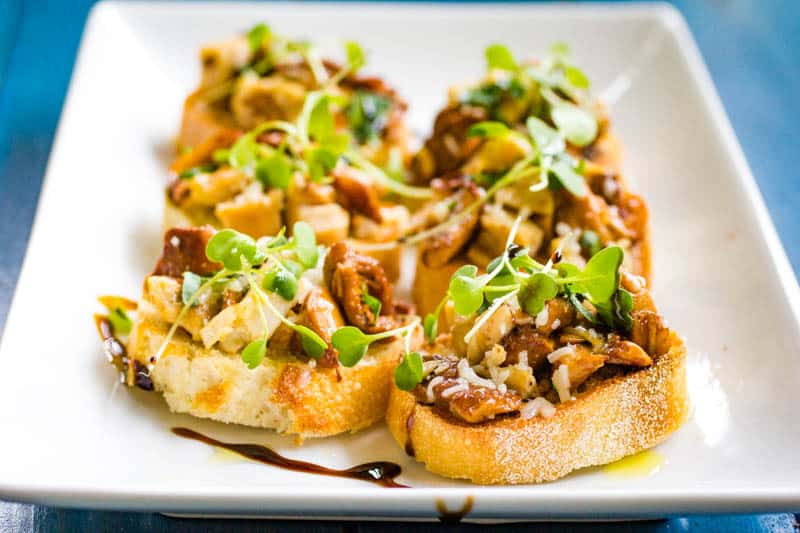 What is in Chicken and Chanterelle Crostini?
In my Chicken and Chanterelle Crostini, I sautéed chicken with chanterelle mushrooms and fresh herbs and served it on toasted crostini with micro greens and a balsamic glaze on top.
I chose chanterelle mushrooms, which are one of the most delicious and popular of edible wild mushrooms. They are a dense and meaty mushroom and range in color from white to yellow or orange.
They have a nutty flavor which compliments the chicken, and have a slight aroma of apricots or peaches.
The chanterelle mushroom has a high content of vitamin D2, which helps the body absorb calcium. They also contain protein, vitamin A, potassium, iron, chromium, and eight essential amino acids.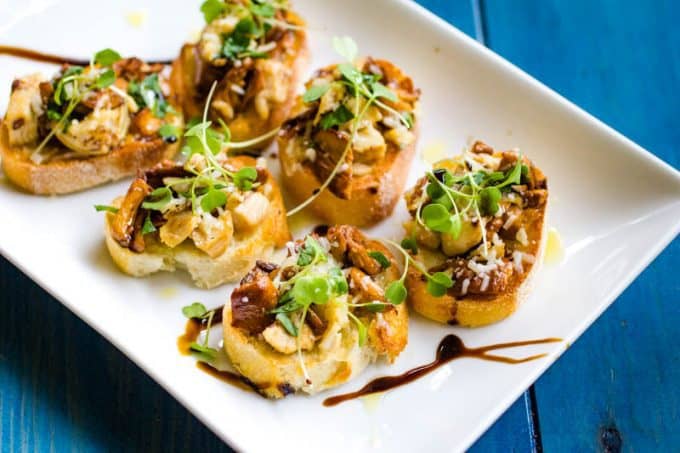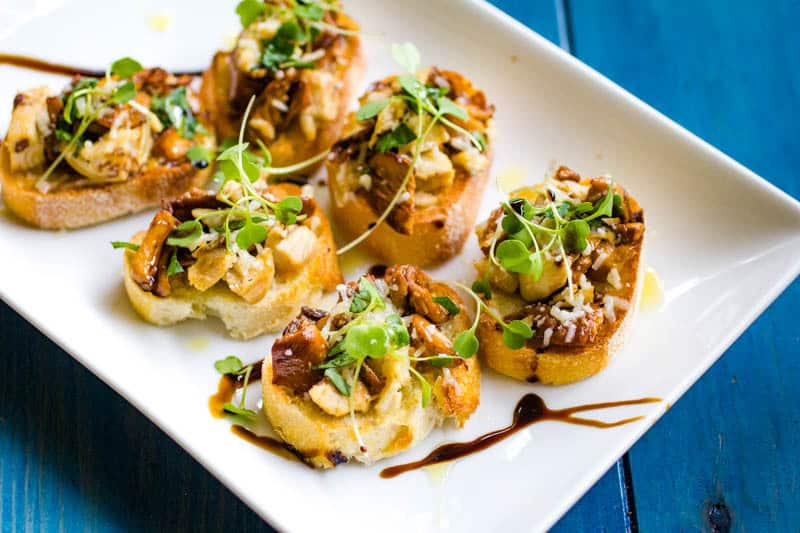 What Nutrients Are In Chanterelle Mushrooms?
One cup (54 g) of chanterelle mushrooms contains:
So many benefits to using mushrooms!
Other Uses For Sliced Baguettes

What Sweet Appetizer Can You Serve with Chicken and Chanterelle Crostini?
We've covered several ideas in the savory group, now shall we talk about sweet? Here are some great ideas to achieve the smiles of many a guest to come: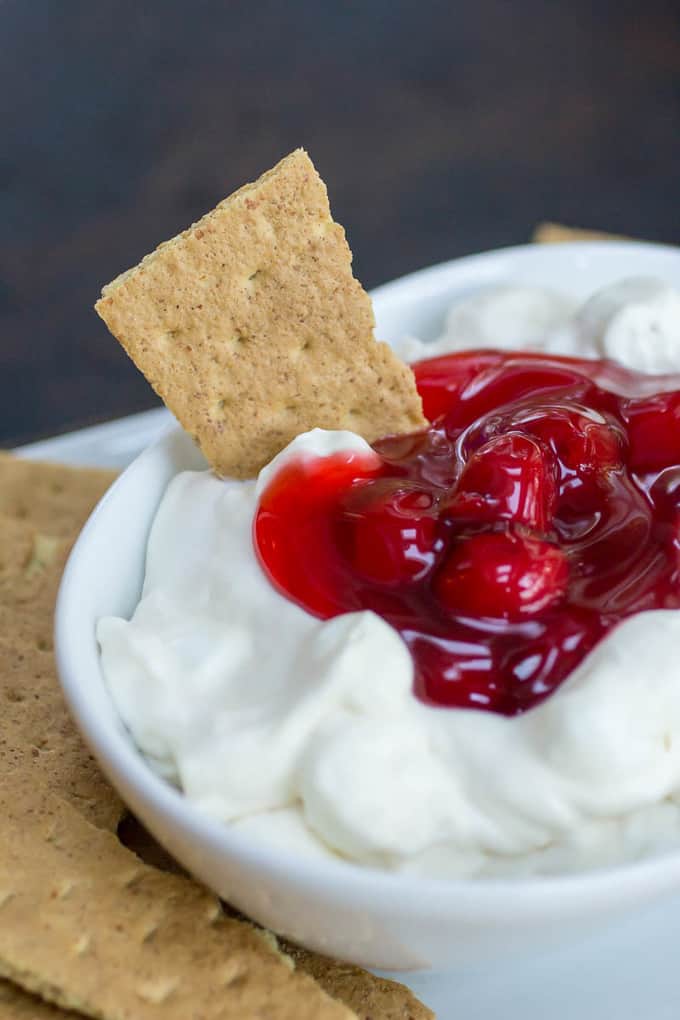 Kid-Friendly Appetizers for Parties
Don't forget the kids! Kids all LOVE popsicles so here are some delicious ideas for the littles on your guest list!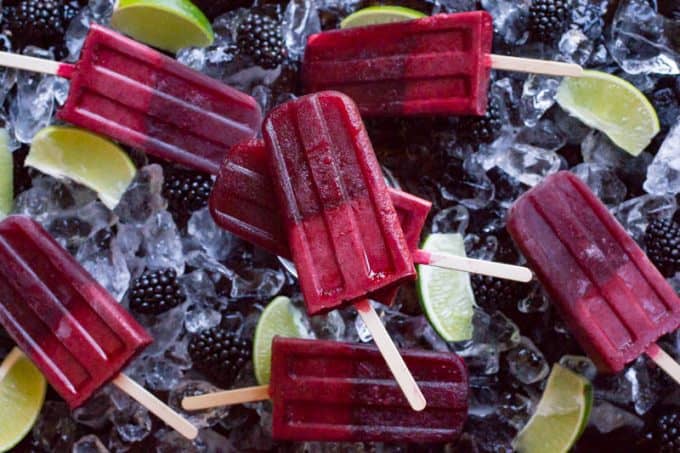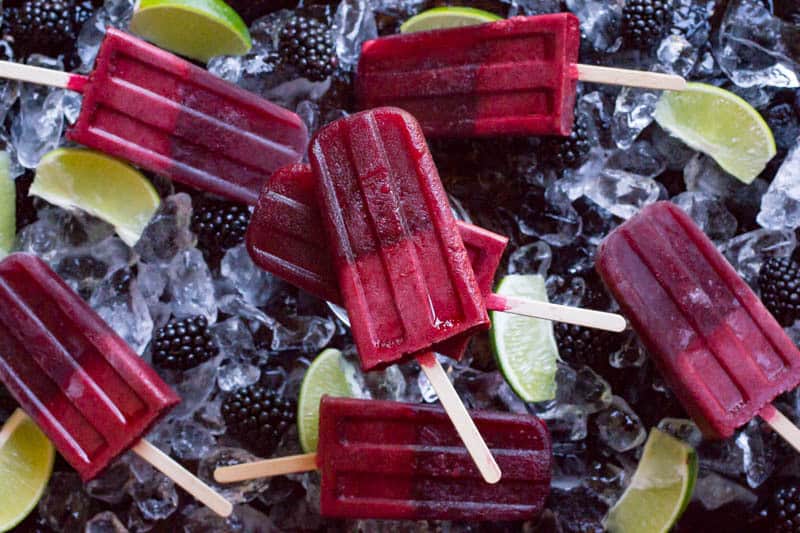 If these aren't the snack you're looking for, why not enlist the kids and make some fun holiday-themed appetizers such as:
Set up a hot cocoa bar, with my homemade marshmallow fluff, sprinkles, whipped cream, colored sugars, and peppermint sticks for stirring.
Decorate small red solo cups with a black Santa belt and buckle and fill it with reindeer snack mix.
Create a veggie tray shaped like a tree with a sugar cookie star at the top.
If all else fails, just ask the kids! I'm sure they have many, many ideas to share! I know mine always do! They love to help with planning a festivity. If you feel really creative, you can even make snowflakes out of tortillas! Who would've imagined that?
Kids are great helpers when it comes to making decorations for the party. Keep the youngsters busy with a craft table, it will entertain them for hours while you are preparing your meal and visiting with your guests!
Yield: 12 servings
Chicken and Chanterelle Crostini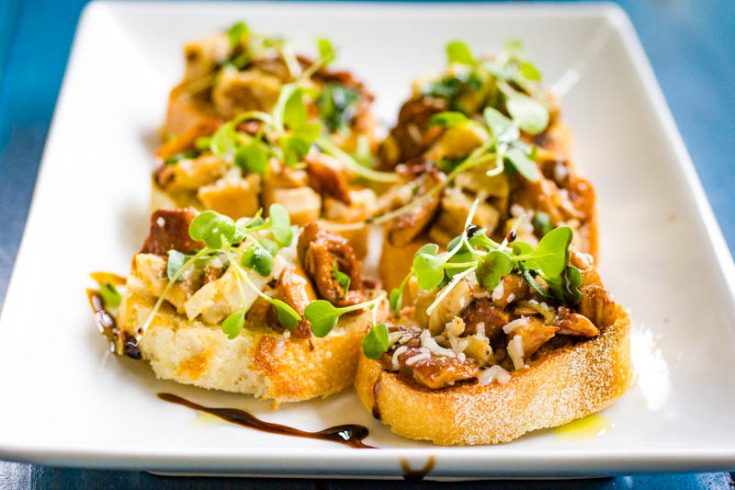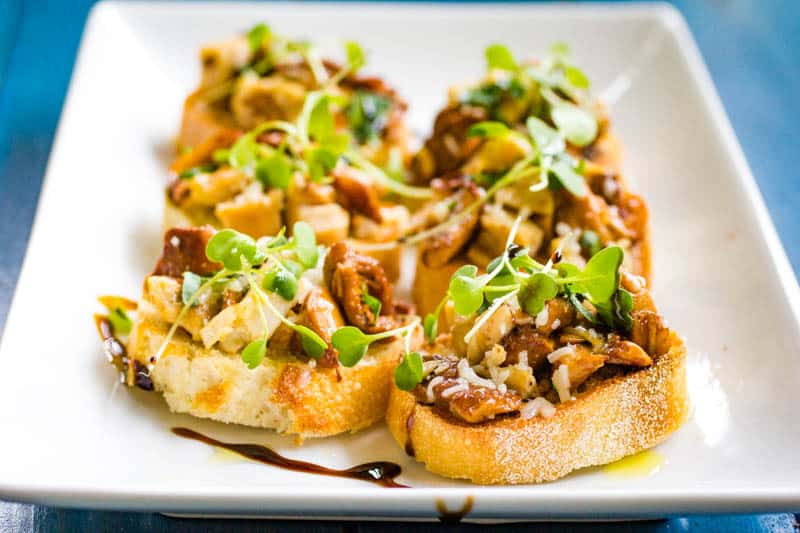 This delicious chicken and chanterelle crostini are packed full of deep earthy flavor, and are beautiful to serve to even the fanciest of guests.
Ingredients
1 pound boneless skinless chicken breast
1/2 teaspoon salt
1/4 teaspoon pepper
2 tablespoons olive oil, divided
4 tablespoons butter, divided
1/4 teaspoon garlic powder
1-2 sprig rosemary
1-2 sprig thyme
2 cups diced Chanterelle mushrooms
3 tablespoons cooking sherry
1/8 cup chicken broth
1 whole French baguette
1/4 cup grated parmesan cheese
3 tablespoons balsamic glaze
1/4 cup chopped Italian parsley
1/4 cup micro greens
Instructions
Dice the chicken into very small cubes of about 1/4", and place them into a medium size saute pan along with the salt, pepper, 1 tablespoon olive oil, one tablespoon butter, garlic powder, rosemary, and thyme.
Saute the chicken on medium heat for 3-4 minutes. Remove the chicken from the pan and set aside. Turn the heat up to medium-high.
Remove the rosemary and thyme sprigs from the chicken and discard.
Dice the mushrooms into slightly larger sized cubes of about 1/3", and place them into the pan along with the other 3 tablespoons of butter. Saute your mushrooms until they begin to brown slightly.
Add the sherry and chicken broth to the mushrooms and let simmer for 2 minutes.
Remove mushrooms from heat and mix with the chicken and set aside.
Set your oven to broil, and slice the baguette into 1/2" thick pieces and lay flat on a cookie sheet.
Drizzle the top of the baguette slices with 1 tablespoon of olive oil, and place into the oven. Pull the sheet out of the oven once the baguettes are slightly browned on top. Leave your oven set on broil.
Top the baguettes with approximately 1 tablespoon of the mushroom and chicken mixture.
Sprinkle parmesan cheese on top of the baguettes and place back into the oven for one minute, or until the cheese melt on top.
Pull out of the oven and drizzle the balsamic glaze on top of the crostinis.
Sprinkle the parsley on next, and then top each piece of baguette with a few micro-greens.
Nutrition Information:
Yield:
12
Amount Per Serving:
Calories:

217
Total Fat:

9g
Saturated Fat:

4g
Trans Fat:

0g
Unsaturated Fat:

4g
Cholesterol:

44mg
Sodium:

382mg
Carbohydrates:

18g
Fiber:

1g
Sugar:

4g
Protein:

16g