Buffalo chicken mac and cheese takes the ever-popular buffalo sauce that everyone loves on chicken wings and makes a mac and cheese wake up and dance the happy dance.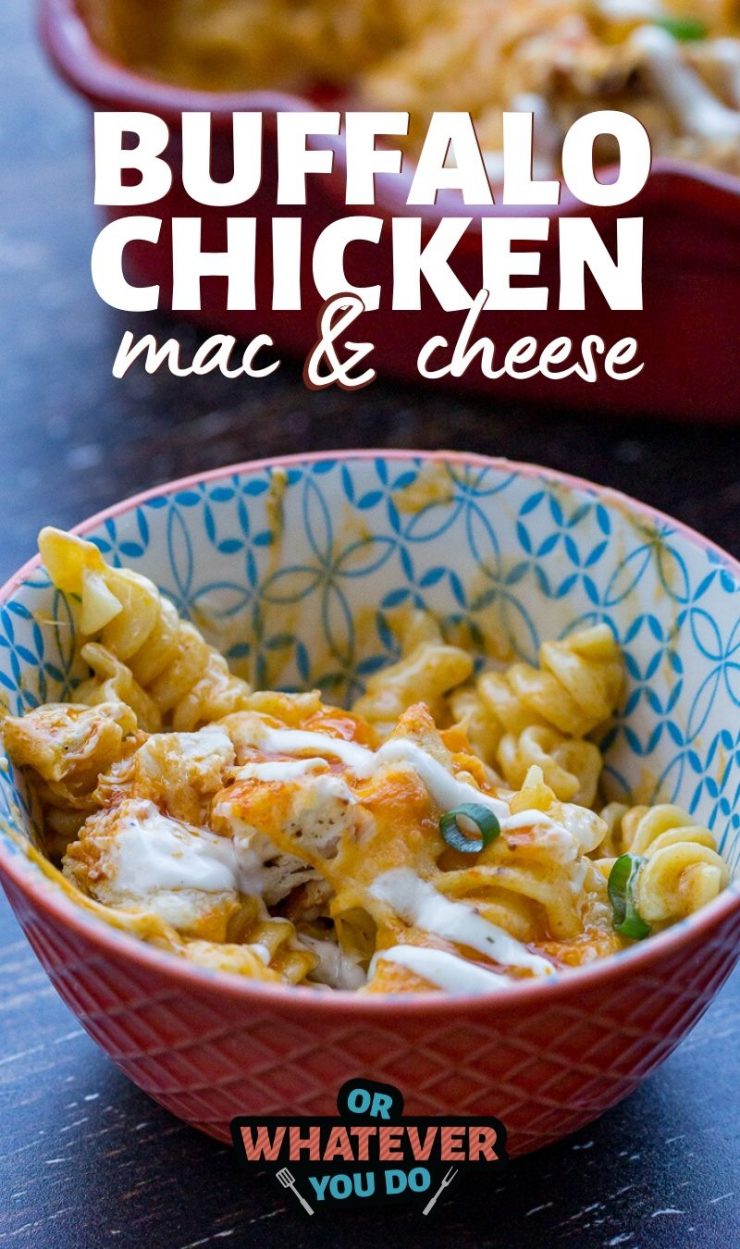 Buffalo Chicken Mac and Cheese
I was a late-in-life new fan of Buffalo sauce. Now, I'm obsessed, and basically, I just look for other excuses to make and use it. So, it is no surprise that for Buffalo Chicken Mac and Cheese, I am partial to using my homemade buffalo sauce, but you can use any variety of buffalo sauce that you have. I won't yell at ya. Any good buffalo sauce will have the vinegar and heat balanced out so there is a bit of tang and a touch of hot.
I hope you're ready for your mac and cheese to become even better and more comforting because this is like putting two great comfort foods into one dish!
If you are ready to go all the way in, then I recommend using one of my mac and cheese recipes. You could do the one-pot style mac and cheese or try my classic mac and cheese recipe. Either one gets you through the pasta and cheese sauce side of the recipe.
This Nashville Hot Chicken would be great in this mac and cheese!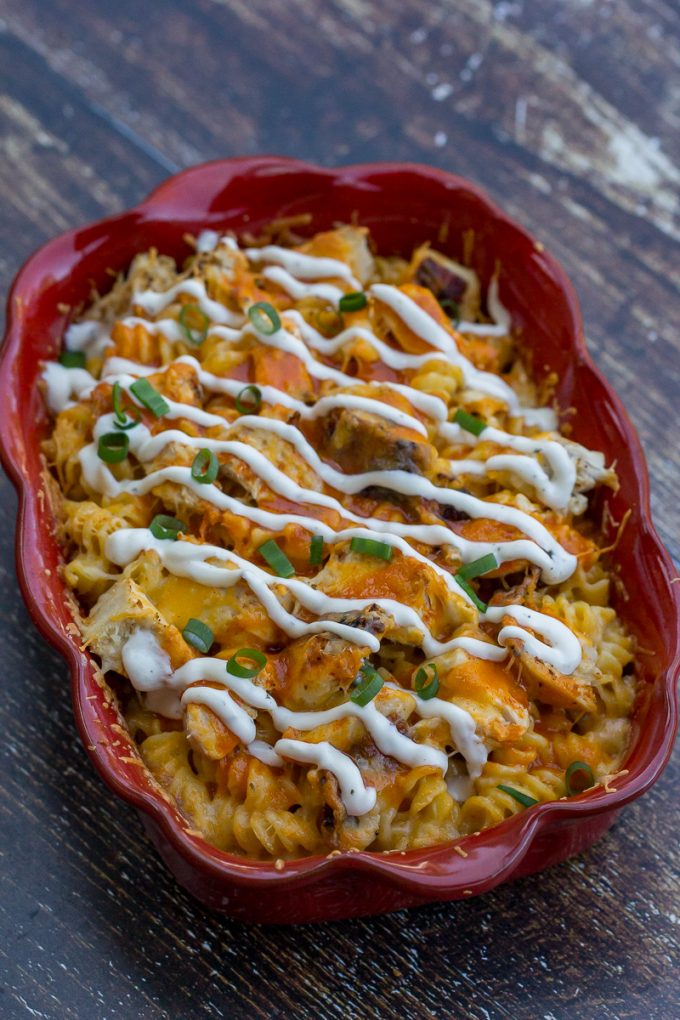 What pasta is best?
Everyone has their own idea of what pasta is perfect for mac and cheese. Some love elbow macaroni, others prefer penne, or shells, or rotini. It doesn't have to be classic macaroni elbow pasta.
The only difference between penne and elbow is a bit of a curve. Trust me when I say that curve won't affect the flavor. But if you think it looks cooler with the elbow curves, then all good. The best choice will be whatever you have handy in the pantry.
I suggest rotini for this dish but go with whatever you like best. I think rotini is great because it is easy to do al dente, and easy to shake off and strain out all the water from them. That means your cheese sauce will coat the pasta nicely.
Grilled Buffalo Chicken is a great choice here too!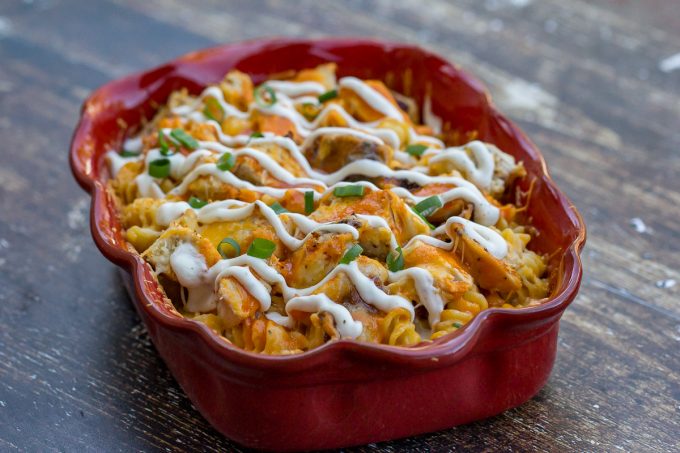 Bake it
This part is optional so if it is hot outside or you just want dinner on the table in as little fuss as possible, you can skip it, but if you have the time and inclination I definitely recommend it. It adds a great touch to finish the dish with a bit of crunchy topping.
When your cheese sauce and chicken are nicely blended into the noodles, pour them into a casserole dish or shallow baking pan that's been sprayed with cooking spray. Sprinkle on some seasoned bread crumbs and a bit more cheese. Pop it into the oven for about 10 minutes.
You want those breadcrumbs to brown up and the cheese to melt on top. When that cheese starts bubbling then you know it is ready to go!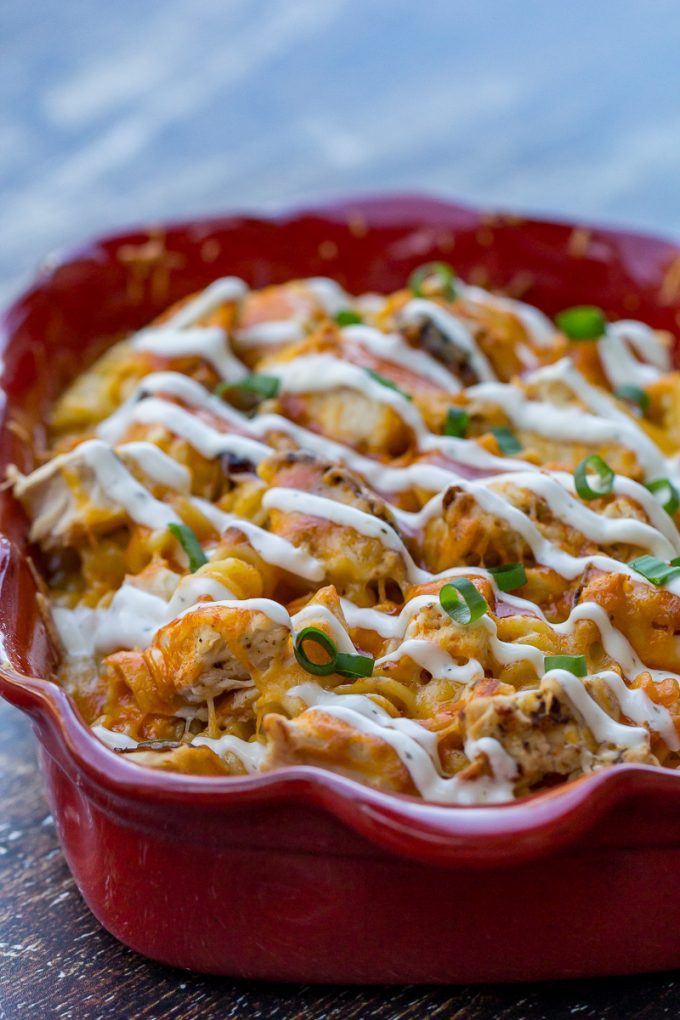 Dry ranch dressing mix
The packet of dried ranch dressing works some serious magic. Even if you are not the type that prefers your buffalo wings dipped in ranch because you like the blue cheese dip better, the ranch packet adds plenty of flavor.
Dried ranch dressing can be found where you find bottled salad dressing. The dried ranch includes all the herbs and spices that make ranch dressing great. Onions, dill, chives, a hint of garlic. And it contains powdered buttermilk, the secret ingredient that provides the tanginess. If you don't want to go to the store, you might have the ingredients at home! Here's a recipe for homemade ranch mix to try if you want to make your own.
The buttermilk, in this case, does double duty. Not only does it create a more exciting flavor overall, but it also adds plenty of creaminess to the cheese sauce too!
Dried ranch sometimes has celery seed in it too. In essence, you get that entire buffalo wing experience, including those celery stalks they always put on the side of your buffalo wings.
Follow me on Instagram!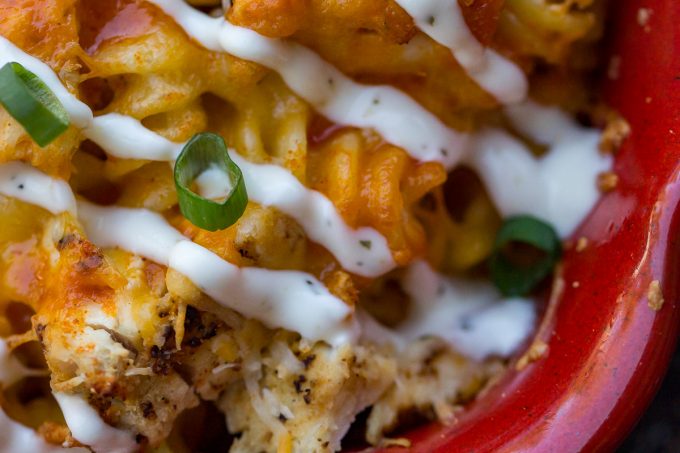 Dark or light meat?
Dark meat is much richer, and this dish is already plenty rich. I recommend white cubes of breast meat. Breast meat is easier to cut into uniform cubes. It is not as moist as dark meat but that is not an issue. The cheese sauce and pasta more than compensate for that.
More recipes to enjoy!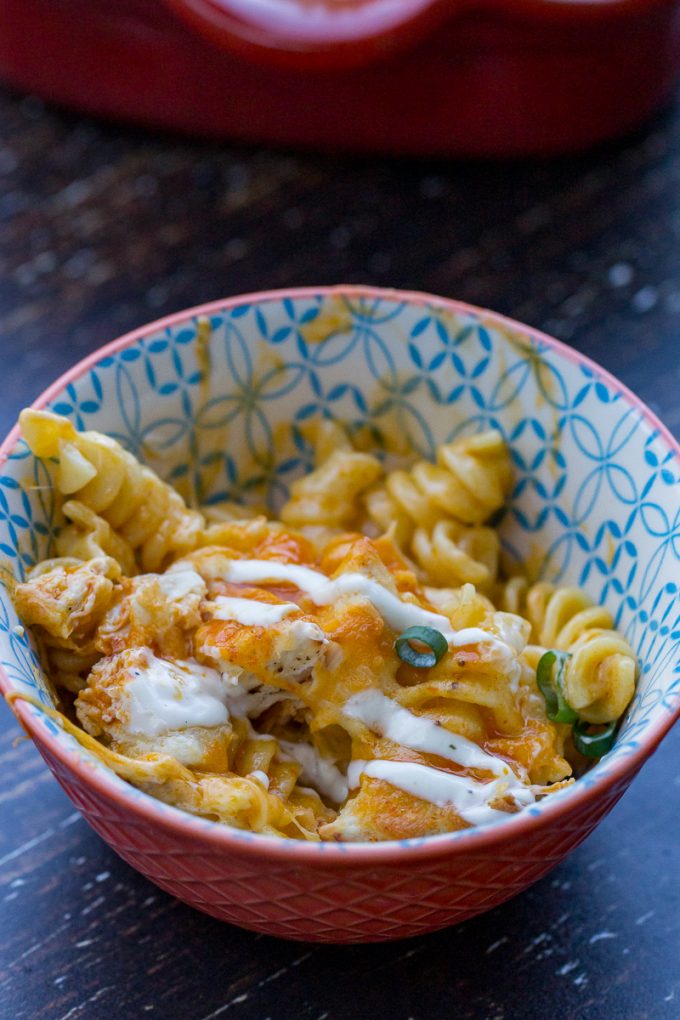 How to store leftover buffalo mac and cheese
You will have to make a lot to have leftovers. This is one of those dishes that typically doesn't make it to another meal. If you do have a serving or two left, then pop it into a sealable glass or plastic container after it cools a bit. You can store it in the fridge for up to a week.
You can store it in the freezer too, but the noodles get a bit mushy upon reheating. Best to just finish the portions left in the fridge.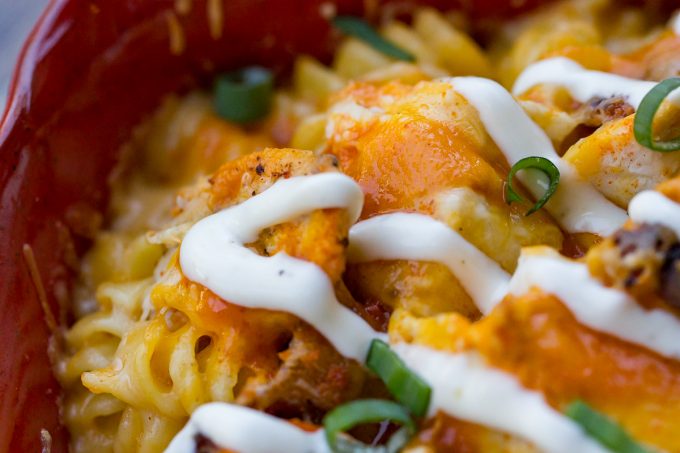 What can you serve with mac and cheese?
Serve as a main or a side. This is the sort of comfort food that wins the race either way. Meaning, it will be the first thing everyone finishes on their plate!
If you want a couple of appetizer suggestions to serve first, then I suggest one or a couple of the following: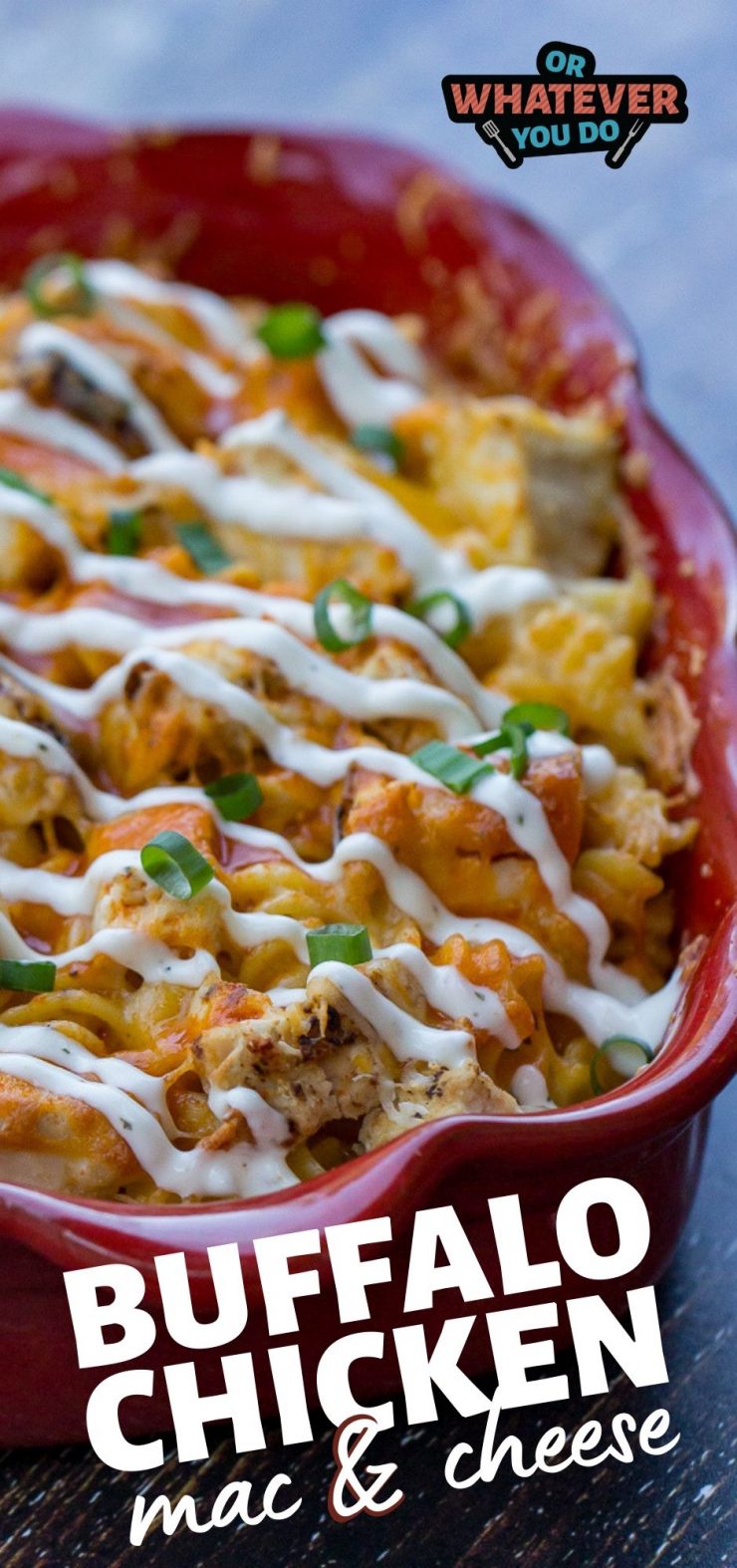 Yield: 8 servings
Buffalo Chicken Mac and Cheese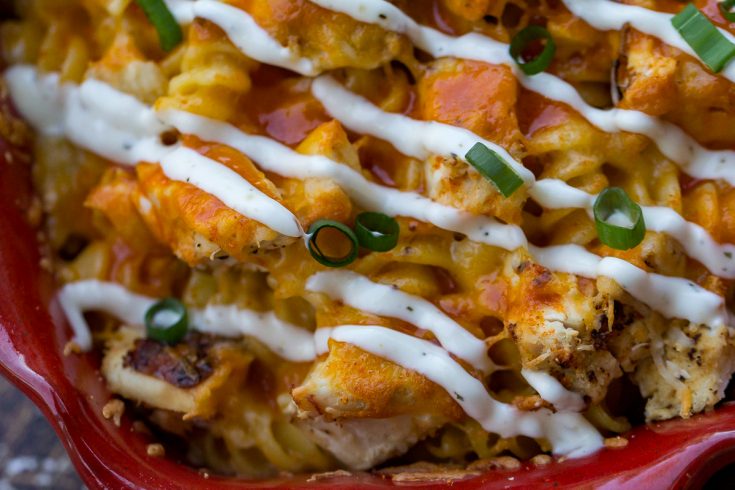 Homemade mac and cheese is kicked up with buffalo sauce and ranch seasoning mix to make one of the best macs on the block.
Ingredients
4 cups water
1 cup milk
1/4 cup butter, salted
1/2 teaspoon salt
1 packet ranch seasoning mix
1 pound rotini (high-quality stuff that takes 8-10 minutes to cook preferably)
1/2 cup half and half or heavy cream
2 cups shredded cheddar or Colby jack cheese
1/2 cup buffalo sauce
2 cups cubed chicken
1/2 cup ranch dressing
Instructions
Put the water, milk, butter, salt, ranch mix, and rotini into a large pot over medium heat. Bring to a simmer and let cook for 7-8 minutes, or until the noodles are tender.
Remove from heat and stir in the cream or half and half. Once that is combined, stir in the cheese and continue stirring until it is fully melted.
Gently fold in the buffalo sauce, and place the cubed chicken on top.
Optional - Place some extra cheese on top and toss it in the oven until it is melted.
Top with some ranch dressing and serve hot!
Nutrition Information:
Yield:
8
Serving Size:
1
Amount Per Serving:
Calories:

465
Total Fat:

31g
Saturated Fat:

14g
Trans Fat:

1g
Unsaturated Fat:

15g
Cholesterol:

94mg
Sodium:

1229mg
Carbohydrates:

24g
Fiber:

1g
Sugar:

3g
Protein:

21g
Nutrition data provided here is only an estimate.