Have some steak in your freezer that you keep scratching your head wondering what to make with it? I may or may not have had some steak that was a little bit overdue to be cooked a while back. I grabbed my Instant Pot and created a masterpiece, you guys!
Instant Pot Shredded Steak and Gravy on Toast was what I created, and it earned a place into my online recipe box!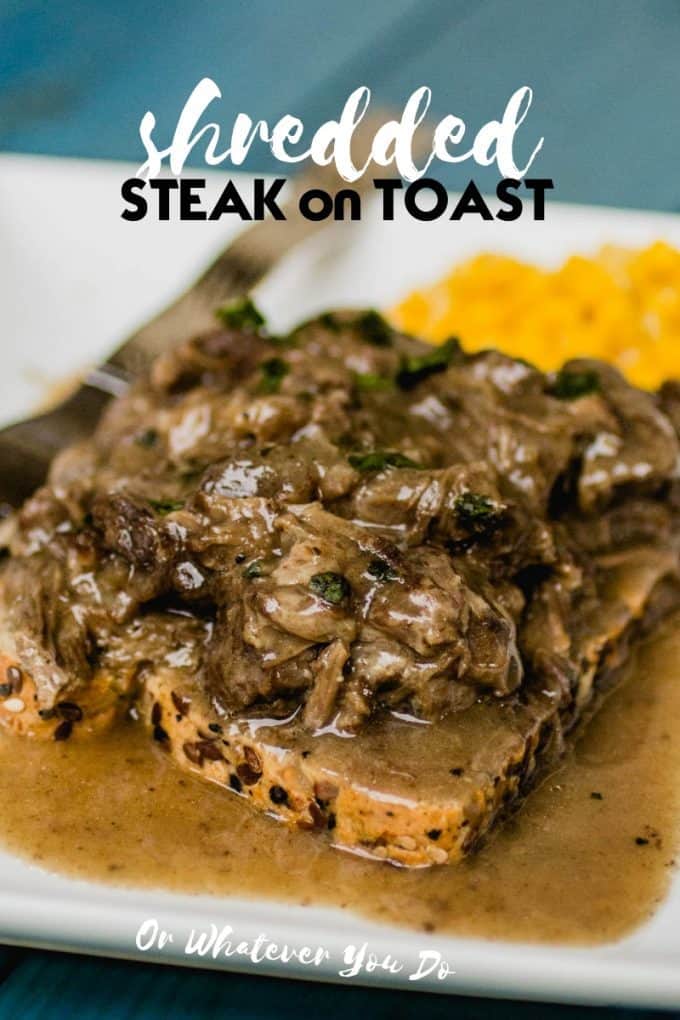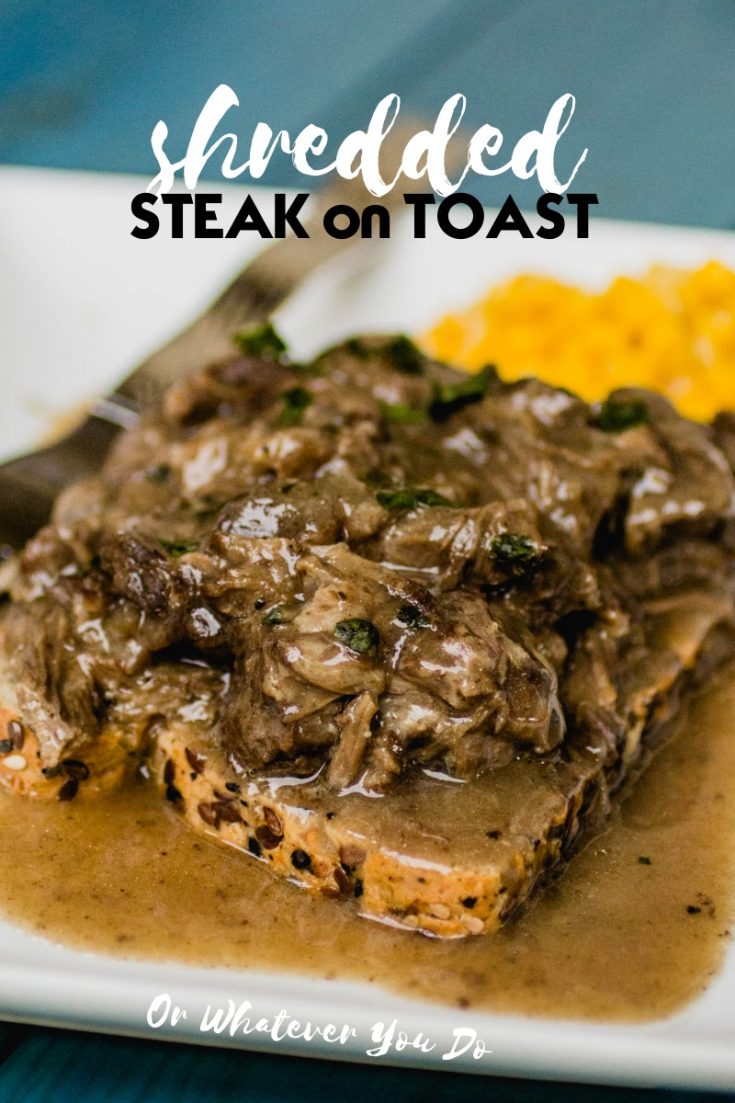 Shredded Steak and Gravy on Toast
Thanksgiving is over, and Christmas is right around the corner. I am in the phase of full-swing-holiday-mode where it is all about working to get presents bought, and for us to have some food stocked up for the holiday parties and family gatherings. We all need quick, easy, and efficient meals. That is my priority, and that is why this shredded steak on toast with gravy is a must-make recipe for us.
It not only helped me clean out my freezer, but also allowed me to make a savory dish that my whole family enjoyed. They had no idea I threw this together in a hurry! I made sure to snap some photos and share with you all. If you are like me and are wrapped up in the chaos of life, try out this easy recipe. No one has to know it took seconds to prep.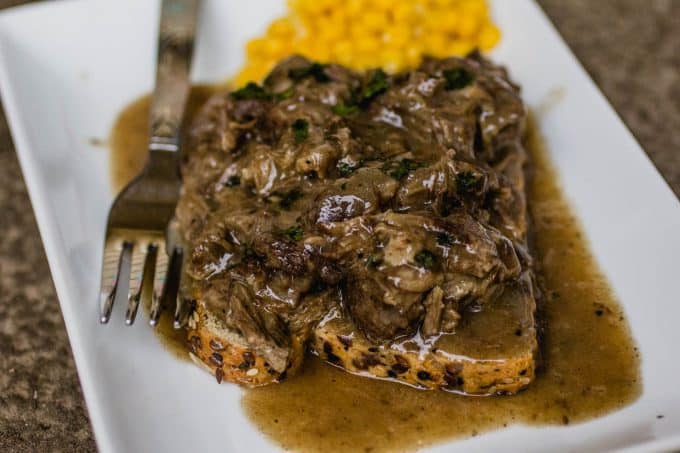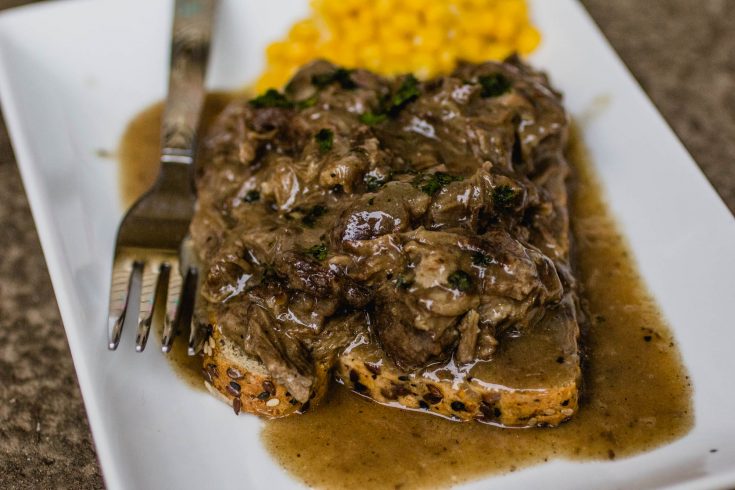 Instant Pot Shredded Steak on Toast
This is very similar to a hot roast beef sandwich. You can really use almost any cut of beef you have laying around. What is pictured here is steak that is pressure cooked to fork tender, cooked in a red wine and gravy mix, and then spooned over a hearty toasted bread. If you have the time and energy, serve over mashed potatoes or even fries.
We served this steak and toast with a buttery corn side dish.
How Do I Make Shredded Steak
I reached for my Instant Pot because shredded beef on the stove top can take quite some time. Generally, you take your steak and marinade in a pot and bring to a boil on the stove. I prefer using my Instant Pot because I toss ingredients in, select my time, and then just let it cook. Remove the pressure cooker lid, grab forks and shred, and we have dinner ready in a hurry.
Traditional stovetop method can take like 3 hours to get tender enough to shred. The Instant Pot speeds up the process and locks in and marries the flavors.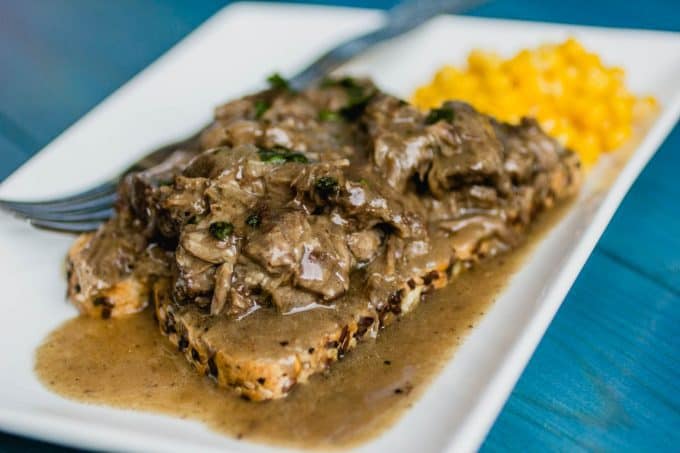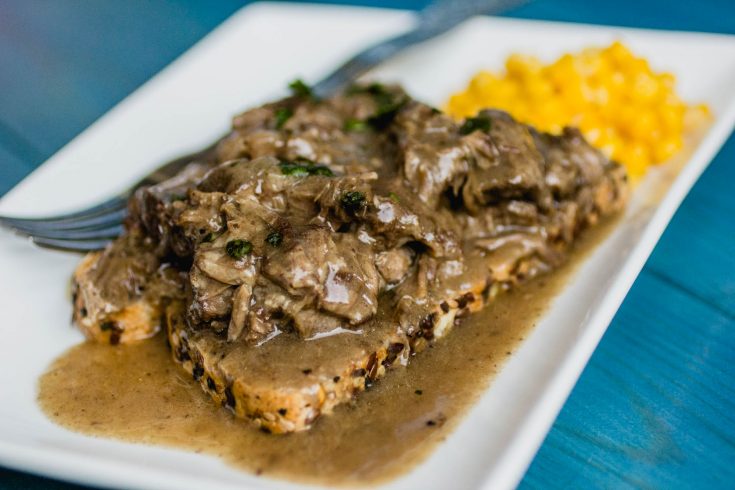 How Do I Make Shredded Steak Crispy
I love a soft and tender shredded steak, but if you like a little crispness to it, once you pull from the Instant Pot, toss in the oven and broil for just 2-3 minutes. Whether you like it crispy or tender, this recipe works either way.
The gravy mix is so vibrant in flavor and has such a rich beef flavor that is what I call the perfect comfort food. This night I served over toast that was hearty and full of grains. It was an excellent way to sneak in some nutrients; the kids had no idea, they just gobbled it right up.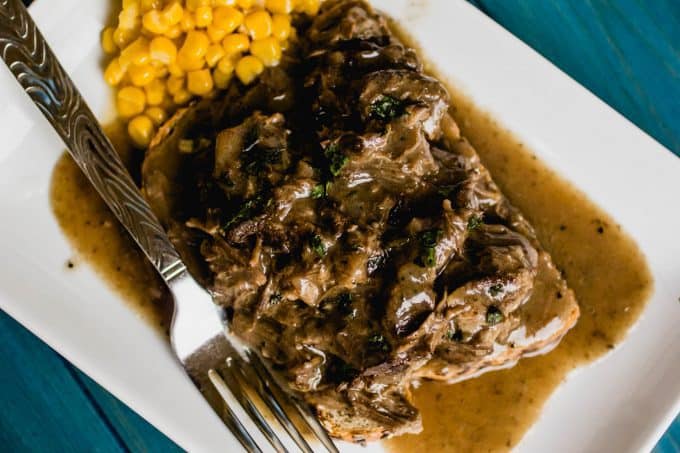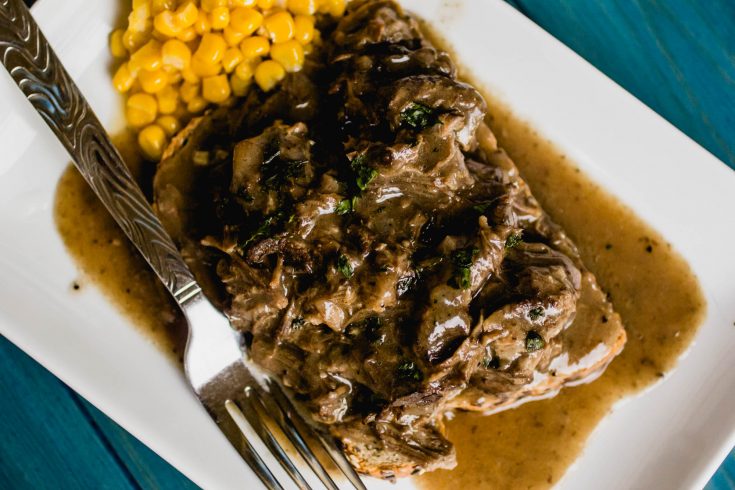 Sides to Pair with Shredded Steak on Toast
Traeger Grilled Vegetables – I made these grilled veggies with leftover veggies from a veggie tray. Grilled veggies would be a tasty side that you could pair with your shredded steak easily.
Grilled Asparagus – I will use almost any excuse to make grilled asparagus. It is a starchy and hearty vegetable that is unique, and it tastes great dipped in the gravy mix.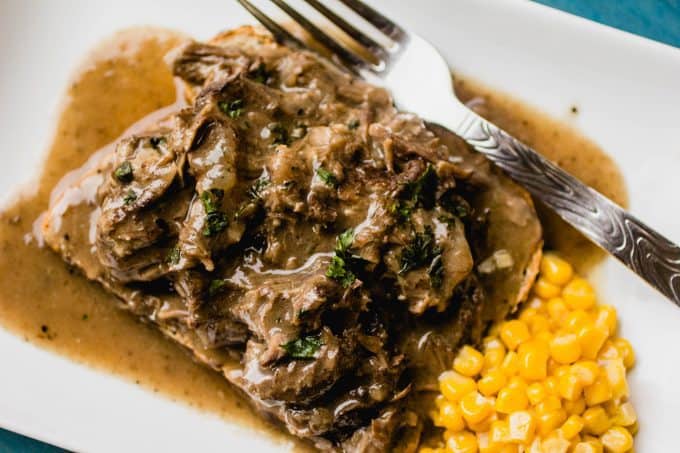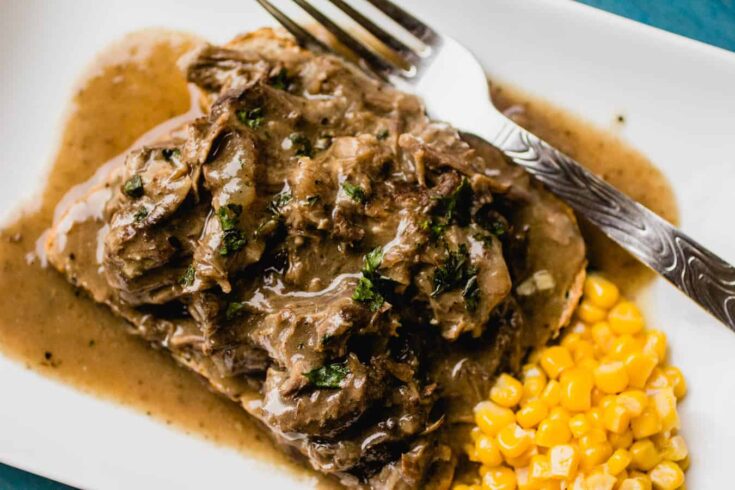 How Do You Make A Thicker Steak Gravy
Because the Instant Pot handles all the work for this gravy mix, it makes it easy. If you find that you want this gravy to be thicker, I have a simple solution. I've included in the recipe instructions an easy cornstarch slurry you can use to thicken up the gravy in this dish depending on your own preferences.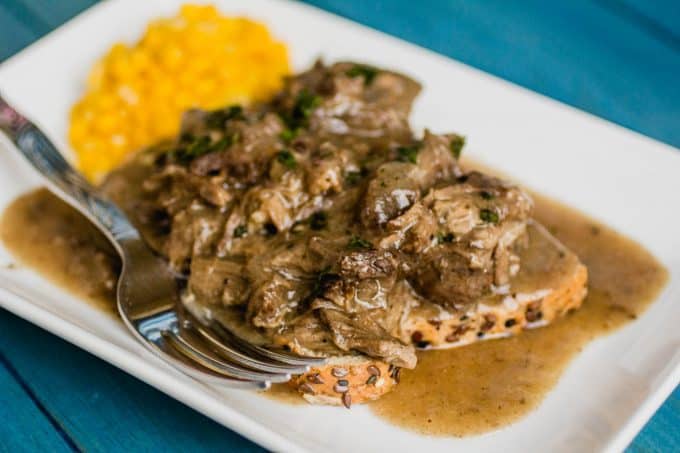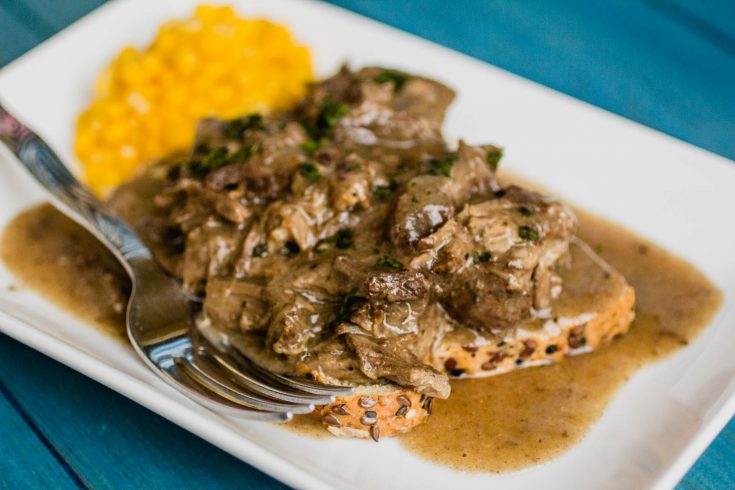 More of My Favorite Steak Recipes
Steak is a favorite of ours, and if you want some new and different ways to whip up steak for lunch or dinner, try one or all of these easy recipes.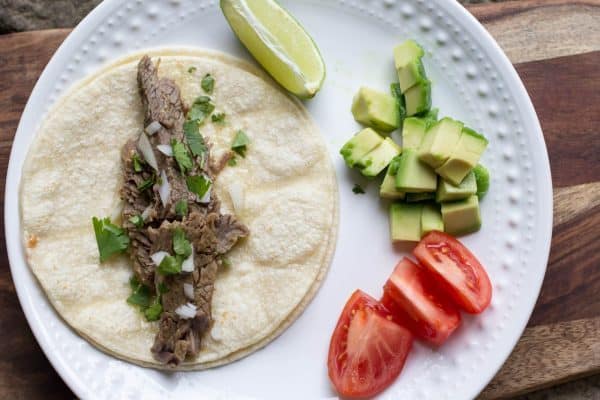 What is your favorite go-to steak recipe?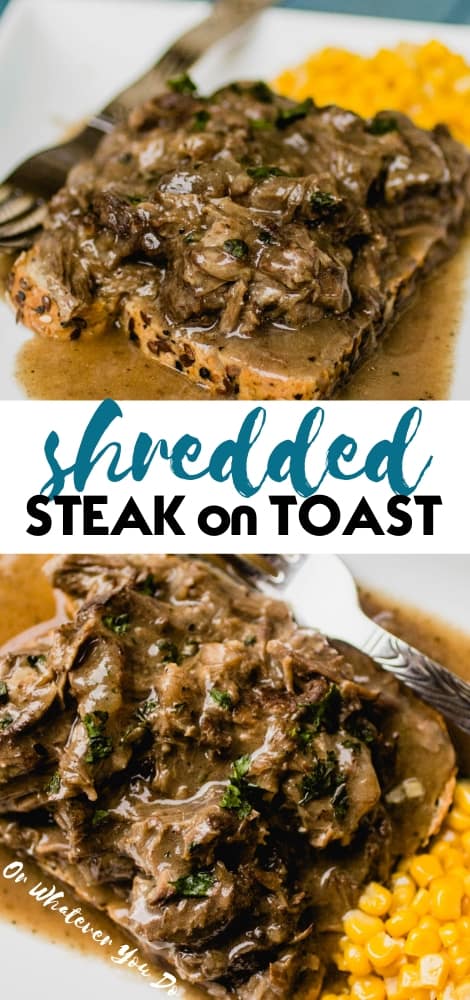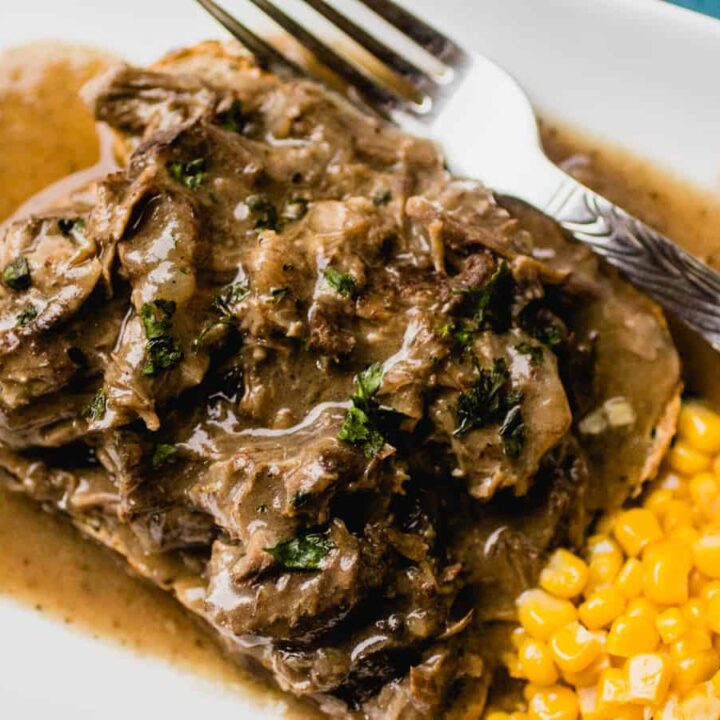 Instant Pot Shredded Steak and Gravy on Toast
This easy shredded steak and gravy recipe is simple to throw together, and makes a fabulous dinner in no time flat by utilizing your electric pressure cooker. Comfort food to the max. You're going to love this!
Ingredients
3-4 frozen steaks (about 2 lbs worth)
1 1/2 cups red wine (cabernet or pinot noir are my favorites)
2 cups beef broth
1 large onion, sliced
1 clove garlic, crushed
1 bay leaf
1 teaspoon parsley
Slurry - optional
2 tablespoons cornstarch
4 tablespoons water
Instructions
Place the steak in the bottom of your Instant Pot, and then place in the wine, broth, onion, garlic, and bay leaf.
Close and seal the lid, and place on manual high pressure for 30 minutes.
Let the pressure naturally release for 10-15 minutes.
Remove the steak from the pot and shred with two forks. If your steak is not tender yet or able to be shred, put it back into the pot for another 5-6 minutes on high pressure, and that should do the trick! It'll depend on how thick your steak is and what cut you've chosen. Some take longer to be shreddable that others.
Whisk together the cornstarch and the water, and turn the pot to saute. Wait for the drippings to start simmering, and then whisk the slurry into the pot. Stir constantly until it is thickened.
Place the shredded steak back into the pot once the gravy has thickened, and let it simmer another minute or two.
Serve over toasted, hearty bread.
Recommended Products
As an Amazon Associate and member of other affiliate programs, I earn from qualifying purchases.
Nutrition Information:
Yield:

6
Serving Size:

1
Amount Per Serving:
Calories:

516
Total Fat:

28g
Saturated Fat:

11g
Trans Fat:

0g
Unsaturated Fat:

13g
Cholesterol:

147mg
Sodium:

380mg
Carbohydrates:

7g
Fiber:

0g
Sugar:

1g
Protein:

41g