Now that the weather is getting a bit warmer, it is time to break out those refreshing summer cocktails! This grown-up pink lemonade is the perfect sipper for your next bbq, or for the next time you make dinner and want to enjoy a slightly sweet, lemony adult treat. Keep these ingredients on hand, and your neighborhood friends will love you for it.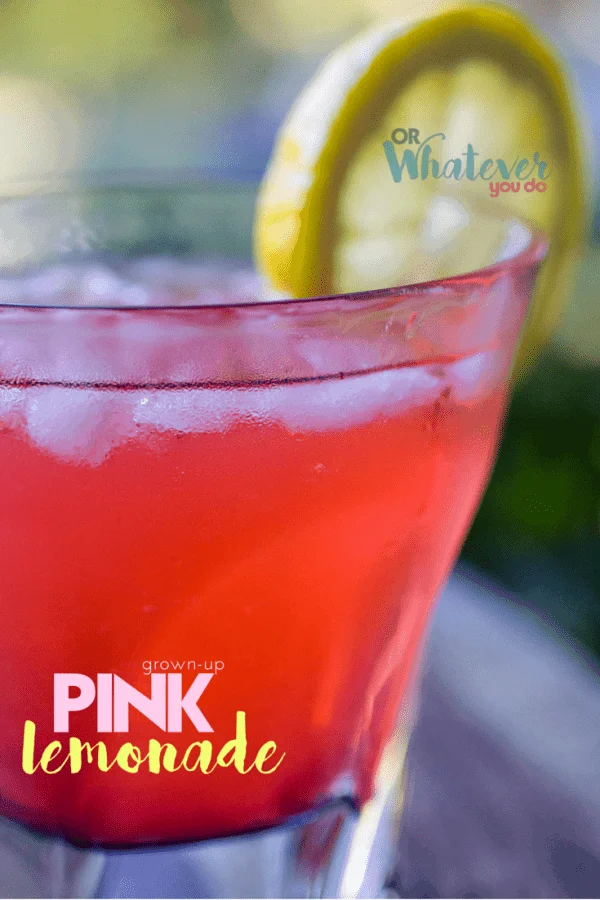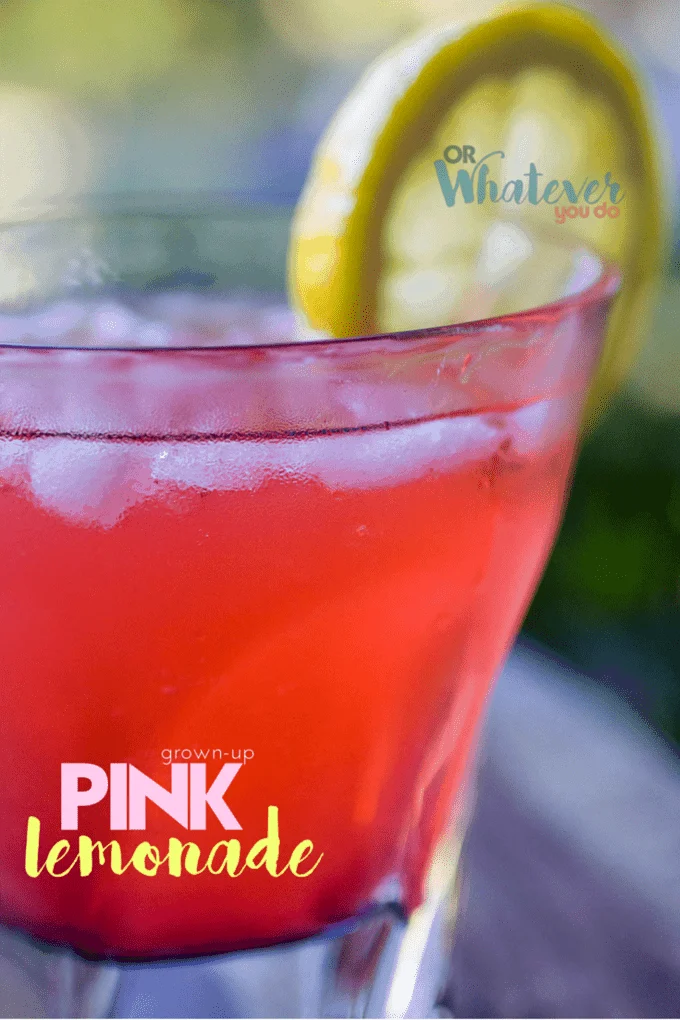 Grown-up Pink Lemonade
I'm not sure if you guys know this or not, but back in another lifetime, I was a bartender. Off and on for over 10 years, actually! And not to be braggy or anything, (well – okay, a little braggy) but I was a fast bartender. It was fun, for a while – having control over a bar full of thirsty customers, knowing how to make almost any drink off the top of my head, and make it well.
Eventually, I got tired of the late nights, holidays away from my family, and dealing with some of the shadier characters that frequent those types of establishments so I retired my professional bartending hat for good, but I still enjoy mixing up a cocktail when I get the chance!
This grown-up pink lemonade uses pretty common bar ingredients and can be made in big batches or small.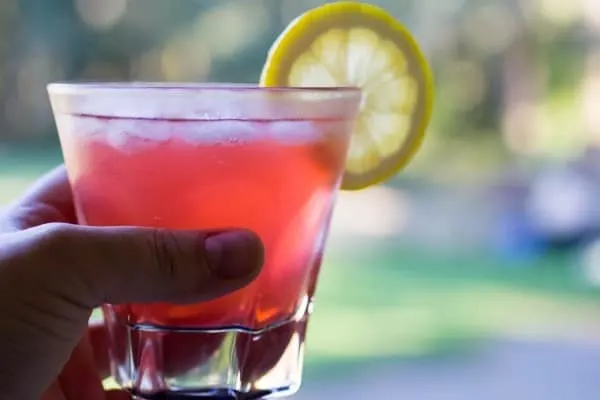 It is a front porch sipping, bonfire side, relax and cool down after a long week drink. An, invite your girlfriends over and air all your troubles kind of cocktail.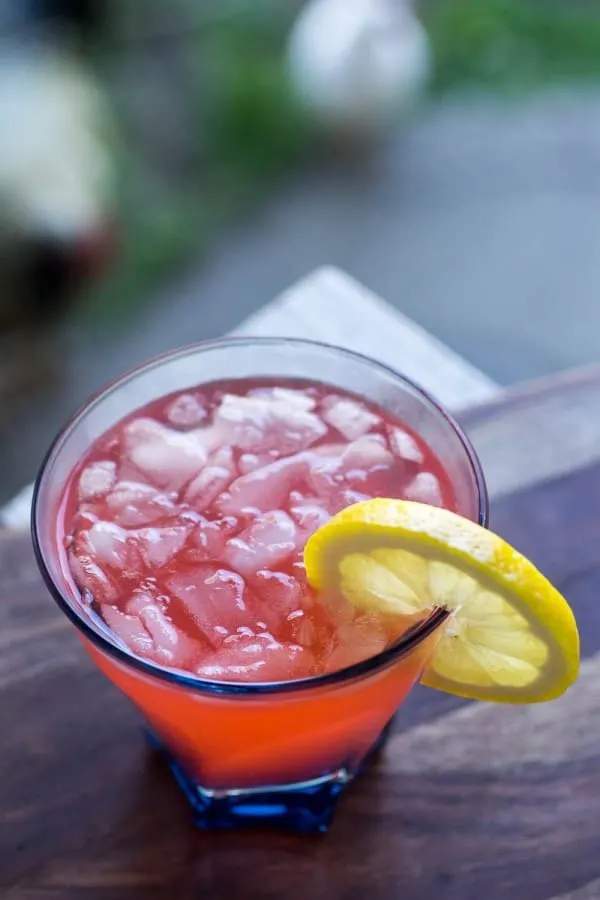 A few items to buy and keep on hand to have a well-stocked home bar. These make awesome gifts too!
These are affiliate links. If you click these and make a purchase, I'll receive a small commission. It won't cost you any additional money. Thanks for supporting Or Whatever You Do! I only recommend products I use and love.
Some of these items might be found at local stores for better prices, your mileage may vary!
A couple of tips for you from a former professional
Pour spouts are your friend.
Especially if you'll be mixing multiple drinks for a party. Measured pour spouts like I linked above let you make consistent and accurate drinks without over-serving anyone accidentally. Free pouring out of a bottle definitely makes stronger drinks as a rule.
When in doubt, stretch it out.
The alcohol, that is. A drink that is too strong is un-drinkable to most people. Too weak can still taste really great, and then you can have more than one!
Try switching up the mixers in your favorite drinks.
Switching up from lemon-lime soda to coke, or ginger ale or even juice like cranberry, orange, or lemonade can make a huge difference in the end result. Experiment with your favorite liquor to find your favorite combination. My all-time favorite cocktail is a Captain Morgan + Dr. Pepper.
Thirsty for more? Check out these other cocktail recipes on the blog!
Fresh Cherry Pina Colada
Fresh Cherry Syrup
Yield: 1 cocktail
Grown Up Pink Lemonade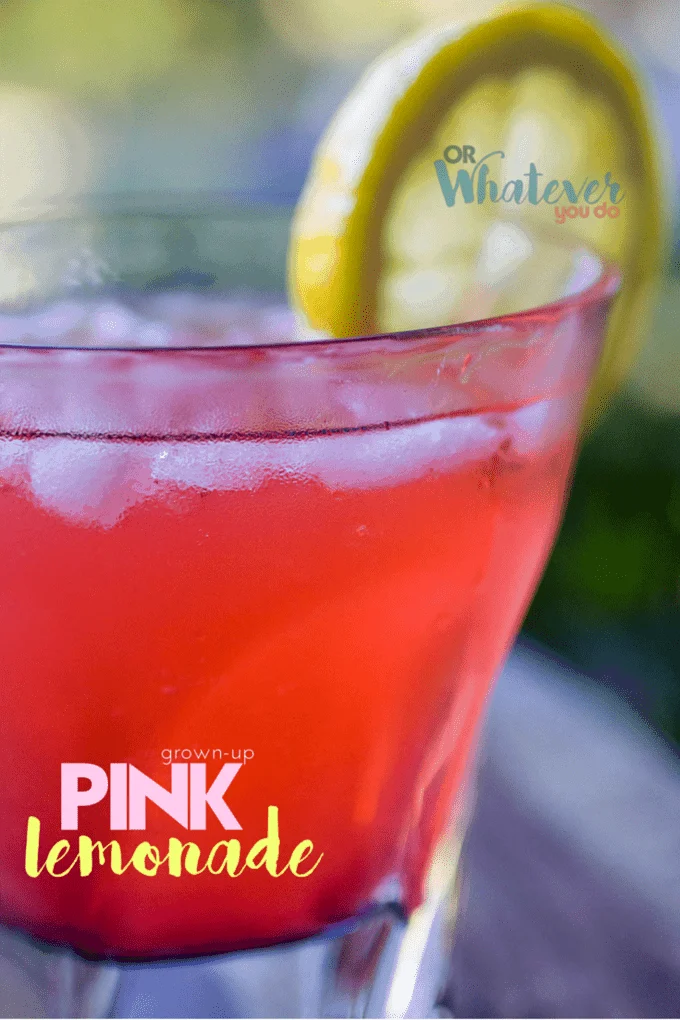 Freshing adults-only pink lemonade is the first drink I really want to reach for when the weather finally starts to show signs of spring turning into actual summer.
Ingredients
1 oz vodka
1/2 oz triple sec
2 teaspoons grenadine
1 oz club soda or lemon-lime soda if you like it sweeter
3 oz lemonade
sliced lemon for garnish
Instructions
Place all ingredients into a shaker filled with ice. Swirl or shake, and strain into a glass of your choosing over additional ice if you wish. Drink immediately and enjoy!
Nutrition Information:
Yield:
1
Serving Size:
1
Amount Per Serving:
Calories:

347
Total Fat:

0g
Saturated Fat:

0g
Trans Fat:

0g
Unsaturated Fat:

0g
Cholesterol:

0mg
Sodium:

47mg
Carbohydrates:

69g
Fiber:

2g
Sugar:

60g
Protein:

1g