Chicken wings are one of my favorite things to cook on our pellet grill. I'm borderline obsessed. We make them all the time during the warmer months. These Smoked Air Fryer Chicken Wings are now officially on the top of my list of favorites!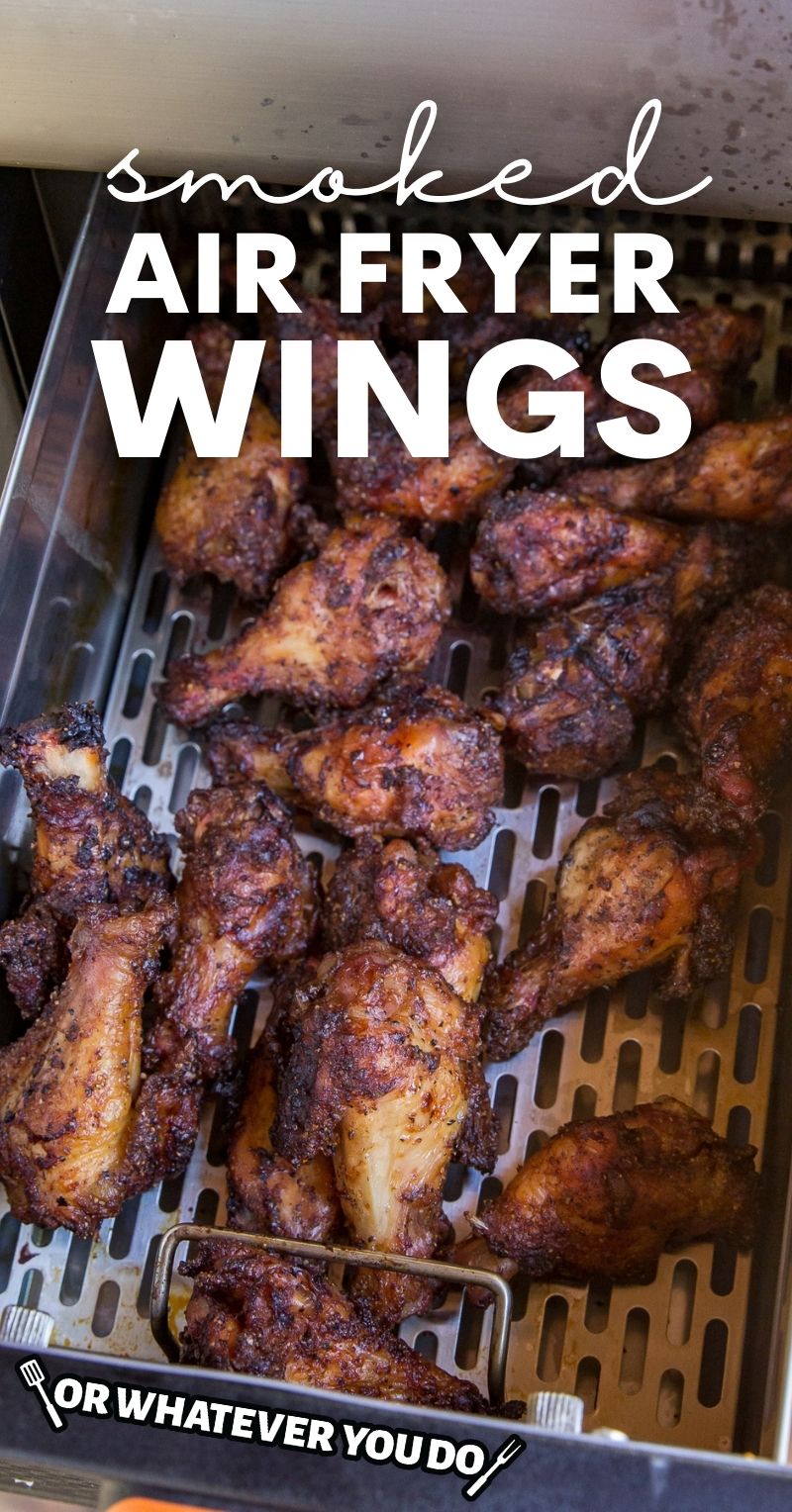 Smoked Air Fryer Chicken Wings Recipe
We just got a new Blackstone Air Fryer Combo a little while back, and these smoked chicken wings were one of the things I was most excited about trying.
Typically, I do a Smoked & Fried Chicken Wings recipe when I really have a hankering for wings, or if we're in a hurry we do a killer Grilled Chicken Wing too. Both are solid options, but the smoke & fry method is a little messy, and the skin on grilled wings doesn't get as crispy as I like. Also, don't miss our smoked and fried mango chipotle wings. Those are legit!
That's where the air fryer enters the picture.
The air fryer gives you nearly as crispy of skin as the traditional oil fry, but minus that extra fat.
If you're a fan of buffalo sauce, I highly recommend whipping up a batch of our Cholula Buffalo Sauce. Or, get crazy and make some of this Bloody Mary Buffalo Sauce.
More Easy Traeger Recipes here!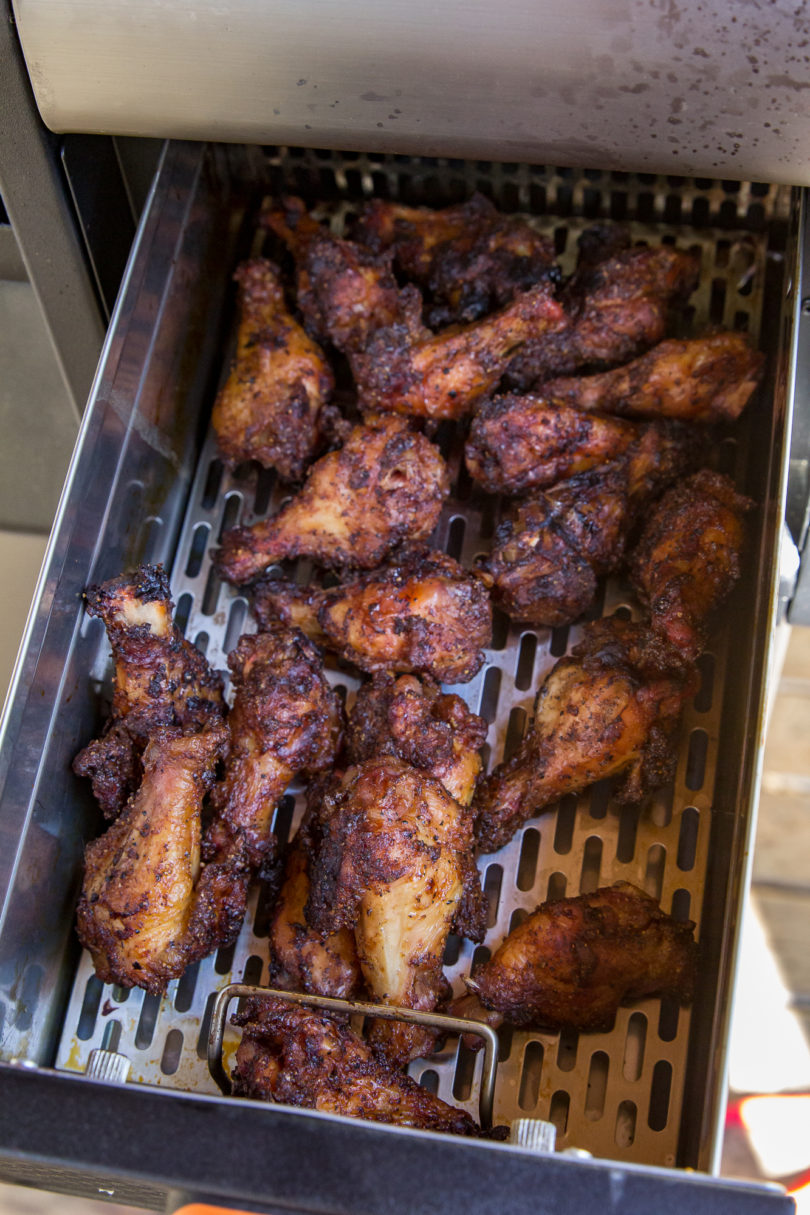 Smoked Air Fryer Chicken Wings shopping list
Want to know if you have to hit up the store or hit that order button on some things? Here are the items you'll need to make this recipe. For the full recipe including amounts, please see the recipe card at the bottom of the post.
Chicken Wings
Avocado Oil
Smoker
Air Fryer
Bowl or Baggie
Buffalo Sauce (if desired)
Blue Cheese or Ranch Dressing (optional)
More Easy Traeger Chicken Recipes here!
How to make Smoked Air Fryer Chicken Wings
Here's an overview of what you are in for if you want to make these wings. They are super simple, but there are a few steps to the process.
Dry the wings
All the way. With paper towels, or overnight on a rack in the fridge. Depending on how organized you are. You do you.
Toss with oil
Really coat those wings with oil! Don't be shy!
All the rub
Don't be timid with your rub, either. Give them a good coat! If you don't have the Meat Church rub that I used you can use your favorite chicken-targeted rub. If you have a bottle of my limited edition OWYD Everything Rub, that would be perfect here too.
Smoke
Lay out your wings on your pellet grill that's been pre-heated to 220°. Smoke for 2 hours.
Air Fry
Preheat your air fryer to 425° (or "high" if yours doesn't go all the way to 425°). Toss the wings in and air fry them for 8-10 minutes, or until the skin crisps up.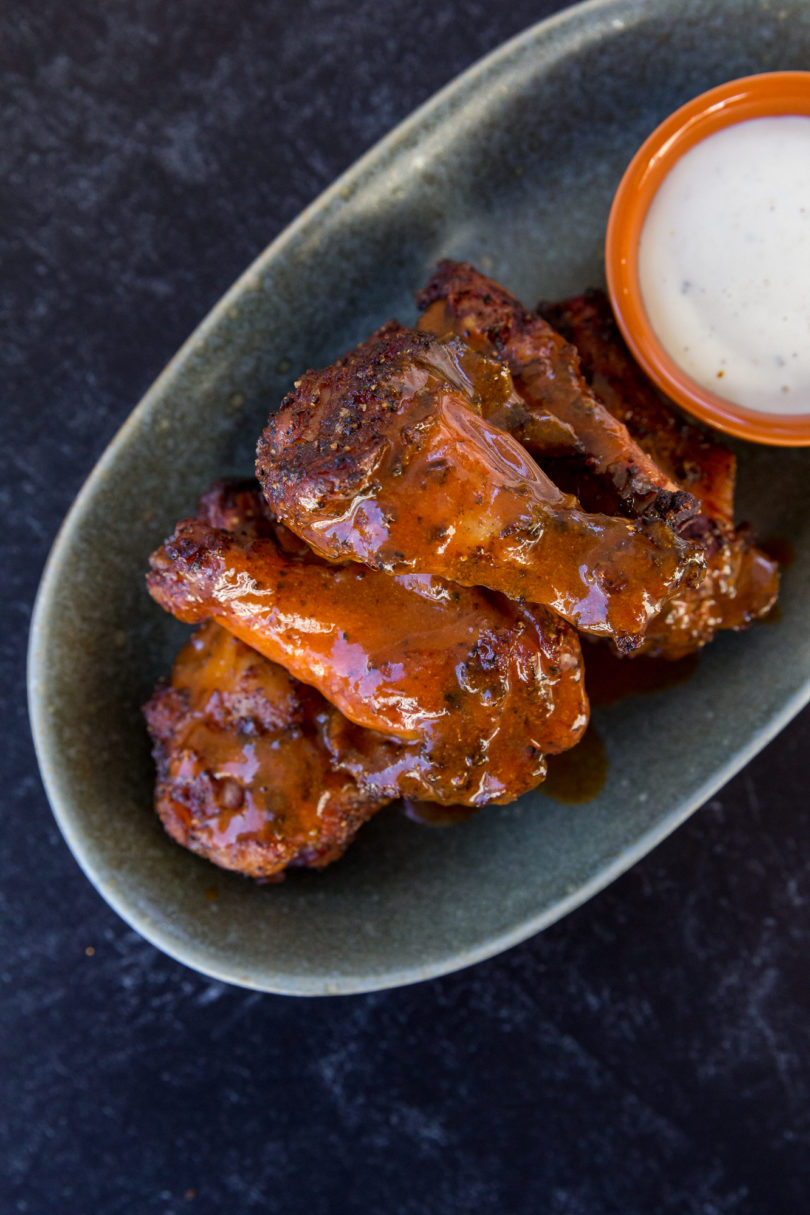 What can you serve with smoked chicken wings?
When we do wings around here, sometimes we like to turn them into a full meal. If you want to round out your meal, I suggest some of the following: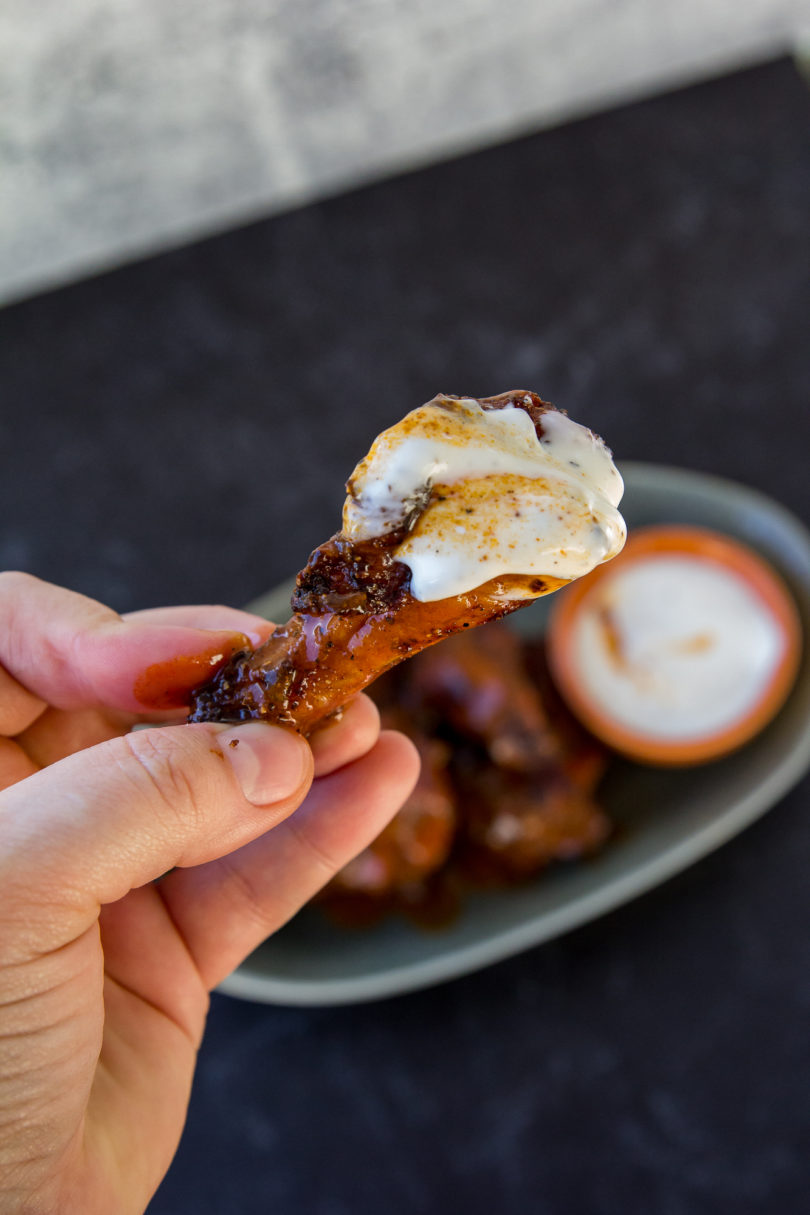 Smoked Air Fryer Chicken Wings FAQ
How should you store leftover chicken wings?
First, only sauce the wings you are actually going to eat immediately. Sauced wings held over will soften that crispy skin you worked so hard for. Store unsauced wings in a plastic baggie in the first for up to 3 days.
How do you reheat chicken wings?
The best place to reheat these will be back in your Air Fryer. Start them at a lower temp to make sure that everything gets heated through, and then crank the heat a little at the end for some extra crispy skin.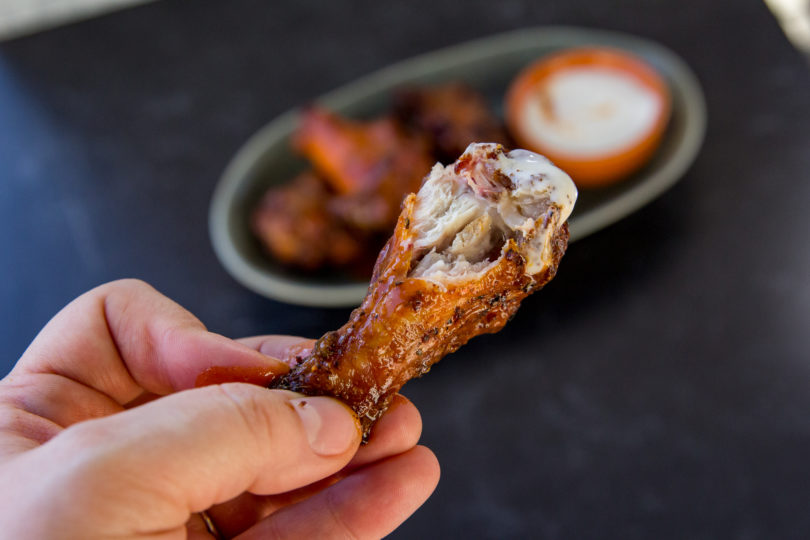 More recipes to love!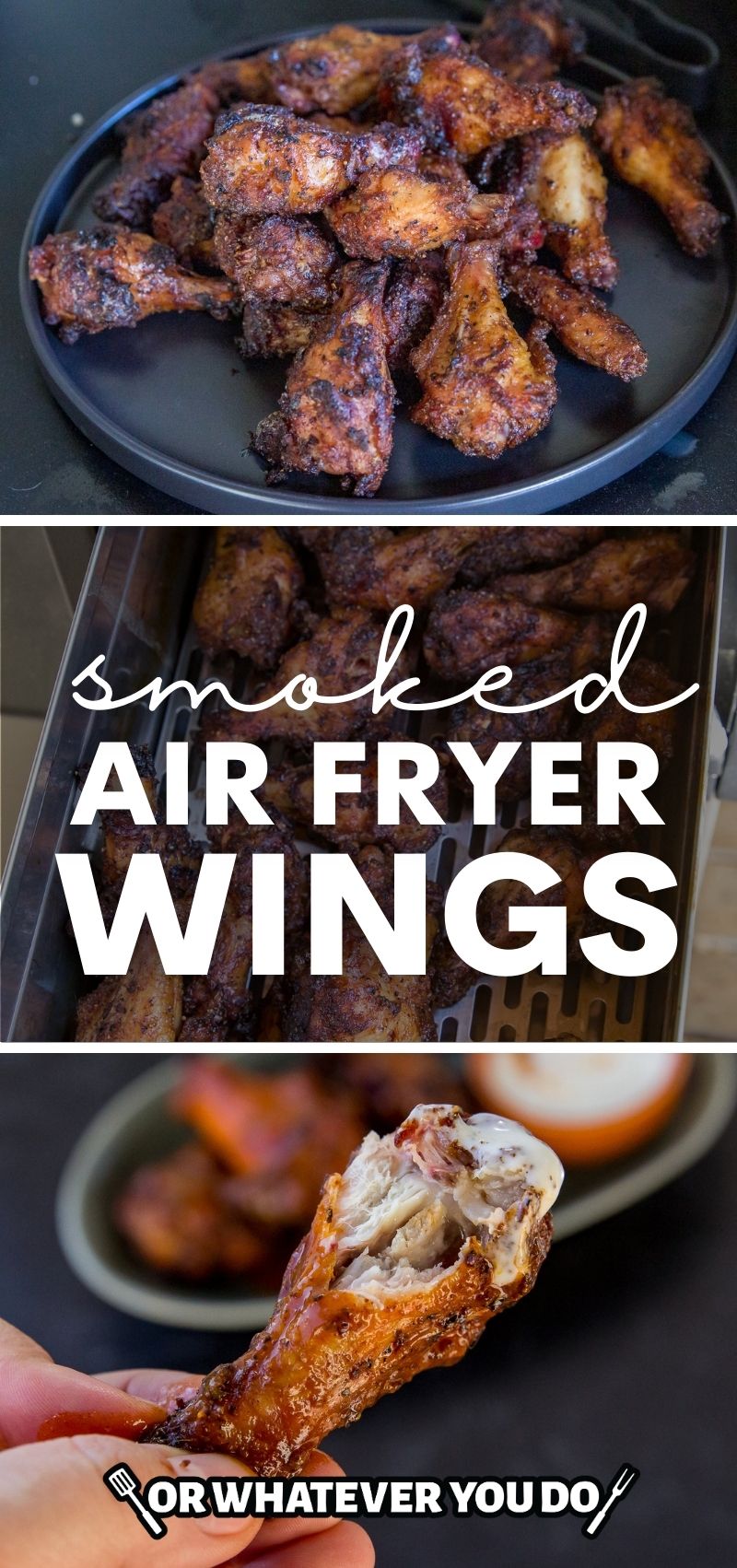 Yield: 6 servings
Smoked Air Fryer Chicken Wings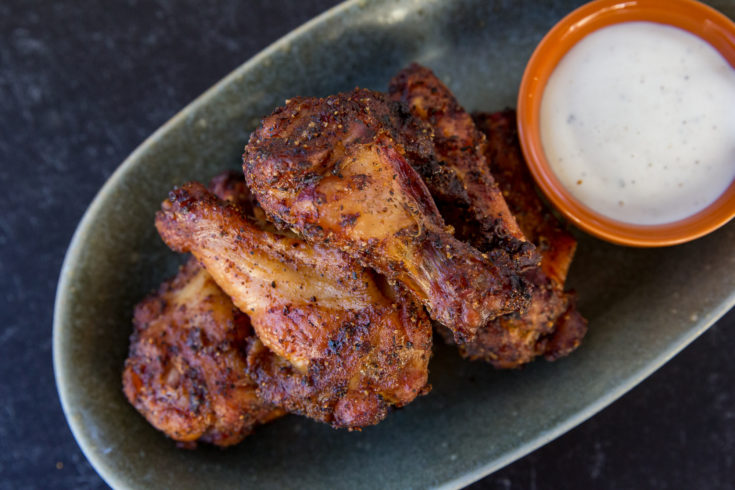 Want to crack the code of crispy skin on a smoked wing? Fire up your smoked and your air fryer and get going!
Cook Time
2 hours
15 minutes
Total Time
2 hours
25 minutes
Instructions
Preheat your smoked to 220°.
Dry off your wings with paper towels and toss with the oil.
Evenly coat all sides of the wings with liberal amounts of Holy Gospel rub.
Place the wings in a single layer in your smoker. Smoke, turning over every 30-45 minutes, for about 2 hours.
Remove from the grill and place directly into a pre-heated 425° air fryer. We use our air fryer right on our Blackstone combo, but you can use any air fryer you've got!
Recommended Products
As an Amazon Associate and member of other affiliate programs, I earn from qualifying purchases.
Nutrition Information:
Yield:
6
Serving Size:
1
Amount Per Serving:
Calories:

849
Total Fat:

67g
Saturated Fat:

21g
Trans Fat:

1g
Unsaturated Fat:

41g
Cholesterol:

186mg
Sodium:

891mg
Carbohydrates:

22g
Fiber:

1g
Sugar:

1g
Protein:

38g
Nutrition data provided here is only an estimate.