Just when you thought you had enough of the smoked cream cheese craze, I went and stuffed it into my version of a Pig Shot! These Smoked Garlic Pig Shots take our Smoked Cream Cheese and mix it with sharp cheddar before stuffing that into little porky shot glasses made with smoked sausage and Honey Hog rubbed bacon. Put that whole mess onto your pellet grill and fire away. You've just met your appetizer match, bbq master.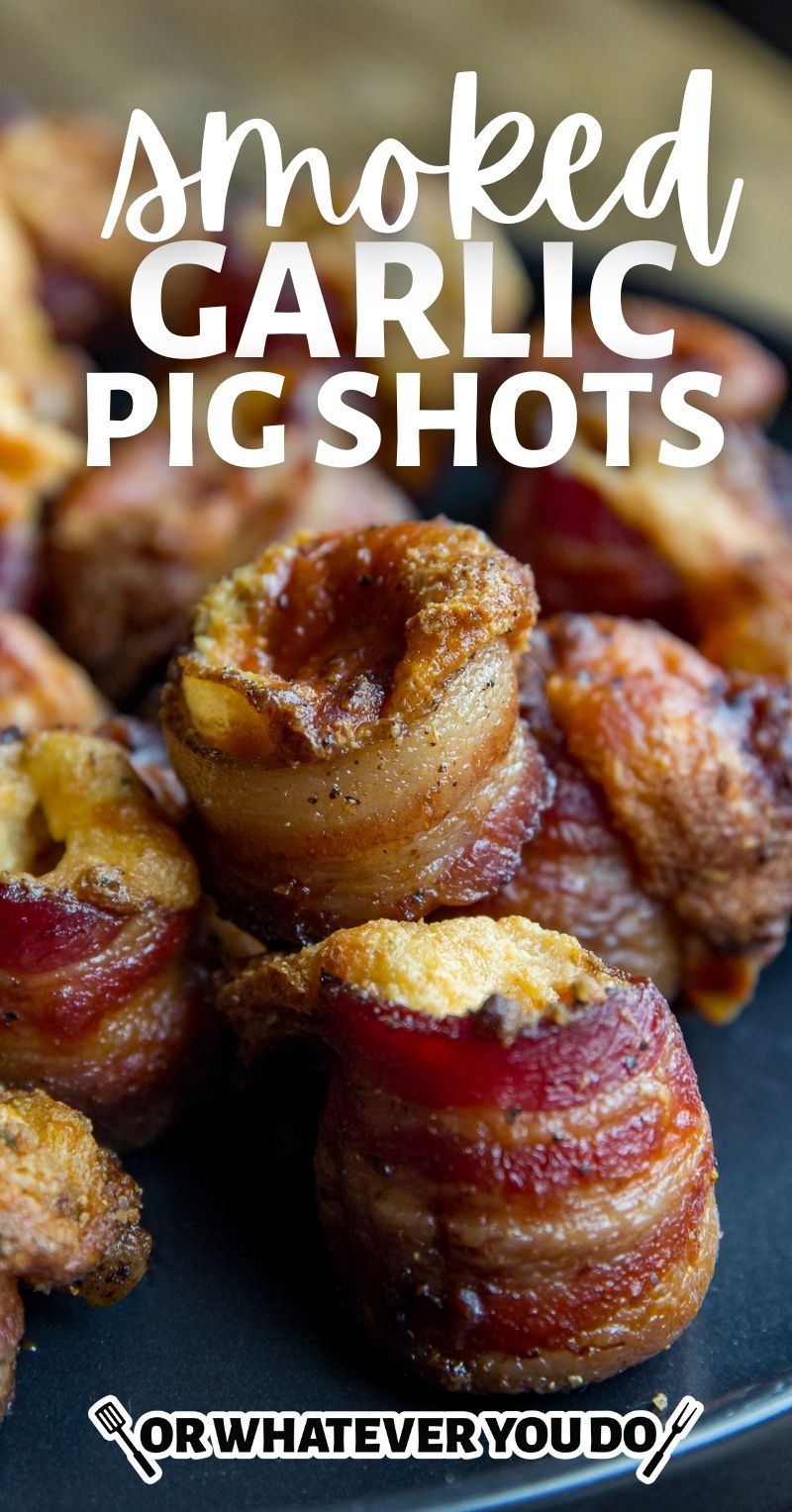 Smoked Garlic Pig Shots
Pig shots. When I first saw these floating around the barbecue world in the bagillion Facebook grilling groups I find myself in (probably sharing a recipe from here, if I was betting), I knew I had to make them. Then I promptly filed that away in the part of my brain where many of my bright ideas go to hide, and it took me YEARS to actually pull the trigger.
They were worth the wait!
I used the popular smoked cream cheese you've been seeing all over everywhere.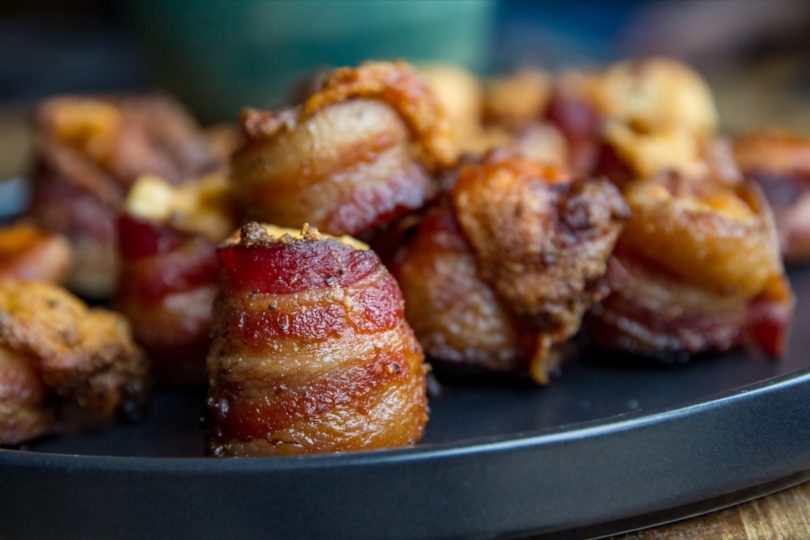 Smoked Pig Shots shopping list
Wondering if you have to hit the store? Here's the list of items you'll need to make this recipe. For specific amounts, please refer to the printable recipe card at the bottom of the post.
oil
kielbasa
bacon
cream cheese
olive oil
cheddar cheese
vinegar-based bbq sauce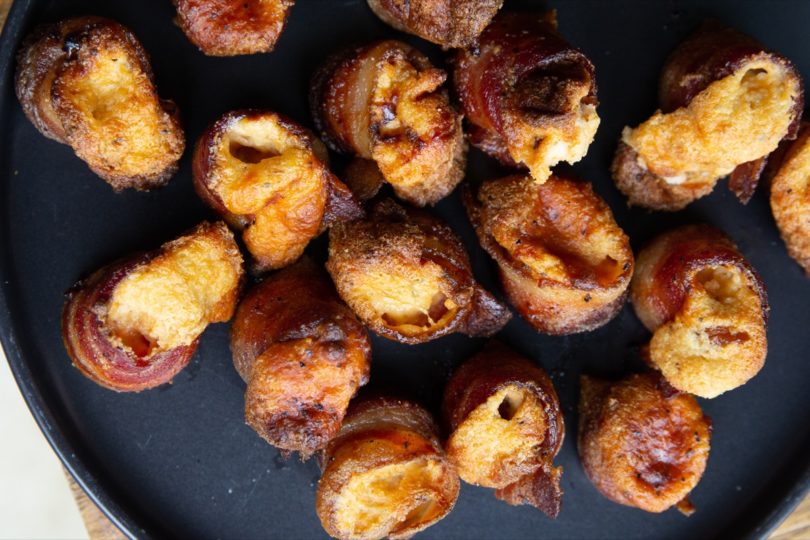 How to make Pig Shots
This is just the overview so you can see what you're actually getting into here. When you are cooking, you'll want to use the full recipe at the bottom of the page.
Smoke the cream cheese
180° for 2 hours after it gets brushed, scored and rubbed.
Make the shots
Slice your sausage into 1/2″-3/4″ rounds. Cut your bacon slices in half, sprinkle with rub, and wrap around the rounds. Secure with a toothpick.
Fill the shots
Combine the smoked cream cheese with the cheddar cheese. Shove some into the little cups made by the bacon wraps.
Time to smoke
275° for 1-2 hours, or until the bacon is as crispy as you like it. Put some vinegar-based bbq sauce on top during the last 30 minutes of cook time.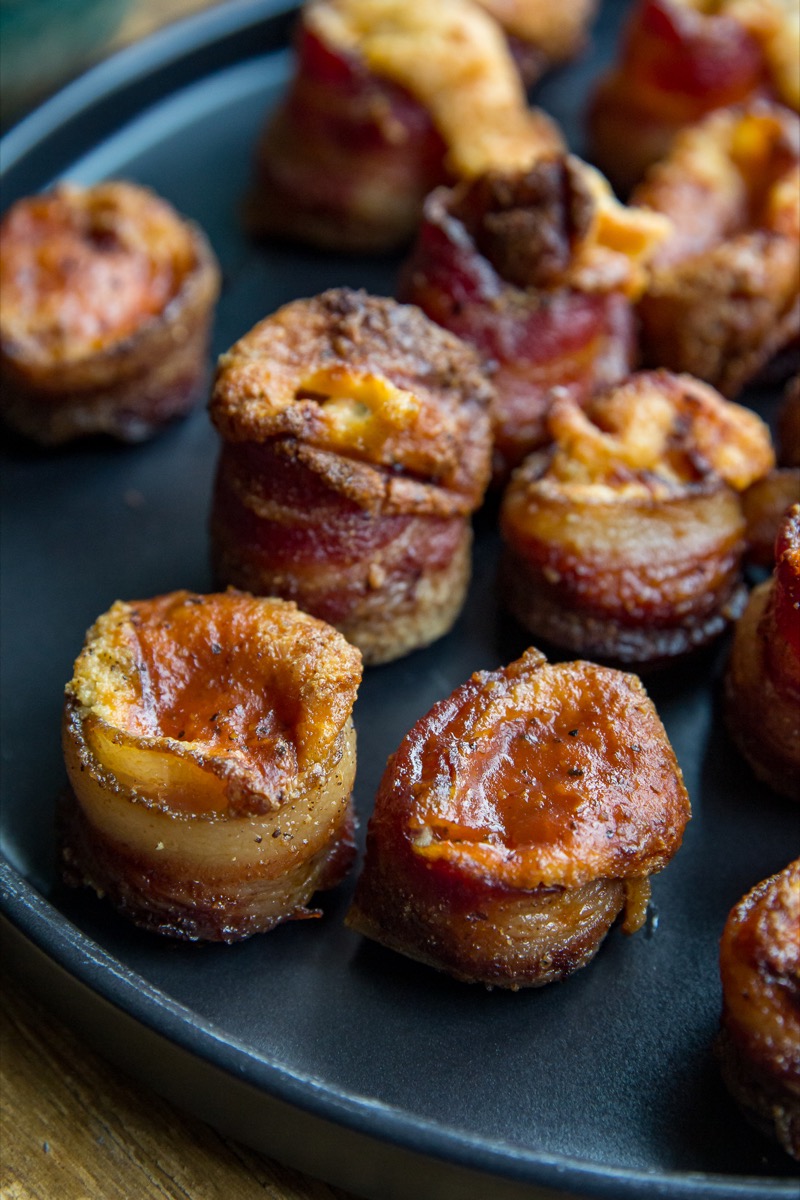 Want more pellet grill appetizers?
Try these! They are all favorites around here.
More Bacon
Get more awesome Appetizer Recipes!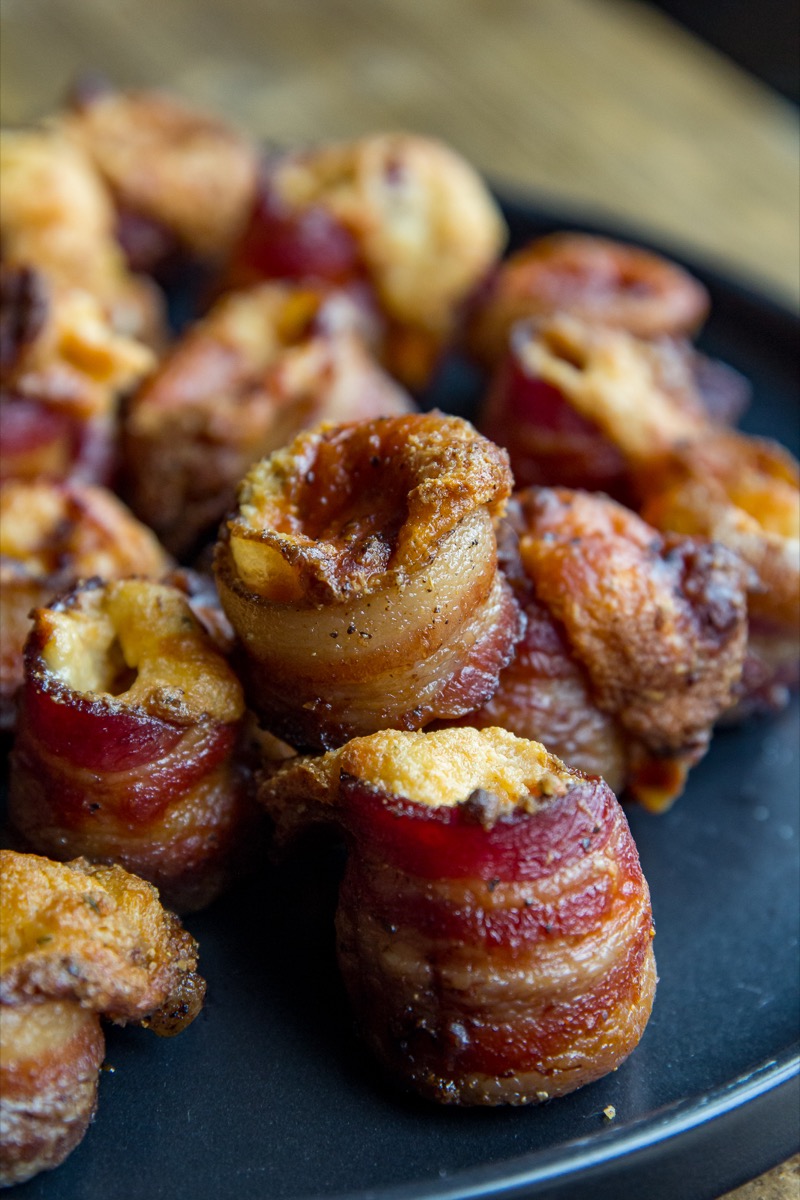 Smoked Garlic Pig Shots FAQ
Do pig shots keep well as leftovers, or can you make them ahead of time?
Pig shots actually DO hold over pretty darn well. Especially for an appetizer. As with most things, they are BEST fresh off the grill the first time, but if you want to make them the night before an event, could you totally get away with it and then just giving them a quick 5-10 minute reheat on the grill with a little extra BBQ sauce for good measure.
Can you make pig shots in the oven?
If your smoker is broken or on backorder, but you are really craving some porky appetizer love, you could make these in the oven. 😉
Want to give them an extra kick?
Add some diced jalapenos or green chiles to the cream cheese mix. You can also use a spicy vinegar barbecue sauce to give it a little extra too.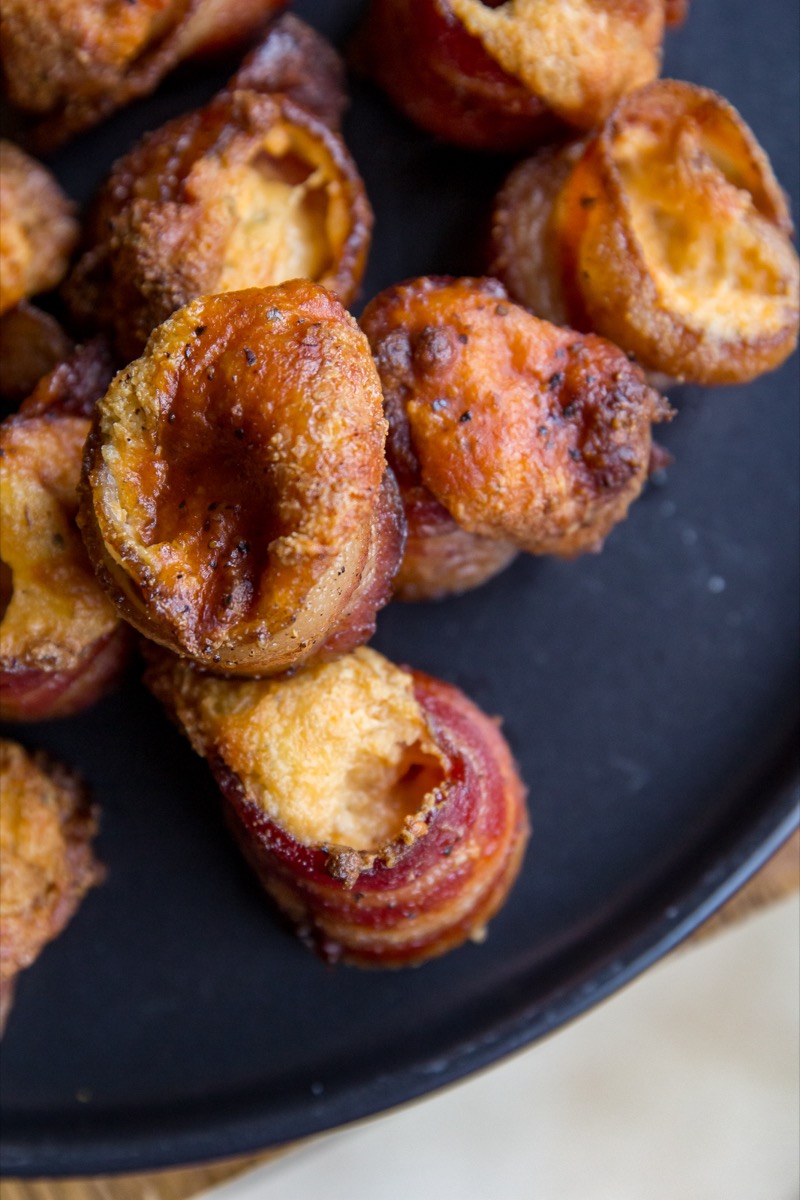 More recipes to love!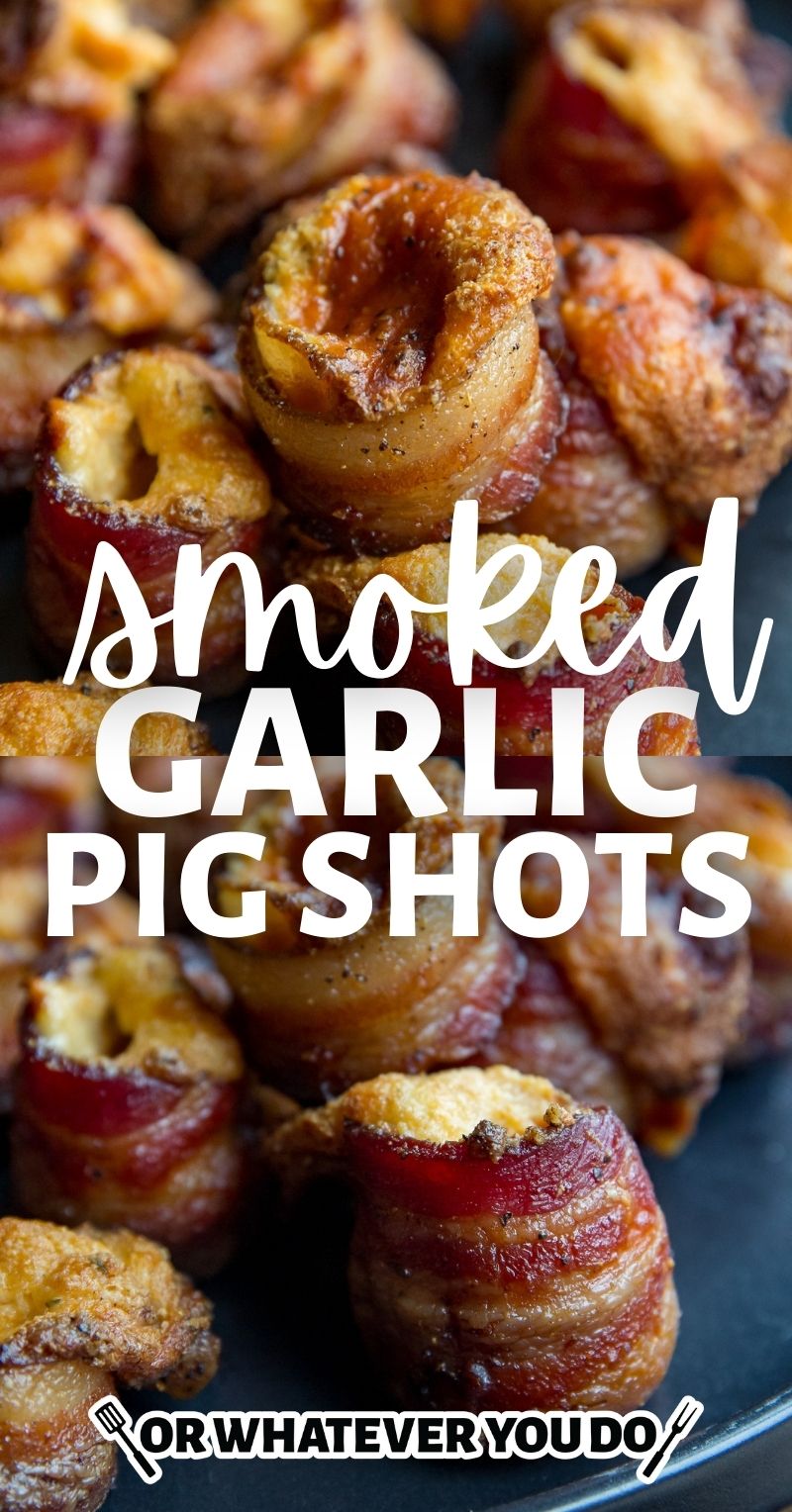 Yield: 12 servings
Smoked Garlic Pig Shots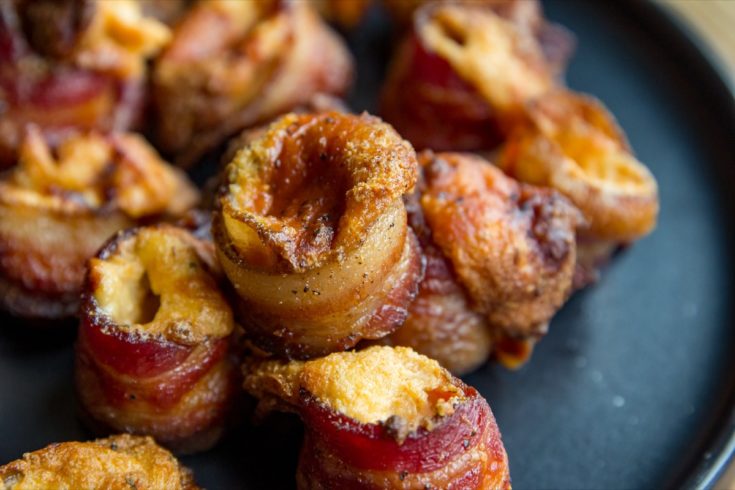 Bacon-wrapped sausage rounds get stuffed with smoked roasted garlic cream cheese mixed with sharp cheddar. Then it gets smoked and drizzled with a tangy vinegar-based barbecue sauce.
Total Time
4 hours
15 minutes
Ingredients
1 kielbasa, or smoked pork sausage of your choice
1 pound bacon
2 tablespoons Meat Church Honey Hog Rub
8 oz cream cheese
1 tablespoon olive oil
1 tablespoon Roasted Garlic Rub
1 cup sharp cheddar cheese
1/2 cup vinegar-based bbq sauce
Instructions
Preheat your smoker to 180°.
Take the cream cheese out of the package, put it on parchment or non-stick foil, and score it on the top. Brush with the olive oil. Sprinkle with the Roasted Garlic Rub.
Smoke for 2 hours.
While your cream cheese is smoking, slice your sausage into rounds that are about 1/2 inch to 3/4 inch thick. Cut your bacon in half, sprinkle with the honey hog rub (optional) and then wrap around the sausage slices and secure with a toothpick.
Place in the fridge to wait to be stuffed.
Once the cream cheese is done, mix it together with the sharp cheddar cheese. Grab small portions and stuff into the little bacon/sausage cups you made before.
Place the pig shots onto a rack that's been generously sprayed with grill spray or cooking spray. Turn the pellet grill up to 275°, and cook the pig shots for 1-2 hours, or until the bacon is as crispy as you like it.
During the last 30-45 minutes, top with a bit of the vinegary barbecue sauce to finish off.
Serve warm! Warn people not to eat the toothpicks!
Recommended Products
As an Amazon Associate and member of other affiliate programs, I earn from qualifying purchases.
Nutrition Information:
Yield:
12
Serving Size:
1
Amount Per Serving:
Calories:

464
Total Fat:

37g
Saturated Fat:

16g
Trans Fat:

0g
Unsaturated Fat:

19g
Cholesterol:

101mg
Sodium:

1203mg
Carbohydrates:

8g
Fiber:

0g
Sugar:

5g
Protein:

23g
Nutrition data provided here is only an estimate.