These tender, juicy, Traeger Vietnamese Chicken Thighs are simple to prepare, feature big bold flavors, and are perfect to serve with some fresh vegetables and steamed rice. This recipe can also be made in the oven if you don't have a Traeger (or if it is buried in snow).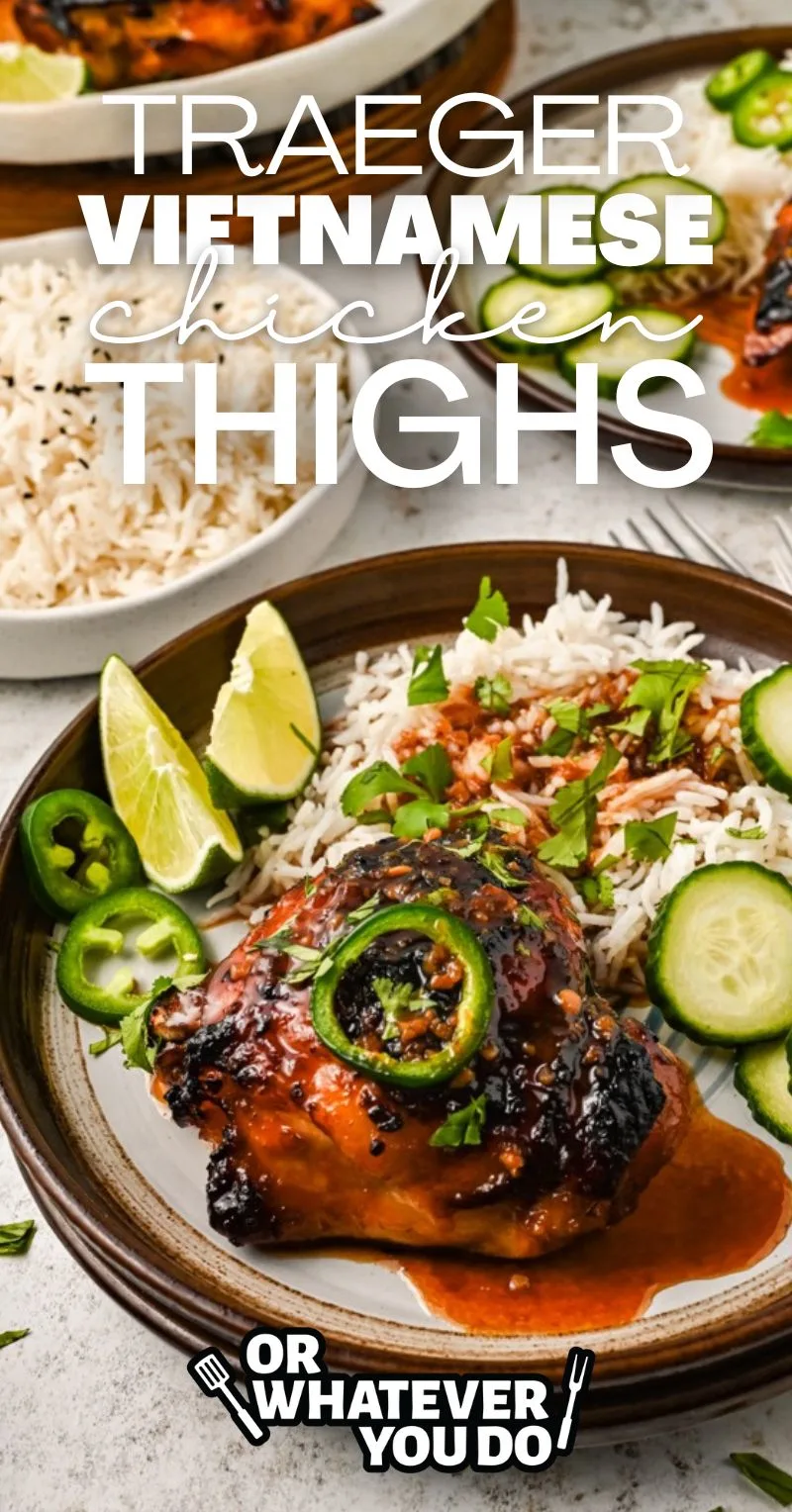 Traeger Vietnamese Chicken Thighs Recipe
We love Vietnamese food. There's a local restaurant near us that does the BEST Pho, and I bet you we are there twice a week for a quick, hearty lunch. The big flavors featured in that cuisine are also featured in this simple, delicious chicken thigh recipe! You aren't likely to find smoked chicken thighs on the menu at your local restaurant, but maybe you should. These were amazing, tender, simple to make, and made such a fabulous dinner.
Are these a traditional or authentic version of Vietnamese Chicken?
While this recipe uses traditional flavors that are popularly and regularly used in all of the Vietnamese restaurants I've visited in the US, I wouldn't say this is a traditional Vietnamese recipe by any means.
My background is country-style midwest cooking. Casseroles and stuff. Oops I mean "hot dish". I've been out of Minnesota too long, clearly. So, I don't think any of the foods I feature that have roots in other parts of the world could be classified as "authentic". But – they are delicious, and I hope by giving them a try it might open up a new world of flavors and foods for you to try!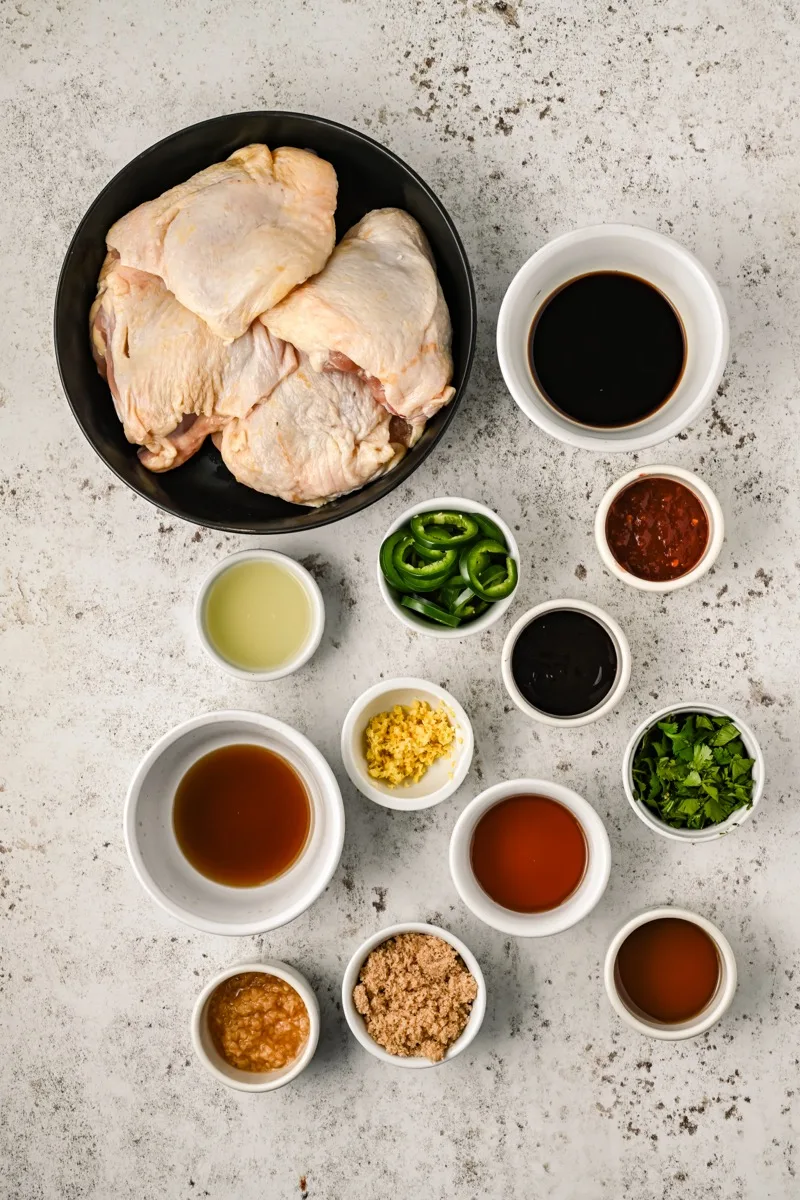 Vietnamese Chicken Thighs shopping list
Wondering if you have to hit the store? Here's the list of items you'll need to make this recipe. For specific amounts, please refer to the printable recipe card at the bottom of the post.
chicken thighs
soy sauce
fish sauce
honey
brown sugar
hoisin
toasted sesame oil
lime juice
ginger
garlic
sambal oelek
jalapeño
cilantro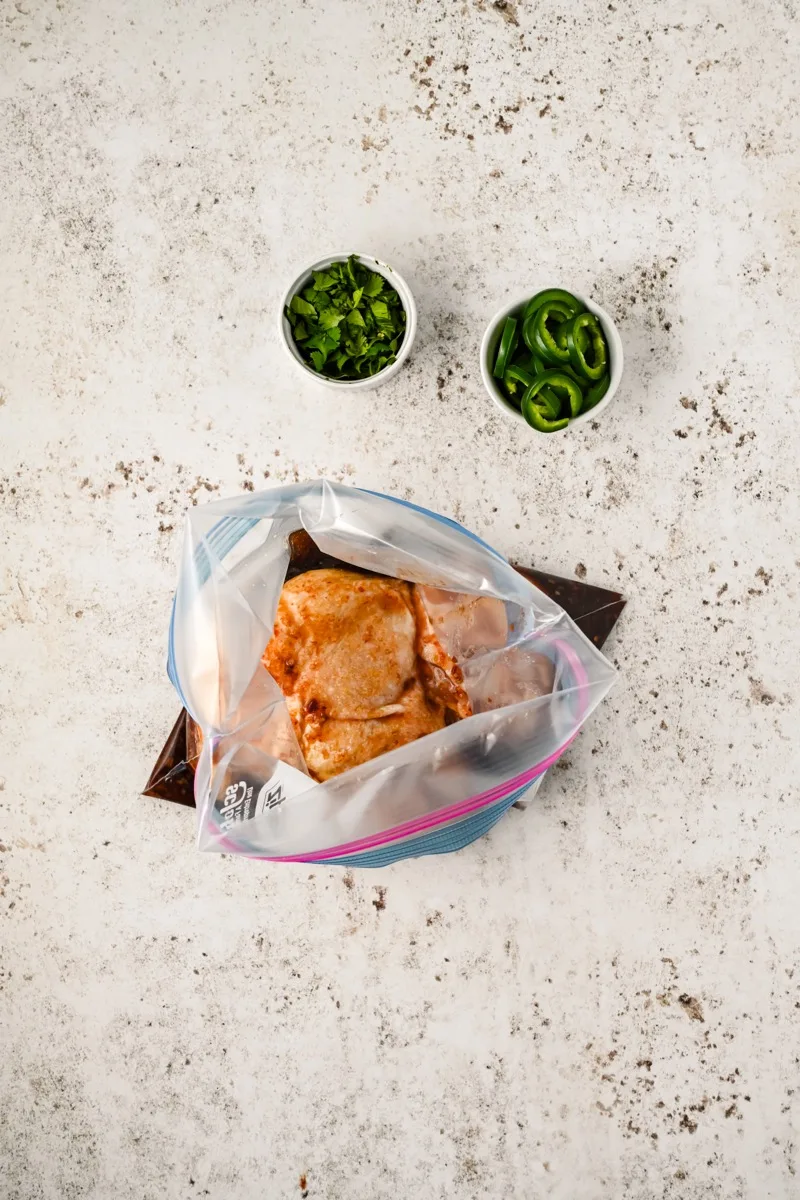 How to make Vietnamese Chicken Thighs on the Traeger
This is just the overview so you can see what you're actually getting into here. When you are cooking, you'll want to use the full recipe at the bottom of the page.
Marinate
Mix together the marinade ingredients and toss the chicken in a big sealable baggie. Pour the marinade over and let it soak for at least 30 minutes, but a few hours or even overnight is better!
Preheat
Fire up that grill and let it get nice at hot! We're shooting for 425°F if you can get there!
Grill
Remove the thighs from the marinade, but reserve the marinade! Pat the chicken dry and brush the skin lightly with oil. Put on the grill, skin-side up.
Cook until they reach 165°F internally.
Cook the marinade
While the chicken is on the grill, but the reserved marinade in a pot on the stovetop over medium to medium-low heat. Let it simmer while the chicken cooks.
Remove from heat when it reduces to your desired consistency or when the chicken is done. Whatever comes first. Just make sure that raw chicken juice simmers at least 10-15 minutes to make it safe to consume. 😉
Enjoy
Crisp up that chicken skin either under the broiler, air fryer, or in a shallow fry situation. If you want. You don't have to. Serve the chicken thighs with steamed rice, sliced vegetables, lime wedges, and cilantro. Pickled Vietnamese vegetables would be a major bonus.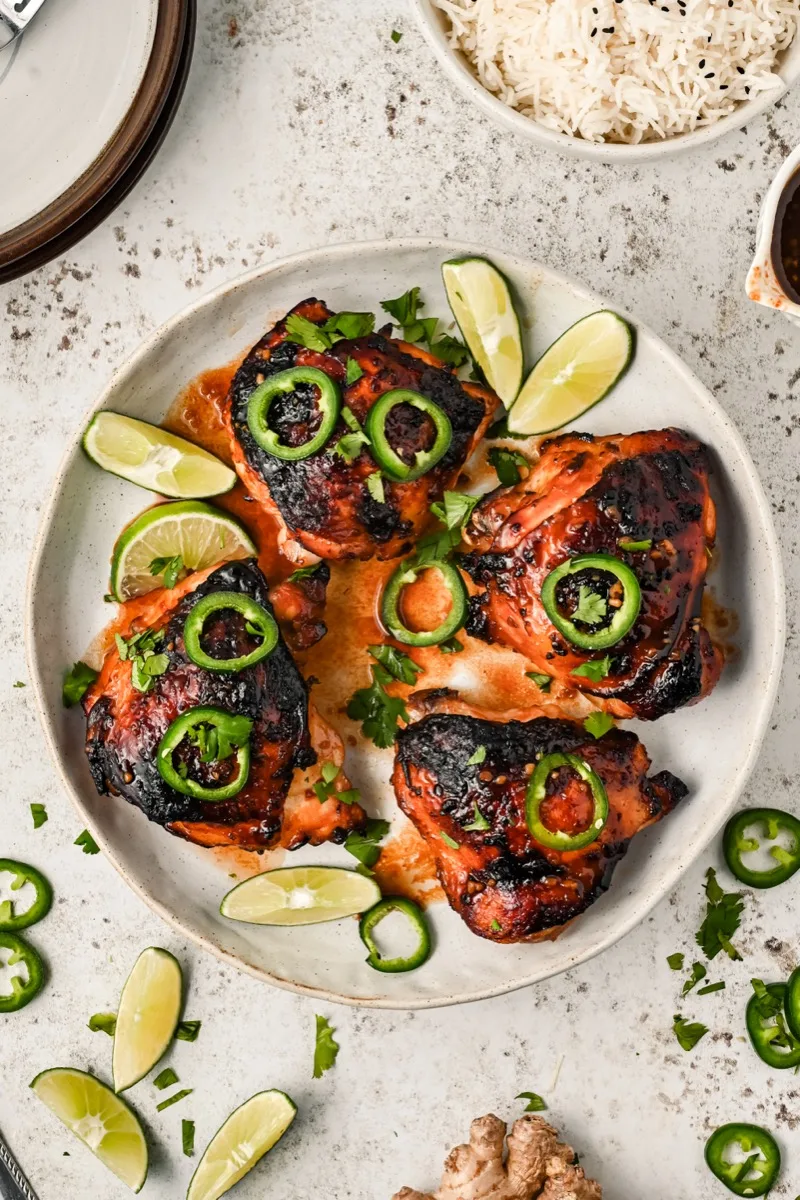 Vietnamese Chicken Thighs FAQ
What's the best way to store leftovers?
Toss these in a baggie or in a storage container and keep them in the fridge for 2-3 days.
How should you reheat this recipe?
Reheat in the microwave, in the oven, or even back on the Traeger. Just don't overdo it. Chicken (yes, even thighs) will dry out if you overcook them during the reheat.
Are there any substitutions for the sambal oelek
You can omit the sambal or substitute sriracha or the rooster chili garlic sauce, if you have some. I'd encourage you to get some sambal oelek though! You can use it in so many different things!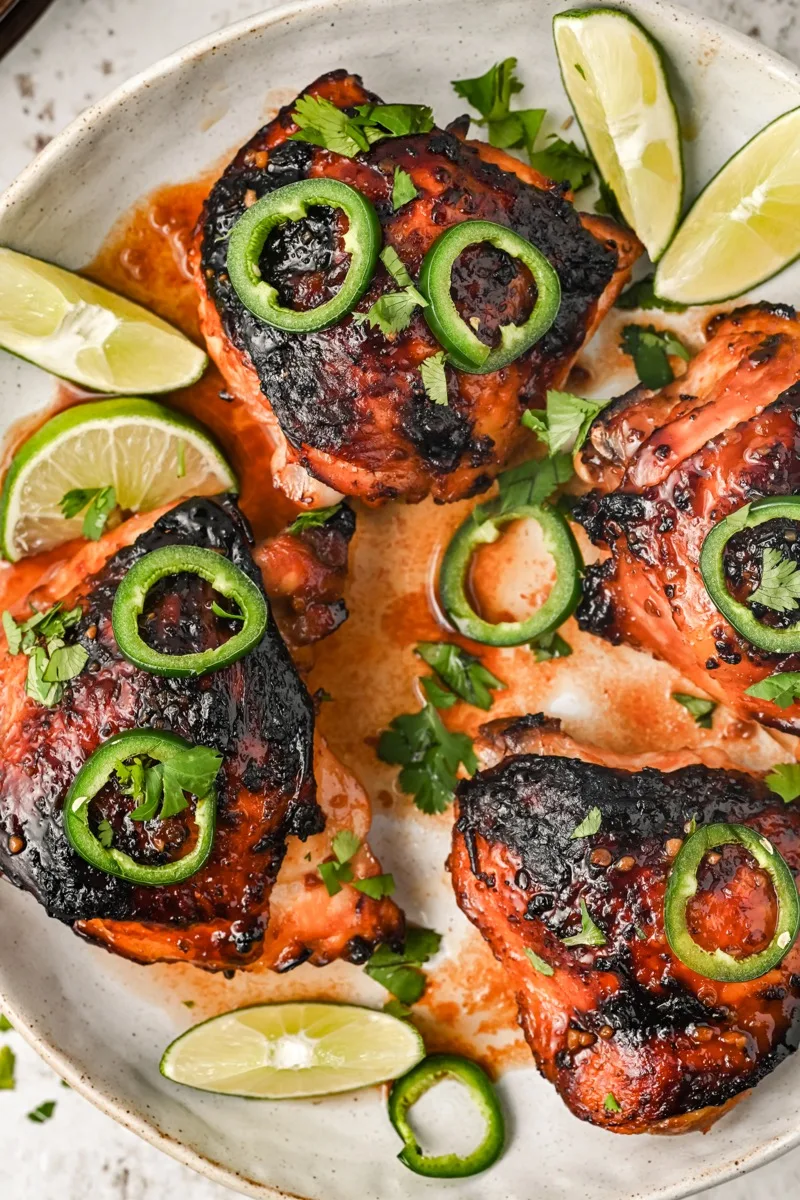 More great Asian-inspired recipes to love!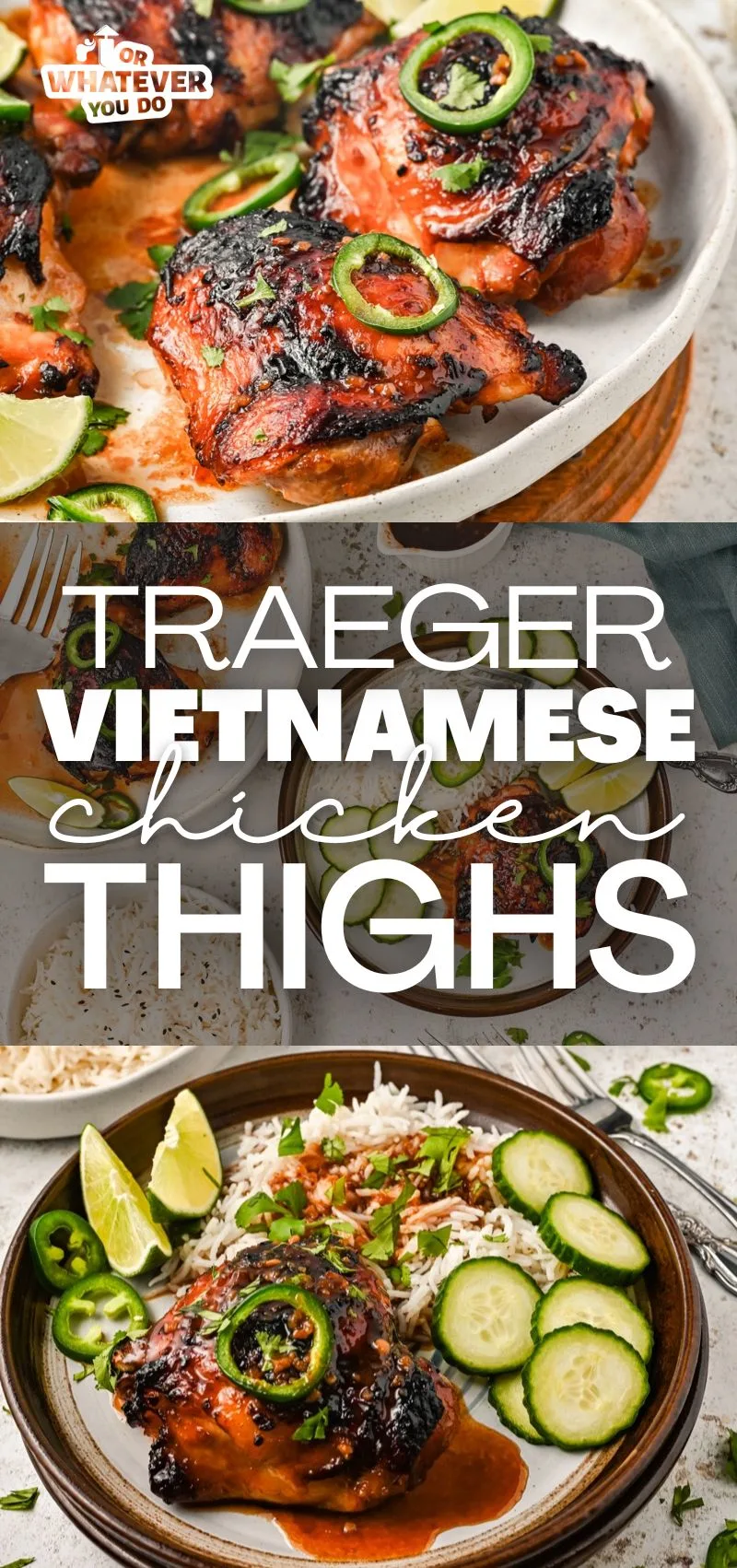 Yield: 4 servings
Traeger Vietnamese Chicken Thighs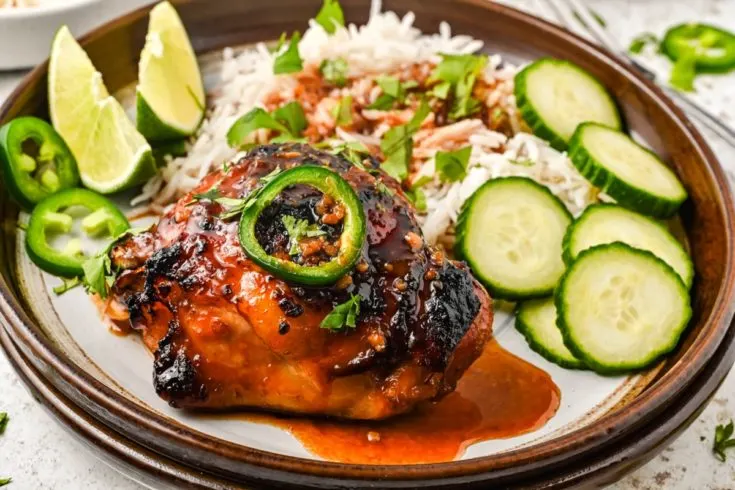 Total Time
1 hour
15 minutes
Ingredients
4 chicken thighs
1 tablespoon avocado oil (or another high-temp vegetable oil)
Marinade
1/4 cup soy sauce
1/4 cup fish sauce
2 tablespoons honey
2 tablespoons dark brown sugar
2 tablespoons hoisin sauce
2 tablespoons toasted sesame oil
1 1/2 tablespoons fresh lime juice
1 tablespoon finely grated ginger
1 tablespoon minced garlic
2 teaspoon chile paste (sambal oelek)
Garnish
1 jalapeno, sliced and seeded
sliced limes
chopped cilantro
Instructions
Place the chicken thighs in a large bowl or ziplock bag.
In a separate bowl, combine the soy sauce, fish sauce, honey, brown sugar, hoisin sauce, sesame oil, lime juice, ginger, garlic and chile paste together. Pour over the chicken. Let the chicken marinate for at least 30 minutes, but they can marinate for up to 24 hours if you have the time!
Preheat your Traeger to 425°.
Remove the chicken from the marinade (keep the marinade), pat dry, lightly brush the skin with oil, and place the chicken on the grill.
Grill until a thermometer inserted into the thickest part of the meat (not touching a bone) reads 165°. Ballpark - around 40-45 minutes. Don't come at me if yours take more or less time. We always cook to temp and not to time around these parts!
While the chicken is grilling, place the reserved marinade into a pan on the stovetop over medium to medium-low heat. Simmer while the chicken is cooking. Stir frequently. (The marinade must be at a full simmer for at least 10-15 minutes in order to be safe to eat, so this part is important!)
Brown the chicken skin, if desired, under the oven broiler for 3-4 minutes. This part is totally optional. You could also shallow fry the thighs skin-side down on the stovetop in a bit of that avocado oil if you're looking for crispy skin. You do you. Skipping both of these steps is also an option. I'm not the boss of you.
Serve the chicken with the sauce, fresh jalapeño slices, cilantro, and lime slices.
Recommended Products
As an Amazon Associate and member of other affiliate programs, I earn from qualifying purchases.
Nutrition Information:
Yield:
4
Serving Size:
1
Amount Per Serving:
Calories:

467
Total Fat:

29g
Saturated Fat:

7g
Trans Fat:

0g
Unsaturated Fat:

21g
Cholesterol:

167mg
Sodium:

2648mg
Carbohydrates:

23g
Fiber:

1g
Sugar:

18g
Protein:

33g
Nutrition data provided here is only an estimate.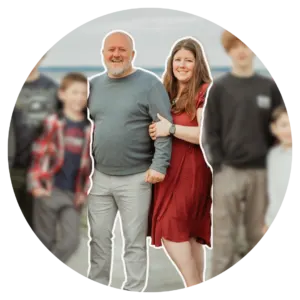 Nicole Johnson, a self-taught expert in grilling and outdoor cooking, launched Or Whatever You Do in 2010. Her blog, renowned for its comprehensive and creative outdoor cooking recipes, has garnered a vast audience of millions. Nicole's hands-on experience and passion for grilling shine through her work. Her husband, Jeremiah Johnson, also plays a pivotal role in recipe development, adding his culinary flair to the mix. Together, they form a dynamic duo, offering a rich and varied outdoor cooking experience to their followers.