Fresh, healthy, and delicious! My Salmon Miso Poke Bowl is absolutely STUNNING to look at and tastes even better than it looks! Instead of turning on that hot oven or grill, discover the world of poke bowls.
They are much easier than they look, and require almost no cooking. The salmon is marinated. The rice is done in a rice cooker, and the other ingredients are either raw or steamed.
You can make it as spicy (or not) as you'd like. You can include wasabi, or not. Use your favorite vegetables, or skip them completely. Make it your own, and don't think you have to go out to eat to get a fancy, healthy meal.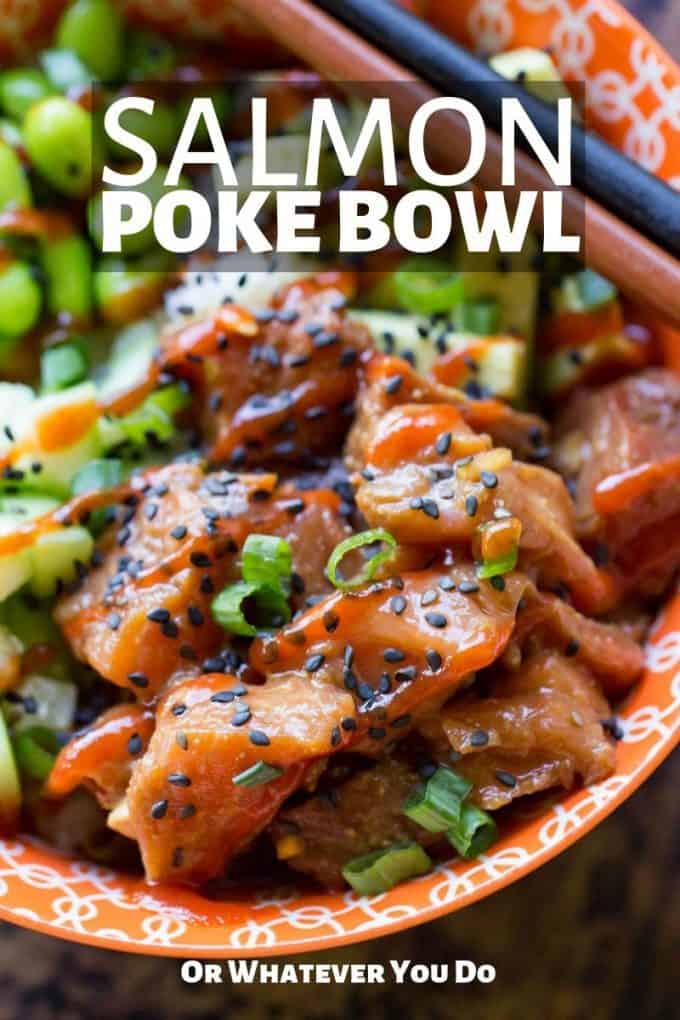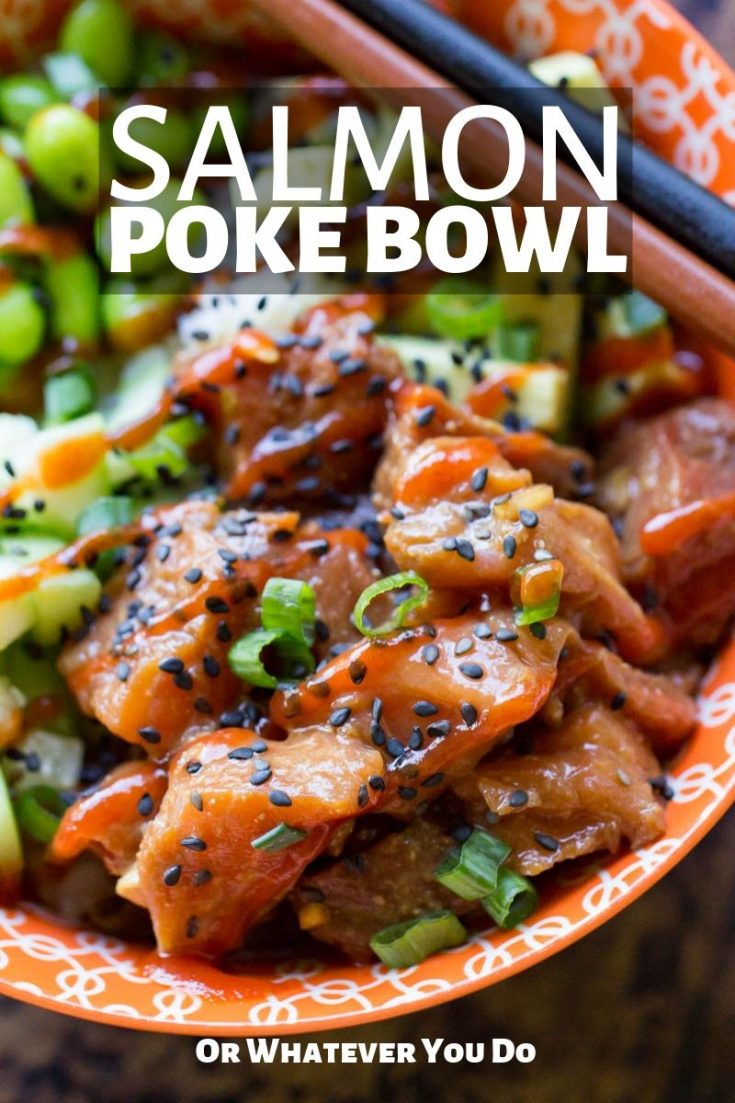 Salmon Miso Poke Bowl
I love sushi and this bowl is like sushi to the MAX! Fresh, delicious salmon, red miso, soy sauce, ginger, rice wine vinegar, and garlic on top of a bed of sushi rice, and topped with edamame, avocado, and cucumber.
Did I hear a mouth drop?
I know, it sounds like a lot, but trust me – it's super simple to throw together and is a DELICIOUS summertime meal!
Click here to save this post for later!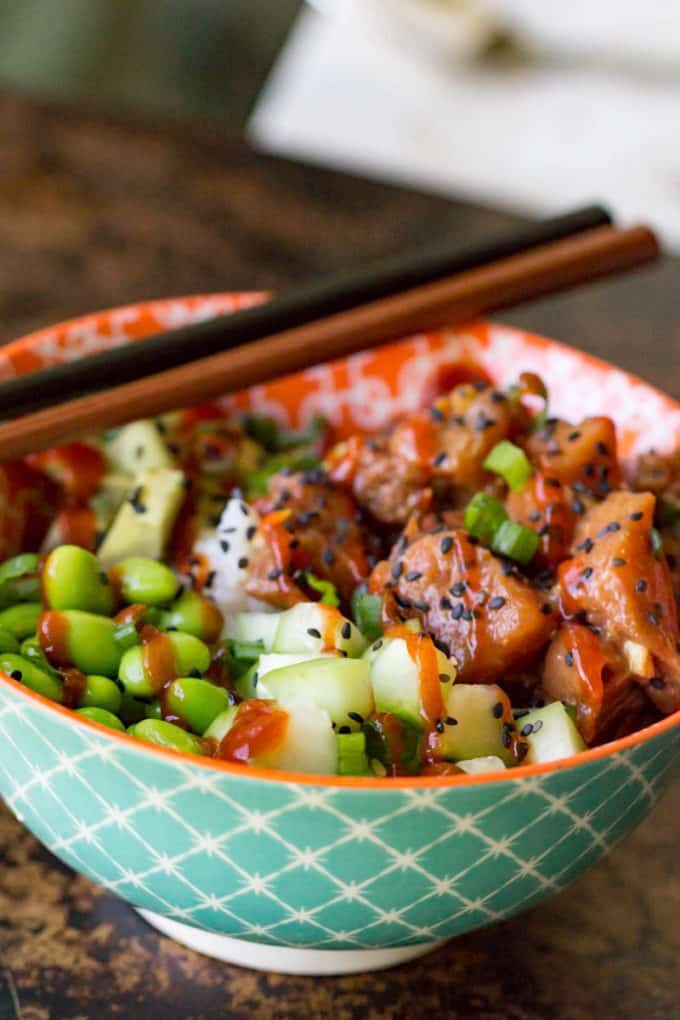 What is a Poke Bowl?
Poke bowls are a classic Hawaiian and Japanese dish that can be served in smaller portions as appetizers, in larger portions as a main course, it just depends on the occasion!
"Poke" translates to "cut or slice" in Hawaiian, so it's easy to see that the preparation of the fish is a key feature of this dish.
Diced fish, traditionally tuna, on a bed of sushi rice and veggies of your choosing, there's no wondering why it's becoming so popular nationwide!
Not only is it delicious, but it's on the healthier side of the spectrum when it comes to meal options, which is always a plus!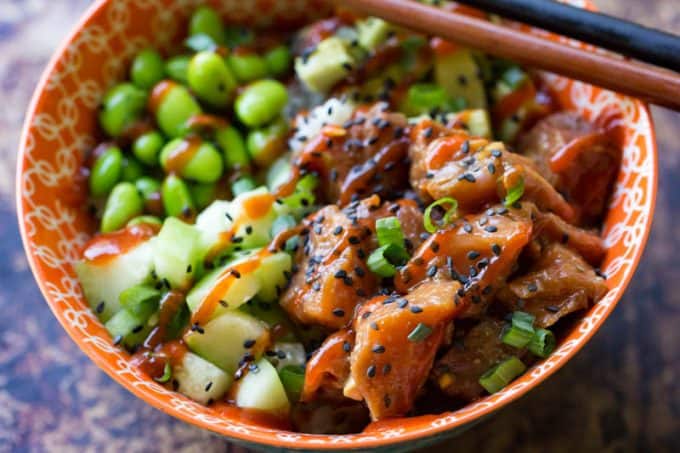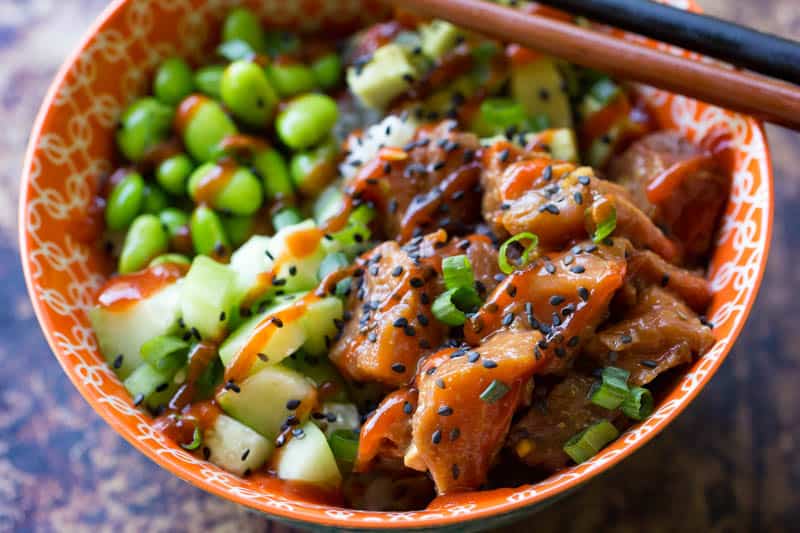 What is Miso?
Miso is a traditional Japanese seasoning made out of fermented soybeans. I know, it sounds strange if you aren't into fermented foods, but it is one of my favorite Asian flavors to use!
Plus, it's PACKED with flavor and is absolutely delicious. You can't go wrong adding it to any soup, braise, or glaze!
If you can't find red miso, you can substitute in soy sauce or fish sauce. It won't taste AS good as if you had miso, but it will definitely still be flavor-packed!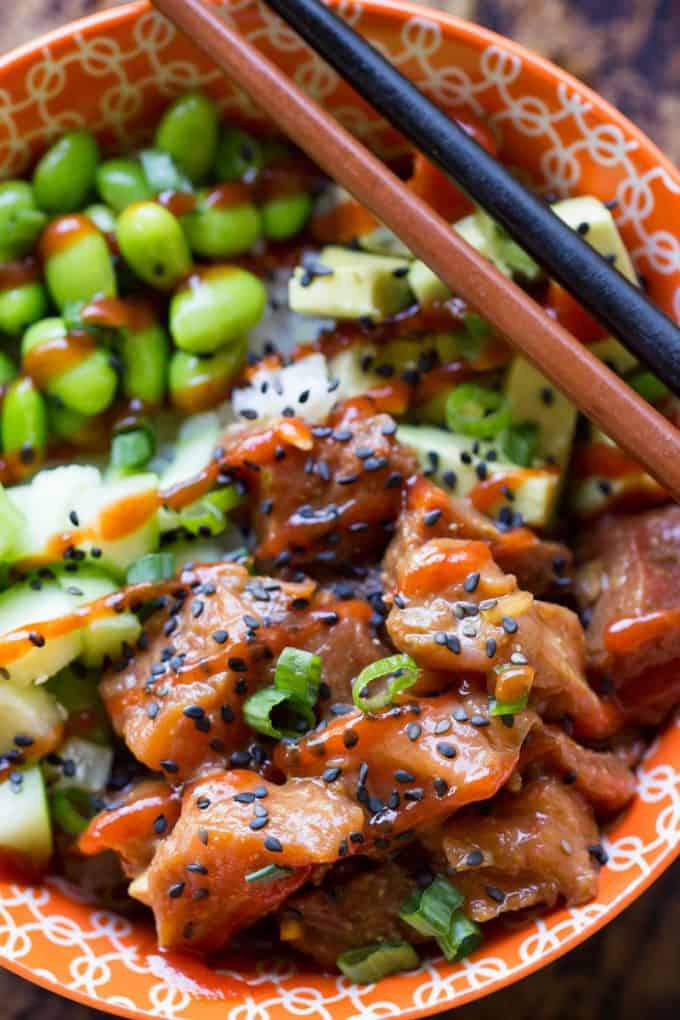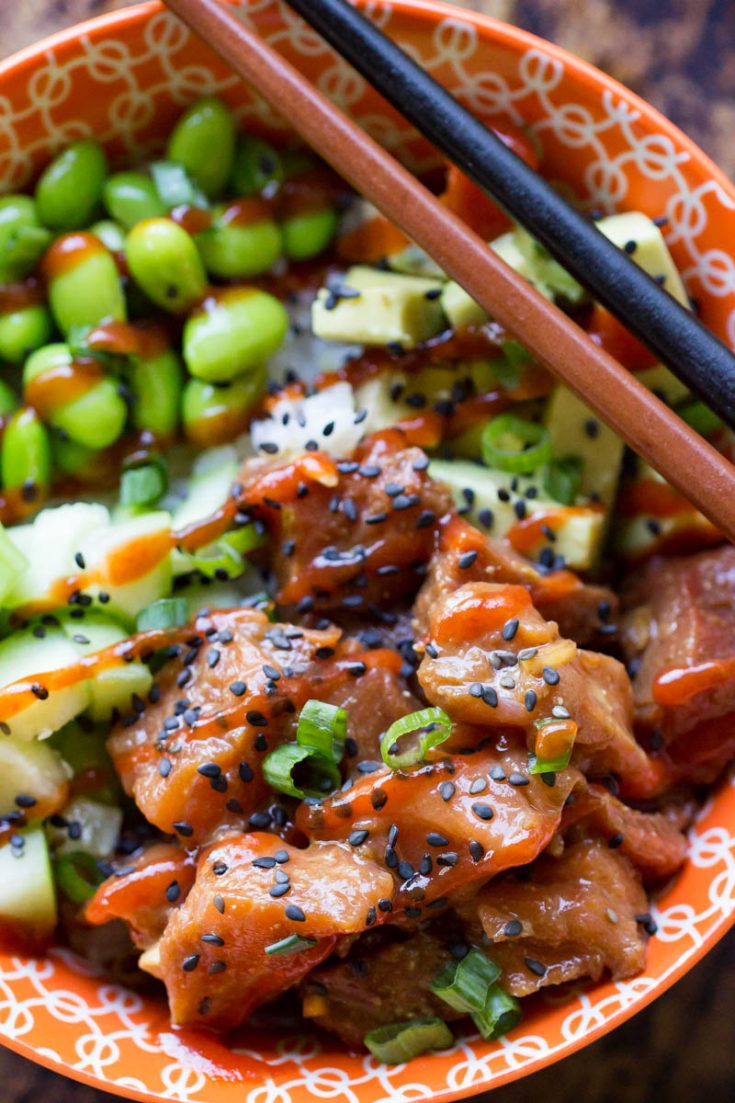 How To Make Perfect Sushi Rice
It may seem intimidating at first to try and make sushi rice. You may be thinking, "Sushi chefs have been making it for YEARS, how can I POSSIBLY make this?"
We've all been there, but it's easier than you may think once you get the hang of it!
A few tips for successful sushi rice:
Use actual sushi rice –

You don't want to try using regular white or brown rice when making sushi rice, they don't have the same texture or starches so it'll more than likely end up gummy. There should be sushi rice in your local grocery store. I'm seeing it more and more often in regular stores these days.

Wash your rice

– Something that people often overlook when making ANY kind of rice is rinsing it. It washes away excess starch and debris that you don't want messing up your dish.

Use a rice cooker

– Make sure you use a rice cooker or Instant pot for your sushi rice. I think it is pretty essential for good rice cooking. You'll never see me making it in a pot on the stove.

Taking it out –

When you're taking the rice out of the cooker, you only want to use wooden utensils because metal ones can break the rice! Don't bother with scraping it out, either – whatever comes out easily is what you want!

Seasoning your rice

– Once you've let your rice cool for a bit, perfectly seasoning it is SO important. You're going to want rice vinegar, sugar, and salt – the rice vinegar isn't optional you MUST use this in order to accomplish sushi rice.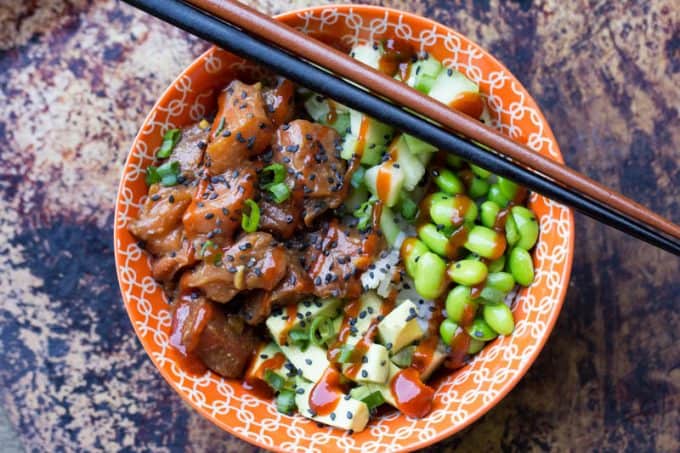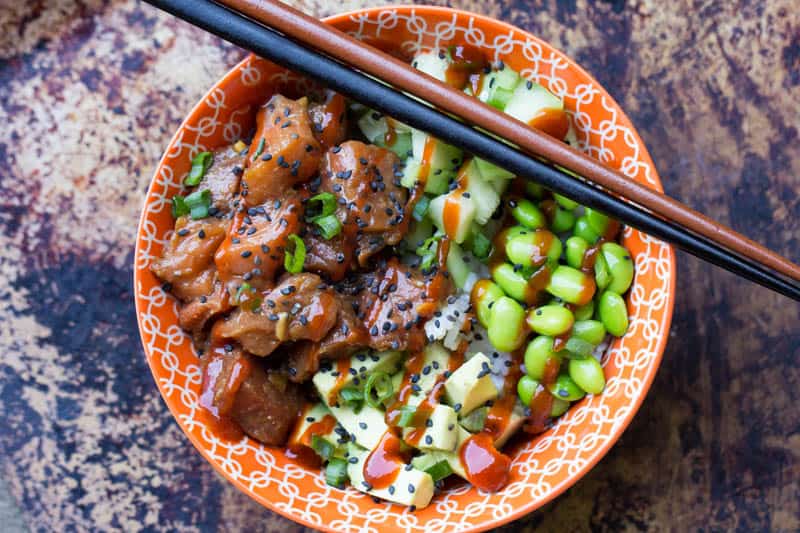 What if I don't Have Fresh Salmon?
I'm going to say right away, the key to any good poke bowl is gonna be having a good fish. You'll end up spending a little extra for the good stuff, but I promise you, it is SO worth it!
If you can't get your hands on some fresh salmon, you can try using any sushi-grade fish you can get your hands on.
If you absolutely can't find any fresh fish, just make it vegetarian or try using some tofu! Both are great options, especially if you have a vegetarian among your mix!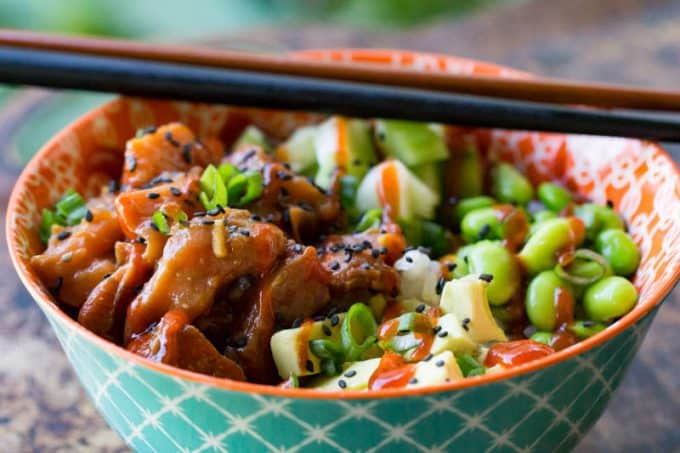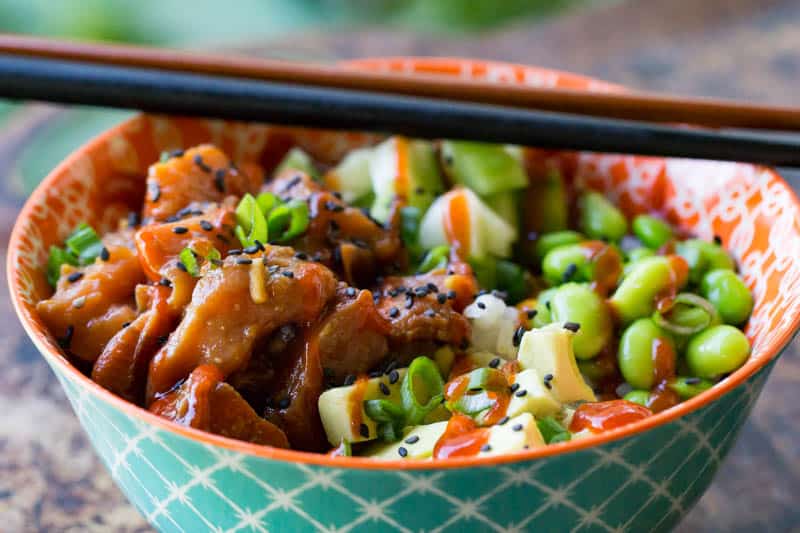 Pin for later!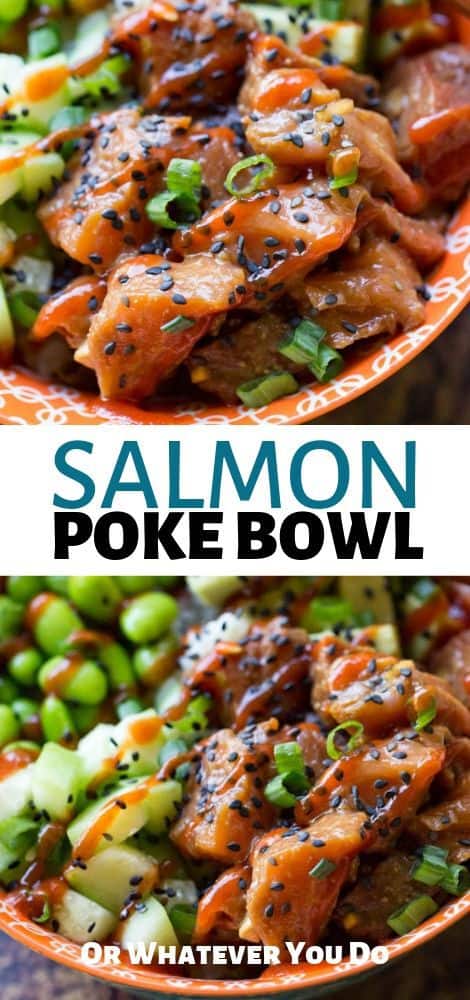 Yield: 4 bowls
Salmon Miso Poke Bowl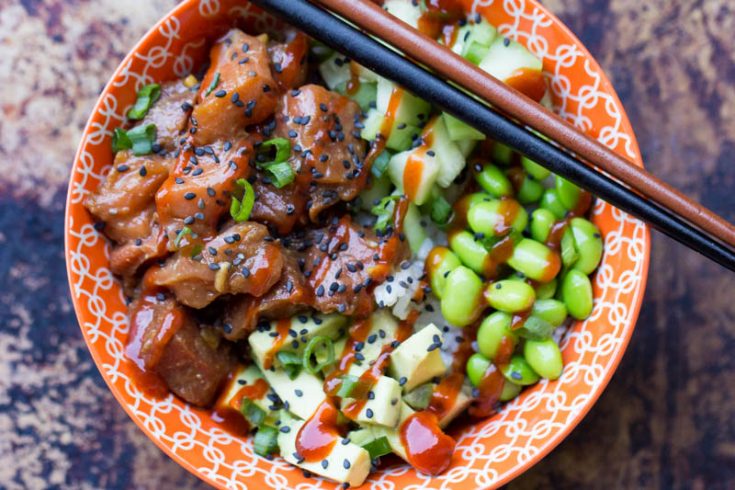 These flavorful Salmon Miso Poke Bowls are easy to throw together, and make such a fabulous lunch or dinner option!
Total Time
2 hours
15 minutes
Ingredients
Salmon
2 cups fresh sushi-grade salmon, cubed
3 tablespoons soy sauce
1 tablespoon red miso
1/2 teaspoon sesame oil
1 tablespoon rice wine vinegar
1/2 teaspoon garlic, minced
1/2 teaspoon ginger, minced
3 tablespoons green onions, white parts only (reserve the greens for garnish on the finished bowl!)
Toppings
Diced cucumbers
Shelled edamame
Diced green onions
Sliced avocados
Sesame seeds
Sriracha
Sliced nori
Instructions
Place the salmon and all of the marinade ingredients into a plastic container or plastic baggie, and let it marinate for 1-2 hours.
Place a scoop of salmon poke on top of a scoop of sushi rice, and top with any of your desired toppings.
Nutrition Information:
Yield:
4
Serving Size:
1
Amount Per Serving:
Calories:

481
Total Fat:

30g
Saturated Fat:

5g
Trans Fat:

0g
Unsaturated Fat:

23g
Cholesterol:

45mg
Sodium:

1182mg
Carbohydrates:

33g
Fiber:

8g
Sugar:

6g
Protein:

23g
Nutrition data provided here is only an estimate. If you are tracking these things for medical purposes please consult an outside, trusted source. Thanks!