This Chicken and Eggplant stir-fry is inspired by Thai cuisine and is one of my favorite dishes. Stir-fry always presents a great option when you are hungry and just want to get food on the table as quickly and easily as possible. Thai chicken and eggplant stir-fry preps and cooks quickly, and serves up a colorful dish.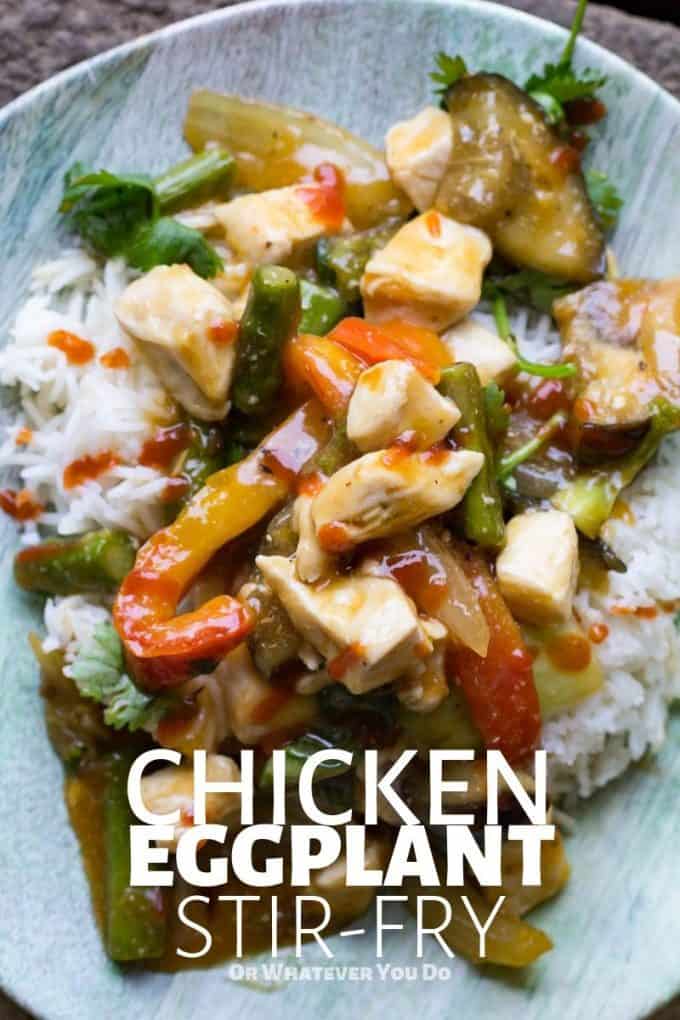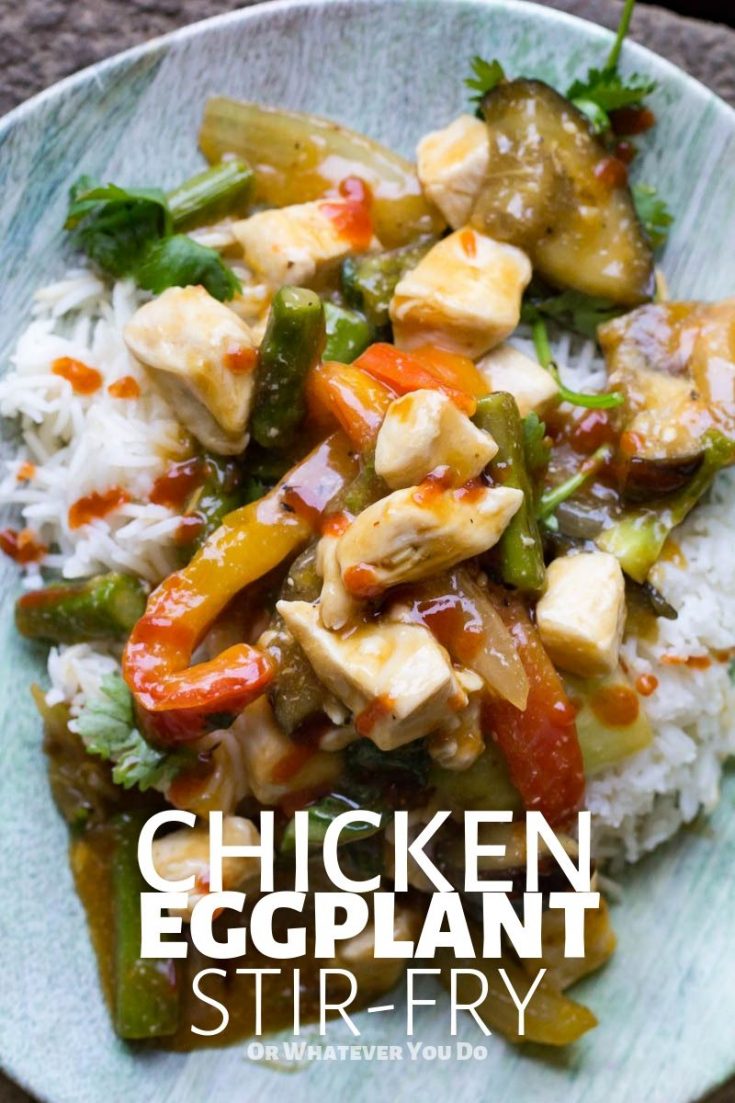 Thai chicken and eggplant stir-fry
Stir fry dishes are popular throughout Asian cuisines, and are one of my favorite ways to crank out a meal for the starving masses that are my children at any given moment.
Anywhere woks are used for cooking over high heat, where the ingredients are added at specific stages and intervals to cook but not over-cook, where the ingredients help layer flavors in depending on when they are added, and where constant stirring helps speed the cooking while also helping avoid burning could be called stir-fry.
Click here to save this post for later!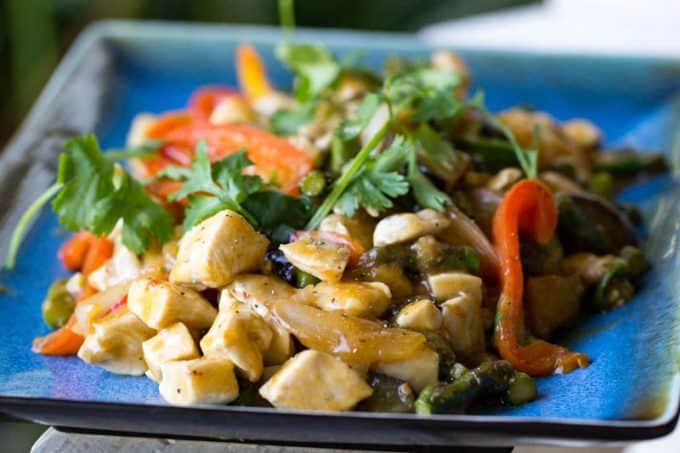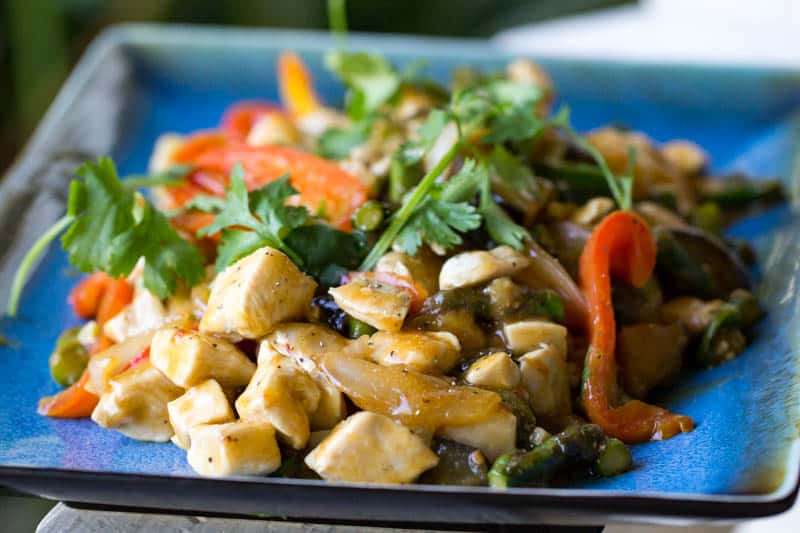 Regional popular ingredients and local takes on specific sauces help differentiate them.
Great stir fry balances on timing the ingredients correctly. With Chicken and Eggplant stir fry, you don't want the chicken under or over cooked while you are cooking the eggplant. Eggplant cooks less quickly than the other vegetables in the dish, and has a great deal of water in it. So you don't want the moisture to make your other vegetables soggy and mushy.
Need more great Stir-Fry ideas? Check out my Gochujang Chicken Stir-fry, Chicken and Broccoli Stir-fry, Honey Garlic Ginger Stir-fry, or my Shrimp Yakisoba.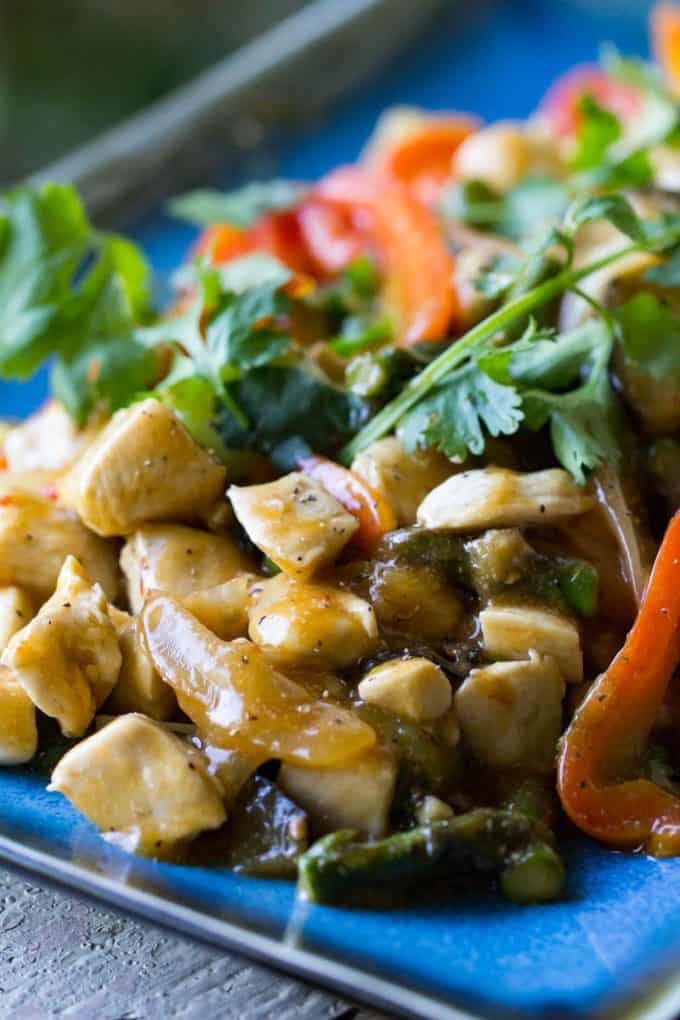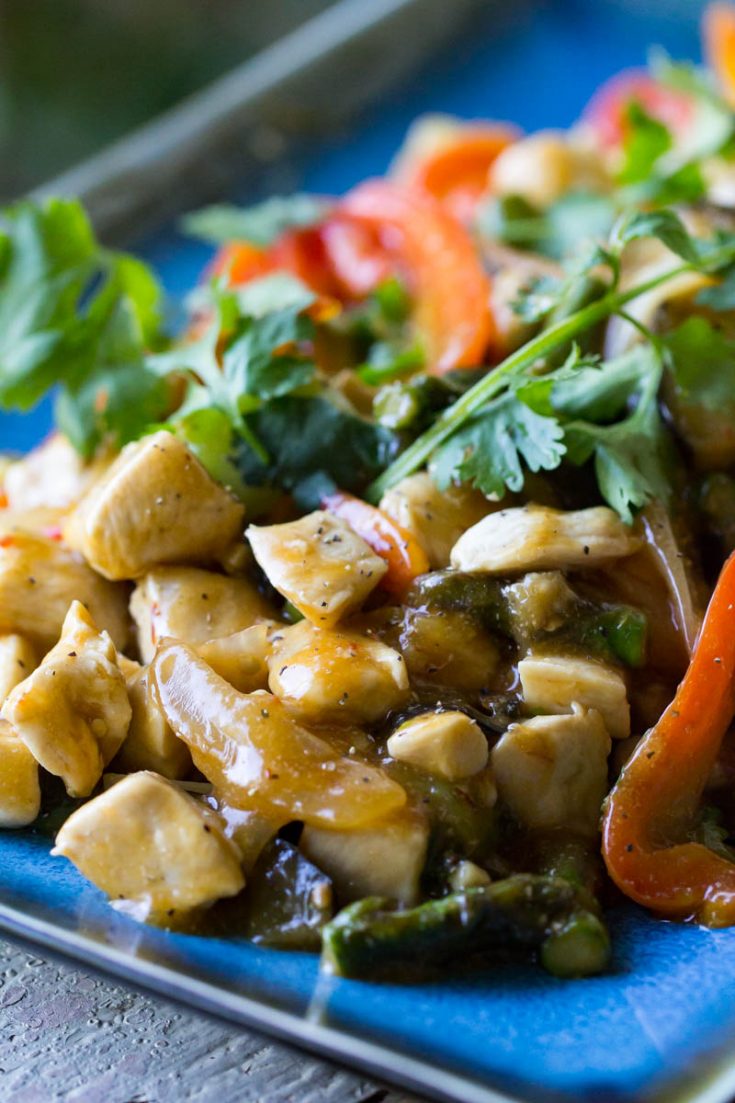 Preparing your ingredients for Stir-Fry
Preparation of your ingredients for your chicken and eggplant stir-fry makes everything go smoothly.
Cut your chicken into bite sized cubes.
You want to keep the size as even as possible. When your chicken hits your hot oil in the pan, it is going to cook quickly. So making sure that all the chicken is cubed and consistently sized makes sure they cross the finish line of doneness at the same time.
Slice your eggplant into similar sized cubes.
Then salt them and let them sit for about an hour prior to cooking. This part is optional, so if you don't have that much time, even 20 minutes helps. The salt helps a few ways:
The salt helps extract water, which gives the eggplant a better texture, more firm and less spongy.
The salt also helps offset the natural bitterness in eggplant. (It doesn't necessarily remove the bitterness, but salt balances the bitterness and makes it less noticeable).
Rinse the excess salt off prior to cooking, and then pat it dry.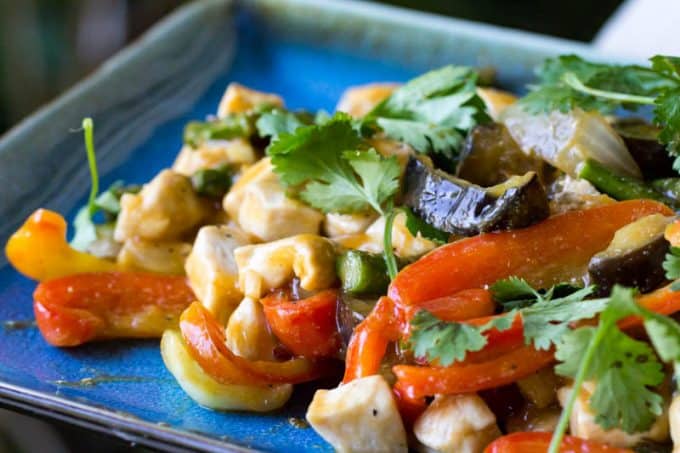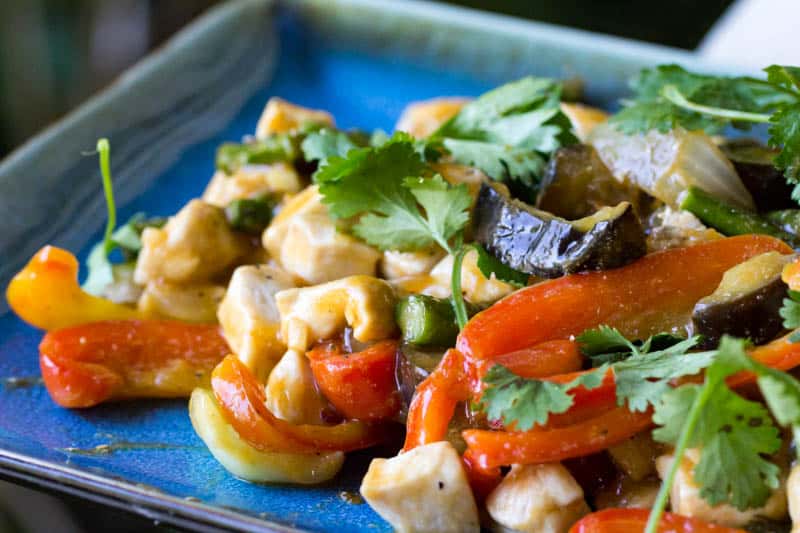 Slice Bell Peppers and Onions
Just like the chicken and eggplant, keep the pieces consistently cut, size-wise.
Dice the asparagus to about a one inch length and slice the onions so they are about a half inch long by a quarter inch wide.
Some people and restaurants cut the onions much longer and wider. Either way is fine, base the choice on how big a bite of onion you like. The bell peppers should be sliced in long strips as well, after removing the seeds.
Chop the cilantro
Give your cilantro a rough chop. No need to pulverize it. The cilantro goes on top at the end and provides flavor and color.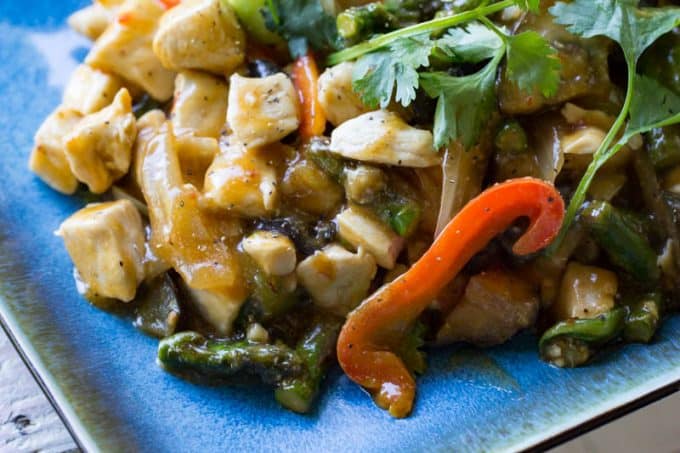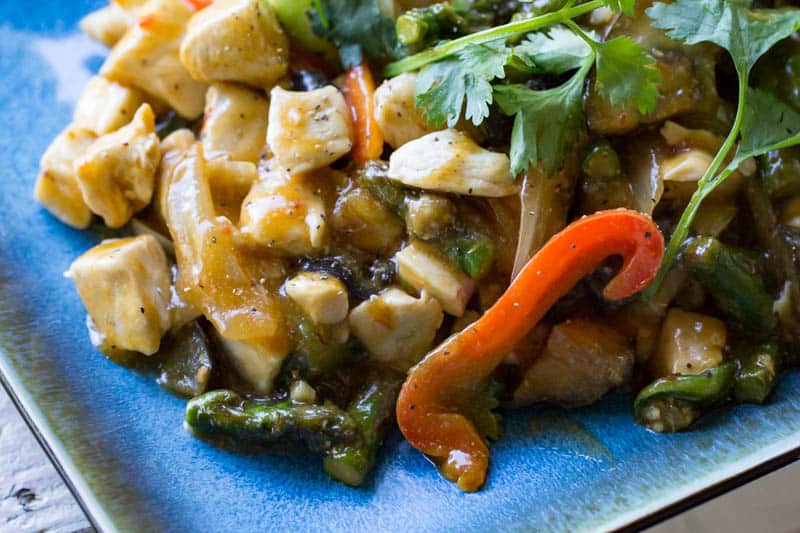 How to make this easy chicken stir-fry spicy
This dish also easily works in a little heat. Any slices of hot pepper will do, but if you like a bit of fire and wish to keep it Thai inspired, then get some bright red thai chilis. A little of these go a long way!
If you add them, just cut off the top end and put the full pepper in. This makes it easier to set them aside and you really don't need to eat them to enjoy the heat they bring to the dish. If you get the thai red chilis dry, then soak them briefly first to rehydrate them.
In a pinch, you can also just add some sriracha into the sauce as well, or on top before you serve it. That's usually what we do.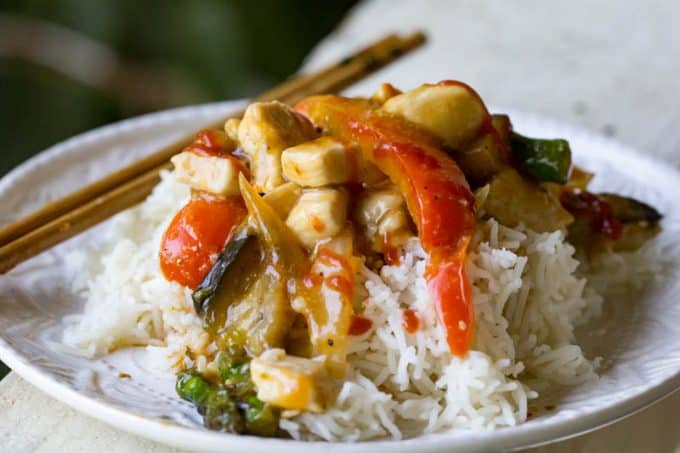 How to make Chicken and Eggplant Stir-fry
Prep now, before you fire up any heat
Putting the ingredients in easy reach so you can add them quickly and easily is very important. Stir-fring cooks food quickly, and you want to add the ingredients in a timely fashion. Stir-fry waits for no one!
Although you want to cook the meat first, use about a third of your onions to act as an aromatic and season the meat. Sprinkle the meat with your ground pepper and salt to season to taste. Even though you wash the eggplant after salting it you can expect a bit of saltiness from it still, so keep that in mind as you season the dish.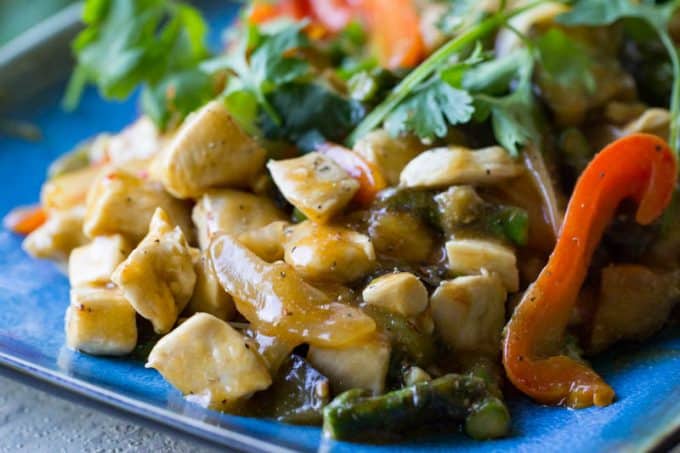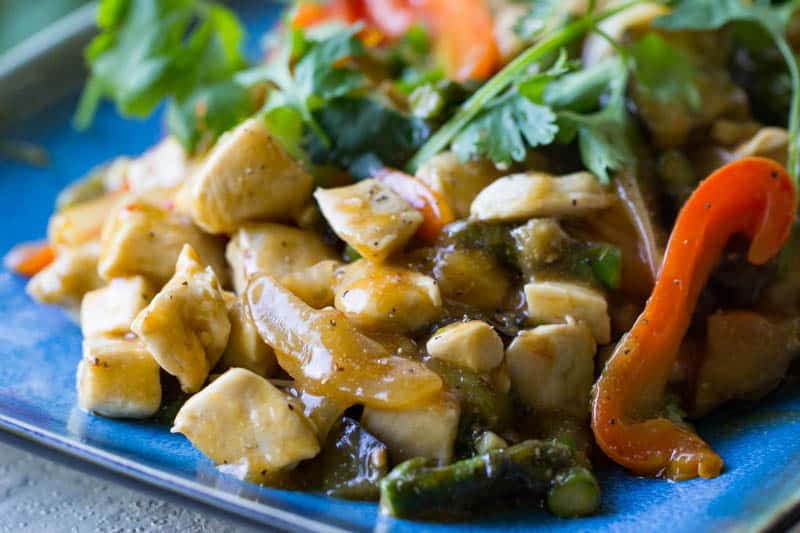 Watch your oil
Use half the oil to start. Get the heat up in the oil to about 400 degrees but make sure not to let it burn. Throw the onions in an let them sizzle and just as soon as they start turning translucent, then add your chicken. Fry the chicken until is very close to done.
You will remove the chicken from the pan briefly and let it sit. The chicken will still be cooking, and when you add it back to finish the dish it will cook a little more.
While the chicken is out, add the rest of the oil and let it come up to heat. As soon as it is up to about 400°, then begin with the vegetables. Start with the eggplant and let it get just a bit browned and stops steaming so heavily, then add your asparagus.
As soon as the asparagus becomes shiny and bright green, then add the rest of the onions and the peppers. When those are just about done, still crunchy, not getting soggy and limp, then add back the meat. Stir all the ingredients for just long enough to combine them and get the heat even throughout.
Next you will be adding the sauce.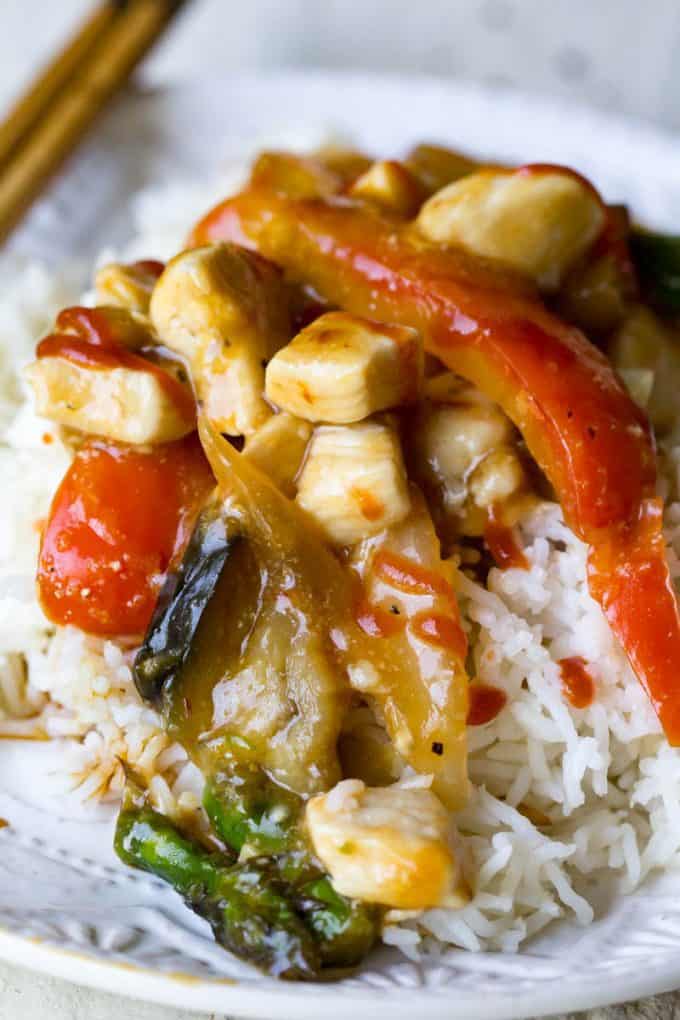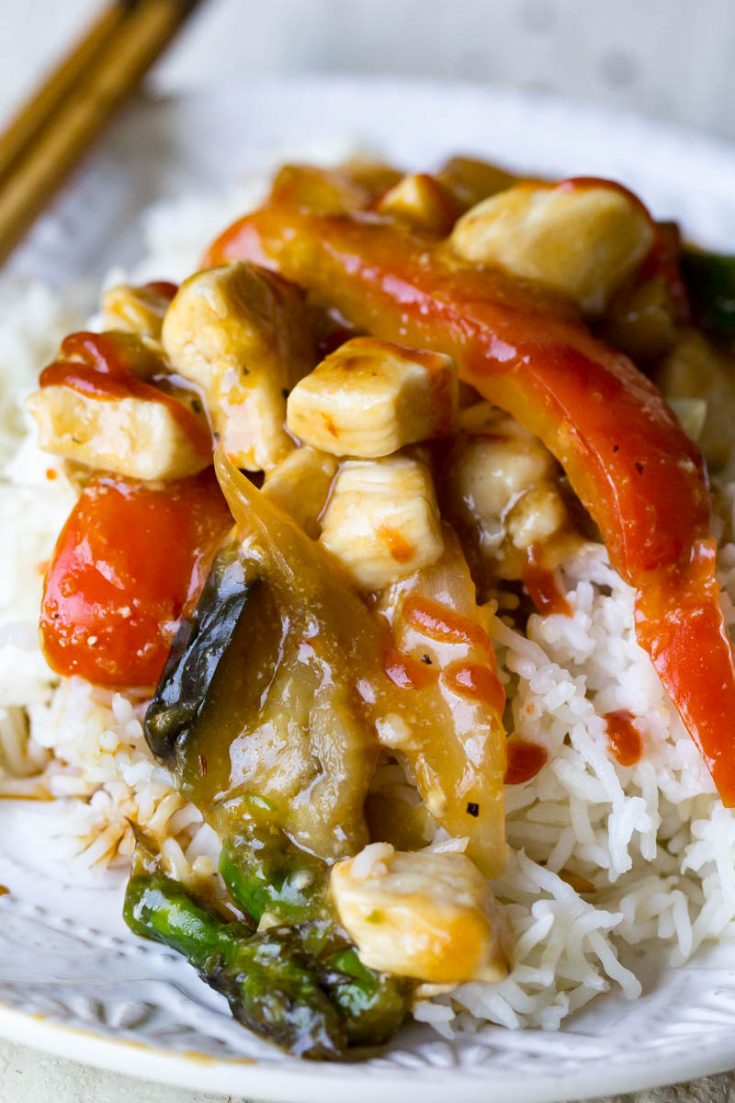 How to make sauce for chicken and eggplant stir-fry
Making the sauce for chicken and eggplant stir fry should be prepared prior to throwing in your ingredients. Combine all the ingredients and make sure that the corn starch gets well dissolved into the liquid.
Stir it again quickly before you add it to the dish.
With the pan full of your vegetables and meat and all hot, then add your sauce and keep stirring. The steam evaporating quickly out of the sauce will help put that final touch on the dish in terms of cooking time.
The sauce will thicken quickly. As soon as it is thick enough to coat the ingredients, then the stir fry is ready. Take it off the heat into an appropriate sized serving platter.
I recommend using a baking dish instead of a deep bowl. That way the ingredients on the bottom will not overcook in relation to those on top and you can keep that crunch from the veggies.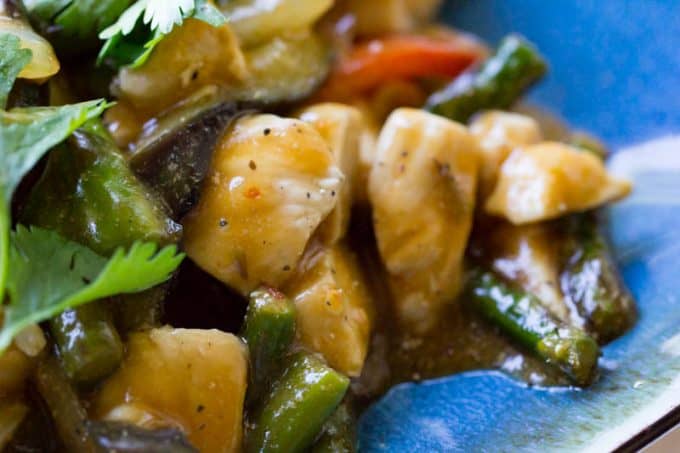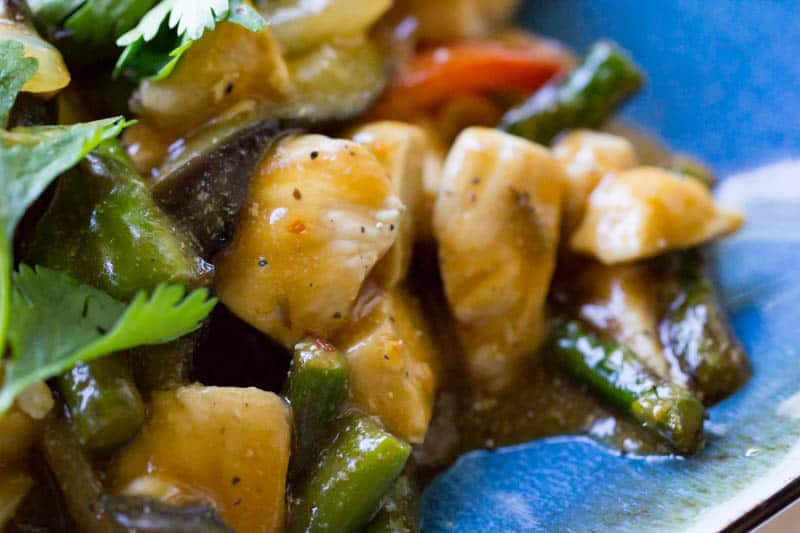 Do I have to use a wok for stir frying?
A wok is handy for a few reasons. It is big enough to hold all your ingredients, and the curved bottom helps the stirring and flipping of everything. However, you don't have to have a wok to stir fry.
Any large fry pan works for stir fry:
Cast iron
Non-stick Teflon
Ceramic glazed pan
Copper non-stick
All can do the same job. You just need something large enough to handle all the ingredients.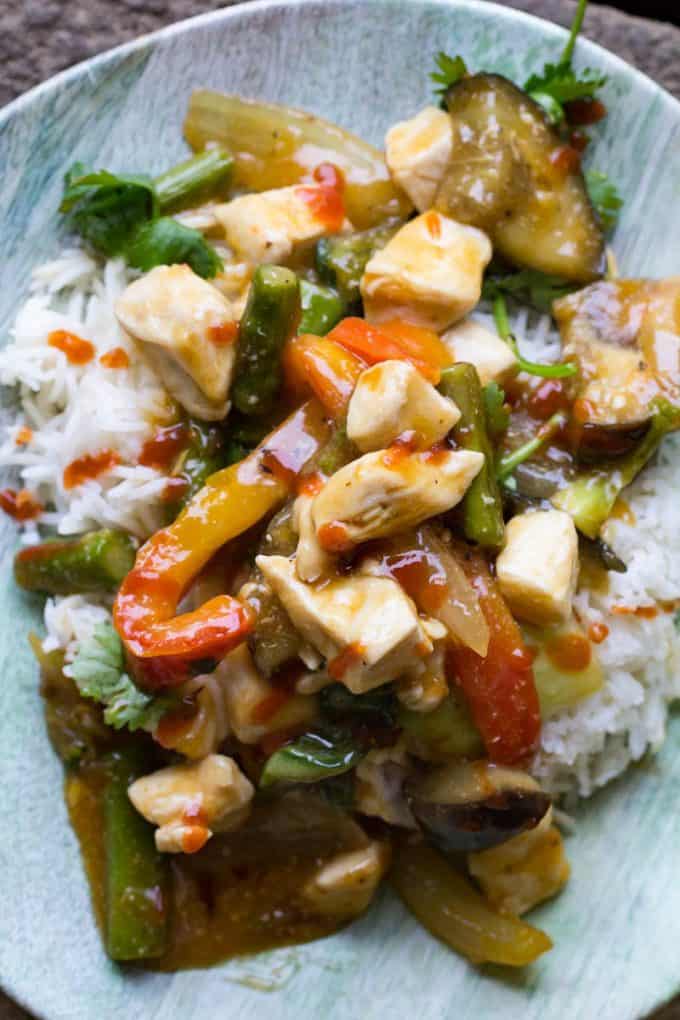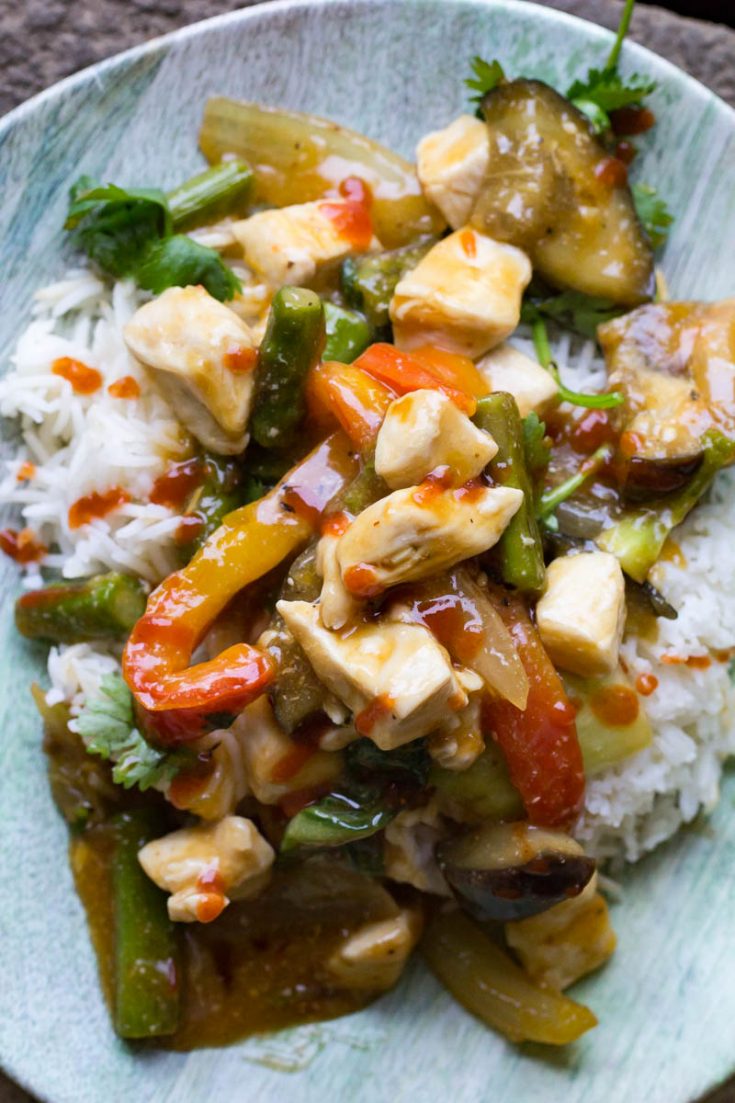 What appetizers go well with chicken and eggplant stir fry?
Your stir fry doesn't need appetizers to present a full balanced meal, but you may like to try a few anyway. My Egg Rolls would be a great option here. I also have a Thai tonkatsu dish that would make a great appetizer, or these Fried Wontons or Coconut Shrimp. Maybe you want to check out our Kimchi Gyoza too!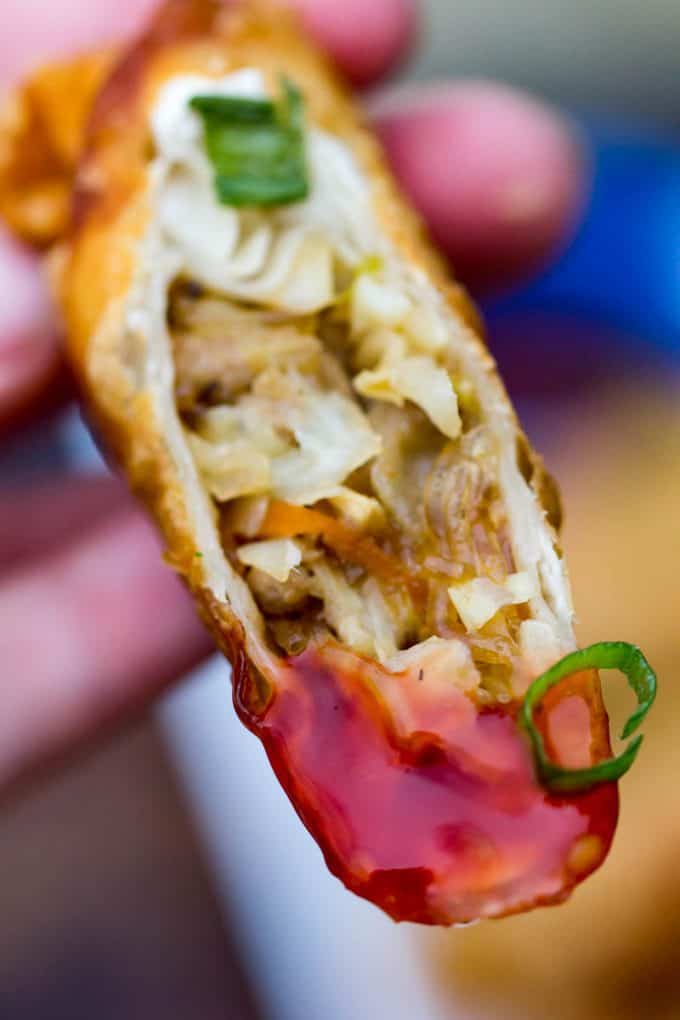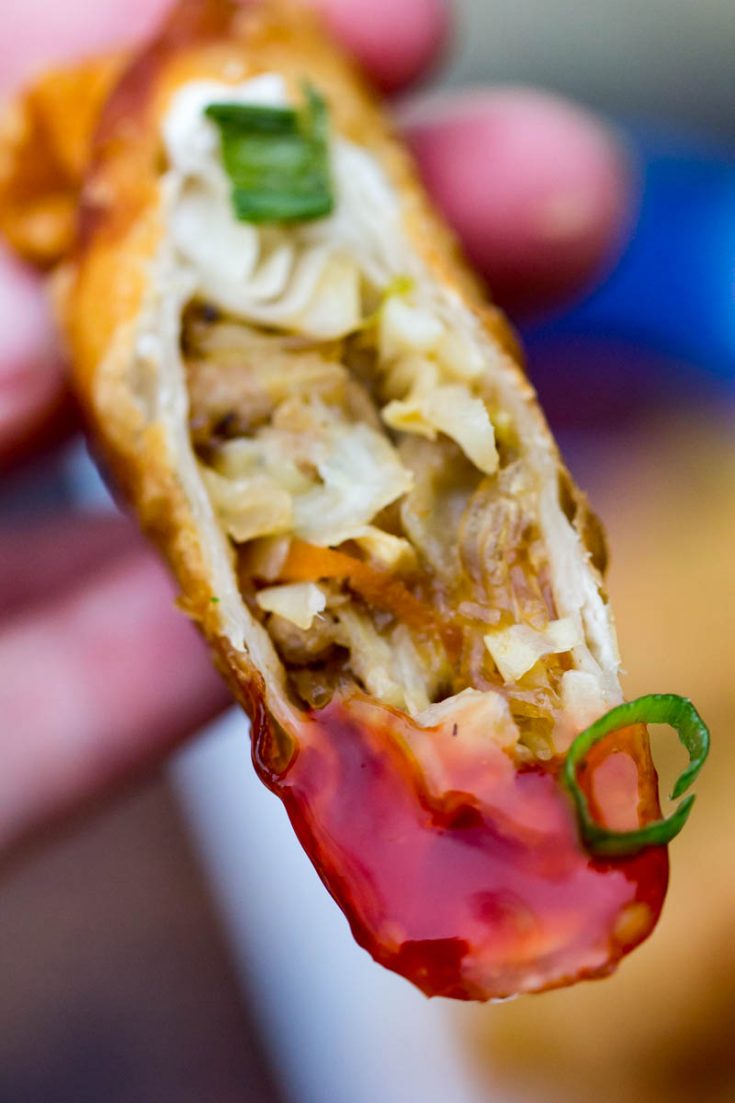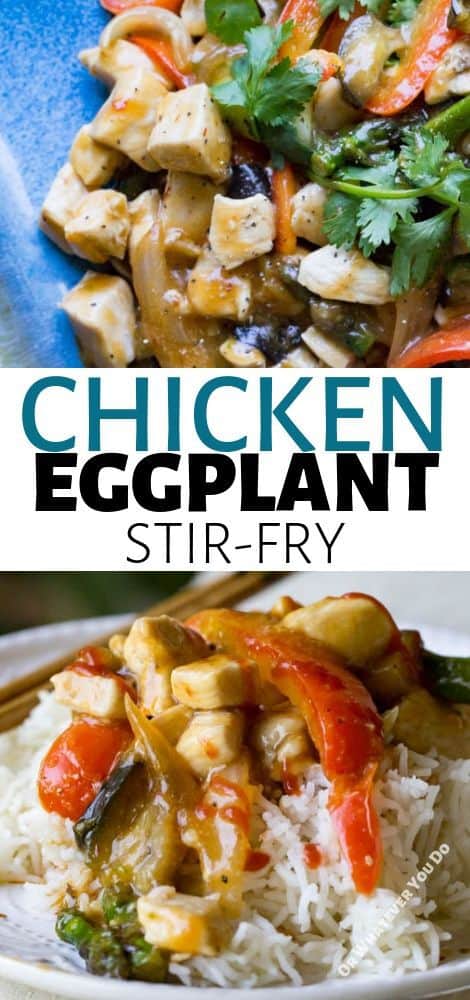 Yield: 8 servings
Chicken and Eggplant Stir-Fry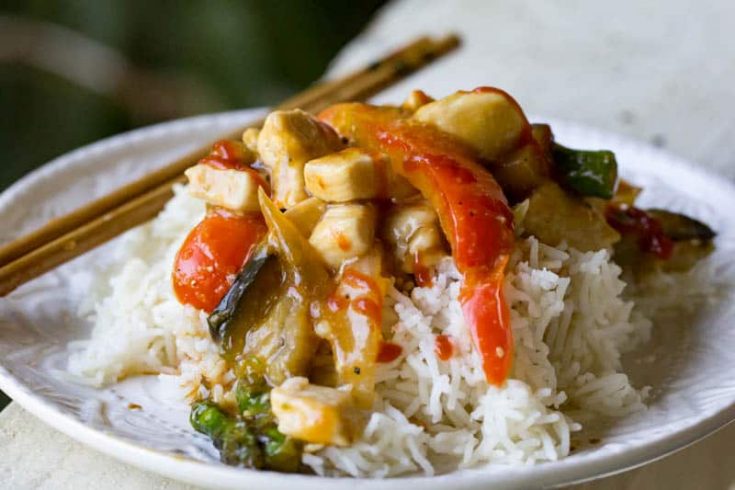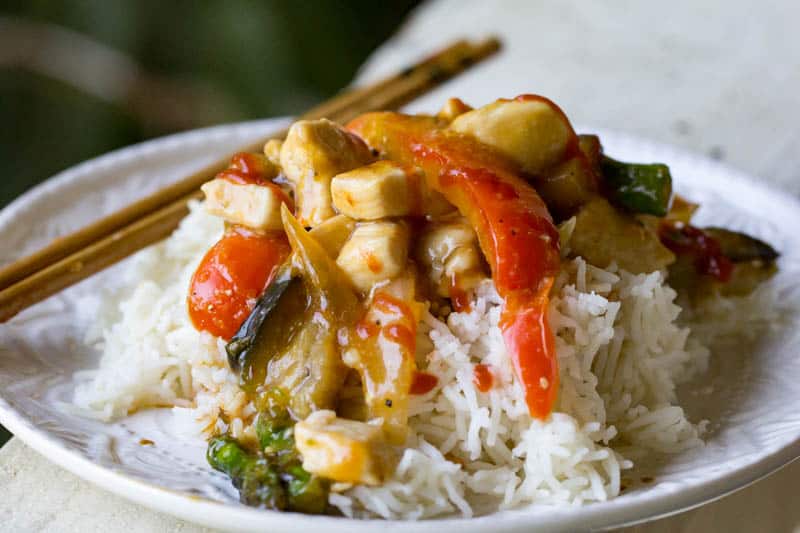 This easy stir-fry is full of vegetables and tender chicken, and one of the best stir-fry sauces I've ever tasted! Easily one of my favorite meals of the year, you are not going to want to miss this one!
Ingredients
Stir-fry Sauce
1 cup chicken broth
1 1/2 tablespoons soy sauce
2 tablespoons chili garlic sauce
3 cloves diced garlic
2 teaspoons mirin rice wine
2 teaspoons fish sauce
1/2 teaspoon granulated garlic
2 tablespoons cornstarch
Stir-fry Meat and Vegetables
3 tablespoons avocado oil
2 pounds boneless skinless chicken breast, cubed
1 medium sweet onion, sliced
1 teaspoon salt
1/2 teaspoon ground black pepper
8 ounces diced asparagus
8 ounces sliced eggplant
1 large bell pepper, sliced
Garnish
Instructions
Combine all of the sauce ingredients and set aside.
Make sure all of your vegetables and meat are prepped and ready to go, and within reach.
Place the oil into your wok or skillet and heat over high heat.
Season your chicken with the salt and pepper.
When the oil is shimmering but not quite smoking, add in your chicken breast and the onion. Stir constantly until the chicken is no longer pink on the outside, or about 5 minutes. If your wok isn't big enough you may have to cook in batches so you don't overload your cooking surface.
Remove the chicken from the wok, drain any liquid that remains, and add the rest of the oil. Let it heat and then cook the vegetables in batches until they are crisp-tender.
Place all of the meat and vegetables back in the pan over medium-high heat. Give your stir-fry sauce a stir and then pour it into the pan.
Stir the mixture constantly until it is thickened. Remove from heat and serve over rice.
Recommended Products
As an Amazon Associate and member of other affiliate programs, I earn from qualifying purchases.
Nutrition Information:
Yield:
8
Serving Size:
1
Amount Per Serving:
Calories:

316
Total Fat:

10g
Saturated Fat:

2g
Trans Fat:

0g
Unsaturated Fat:

7g
Cholesterol:

97mg
Sodium:

827mg
Carbohydrates:

13g
Fiber:

2g
Sugar:

5g
Protein:

37g
Nutrition data provided here is only an estimate. If you are tracking these things for medical purposes please consult an outside, trusted source. Thanks!