Beef bulgogi is a traditional Korean BBQ dish, and one that I've been really fond of for a lot of years, but I've never actually made bulgogi at home. We fixed that, with an amazing recipe by the mother of my coworker's wife. Meet my Traeger Beef Bulgogi, and find out how easy and delicious that dinner can actually be.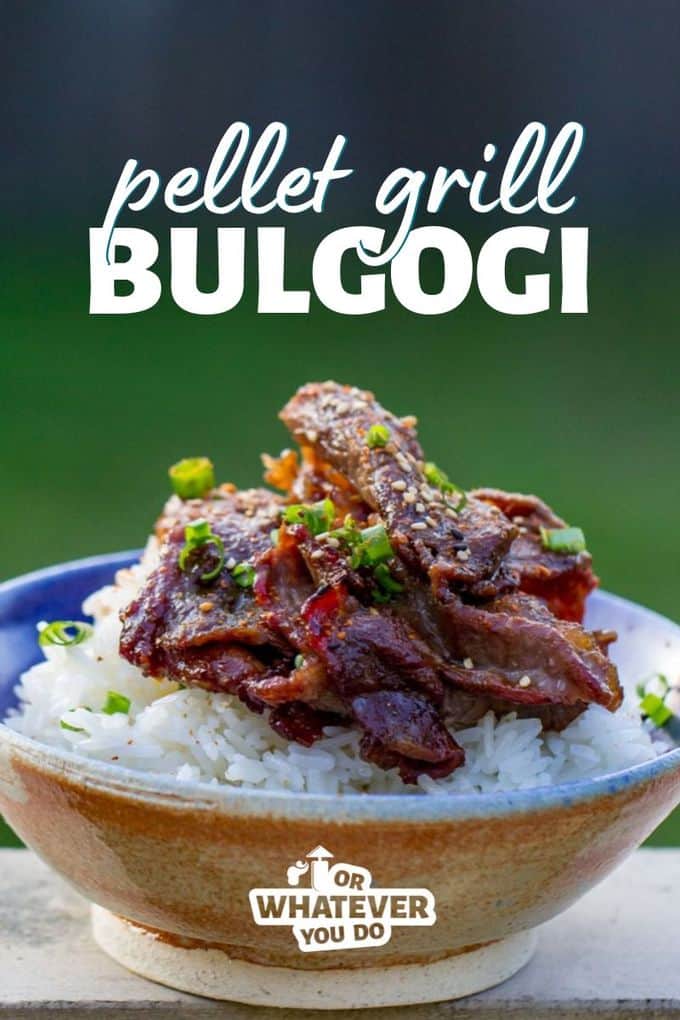 Pellet Grill Bulgogi
I can't get over how awesome this is, and why it took me so long to make sure an easy and delicious dish.
You guys, ALL OF MY KIDS LIKED THIS.
So did my husband.
Do you even know how hard it is to get 8 people to agree that one meal is awesome?
It is almost impossible. Like, I quit trying to set those kinds of lofty goals about 4 kids ago, along with my wish that my laundry will ever be "done" or my bathroom "clean". Those aren't things in this world or in this life, and that's my lot and I'm thankful for it.
Most days. Unless I just spent an hour + trying to make something besides spaghetti, tacos, pizza, hot dogs, or soup only to have to fend off multiple, "But I don't LIKEEEEEEEEEE that."
What is it about kids that makes them think that "not my favorite" ='s "disgusting and I'd rather barf or starve"?
Okay that's being dramatic but seriously. My 6 year old pasta fanatic just rejected a plate of spaghetti tonight because the noodles "weren't fat enough".
I used thin spaghetti.
All of that to say, you need to make this. 9/9 picky Johnsons agree, this is well worth it.
Get the original recipe for Beef Bulgogi at Kimchi And Cheese!

Tips for making amazing Traeger Beef Bulgogi
The best thing I learned while having a go at this traditional Korean dish is that it is as easy to make as it is good to eat, but here's a couple of tips that'll ensure you have success.
Asian Pear = NOT OPTIONAL
Don't even try to skip this. Even my VERY country local grocery store had these in stock, so no excuses. They are also called Apple Pears, and you will find them by the apples and other types of pears, and they'll likely have a soft foamy jacket on them to prevent bruising.
Your butcher is your new BFF
Seriously. Do yourself a favor and get your steaks cut on the meat slicer, lunch-meat-style. Your butcher might look at you funny when you hand them $20-$30 in steaks to slice apart, but just smile and say yes. It'll be worth it in the end.
You want it similar in thickness to hearty sliced lunchmeat. Not paper thin or easily torn, but thin enough to be flexible and cook quickly.
It makes a big difference because typically if you slice this at home, even if you freeze the beef before cutting you'll be cutting it the wrong way. Sliced along the flat side > sliced across the grain in small slices, all dayyyy.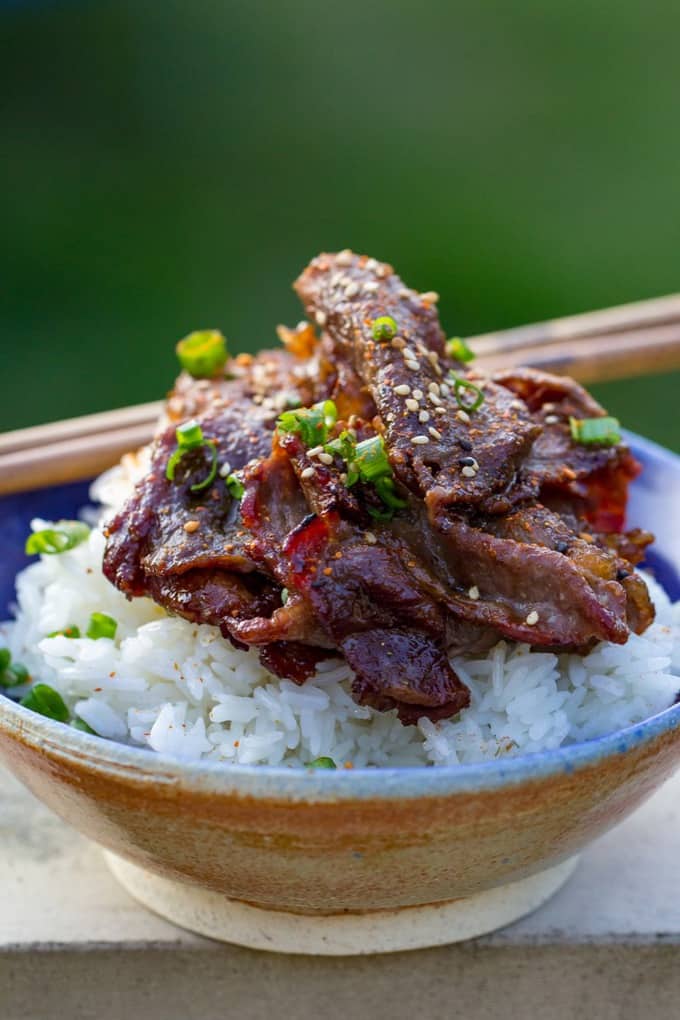 Marinate
The first thing you need to make sure to do is to leave yourself enough time for a proper marinade. You want at LEAST 4 hours. Don't try and squeek by with 3. It is necessary, and overnight is better but 4 hours will do.
Don't forget to mix up your meat in the marinade a few times during the process. I didn't often enough, and some of my steak didn't get the full marinade treatment and it made me sad.
Don't be sad like me. Handle your meat properly.
Follow me on Instagram!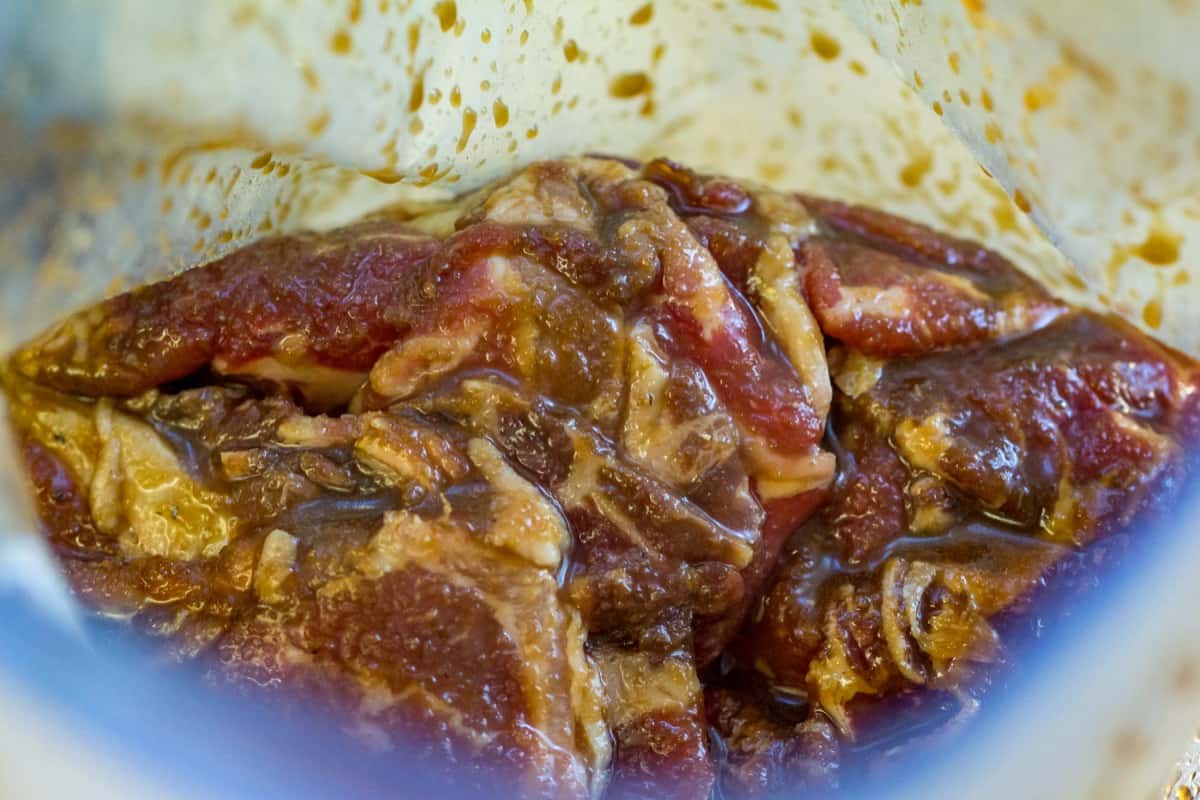 Preheat your grill
For real. And all the way. Start your grill a good 20-30 minutes before you actually want to cook because you need hot temps here and sometimes (as we all know) those pellet grills can be on the struggle bus at higher temps sometimes.
You don't want gas grill high temps which can easily top 500-550 degrees. You are aiming for about 400-425° here, and open the lid as little as possible.
More Easy Traeger Recipes here!

Shopping List for Beef Bulgogi
This list is relatively short, especially considering the usual length of my Asian-inspired recipes. It is one of the reasons I love it.
thinly sliced beef ribeye
garlic
Asian pear (or Fuji apple)
soy sauce
sugar
black pepper
sesame oil
gochujang*
* The gochujang isn't actually in the original recipe, but I just love it. It is one of my favorite flavors, and adds a kick of heat to the marinade if you are into that sort of thing. Adjust according to the tastes of your family as necessary.
See our complete Pellet Grill Beef Recipe Collection here!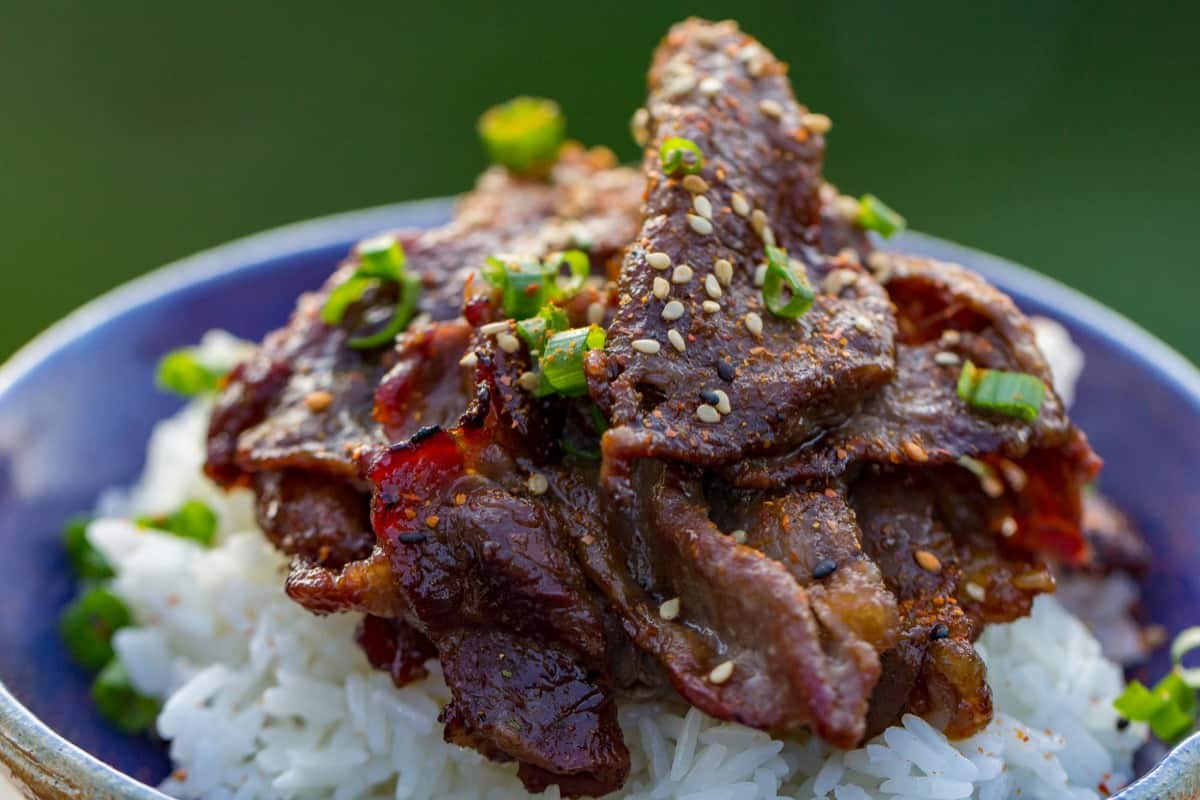 Can I use a different kind of grill to cook the beef bulgogi?
Yup! You sure can. I have a Trager and a Camp Chef Pellet grill, and both work well for this dish. You can also use a gas or charcoal grill if you'd like, just make sure you are cooking over indirect heat.
If you don't want to grill outdoors at all, you can also cook this in a wok or heavy cast iron pan on your stovetop as well.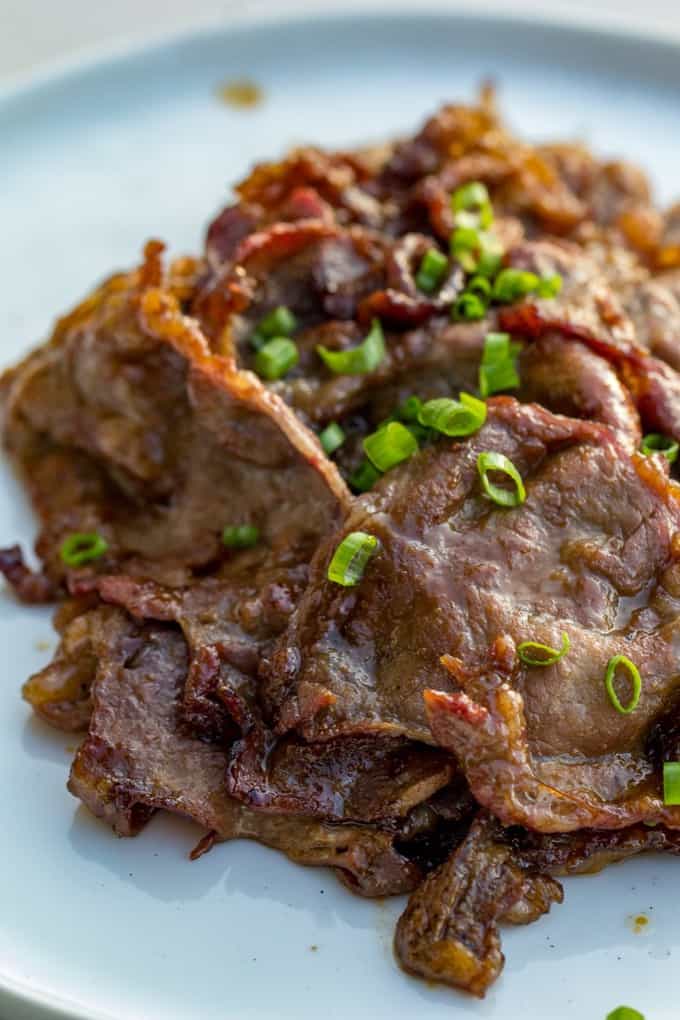 What should I serve with Beef Bulgogi?
Whatever you serve it with, make sure it isn't Fried Rice because TIL that was disrespectful. I served mine with a heaping pile of basmati, so hopefully that passes the test.
I also think you should definitely whip up some mandu along with these because the only thing better than Korean Beef Bulgogi is Korean Beef Bulgogi served next to a big pile of fried dumplings. Bonus point if you serve them with my potsticker dipping sauce too.
More Stir-Fry To Love!
Can't get enough stir-fry and Asian-inspired dishes? Me either, so here are some more I've made, loved, and shared on #owyd.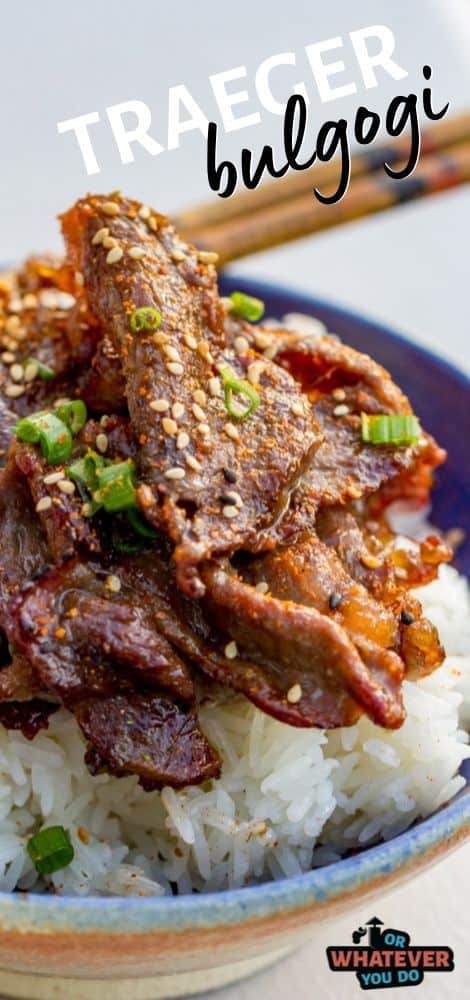 Yield: 12 servings
Traeger Beef Bulgogi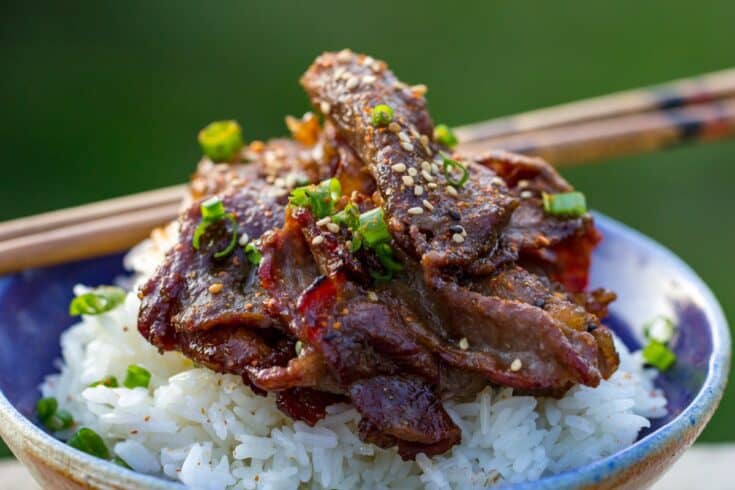 This simple Korean BBQ dish cooks in less than 30 minutes, and doesn't have a bunch of crazy ingredients that you don't have access to or can't easily obtain. WIN WIN. You need to try this.
Total Time
4 hours
20 minutes
Ingredients
4 pounds ribeye, thinly sliced
7 cloves garlic, chopped
1/2 Asian pear (aka, Apple Pear)
1 cup of soy sauce
1 cup of sugar
1/2 tbsp of ground black pepper
1/4 cup of sesame oil
1/4 cup gochujang (optional)
Instructions
Place the garlic, pear, soy, sugar, black pepper, sesame oil, and gochujang (if using) into a blender, and blend until combined.
Pour over the sliced ribeye, and let marinate in the fridge for at least 4 hours, but overnight is preferred. Mix it up a few times during the marinade process.
Preheat your grill to 400°, and lay your meat slices flat on the grill grates as quickly as you can, as to not let the heat escape. A grill mat works really well for this (linked below), but I didn't use one
Cook for 5-6 minutes, and then flip all of the pieces and cook an additional 2-3 minutes. You want the meat cooked, without pink remaining, but not charred.
If you like the sauce and want it for pouring over the finished dish or rice, reserve the marinade and cook on the stovetop at a heavy simmer for 10-15 minutes, stirring frequently.
Recommended Products
As an Amazon Associate and member of other affiliate programs, I earn from qualifying purchases.
Nutrition Information:
Yield:
12
Serving Size:
1
Amount Per Serving:
Calories:

468
Total Fat:

32g
Saturated Fat:

13g
Trans Fat:

0g
Unsaturated Fat:

18g
Cholesterol:

118mg
Sodium:

452mg
Carbohydrates:

7g
Fiber:

0g
Sugar:

5g
Protein:

38g
Nutrition data provided here is only an estimate. If you are tracking these things for medical purposes please consult an outside, trusted source. Thanks!