Blackstone Teriyaki Steak Yakisoba takes almost all of my favorites on the Blackstone and combines them into one epic (simple) meal. Throw in all of the vegetables you have hanging around in your fridge and go to town!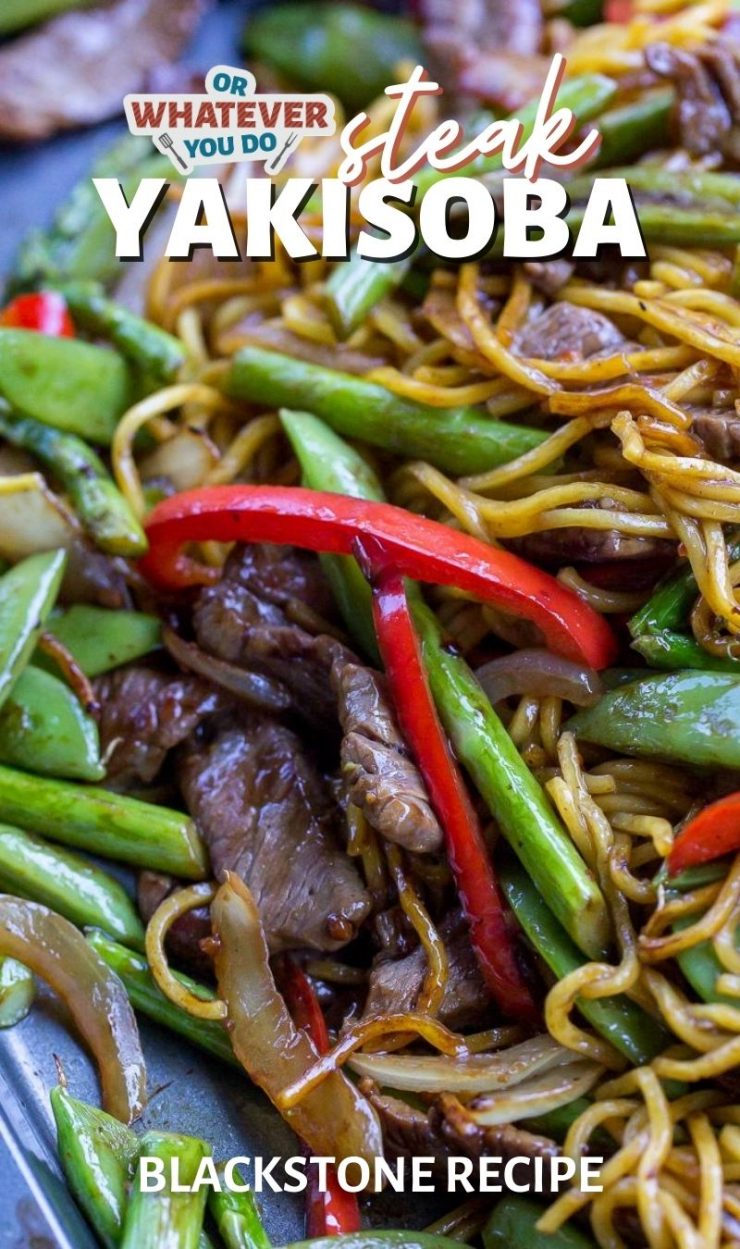 Blackstone Teriyaki Steak Yakisoba Recipe
I love easy dinners. Especially these days when the kids are eating here for every meal, always. By dinner time? I'm kind of done feeding kids and the thought of trying to tackle anything fancy or time-consuming is a non-starter.
This was one of the easiest dinners, EVER, and all of the kids loved it.
Even the ones who usually turn their noses up at any kind of vegetable.
The Blackstone is the perfect tool for stir-fry, and especially stir-fry for a crowd. You can feed an army in a short amount of time. It gets blazing hot, and if you make the smart choice and get the big 36″ model you'll have room to cook all the things, all at once.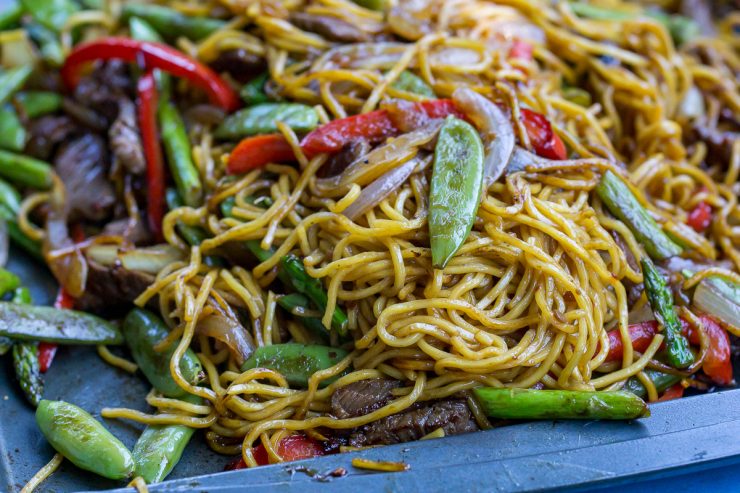 Where did yakisoba come from?
Yakisoba was thought to have been invented in China, but it became popular and well-known as easy-to-come-by street food in Japan.
After World War II when the food supply chain in Japan was in trouble, yakisoba was simple, had few ingredients, and was perfectly suited for cooking in the small street food stalls that primarily cooked on a teppan, which is an iron griddle. Sounds familiar, right?
That's also where the term teppanyaki comes from.
You'll often find people using teppanyaki and hibachi interchangeably. Even on this site, you'll see me refer to my fried rice as "hibachi" fried rice. That's only so the people looking for the recipe can find it, on my part. A hibachi grill is much different than a teppan/griddle, and requires coals or live fire and a grated circular cooking surface. It is much more like a grill than a griddle, in that regard.
Get all of my BLACKSTONE RECIPES here!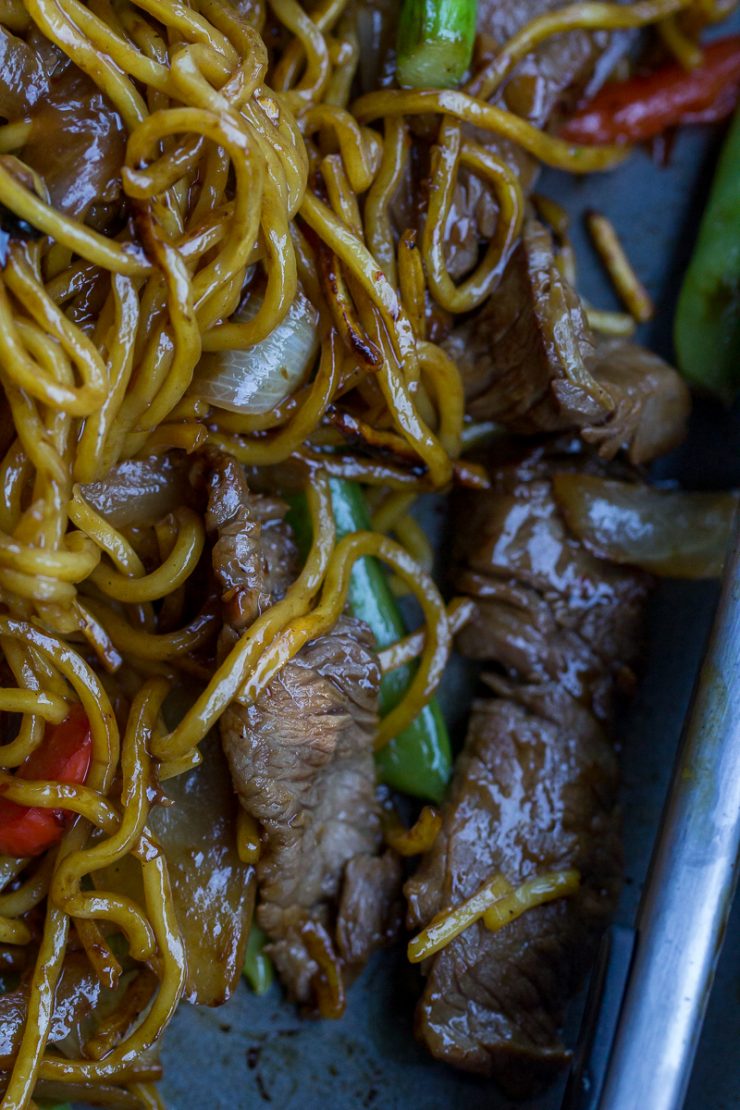 Steak Yakisoba shopping list
The list is short, here, so no excuses! Get cooking!
steak
Iron Chef Sesame Garlic sauce (or comparable Teriyaki sauce)
vegetables (I used asparagus, onions, sugar snap pea pods, and red bell peppers)
yakisoba noodles (fresh, if you can find them!)
oil
Get my easy Side Dish recipes!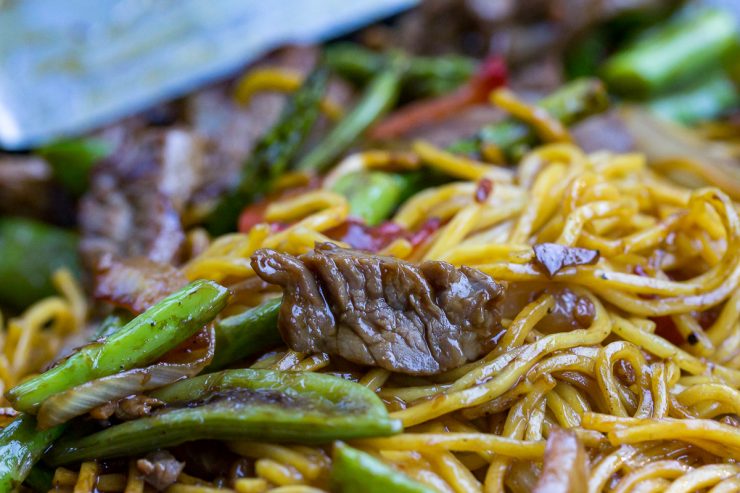 Are yakisoba noodles the same as soba noodles?
No! Soba noodles are made from buckwheat, and have a much different color, texture, and flavor from yakisoba.
Yakisoba is made from wheat flour, and you can't really substitute other noodles in place of these. I've seen recipes online that call for spaghetti noodles in place of these, and while that might still make a decent dish – at the end of the day it is going to be a lot different than using true yakisoba noodles.
Have a Cocktail with dinner!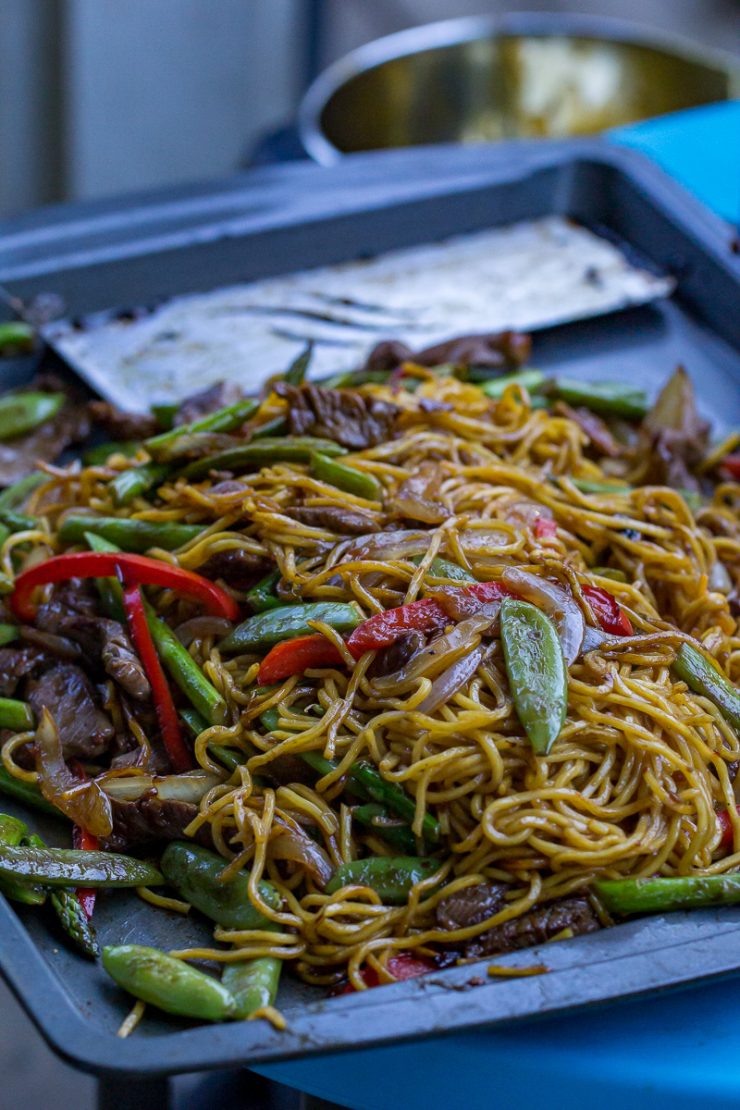 Where to buy yakisoba noodles
I found my yakisoba noodles at my local fancy grocery store. It has a giant section of foods from other countries and regions, and a whole aisle full of various fresh Asian noodles.
It is my dream aisle, I know.
If you don't have a local fancy grocery store that sells fresh yakisoba noodles for you, you might have a hard time finding them dried. I couldn't, anywhere, that wasn't in a $0.50 quality instant-ramen type of kit. I'd steer clear of those.
The most comparable dry noodle I could find was actually a dried, high-quality ramen noodle on Amazon. Not including it in the recipe since fresh yakisoba noodles are ideal, but if you are really in a pinch this is lightyears better than using spaghetti noodles.
Have nut allergies or love someone who does? Check out this great nut-free Beef and Broccoli recipe from The Nut-Free Wok!
Check out our OWYD shop!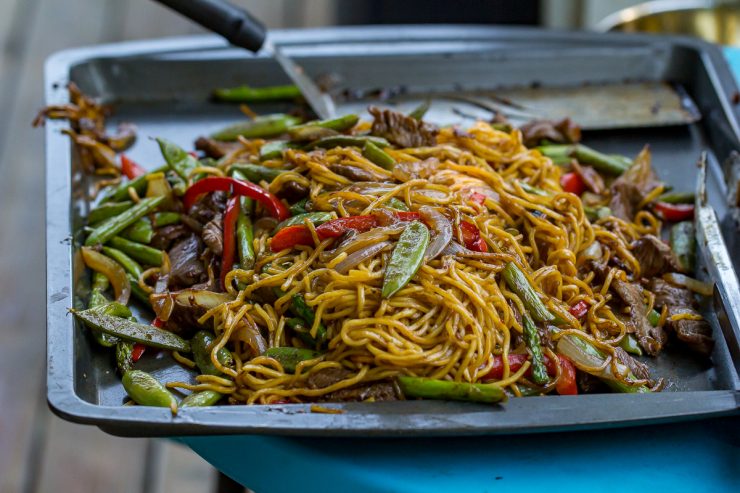 How to make yakisoba on a gas griddle
Yakisoba is a popular dish that the gas griddle is perfect for. It gets hotter than your stove inside, so you can a more authentic wok-like experience right at home.
The process is really easy! For specifics, see the recipe card below, but here's the general overview.
PREP everything first and have it within hand's reach.
Preheat your griddle to medium-high heat.
Lay down some oil. Stir fry your vegetables. Set aside.
Lay down more oil. Stir fry your noodles on one side of the griddle and your steak on the other.
Mix to combine. Toss the veggies into the mix, and pour the sauce over the top. Turn OFF the griddle and let the residual heat cook the rest of the dish.
Stir and toss to combine.
Enjoy!
Join our Easy Griddle Recipes Facebook Group!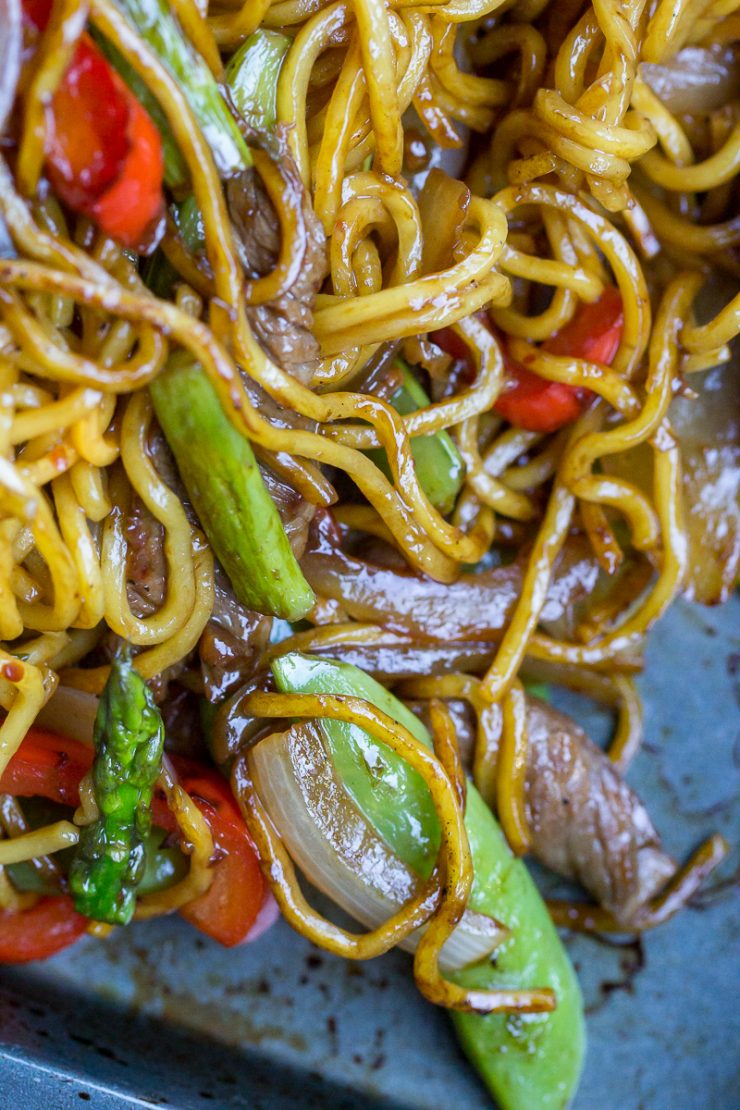 What can you serve with Blackstone Steak Teriyakisoba?
I have all the goods if you want to take this from a one-dish wonder to a full, Asian-inspired feast.
I recommend my egg rolls, shrimp fried rice, orange chicken, salmon poke bowl, and/or miso soup.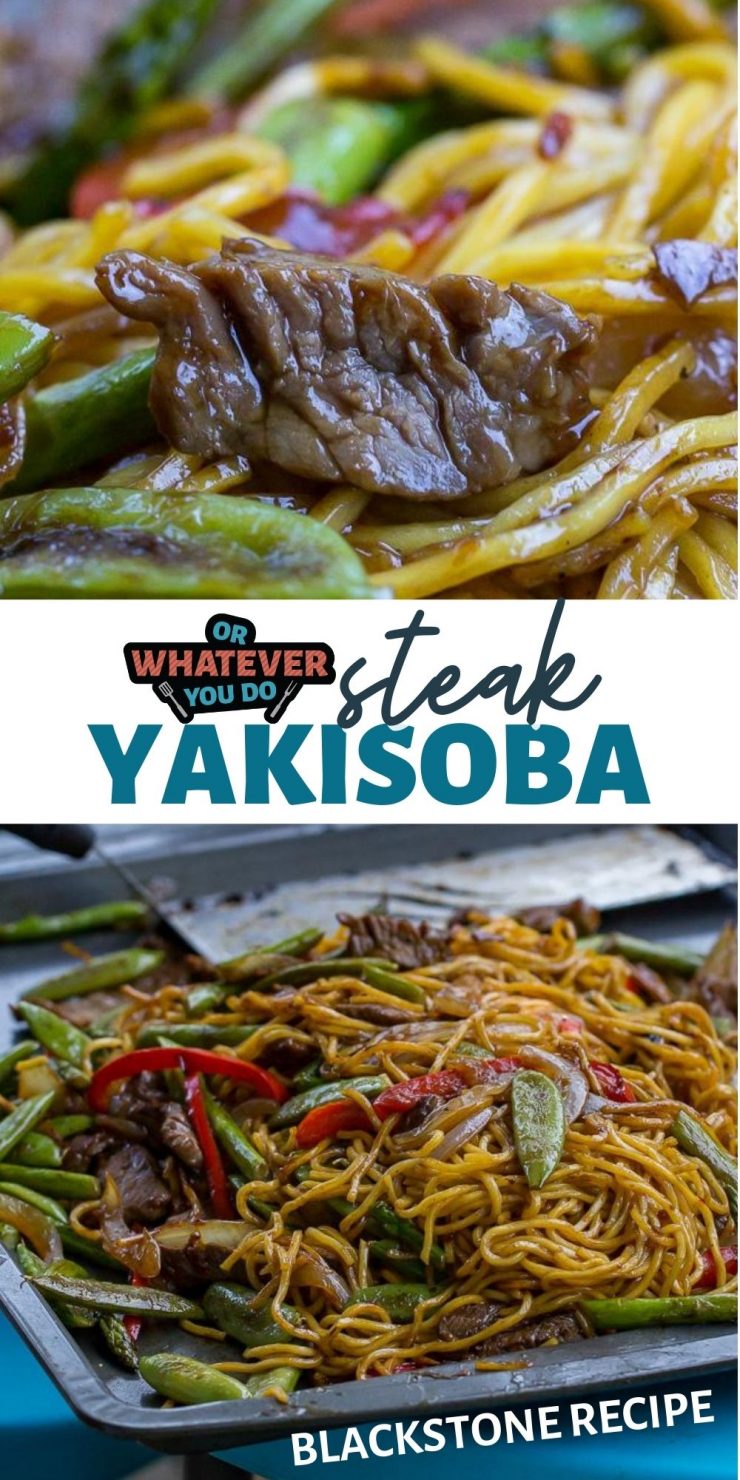 Some of our content is only for OWYD+ members. Membership is FREE! Find out more here, or sign up below!
Yield: 8 servings
Blackstone Teriyaki Steak Yakisoba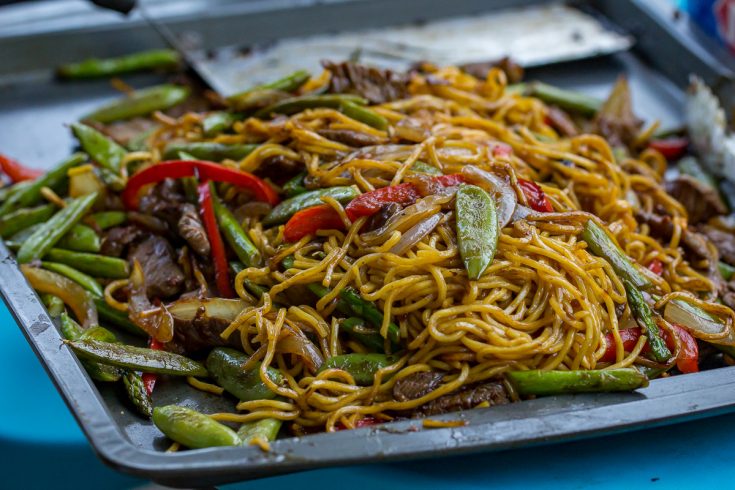 This delicious steak teri-yakisoba is a stir fry with tons of onions, bell peppers, pea pods, and fresh yakisoba noodles. Super quick and easy dinner option!
Ingredients
16 ounces fresh steak
1 bottle Iron Chef Sesame Garlic sauce
4 tablespoons oil
1/2 cup sliced onions
1 cup asparagus, cut into 1" pieces
1 sliced bell pepper
1 cup sugar snap pea pods
1 cup sliced mushrooms
17 ounces fresh yakisoba noodles
Instructions
Slice your steaks across the grain, and mix 1/2 of your sauce in. Refrigerate for 4 hours. Slice your onions, peppers, and mushrooms. Get all of your vegetables prepped and ready to go.
Preheat your griddle to medium-high heat, place 1 tablespoon of oil on the griddle, add a dash of sesame oil, and quickly stir-fry the vegetables until they are crisp-tender (about 3-4 minutes). Remove from the griddle, cover, and set aside.
Preheat another tablespoon of oil on the griddle and add in the noodles. On the other side of the grill, stir fry the steak. Cook for 1-2 minutes, and then combine and toss together with the vegetables.
Shut off the heat to the griddle and pour over the remaining sauce. Stir to toss with the noodles, meat, and vegetables.
Recommended Products
As an Amazon Associate and member of other affiliate programs, I earn from qualifying purchases.
Nutrition Information:
Yield:
8
Serving Size:
1
Amount Per Serving:
Calories:

225
Total Fat:

9g
Saturated Fat:

1g
Trans Fat:

0g
Unsaturated Fat:

8g
Cholesterol:

120mg
Sodium:

802mg
Carbohydrates:

18g
Fiber:

1g
Sugar:

6g
Protein:

16g