Mongolian beef is a stir-fried steak and onion dish in a slightly sweet soy-based sauce. I loaded mine up with garlic and ginger and seasoned the beef really well before cooking it with ginger, garlic powder, onion powder, and salt, and I was so pleased with how this turned out!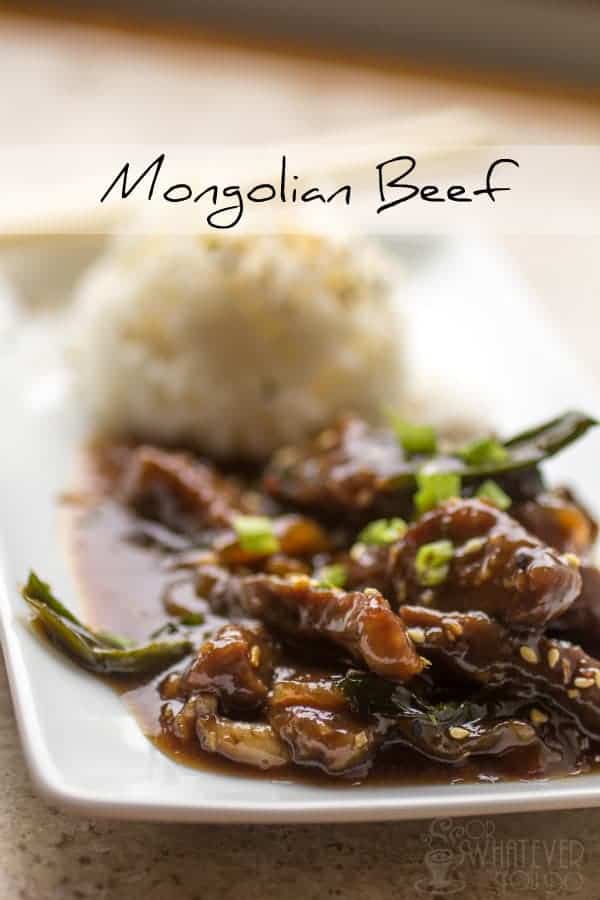 Mongolian Beef
Have I ever told you all about my undying and all-encompassing love of Asian foods? Korean, Chinese, Japanese, Thai…I love it so much.
It is also really hard to make convincing take-out fake-outs at home because Asian cooking uses a LOT of ingredients, and usually some specialized equipment. You can see more of my Asian-inspired recipes here in my Spicy Chili Garlic Stir fry Sauce, Honey Pecan Shrimp, Egg Rolls, 20 Minute Thai-Spiced Tonkatsu, Korean Spicy Stir Fried Chicken and Vegetables, and my Fried Pork Dumplings, among many others.
I covet those high BTU wok burners! Want. Want. Want! Since I don't have one though, and I'm not in the market for a kitchen re-do at the moment, I look high and low for ways to work around these things and still make delicious Asian foods at home, especially Mongolian beef.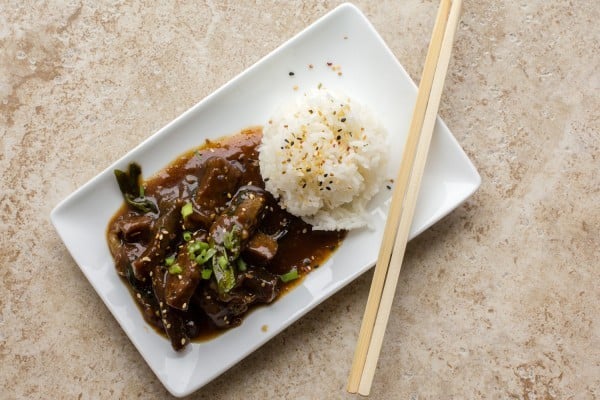 My favorite Chinese take-out had been, without questions, General Tso's chicken for many years. Lately, though, I'm shifting away from the breaded deep fried General Tso's, and REALLY loving a well-prepared Mongolian beef.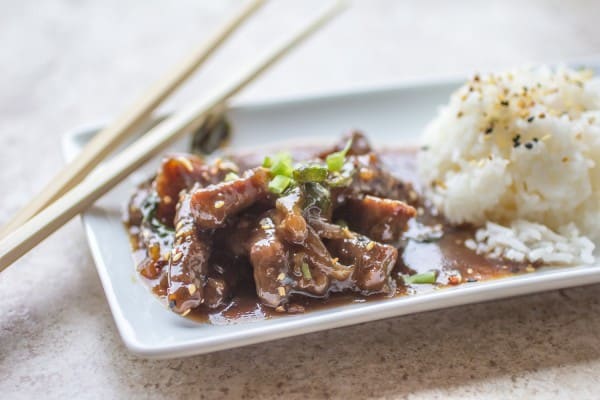 I have one ingredient in this recipe that you may not have on hand, and it is totally optional, but I think it really added a lot to this dish.
Usually, I'm not really into prepared spice mixes, but this one?
I LOVE it.
I tasted it before I seasoned up my beef just over plain rice with a little soy sauce, and I could've made THAT my meal it was so good. I got mine at Costco. If you can't find any in your local stores, here's a link from Amazon to pick some up.
Simply Asia Sweet Ginger Garlic Seasoning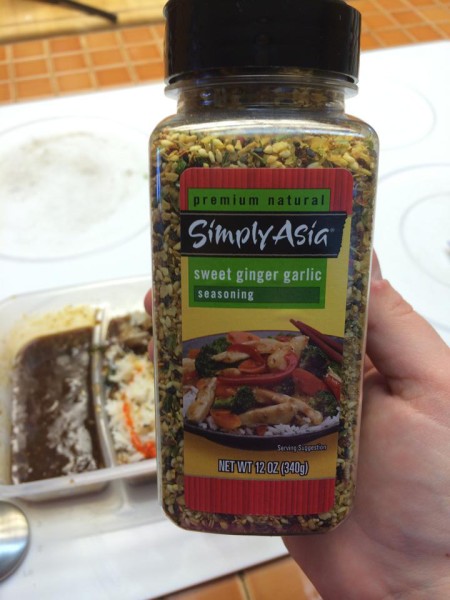 I need to give some major credit to the source of this recipe, Just A Taste, who was also inspired by this Food.com recipe.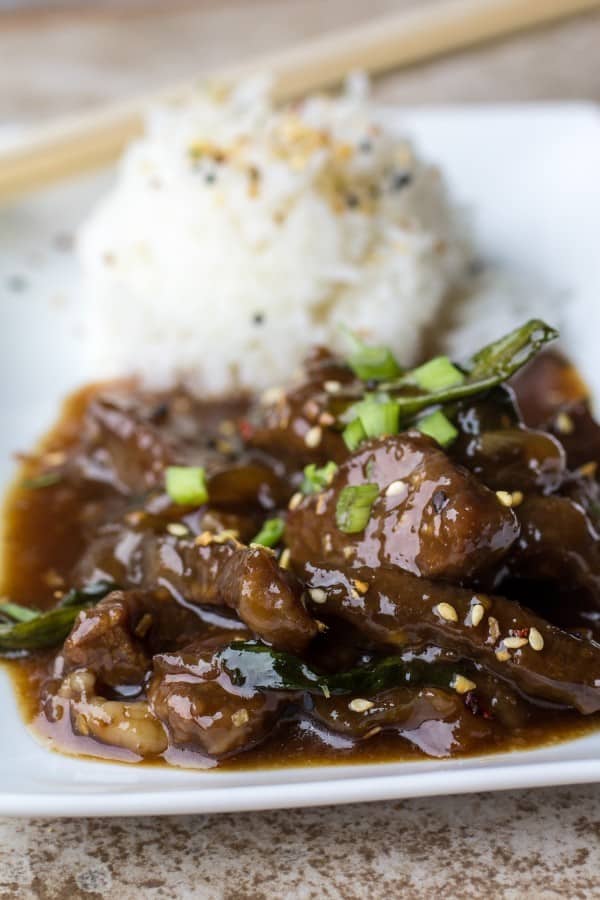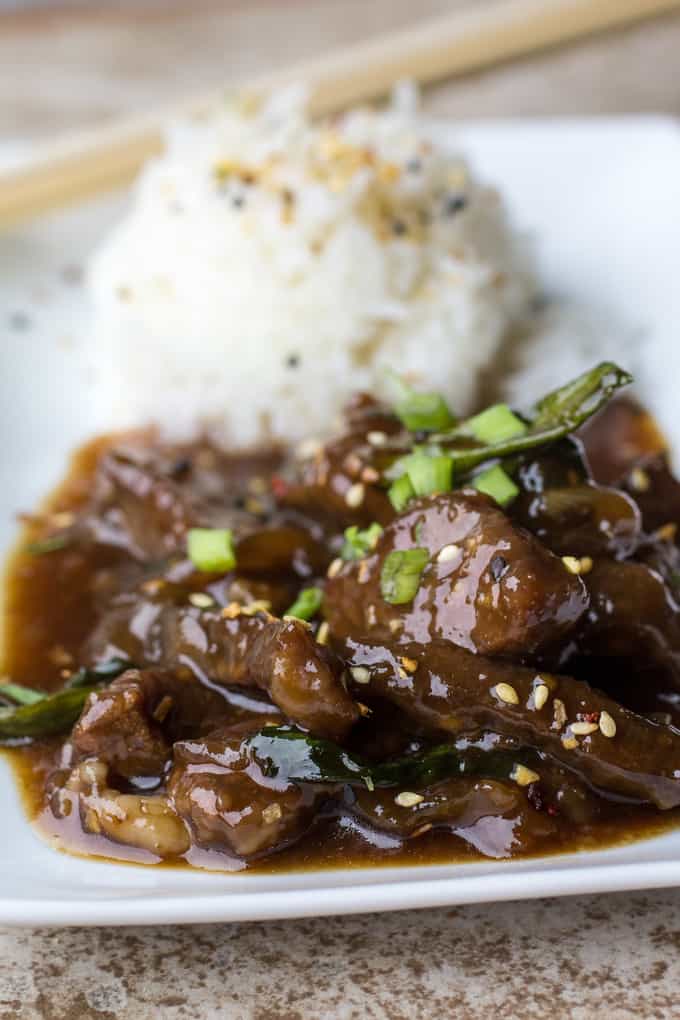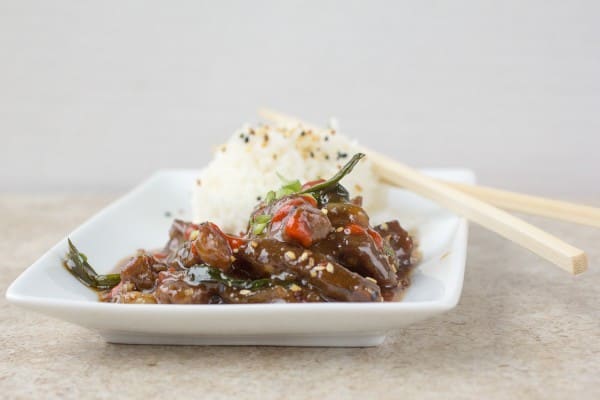 Yield: 8 servings
Easy Mongolian Beef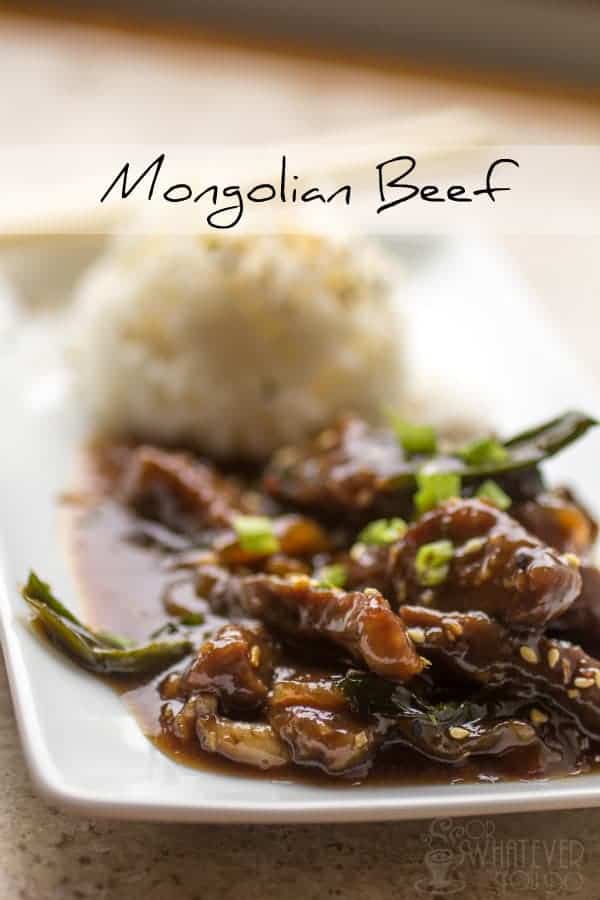 Delicious Mongolian Beef recipe that is easy, and totally satisfying.
Ingredients
1/2 - 3/4 cup canola oil
1 tablespoon minced garlic
1/2 teaspoon ground ginger
1/2 cup soy sauce
1/2 cup water
2/3 cup brown sugar
1.5 pound steak (flank, ball point, flat iron, etc)
salt
onion powder
garlic powder
Simply Asia Sweet Ginger Garlic seasoning, optional
cornstarch
1 bunch green onions, chopped (green parts only)
1/2 large vidalia onion, sliced
Instructions
Place 1 tablespoon of oil into a pan over medium heat. Saute garlic for 30 seconds, or until fragrant. Add the ginger, soy sauce, water, and brown sugar. Simmer for 3-5 minutes, or until the sugar is fully dissolved and the sauce has slightly thickened.
Slice beef into 1/2 inch thick sliced against the grain. Season liberally with salt, onion powder, garlic powder, and Sweet Ginger Garlic seasoning. Lightly coat the seasoned beef in cornstarch, and let sit while you preheat your pan.
Add a few teaspoons of oil to a non-stick pan and place it over medium-high heat. Lightly saute the vidalia onions until they are tender. Remove, add enough oil to thinly cover the bottom of your pan, and turn the heat up to almost high. You want the oil JUST under the smoking point.
When the pan and oil are hot, add the beef. Cook for a minute or two, and then turn. You want to sear the sides and add some color, but not cook it all the way through. Remove from the pan once seared and drain off excess oil into a heat proof container.
Add beef and onions back into the pan and pour the sauce in. Bring the container up to a high simmer, and cook until the sauce is thickened. Stir in green onions last. Serve hot over rice. Sprinkle with a little additional Sweet Ginger Garlic Seasoning if desired.
Nutrition Information:
Yield:
8
Serving Size:
1
Amount Per Serving:
Calories:

490
Total Fat:

27g
Saturated Fat:

7g
Trans Fat:

0g
Unsaturated Fat:

17g
Cholesterol:

91mg
Sodium:

1057mg
Carbohydrates:

33g
Fiber:

1g
Sugar:

16g
Protein:

27g