Our Smoked Beef Pancit Recipe takes a slow-smoked beef roast and marries it with a popular Filipino noodle dish that utilizes thin vermicelli rice noodles, carrots, green onions, cabbage, and tons of flavor.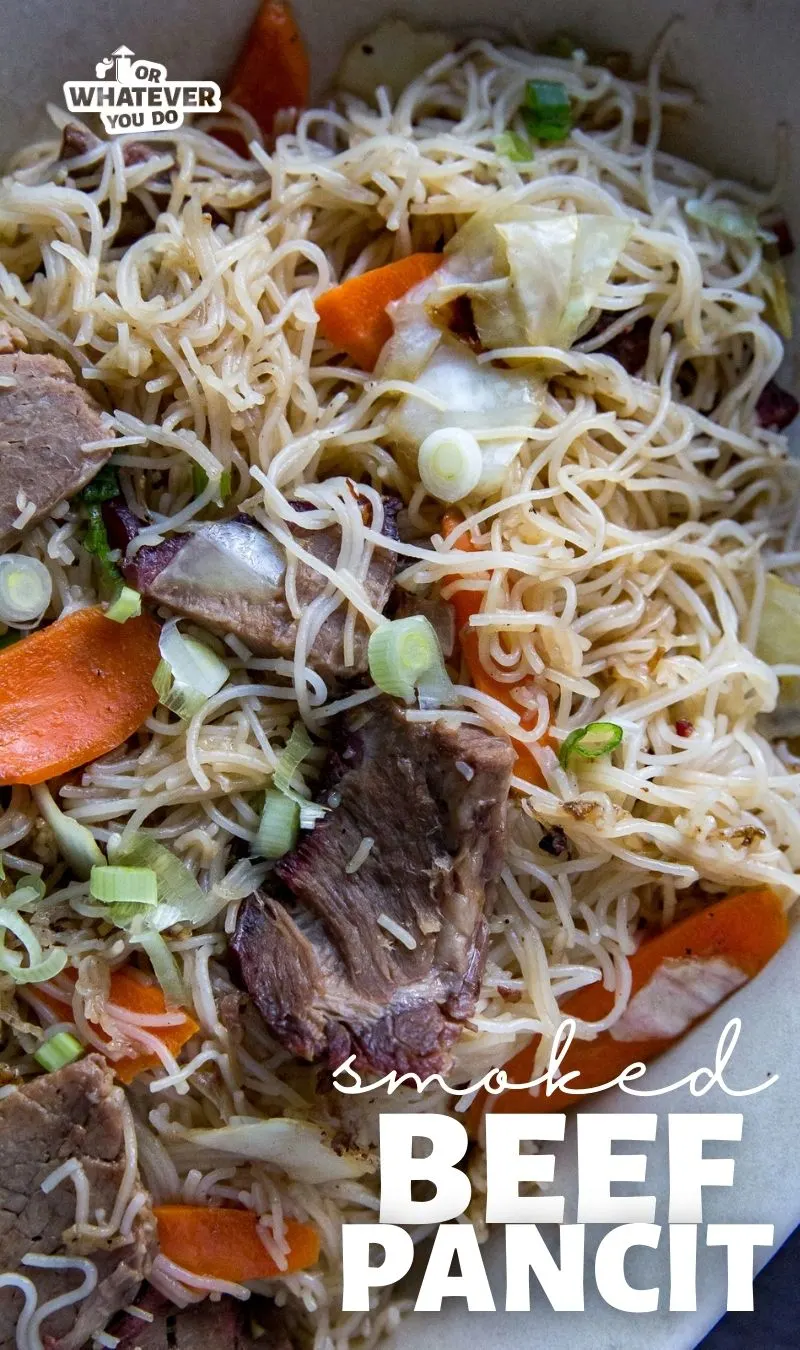 Smoked Beef Pancit Recipe
Not too far from me, a new food truck opened last year called The Smoked Asian – and you know I was all over that. Marrying my two favorite styles of food? YES, please.
One of the dishes they have there is a Pulled Pork Pancit, and it is out-of-this-world amazing.
While I love to do take-out a night a week (or more…but trying to be good these days) it gets a little cost-prohibitive to do it for the WHOLE family. There are nine of us, after all. And three of the nine are teenage boys.
If you haven't been around a teenage boy lately, they are basically walking stomachs that have no "full", so getting enough pancit to satisfy them all would cost approximately $2000.
That's a little extreme, but the point remains – When we're scaling up x9, it is much more budget-friendly to come up with a homemade version.
Get all of my BLACKSTONE RECIPES here!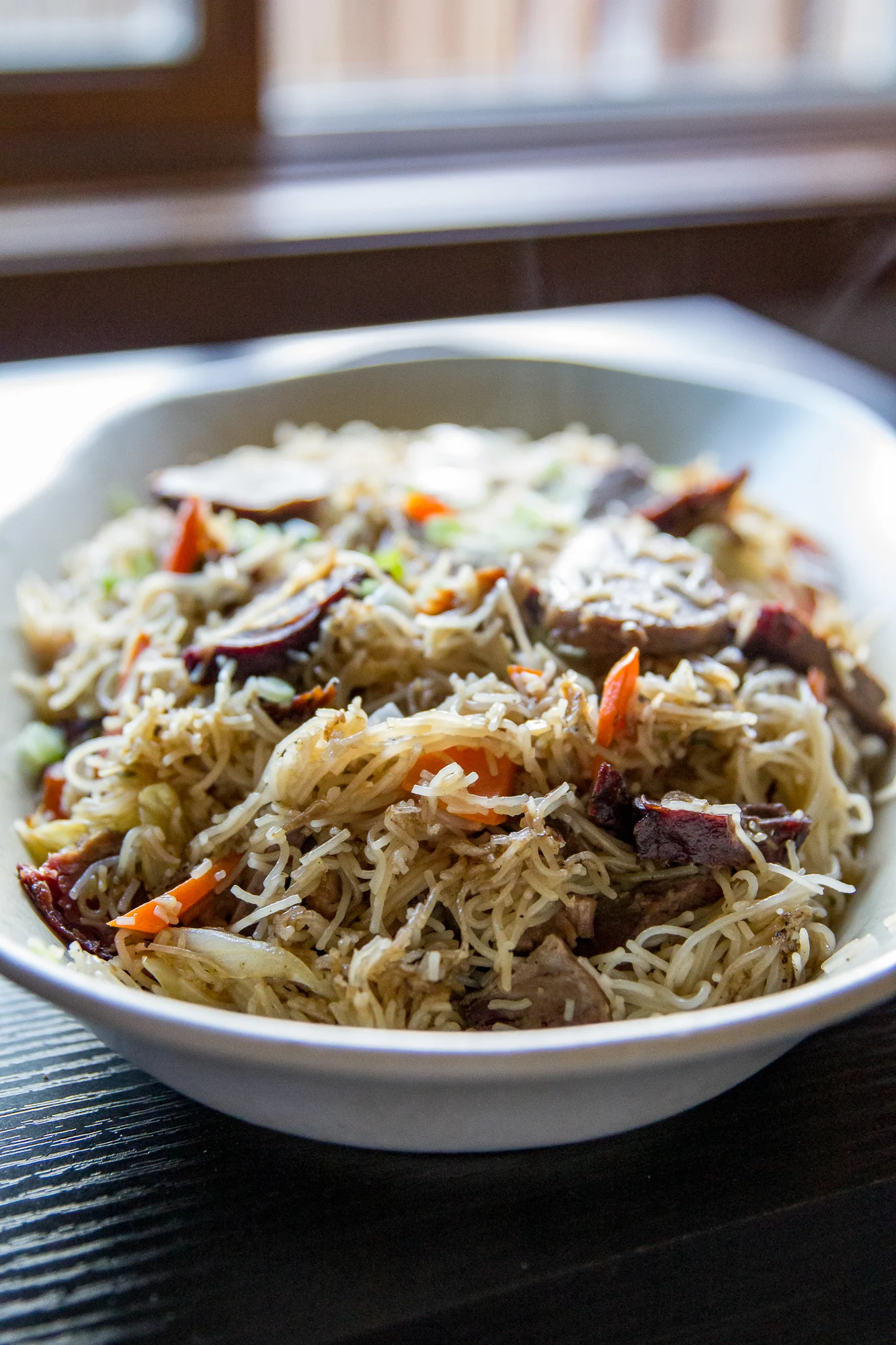 What is pancit?
Pancit itself means "noodle", but it also commonly refers to this dish. You can have Pancit Bihon, with rice noodles, Pancit Canton, with egg noodles, and many many more.
This particular recipe is for Pancit Bihon since we are using the thin rice vermicelli.
More great BEEF recipes here!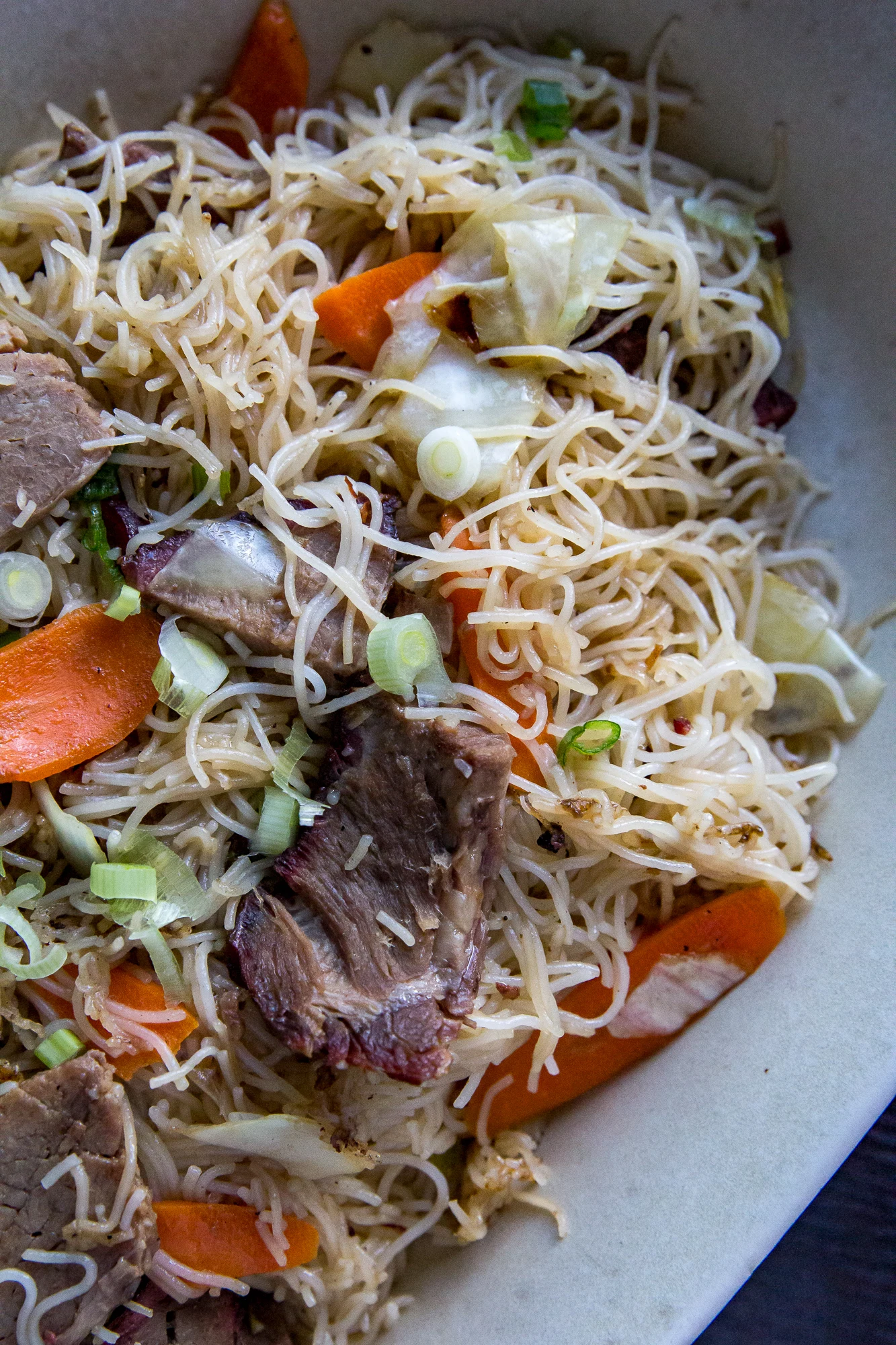 Smoked Beef Pancit Shopping List
If you are looking for specific amounts, please make sure to scroll to the recipe card at the end of the post. This is a list that exists to help you see what you have and what you need to order or pick up from the store.
beef roast
carrots
cabbage
green onion
rice vermicelli noodles
soy sauce
salt and pepper
cooking oil
Follow me on Instagram!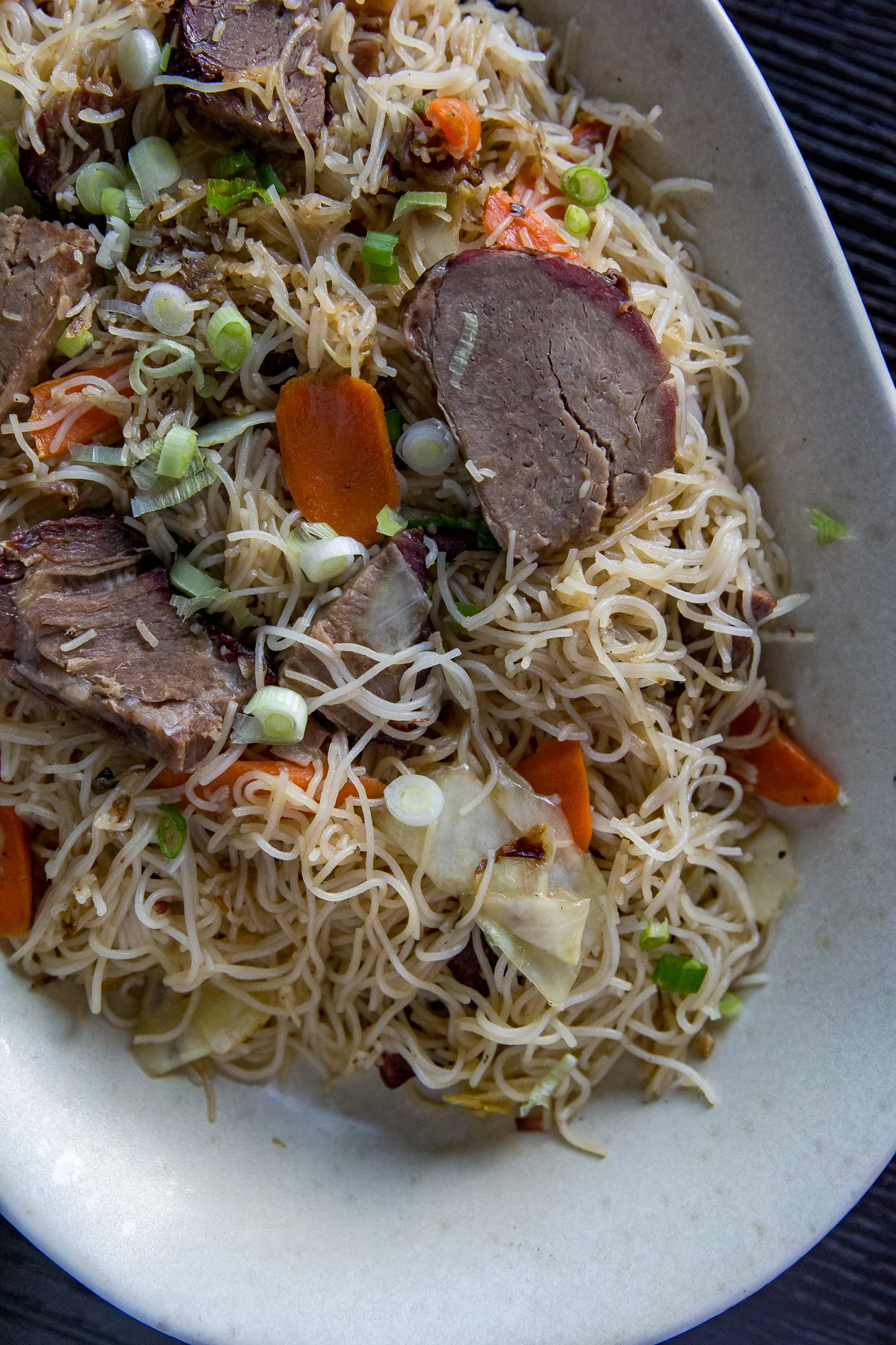 How to cook pancit on the Blackstone Griddle
This is a quick summary of the steps to make our smoked beef pancit. Make sure to scroll down to the recipe card for the full scoop!
Smoke the beef. Rest, and slice it up. Leftover smoked beef works great for this too!
Soak the noodles.
Prep all the things!
Fire up the Blackstone and stir fry everything.
EATTTTTT.
If you don't have a Blackstone or other gas griddle, you can also cook this in a wok on the stove over high heat.
Join our Easy Griddle Recipes Facebook Group!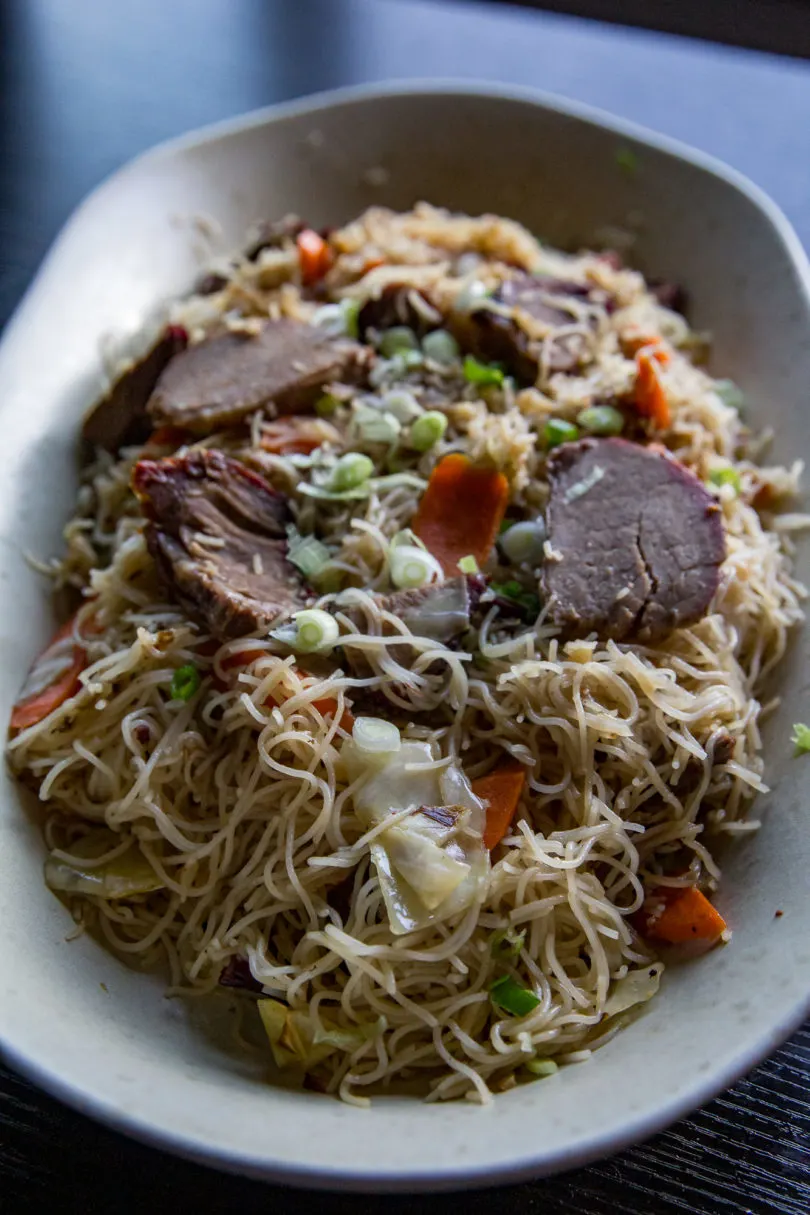 What substitutions can be made?
As with most of the recipes you'll find on OWYD, I encourage you to experiment and make it your own! Here are some ways you could change it up on the fly.
Add more vegetables! Peapods, onions, broccoli, zucchini, or spinach would be great additions to this dish!
Use another kind of meat. Chicken breast or thighs, shrimp, thin slices of steak, or even tofu would be perfect here.
Want it spicy? Add in some sriracha to the sauce mix! You could also stir-fry some chilis in with the vegetables too if you're into that sort of thing.
Check out our Blackstone Yakisoba recipe too!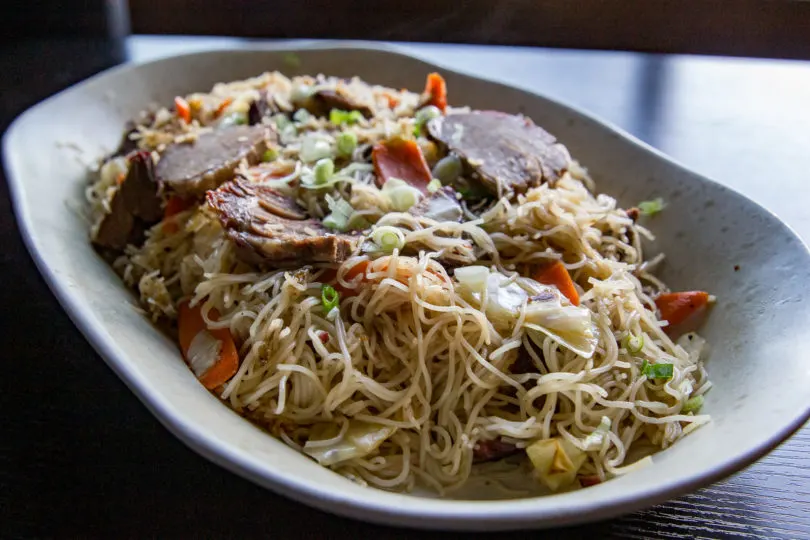 What else can you serve with Smoked Beef Pancit?
Pick up some lumpia and fry those up for an easy side dish. Egg rolls, kimchi gyoza, or fried chicken wontons would also be pretty tasty.
For dessert, keep it simple with a no-bake raspberry fluff pie.
More recipes to love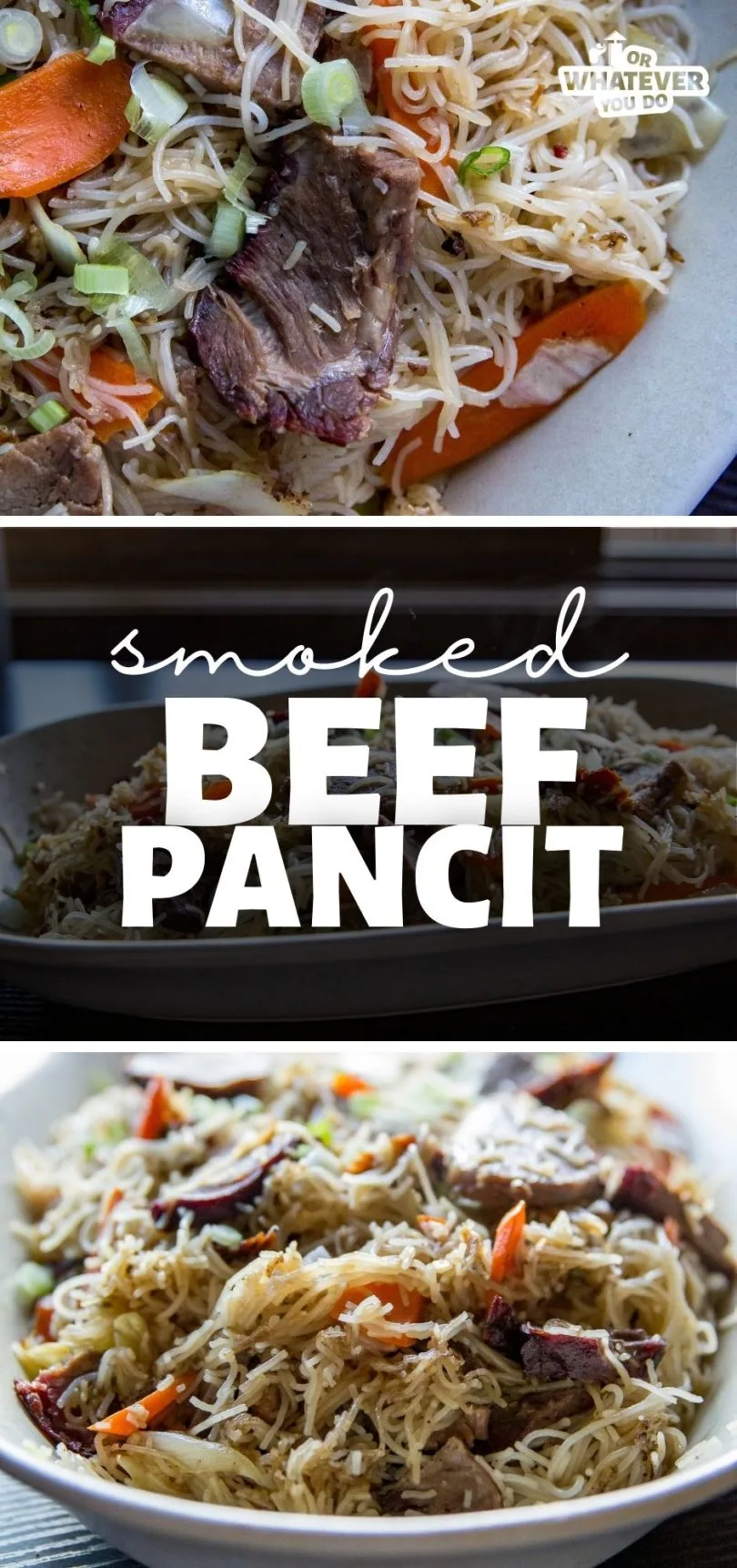 Yield: 10 servings
Smoked Beef Pancit Recipe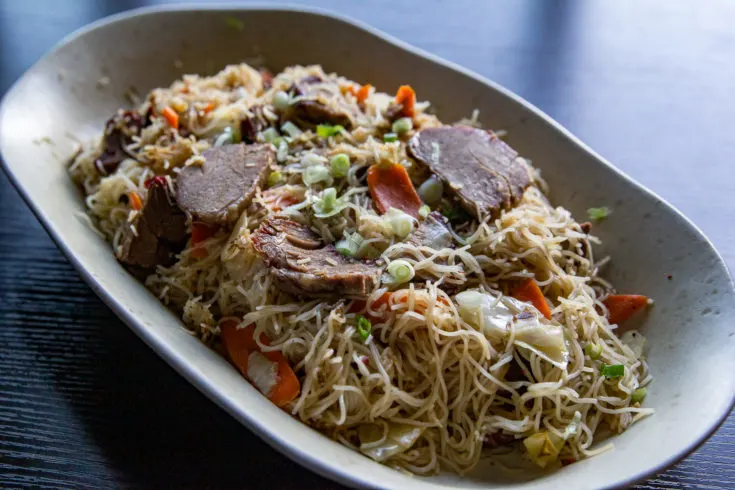 This smoked beef pancit recipe takes a delicious and tender smoked beef roast and stir-fries it together with carrots, cabbage, and green onion before being tossed with rice vermicelli noodles on the Blackstone Griddle!
Total Time
5 hours
20 minutes
Ingredients
2 pounds whole beef sirloin roast
1 tablespoon OWYD Everything rub (or your favorite beef rub)
16 ounces rice vermicelli noodles
Vegetables
8 ounces green cabbage
2 whole carrots
2 green onions
Sauce
1/4 cup soy sauce
1 cup beef stock
1 tablespoon sugar
1/2 teaspoon black pepper
Instructions
Preheat your grill to 225°. Rub the beef, and place onto the grill. Cook for 3-4 hours, or until the roast is probe-tender and in the 198-202° range. If the roast stalls along the way, you can wrap it and continue cooking to speed things along.
Soak the noodles. 10 minutes in HOT water usually does the trick. They'll finish cooking on the griddle.
While the noodles soak, slice the green onions (greens AND white parts), cabbage, and carrots. Set aside. Mix together the soy sauce, beef stock, sugar, and black pepper and set aside.
Preheat your griddle over medium heat and double-check that your prep work is done and you have EVERYTHING you need. You can't walk away from stir fry on the Blackstone while it is cooking. Don't forget the serving tray to put the food on when it is done.
Place the carrots and cabbage down on the griddle with a few tablespoons of oil. Season with some salt and pepper and cook for 2 minutes, stirring often.
Move the vegetables to a cool part of the griddle, place some more oil down and then add the drained vermicelli noodles.
Pour over the sauce over the noodles, little bits at a time, adding more when what is down gets soaked up into the noodles. Add in the sliced green onions.
On another part of the griddle, stir fry the smoked beef briefly until it is heated through, and then mix the vegetables and meat together.
Move the whole thing to a serving plate and enjoy!
Recommended Products
As an Amazon Associate and member of other affiliate programs, I earn from qualifying purchases.
Nutrition Information:
Yield:
10
Serving Size:
1
Amount Per Serving:
Calories:

284
Total Fat:

11g
Saturated Fat:

0g
Trans Fat:

0g
Unsaturated Fat:

0g
Cholesterol:

75mg
Sodium:

454mg
Carbohydrates:

18g
Fiber:

2g
Sugar:

3g
Protein:

28g
Nutrition data provided here is only an estimate.