Smoked Chinese BBQ Pork is an easy dish to make, and there are so many things you can do with it! Serve cold as an appetizer with some hot mustard and sesame seeds, or hot over rice as a main course. There's nothing like making this at home!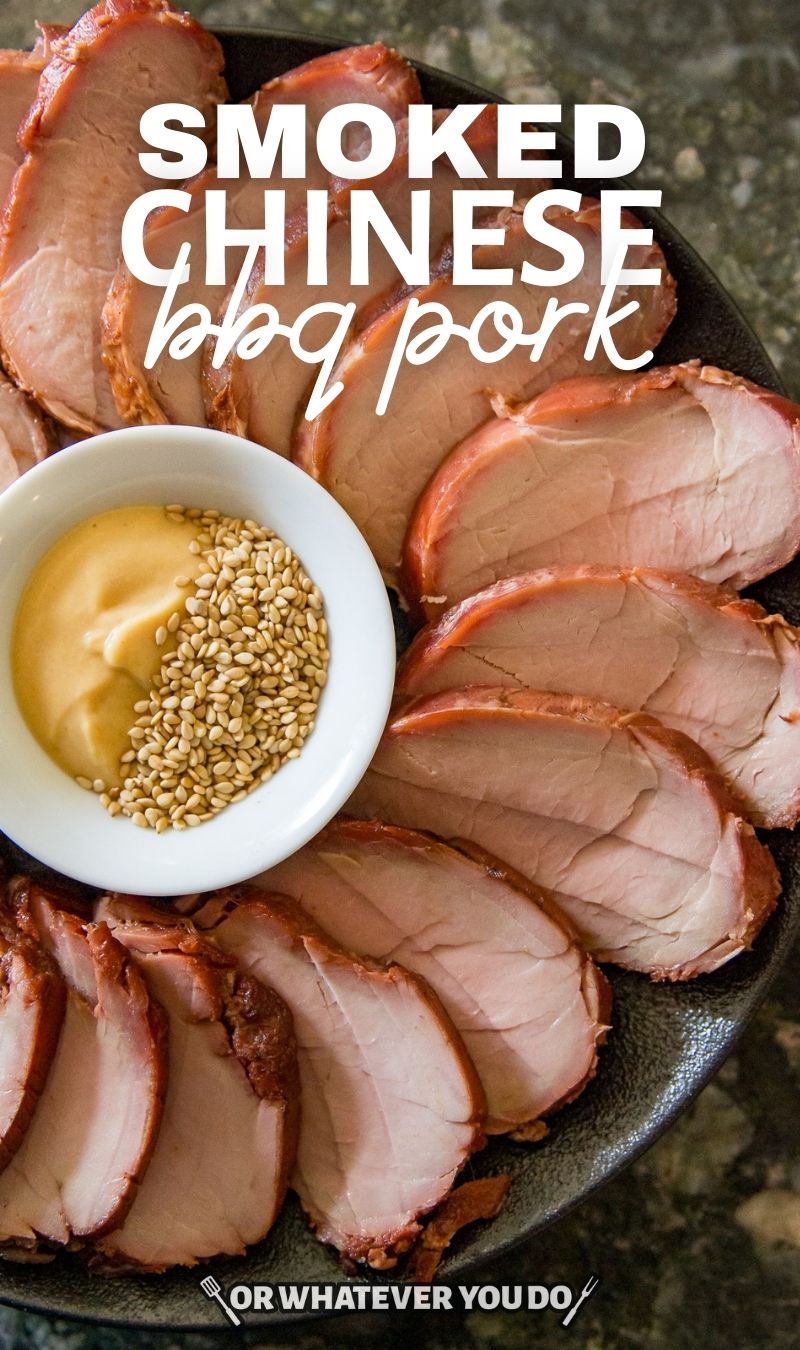 Pellet Grill Chinese BBQ Pork Recipe
When I think bbq pork, my mind instantly goes to the bright red kind that comes in a two-pack from Costco, and I love them with my whole heart.
Give me some slices of that neon red tenderloin and the hot mustard that you can feel all the way up to your nose and into your sinuses, and I'm a happy lady. I'm also easily amused, but that's the 2020's for you, I guess. Welcome to my brain, on lockdown for a year in a house with 7 kids. WHEEEEEE.
We didn't even consider trying to make this at home until recently when Jeremiah decided it was time to see what he could whip up, and this is the glorious result.
More Easy Traeger Recipes here!
Smoked Chinese Barbecue Pork Shopping List
Here's a summary of what you'll need in order to make this dish. Make sure to scroll to the recipe card for exact amounts.
Tip: ButcherBox has awesome heritage breed pork, and carries pork tenderloin! We LOVE ButcherBox, and have been subscribers for well over a year. You can get your own ButcherBox here!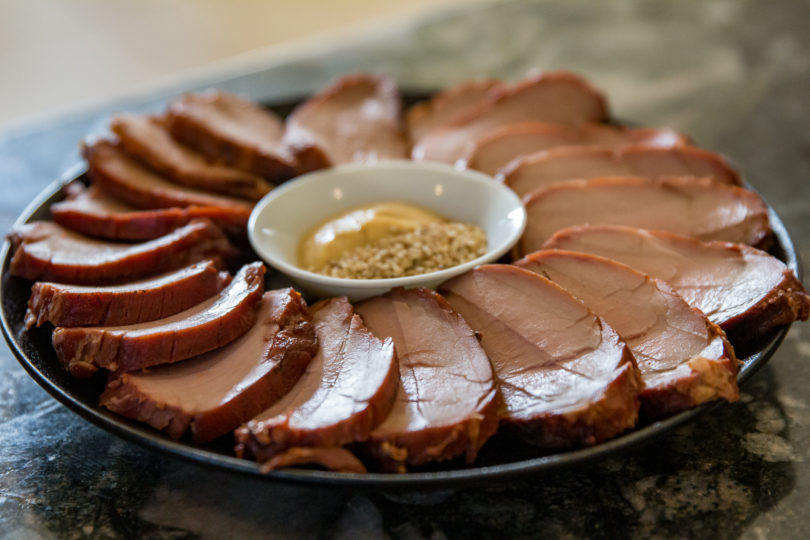 How to make smoked Chinese bbq pork
Want to know what you are getting yourself into? This is a quick run-down of the process. Make sure when you are cooking to scroll all the way down to the recipe card for the full recipe and instructions.
Marinate the pork. This should be done for 24-48 hours, so you'll need to plan ahead!
Smoke the pork.
Crank it up, a little, and finish it off.
Slice and serve.
Get all of my ButcherBox Recipes here!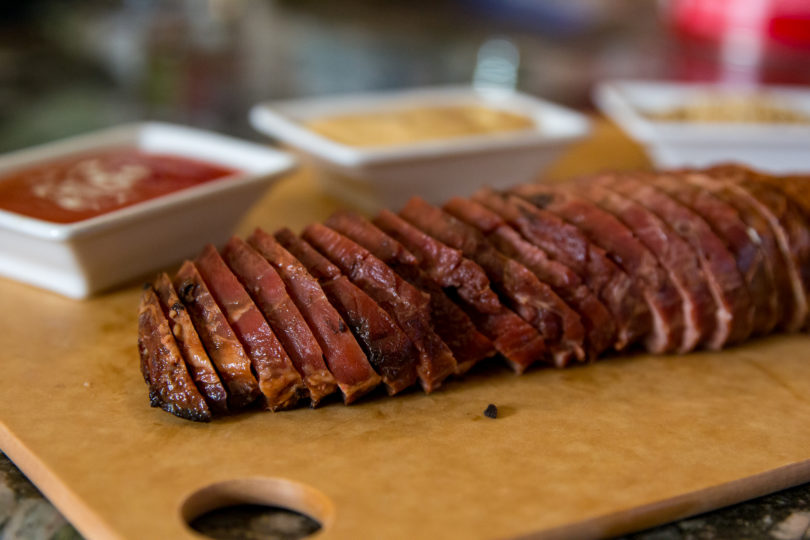 Why is Chinese pork red?
If you smoke it, that'll give the exterior some red color, but the classic bright red Chinese pork you are used to is due to copious amounts of food coloring.
We cut that down substantially in this recipe, so it isn't quite as bright red as you might expect, but it still has all of the great flavors you are used to in barbecue pork.
Follow me on Instagram!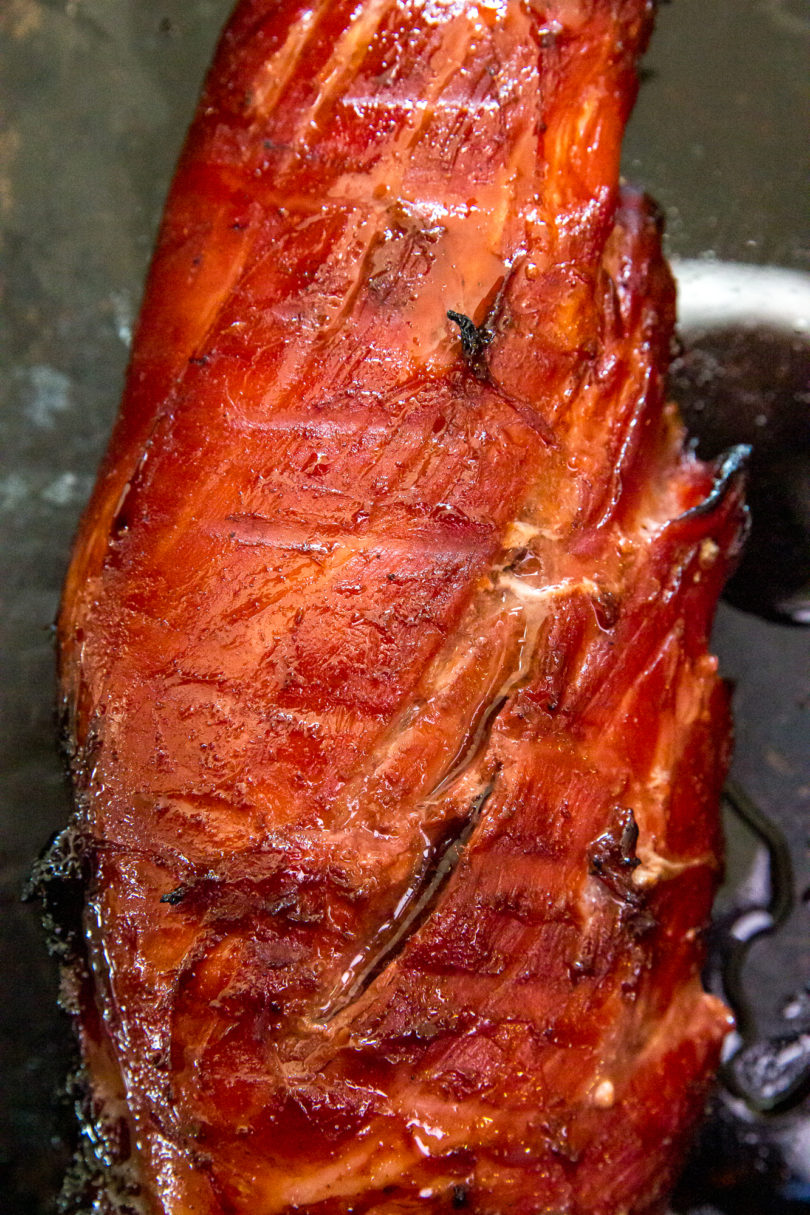 How to store smoked Chinese bbq pork
Store leftover Chinese barbecue pork in a sealed plastic bag or other covered container. It will keep for 3-4 days in the fridge.
How to reheat Chinese bbq pork
Barbecue pork is best kept OUT of the microwave. If you need to reheat it, a hot water bath is your #1 choice. If you don't have a proper sous vide machine, you can place the pork in a freezer baggie, get all of the air out, and submerge it in a pot of water on the stove.
If that's a little EXTRA for your tastes, you can also give it a quick stir fry too. You'll lose a little moisture that way, but nothing to get too upset over.
Personally, I prefer to keep the leftovers cold and serve them as an appetizer with hot mustard and sesame seeds!
Join our Easy Traeger Recipes Facebook Group!
How can you serve Chinese roast pork?
Chinese roast pork can be served in a bunch of different ways. In addition to serving it cold with hot mustard and sesame seeds, you can also serve it hot, sliced or diced, over rice.
What else can you serve with Smoked Chinese Barbecue Pork?
If I'm serving this as an appetizer, it is probably going to be in front of a whole Asian meal.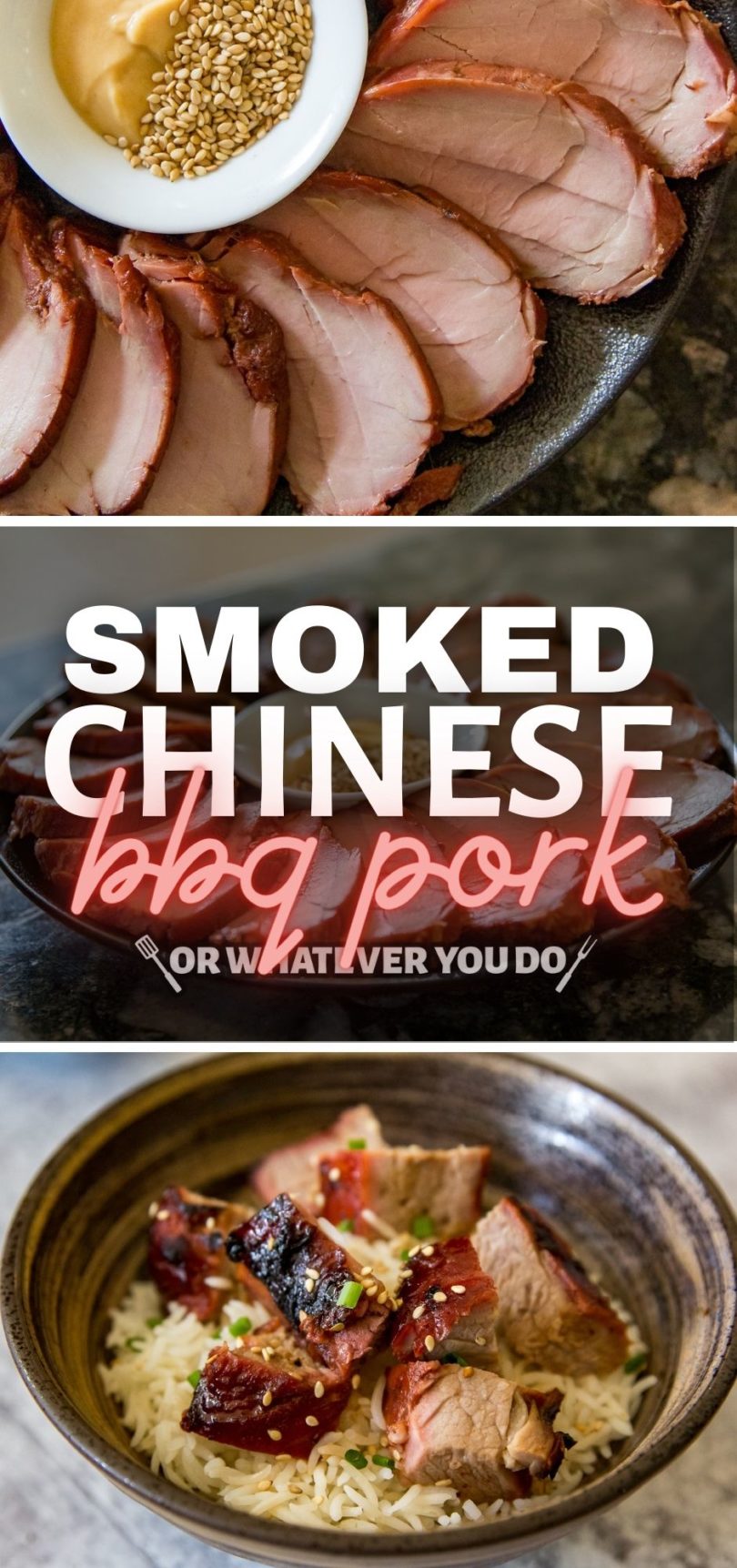 Yield: 12 servings
Smoked Chinese BBQ Pork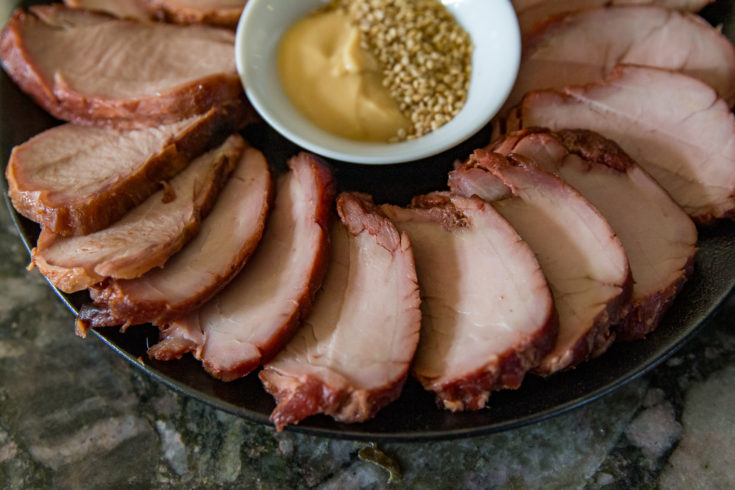 Home-cooked smoked Chinese BBQ Pork is simple to make at home, and so delicious!
Ingredients
2 pounds pork tenderloin
3/4 cups soy sauce
1/3 cup ketchup
1/3 cup honey
1/3 brown sugar
1/3 cup rice wine
2 tablespoons hoisin sauce
3/4 teaspoon Chinese Five spice
1 teaspoon onion powder
1/2 teaspoon granulated garlic
1/2 teaspoon red food coloring
Instructions
Mix all ingredients for the marinade thoroughly into a 1-gallon ziplock bag and then add the pork tenderloin to the bag.
Close the ziplock bag, making sure to get all the air out and place it into your refrigerator to marinate for 24-48 hours.
After the pork has finished marinating, pull it from your fridge and take it out of the marinade. You can dispose of the marinade.
Set your grill to 225 degrees and place the pork directly onto the grill once it is heated.
Cook the pork at 225 until the internal temp reaches 135 degrees Fahrenheit.
Once it reaches 135 degrees, turn your grill up to high and let it cook until the internal temperature reaches 145 degrees Fahrenheit.
Once it reaches an internal temperature of 145 degrees Fahrenheit, pull it from the grill.
You can eat it hot by cutting it into 1/2" chunks and serving it over rice, or you can serve it the traditional way.
To serve it the more traditional way, after you pull it from the grill, place it into the refrigerator for 1-2 hours to fully cool down.
Pull it from the fridge and slice it thinly against the grain and serve it with Chinese hot mustard, cocktail sauce, and toasted sesame seeds.
Recommended Products
As an Amazon Associate and member of other affiliate programs, I earn from qualifying purchases.
Nutrition Information:
Yield:
12
Serving Size:
1
Amount Per Serving:
Calories:

171
Total Fat:

3g
Saturated Fat:

1g
Trans Fat:

0g
Unsaturated Fat:

2g
Cholesterol:

55mg
Sodium:

n/amg
Carbohydrates:

12g
Fiber:

0g
Sugar:

10g
Protein:

21g
Nutrition data provided here is only an estimate.