This Shrimp Yakisoba is a simple yet absolutely delicious stir fry, with Yakisoba noodles, shrimp, asparagus, and mushrooms and served with a chili-garlic sauce.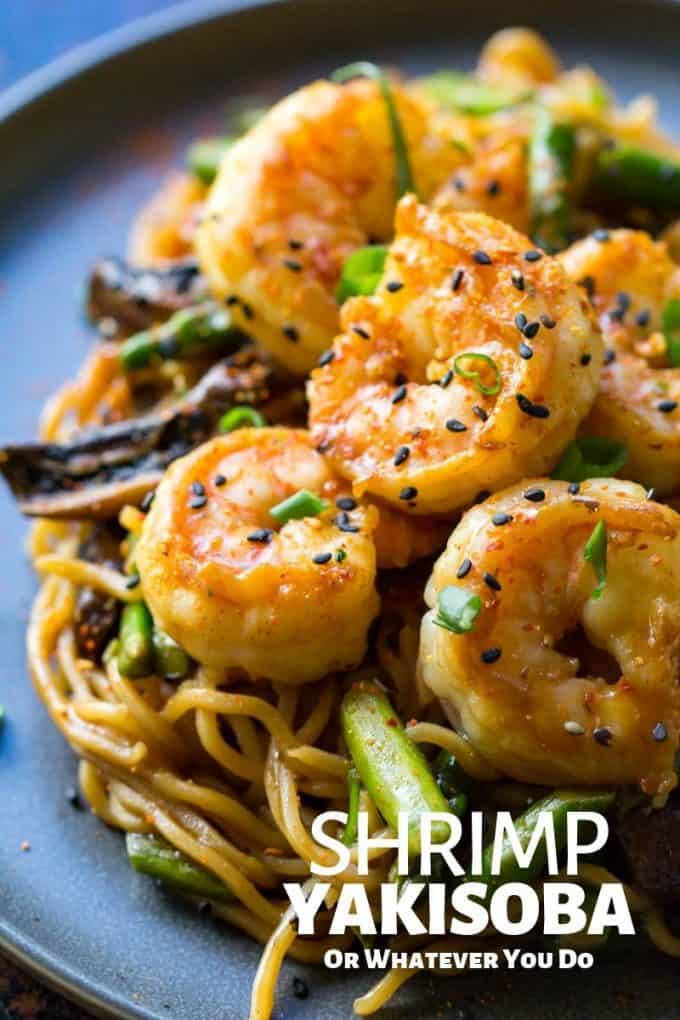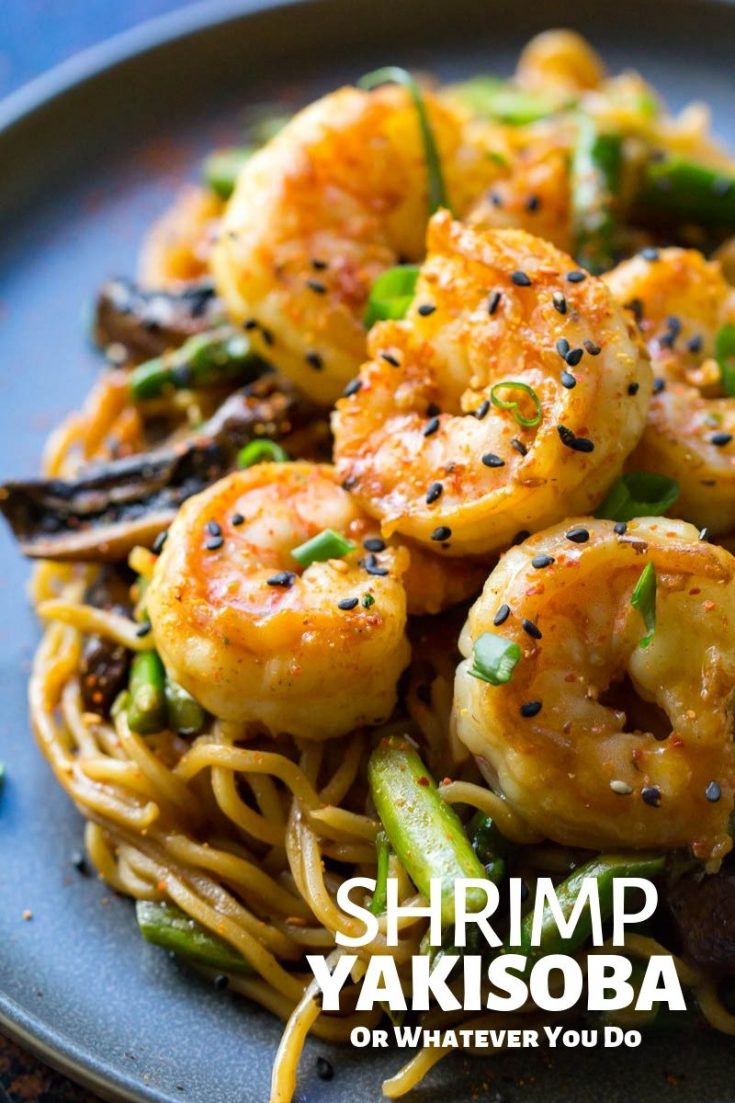 Shrimp Yakisoba Recipe
If you're looking for something quick that will satisfy your hungry family and your tight schedule, this is the recipe for dinner tonight!
I love making stir-fry for the family. It is a whole meal in one dish with meat, vegetables, and a starch, and is something that the whole family loves. It is also FAST.
If you want to get ambitious, whip up an Asian-inspired appetizer too like my easy egg rolls, chicken wontons, or pork dumplings.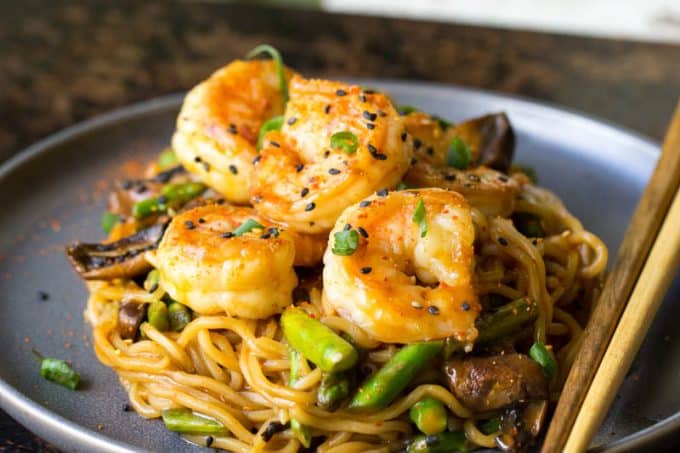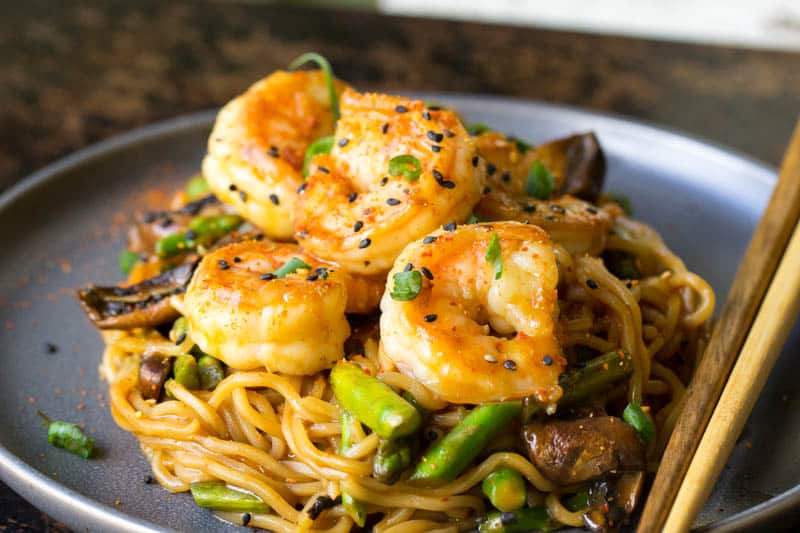 What are Yakisoba noodles and where do I find them?
Yakisoba is a Japanese dish made by stir-frying noodles with vegetables, usually dressed with an oyster sauce. Traditionally made using buckwheat, they are sometimes made with wheat flour.
You can buy these fresh chilled noodles at your local grocery store in the refrigerated section near the produce. They are usually next to the tofu, kimchi, etc.
If you can't find fresh yakisoba, you can substitute rice noodles or even regular spaghetti noodles and it'll still be delicious.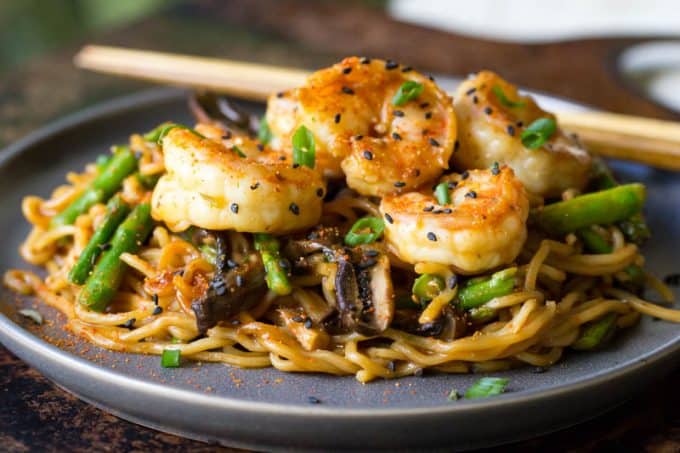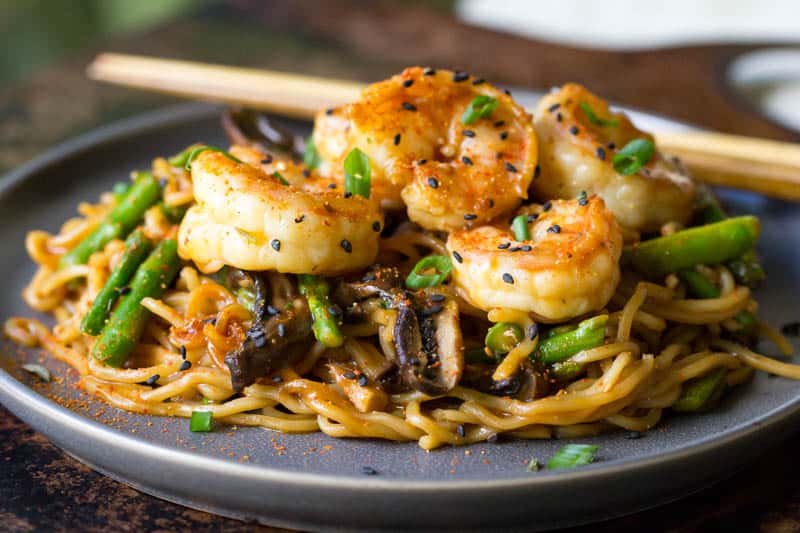 What is the difference between ramen and yakisoba noodles?
Mainly the texture.
Ramen noodles are around the same thickness and made with wheat flour, but yakisoba noodles (soba meaning buckwheat) are made from buckwheat flour giving them a much softer, less elastic texture. Perfect for soaking up sauces and broth flavors.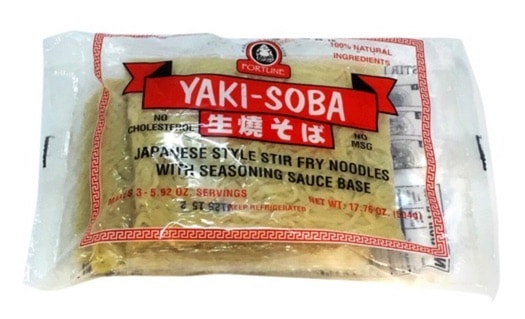 What's nice about this recipe is that you can use whatever meats you like and whatever vegetables are your favorite for stir-frying. Almost anything goes. So versatile, quick, easy, and flavorful are the keywords for this dish!
Ramen Noodles are also made with an alkaline mixture that gives them a signature "bite" and holds up to the hot ramen broth really really well.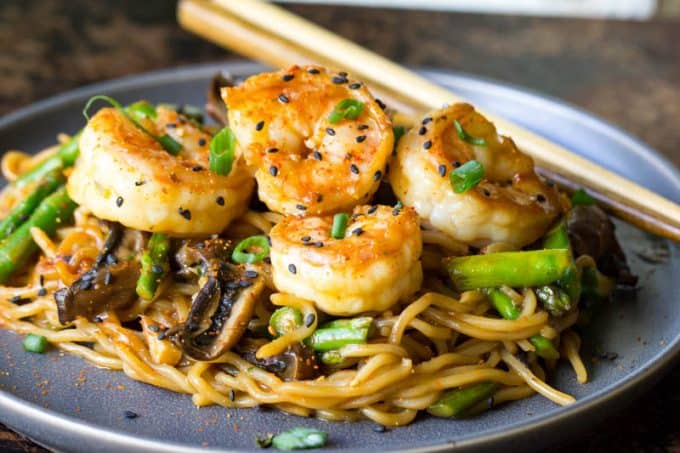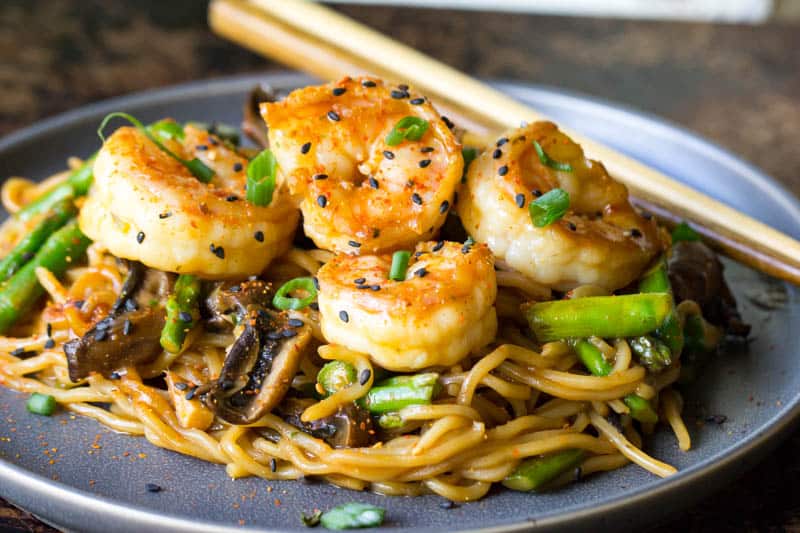 How to pick the best asparagus for stir fry
When buying asparagus you will want to look for small to medium sized stalks, around the size of a number 2 pencil is a perfect comparison, as these will be the most tender and fresh early crop you can find. If it's getting later in the season, the stalks will be a little bit larger. They are still great to use, but avoid buying the really large stalks (around the size of a child's large crayon) as they start to become tough and "woody".
For freshness, look for asparagus with the tops tightly compact and not moist. You should be able to pinch the top of the stalk gently without smashing them and they should remain intact.
To clean your asparagus, hold each end in your hands and bend, they should snap off easily. The asparagus will do the guesswork for you! The end that snaps off is generally the toughest part of the stalk. If you don't want to throw those away you can use them to make vegetable stock.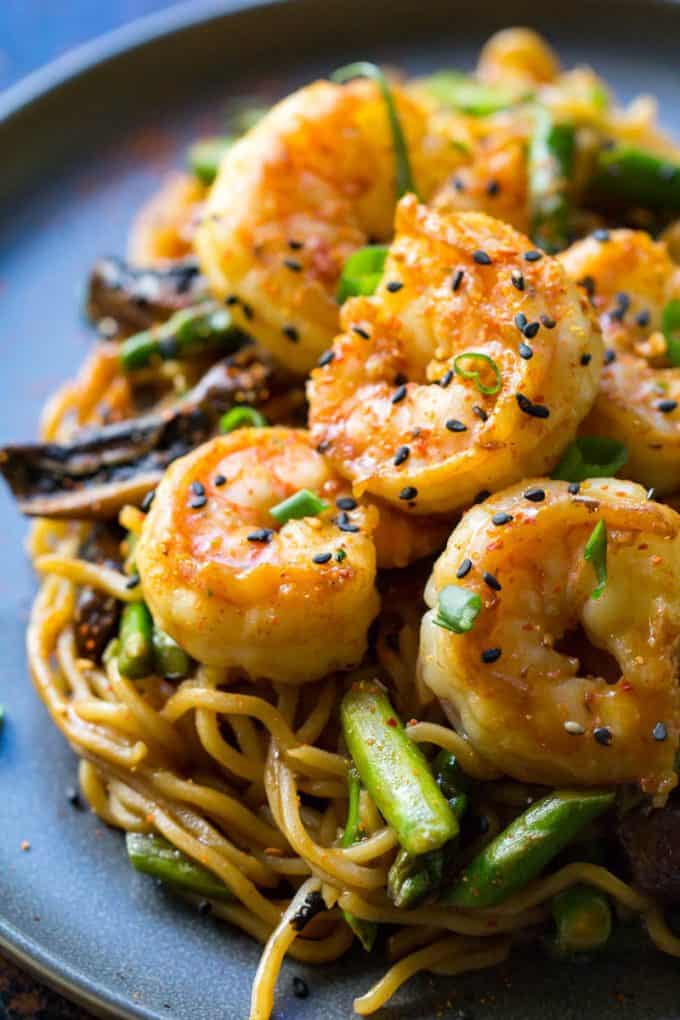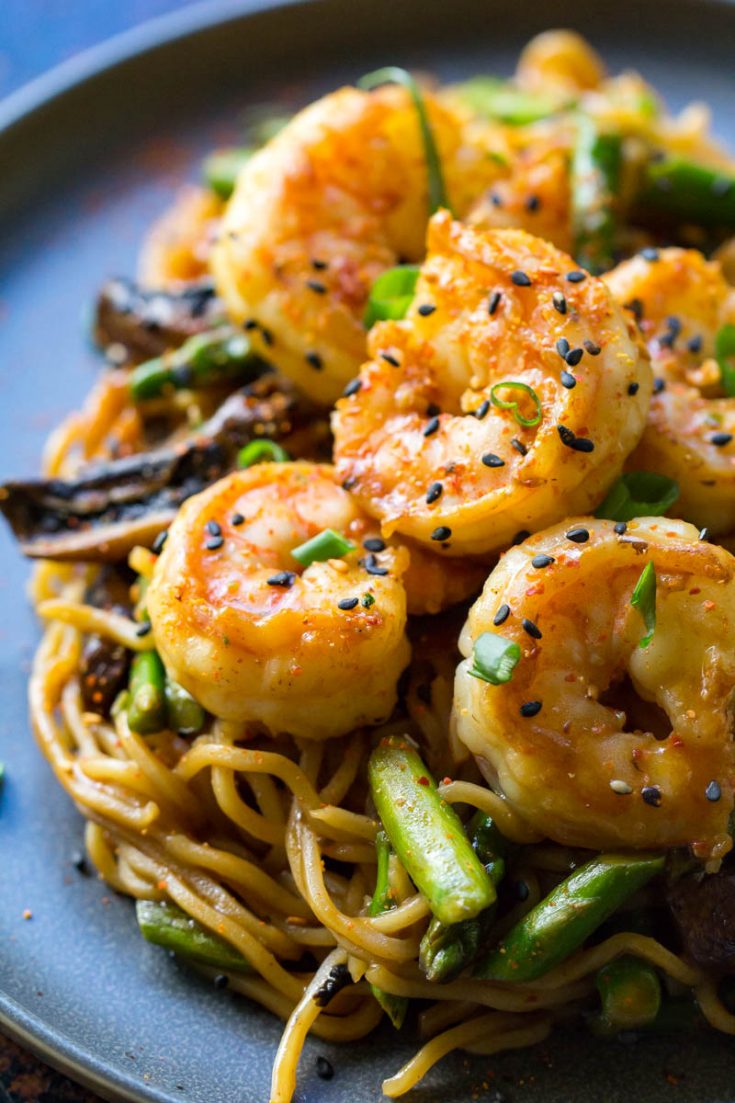 What can I serve with this dish?
The great thing about stir fry is you can make it a meal in itself. It has EVERYTHING in it so you don't have to go to any trouble serving sides and separate dishes if you don't have the time.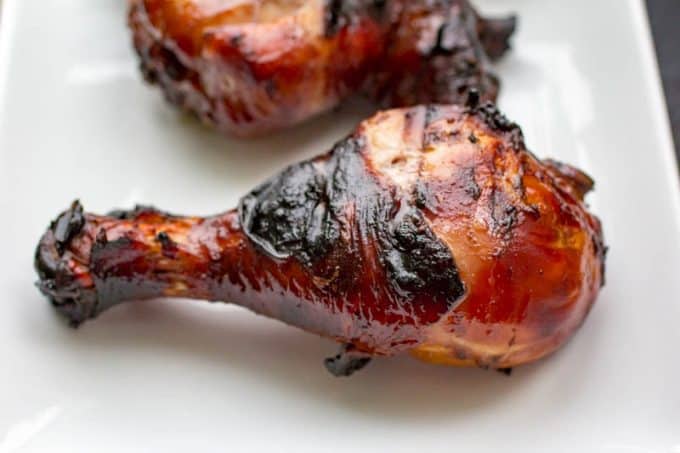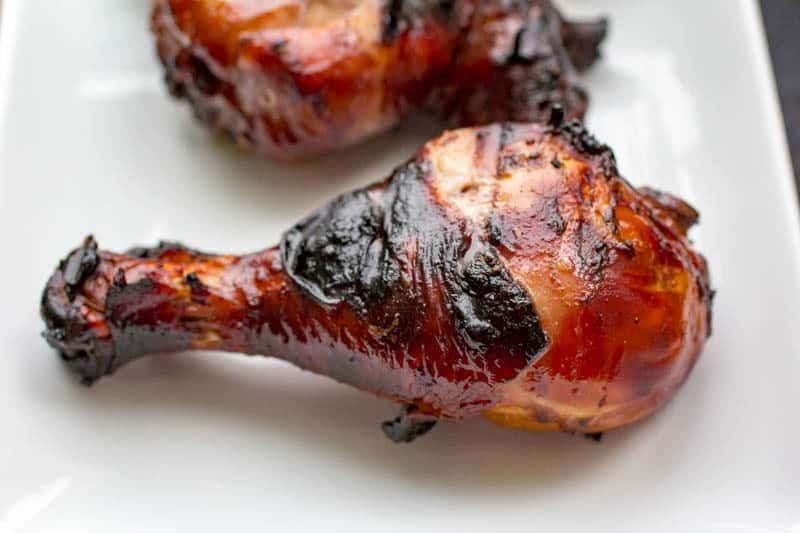 If you do have the time, however, there are several options for appetizers and side dishes. Here are a few selections for you to choose from: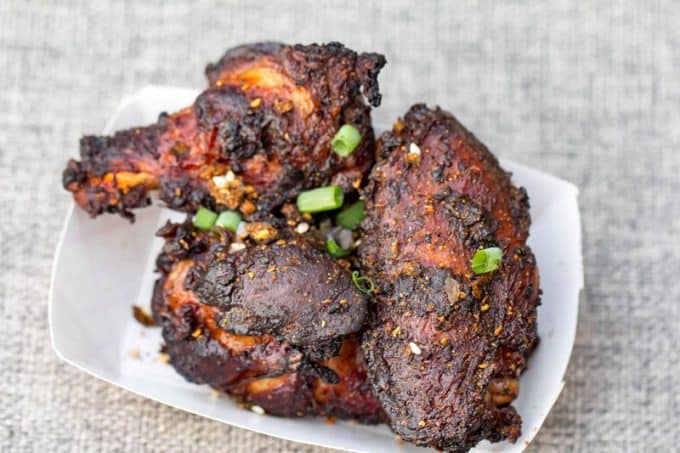 You could also serve with Egg Drop or Wonton Soup to start your meal. And finish with fortune cookies for the fun of it!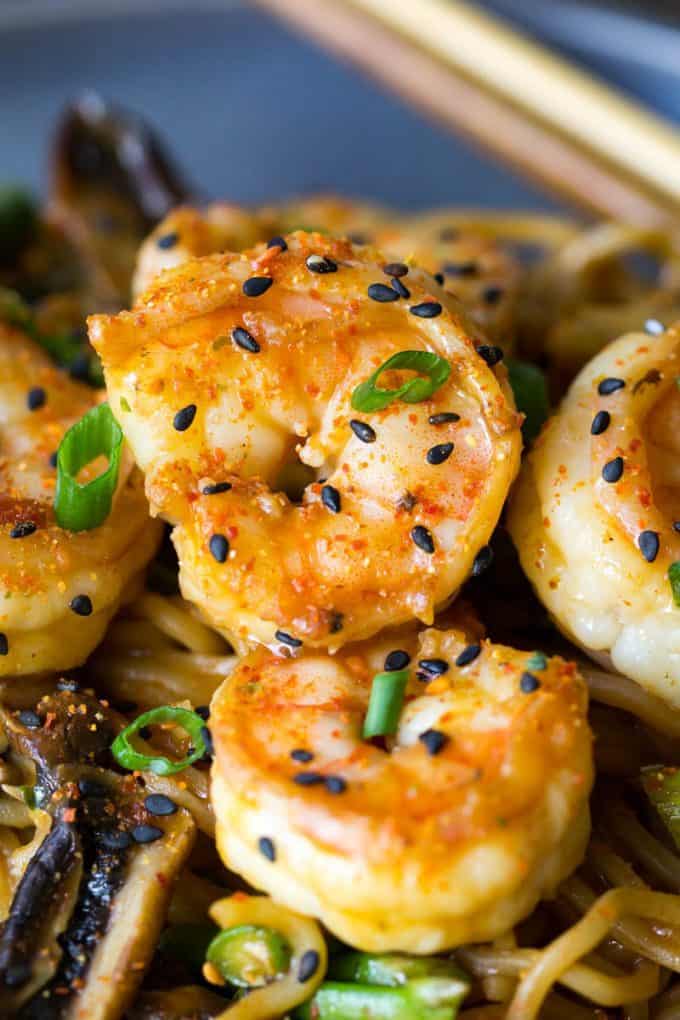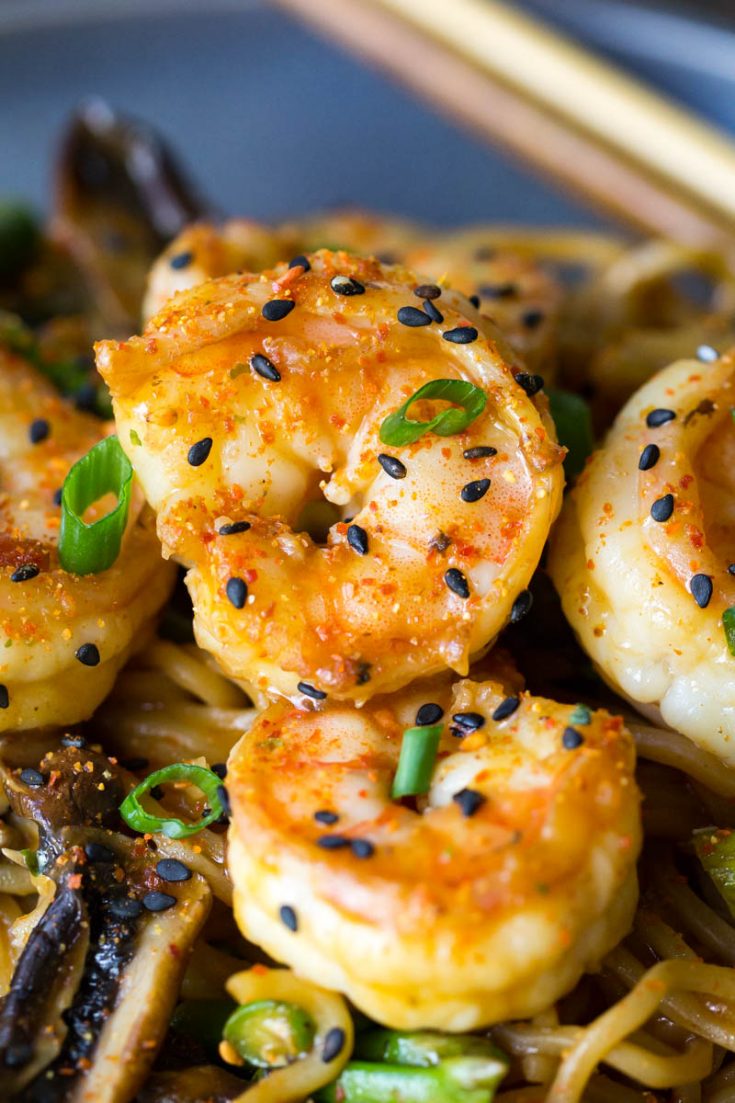 Best Way To Get Kids To Eat Vegetables
There's nothing like a fresh, light meal packed with vegetables to power your energy level and make you feel good about the food you're serving.
Kids tend to gobble vegetables if they're served in creative ways, rather than a pile of "ewwwww green stuff" on their plate that we try to convince them to try because "it's good for you".
Try serving this dish with chopsticks. The noodles are really a challenge and it's fun for everyone to learn. Plus, the reward is actually getting the food in the mouth, so the kids aren't really thinking about what is going in there, but how it's getting there.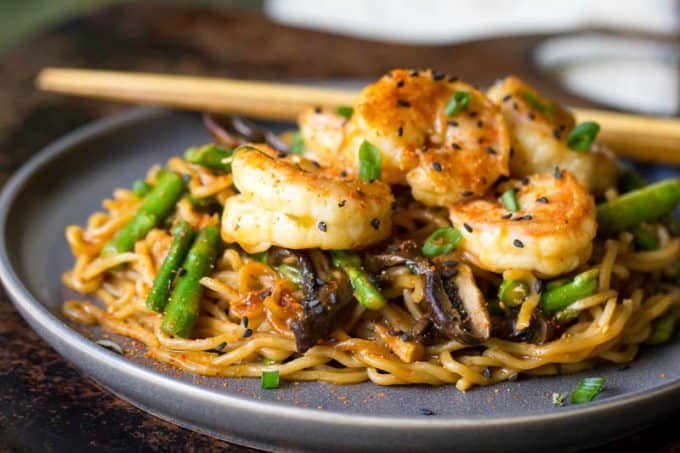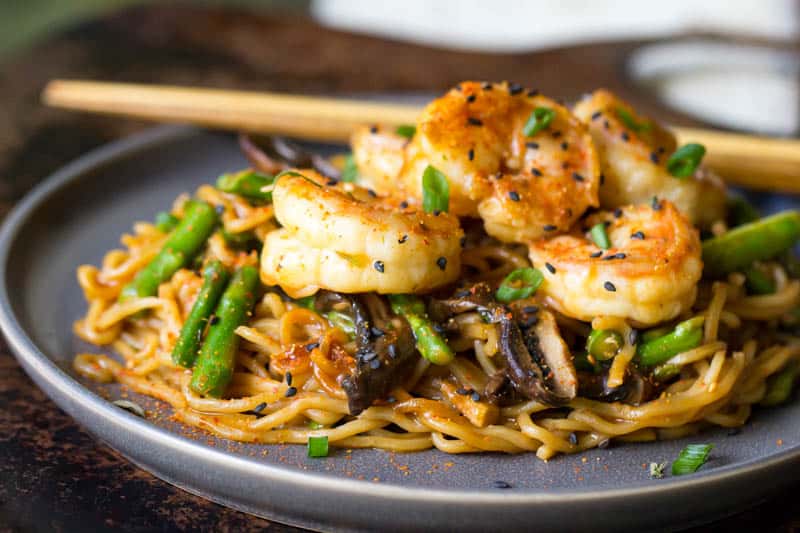 With so many snack foods available, our jobs as parents has become even harder in my opinion. Helping kids make the right food choices can be a daunting task, but it can be done with some creativity and perseverance! Hang in there, moms!
This Shrimp Yakisoba will be a great addition to your "A list" of successful dishes!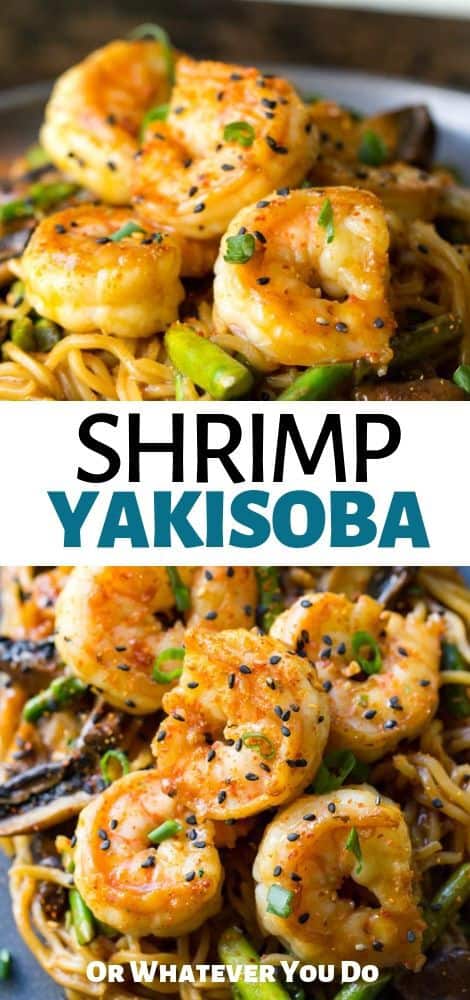 Yield: 8 servings
Shrimp Yakisoba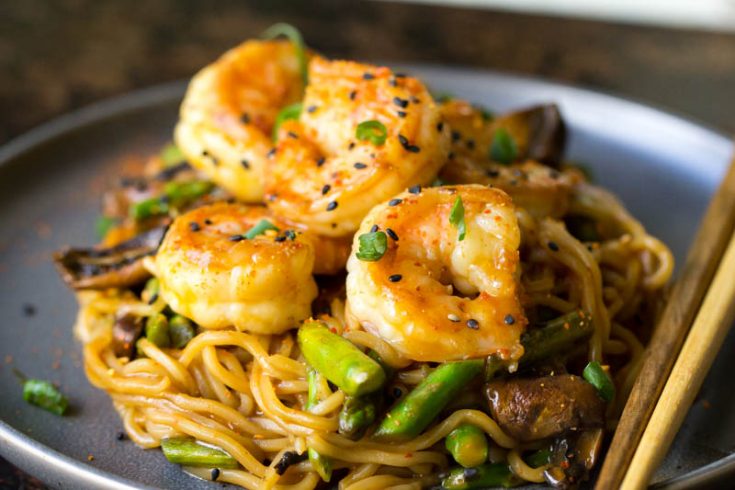 Easy shrimp yakisoba is a stir fry with tons of asparagus, mushrooms, and tender shrimp. It is a complete meal, and one the whole family will enjoy!
Ingredients
Sauce
2 tablespoons soy sauce
4 tablespoons water
2 tablespoons mirin
1 teaspoon sesame oil
2 teaspoons minced garlic
2 teaspoons chili garlic sauce
1 teaspoon sriracha
2 tablespoons brown sugar
1/2 teaspoon ground ginger
1 tablespoon cornstarch
1 teaspoon canola oil
Stir-Fry
3-4 tablespoons oil
1 bunch asparagus, cut into 1-inch segments
2 cups sliced mushrooms
1 pound large shrimp, peeled & deveined
17 ounces fresh yakisoba noodles
Instructions
Combine the sauce ingredients in a small bowl and whisk to combine. Break apart your yakisoba by running it under hot water. Place on paper towels and let the excess water drain.
Preheat over high heat 1 tablespoon of oil in a large wok or non-stick skillet, add a dash of sesame oil and quickly stir-fry the asparagus and mushrooms until the asparagus is crisp-tender, about 2-3 minutes. Remove from the stir-fry and set aside. Cover to keep warm.
Add another tablespoon of oil into the wok over high heat and let it heat until it is shimmering but not smoking. Carefully add the shrimp to the wok and stir fry until the shrimp is pink. About 1-2 minutes. Remove from the wok and set aside. Cover to keep warm.
Preheat the other tablespoon of oil in the wok, and add in the noodles, the vegetables, and the shrimp. Stir fry for one minute and then add in the sauce. Stir until thickened, and serve immediately.
Recommended Products
As an Amazon Associate and member of other affiliate programs, I earn from qualifying purchases.
Nutrition Information:
Yield:
8
Serving Size:
1
Amount Per Serving:
Calories:

225
Total Fat:

9g
Saturated Fat:

1g
Trans Fat:

0g
Unsaturated Fat:

8g
Cholesterol:

120mg
Sodium:

802mg
Carbohydrates:

18g
Fiber:

1g
Sugar:

6g
Protein:

16g
Nutrition data provided here is only an estimate. If you are tracking these things for medical purposes please consult an outside, trusted source. Thanks!