Mushroom risotto is one of my favorite side dishes to serve when you want a meal to really show some love and care was put into it. A proper mushroom risotto revels in luxurious creamy textures and savory richness. It is sort of like a rice stew, in the best of ways.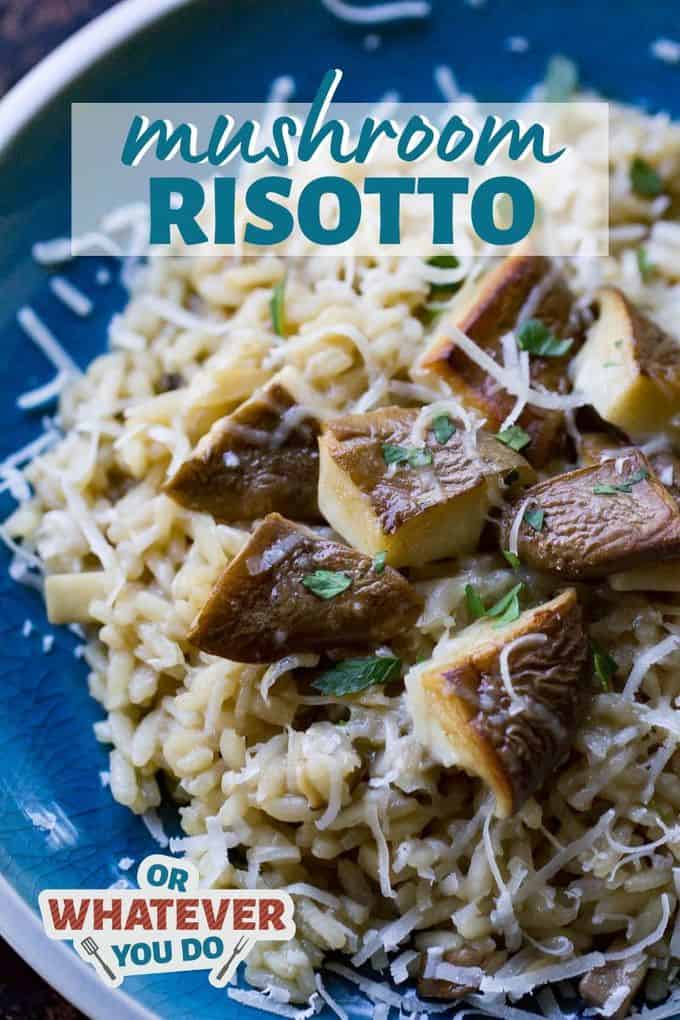 Mushroom Risotto Recipe
Like a great stew, mushroom risotto brings on a satisfyingly hearty fullness. Risotto is so different than any other side dish out there. I bet if you asked 10 people, at least 3 or 4 of them think that risotto is made from pasta.
It isn't!
Risotta is made from a super starchy rice. That rice is cooked relatively slowly while being stirred and having liquid incorporated into it little by little, which ends with the creamiest, most amazing rice – maybe ever.

Is it hard to make risotto?
Making great risotto like it should be really easy. If you start with arborio rice and broth, you're already halfway there. If you watch any cooking shows though, from there it gets a little more difficult.
All too often, things go horribly wrong. People undercook or overcook the rice, it comes out too brothy or too sticky. The mushrooms turn mushy or break up too much. The texture sometimes takes some practice to get exactly right.
In truth, cooking risotto teaches almost a zen like patience. It certainly involves a "less is more" approach. A bit of focus and concentration pays off though.
Don't let this scare you off. Even a mediocre mushroom risotto is pretty amazing.
More awesome Side Dishes here!

Start your mushroom risotto with the right rice
For great risotto, getting arborio rice is required. Any other won't do, so if you decide to sub it out please don't slide into my DM's or comments asking me why this recipe didn't work out with a rice pilaf boxed mix you picked up. If you don't have arborio rice handy, I'd make my rice pilaf recipe instead, or order some stat from Amazon. There is no substitute for aborio when you're talking risotto.
Arborio rice refers to a particular type of rice originally associated with the town of Arborio in Italy. It is a short grain rice that has an almost barrel-like quality to its shape.
What makes arborio rice special? The grain has unusually high starch content. This starchy rice essentially comes equipped to naturally create a rich and creamy sauce as a result of this.
The starches in the rice bind with the liquids in the broth, and this interaction creates the smooth sauce. A great risotto doesn't require cream to be creamy. It comes with using the right rice.

What kind of mushrooms for mushroom risotto?
You can use any type of mushroom for mushroom risotto. Pictured here in this recipe, you see portabella mushrooms featured. However, I definitely recommend seeking out the "wilder" varieties if you are a true mushroom lover. Chanterelles are fabulous here, and morels work amazingly well, if you can find them.
Chanterelles and morels are very seasonal, but if you are set on wild mushrooms you can use the dried varieties. Oftentimes markets (and Costco) have mixed dried wild mushrooms in pouches. I have seen them on the specialty foods or gourmet foods aisle pretty frequently.
If you use dried wild mushrooms, make sure to soak them in water to bring them back. The great thing about using even re-hydrated mushrooms is they still taste great.
I sometimes like using them even better. The drying helps concentrate their flavor. Make sure to keep the water you use to re-hydrate them in. It is full of flavor. You can add it back into the broth with the wine and stock.
If you do go the dried route, I recommend chopping them up in small pieces. Dried mushrooms are great for things where you just need the mushroom flavor, but we're keeping the mushrooms themselves around in this dish so you need that good texture as well, and that's hard to do with dried mushrooms in big chunks. You'll be much happier with small pieces for dried re-hydrated mushrooms.
More recipes featuring mushrooms!
What kind of wine is best for risotto?
You don't have to spend a great deal on a wine for the stock, but you shouldn't be cooking with anything you wouldn't drink. I recommend using a dry white wine like a pinot grigio or sauvignon blanc for the best results.
I don't recommend chardonnay – especially from California. Why? I have nothing against California Chardonnay, except for cooking. The California chardonnays go too heavy on the oak notes, and the oak tends to create bitterness when cooked.
Since you are making a quintessentially Italian rice dish, I say go with the Italian pinot grigio. They are light and crisp. You only use a bit in the broth for the rice. So enjoy a glass of it also with the dish, if you are into that sort of thing.
My grilled White Wine Chicken and Mushrooms uses Pinot Grigio too!

Tips for delicious mushroom risotto
Risotto is not super complicated to make, but there are some things you can do to give you a better chance of ending up with the PERFECT bowl of creamy risotto.
Use a shallow non-stick pan
You have the rice, the wine, the stock. Now you want to cook the rice in the stock. Typically, a shallow non-stick pan will work best for this.
The last thing you want is to fight your pan for possesstion of your rice mid-cook.
Cooking the rice in a shallow pan it cooks relatively quickly. It isn't like putting it in a rice cooker or using a dutch oven to cook rice. Cooking on medium heat in a pan, and stir in figure 8 patterns.
If the broth is cooking too quickly and the rice is not done, make sure to keep extra broth on the side to add in as necessary.
Literally, your altitude or the outdoor temperature will also affect the cook time.
Don't overcook it!
Cook the rice "al dente". This means it should have a "little bite". Meaning, you don't want to cook until it is super soft. Nor do you want it too hard. You do want a bit of a bite to it.
In that way, the al dente term is similar to how you might cook pasta al dente.
Be patient!
Risotto can't be rushed. Don't cook it over heat that's too high, and be patient and slow when you are adding in your liquids. That's the biggest mistake people can make with risotto. Slow downnnnnnnnnnnnn.
Check out my available eBooks!

How should you store cooked risotto?
Mushroom risotto stores well and will keep for a week in the fridge. I don't recommend freezing it. The texture of the rice becomes a bit mealy if you freeze it. However, it isn't that bad. You can freeze it if you want, I'd recommed doing so in single-serving sizes so you can just heat up enough for a lunch.

What to serve with mushroom risotto
Mushroom risotto goes especially well with big grilled steaks, nice savory herbed chickens, and tender and flaky white fish like halibut.
Here are a few dishes I can recommend:
Pin for later!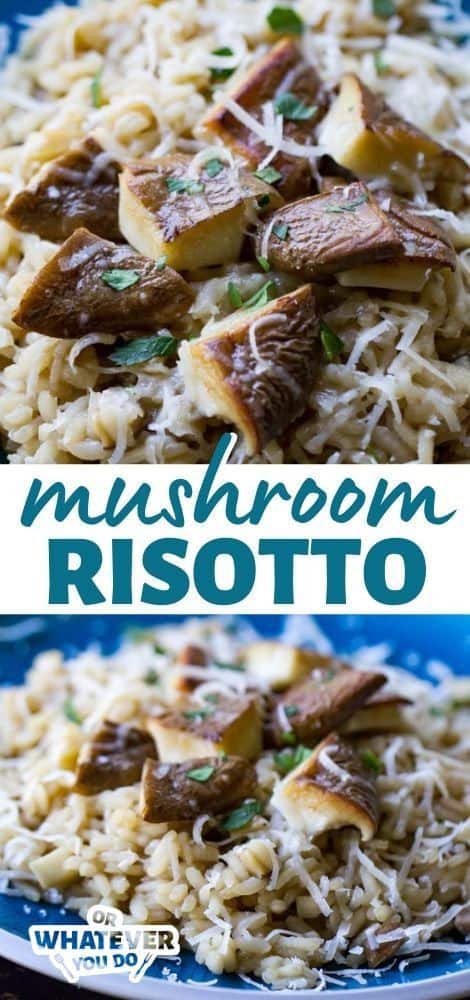 Yield: 8 servings
Mushroom Risotto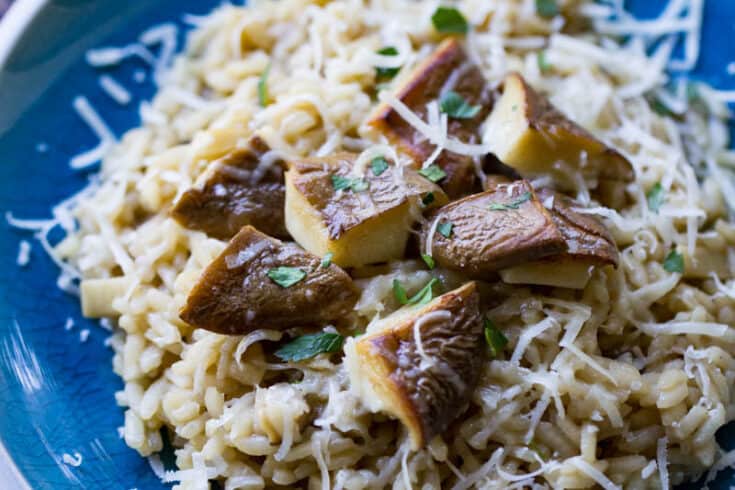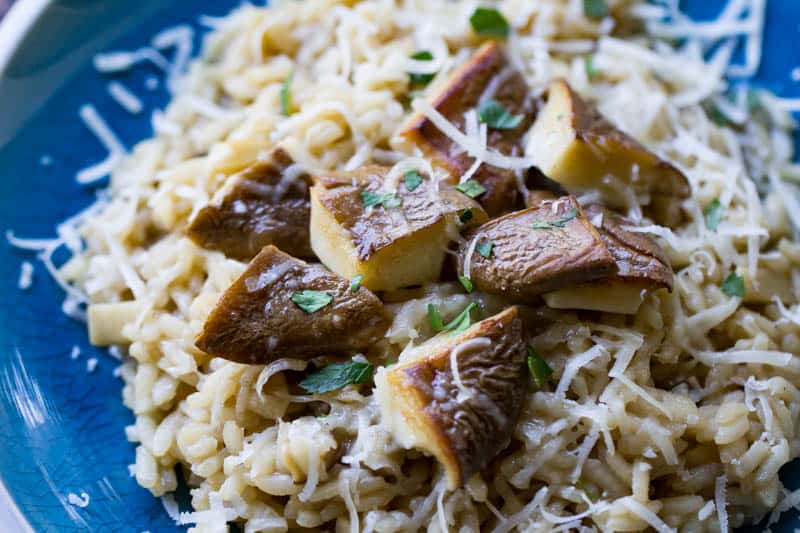 Risotto is made with rice that is cooked slowly while being stirred and having liquid incorporated into it little by little. So creamy!
Ingredients
5 cups chicken stock
2 tablespoons butter
1 cup chopped mushrooms (1/4" pieces)
1/4 cup white wine
1 1/2 cup Arborio rice (uncooked)
2 tablespoons olive oil
1 teaspoon chopped Italian parsley
1/4-1/2 teaspoon fresh ground pepper
Salt
Instructions
Pour the 5 cups of chicken stock into a medium-sized saucepan on medium heat and bring it to a simmer.
In a medium sauté pan on medium heat add 2 tablespoons butter and the chopped mushrooms.
Sauté the mushrooms until they start to brown, and remove them from the pan and set aside.
Deglaze the sauté pan with the white wine and let simmer.
Add the Arborio rice, olive oil and mushrooms to the pan with the wine, and slowly add the chicken broth one cup at a time.
Bring the rice and stock to a simmer and stir constantly for approximately 20 minutes or until the rice is al dente, adding more stock as the previous addition is absorbed.
Add the salt, pepper, and garnish with parsley.

Recommended Products
As an Amazon Associate and member of other affiliate programs, I earn from qualifying purchases.
Nutrition Information:
Yield:
8
Serving Size:
1
Amount Per Serving:
Calories:

167
Total Fat:

8g
Saturated Fat:

3g
Trans Fat:

0g
Unsaturated Fat:

5g
Cholesterol:

12mg
Sodium:

311mg
Carbohydrates:

17g
Fiber:

0g
Sugar:

3g
Protein:

5g
Nutrition data provided here is only an estimate. If you are tracking these things for medical purposes please consult an outside, trusted source. Thanks!