Shut out that cold weather and serve up a hearty bowl of this beef barley soup with prime rib. Tender bits of prime rib, hearty barley, paired complimentary vegetables for one delicious bowl of soup.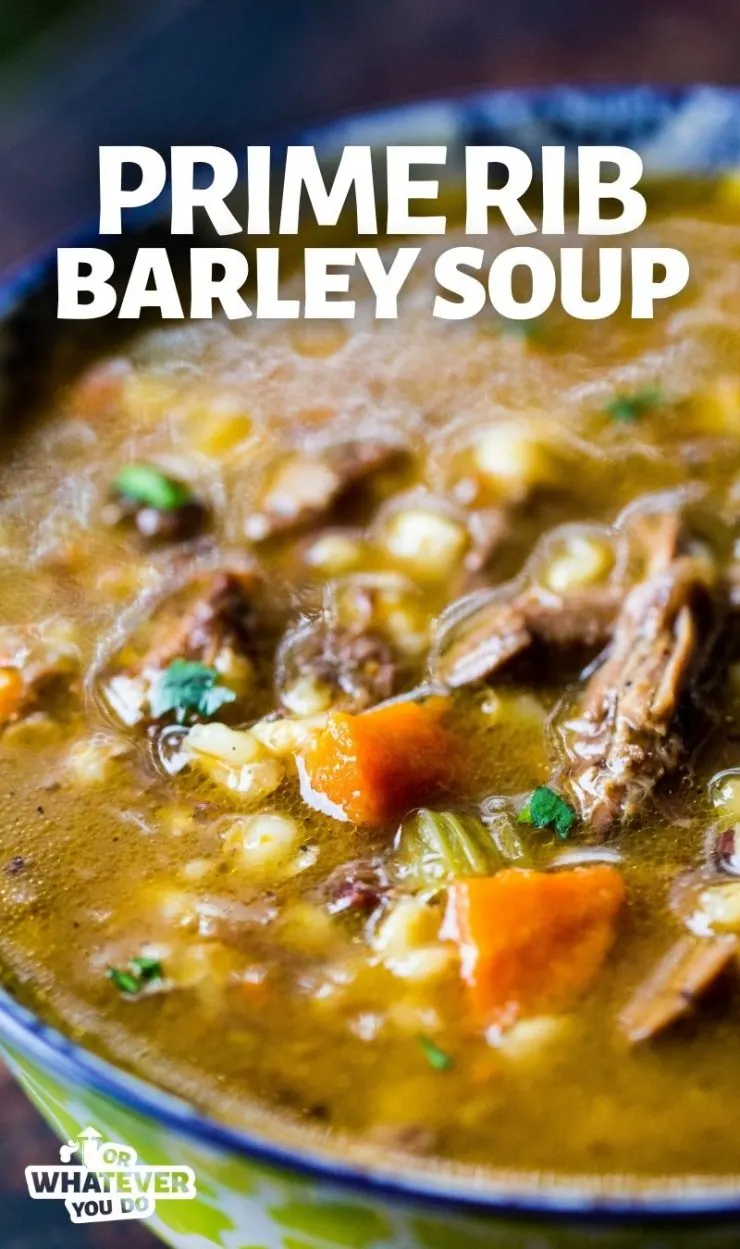 Beef Barley Soup with Prime Rib
Smoked Prime rib is a staple in our home, especially around the holidays. While we don't box prime rib into just a 'holiday' food, I do find that we always have plenty of prime rib leftover at that time of the year!
Our family is not huge on eating the same leftovers time and time again, so I am always working on ways that I can make my leftovers taste like something new.
This beef barley soup is such a winner! You will love the vegetables loaded with tender bits of prime rib throughout. While it is great for using leftover prime rib, you might find yourself looking forward to the next day soup more than day one prime rib!
More Easy Traeger Recipes here!
What if you don't have any leftover prime rib laying around?
If you are looking for that no-fuss toss-and-cook type of meal, give this easy barley soup recipe a try. If you don't have any prime rib leftover, feel free to substitute ground beef, leftover steak, or leftover pot roast. I've even used leftover brisket in this soup!
More Traeger Beef Recipes here!
Can you freeze beef barley soup?
Absolutely!
For best results, allow your soup to cool down and place in a freezer friendly container whether it be a freezer bag or airtight container. You can freeze this soup for up to 3 months.
For quick lunches, freeze in individual serving sizes!
To reheat, just toss it in the fridge the night before, and then put in the slow cooker to warm up or stove top. Grab bowls and serve up a satisfying bowl of soup that tastes just as good as the first time.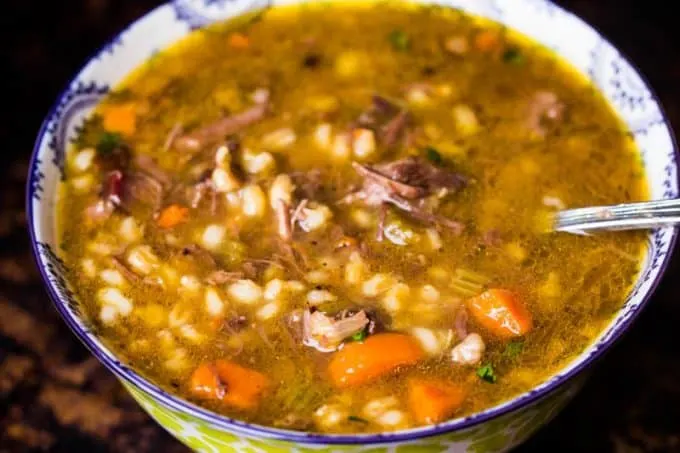 What's the best container to freeze soup in?
There are many options available out there, and I will share some of the top ways to freeze soup.
Sealable Freezer Bags | You can buy these anywhere. Just ladle in the soup, try and remove all the air, and lay flat. This is a great way to use minimal space in your freezer.
Glass Jar or Bowl | Whether you want to freeze for single servings or a big pot, glassware is always nice. Just make sure to leave room for the soup to expand as it freezes.
Plastic Freezer Containers | Plastic containers are an affordable option that works great for keeping your soup safe as you save it back. You can find whatever size you want, toss the soup in, and freeze away until you are ready to serve for safe keeping.
How much soup we have left directly impacts how I store it. If I know there isn't much; I make single servings of the soup. That way on busy days, I can grab a container and heat it up for a quick lunch while the kids are at school.
If I think there is enough for the whole family, I store in a larger container and use it for a fast meal down the line. Label it! You think you remember, but if you are anything like me – you definitely won't.
See our Leftover Roast Beef recipes here!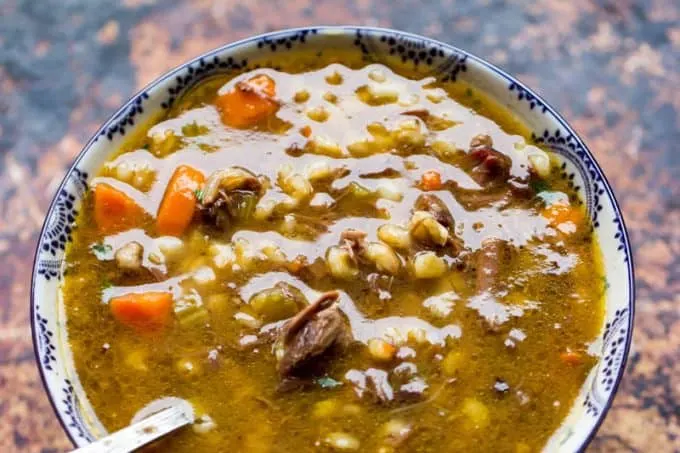 How long with this soup last in the fridge?
You can keep your soup in the fridge for up to 3-4 days. I gauge what we will eat and the rest I toss in the freezer. I don't like keeping leftovers in the fridge for very long, so around two days we either eat them up or I toss it out.
Follow me on Instagram!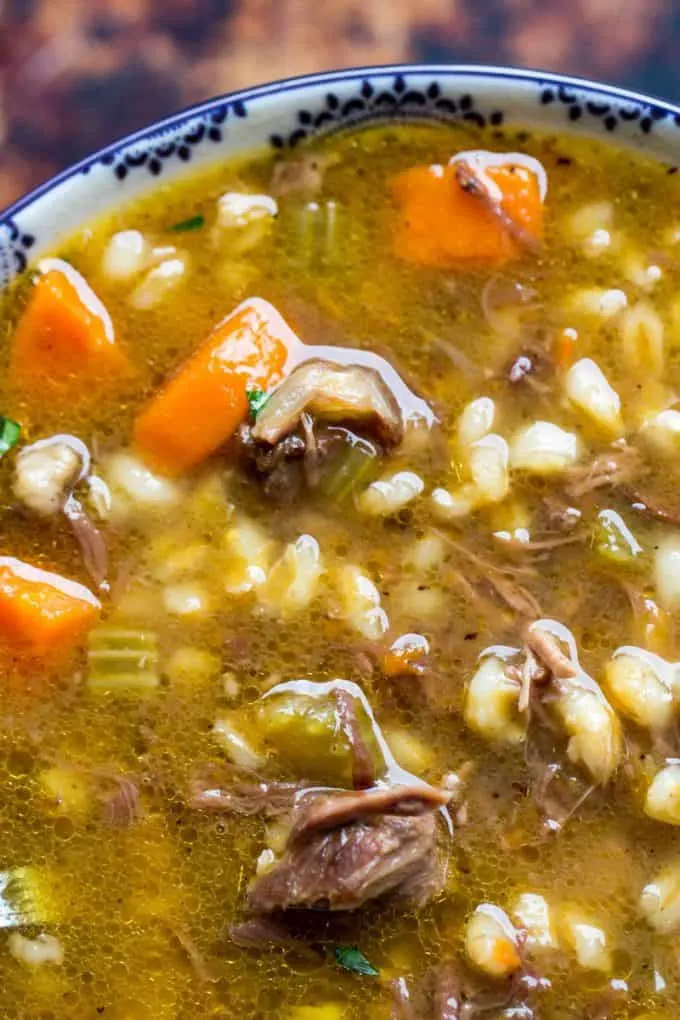 Reader Reviews!
Made this with our leftover prime rib bones & meat. Best beef barley soup I have ever had/ made!! The flavor is wonderful and it comes together quickly if you have the bone broth made ahead of time. I will be making this again and again! Love, love love!

– Sheri G
Sooo good! I used leftover beef ribs that were dry-rubbed, just put the bones and all into boiling water for about an hour, then followed the recipe. Would make again.

~Dana
This is the most delicious soup I have ever had ! I make soup every week for a group of people and this is amazing ! This is a great base recipe that you can make your own depending on what you like & what you have in your pantry. I added a few different ingredients and it was marvelous.

~Ann
This soup is so worth making !!! my family called it " dangerous " cause they kept going back for more. Gave some to other family members to try and they loved it also . The only thing I added was turnip.

~Julie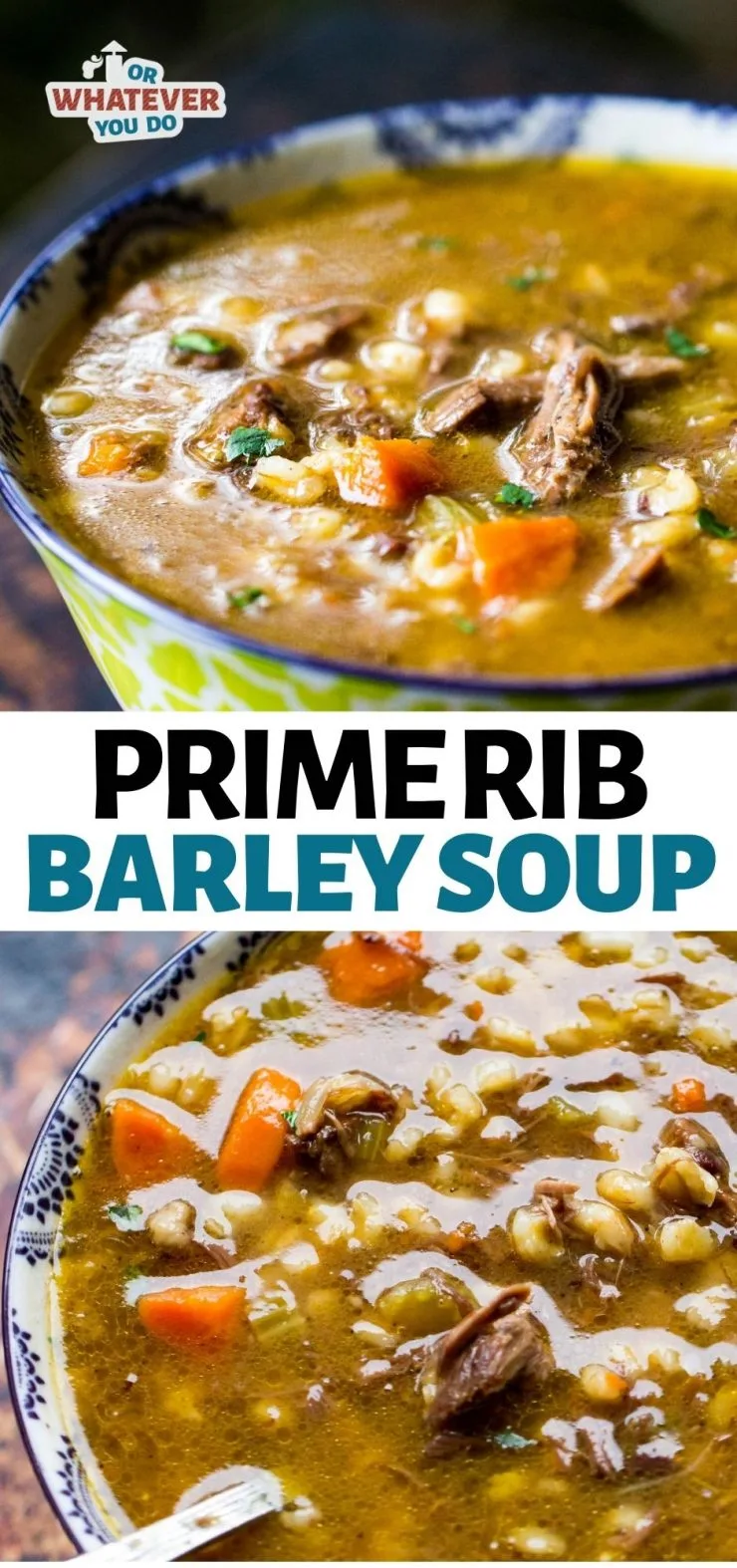 Yield: 12 servings
Beef Barley Soup with Prime Rib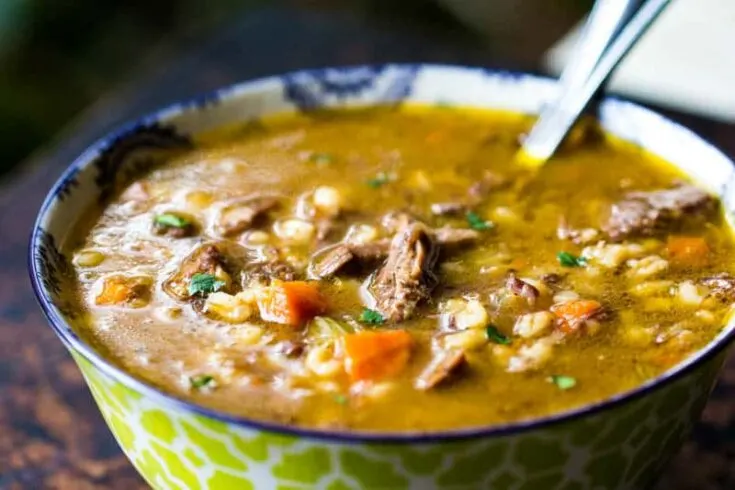 Shut out that cold weather and serve up a hearty bowl of this beef barley soup with prime rib. Tender bits of prime rib, hearty barley, paired complimentary vegetables for one delicious bowl of soup.
Total Time
1 hour
20 minutes
Ingredients
1/2 stick salted butter
1 cup diced celery
2 cups diced carrots
1 cup diced onion
1 clove garlic, diced
2 quarts homemade beef broth
4 cups chopped prime rib
1/2 cup dry red wine
1/2 teaspoon ground thyme
1 cup barley
Instructions
Place the butter into a large Dutch oven over medium heat, and let melt.
Add in the celery, carrots, and onion. Let cook for 5-6 minutes, until softened and starting to brown.
Add in the garlic and stir for 30 seconds.
Add in the beef broth, prime rib, red wine, ground thyme, and barley.
Simmer over medium heat until the barley is tender. Serve with crusty bread and green salad.
Nutrition Information:
Yield:
12
Serving Size:
1
Amount Per Serving:
Calories:

392
Total Fat:

30g
Saturated Fat:

13g
Trans Fat:

0g
Unsaturated Fat:

13g
Cholesterol:

74mg
Sodium:

702mg
Carbohydrates:

9g
Fiber:

2g
Sugar:

2g
Protein:

20g
Nutrition data provided here is only an estimate. If you are tracking these things for medical purposes please consult an outside, trusted source. Thanks!